Cheesecake Cookie Bars combine the best of two desserts. A smooth and creamy layer of cheesecake sits between a soft cookie crust and a delicious cookie crumble.
This recipe was originally posted in 2017 and has been updated to improve reader experience.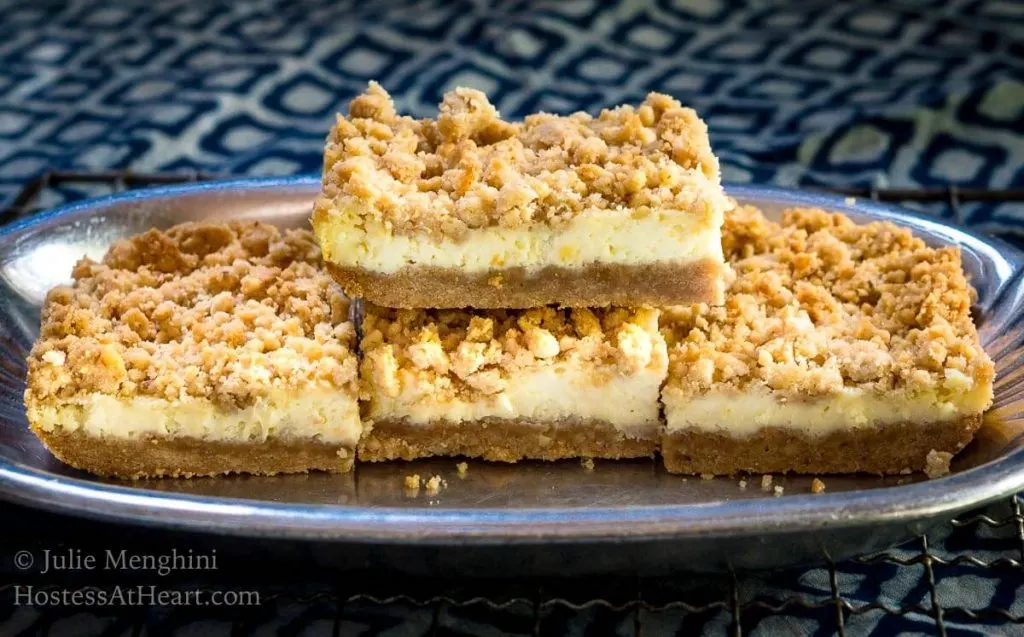 When you look at a layered dessert, do you think of all of the time, dirty dishes and consuming steps? This Cheesecake cookie bar recipe is quick and easy to make.
These cheesecake bars taste like a fancy cheesecake without all of the fuss.
We've found a few of our recipes in the recipe box my 94-year-old mother-in-law gave us a few years ago including this simply delicious Cheesecake Cookie Bar recipe.
The thing that intrigued us about this recipe is that a lot of cheesecake bars look more like a cookie bar.
This Cheesecake Cookie Bar looks like actual an actual square of cheesecake in my humble opinion. That makes them a little fancier than a cookie bar right?
Love it? Pin it!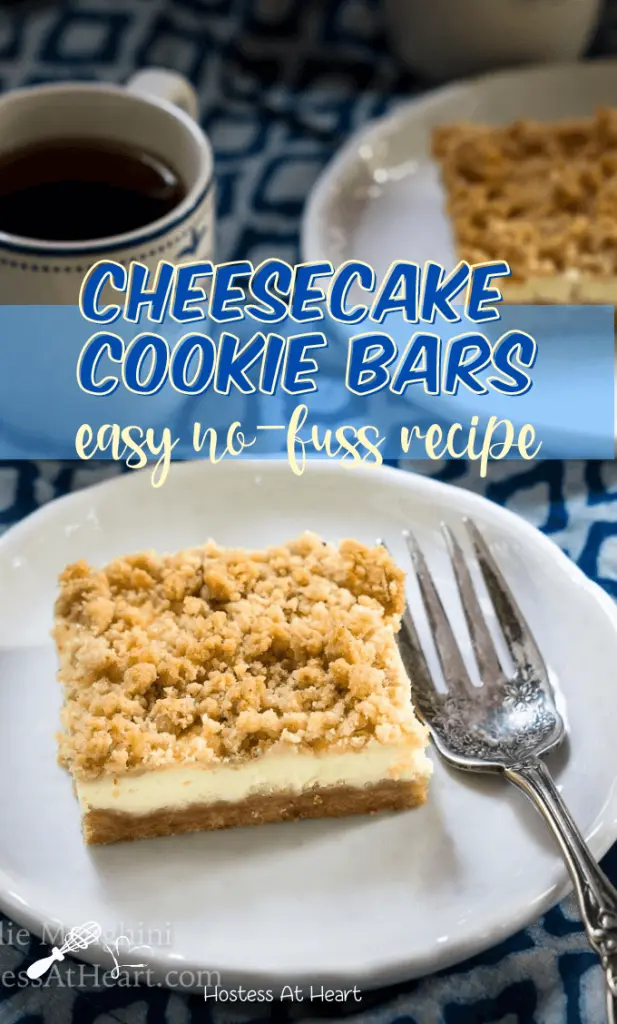 Why we like these Cheesecake Cookie Bars
Unlike making an actual cheesecake, these cheesecake bars don't require a water bath!
There's no peering into the oven waiting for them to take on the perfect jiggle to indicate they're done…and,
There's no dreading the infamous crack in the surface!
This recipe makes a full 9×13 pan!
Ingredients you will need
Brown Sugar
Butter
Flour
Walnuts
Cream Cheese
White Sugar
Eggs
Milk
Lemon juice
Vanilla Extract
How to make this recipe for Cheesecake Cookie Bars
There are literally two steps for making this recipe. You've got the cookie ingredients and you have the cheesecake filling. Let us tell you how we did it.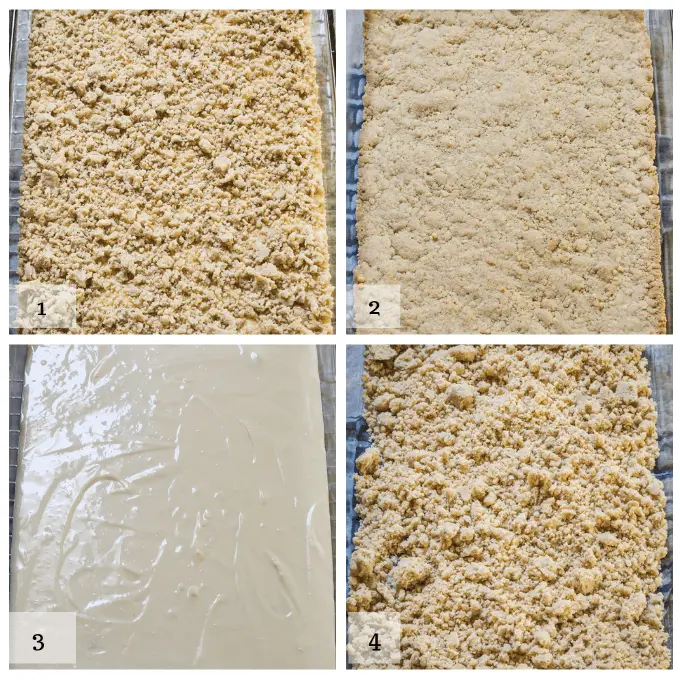 Make the cookie layer by beating the butter and brown sugar until fluffy. Add the walnuts and flour to the butter mixture and blend together until crumbly.
Reserve two cups and press the remaining cookie layer in the bottom of a 9×13 pan and bake. Remove the cookie crust from the oven and allow it to cool while you mix up the cheesecake filling layer.
To make the cheesecake filling, combine the cream cheese and sugar together and mix until smooth. Add the egg, milk, lemon juice, and vanilla extract and beat until smooth.
Assemble the cookie bars by smoothing the cheesecake filling over the top of the baked crust with the filling. Sprinkle the reserved cookie crumble over the filling and bake.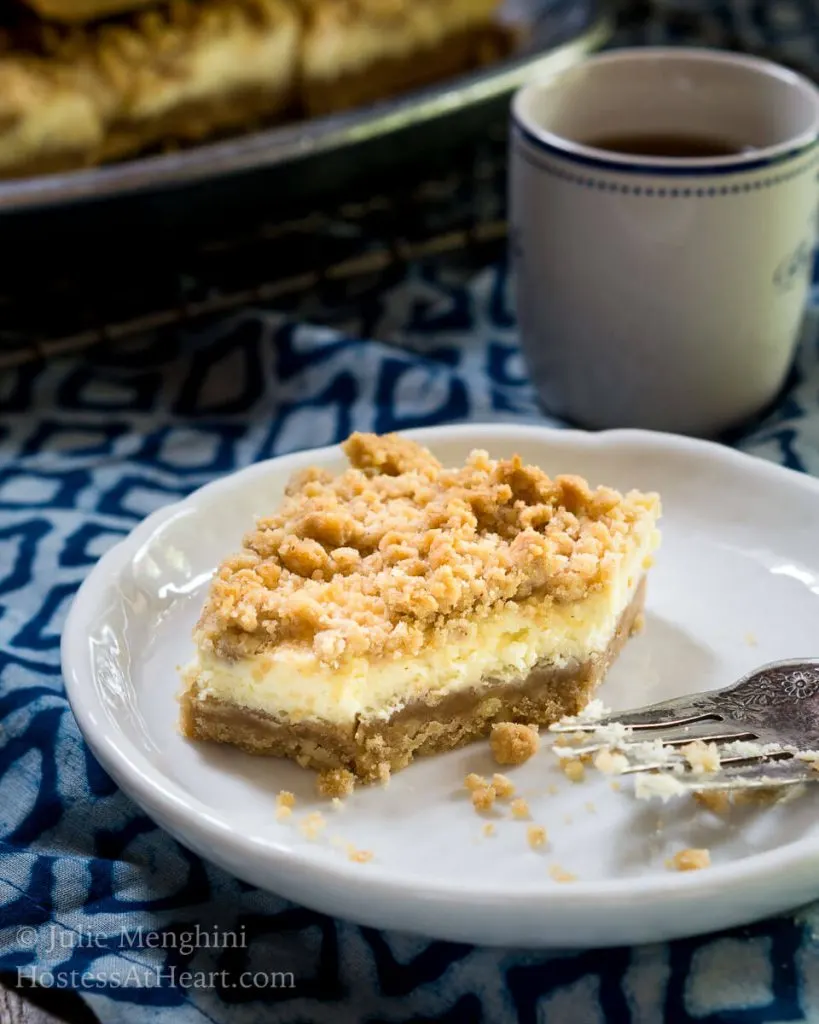 Helpful tips and variations
Using room temperature ingredients is key. If your butter or cream cheese is cold, it will not beat smoothly with the other ingredients.
We used walnuts in our cookie layer. You could substitute with pecans for a delicious variation.
Make sure the cookie layer is cool before topping it with the filling. If it's too warm, it can liquify the filling. You can even make the cookie layer earlier in the day and finish it later.
Allow the bars to cool on a cooling rack and then refrigerate. These bars cut so much easier if they're chilled.
To cut these bars, use a sharp-pointed knife. Dip the knife in very hot water, dry it off and make your cut. Clean the knife and repeat.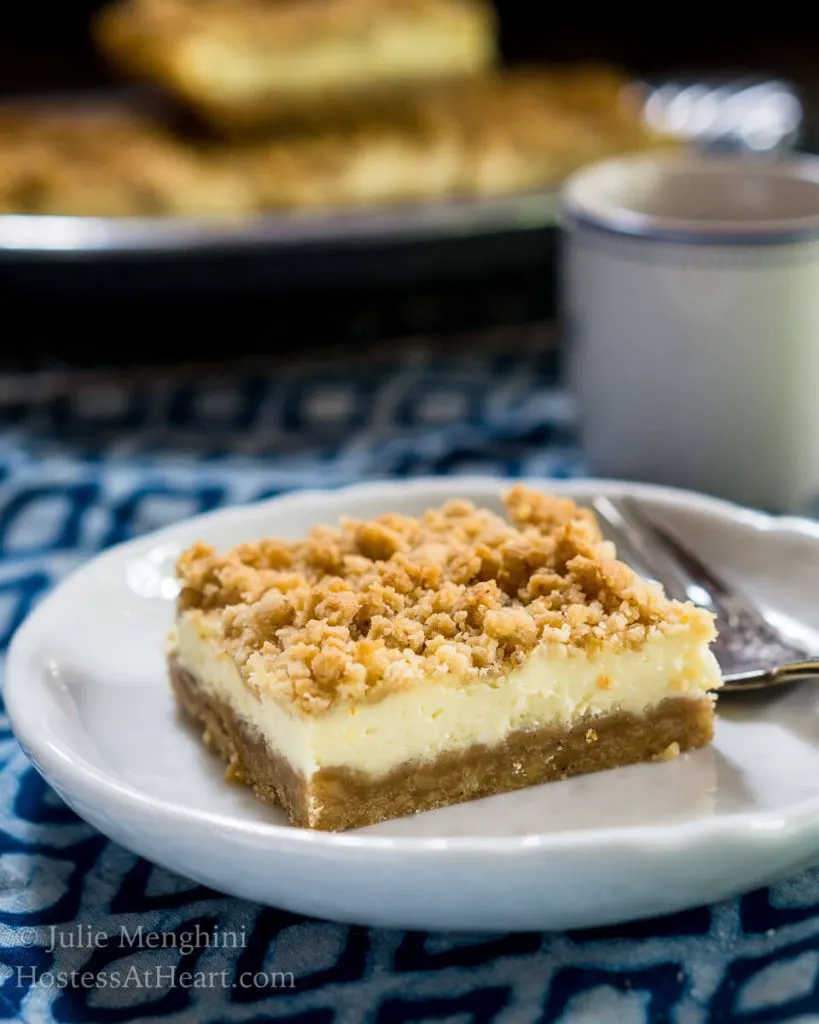 Most of the time we want something that tastes like a fussy dessert that isn't time-consuming like these No-Fuss Cheesecake Cookie Bars.
We don't mind making time-consuming recipes when we have the time or in the mood but most of the time we want to make something that only tastes like it was fussy and time-consuming.
This recipe makes a full 9×13 pan. That's a great size for us to take to family gatherings and the holidays.
Some say this size of the pan makes 24 servings.
If you have the knife, you can pick the size of your cookie bar!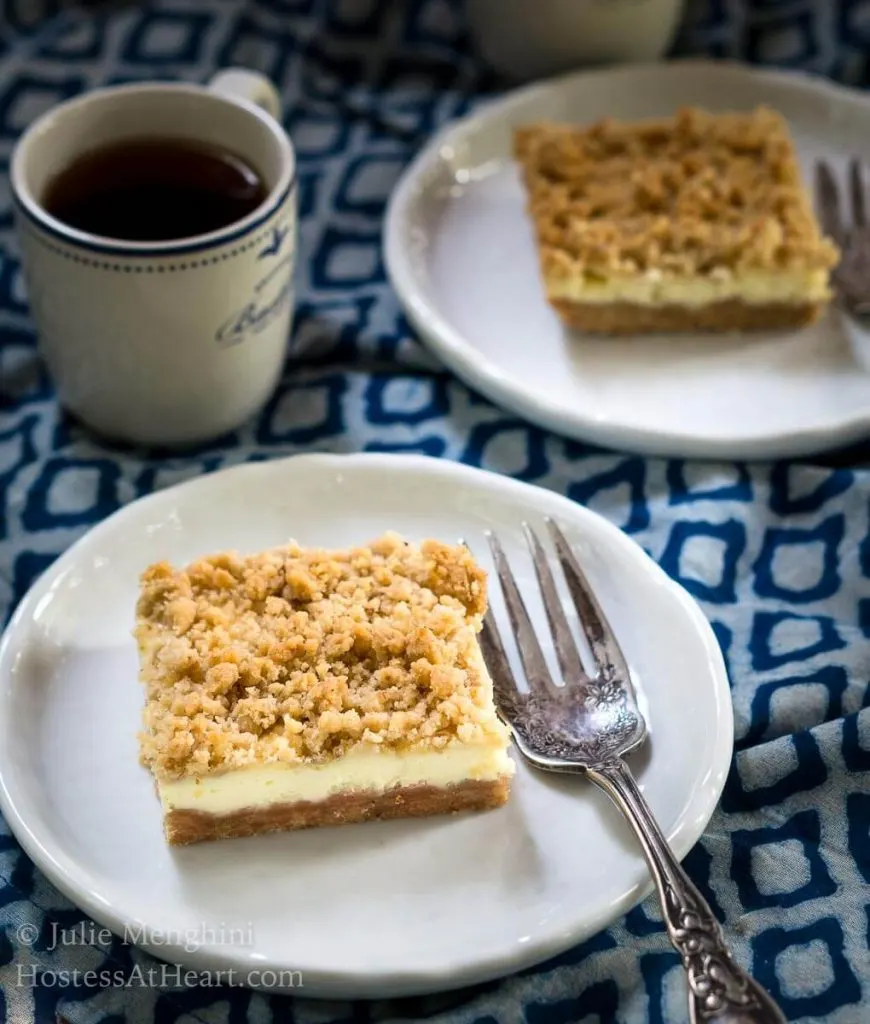 If you like this Cheesecake Cookie bar recipe, here are a few more you may enjoy
Kitchen Gadgets
Hostess At Heart participates in affiliate programs. As an Amazon Associate, I earn a commission from qualifying purchases. Please refer to my disclosure page for more information about these affiliate programs.
This recipe doesn't require a lot of fancy equipment to put it together.
We still use this simple baking dish for our bar desserts and the workhorse in my kitchen is my mixer. Smoothing out the creamy cheesecake layer is a breeze with my favorite spatulas too.
Pin It Now!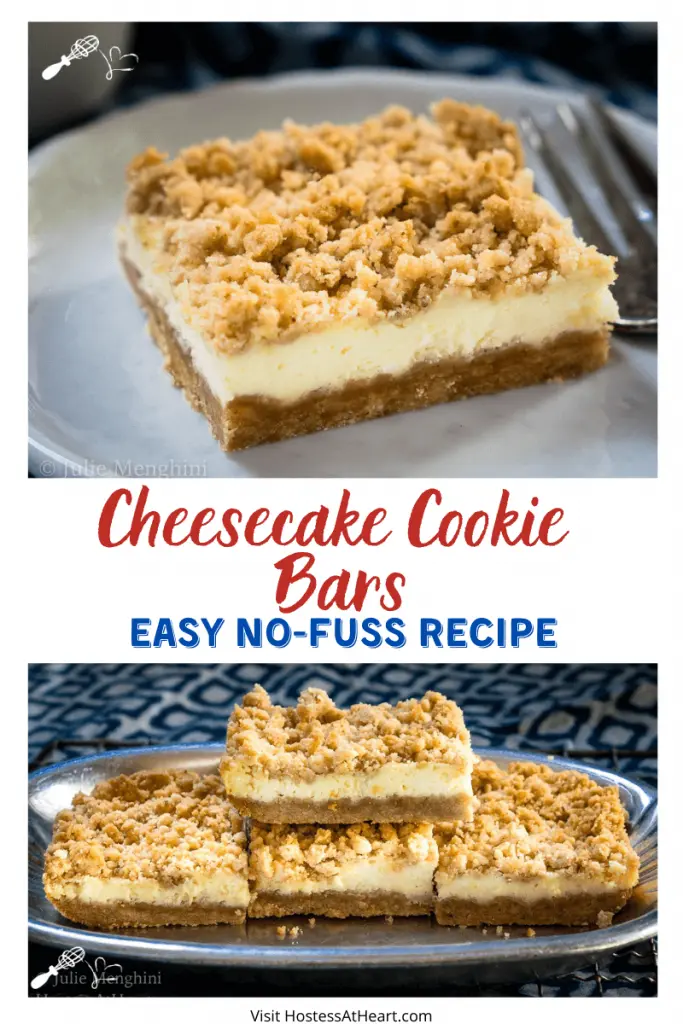 Drum roll…our most popular recipes!