Indulge in the deliciousness of Kentucky Derby Pie Brownie Bars! Made with a rich brownie base, filled with classic derby pie flavors like pecans, chocolate chips, and bourbon, these decadent bars are a perfect treat for any dessert lover. Savor the flavors of the South with these irresistible brownie bars that are sure to satisfy your sweet tooth.
I first published this recipe in 2016, but it was time for an update. I've added detailed information to improve my readers' experience. No changes were made to the recipe.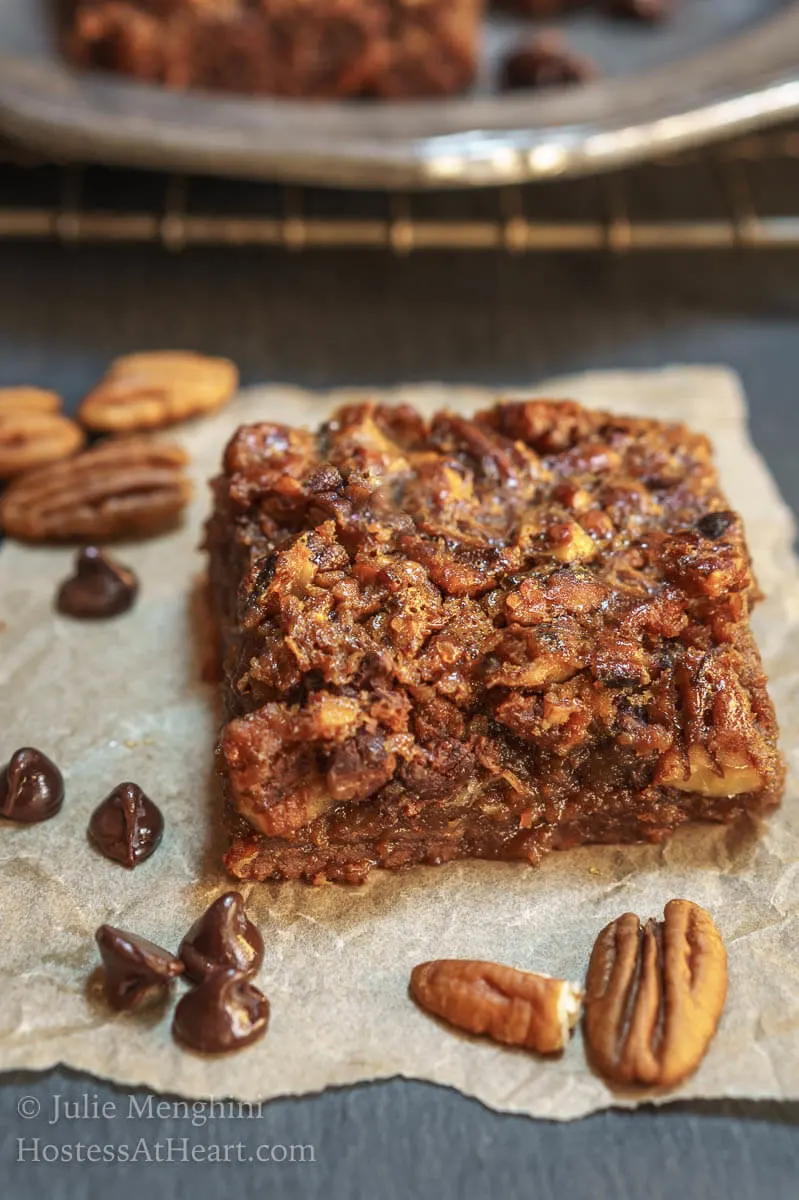 When it comes to dessert, I tend to make a few over and over. When I serve Derby Pie Brownies, I know everyone is going to ask for the recipe. Bourbon brownies are perfect for parties and holidays because they can be made ahead and feed a crowd!
Why you're going to love this Pecan Pie Brownies Recipe!
By baking this Derby Pie Bars in separate layers, it's easier to get the layers to adhere, unlike many pecan brownie recipes that lose the pecans as you pick them up or chow into them.
Pecan brownies are easy to bake. Since the layers cook at different rates the brownie layer gets a head start assuring they'll be baked perfectly.
Make them ahead of time!
They feed a crowd! This is a 9×13 dessert. However, it's so rich that I get 16 servings from one pan.
This is the perfect Kentucky Derby Dessert. Just bring your most outrageous hat and your party-ready.
What's so special about these Derby Pie Brownies?
I would love to take credit for this decadent Derby Pie Brownie Bar recipe, but this recipe is actually inspired by the Cookie Exchange edition of our Freaky Friday Blog Hop.
Freaky Friday Virtual Cookie Exchange Blog Hop

What is the Freaky Friday Blog Hop? Freaky Friday is a blog hop with some of my favorite food blogger buddies!
We secretly are assigned one another's blogs to make a recipe from, and then we all reveal who we had and what we made on the same Friday, and that is today!
The Freaky Friday blog hop is organized by Michaela from An Affair From the Heart.
I was so excited to get my friend Jennifer's blog "Take Two Tapas" for our Virtual Cookie Exchange edition of Freaky Friday.
Let me tell you a little bit about Jennifer
I got Take Two Tapas from the amazing Jennifer.
Jennifer and I have been friends for a long time and I can't even describe how sweet and brilliant this girl is. She's a southern girl and a great momma and wife.
She started her blog because she enjoyed grazing on several different dishes instead of filling up on a big plate. I'm with her! She enjoys entertaining and is a real magician when it comes to transforming a dish into a delicious lighter version. And you've got to check out her cocktails! whoa to the Pineapple Bourbon Lemonade!
I had so many things to pick from including her Star Crunch Truffle Balls that looked delicious and would be amazing on a cookie tray or her Dark Chocolate Toasted Coconut Cookies! You've just got to visit her site and take a look at her recipes. That's the first place that I head to when entertaining!
I've never been to the Kentucky Derby but never shy away from a reason to entertain so these Kentucky Derby Brownies were a must make for me.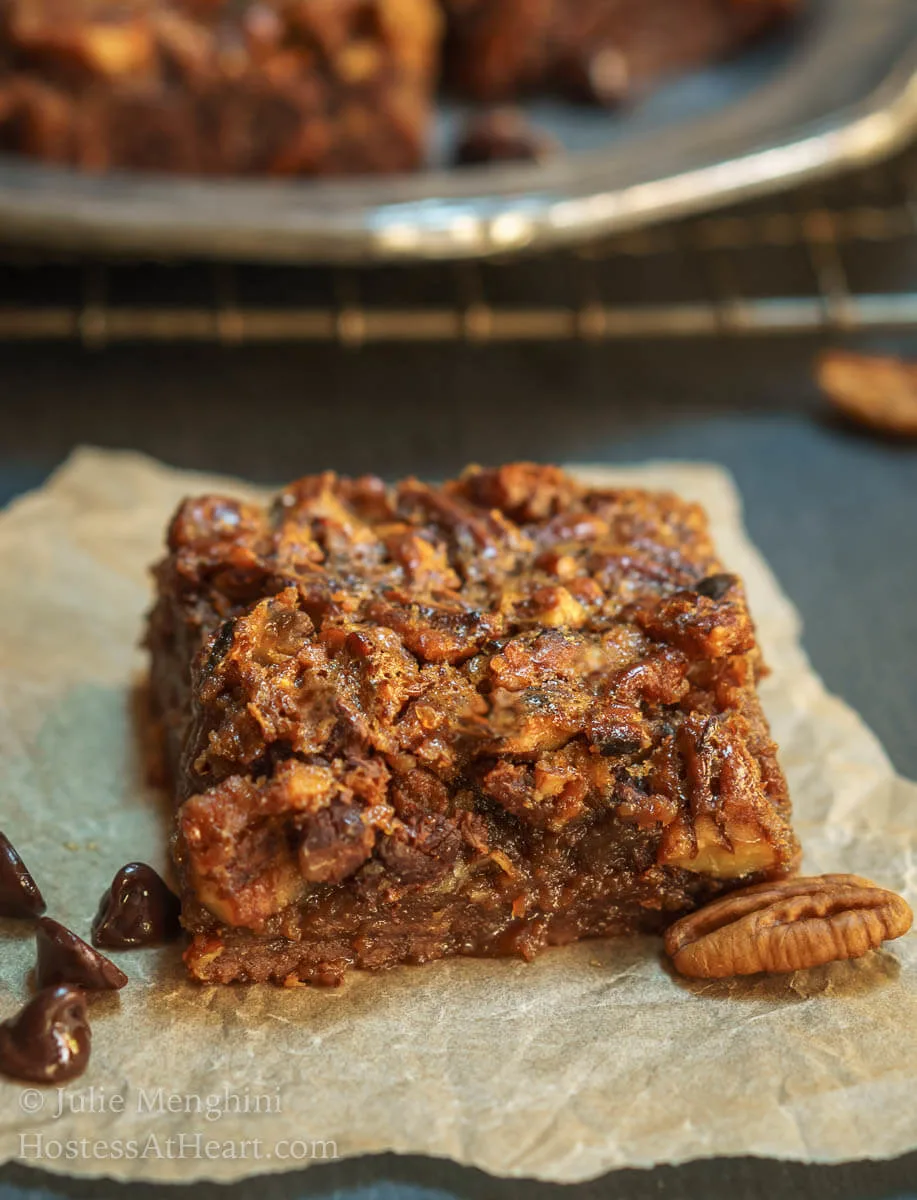 Kentucky Derby Brownies Recipe
Equipment needed to make Pecan Pie Brownies Recipe
A great thing about this recipe is that it doesn't take any fancy kitchen equipment so you can whip a batch whenever you feel like it.
Baking Dish – I've got this one and love it. It comes with a lid that makes taking and refrigerating my treats a lot easier.
Parchment Paper – This is my favorite parchment paper. It's important to know that there is an oven temperature rating on parchment paper. If you exceed it your parchment paper can catch fire in your oven. This one is rated up to 450°F, which is high enough for my bread recipes too.
Derby Party Plates and Napkins – It's a Kentucky Derby Dessert right?
Derby Pie Brownie Ingredients
Ingredients needed to make the Brownie layer
Semi-Sweet Chocolate – You can use chips for bar chocolate. Feel free to mix up your chocolate. You can combine dark chocolate or milk chocolate with semi-sweet chocolate.
Butter – I really recommend real butter for this recipe.
Sugar – White granulated sugar.
Eggs – I use Grade A large eggs for consistency in baking. Slightly beating them with a fork or whisk so they're easier to mix in.
Vanilla – I use pure vanilla extract.
Flour – All-purpose flour bleached or unbleached
Ingredients for Pecan Pie Layer
Brown sugar – I prefer dark but the light is fine
Dark corn syrup – You could use light in this recipe
Butter – Real butter
Eggs – Grade A large is what I prefer
Bourbon – I used Crown Royal Vanilla Whiskey but any bourbon will work
Semi-sweet chocolate – I used chips for convenience
Pecans – Pecans taste best toasted. I explain how to do that below.
How to make Pecan Pie Brownies
Derby Brownie layer
I make these pecan brownies without a mixer. They're quick and easy to mix and put together.
Preheat the oven so it's good and hot when you're ready to use it and prepare your baking dish with cooking spray.
In a large glass bowl melt the butter in the microwave. Add chocolate and stir until melted. Cool slightly.
Add the sugar and vanilla, and slowly drizzle in the slightly beaten eggs, whisking continuously until combined.
Mix in the flour and stir until combined.
Spread the brownie batter into the prepared baking dish and bake.
Remove from the oven and set aside while you prepare the pecan pie topping.
KY Derby Pecan Pie Layer
In a medium-sized bowl, mix the brown sugar, corn syrup, butter, eggs, and bourbon together until combined.
Add the toasted pecans and the chocolate chips to the brown sugar layer and mix to combine.
Pour the pecan pie topping layer over the baked pecan brownie layer.
Bake
Please note, that the printable recipe card has ingredient quantities, complete instructions, and nutritional information. The following is a quick overview of the recipe.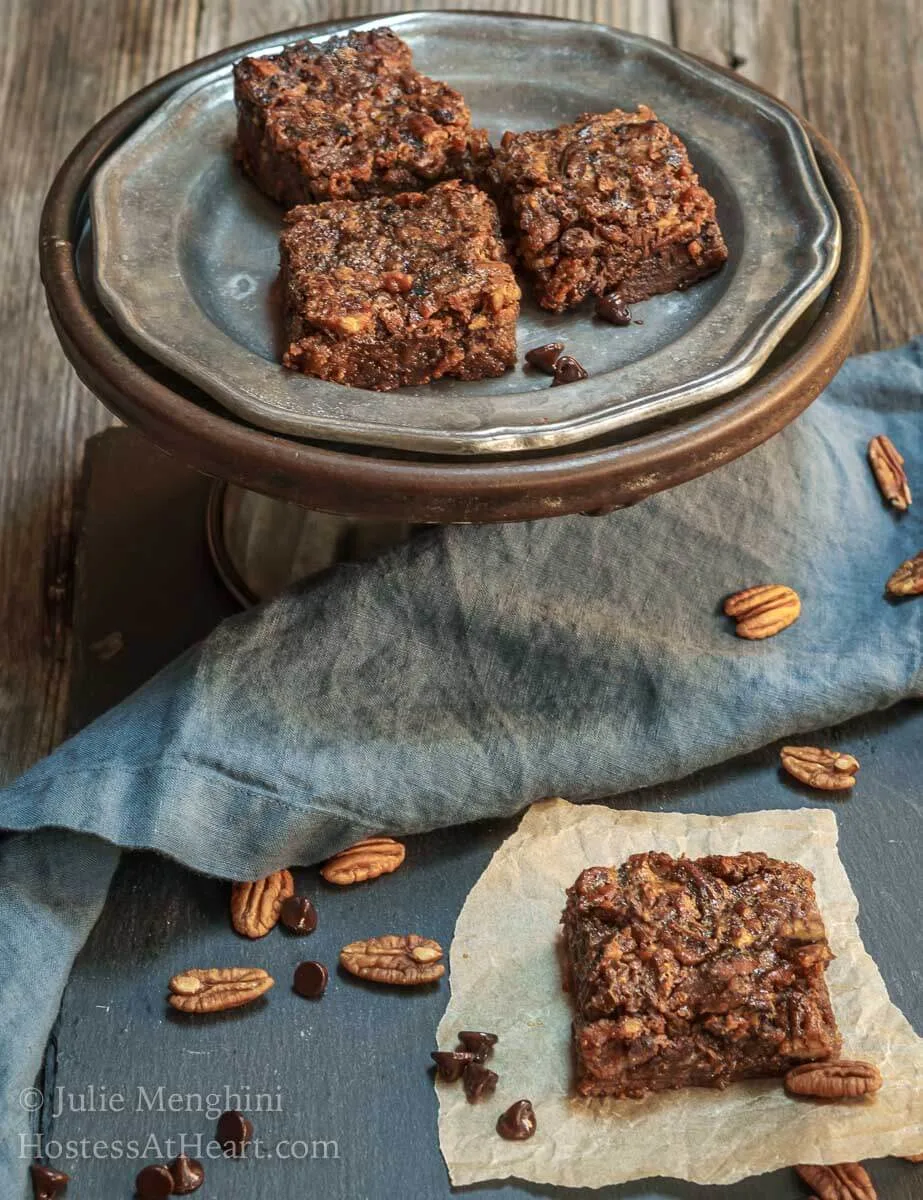 Tips for the Perfect Derby Pie Brownies
Don't overmix. These Derby brownies come together quickly and there's no need to pull out the mixer.
Slightly beat your eggs before adding them to the recipe. That makes mixing them into the batter quicker and easier.
Kick up this recipe by toasting the pecans before using them.
I go overboard when preparing my baking dish. I spray it and then line it with parchment paper and spray it again. You don't want these brownie pie bars to stick.
Derby pie bars are easier to cut if they are allowed to cool completely and then be chilled. Dip a sharp knife in hot water and dry it between cuts.
To serve these pecan pie brownies, cut them into bars after they've chilled and before you want to serve them.
How to Toast Pecans
No matter how you toast your pecans, please note that they can go from raw to burnt very quickly because of their oil content. Watch them continuously.
I toast pecans on the stovetop. Just add them to a skillet and over medium heat cook until fragrant, about 5 minutes. Shake the pan occasionally to turn the nuts. Immediately pour them out onto a cutting board to stop the cooking.
You can also bake them by putting them on a foil-lined baking sheet in a 350°F oven for 5 to 10 minutes.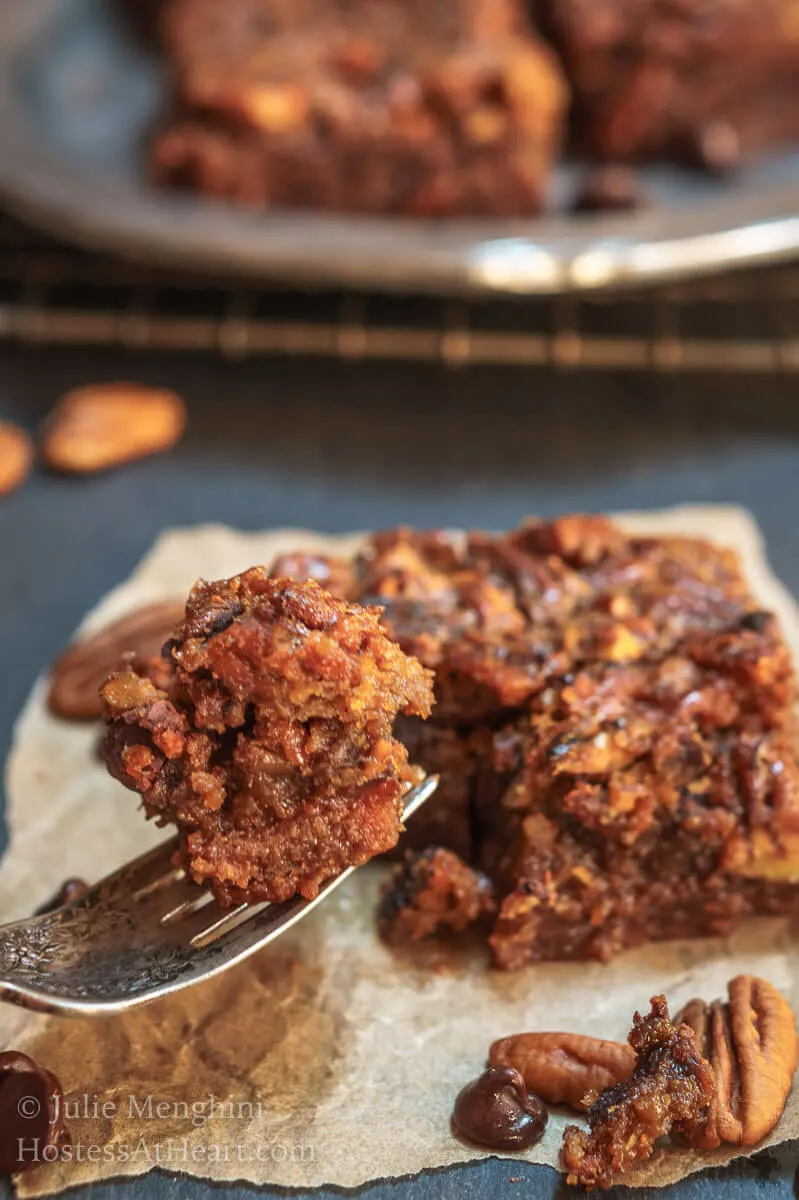 Storing Pecan Pie Brownies
Store covered in the refrigerator for up to 4 days. Since this recipe contains eggs, I don't recommend leaving them out at room temperature for more than 2 hours. You risk spoiling.
Bourbon brownies also freeze well. If you have them all cut and ready to serve, you can freeze the individual pieces by wrapping them in plastic wrap and slipping them into a freezer-grade reclosable bag or airtight container for up to 3 months.
By freezing them individually you can just slip out as many as you need. Thaw them in the refrigerator or quickly at room temperature. You can heat them gently in the microwave and put on a dollop of ice cream, but I like them chilled.
Frequently asked questions
Do you have to use bourbon?
No, you can substitute with 1 tablespoon of vanilla extract.
Can I make these derby pie brownies ahead of time?
Yes, I would bake them up completely and put them in the refrigerator in a covered container. They're best if served within one day of baking.
If you enjoyed this recipe here are a few more you may like
If you tried this delicious recipe, don't forget to rate it and leave me a comment telling me what you think. I love hearing from you!