It seems like a common shared memory is eating fudge pops at Grandma's house every summer. I've got the perfect homemade fudge pop recipe to bring back memories of your childhood and provide treats to the kids of all ages in your life all summer and winter long.
Fudgsicles are surprisingly easy to make. You probably already have everything you need for fudge popsicles in your kitchen! It will take you fifteen to twenty minutes to get them in the freezer, and in about eight hours you can make someone smile.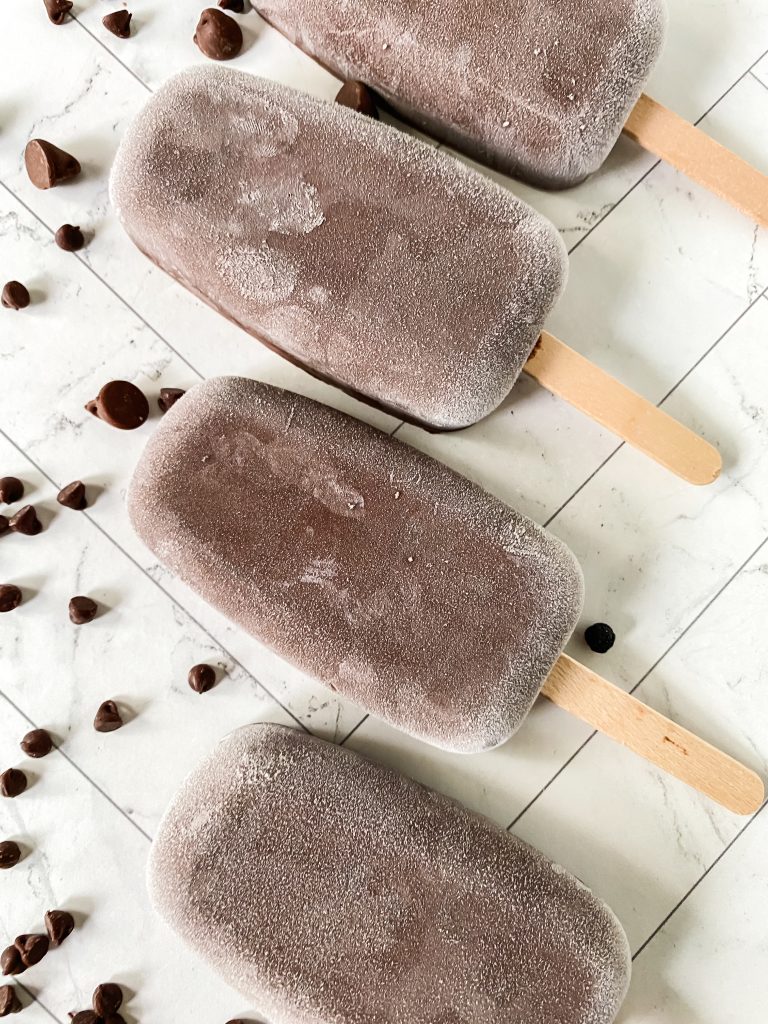 Why You'll Love These Fudge Popsicles
Fun activity for the kiddos. Get your kids or grandkids involved in the making of homemade fudge pops! The recipe is simple, and kids can mix, stir and sift with a little help or supervision.
Forget the Ice Cream Truck – Frozen chocolate fudge pops make the perfect summer day treat for a fraction of what you'd buy.
Simple ingredients. This fudge pop recipe includes straightforward ingredients from your pantry with no preservatives, high fructose corn syrup, or artificial ingredients.
Tailor sugar intake. Regulate the sugar in the recipe to your family's needs and taste, or make it completely sugar-free.
Vegan and Gluten-Free Variations. Use non-dairy milk and this recipe will be vegan. Read the labels to avoid gluten contamination and this recipe is gluten-free.
Equipment Needed to Make Fudgesicle Fudge Pops
Popsicle Mold. While this isn't strictly necessary if you have very small plastic containers or waxed paper cups to use instead, it's so nice to have the molds. Especially if you plan to make a lot of fudgesicles!
Mixing Bowls. You will need at least one mixing bowl.
Rubber Spatula. Scrape the sides of the bowl to get every last drop of chocolate into your molds.
Whisk. A good whisk is worth its weight in gold! You will use this kitchen tool so much.
Medium-sized Saucepan. You'll heat the mixture to thicken it.
Sifter. If you have a sifter, sifting the cocoa powder will make it easier to whisk out the lumps.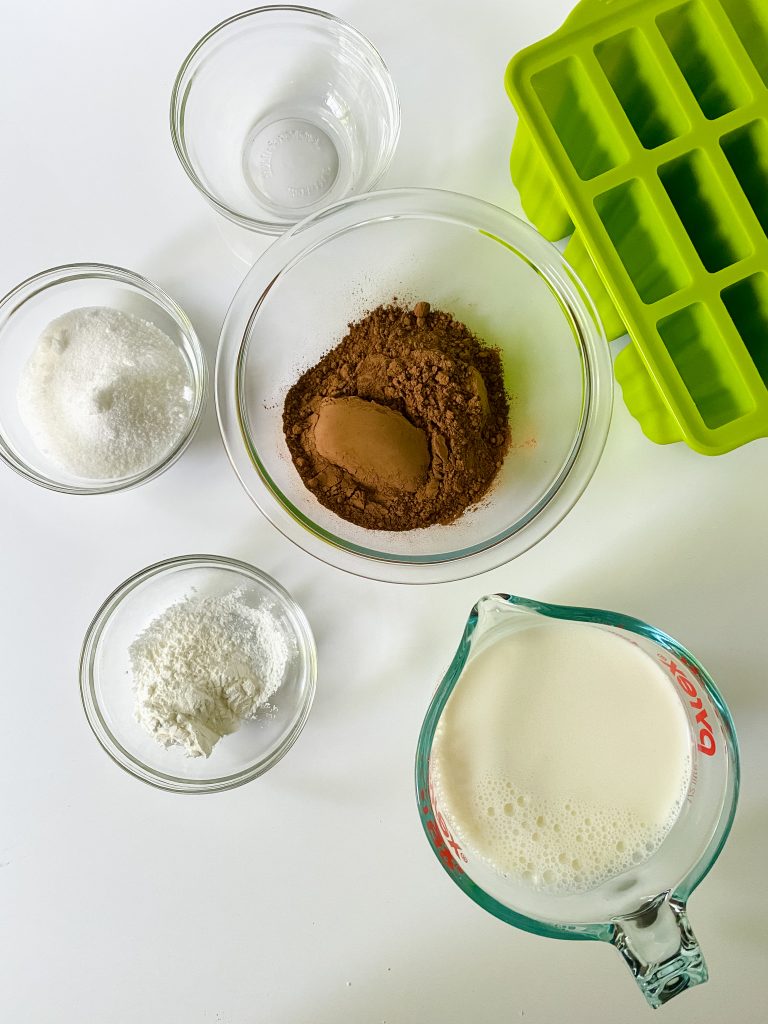 Ingredients for the Fudge Pop Recipe
Unsweetened Cocoa Powder. You can use any cocoa powder you have, but gourmet cocoa powders can be fun to play with.
Sugar. Adjust the level of sweetness for your family's needs.
Cornstarch. The cornstarch is what makes the pops creamy instead of icy and is also the thickener once heated.
Salt. You might think you don't need it, but it bumps up the chocolate flavor nicely.
Milk. Whole milk gives the creamiest result, but you can use any milk or milk substitute you like.
Please note, that the recipe card has more complete instructions. This is intended as an overview.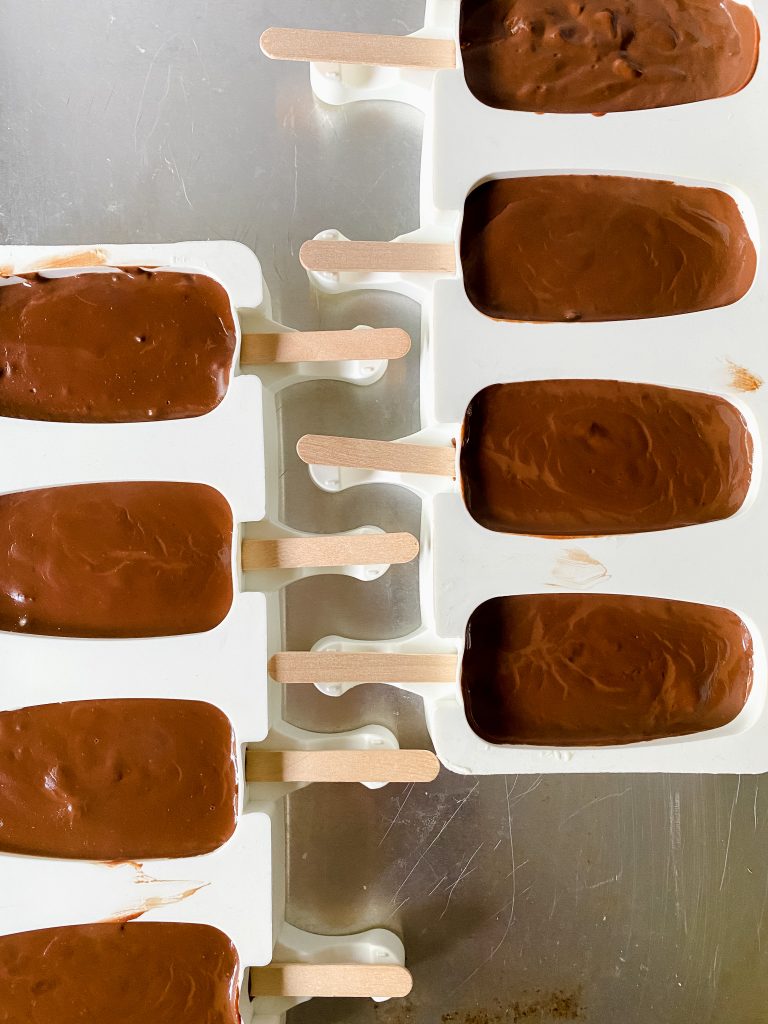 How to Make Fudge Pops
Step One. Mix the dry ingredients until they are lump free.
Step Two. Add half the milk and mix well.
Step Three. Add the other half of the milk and mix thoroughly.
Step Four. Heat the mixture over medium heat, stirring occasionally.
Step Five. Remove from the heat and add the vanilla. Allow the mixture to cool. The mixture will thicken as it cools.
Step Six. Pour into popsicle molds or very small non-stick containers.
Step Seven. Freeze for at least eight hours in the molds.
Pin these delicious Creamy Chocolate Fudgesicles!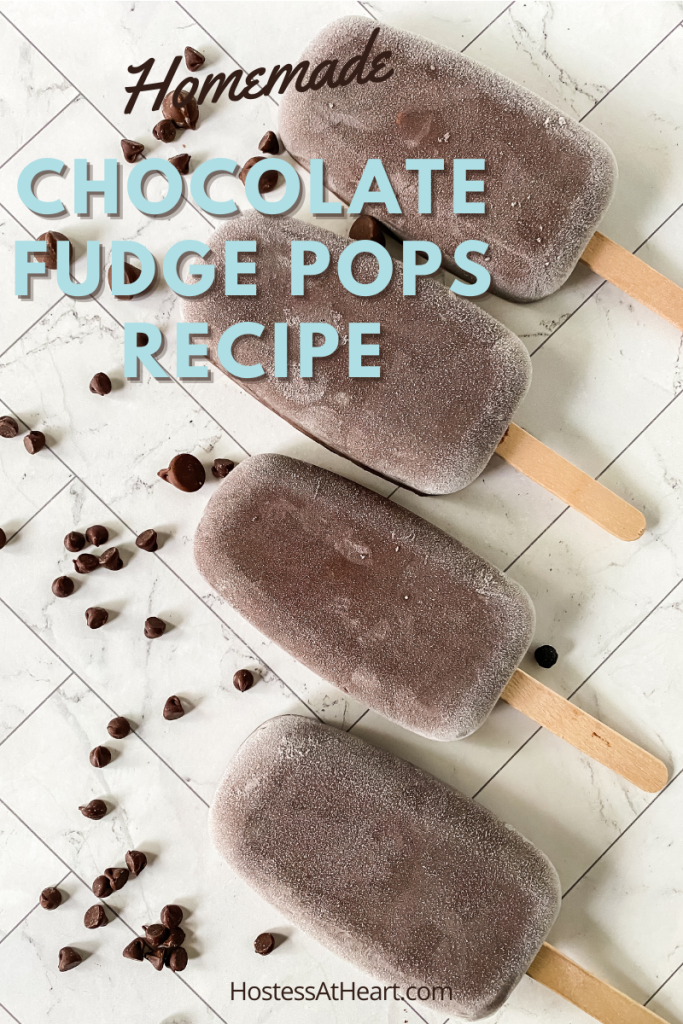 Substitutions and Additions
You can add crushed sandwich cookies, crushed candy bars, or chocolate nonpareils (sprinkles) for fun variations. One or two teaspoons will be enough, and most of what you add will settle at the bottom of the mold which will be the tip of the fudgesicle.
Add 1/4 cup of crushed peppermint candy.
For a caffeinated grown-up version, replace one quarter or 1/2 cup of the milk with brewed coffee.
Best Way To Store Fudgesicle Fudge Pops
It's best to remove the frozen pops from the mold once frozen. I put them in a resealable freezer-safe bag. I remove them from the molds and then freeze them solid on a baking sheet. Once frozen solid, you can put multiple pops in one bag by putting a piece of plastic wrap or waxed paper in between them.
How Long Does it take to Freeze Fudge Pops?
Up to 8 hours in the freezer.
How Long are Fudge Popsicles good in the freezer?
Up to 8 months in the freezer in molds or an airtight container.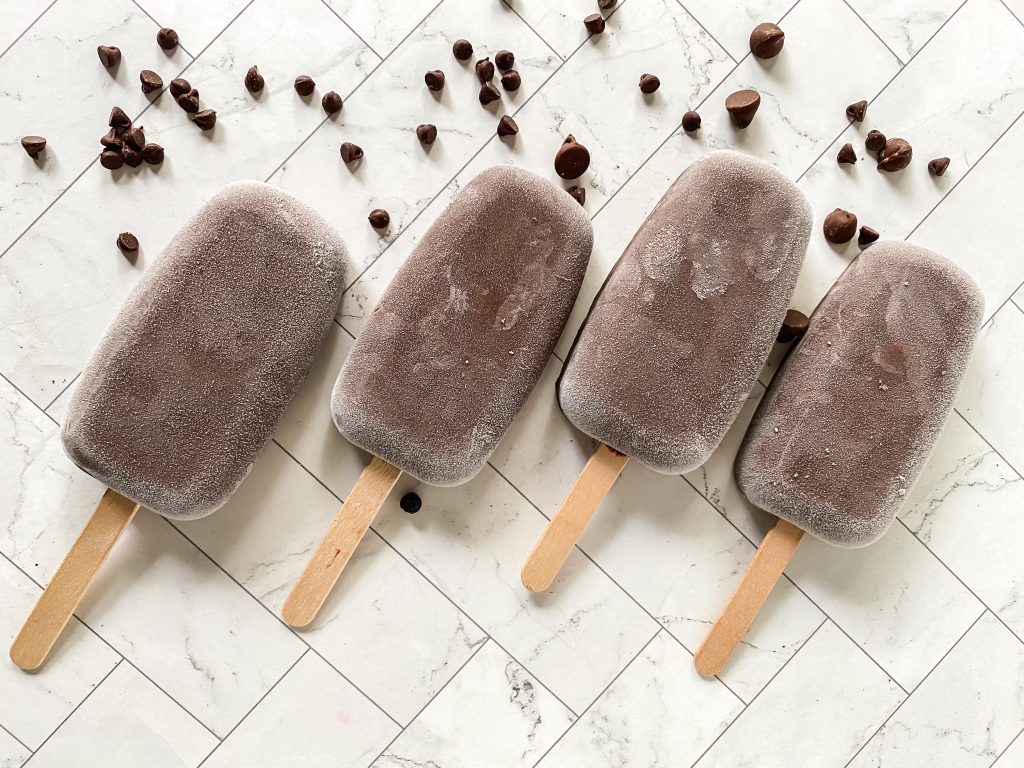 Homemade Fudge Pops Recipe FAQ
Are fudge pops Vegan?
Yes, they can be made Vegan! You can use non-dairy milk in this recipe.
Are fudge pops gluten-free?
Yes, they can easily be made gluten-free. Pure, dark chocolate cocoa powder is gluten-free as well as corn starch. As always, check your labels.
Is a Fudge Pop a Fudgesicle?
Yes, regardless of what you call them, Fudge Pop, Fudgesicle, Fudge Popsicle, chocolate popsicle, they're basically the same thing.
Are Fudge Pops healthy?
Fudge pops are not a health food but are a better option than some ice cream treats. Fudge pops can be made sugar-free.
How many frozen fudge pops does this recipe make?
This recipe makes 8 fudge pops in the recommended ice pop mold. It will make more or less depending on the mold that you use.
Tips to Make the Perfect Fudge Pops
Dairy or non-dairy milk will work for this.
Not adding the milk all at once while whisking helps you keep the lumps out.
For a less sweet pop cut the sugar down to 1/2 a cup or make it sugar-free. We use Truvia 1:1.
Sift the cocoa for an ultra-smooth fudgesicle.
Other Frozen Desserts You Will Love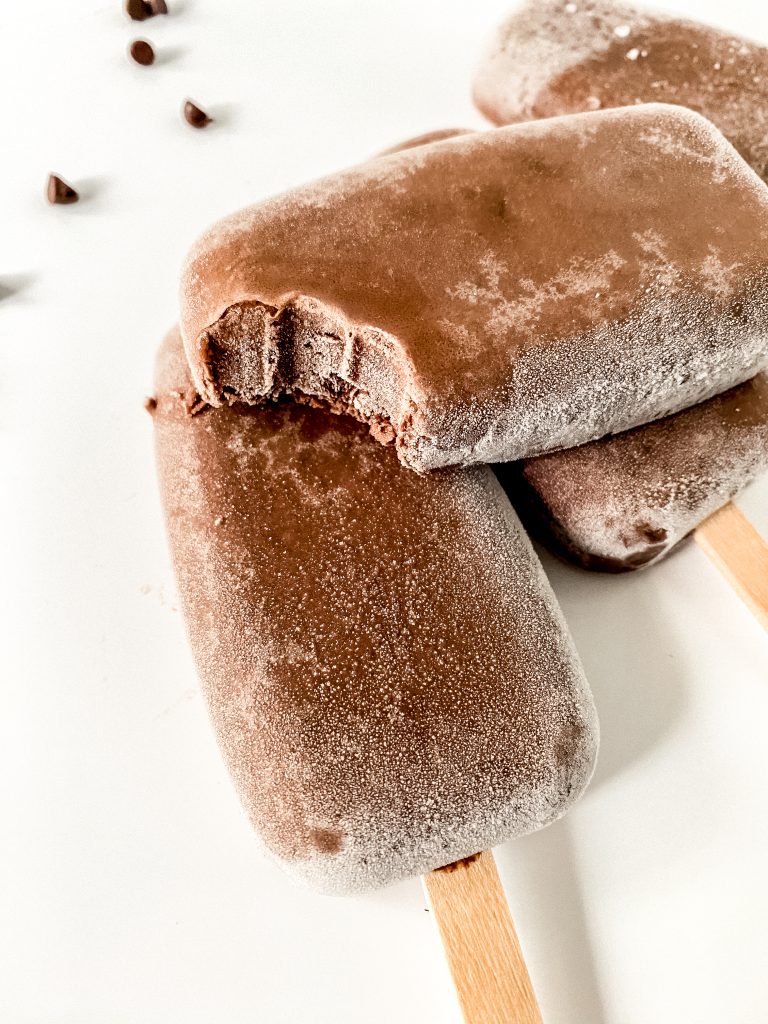 Don't Forget To Come Back And Let Me Know How Your Frozen Fudge Pops Turned Out!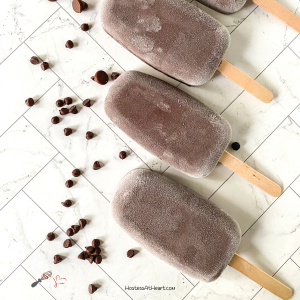 Homemade Chocolate Fudge Pop Recipe
I've got the perfect homemade fudge pop recipe to bring back memories of childhood and provide treats to the children in your life all year.
Ingredients
1/2

cup

unsweetenend cocoa powder

1

cup

sugar

1

tbl

cornstarch

1/4

tsp

salt

2

cups

milk

1

tsp

vanilla extract
Instructions
In a medium-sized bowl, whisk the cocoa powder, sugar, cornstarch, and salt together until the dry ingredients are clump-free.

Whisk half of the milk into the dry ingredients. Whisk until smooth. Whisk in the remaining milk.

Heat the mixture over medium heat until thickened. Stir with a spatula paying careful attention to the sides and bottom so the mixture does not burn. Once it looks like a chocolate sauce (this will happen quickly). Remove from heat and stir in the vanilla.

Allow mixture to cool for 5-7 minutes. The mixture will thicken it as it cools.

Pour the mixture into poplicle molds and add popsicle sticks. Freeze for 8 hours.

Remove the Fudge Pop from the mold and serve.
Notes
Servings vary according to the size of the container you use.
*Sifting the cocoa powder first makes removing the clumps from the dry ingredients much easier.
Nutrition
Calories:
154
kcal
Carbohydrates:
33
g
Protein:
3
g
Fat:
3
g
Saturated Fat:
2
g
Polyunsaturated Fat:
1
g
Monounsaturated Fat:
1
g
Cholesterol:
7
mg
Sodium:
97
mg
Potassium:
175
mg
Fiber:
2
g
Sugar:
28
g
Vitamin A:
99
IU
Calcium:
82
mg
Iron:
1
mg
Nutritional Disclaimer
This recipe was calculated using the exact brands and measurements I used to make this recipe. If you are following a strict diet please note changing anything will cause the nutritional info to change. My calculations are intended as a guide only.