This rich, dark chocolate Fudgy Brownies Recipe is gooey and chewy and will have you licking your fingers for another piece. It's the homemade brownie everyone craves. Wow your family and friends with the perfect bite of brownie.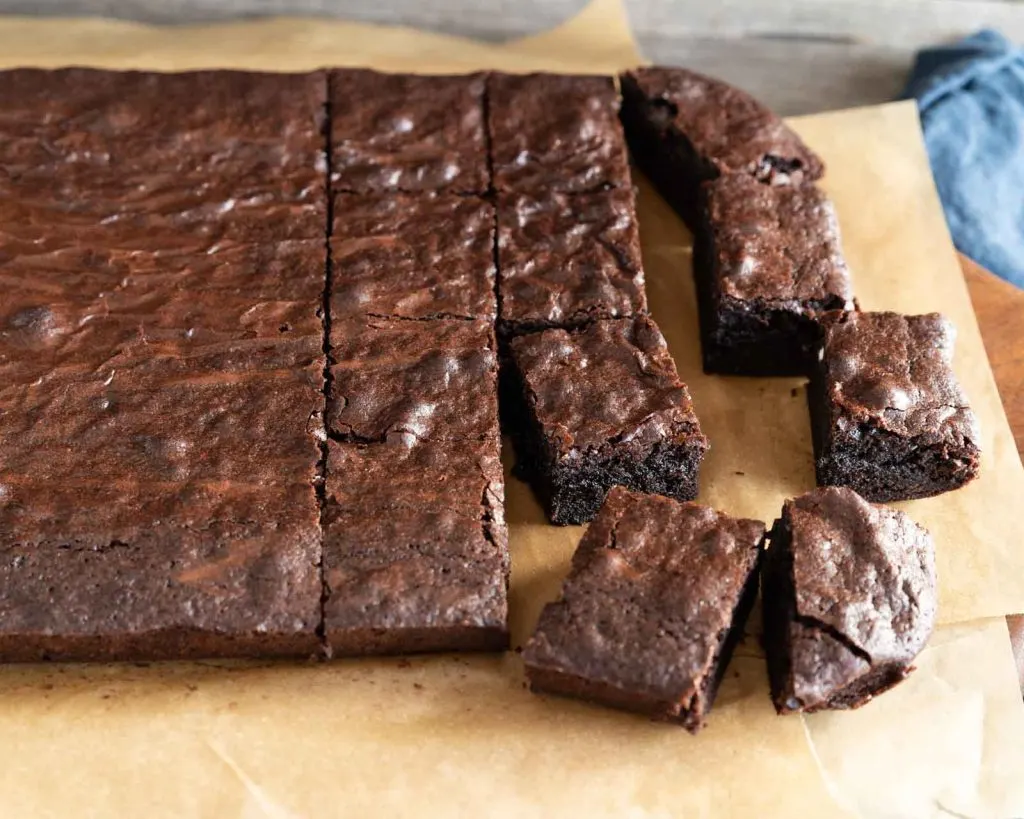 When decadent chocolate fudge brownies are the perfect texture, you know you've found a keeper of a recipe. This one will get passed down for generations.
Why You'll Love These Fudge Brownies
That fudge you love. Everyone wants perfectly chewy, gooey, fudgy brownies and that is exactly what you get with this from-scratch recipe.
Perfect for ice cream. Not every brownie is right for ice cream, but this one rocks the house. Make sure you pick up a container of your favorite flavor!
Fast and easy. A limited number of ingredients and super easy instructions make this brownie recipe a simple feat with huge rewards.
Equipment Needed To Make Chocolate Fudge Brownies
Hostess At Heart participates in affiliate programs. As an Amazon Associate, I earn a commission from qualifying purchases. Please refer to my disclosure page for more information about these affiliate programs.
7×11 Baking Dish I use this pan for a slightly thicker brownie. You can use a 9×13 baking dish for a thinner brownie.
Ingredients For Your Fudgy Brownie Recipe
Baking Cocoa – I love this Dark Chocolate Cocoa. It's rich, just the way I love my chocolate.
Butter – I use real, full-fat salted butter.
Sugar – White granulated sugar.
Brown Sugar – I prefer dark brown sugar because it has more molasses flavor. I also think it's moister than the light but you can use what you have or prefer.
Flour – All-purpose flour, bleached or unbleached.
Eggs – I use Grade A Large for consistency in my baking.
Vanilla – Pure or imitation.
Chocolate Chips – Semi-sweet is our choice for this fudge brownie recipe.
How To Make Fudgy Brownies
First step: Cook the butter and sugar for the fudgy brownies recipe.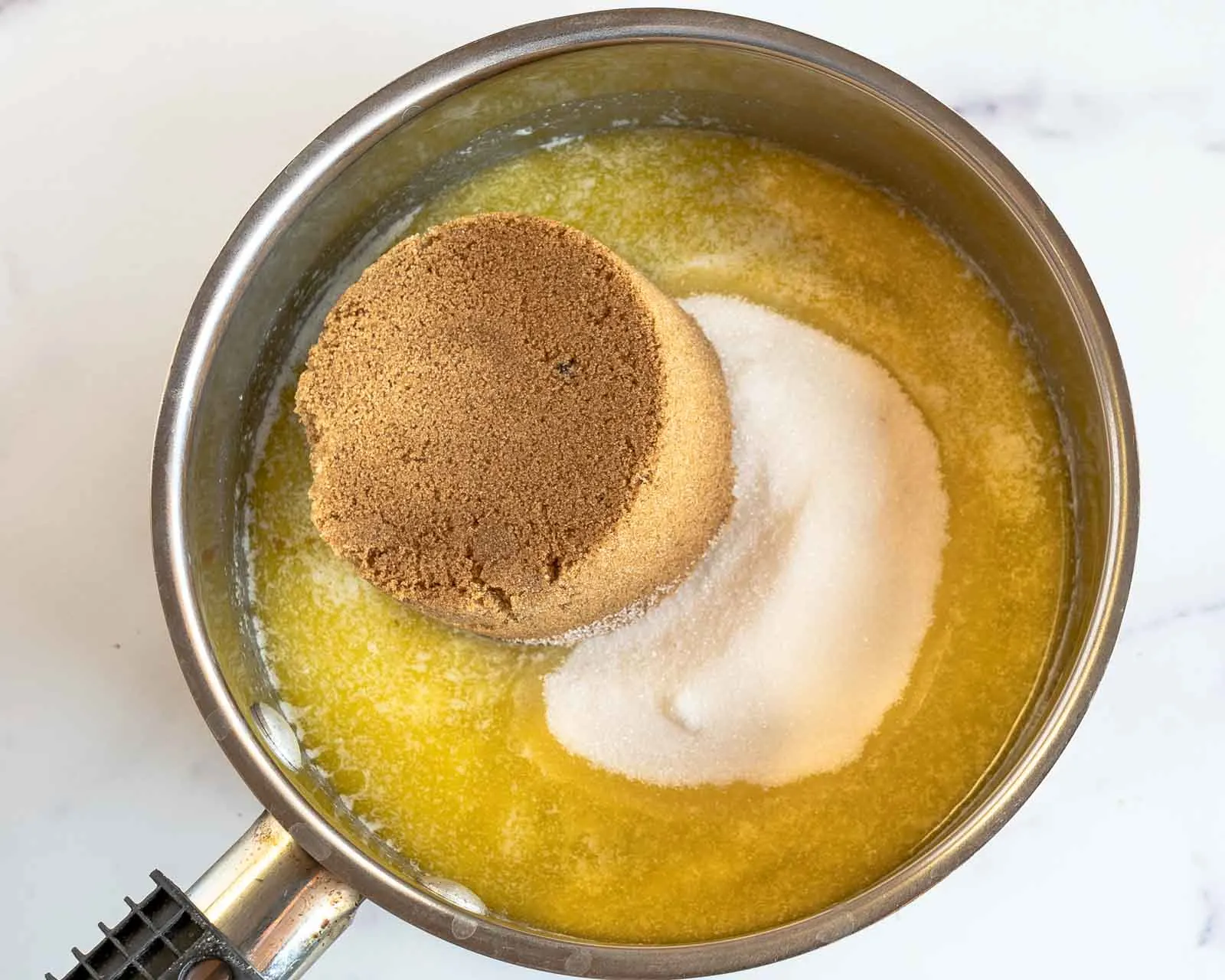 Melt the butter, white sugar, and brown sugar together in a small saucepan. Remove from the heat and add the vanilla.
Second step: Mix the dry ingredients.
Sift the flour and cocoa together.
Third Step: Combine.
Add the butter mixture to the flour mixture and stir until combined.
Fourth step: Add the eggs to your fudgy brownie mixture.
Drizzle the eggs into the batter, stirring continuously.
Fifth step: Stir in chocolate chips for the perfect chocolate fudge brownies.
Add the chocolate chips and stir until dispersed evenly. They may melt if the batter is hot and that's fine.
Sixth step: Fill Baking Dish and bake.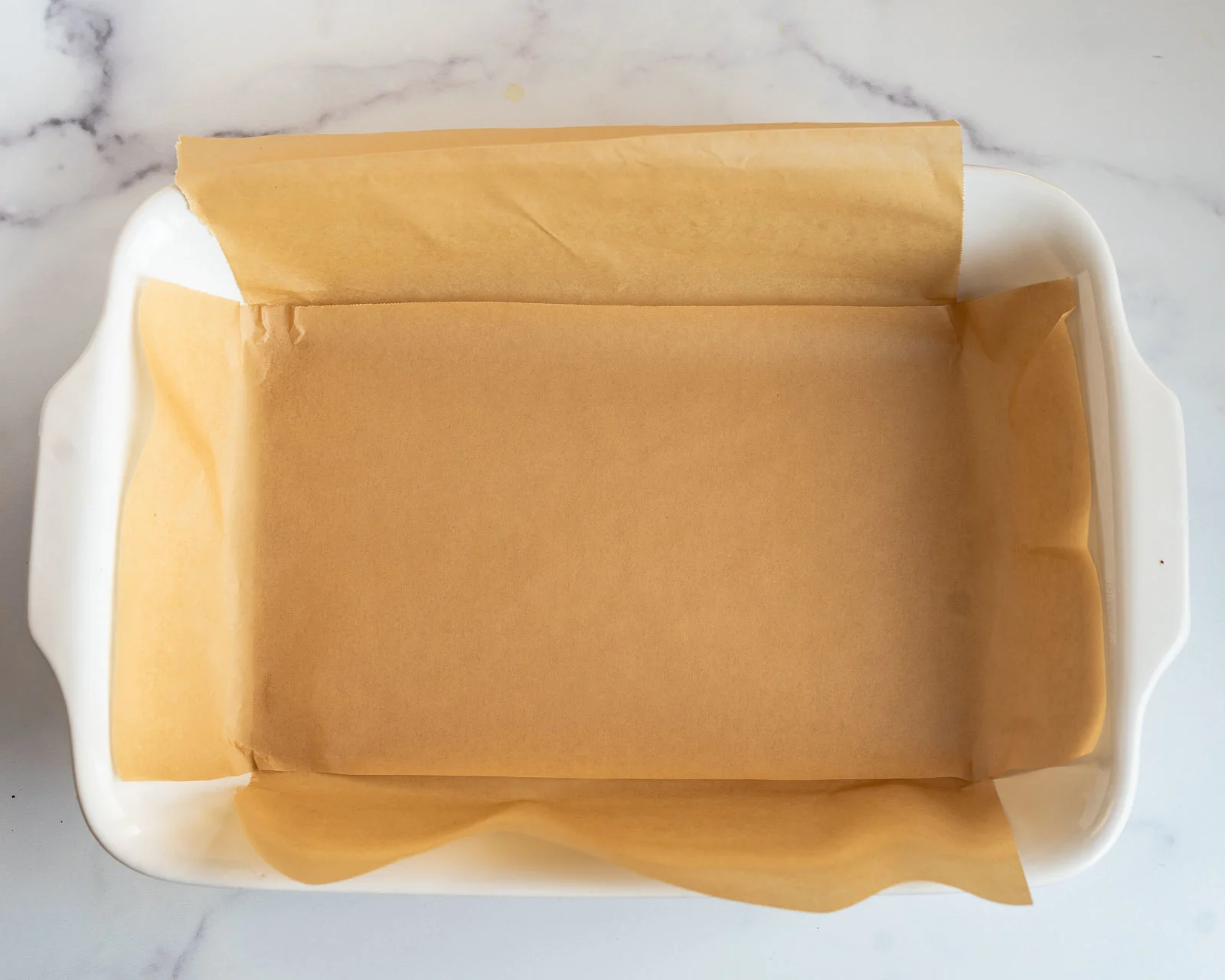 Pour brownies evenly into the prepared baking dish and bake.
What to Serve with Your Chocolate Fudge Brownies
These brownies are intense fudgy thick brownies. Not your cake variety. For that reason, I would cut them into small pieces and serve them with a scoop of vanilla ice cream or whipped topping.
Popular Subsitutions & Additions
You can use dark chocolate, milk, or semi-sweet chocolate chips.
Traditional chocolate cocoa, Special Dark, or Black cocoa can be used. The darker the cocoa the darker the brownie.
Add your favorite nuts such as pecans or walnuts.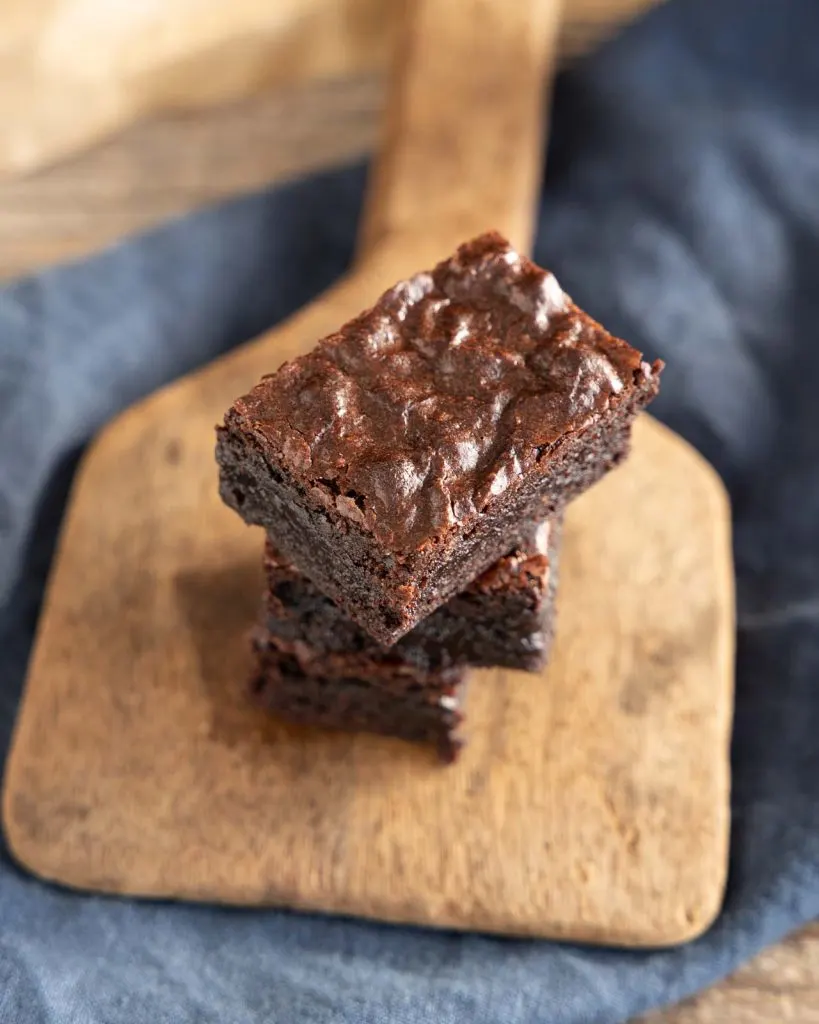 Tips for the Perfect Fudgy Brownies
Melt the sugar in the butter until the sugar is dissolved. This will prevent your brownies from being grainy.
You can let the butter mixture cool slightly before adding it to the flour mixture but I find that it blends easier if it's still fairly hot.
Sift the flour and cocoa together. This is an extra step but cocoa naturally is lumpy and sifting it will help it blend into your batter.
If the batter is hot, drizzle the eggs in very slowly and whisk quickly so you don't end up with scrambled eggs. That's called tempering.
Don't overmix the brownie batter. You can use an electric mixer but it's not necessary.
Do not overbake brownies. When they are just pulling away from the edges and appear set they are done. They will continue to set as they cool.
How To Reheat & Store Fudgy Brownies
Best Way To Store Leftover Chocolate Fudge Brownies
Keep your brownies covered at room temperature.
Can I Freeze Fudge Brownies
Yes. Freeze your brownies in an airtight container. Thaw at room temperature or for short intervals in the microwave.
You can also freeze an entire tray, removed from the pan. Place parchment under and slide the brownies into a plastic freezer-quality bag or airtight container. Frozen brownies will last for up to three months.
How To Reheat Chocolate Fudge Brownies
Use your microwave. For a hot brownie microwave for ten to twenty seconds. If you are starting from frozen, you will need at least thirty seconds and can add additional time as needed.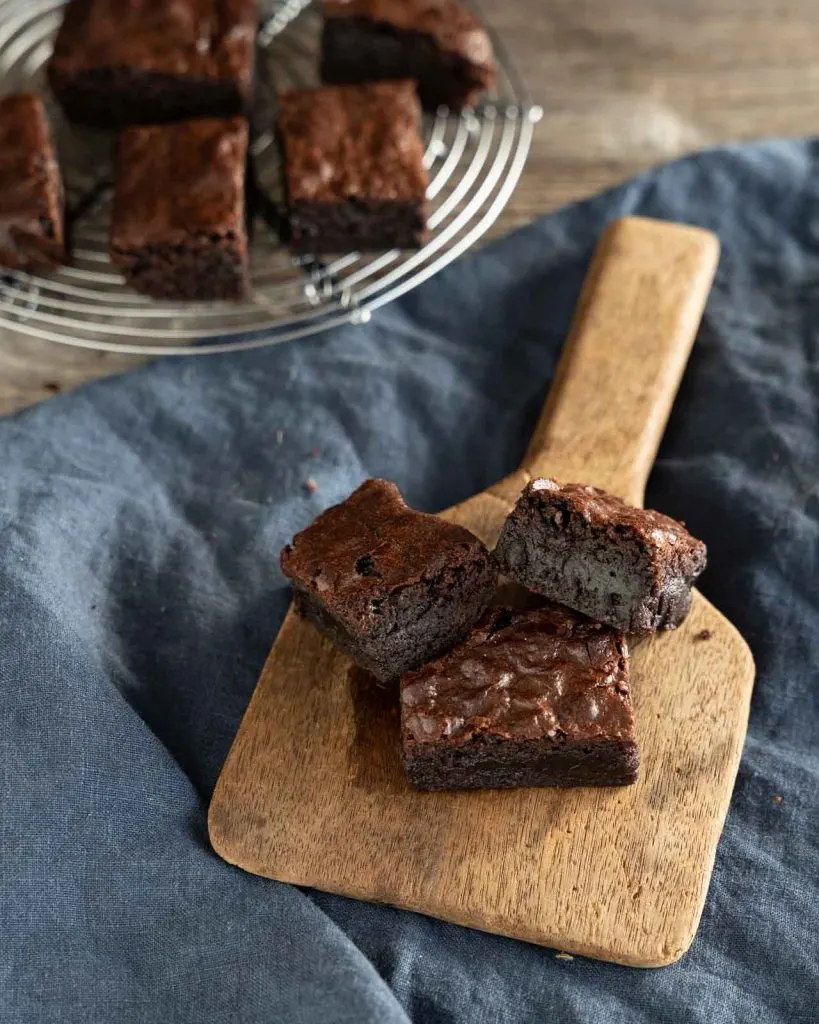 FAQ's
What makes brownies moist?
The fat in the butter and chocolate adds moisture to the batter. Don't overmix the batter, and don't overbake the brownies.
Do I have to use chocolate chips in this fudgy brownies recipe?
I've made this recipe a bajillion times trying to get it perfect. You don't have to add the chocolate chips but chances are you will not get that shiny flaky top. If you don't mind not having that top, feel free to skip them.
What makes these brownies fudgy?
Recipes that have more flour and baking powder are cakey. The fat content in these brownies assures you'll end up with a fudgy brownie.
What do the eggs do in this recipe?
The eggs act as an emulsifier which helps the dry ingredients blend with the butter mixture.
If you liked these fudge brownies try these out!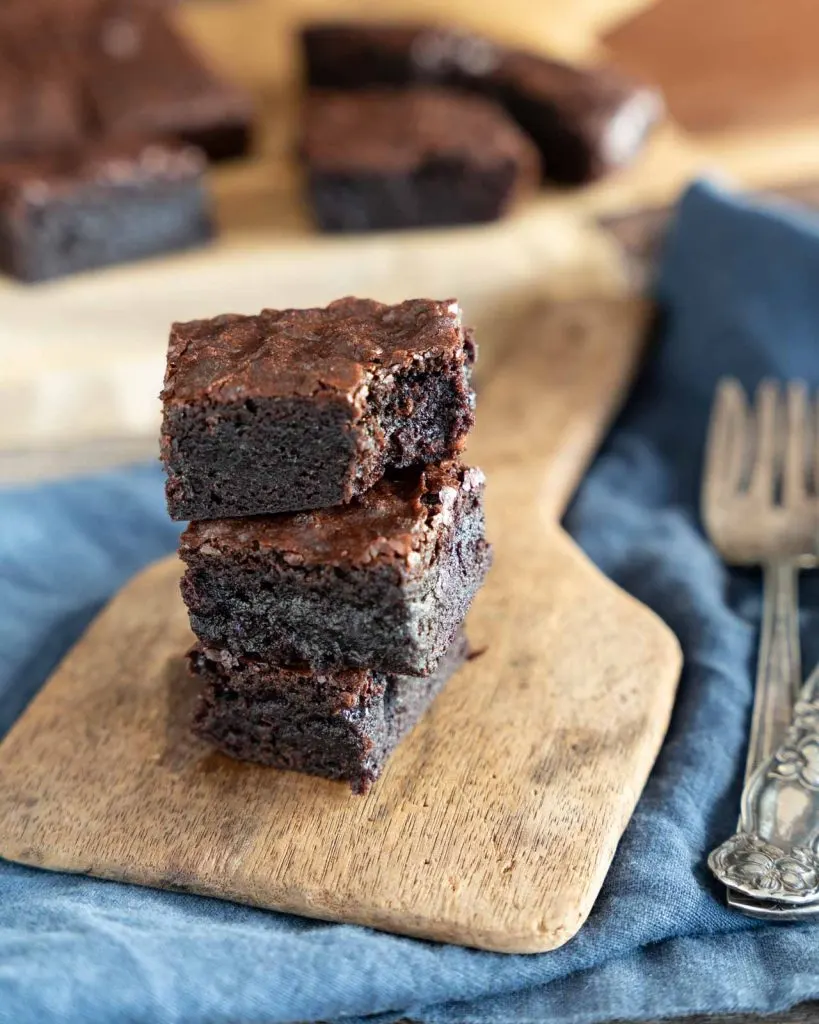 I hope you enjoyed this delicious recipe as much as we do. Drop me a comment below, and don't forget to give it a star rating. ⭐⭐⭐⭐⭐. Your comments and ratings help others decide if this recipe is for them too.
Pin It Now