Peanut butter cup lovers rejoice! Our Easy Chocolate Peanut Butter Brownie recipe combines a rich chocolate fudgy brownie with a swirl of creamy peanut butter topping.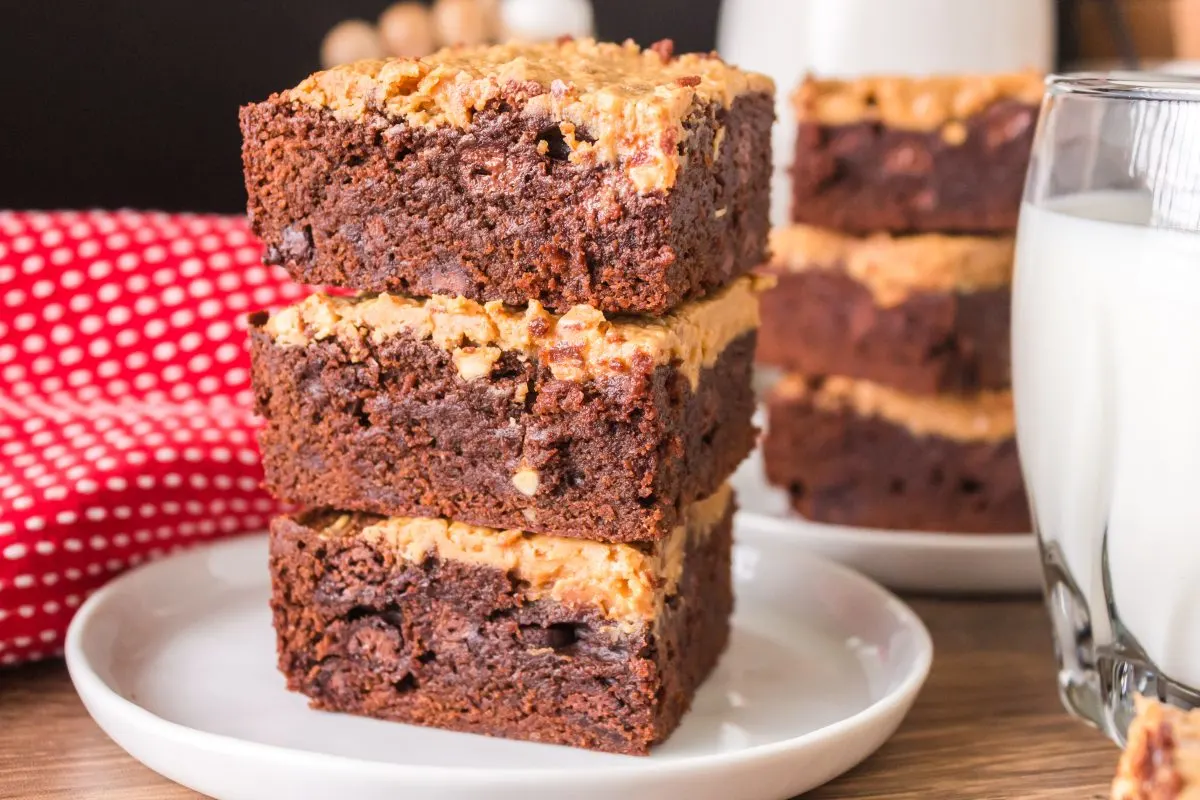 Indulge in the rich, chocolatey goodness of our peanut butter brownies recipe. This easy-to-follow recipe for peanut butter brownies is sure to satisfy any sweet tooth.
Why You'll Love Chocolate Peanut Butter Brownies
Unique Variation on a Classic. Everyone brings brownies to the campfire or pool party, but very few will bring something as extravagant and luscious as peanut butter brownies.
That Iconic flavor combination. If you love the combination of peanut butter and chocolate, you'll love this easy brownie recipe. Instead of making a peanut butter filling, we swirled a peanut butter topping into the brownie batter, assuring every bite is full of chocolate peanut butter flavor.
Simple Recipe. It's so much easier to make homemade brownies from scratch than you think, and once you've tried our chocolate peanut butter brownie recipe, you'll never look back.
Equipment Needed
Hostess At Heart participates in affiliate programs. As an Amazon Associate, I earn a commission from qualifying purchases. Please refer to my disclosure page for more information about these affiliate programs.
Peanut Butter Brownies Recipe Ingredients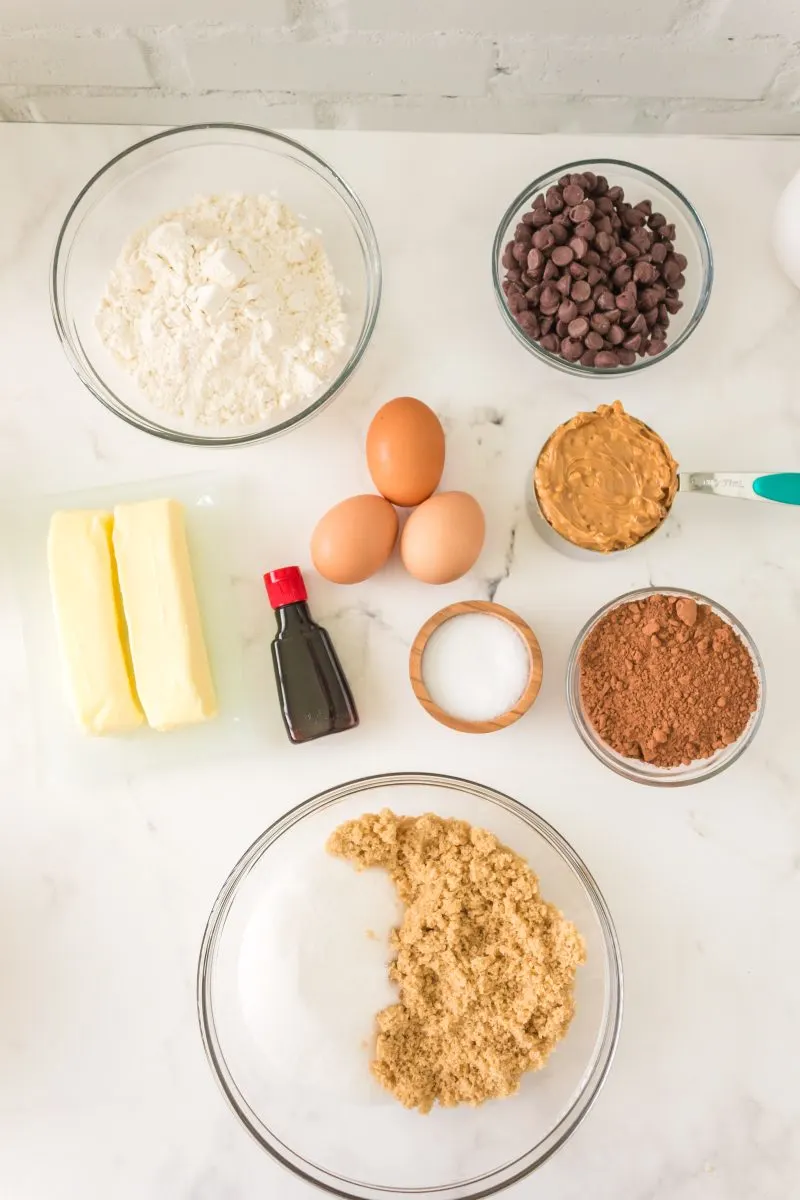 Salted Butter.
Granulated Sugar. White sugar
Light Brown Sugar. Dark brown sugar can be used as well.
Eggs. Grade A large
Unbleached All-Purpose Flour.
Cacao Powder. Use a good quality chocolate cocoa powder.
Salt.
Chocolate Chips. Semi-sweet or dark chocolate is what we prefer.
Topping Ingredients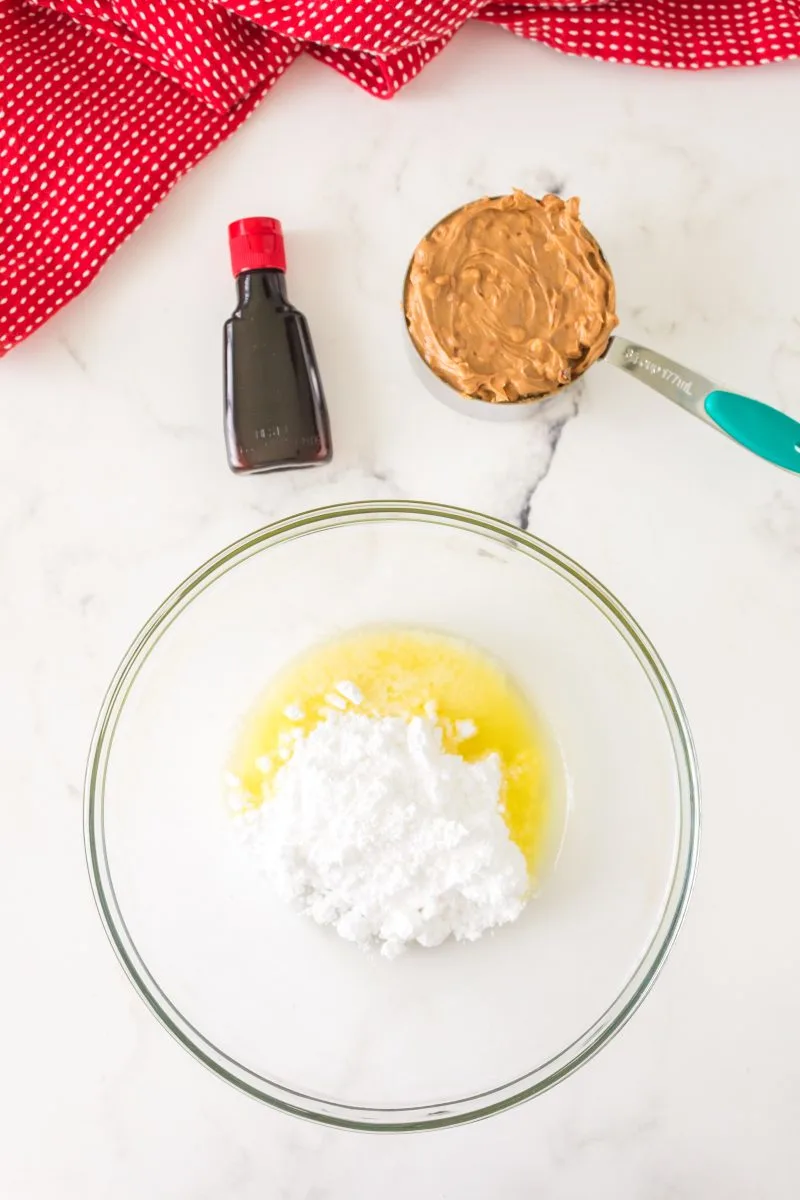 Peanut Butter. I used crunchy peanut butter, but you can use smooth peanut butter as well.
Melted Butter. I used salted, but you can use unsalted if that is what you have.
Powdered Sugar. Also called confectioners sugar.
Please note, that the printable recipe card has ingredient quantities, complete instructions, and nutritional information. The following is a quick overview of the recipe.
How To Make Peanut Butter Brownies
Step One. Get everything ready to make the ultimate chocolate peanut butter brownies recipe!
Preheat the oven. Make sure you have all of the ingredients and set your butter out to come to room temperature. Butter your pan. Line the pan with parchment paper and butter the parchment paper.
Step Two. Cook the butter and sugar to combine.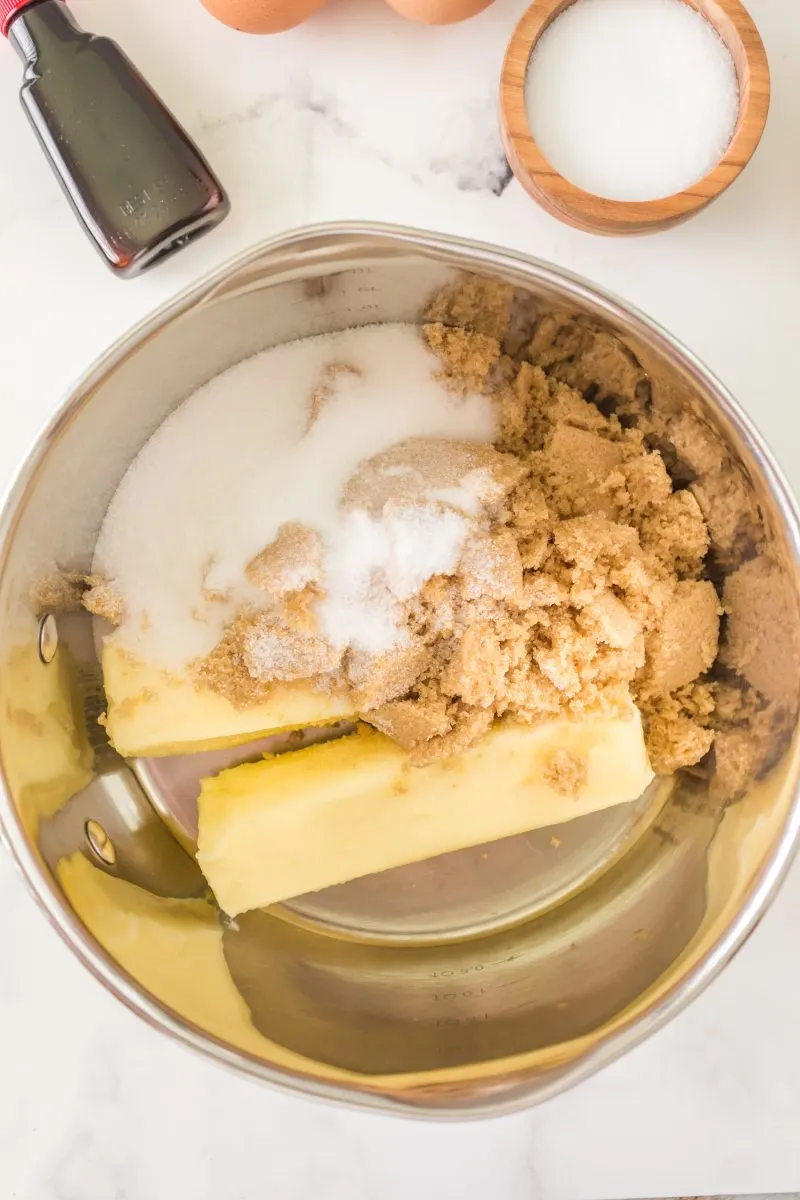 In a saucepan, over medium heat, add the butter, granulated sugar, and light brown sugar. Stir until the butter is all melted and combined with the sugars. Cool.
Step Three. Mix dry ingredients.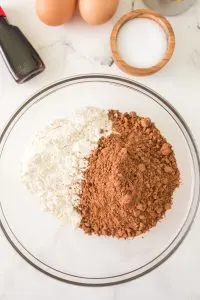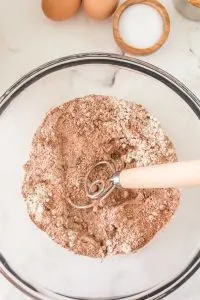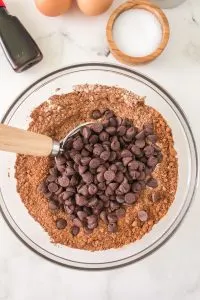 In a large bowl, sift the flour and cocoa powder together. Add the salt and chocolate chips. Mix until all ingredients are combined and the chocolate chips are coated with the flour mixture. Set aside.
Step Four. Finish mixing the peanut butter brownies.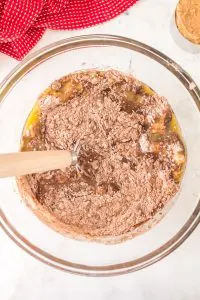 Add the vanilla extract and the eggs one at a time to the butter-sugar mixture once it has cooled. Mix well in between each. Pour the brownie base mixture into the prepared 9×9 cake pan and smooth it out into an even layer.
Step Five. Make the topping.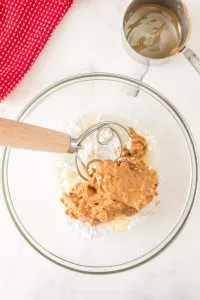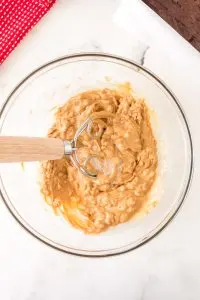 In a separate bowl, mix the peanut butter, melted butter, powdered sugar, and vanilla extract. Scoop the peanut butter mixture on top of the brownie batter. Spread gently. Using an offset spatula or butter knife, swirl the peanut butter layer on top of the brownies.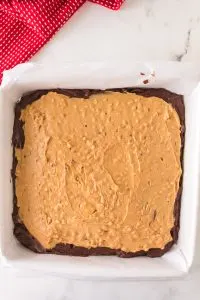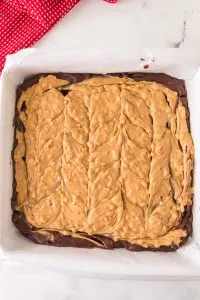 Step Six. Bake the peanut butter swirl brownies.
Bake for 30 to 35 minutes. Let the brownies cool in the pan. Gently release the sides of the brownies and pull on the parchment paper. Place on a cooling wire rack and let it cool for at least 1 to 2 hours.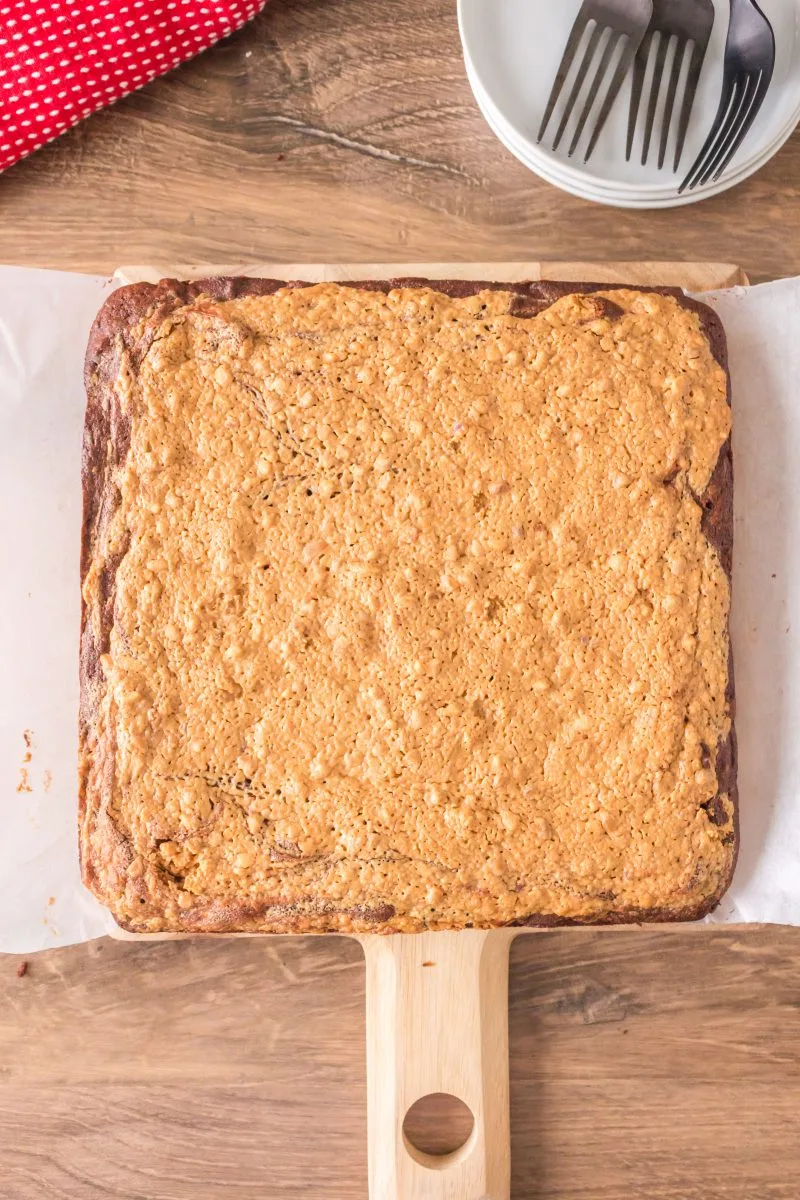 How to Serve Our Chocolate Peanut Butter Brownies
Serve the brownies with ice cream, hot fudge, caramel, and your favorite sprinkles or chocolate chips to top it all off.
Substitutions – Additions – Variations
Use 100% cocoa powder versus Dutch-process cocoa powder. I tend to like dark chocolate but it will not affect the outcome if you use the lighter chocolate and cocoa powder of your choice. I recommend using a good quality product since it's the star.
Peanut Butter – I don't recommend natural peanut butter because the oil tends to separate. You can use the kind of peanut butter you like; creamy or crunchy varieties are fine.
Have fun with the recipe. Take a piece of the brownies, crumble it, and use it as a topping for a Sundae.
Make it kid-friendly. Substitute the chocolate chips with peanut butter chips or Reese's pieces.
Make it Deluxe. Use chopped Toblerone or candy bars instead of chocolate chip, or add peanuts or
crushed peanut butter cups on top.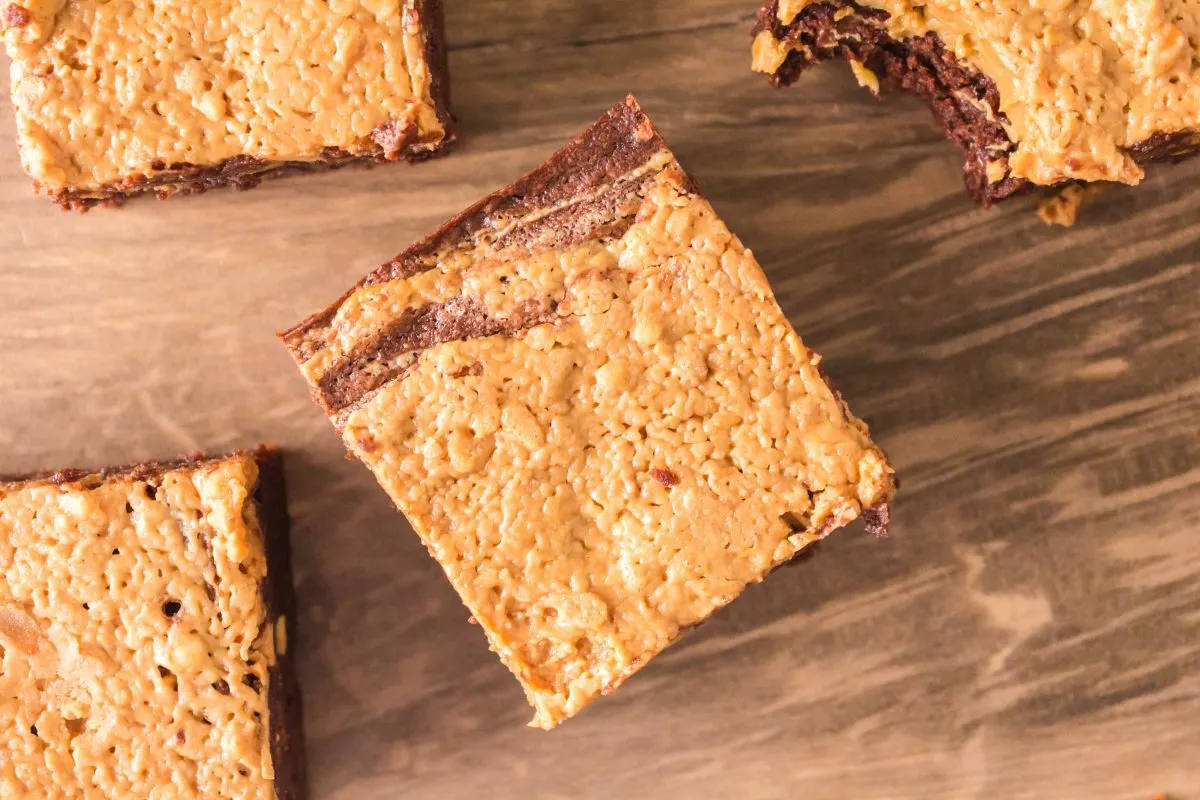 Frequently Asked Questions
What pan is best for baking brownies?
It depends on how thick you want your brownies. I find a 9×9 or 7×11 my favorite. You can check out my free pan conversion chart for more information.
How long to bake brownies?
To properly bake brownies, don't use a toothpick to test them for doneness like a cake. Instead, as soon as they have barely started to pull away from the sides, take them out or take them out at the minimum baking time, let them cool in the pan, and make a note on your recipe as to how long they took to bake. That's what I do. All ovens are different.
What does butter do in brownies?
It makes brownies chewy with a fudgy texture. It also tastes more decadent and rich. You can swap it for oil. However, it will not have the same flavor or texture.
Do I have to sift the flour and cocoa powder together?
No, you do not have to sift the flour and cocoa powder together. I always sift cocoa powder because it has fats that clump. By sifting the two together, you're less likely to overmix trying to get rid of clumps or end up with baked brownies with pockets of cocoa powder or flour.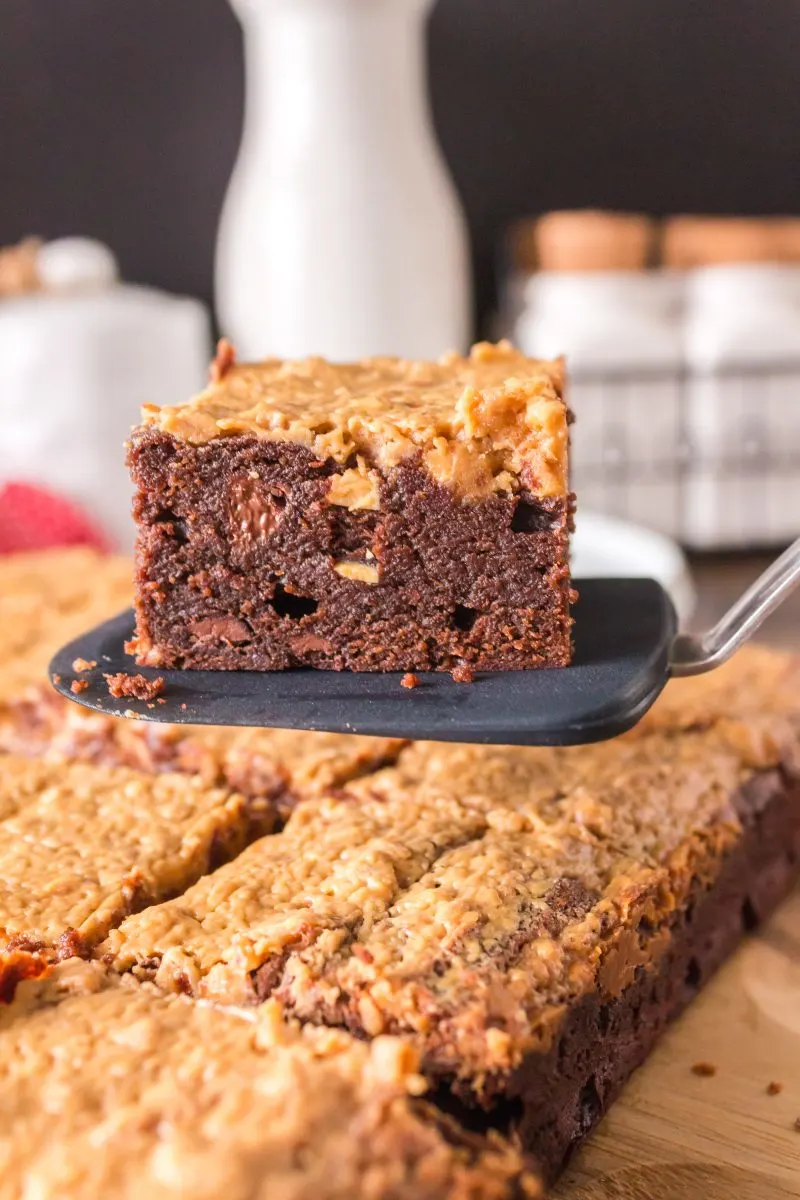 How To Reheat & Store Peanut Butter Brownies
Best way to store Brownies with Peanut Butter?
Keep the brownies in an airtight container on the counter for 3-4 days or in the fridge for up to 1 week.
Can I freeze Brownies with Peanut Butter?
Yes, you can freeze the pan or individual pieces. Wrap the brownies in plastic wrap and then in foil or an airtight container for up to three months.reeze in an airtight container for up to three months. Thaw at room temperature to serve or microwave a single brownie for about thirty seconds for faster thawing.
How to reheat Chocolate Peanut Butter Brownies?
You can rewarm a brownie in the air fryer at 330º F for 2 to 3 minutes or briefly in the microwave.
Tips for this Perfect Chewy Peanut Butter Brownies Recipe
When you melt the butter and sugars, whisk them together until they are combined. Allow the mixture to cool for about 5 minutes, so whisking the egg into it is easier, and you're less likely to get scrambled eggs.
Melting the butter also helps diffuse it into the other ingredients. Unlike these homemade fudgy brownies, you'll get a cakey brownie using softened butter because you stir more air into the batter.
Don't over-mix. I use a spatula or Danish dough hook and mix only until combined instead of using an electric mixer.
Preparing the pan with parchment paper helps to remove the brownies from the pan for easy slicing. It also eliminates any effect of the pan you use on the brownies.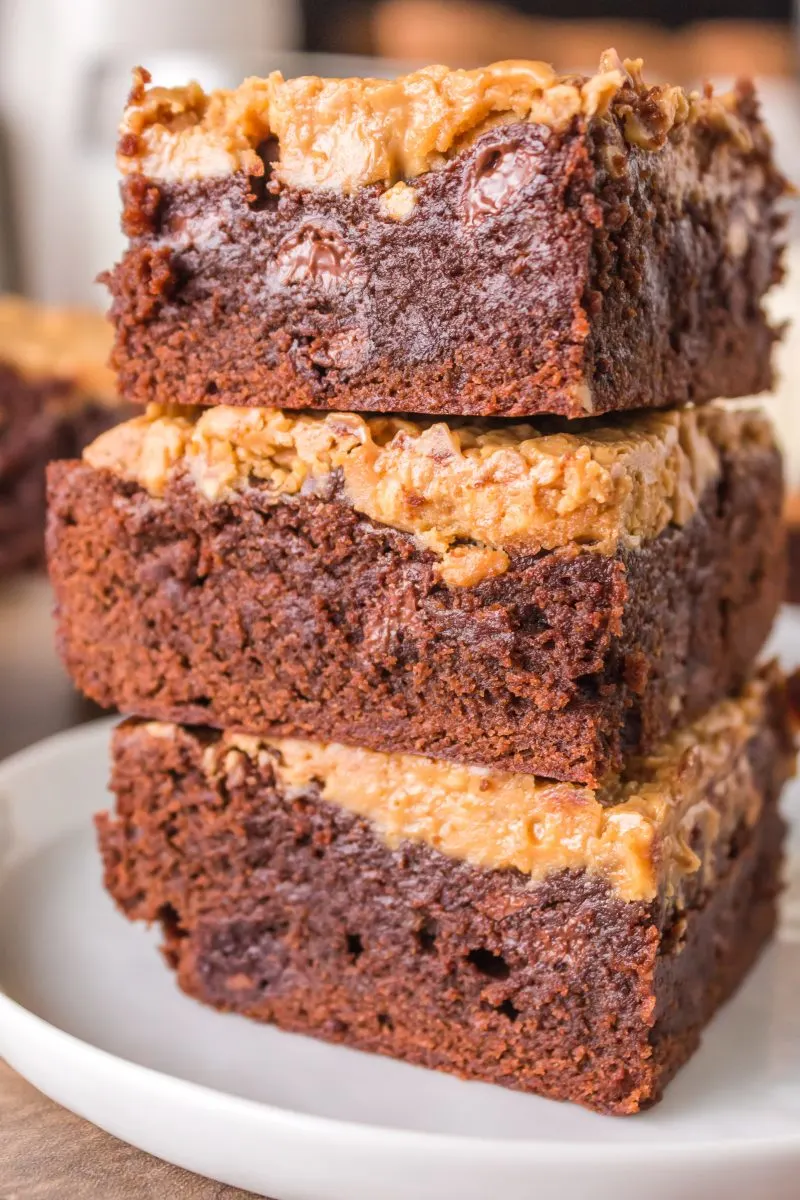 If you enjoyed this Peanut Butter Brownies Recipe, check these out!
I hope you enjoyed this delicious recipe as much as we do. Drop me a comment below, and don't forget to give it a star rating. ⭐⭐⭐⭐⭐. Your comments and ratings help others decide if this recipe is for them too.
Pin this amazing recipe!