Our Spice Cake recipe with Peanut Butter Frosting has a tender center with a delicious contrast in the sweet frosting. This combination may sound unusual but trust me, this cake is absolutely delicious. It's an easy spice cake to make and one of my all-time favorites!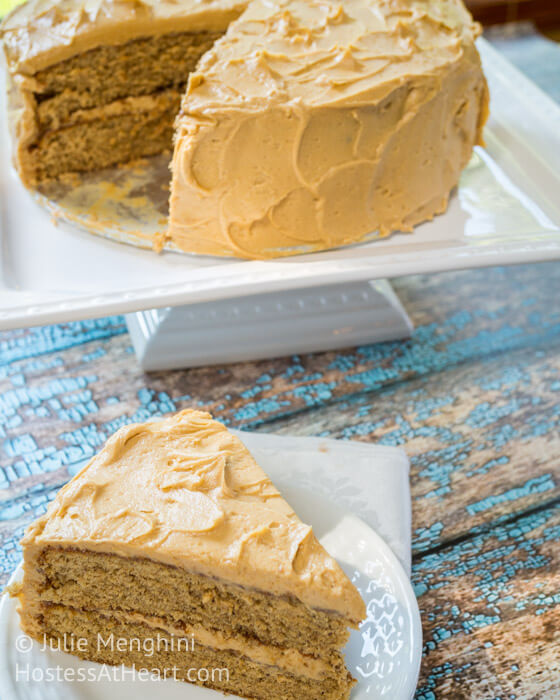 My birthday should be a National holiday. Well, not really but I celebrate it like it is by making our Spice Cake with Peanut Butter Frosting!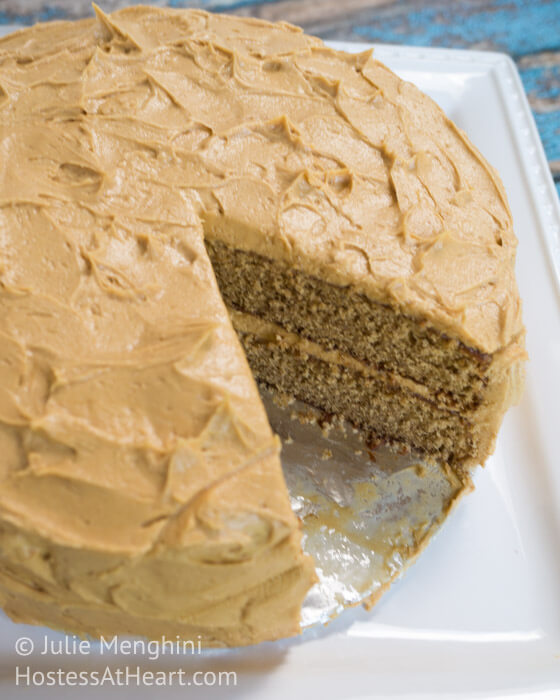 Growing up, I always requested my mother's spice cake with peanut butter frosting. I haven't had it in years but my memory was having major cravings for it.
I'm not sure what recipe my mother used but I found this recipe in my MIL recipe box. It's actually called a New Duchess Spice Cake. I knew it would be good when I saw all of the spices and buttermilk listed in the ingredients.
This recipe required me to sift the dry ingredients together and then add the wet ingredients and lastly the eggs. I generally make a cake in the opposite order but went with the instructions.
The only change that I made was to replace the shortening with butter…insert singing here.
Ingredients of Spice Cake
All-Purpose Flour.
Granulated Sugar.
Baking Soda.
Cinnamon.
Nutmeg. If you don't use nutmeg or cloves much, make sure these spices are still good for baking. I like to replace unused spices every six months.
Cloves.
Salt.
Dark Brown Sugar.
Unsalted Butter.
Buttermilk. Buttermilk will add a tangy sweetness to the cake.
Eggs.
Ingredients of the Peanut Butter Frosting
Powdered Sugar.
Creamy Peanut Butter.
Unsalted Butter.
Vanilla.
Salt.
Heavy Cream.
How to Make the Spice Cake Recipe
Eating this cake made me feel like a Happy Duchess, and I will definitely make it again! Take a look at how easy it is – these are the steps.
Preheat your oven and spray your pan with baking spray that includes flour *or* grease and flour your pan (s).
Mix the dry ingredients with a sifter.
Add liquid ingredients and beat for two minutes.
Next, add the eggs and beat for two more minutes.
Pour the mixture into the prepared pans, and bake according to the directions. The baking time depends on the size of the pans used, and specific instructions for each step can be found on the recipe card.
Cool completely before frosting the cake for the best results. It's always tempting to frost this cake early, but if you do you'll have goopy frosting as it starts to melt.
How to Make the Peanut Butter Frosting
Mix all of the ingredients except heavy cream with the paddle attachment to cream everything together. Add the heavy cream and beat the mixture until it is smooth, light, and fluffy.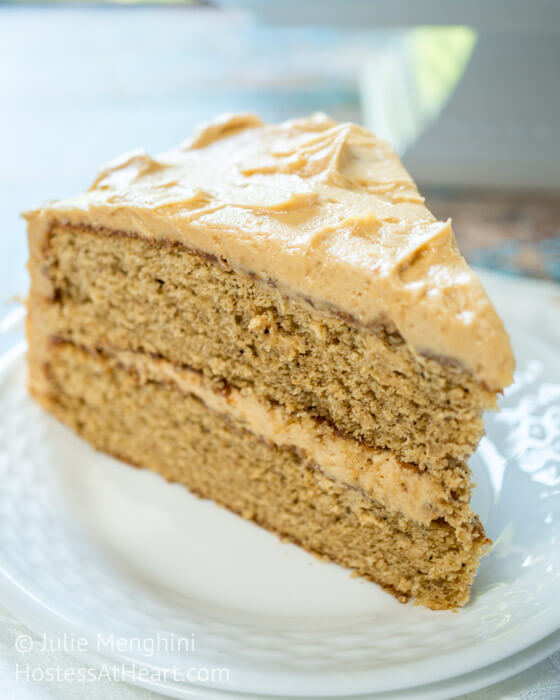 Tips for the Spice Cake Recipe:
You can bake this spice cake in a 9×13 pan if you don't want to make a layered cake.
Ingredients are measured before sifting.
This cake would also be delicious with cream cheese or buttercream frosting if you aren't feeling adventuresome.
Anytime you use icing with milk, butter, or cream cheese the cake should be covered and stored in the refrigerator.
Storing the Spice Cake
This cake can be stored in the refrigerator covered for 3 days. Spice cake can also be frozen using air-tight containers. We recommend freezing it before frosting it. To thaw, let the cake sit at room temperature.
Frequently Asked Questions about the Spice Cake Recipe
Do I have to use Cake Flour?
Cake flour makes a cake a little more tender. If you use all-purpose flour, your cake will still be delicious.
You can make your own cake flour! For every cup of all-purpose flour, add 1 1/2 teaspoon baking powder and 1/4 teaspoon salt.
Do the ingredients have to be sifted?
No, the ingredients do not have to be sifted. However, we've found that the cake is lighter and blends together more evenly when the ingredients are sifted together. We measured the ingredients and then sifted them together.
Products I used for this recipe
Round Cake Pans – I took a cake decorating class and bought these pans. They bake evenly and clean up great too.
Flour Sifter – My daughter bought me this sifter and I love it! It works smoothly and quickly!
Mixing Bowls with Measuring Spoons. A handy set. I use mixing bowls so often I have two sets so that I don't run out!
A handy spatula for spreading the frosting.
Here are a few more recipes that would make anyone feel special!
Raspberry Chocolate Pound Cake, A decadent chocolate set off by raspberries.
Hershey Syrup Cake. Who could dislike a cake made with Hershey's syrup? This is the stuff chocolate milk is made of. Yum.
Black Russian Cake with Kahlua filling. Perfect for a dinner party.
Bananas Foster Cake with Praline Glaze. A delicious dessert worthy of praline.
Lemon Pudding Poke Cake. One of my favorite flavors, lemon takes this poke cake over the top.
Apple Spice Cake with Caramel Icing. A great alternative to our spice cake recipe with peanut butter frosting, this one adds the seasonal apple fruit flavor.
Vintage Cherry Chip Layer Cake. Tasty and old-fashioned. A very satisfying and comforting dessert.
Kentucky Butter Cake. This beauty is slathered with a sweet butter sugar glaze. We love how easy it is to make and gorgeous to look at!
This homemade spice cake was everything that I remembered and has been declared my new birthday celebration cake!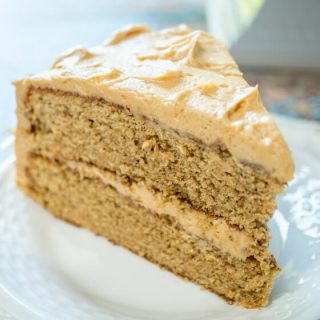 Spice Cake with Peanut Butter Frosting
Spice Cake with Peanut Butter Frosting is tender and delicious. This easy cake is filled with a mound of sweet creamy peanut butter frosting. This combination is a match made in culinary heaven.
Ingredients
Cake Ingredients
2.5

cups

cake flour

1

cup

sugar

1

tsp

baking soda

1.5

tsp

cinnamon

3/4

tsp

ground nutmeg

1/4

tsp

ground cloves

1

tsp

salt

1

cup

dark brown sugar

2/3

cups

unsalted butter

room temperature

1

cup

buttermilk

room temperature

3

eggs

room temperature
Frosting Ingredients
1

cup

confectioner sugar

1

cup

peanut butter

creamy style

5

tbsp

unsalted butter

room temperature

3/4

tsp

vanilla extract

1/4

tsp

salt

1/3

cup

heavy cream
Instructions
Preheat oven to 350 degrees F. Grease and flour two 9 inch round pans or one 13×9 pan. Line with parchment paper.

Sift together flour, sugar, baking soda, cinnamon, nutmeg, cloves and salt in the bowl of an electric stand mixer.


Add brown sugar, shortening (or butter), and buttermilk. Beat for 2 minutes.


Add 3 eggs and beat 2 more minutes.


Pour into prepared pans and bake 25 to 30 minutes for round pans or 30 to 40 minutes in a 13×9 pan or until cake tests done. Allow round pans to cool at least 15 minutes. Run a knife around the perimeter of the pans and turn onto a cooling rack. Cool completely.


To make the frosting, combine sugar, peanut butter, butter, vanilla and salt in the bowl of an electric stand mixer, fitted with a paddle attachment. Blend until creamy. Add cream and beat on high until light and smooth.

Notes
Covered cake can be stored at room temperature for 3 days.
Peanut Butter Icing featured by Ina Garten on The Food Network
Nutrition
Calories:
463
kcal
Carbohydrates:
55
g
Protein:
8
g
Fat:
24
g
Saturated Fat:
11
g
Cholesterol:
73
mg
Sodium:
394
mg
Potassium:
192
mg
Fiber:
1
g
Sugar:
37
g
Vitamin A:
520
IU
Calcium:
56
mg
Iron:
0.8
mg
Nutritional Disclaimer
This recipe was calculated using the exact brands and measurements I used to make this recipe. If you are following a strict diet please note changing anything will cause the nutritional info to change. My calculations are intended as a guide only.
What's popular