There are some flavors that are just meant to go together like chocolate and raspberry. Wrap them both up in a Raspberry Chocolate Bundt Cake and you have a 5-star winner.
I first published this recipe in 2016, but it was time for an update. I've added detailed information to improve my readers' experience. No changes were made to the recipe.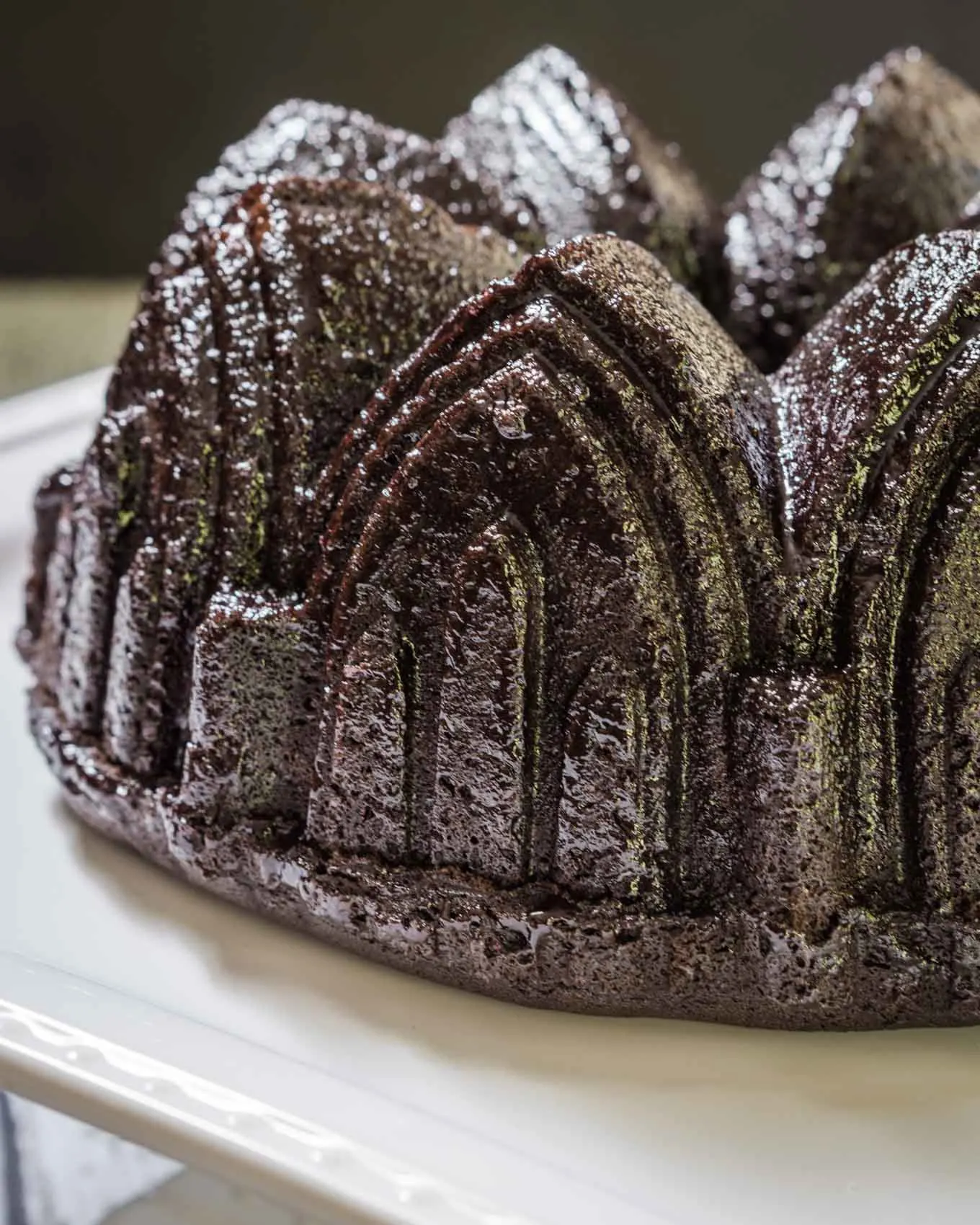 Cakes don't have to be difficult or technical to make to be absolutely delicious. When I came across this Raspberry Chocolate Bundt Cake recipe in my mother-in-law's recipe box I just had to try it. I knew that it would be perfect to take to a virtual weeklong party known as Choctoberfest too!
Disclaimer, every day is Choctoberfest in our house.
Why You'll Love This Chocolate Raspberry Bundt Cake Recipe
I love the fact that this cake naturally has a glaze so you don't need to frost it. You'll just brush a little reserved jam on the cake while it is still warm, and the result is a glossy beauty!
The Ingredients for this Easy Chocolate Raspberry Cake are available all year long making it perfect for any occasion. You can change it up for many different themes just by using one of the beautiful NordicWare Bundt Pans with themes such as Christmas, castles, animals, hearts, and more!
A lot of raspberry chocolate cake recipes are complicated layer cakes with a homemade jam filling. This cake is quick and easy and doesn't require layers, homemade jam fillings, or frosting. Better yet, it is so good you won't even miss any of those things.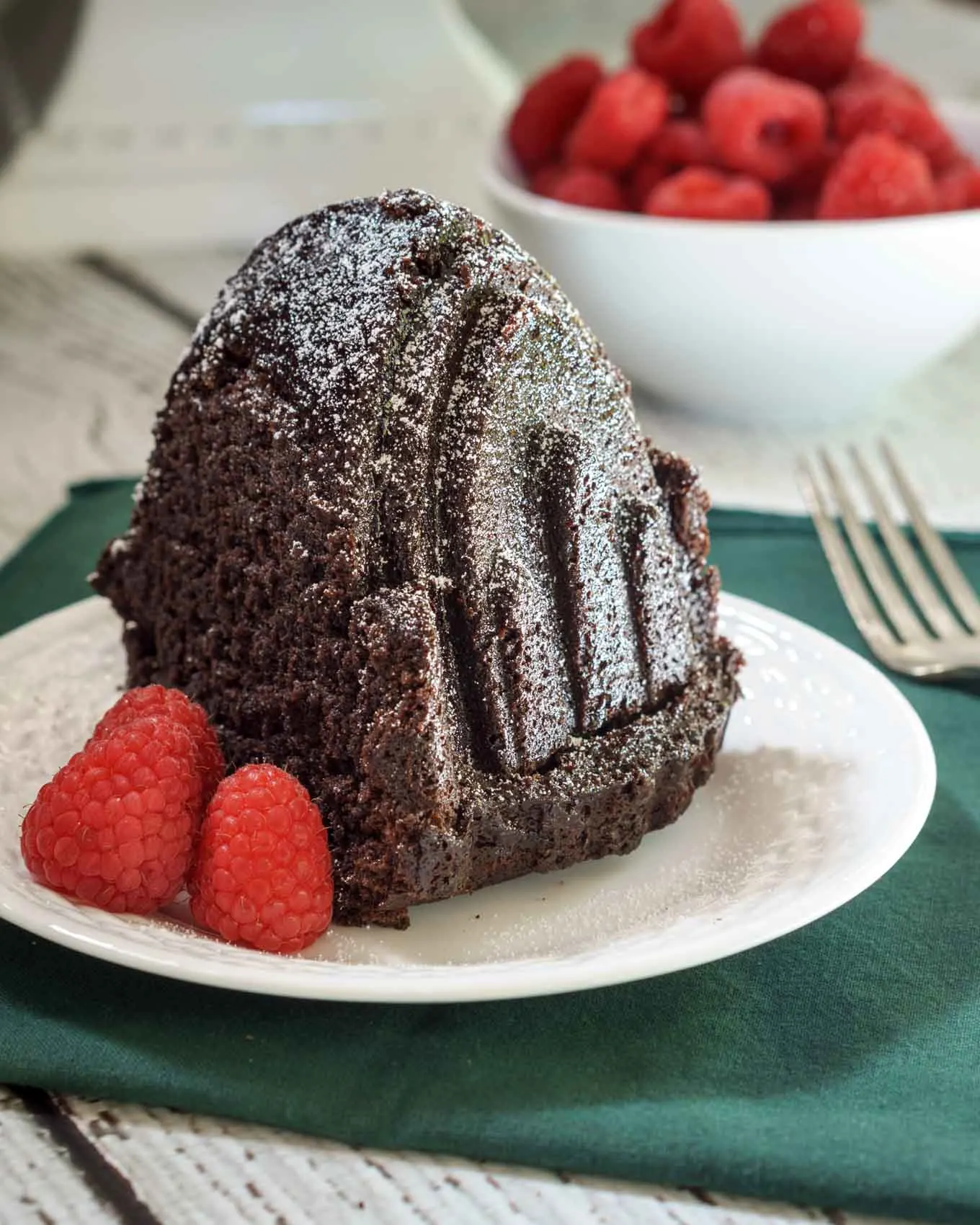 Equipment Needed To Make Easy Chocolate Raspberry Cake
Bundt Pan. We used the Fleur De Lis Bundt pan but you can literally use any bundt pan or bundt mini pans to make a full-size cake or several mini cakes.
Mixing Bowl. A good mixing bowl for mixing cakes is deep enough to prevent messes.
Hand Mixer. Hand mixers do wear out if you cook and bake often enough, and when they do I like to replace mine with the same brand so that I can keep the old beaters and have extra!
Ingredients For Your Raspberry Chocolate Bundt Cake
All-Purpose Flour.
Granulated Sugar.
Cocoa. I did use Hershey's Special Dark cocoa because I wanted a cake with a deep rich chocolate flavor. Just look at that color!
Baking Soda.
Salt.
Seedless Raspberry Jam. You can also use preserves. Make sure to get seedless, because the seeds will be unpleasant in the cake.
Butter.
Sour Cream.
Eggs.
Powdered Sugar. Did you know you can make your own in a food processor? If you can't find it at the grocery store or don't have it when you need it, just make your own.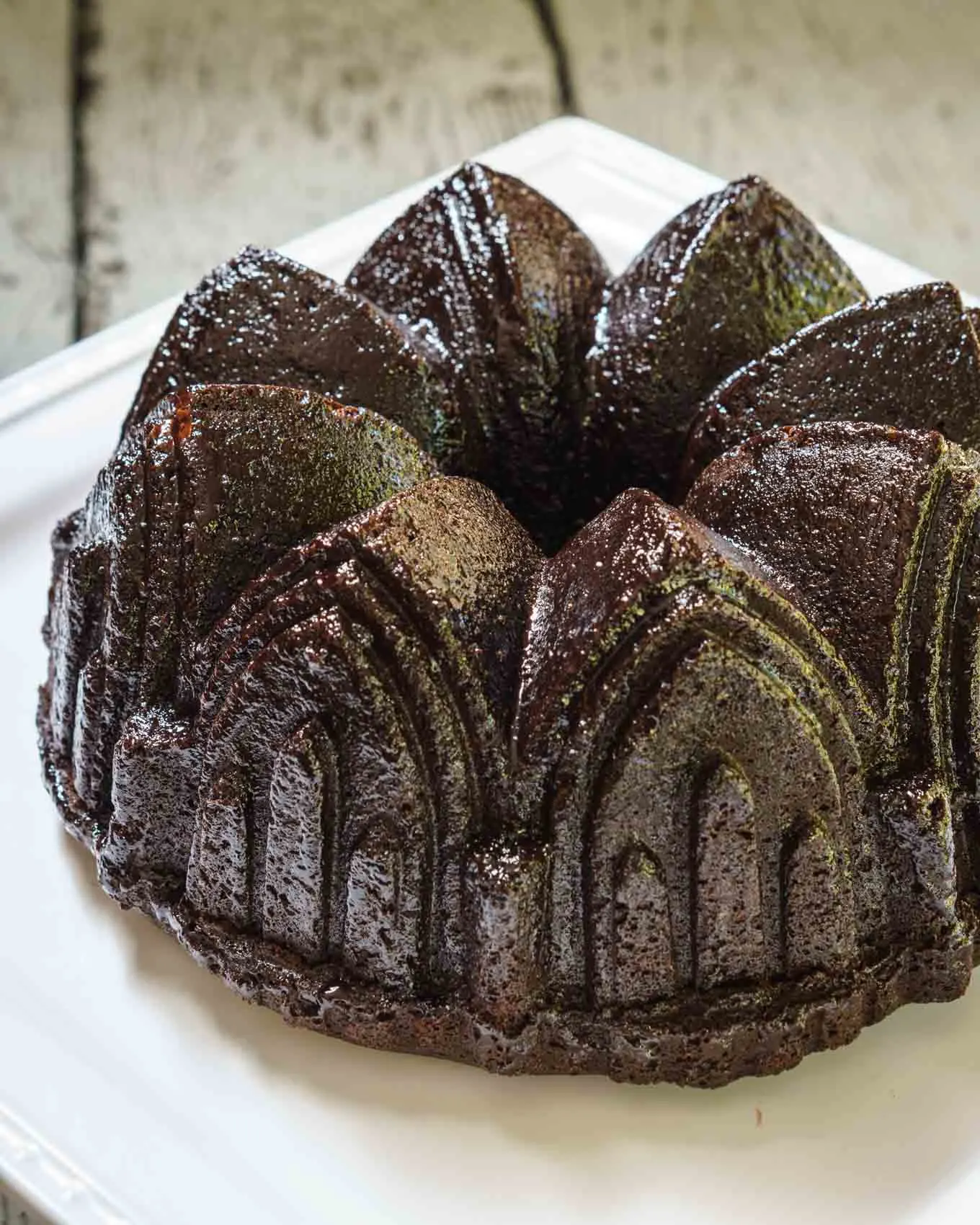 How To Make A Raspberry Chocolate Bundt Cake
Step One. Preheat the oven to 350°F. Grease and flour a 12 cup fluted (bundt) pan. Set aside.
Step Two. In a small bowl microwave, 3/4 cup raspberry jam on high until melted (30-45 seconds). Allow it to cool.
Step Three. In the bowl of an electric stand mixer, combine flour, sugar, cocoa, baking soda, and salt. Mix on low to combine.
Step Four. Add butter, sour cream, eggs, vanilla, and melted jam. Beat on a medium speed for 3 to 4 minutes until smooth.
Step Five. Pour batter into prepared pan and bake 50 to 60 minutes or until a toothpick inserted comes out clean.
Step Six. Cool for 10 minutes in the pan on a cooling rack. Remove the cake from the pan onto the cooling rack.
Step Seven. In a small bowl, microwave the remaining 1/4 cup jam until melted. Brush jam over warm cake.
Step Eight. Cool completely.
Step Nine. Dust with powdered sugar before serving.
Step Ten. Store at room temperature in a covered container.
What to Serve/Pair with Your Chocolate Raspberry Jam Cake
This delicious cake is a complete dessert for your family, special occasion, party, or event. If you want to serve something with it, add a bit of ice cream, whipped cream, or macerated fruit.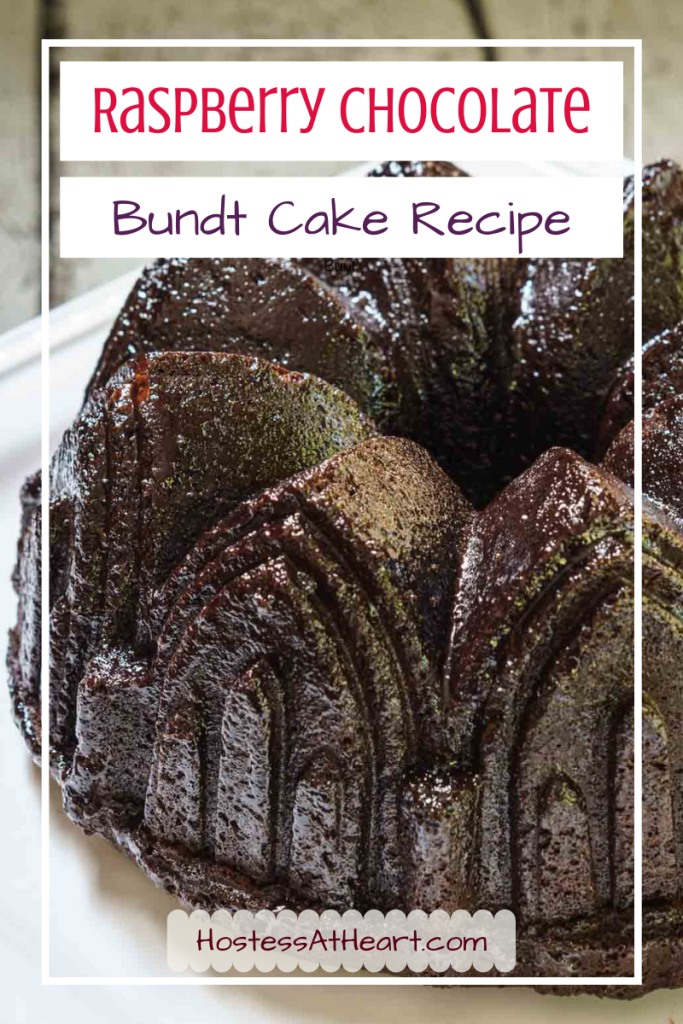 Substitutions & Additions
Use strawberry instead of raspberry jam.
Bake it in the pan of your choice. Our pan conversion cheat sheet may come in handy.
How To Store Raspberry Chocolate Bundt Cake
Best Way To Store Chocolate Raspberry Bundt Cake Recipe
Leftover cake can be kept for two or three days in an airtight container at room temperature or refrigerated.
How Long Will Raspberry Chocolate Bundt Cake Last In the Fridge?
You can keep it for two or three days refrigerated.
Can I Freeze/Thaw Easy Chocolate Raspberry Cake
Yes. Freeze individual portions in airtight containers or freezer-quality baggies.
Chocolate Raspberry Jam Cake FAQs
What makes Raspberry Chocolate Bundt Cake moist?
Adding acidity such as the sour cream in this chocolate raspberry bundt cake gives more flavor. The acid in the sour cream tenderizes the gluten in the flour causing this cake to have a finer crumb and a richer flavor.
Can I add fresh raspberries to Raspberry Chocolate Bundt Cake?
I don't recommend it. Raspberries are delicate and get lost in this cake. The jam adds sweetness and the raspberry flavor so fresh raspberries aren't needed.
What is a pound cake?
The original recipe called this cake a pound cake. Historically, a true pound cake called for one pound each of flour, sugar, butter, and eggs. For that reason, I'm not calling this a pound cake.
Tips to make the perfect Raspberry Chocolate Bundt Cake
Thoroughly grease the pan. To grease a pan, use a bit of shortening in your fingers and rub it all over the pan, especially in the cracks and creases of a bundt pan just to make sure it's there. You want a light layer, but thoroughly spread if that makes sense. It should be see-through, with no clumps of white.
Then add a handful of flour and tap it around in the pan by tapping the pan on the counter and turning it in different directions until the entire surface of the pan is covered in a light layer of flour stuck to the light layer of grease.
Finally, turn the pan over and give it one good tap over the sink or a couple of paper towels to get all of the extra flour out. This easy raspberry chocolate cake will not stick to a properly greased and floured pan. You *can* also use Baking Spray — which is not the same as cooking spray and contains flour.
Bake on the middle rack and turn halfway through baking so that the cake bakes evenly.
Don't overbake. Test the cake at the earliest time it may be finished, by inserting a clean dinner knife or cake tester in the very deepest part of the cake. If it comes out clean your cake is done.
Partially cool the cake in the pan and remove it as instructed to preserve the shape.
Other Recipes You'll Love
This is the second Hershey's cake on Hostess At Heart. The first was Hershey's Syrup Cake and it is also amazing!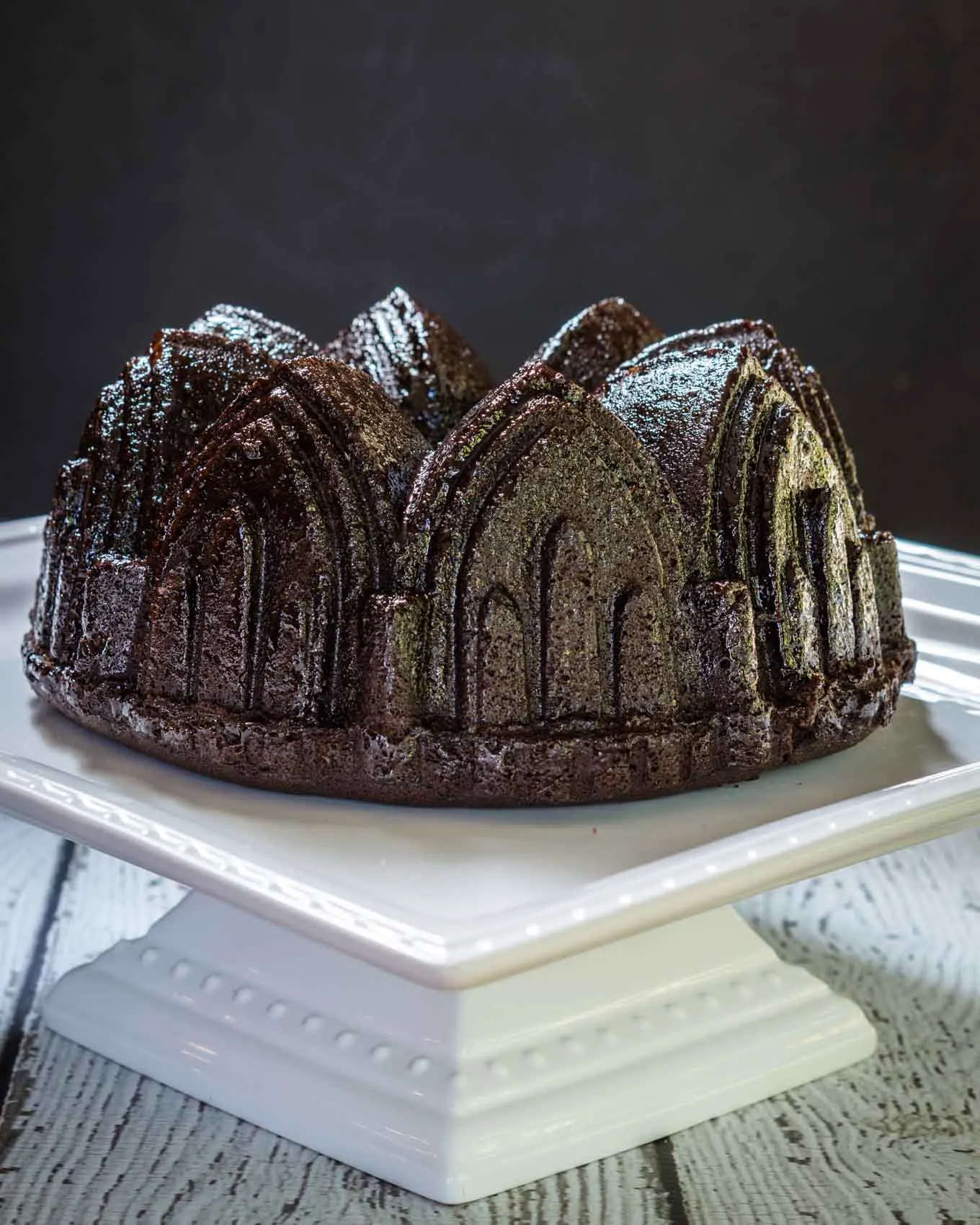 Don't forget to stop back and let me know how your Raspberry Chocolate Bundt Cake turned out!