Sometimes you need a fast and easy vanilla frosting recipe made from ingredients you already have in your pantry. Frost a cake, cupcakes, or cookies with a delicious frosting in minutes using this simple recipe.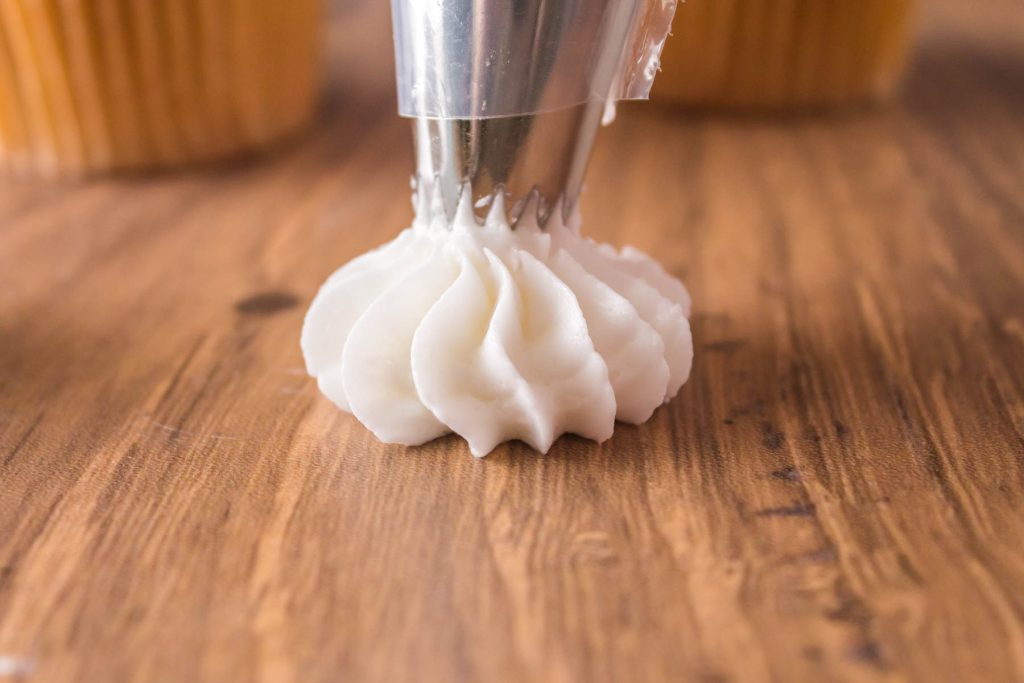 Why You'll Love This Easy Vanilla Frosting
Extremely simple. You only need four ingredients and three easy steps.
Customize with ease. This is a simple go-to vanilla buttercream frosting recipe but it can be flavored or colored to match your needs. I make some suggestions for you.
Flexible. Make this recipe dairy-free. Make it vegan.
Equipment Needed to Make Homemade Vanilla Frosting
Stand Mixer. You can make frosting with a hand mixer, but it is harder to get a beautiful, fluffy frosting.
Spatula. You'll need to scrape the sides of the bowl to make sure all of the ingredients have been thoroughly incorporated. A spatula is the best tool for the job.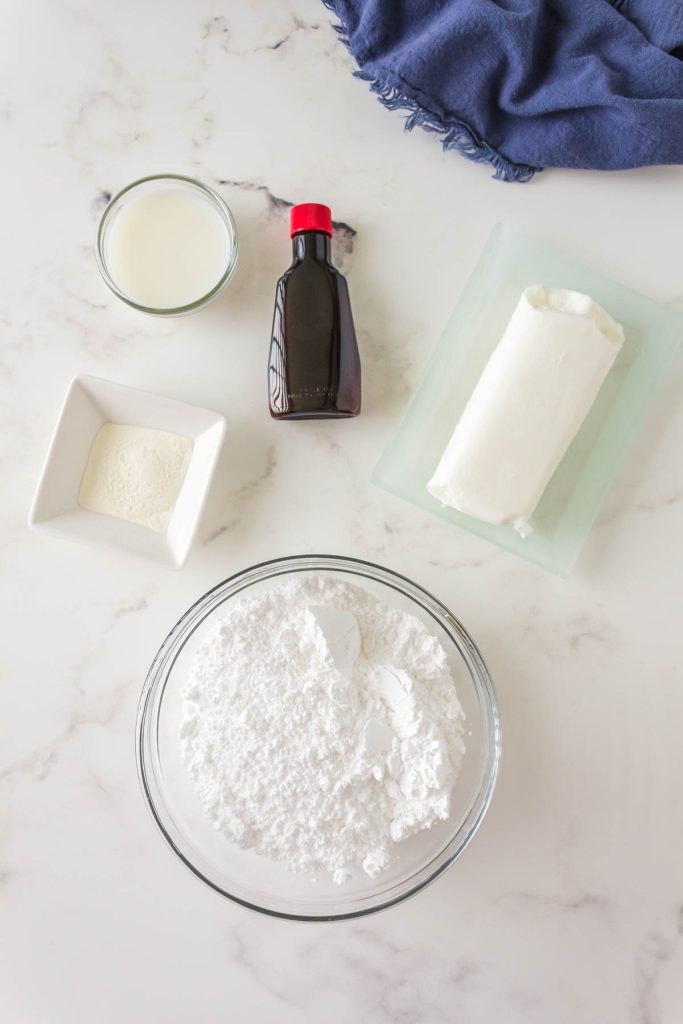 Ingredients for Vanilla Frosting
Solid Vegetable Shortening. You can use butter if that's what you have, but butter will give it a yellow color or a yellow tinge to any color you add.
Vanilla Extract. Pure vanilla extract is preferred for flavor.
Powdered Sugar. Also known as confectioner's sugar or icing sugar, this finely ground sugar is perfect for smooth, light, fluffy frostings like our easy vanilla frosting recipe.
Milk or Water. You can even use a dairy-free option if you like.
Meringue Powder. Optional. This ingredient will help add stiffness and stabilization. If you or someone eating this frosting has an egg allergy, leave it out.
Please note, that the recipe card has more complete instructions. This is intended as an overview.
How to Make Vanilla Frosting
First, mix the shortening with water or milk. Mix it until it is smooth and shiny. Add the vanilla and blend thoroughly. Then add the powdered sugar and meringue powder and beat it until it is light and fluffy. Add food coloring if desired.
Once the food coloring has been added, you may need to add more milk or water to get the consistency you want. You may also add more powdered sugar a little at a time if the frosting isn't quite thick enough.
How Much Vanilla Frosting Does This Recipe Make?
This recipe makes 3 cups which easily frosts a two-layer cake, 24 cupcakes, or a 9×13 cake. You can easily make half or double the recipe.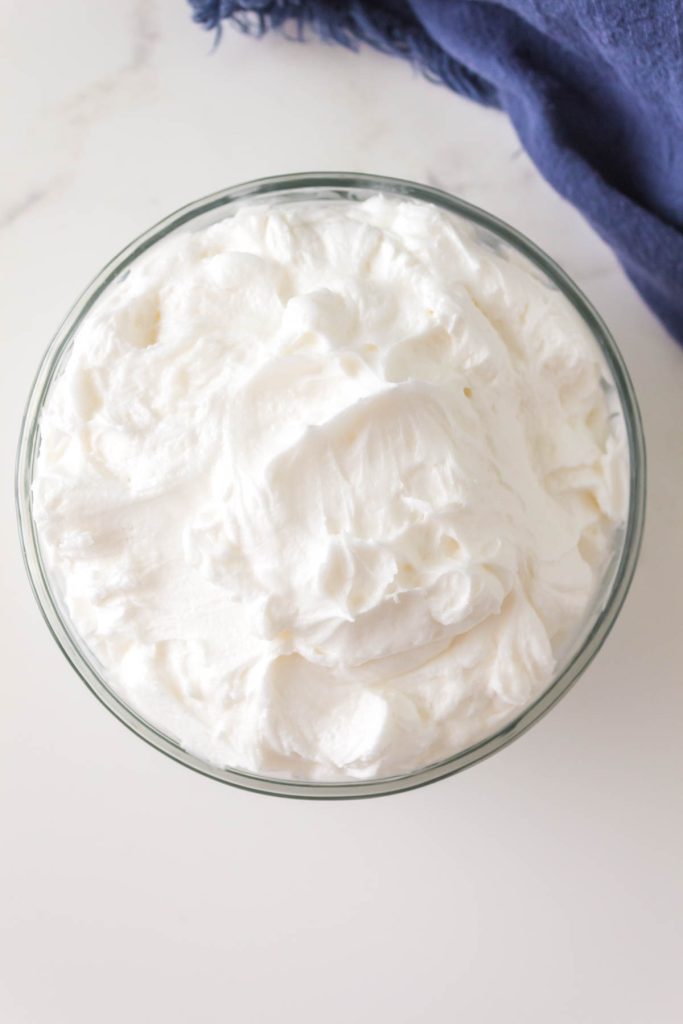 What to Serve with Vanilla Frosting
This basic recipe is so good for any of your frosting needs! Use it on cakes, cupcakes, cookies, brownies, cookie cakes, or even on ice cream cakes or truffles.
Substitutions and Additions
Clear Vanilla – Use clear vanilla extract to keep your frosting white. I love doing this especially when I want to add sprinkles for birthdays or holidays.
Vanilla Bean Paste – Replace vanilla extract with vanilla bean paste to give it that old-fashioned look.
Lemon – Use lemon extract and a couple of drops of yellow food coloring for spring or spring holidays.
Strawberry – Use strawberry extract and a couple of drops of pink food coloring.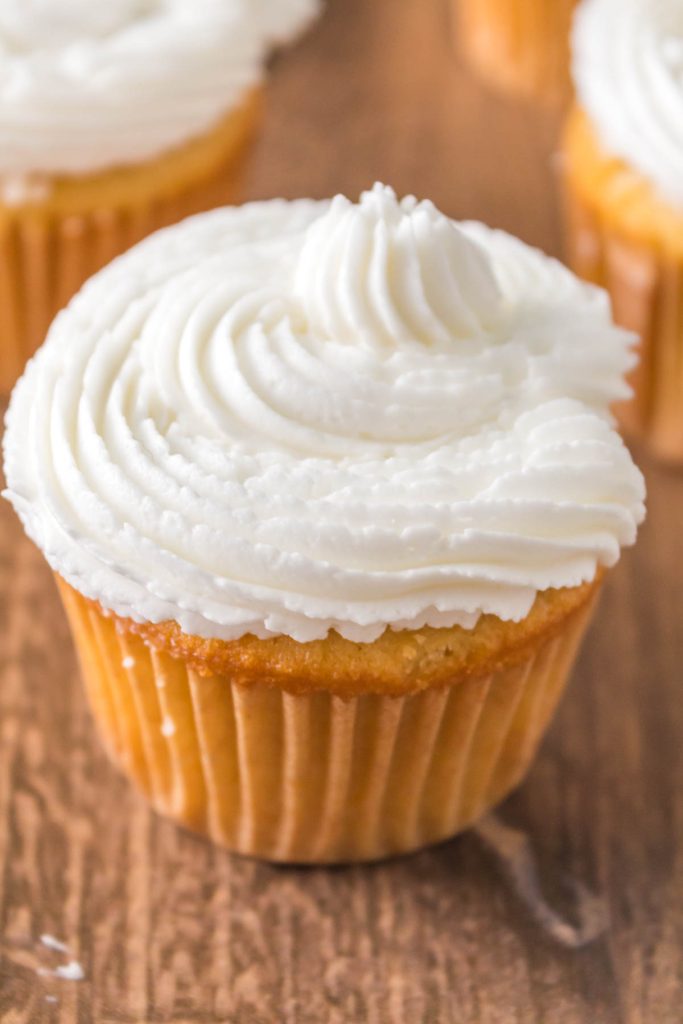 How To Store Vanilla Frosting
This frosting will dry out quickly if left to the open air. If you are using it to decorate a cake with a lot of piping, place a wet paper towel over the top to keep it moist until you are finished.
Best Way To Store Homemade Vanilla Frosting
Keep your leftover frosting in an airtight container or freezer-quality plastic zipper bag. Put it in the refrigerator.
How Long Will This Vanilla Frosting Recipe Last In the Fridge?
Keep your leftover frosting no more than one week in an airtight container. Use leftovers on graham crackers for a fun after school snack.
Can I Freeze/Thaw Vanilla Frosting
Yes! Frosting freezes beautifully and will keep for six months if frozen in an airtight container.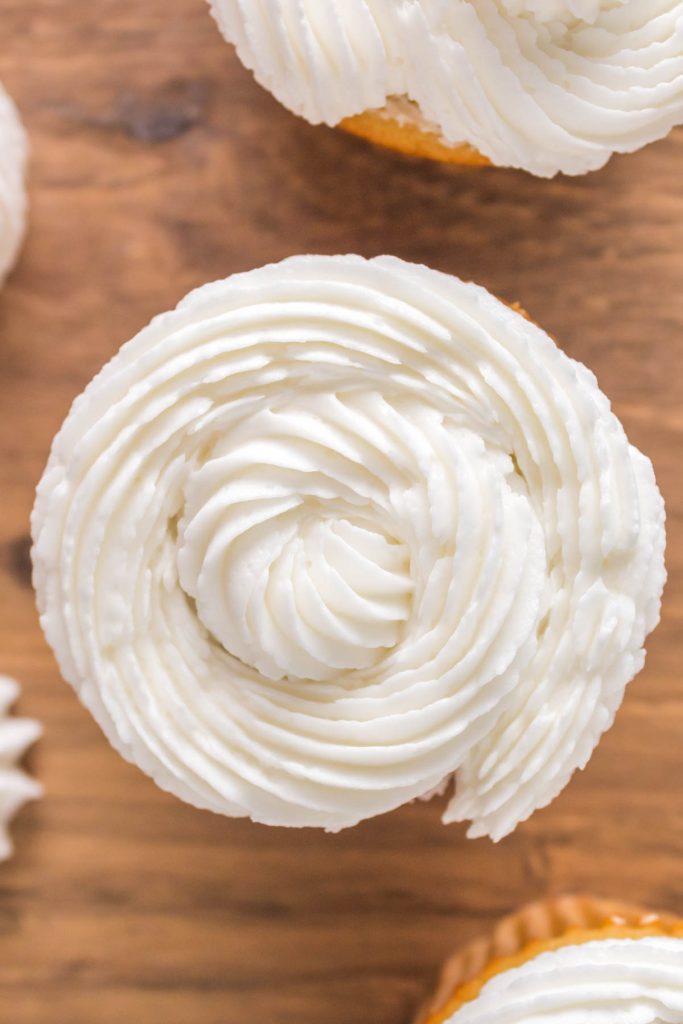 Homemade Vanilla Frosting FAQs
How to make easy vanilla frosting without powdered sugar?
You can make your own powdered sugar! Put a cup of granulated sugar in your food processor and pulse it to make powdered sugar.
How to make easy frosting without vanilla?
If you don't have vanilla extract, you can use vanilla bean paste, almond extract, orange extract, lemon extract or strawberry extract to make frosting with various flavors.
What is meringue powder?
This powder is made from dried egg whites. It is used to stabilize the frosting and add stiffness for piping decorations with the frosting. The meringue powder is entirely optional in this recipe. You can also add more powdered sugar to add stiffness if necessary.
Tips to Make the Perfect Vanilla Frosting
Make sure to scrape down the sides of the bowl a few times to incorporate all of the ingredients. The shortening can stick to the sides.
If you live in a warmer climate or it is a hot sticky day, freeze the cake for fifteen minutes before frosting it to prevent crumbs.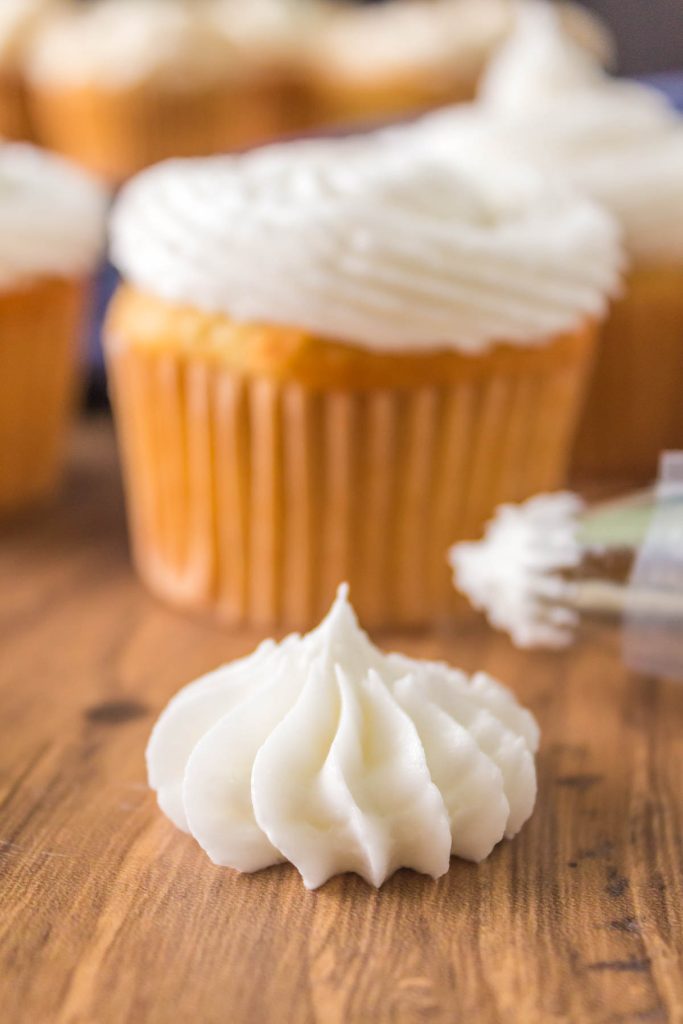 Other Frosting Recipes You'll Love
Chocolate Buttercream Frosting
Bubblegum Buttercream from my friend at Affair From the Heart.
Don't forget to stop back and let me know how your Vanilla Frosting recipe turned out. I'd love to know what you decorated too!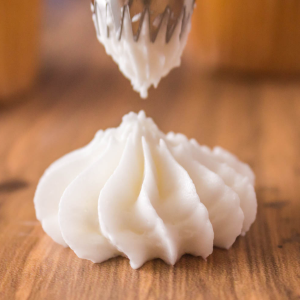 Vanilla Frosting Recipe
This basic vanilla frosting is perfect for spreading on cakes and cupcakes or for piping decoration techniques.
Ingredients
1

cup

solid vegetable shortening

1

tsp

clear vanilla extract

1

lb

powdered sugar

sifted

1

tbsp

Meringue Powder

– optional

7

tsp

milk or water
Instructions
In the bowl of an electric stand mixer fitted with the paddle attachment, mix the shortening and the water together until it is bright and shiny (up to 5 minutes). Add the vanilla extract and blend until combined.

With the mixer on low, add the powdered sugar and *meringue powder. Blend until combined.

Add additional water, milk, or cream 1 teaspoon at a time to thin the vanilla buttercream if thinning is necessary. Add additional powdered sugar 1 tablespoon at a time if frosting needs thickened.
Notes
Recipe adapted from Wilton Decorating Basics method course.
Meringue powder is made up of dehydrated eggs. Leave it out if you want these cupcakes to sit out or if you follow a special diet.
It's important to mix the shortening until it becomes shiny!
If you want to keep the buttercream very white, use clear vanilla extract.
Buttercream can be refrigerated covered in an airtight container for 1 week or frozen for up to 6 months.
Nutritional Disclaimer
This recipe was calculated using the exact brands and measurements I used to make this recipe. If you are following a strict diet please note changing anything will cause the nutritional info to change. My calculations are intended as a guide only.