Our fresh, homemade, and easy chocolate buttercream frosting recipe is rich, creamy, and so smooth that it spreads like a dream.
Doesn't the name say it all? Some say the frosting is just as or more than what you put it on.
This recipe was originally posted in 2014 so it was time for an update. I've added some instruction details and tips to improve my readers' experience. No changes were made to the recipe.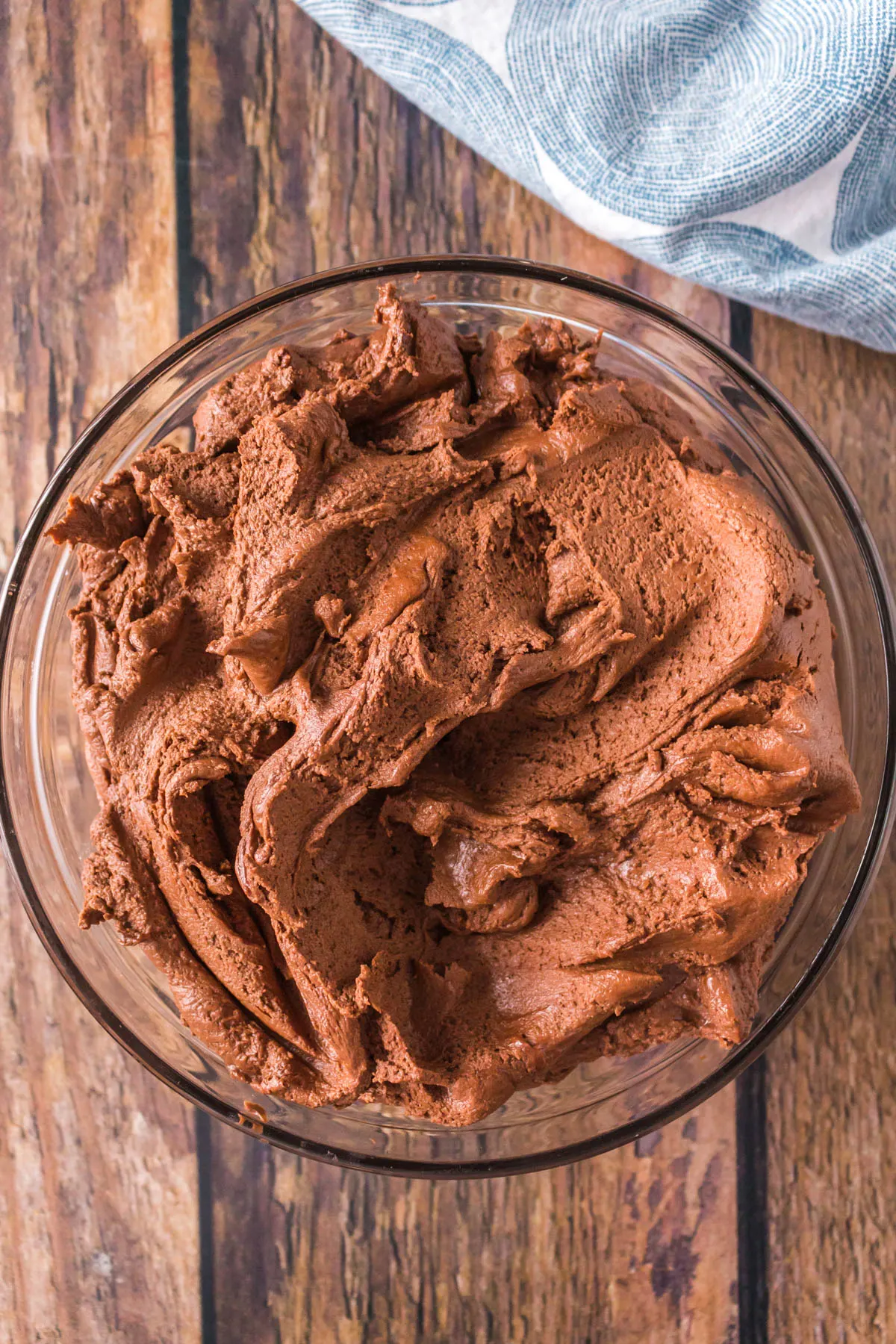 I never thought that I was that picky when it came to the frosting. The canned stuff is edible right? Then I made my own Chocolate Buttercream Frosting from scratch and it was not only easy, but it tasted better too. I changed my mind really fast.
Why You'll Love this Buttercream Chocolate Frosting
Easy. If you've never made homemade chocolate buttercream before you are going to be shocked at how fast this comes together.
Not greasy. The butter used in this recipe gives it amazing flavor and keeps it from being heavy or greasy like a "buttercream" made with shortening would be.
Fluffy. When you are used to the canned stuff, the fluffy, light homemade frosting will be a wonderful change of pace.
Holds Up. You can expect this frosting to keep its shape if you decide to pipe it onto some cupcakes. And it's perfect for layering cakes.
Moist. Frosting without enough moisture is sticky and heavy and not at all pleasing to eat. The canned frosting you buy at the store is almost always dry and sticks to the tongue.
Freezable. I almost always have extra leftover frosting to pop in the freezer. This can be used to quickly thaw and throw on a frozen cupcake or two when you need a little sweet treat. It can also be added to brownies, cookies, or store-bought donuts.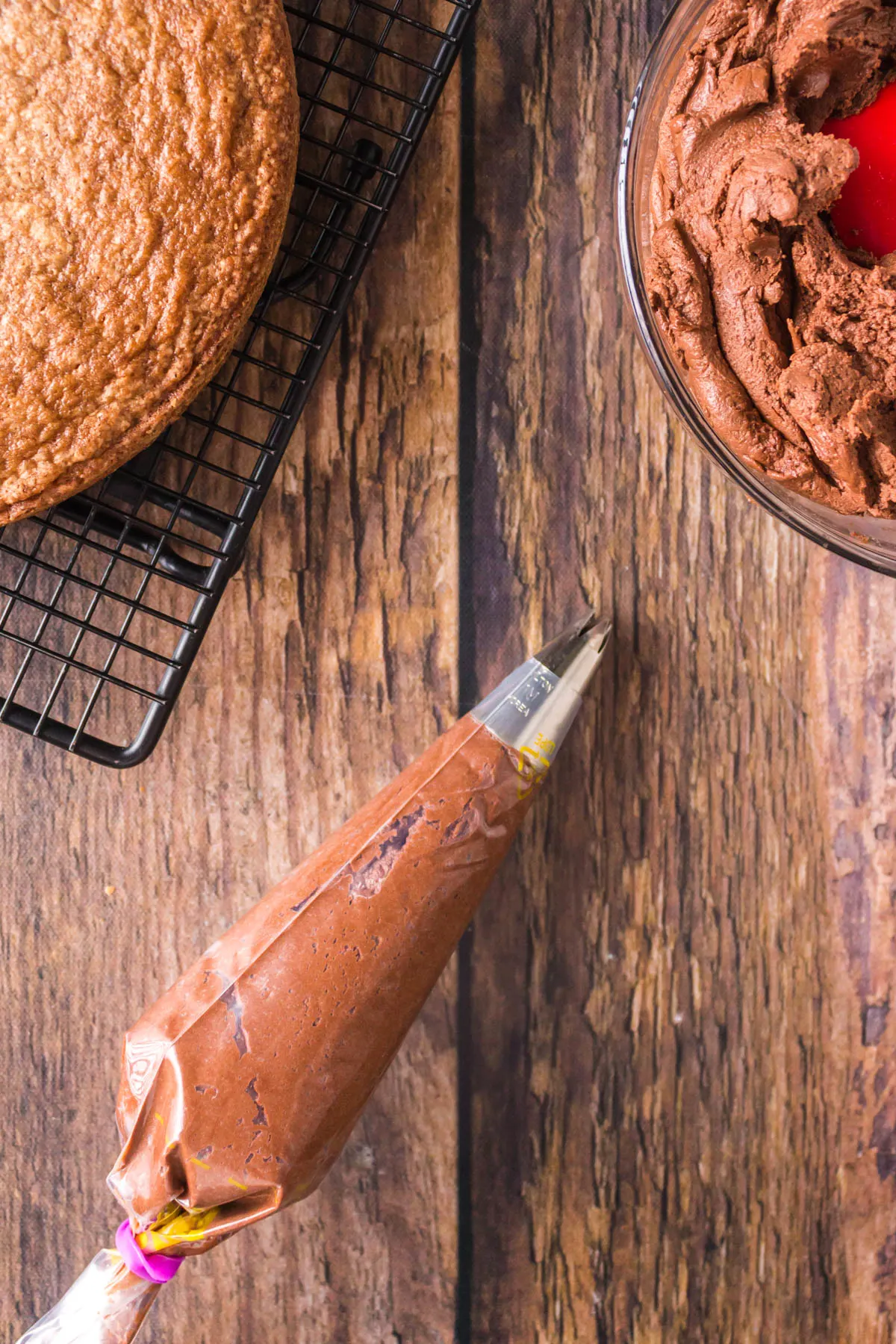 Equipment Needed to Make This Easy Chocolate Buttercream Frosting
Stand Mixer. Ideally, you would have a stand mixer to mix up any buttercream because it is a very thick frosting. It is super easy to burn out a hand mixer making buttercream, so if you must use a hand mixer make sure you go slow and easy.
Ingredients for Chocolate Buttercream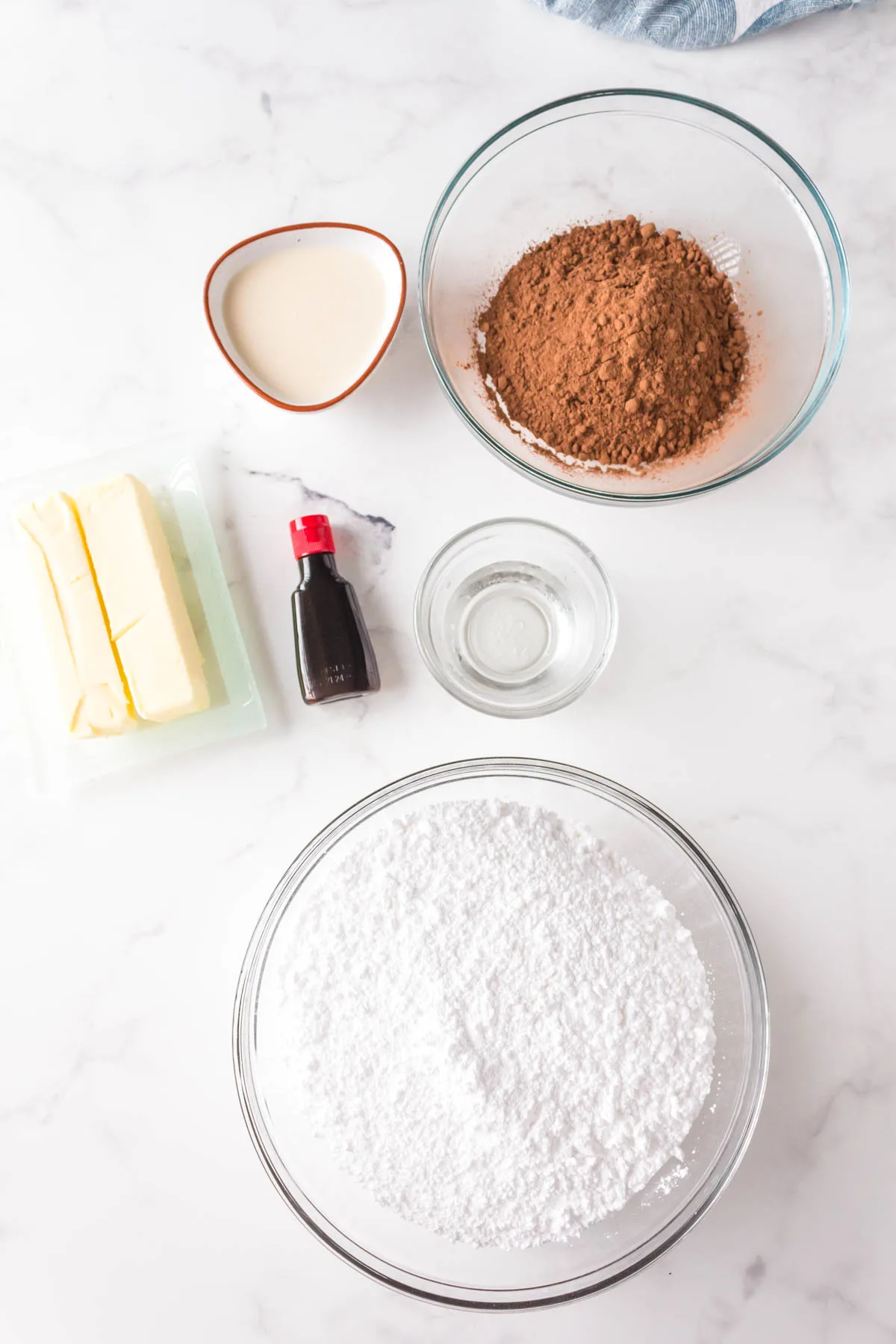 Butter. softened at room temperature – salted or unsalted
Unsweetened Cocoa. Dutch-process cocoa has added baking soda or another alkalizing agent which makes it a little less bitter. You can use either regular cocoa or dutch process cocoa for this recipe.
Vanilla Extract. Pure vanilla extract is expensive but very much worth it.
Evaporated Milk. If you don't have evaporated milk, you can always use regular milk or even cream.
Powdered Sugar. Also known as confectioner's sugar or icing sugar.
Light Corn Syrup. Optional.
Please note, that the printable recipe card has ingredient quantities, complete instructions, and nutritional information. The following is a quick overview of the recipe.
How to Make Chocolate Buttercream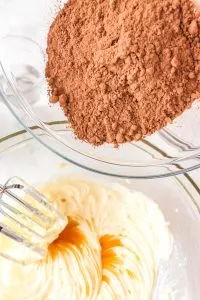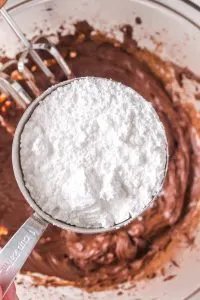 Step One. I use my stand mixer and add two sticks of softened butter (1 cup). Mix on medium speed until smooth.
Step Two. Add one cup of sifted unsweetened cocoa powder and 1 teaspoon of vanilla extract. Mix until thoroughly blended.
Step Three. Alternating, add 1 cup of powdered sugar and 1 tablespoon of evaporated milk until you have added 4 cups (1 pound) of powdered sugar. You can use the milk of your choice, but I do like using evaporated milk.
Step Four. Add 3 to 4 tablespoons of light corn syrup. This step is optional, but I think it gives the frosting a nice sheen.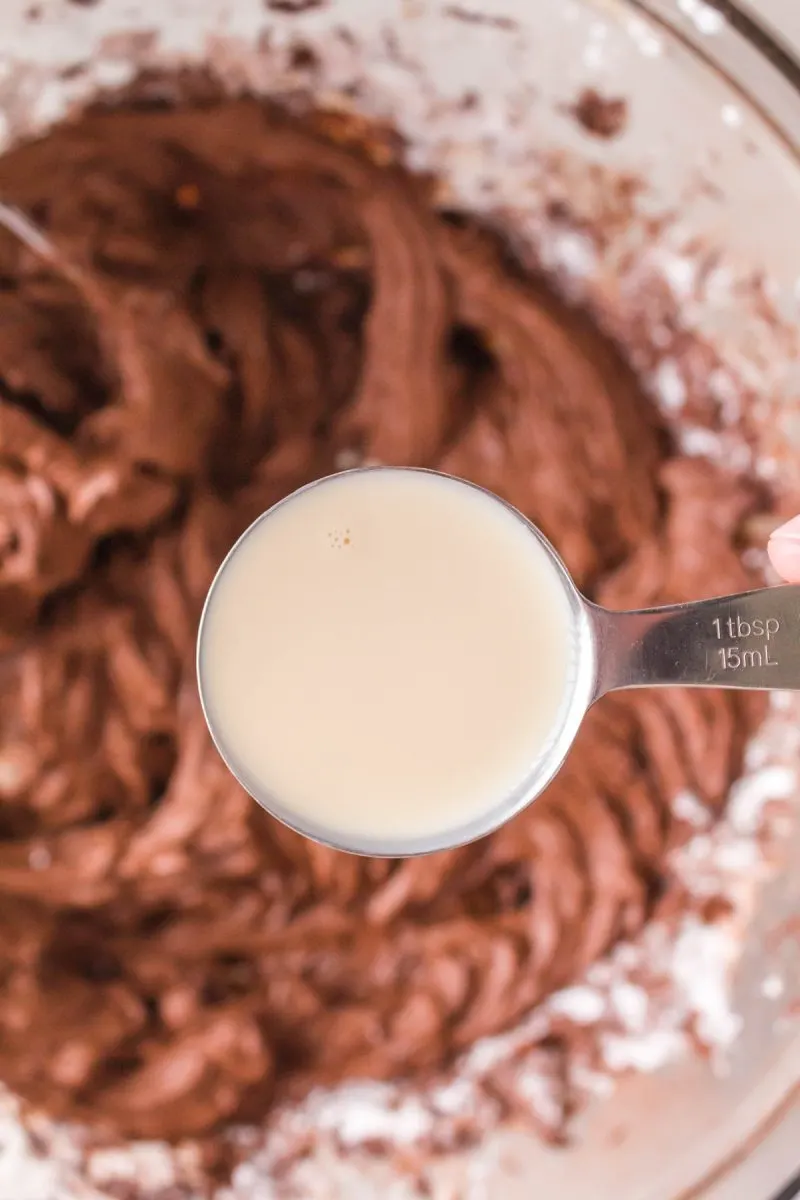 Step Five. Add more evaporated milk if the frosting needs to be thinned. Beat until light and fluffy.
Step Six. Keep the frosting container covered with a damp paper towel until ready to use. Extra frosting can be frozen!
What to Serve with Buttercream Chocolate Frosting
This frosting is fabulous when piped onto cupcakes or cakes, use to frost brownies, cookies, or even cookie cakes. If you have unexpected small guests, you can pull some out of the freezer and slather it on graham crackers for a quick and delicious treat.
Substitutions and Additions
For a more intense flavor add 1/2 teaspoon of espresso powder.
Replace the vanilla extract with a chocolate liqueur or Kahlua coffee liqueur instead.
How to Store Chocolate Buttercream
Best Way to Store Buttercream Chocolate Frosting
Frosting dries out very quickly. Keep a wet paper towel over the bowl if you're not using it right away or refrigerate it covered. Stir it when you're ready to use it. If it's too stiff, let it sit at room temperature for a bit, or add a small amount of milk to thin it.
How long will homemade chocolate frosting with cocoa powder last in the fridge?
Up to 1 week, bring to room temperature and re-whip to fluff up the frosting.
Can I freeze/thaw the easy chocolate buttercream frosting?
Buttercream freezes really well. Keep it in an airtight container for up to 6 months.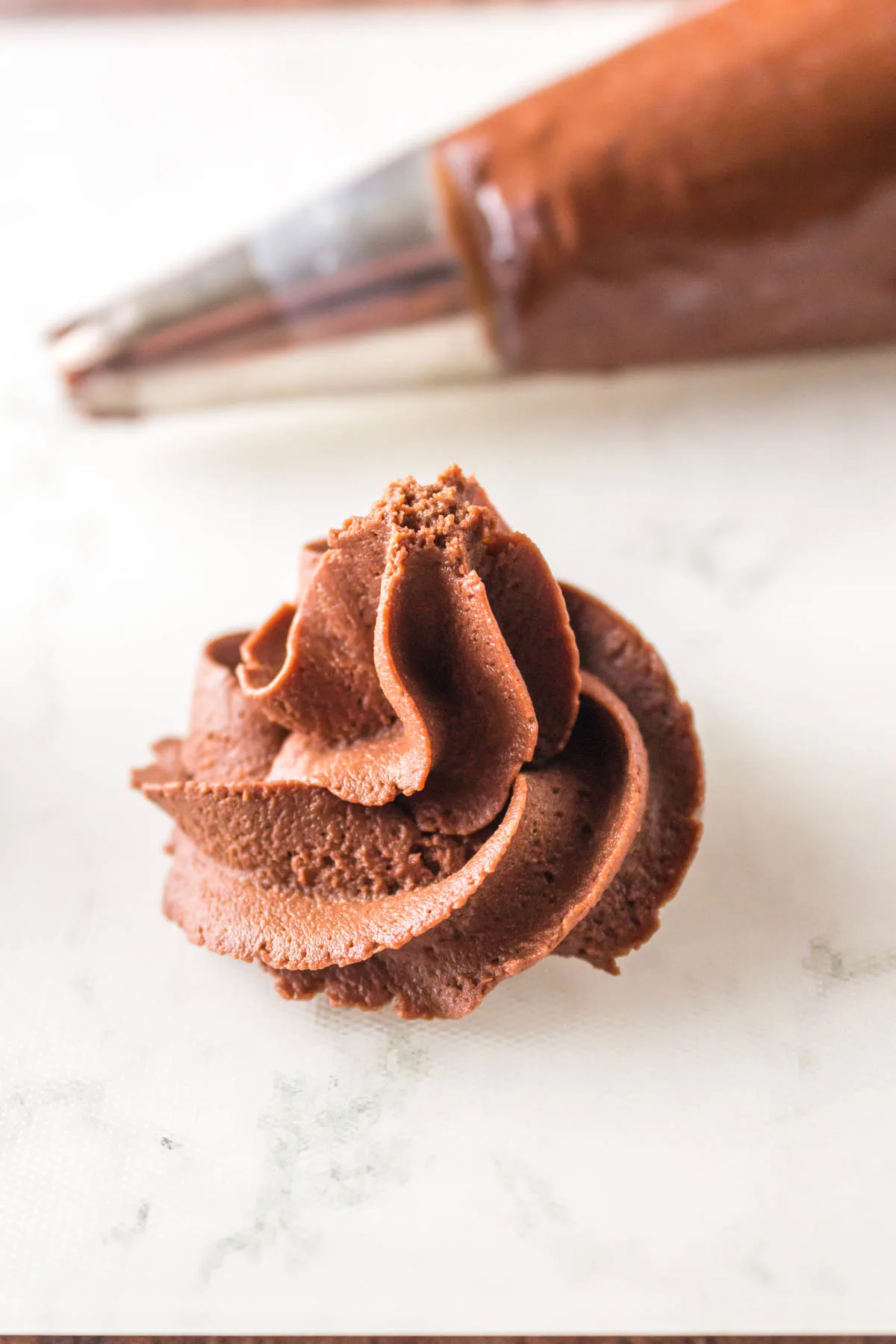 Easy Chocolate Buttercream Frosting FAQ
What is the difference between Buttercream and Frosting?
Frosting can be used with all kinds of ingredients as the base. Some frosting recipes call for cream cheese. Other frosting recipes use whipped cream. Sometimes frosting recipes use shortening. Buttercream frostings use butter and/or cream. All buttercream frostings are frosting, but not all frostings are buttercream. Read more here.
Which frosting is best for cakes?
Buttercream is softer and fluffy. It can be thickened so it works well for layered cakes and piping.
How much frosting does this recipie make?
This recipe makes 3 cups which easily frosts a two-layer cake, 24 cupcakes, or a 9×13 cake. You can easily make half or double the recipe depending on your needs.
Want more delicious recipes? Follow Hostess At Heart on Pinterest!
Tips to Make the Perfect Chocolate Buttercream Frosting Recipe
Making sure the butter is softened and at room temperature will help make the bread fluffier. If it's too soft it may make the frosting too thin.
When I learned to make the frosting, I was taught to sift the cocoa and powdered sugar to guarantee a smooth frosting. I still do but this isn't crucial for a successful outcome.
When mixing buttercream frosting scrape down the sides of the mixer frequently to make sure that all of the dry ingredients are smoothly incorporated.
In a warm climate, it will help to freeze the cake for 15 minutes before frosting it.
The intensity of the chocolate color is determined by the cocoa powder. The pictures as shown in this blog post use a Natural Unsweetened Cocoa powder. Using a dark variety as I did in this chocolate cake recipe will create a darker chocolate frosting.
The frosting is thick. If you have a powerful hand mixer you can use it, however, I would highly suggest using a stand-up mixer. It will make it a lot easier to mix and make the frosting fluffier and creamier.
Alternating sugar and milk is a good way of getting the consistency perfect.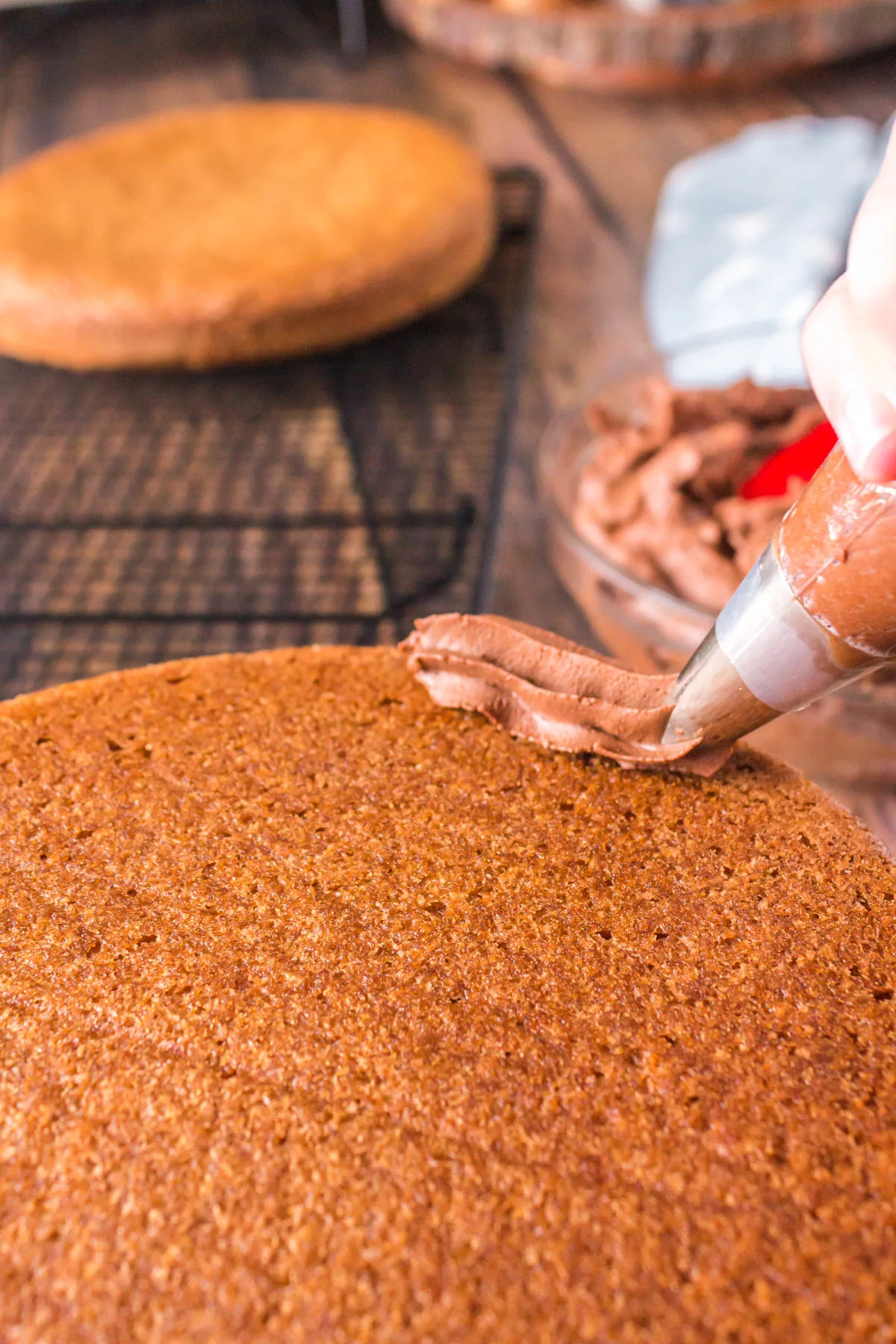 When frosting I used a piping bag with a large 1M tip. For me, it makes piping easier. If you don't have it, I would suggest putting the frosting in a Ziplock bag and cutting one corner. Using this method makes it easier to spread the frosting on the cake evenly.
Use an offset spatula or a butter knife to help spread.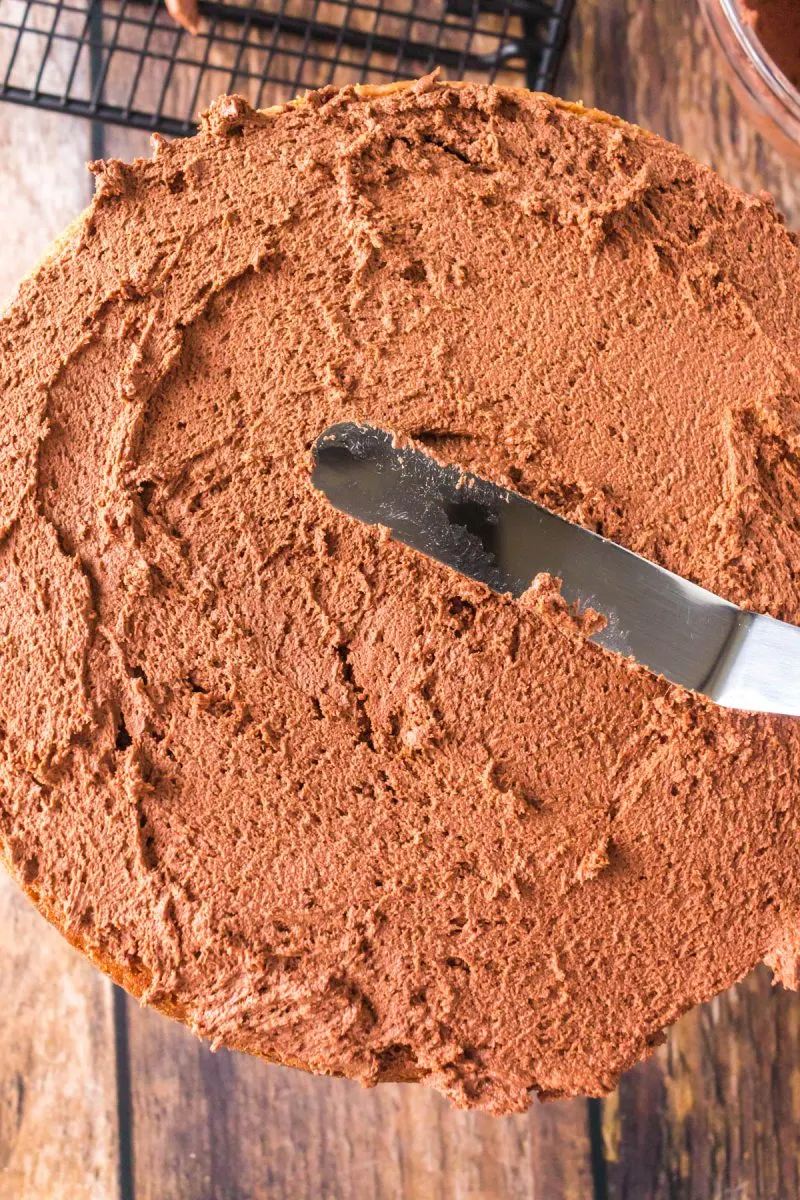 Other Frosting Recipes You Will Love
I hope you'll stop back and let me know how you liked this Chocolate Buttercream Frosting!
Pin this amazing Chocolate Buttercream Recipe