A moist and delicious carrot cake cupcakes recipe beautifully decorated with smooth cream cheese frosting, grated carrots, and pecans. These moist Carrot Cake Cupcakes with Pineapple are the perfect sweet treat.
Get the flavor of a carrot cake recipe in these beautiful cupcakes. Cupcakes make serving dessert a cinch, and these easy carrot cake cupcakes can be made ahead of time and frozen. No more tossing cake that doesn't get eaten.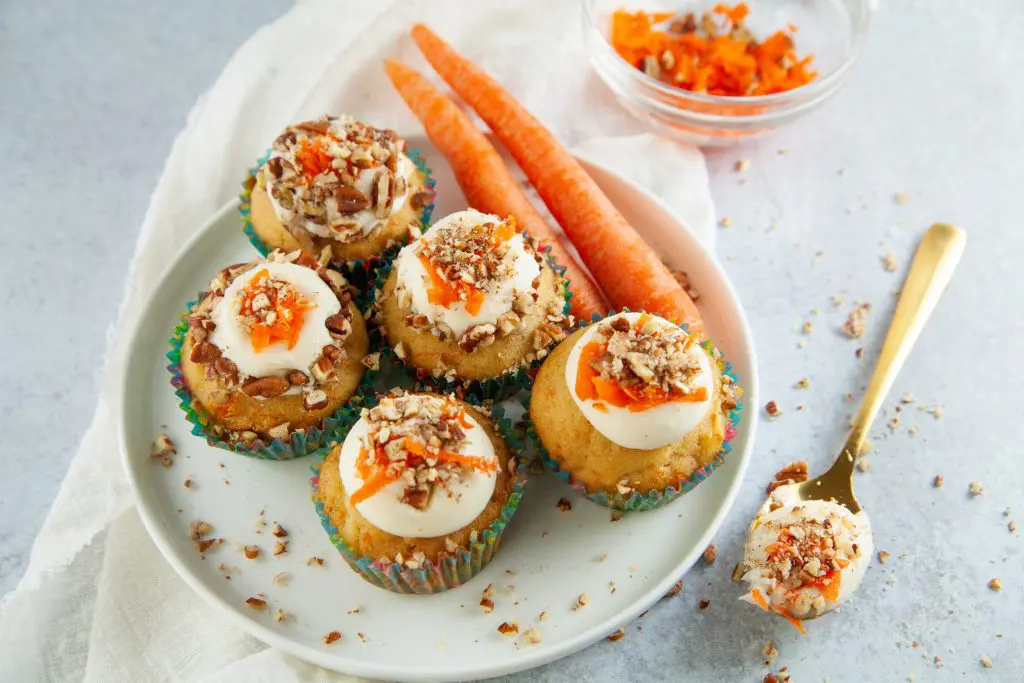 The shredded carrot adds so much flavor to these cupcakes. And, crushed pineapple just takes it up a notch adding moisture and brightness to this easy carrot cupcake recipe.
My Easter bunny loves this Bunny Trail Mix, and will love these melt-in-your-mouth carrot cake cupcakes with cream cheese frosting too. They're perfect when you crave a soft-baked dessert spiced with warm cinnamon.
Of course, I think you can make these easy carrot cupcakes year-round. They never fail to please! This recipe makes fifteen cupcakes, which is plenty for a crowd.
Ingredients for the Carrot Cake Cupcakes with Pineapple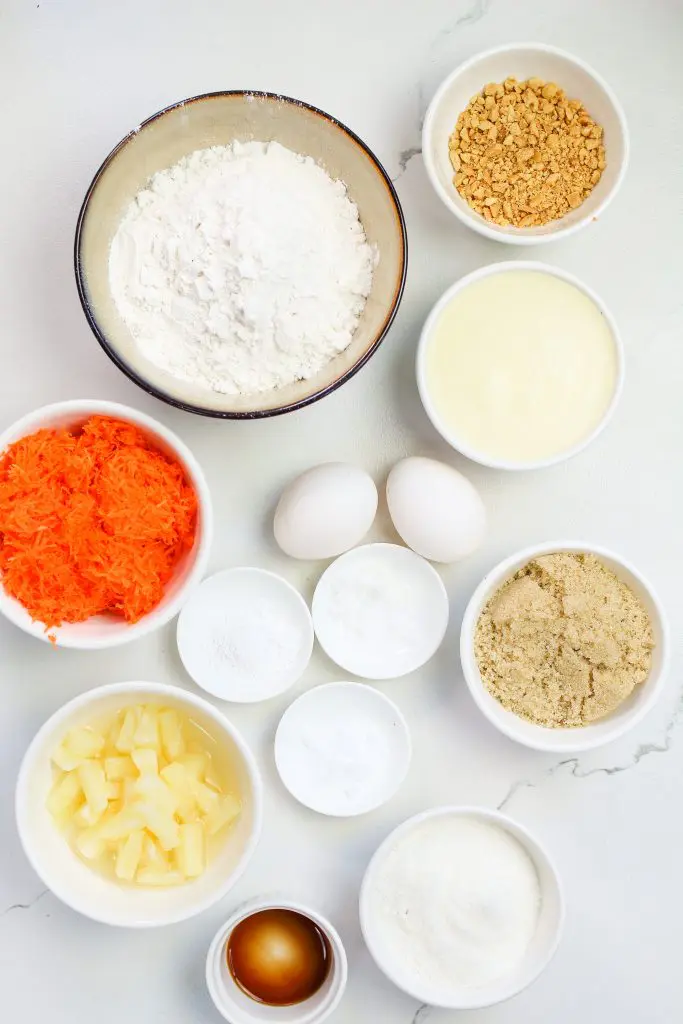 Make your shopping list now so that you can make this delicious carrot cakes cupcakes recipe whenever you want! Here are the ingredients you will need on hand.
All-Purpose Flour.
Baking Powder. When is the last time you purchased baking powder? It does lose its potency after a while.
Salt.
Ground Cinnamon. Nutmeg is also delicious in this recipe.
Unsalted Butter. If you use salted butter reduce the salt from 1/2 to 1/4 teaspoon.
Brown Sugar. I prefer dark brown sugar but light is fine.
White Sugar. Just regular granulated sugar.
Large Eggs. The size of the eggs is important in baking. I always use Large Grade A eggs for consistency.
Whole Milk. The increased fat content of whole milk will keep the cupcakes moister. You can use another variety and they will still be successful, however.
Vanilla. I prefer to use real vanilla.
Grated Carrots. Use a box grater and grate fresh for the best results. *See our tips on why.
Crushed Pineapple. Canned and drained
Chopped Pecans.

Optional but recommended. You could also use walnuts for a delicious substitution.
Ingredients for the Cream Cheese Frosting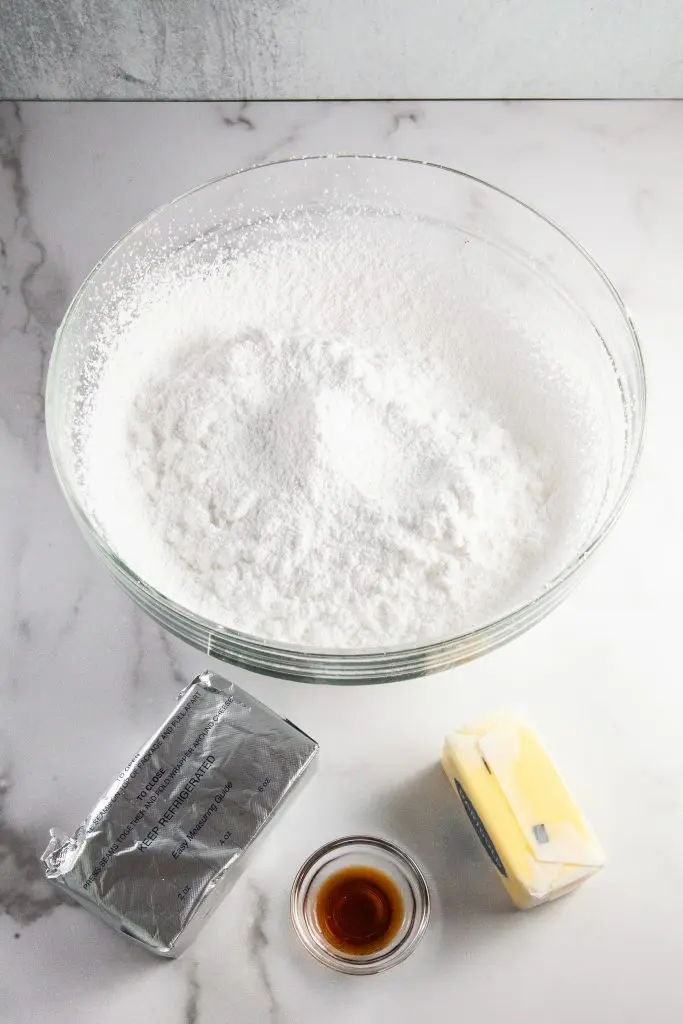 Cream Cheese. Room temperature. Make sure you get cream cheese without added fillers for the best results.
Butter. Room temperature. I use real butter.

l use a good butter such as Kerrygold® or Land O Lakes® because they have less water content and a higher fat content which will make these cupcakes soft and moist.
You can use salted or unsalted for this recipe.

Vanilla. Pure vanilla extract tastes delicious in desserts. To make a pineapple cream cheese frosting recipe, add pineapple extract instead of vanilla.
Powdered Sugar. Sifted. Also known as confectioners sugar.
How to Make this Easy Carrot Cake Cupcake Recipe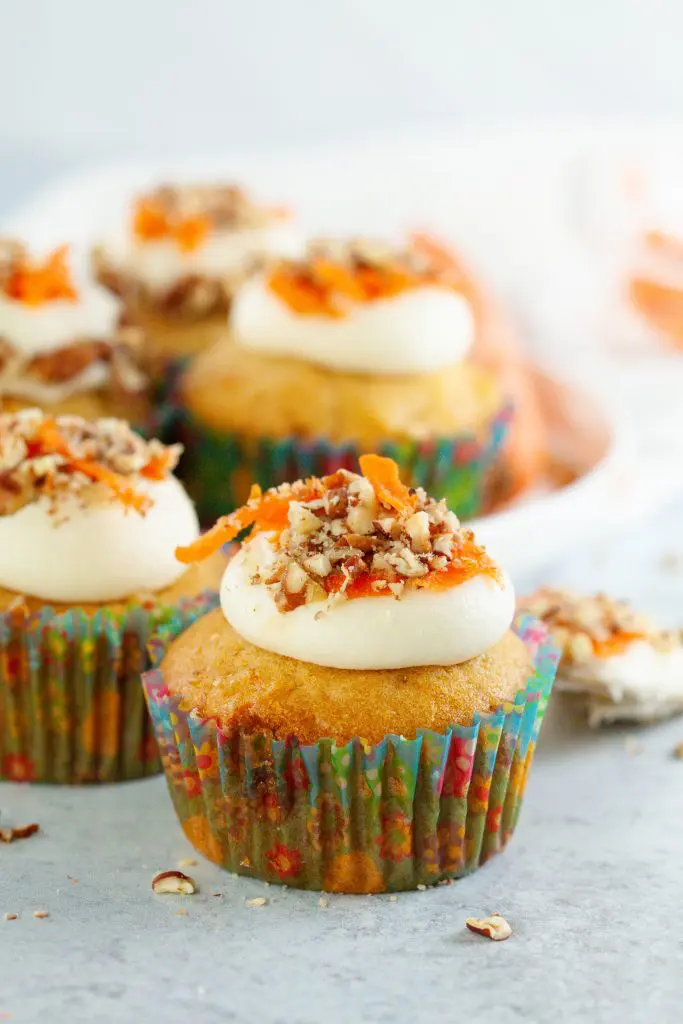 These tasty cupcakes come together like any traditional carrot cake recipe. Creamed fats and sugars. Dry ingredients separate. Plenty of mixing. We recommend an electric mixer.
Please note, that the printable recipe card has ingredient quantities, complete instructions, and nutritional information. The following is a quick overview of the recipe.
Preheat the oven first so that it's ready to go when your cupcakes are mixed! A properly preheated oven helps your baked goods bake more evenly.
Mix your dry ingredients in a medium-sized bowl. This helps ensure that the salt and baking powder are both evenly distributed throughout the cupcake batter.
Cream your fat and sugar until light and fluffy. This helps suspend the sugar and fat evenly throughout your cupcake batter. I use an electric stand mixer at a medium-high speed for this job.
Add the remaining liquids to your creamed sugar, adding one egg at a time.
Gradually add the dry ingredients to the wet ingredients. Adding the flour mixture all at once can make a mess if you're using a mixer. I like using a large spoon and spooning it in while my mixer runs on a low speed.
Gently fold in your mix-ins such as pineapple, raisins, etc. so that you don't break them up or mush them too much.
Bake until a toothpick inserted into the center comes out clean or with just a couple of crumbs.
Cool completely before frosting!
Cream Cheese Frosting for Carrot Cake Cupcakes
Combine the cream cheese with the butter in the bowl of an electric mixer. Beat on medium-high until creamy, 3 to 5 minutes.
With the mixer on low, add the powdered sugar and vanilla. Mix until combined and then turn the mixer up to medium-high and beat until smooth. Additional powdered sugar can be added for a thicker frosting and cream or milk can be added to thin the frosting consistency.
Tips for Making the Carrot Cake Cupcakes Recipe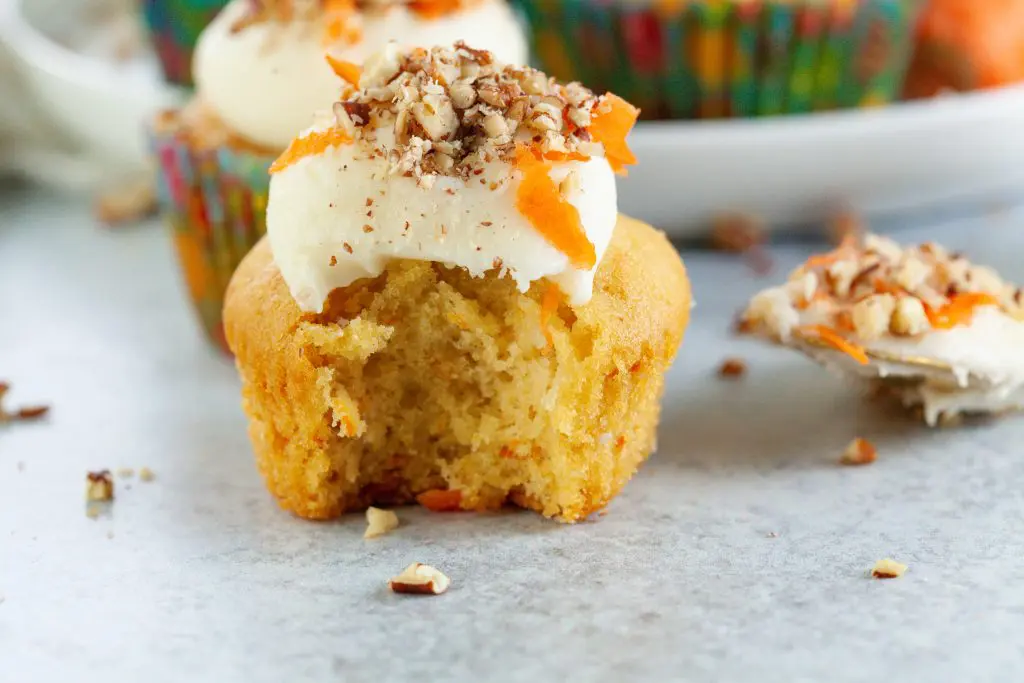 Use freshly grated carrots! Don't use pre-shredded carrots, they're typically too large a grate and contain anti-clumping ingredients that make them dry.
I used canned crushed pineapple but you can use the tidbits if you want larger chunks of pineapple. I wouldn't use anything larger, however. Make sure the pineapple is well drained or you can use fresh.
Feel free to use raisins or your favorite add-ins in this recipe. This batter can hold about ¼ cup to ½ cup of add-ins.
Walnuts or your favorite nut can be substituted for the pecans.
Sifting the powdered sugar makes the frosting smooth and creamy. This is an extra step but I highly recommend it.
I always turn my pan halfway through baking. Even the best ovens can bake unevenly.
Test the cupcakes for doneness a couple of minutes before the minimum baking time. These cupcakes are done when a toothpick inserted in the center comes out clean or with just a few crumbs.
Remove the cupcakes from the tin when they're warm but not hot to finish cooling on a cooling rack.
Common FAQs for Pineapple Carrot Cupcakes
How do you shred carrots for carrot cake?
We use a box grater to grate the carrots which produce a small shred that's perfect for these carrot cake cupcakes. You could also use a food processor.
Do you skin carrots for carrot cake?
Yes, I recommend it. Carrot peels generally have a tough dry texture and can have a bitter taste.
How many carrots are in a cup
2 to 3 medium-sized carrots make up one cup.
Can you make carrot cake cupcakes ahead of time?
Yes! Unfrosted Carrot Cupcakes freeze well for up to 3 months in an airtight container.
Storing Carrot Cake Cupcakes
Unfrosted cupcakes will keep for up to 5 days in an airtight container in the fridge. Frosted cupcakes up to 3 days in the refrigerator.
Frosting can be refrigerated and piped before serving.
We recommend adding the garnishes to the top of the cupcakes just before serving.
Unfrosted cupcakes and the frosting can be frozen in separate containers for up to three months in airtight containers. They thaw very quickly at room temperature.
Equipment You May Need
Hostess At Heart participates in affiliate programs. As an Amazon Associate, I earn a commission from qualifying purchases. Please refer to my disclosure page for more information about these affiliate programs.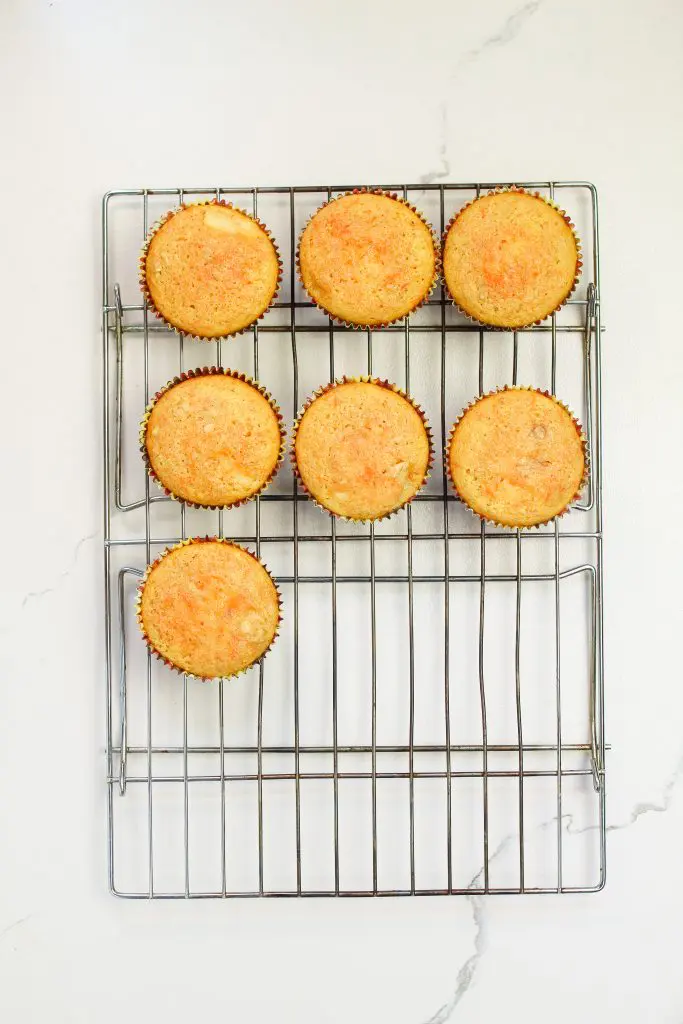 Pin these Easy Carrot Cake Cupcakes!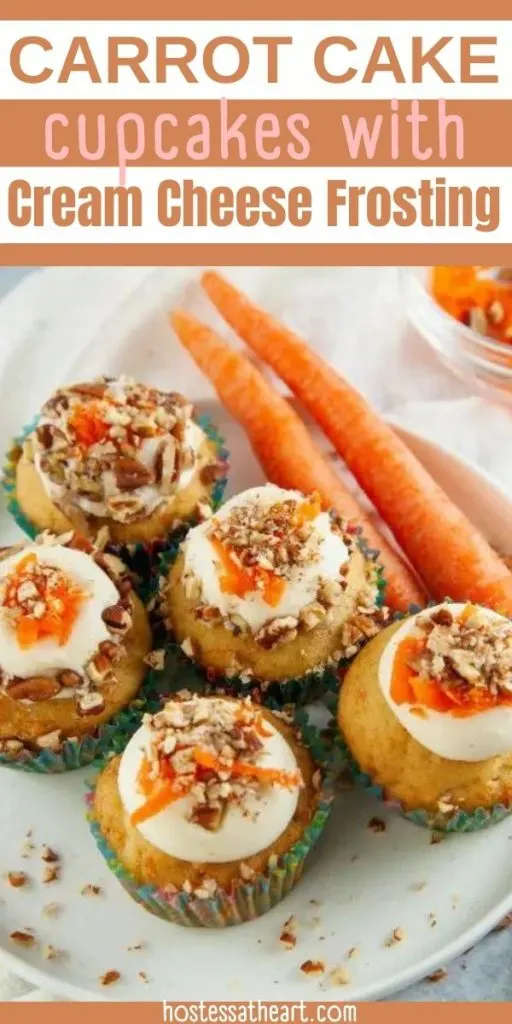 Still looking for sweet treats?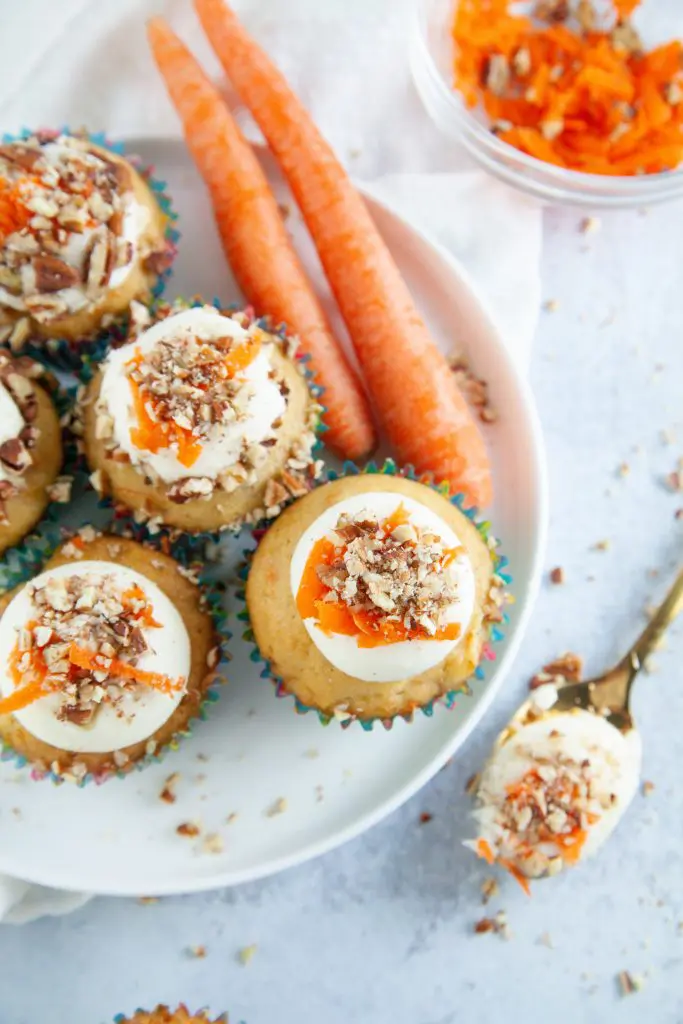 Don't Forget To Come Back And Let Me Know How Your Carrot Cake Cupcakes with Pineapple turned out!
If you like this Carrot Cake Cupcake recipe you may enjoy these recipes too!