Enjoy this soft and fluffy Hot Cross Buns recipe for your special Easter meal. Traditionally eaten to celebrate Easter, these rolls are slightly sweet and heavenly spiced.
For my recipe, I've piped on a sweet and thick glaze to form the cross and add just a touch of extra sweetness to this spiced yeast roll.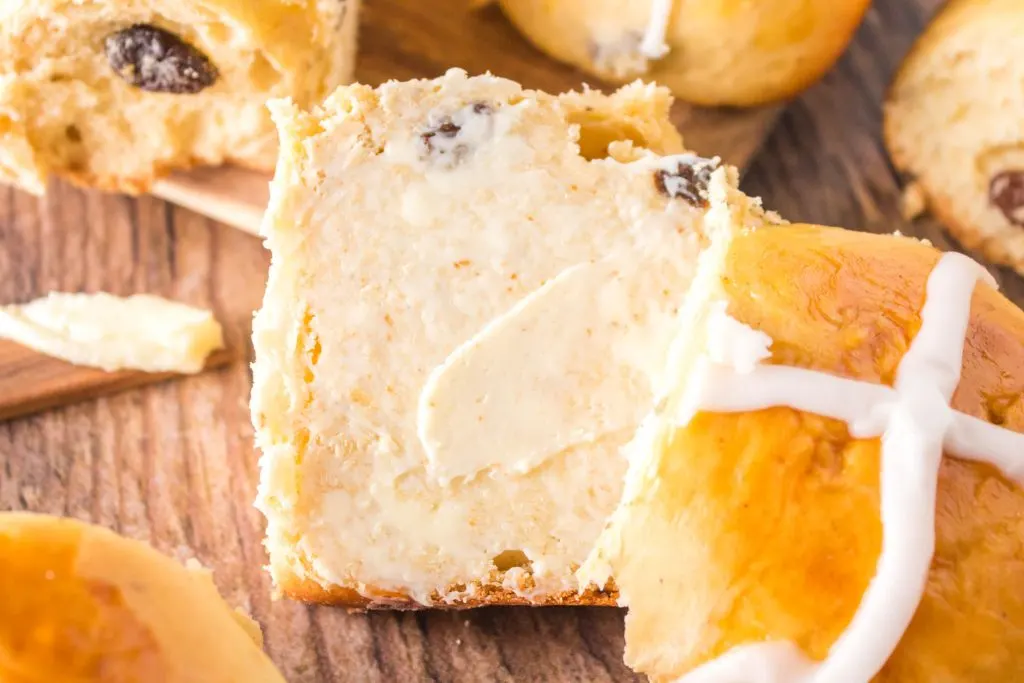 Why You'll Love This Easy Hot Cross Buns Recipe
Easy Easter Bun to Make. Whether you want a special treat on Good Friday, you are looking for a tasty breakfast treat, or if you want special bread for a bigger meal on Easter Sunday, these buns are a simple recipe that won't take too much time away from your other holiday preparations.
Minimal Handling. You won't have to do extra kneading for this bread.
So Pretty to Serve. The beautiful cross design on top of the bun makes a stunning presentation.
Equipment Needed to Make Easter Buns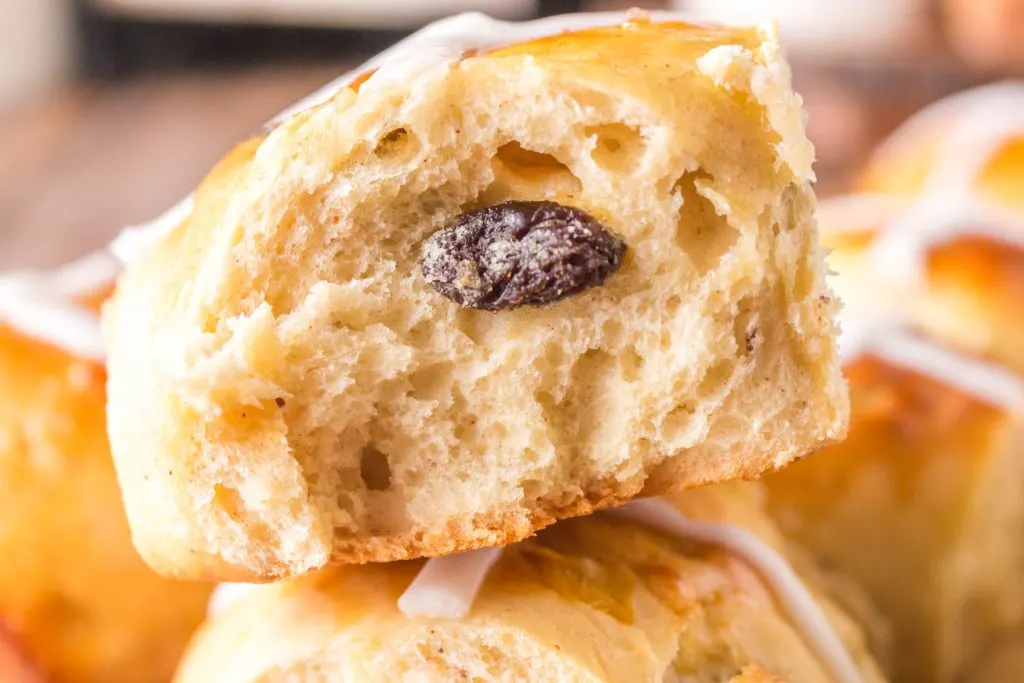 Ingredients for the Hot Cross Buns Recipe
Bread Ingredients
Raisins. You can use regular or golden raisins, craisins, dates or any dried fruit.
Hot Water. I always think of the temperature of bath water.
Warm Milk. Heat to 90 to 95ºF. Don't get it too hot or it will kill the yeast. If you microwave it, make sure you stir it thoroughly before adding it to the mixture to remove any hot spots.
Active Dry Yeast.
White Granulated Sugar.
All-Purpose Flour. I use unbleached but either is fine
Ground Cinnamon.
Ground Nutmeg. You can also grate your own fresh if you prefer that.
Ground Ginger.
Salt.
Eggs. Grade A large, slightly beaten.
Heavy Cream. You can use whole milk.
Butter.
Egg Wash
Glaze
Powdered Sugar.
Milk or Cream. Either will work.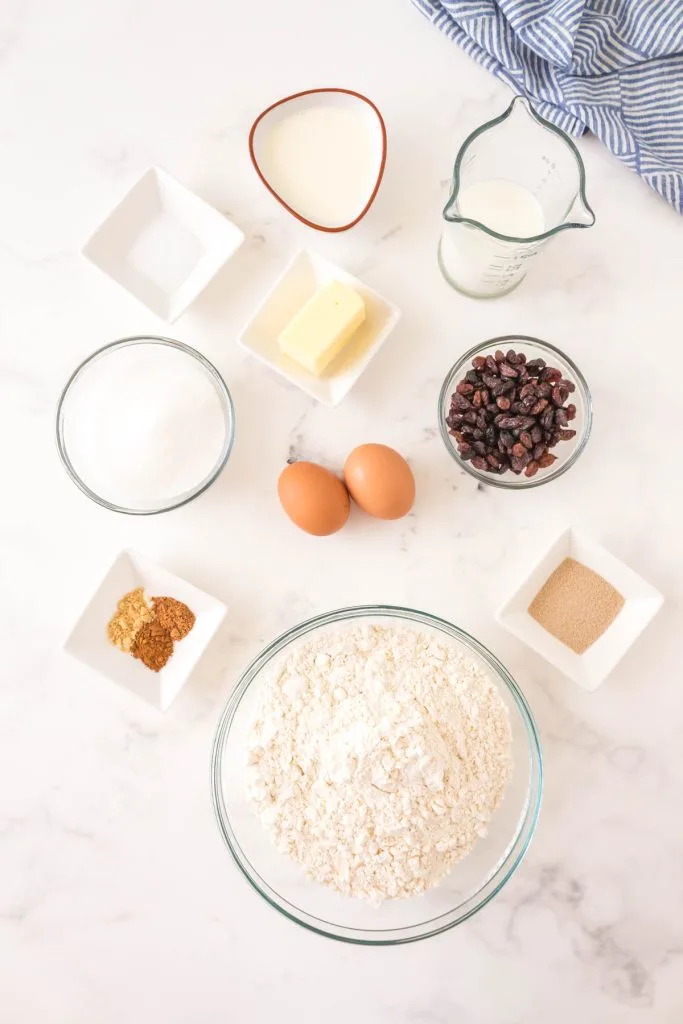 Please note, that the printable recipe card has ingredient quantities, complete instructions, and nutritional information. The following is a quick overview of the recipe.
How to Make Hot Cross Buns
Step One. Butter a 9×13 baking dish and set it aside.
Step Two. Pour the hot water over the raisins. Let them sit for fifteen minutes and then drain the water and set them aside. The hot water will plump them up, enhance their flavor, and makes them juicier.
Step Three. Bloom the yeast in milk and sugar.
Step Four. Mix the flour and spices.
Step Five. Place the remaining sugar, salt, slightly beaten eggs, cream, and butter in your stand mixer. Give it a quick mix until combined.
Step Six. Gradually add the flour mixture.
Step Seven. Once all the flour has been incorporated, mix on medium speed for 4 to 5 minutes to develop gluten.
Step Eight. Add the raisins and mix until they're all incorporated.
Step Nine. Let the rolls rise until doubled in size.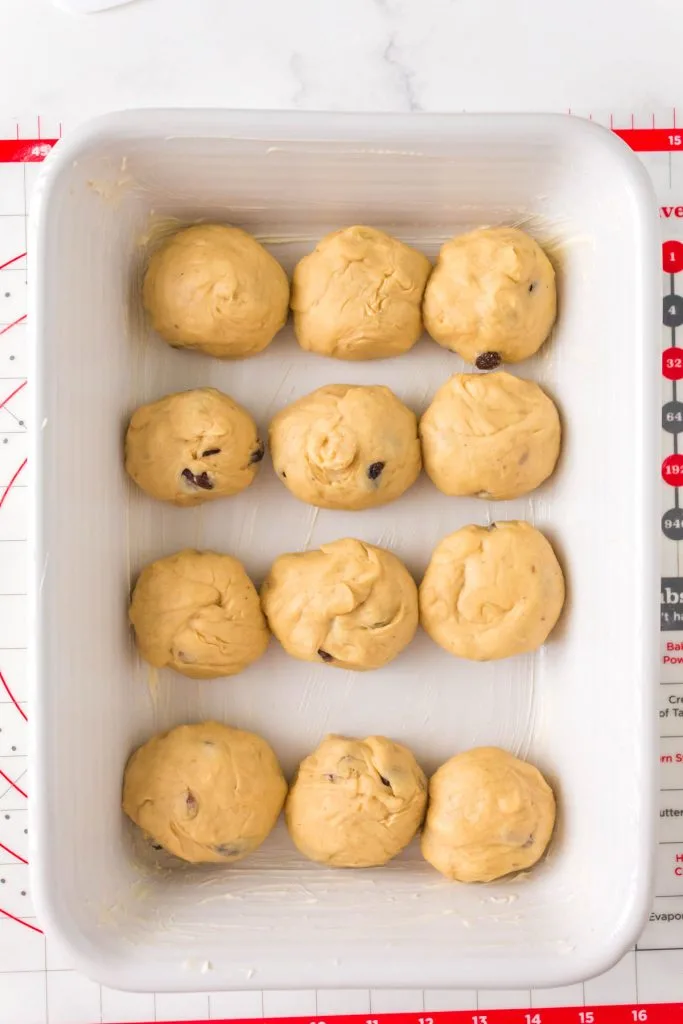 Step Ten. Cut the dough into 12 equal-sized pieces and roll them into balls. Cover with plastic wrap and allow them to rise.
Step Eleven. Preheat the oven to 375°F.
Step Twelve. Brush the rolls with the egg wash and bake.
Step Thirteen. Let the buns cool in the bakeware.
Step Fourteen. Once the buns are cool, prepare the glaze by mixing the powdered sugar and milk into a thick enough consistency to pipe.
Step Fifteen. Pipe the crosses onto the Hot Cross Buns. You can pipe the lines all the way across and down each row of buns to form a cross on each bun — it's so easy to do this while they are still in the pan.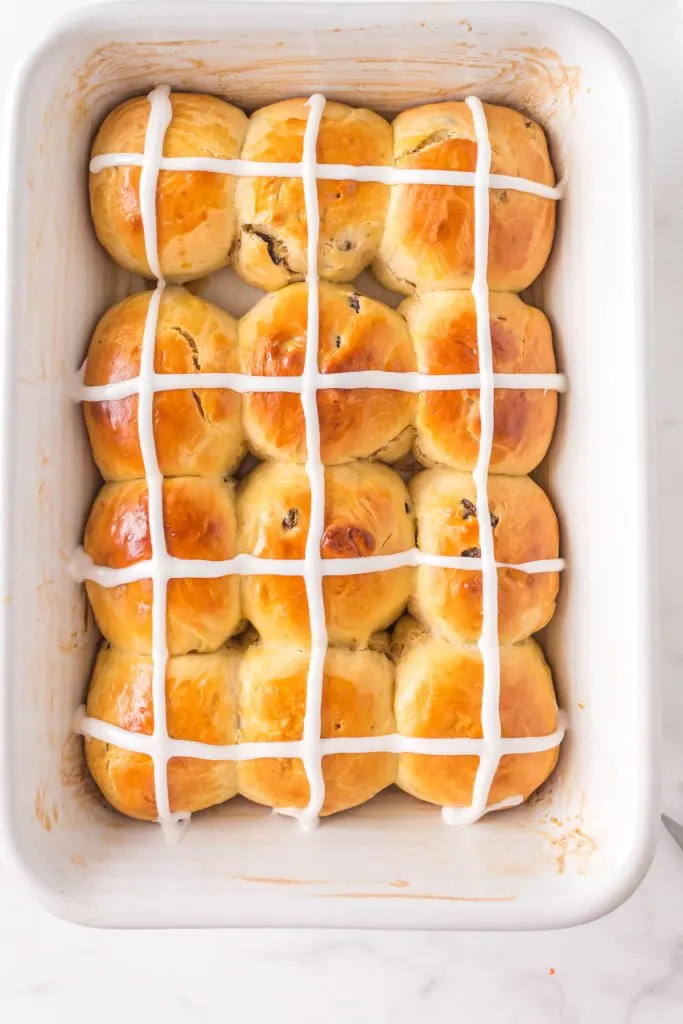 How To Make The Crosses For Hot Cross Buns
The cross is traditionally made of a flour slurry and then piped onto the roll before baking. I wanted to
add a little sweetness to this roll so made a simple thickened glaze and piped it onto the roll after they
were cool.
What to Serve with Hot Cross Buns
I recommend you serve them with the glaze I've included in the recipe. However, they can also be eaten plain or with butter or powdered (confectioner sugar) on top.
Substitutions and Additions
Soak the raisins in rum.
Replace raisins with any dried fruit, dates, craisins, or candied fruit.
Add orange zest.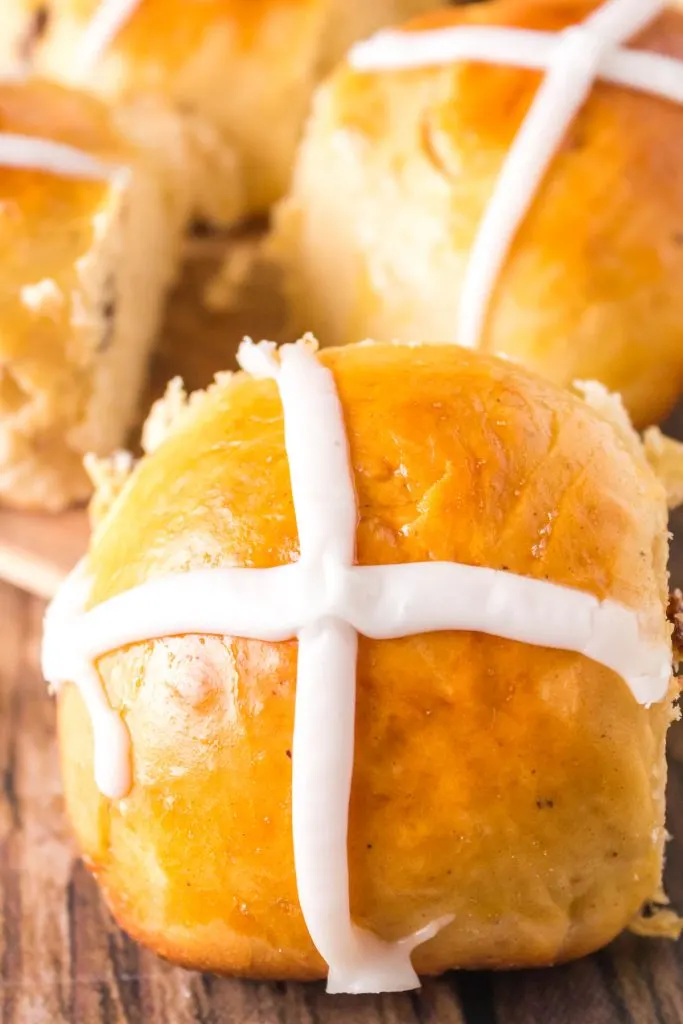 How To Reheat & Store Hot Cross Buns
Best Way To Store Easter Buns
You can keep them in an airtight container at room temperature before adding the cross or in the fridge for 3 to 4 days after applying the cross.
Can I Freeze/Thaw Easter Buns
Yes. Leftover Hot Cross Buns can be frozen, preferably before adding the cross. Make sure they're completely cool first.
Tip: I also freeze the glaze in a piping bag or reclosable freezer-safe bag. Once thawed I'll squeeze it to make it smooth and then I'm ready to pipe on the cross. Remove it from the freezer when you take out the Easter rolls from the freezer. You can also thaw the rolls and glaze in the refrigerator.
How To Reheat Hot Cross Buns
I prefer toasting them but you can also wrap them in foil and put them in the oven for 5 to 10 minutes at 300ºF.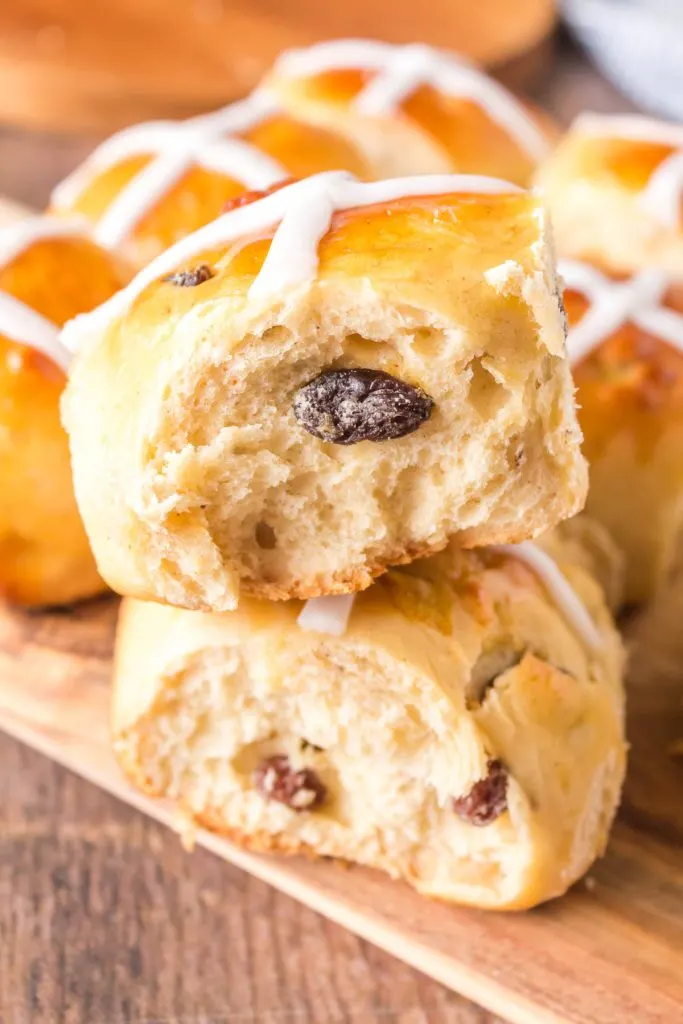 Easy Hot Cross Buns FAQ
What are Hot Cross Buns?
These are sweet spiced yeast rolls that are made with a cross symbol on top. Some describe them as a cross between a typical dinner roll and a breakfast pastry. They typically have raisins and other spices and are made to celebrate the Easter holiday.
Why are Hot Cross Buns Eaten At Easter
In the Christian tradition, these buns are made and eaten on Good Friday as a way to commemorate Jesus' death on the cross.
Why are there raisins in Hot Cross Buns
The traditional recipe calls for raisins, which add flavor and texture to the sweet Easter rolls.
Pin this amazing Easter Bread Recipe!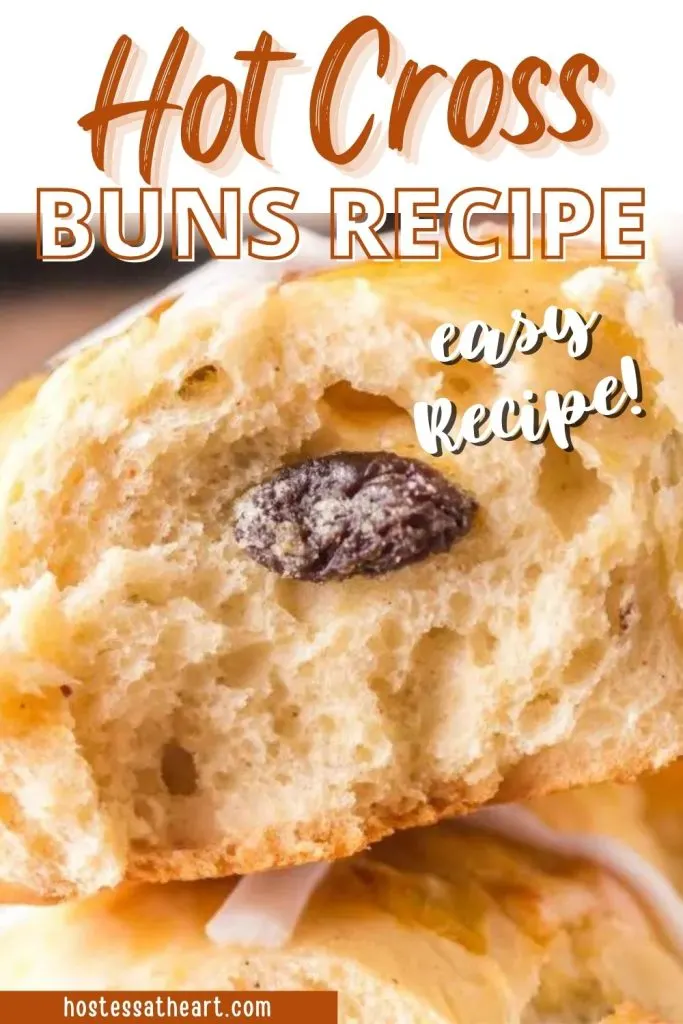 Tips to Make the Perfect Hot Cross Buns Recipe
Make sure your yeast is fresh. Check the expiration date several weeks before the holiday and purchase new if needed. Old yeast often fails.
Don't be tempted to add too much flour. Your Easter buns will be tough and dry instead of light and fluffy.
Cool the buns before adding the cross. This will prevent it from melting off or losing shape.
Other Easter Recipes You'll Love
Puff Pastry Baskets with Creamy Lemon Filling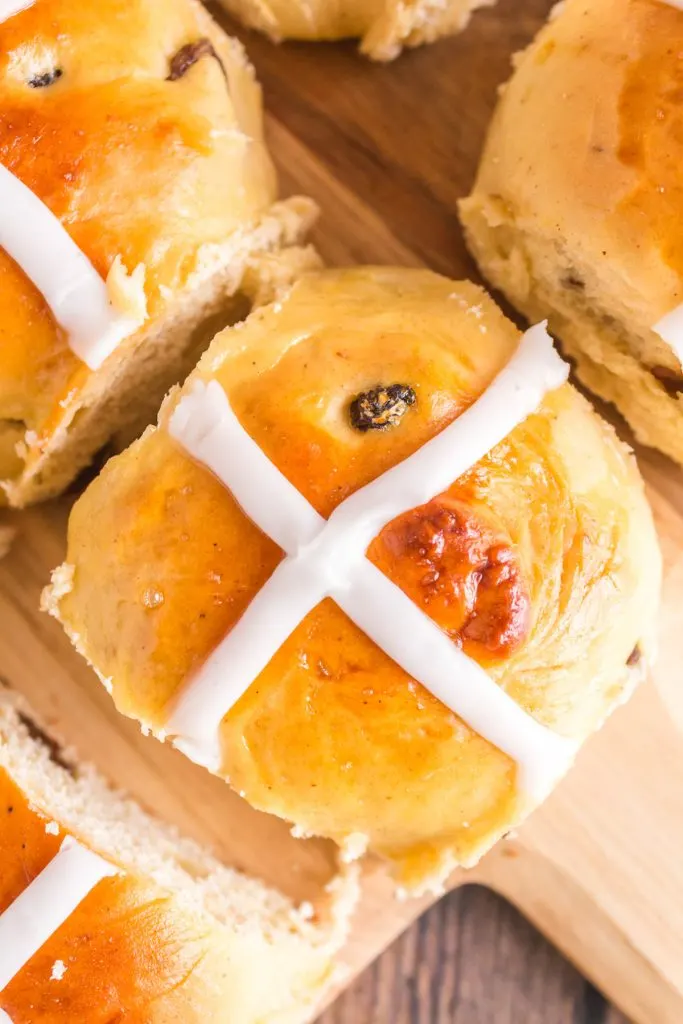 If you enjoyed this recipe, you may like these too!
Don't Forget To Come Back And Let Me Know How The Hot Cross Buns Recipe Turned Out!