Make these adorable Bunny Butt Cupcakes for your family as a special treat for Easter. My recipe using a cake mix and store-bought ingredients could not be any easier. And yet it's impressive! That's my kind of recipe.
Of course, if you want to make everything homemade, you can. In a pinch for time, I'd grab ingredients off the pre-made shelf, but nothing beats the flavor of a good homemade buttercream.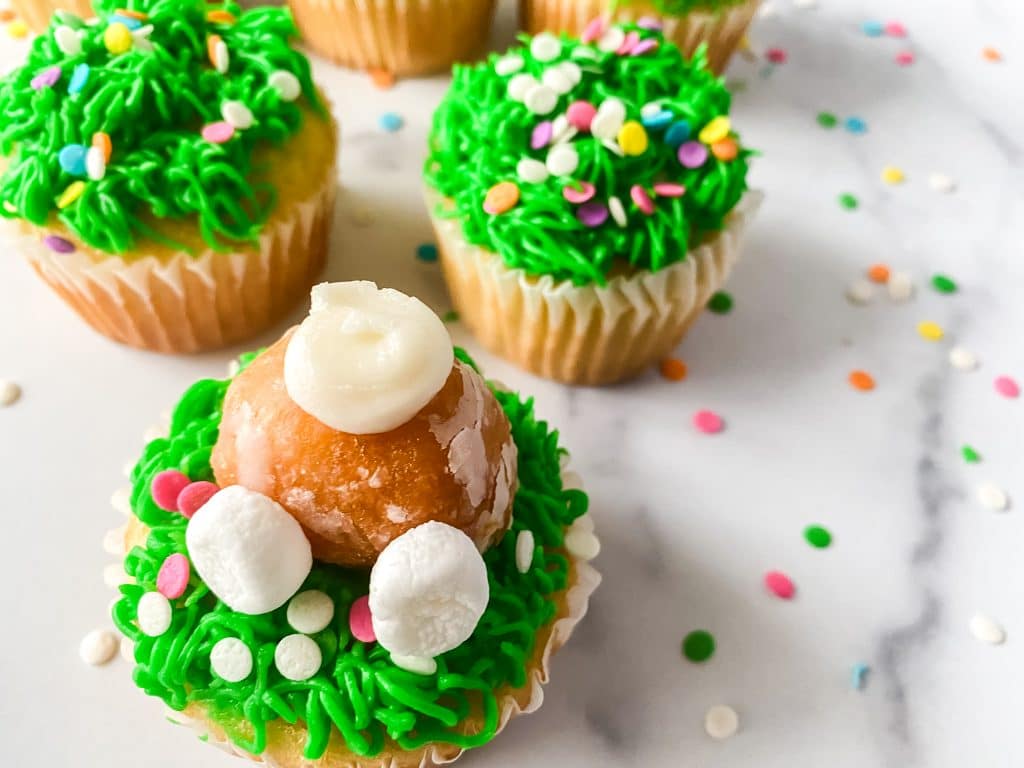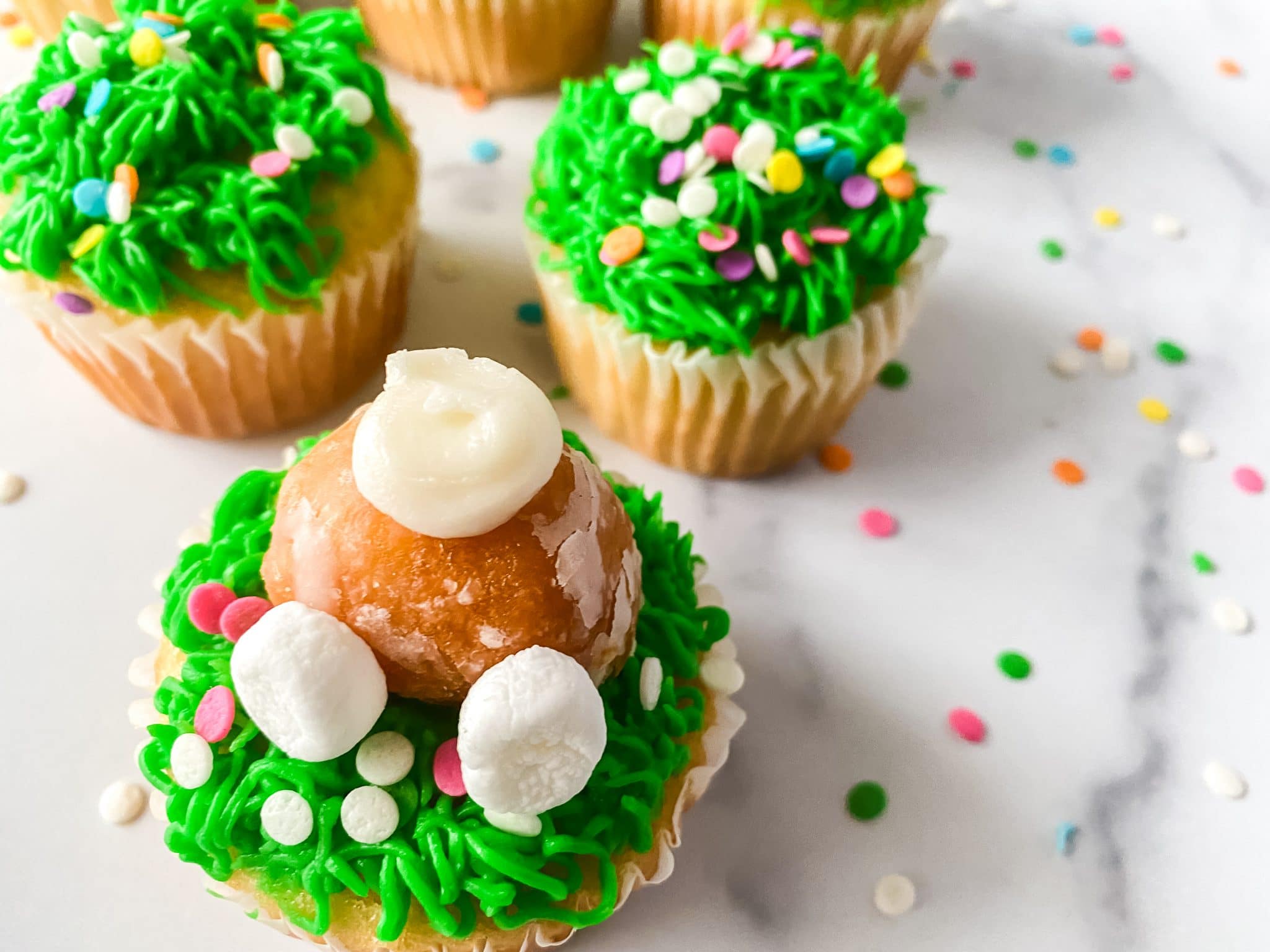 Kids love bunnies and cupcakes, which makes our bunny cupcakes the perfect Easter treat for parties or a special dessert. Plus displaying the bunny's bottom adds a touch of whimsy or playfulness that kids enjoy.
Here's What You'll Need for the Bunny Butt Cupcakes Recipe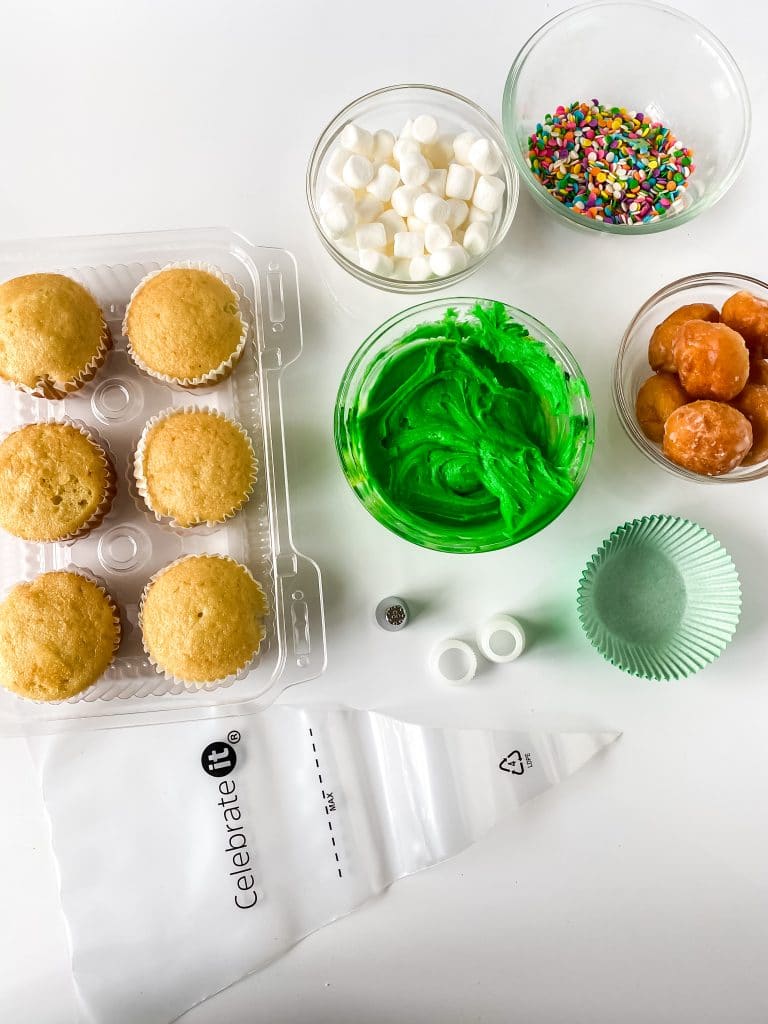 Prebaked Cupcakes. You can use a mix or make homemade. Nowadays you can even buy ready-to-decorate plain cupcakes at some stores!
Store-bought or homemade buttercream. This is not the same as frosting. A buttercream is more stiff and appropriate for decorating with tips.
Grass Piping Tip.
Store-bought or Homemade Donut holes.
Coconut (optional). Coconut makes the perfect grass when you add a few drops of green food coloring gel.
Sprinkles.
Green Gel Food Coloring. Make sure to use gel so your frosting doesn't get too runny to hold its shape!
Mini marshmallows. These are used to make the bunny feet.
Tips and Tricks for Bunny Cupcakes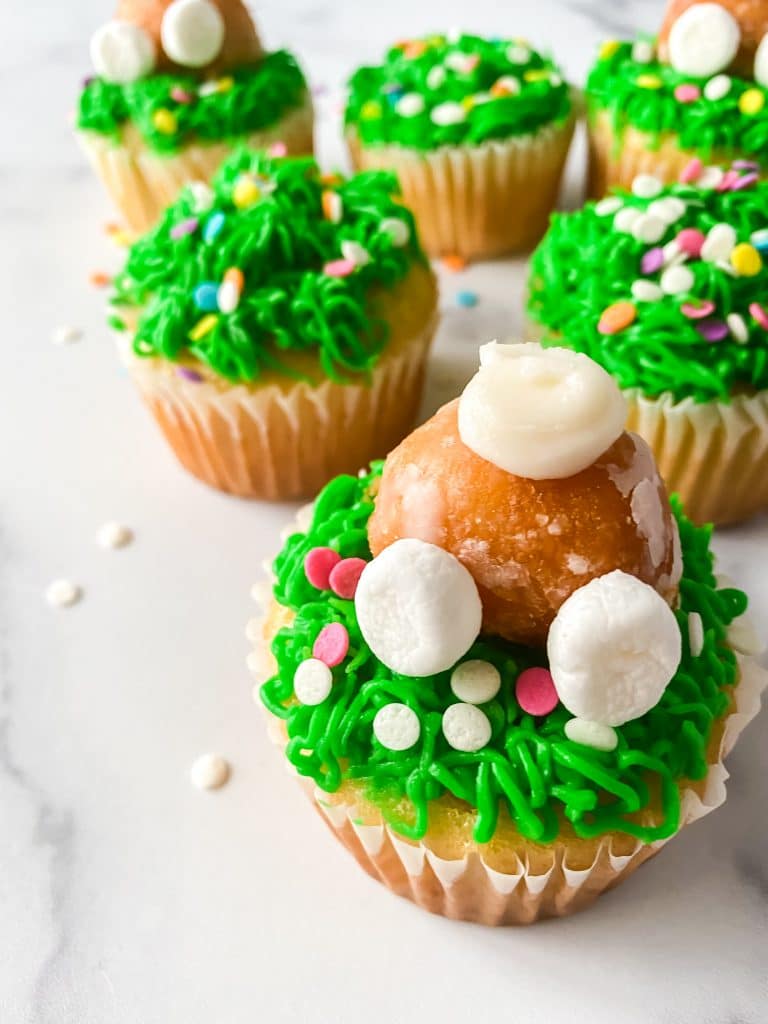 If you'd like a white bunny just use the frosting before coloring it and frost the donut whole. If you'd like a different color just add gel food coloring to change the frosting color. I just left the donut hole plain.
Gel food coloring is preferred over liquid because the liquid food coloring will change the consistency of the buttercream icing.
Store-bought buttercream and store-bought frosting are NOT the same. Buttercream is stiffer than icing and is the recommended option for cake and cupcake decorating. You could also use fluffy Vanilla Frosting for this recipe.
If you have hot hands, meaning while you are holding the piping bag the icing begins to "break" (the color looks distorted) inside the bag), place it in the fridge for 5 mins to stiffen back up and rub some ice on your hands to keep them cool.
How to Make Bunny Butt Cupcakes
Piping Instructions
Fit the piping bag with a couple and decorating tip.
Fill the bag halfway with green icing.
Hold the piping above the cupcake, straight up and down, and lightly touch the surface of the cupcake.
Lift up as you very quickly squeeze. Stop squeezing and pull the piping bag up.
Continue this process all the way around the top of the cupcake, squeezing and stopping creating the illusion of grass.
If only adding the sprinkles to the cupcakes, do it immediately. Once the icing dries the sprinkles won't stick.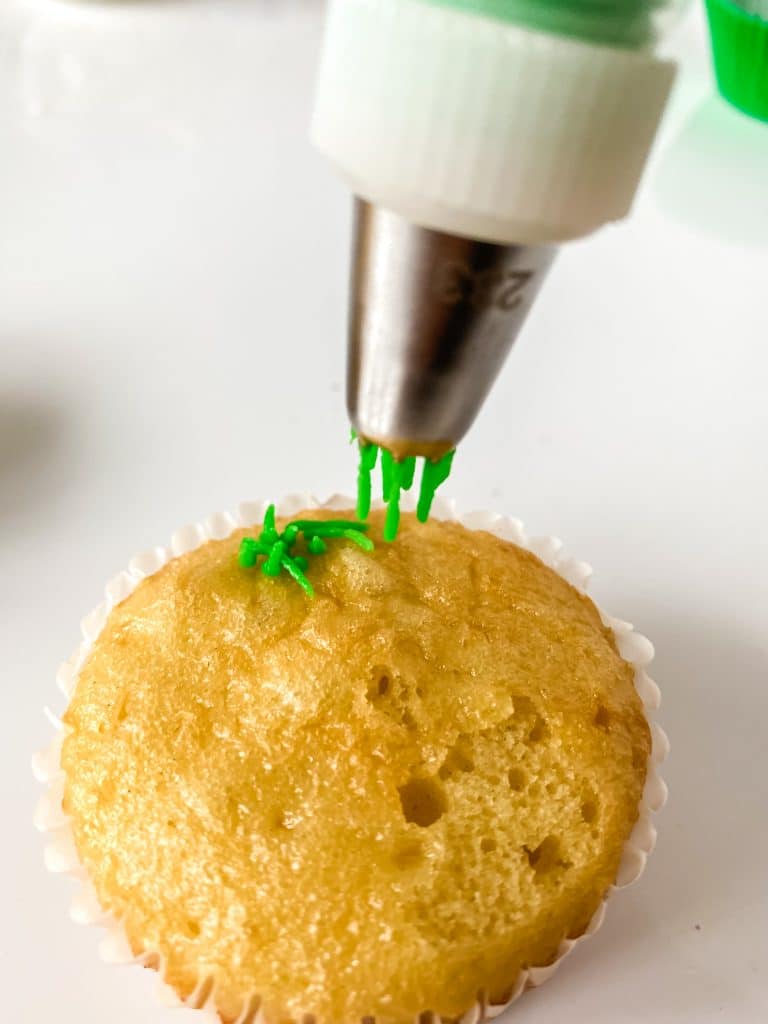 To Make the Bunny Bottom
Create the cupcakes as mentioned above.
Cut the donut hole in half creating two bottoms.
Place the holes, cut side down on top of the icing.
Pipe a dollop of white icing on the top of the donut hole.
Add coconut shreds to create a fluffy tail, this step is optional.
Cut a mini marshmallow in half and stick the sticky side to the donut hole creating the feet.
If the marshmallows will not stick, use a little bit of white icing to glue them to the donut.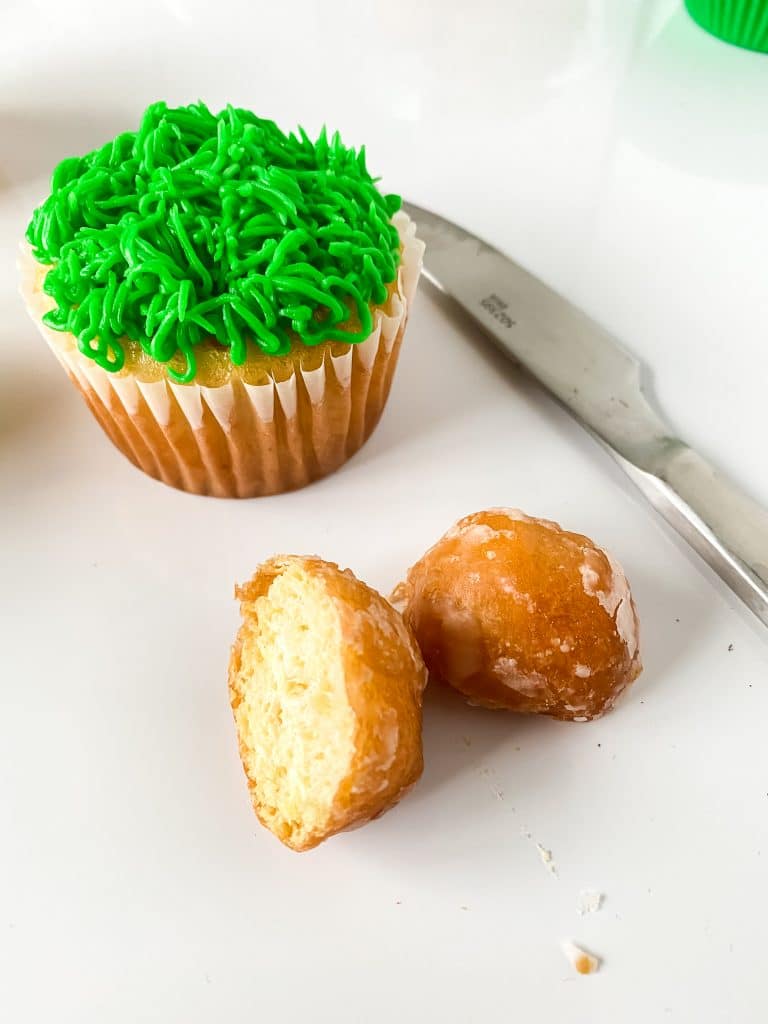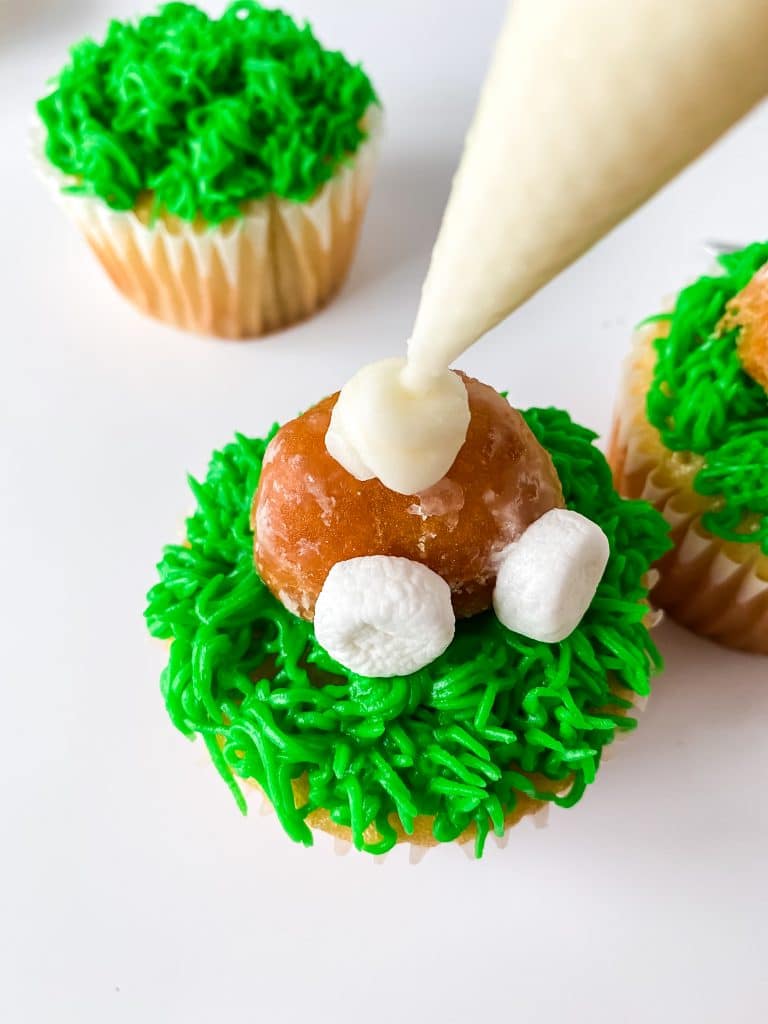 Other Bunny Cupcake Ideas
Try these variations to make the base of the bunny butt cupcake. Any of these bunny cupcakes will get lots of smiles!
Press crushed cookies on a frosted cupcake to form a base of dirt for the bunny's butt.
Use green-tinted coconut on a frosted cupcake to have a bunny resting on the grass.
Create a garden around the bunny by piping flowers interspersed with grass.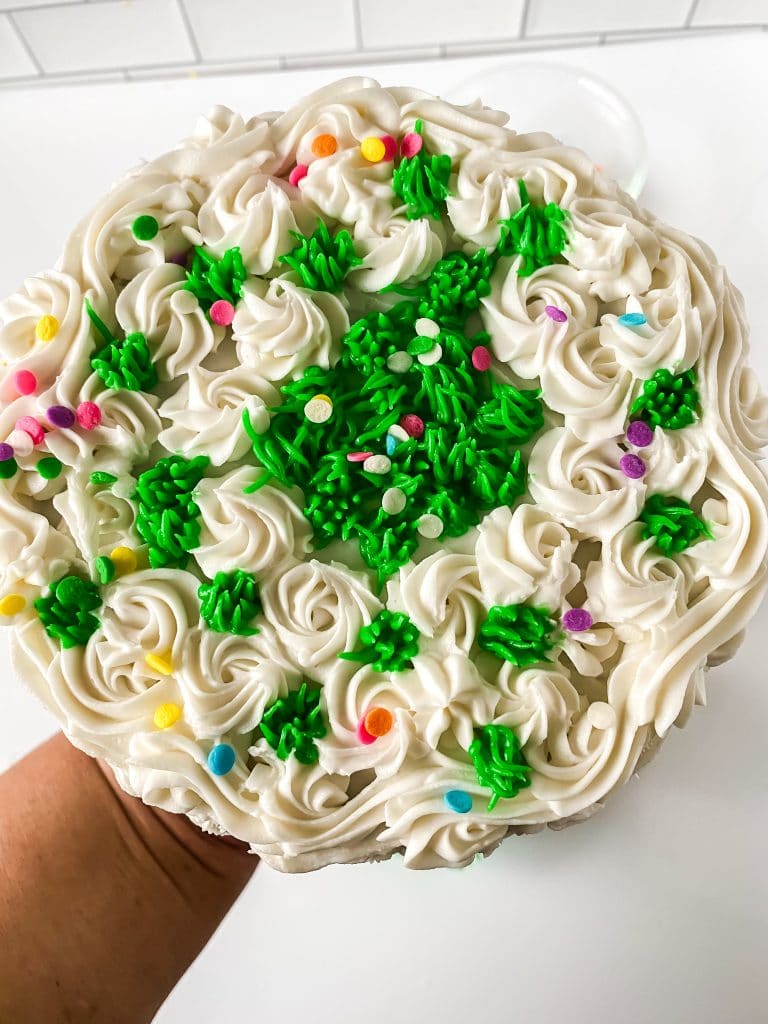 You May Need These Supplies
Storage
Keep your cupcakes in a storage container for a few days or freeze them individually for up to three months and thaw as needed.
If you've been keeping them in an airtight container before the big event, make sure to expose them to air a couple of hours before serving so that buttercream has time to "set". Buttercream tends to soften in air-tight storage.
More Fun Recipes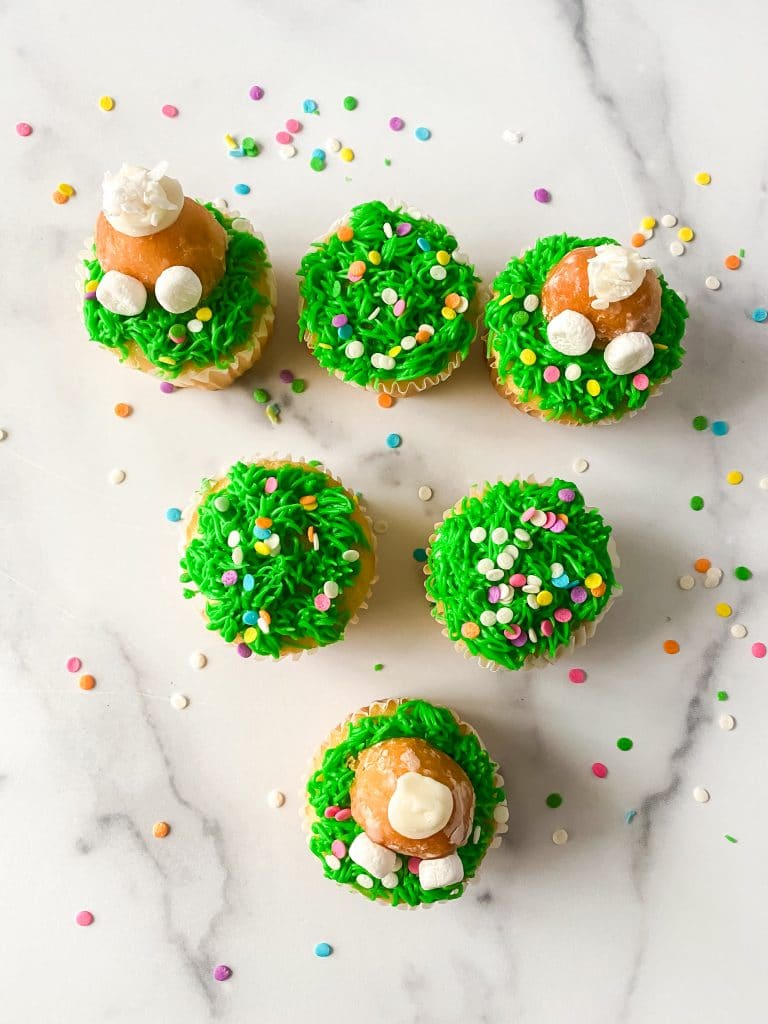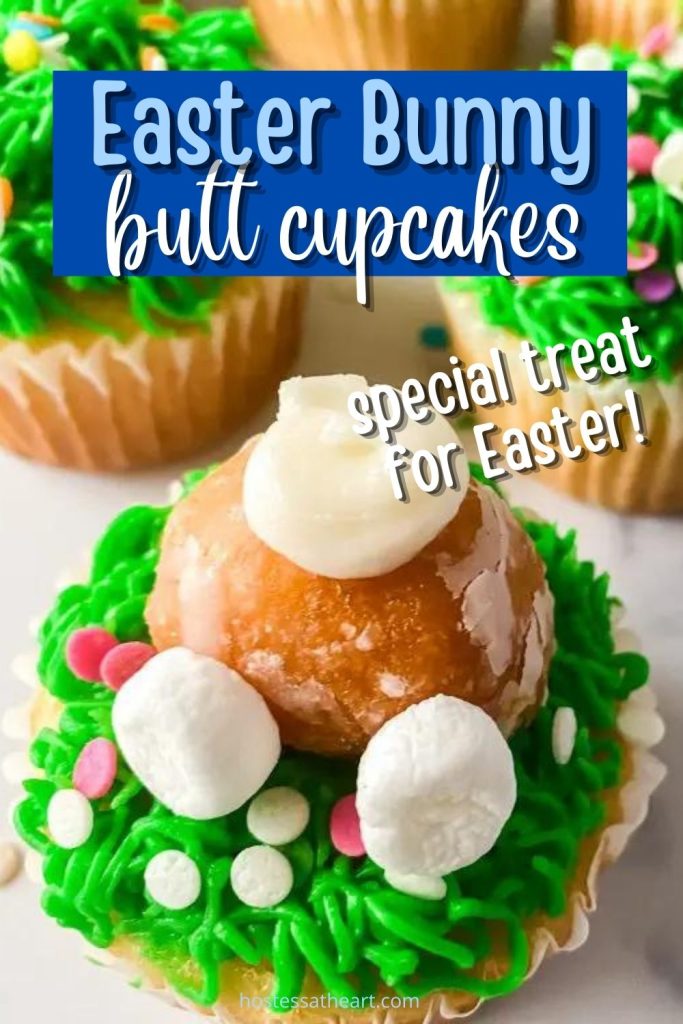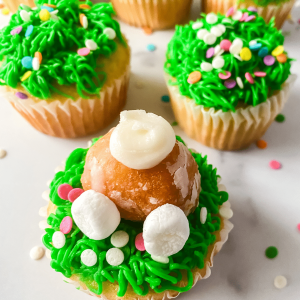 Basic Buttercream
This basic buttercream frosting is perfect for spreading on cakes and cookies or for piping decoration techniques.
Ingredients
1

cup

solid vegetable shortening

1

tsp

clear vanilla extract

1

lb

powdered sugar

sifted

1

tbsp

Meringue Powder

7

tsp

milk or water
Instructions
Combine shortening, water, and extract into the bowl of an electric stand mixer fitted with the paddle attachment. Blend on medium-high until blended and becomes shiny (up to 5 minutes).

Add powdered sugar and *meringue powder. Blend until combined.

Add additional water or milk to thin the buttercream if necessary
Notes
Recipe adapted from Wilton Decorating Basics method course.
Meringue powder is made up of dehydrated eggs. Leave it out if you want these cupcakes to sit out or if you follow a special diet.
It's important to mix the shortening until it becomes shiny!
Buttercream can be frozen in an airtight container for up to 6 months.
Nutritional Disclaimer
This recipe was calculated using the exact brands and measurements I used to make this recipe. If you are following a strict diet please note changing anything will cause the nutritional info to change. My calculations are intended as a guide only.