Aussie Lamb Stuffed Portobello Mushrooms are quick and easy to put together. Easy stuffed mushrooms are the perfect finger-food appetizer for a casual get-together or a special occasion.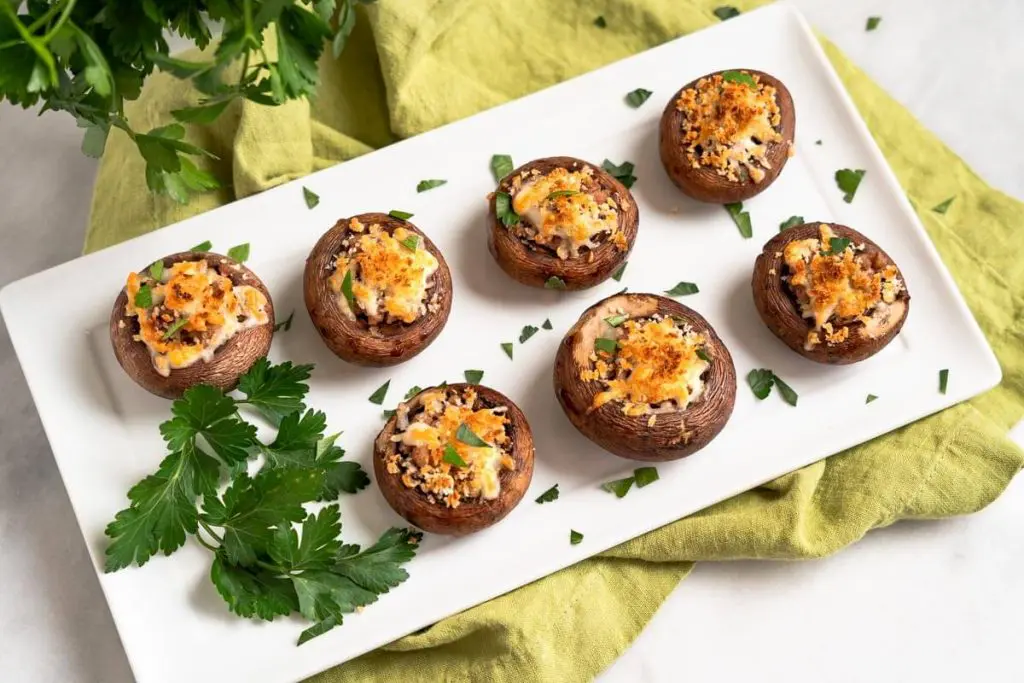 Lamb Stuffed Portobello Mushrooms with Australian Lamb combine mild and flavorful lamb with a punch of Manchego cheese.
They come together quickly and are perfect for setting out for game day or serving at your fanciest occasion.
We also love that this is a lighter recipe with a short ingredient list. I don't know about you, but I'm ready for Spring recipes and all of the fresh flavors that come with it!
This post is sponsored by True Aussie Lamb but the opinions here, and the love I have for their products, are all my own.
What is Aussie Lamb?
I used to think that True Aussie Lamb was a brand. It's not. They support all of the lamb producers in Australia.
Why look for Australian Lamb?
Australian lamb is raised on natural pastures which produces a mild and flavorful lamb.
Lamb is tender, lean, and healthy!
As you will see in our recipe, it's so easy and versatile to use.
It's readily available in the United States. Australian lamb is actually the #1 source of lamb in the US and you may have already seen it in your local supermarket.

You can go to their website to see who carries it in your area and to learn more about True Aussie Lamb.
Or, just #askforAustralian!
Ingredients you'll need
This is a short ingredient list which makes it super easy to put together!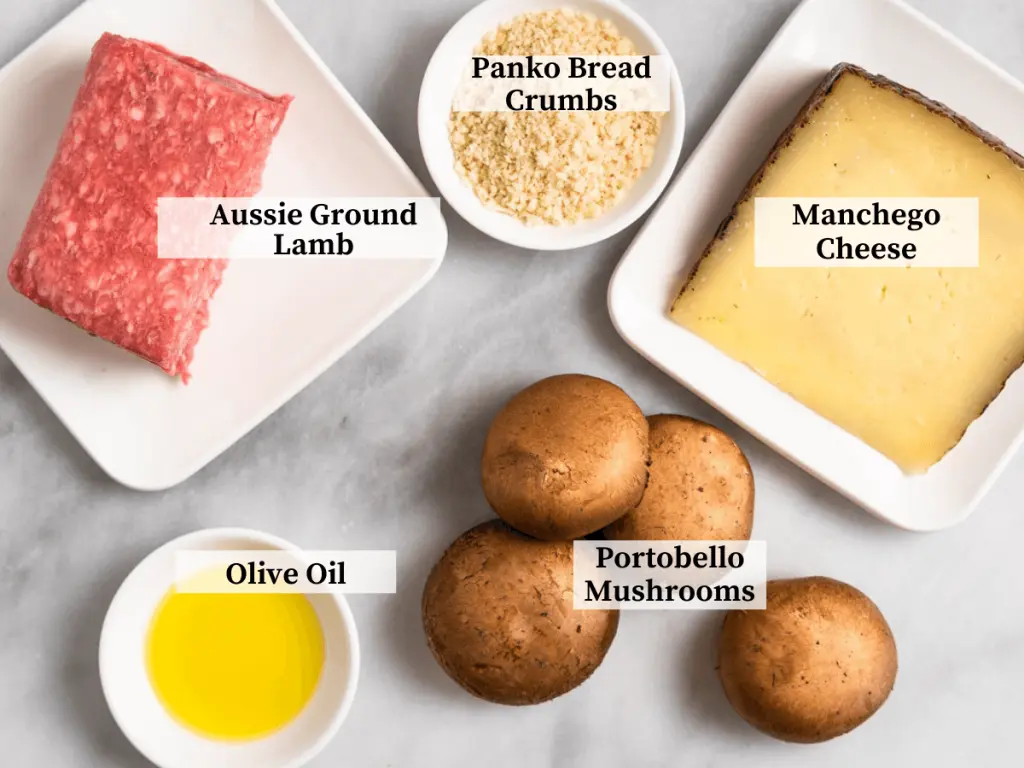 Ground Australian Lamb – This lamb is so lean and tender that we didn't have to drain it. That made this a no-fuss easy peasy recipe that was done in no time.
Mushrooms – We used medium-sized portobello mushrooms. They are sturdy and are great for holding everything we stuffed into them. You could also use white button mushrooms.
Manchego Cheese – This is a semi-hard sheep's milk cheese that grates and melts beautifully. The punch of this cheese contrasts beautifully with the lamb.

You can use another cheese with the same characteristics. You can also get pre-shredded cheese for convenience.

Panko Bread Crumbs – We love the crunch that these bread crumbs have. You can certainly use a plain or seasoned bread crumb.
Olive Oil – We just brushed a little on our mushrooms to keep them tender and add a little flavor. You could use melted butter, vegetable, or canola oil.
Salt and pepper
Fresh Parsley – Optional garnish
How to make Aussie Lamb Stuffed Portobello Mushrooms recipe
Remove the stems from the cleaned mushrooms and brush them with olive oil using a paper towel or pastry brush.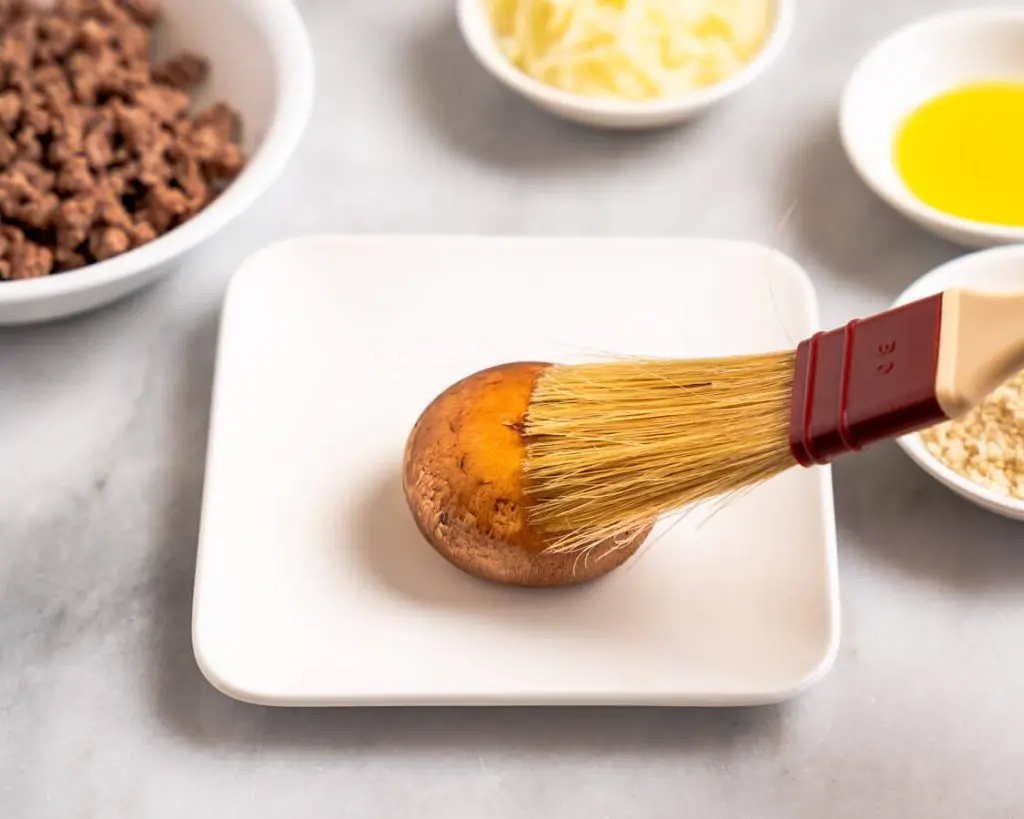 Sprinkle salt and pepper over the ground lamb and brown it. This is a lean protein so there's no need to drain it.
Stuff the mushrooms with ground lamb. We used the tip of a teaspoon to pack it in the mushroom.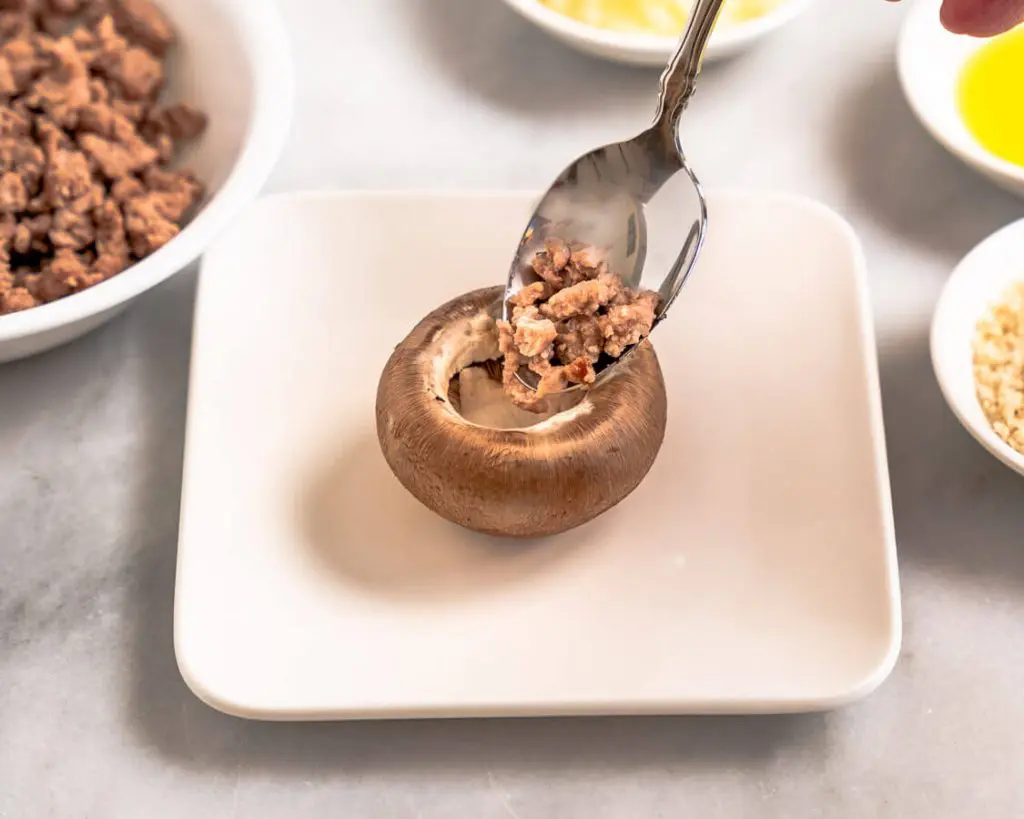 Top the filling with the grated manchego cheese.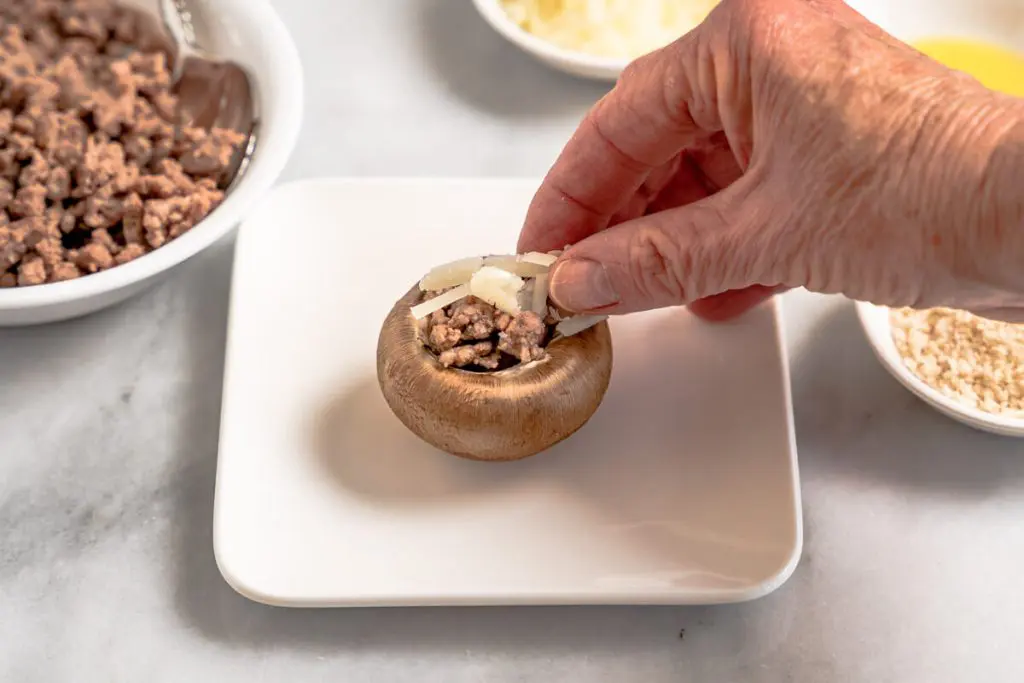 Sprinkle the manchego cheese layer with panko bread crumbs.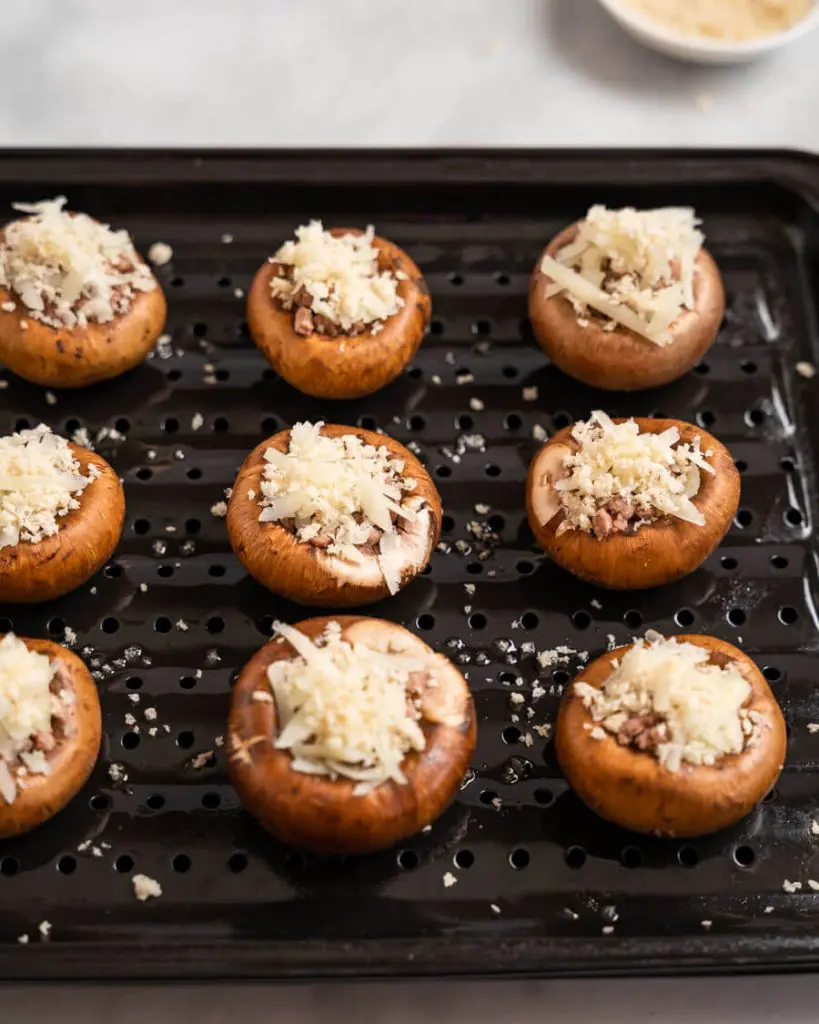 Broil until the topping is browned.
Tips for the perfect stuffed portobello mushroom recipe
Don't wash the mushrooms. They're like sponges and will become soggy.
Break up the lamb into small pieces when you brown it. That makes stuffing it a lot easier and you can get more into it.
Don't overfill the mushroom with the ground lamb otherwise, the toppings will just spill off.
We used a broiler pan. The grids held our mushrooms in place which prevented them from falling over and potentially losing our filling.
We stuffed the mushrooms with the meat and cheese and then put them on the pan before applying the Panko bread crumbs. This prevented us from losing the bread crumbs when transferring them to the pan.
We broil the mushrooms about 10 inches from the broiler. This allows the mushroom filling to melt together and the breading to brown. Closer than that and they will cook too quickly and potentially burn.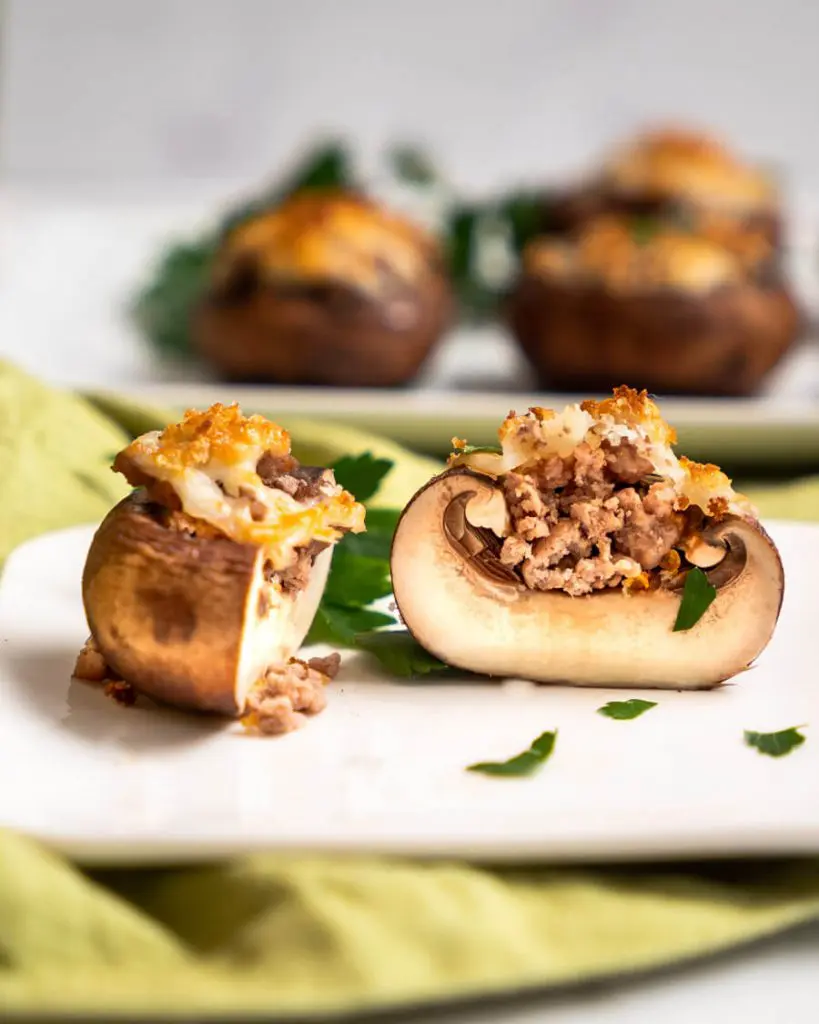 How to store easy stuffed mushrooms
Cooked stuffed mushrooms can be refrigerated for 3 to 5 days. We don't put them in a covered container. Just cover them lightly with a piece of plastic wrap. Any moisture will seep into the bread crumbs and mushrooms making them soggy.
We don't recommend freezing the cooked mushrooms. However, the filling freezes really well. Just put it in an air-tight container and freeze it for up to 3 months.
Having your filling made ahead makes this recipe a great make-ahead recipe when you need an appetizer.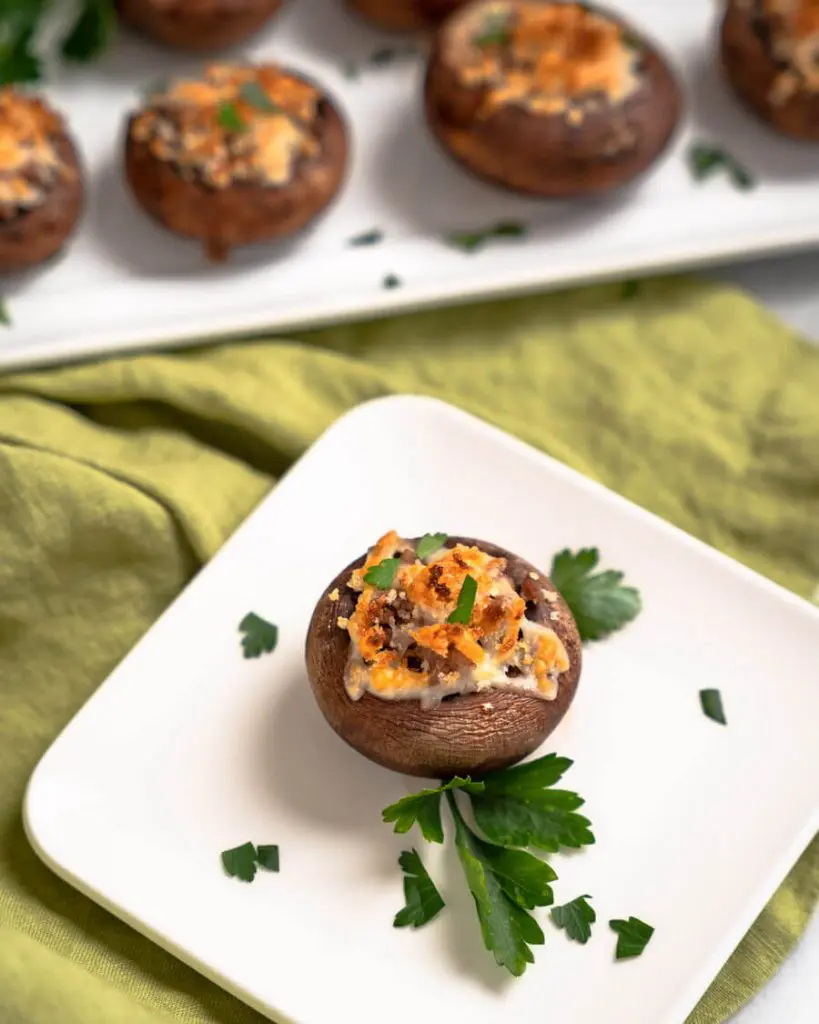 What you may need
Broiler pan – you can also use a baking sheet for this recipe.
Grater – We grate cheese as we need it.
If you like this recipe, you may enjoy these too
We love lamb and you can find all of our lamb recipes here!
If you're still looking for amazing lamb recipes, jump on over to the True Aussie Lamb website.
They have some chef creations using all of the lamb cuts available and more tips to cook lamb. There is also an interactive cooking tool that shows you how easy it is to cook lamb and will help you create your own dish.
Pin it!