Did you know you can color your Easter eggs at home, using regular food coloring from the grocery store aisle? No need for special kits, once you learn how to dye Easter eggs! This opens up a world of possibilities for different colors.
When you aren't limited to the colors in the kits, you can buy any fancy food coloring sets. You can mix colors as you go and make whatever colors you desire for endless variety.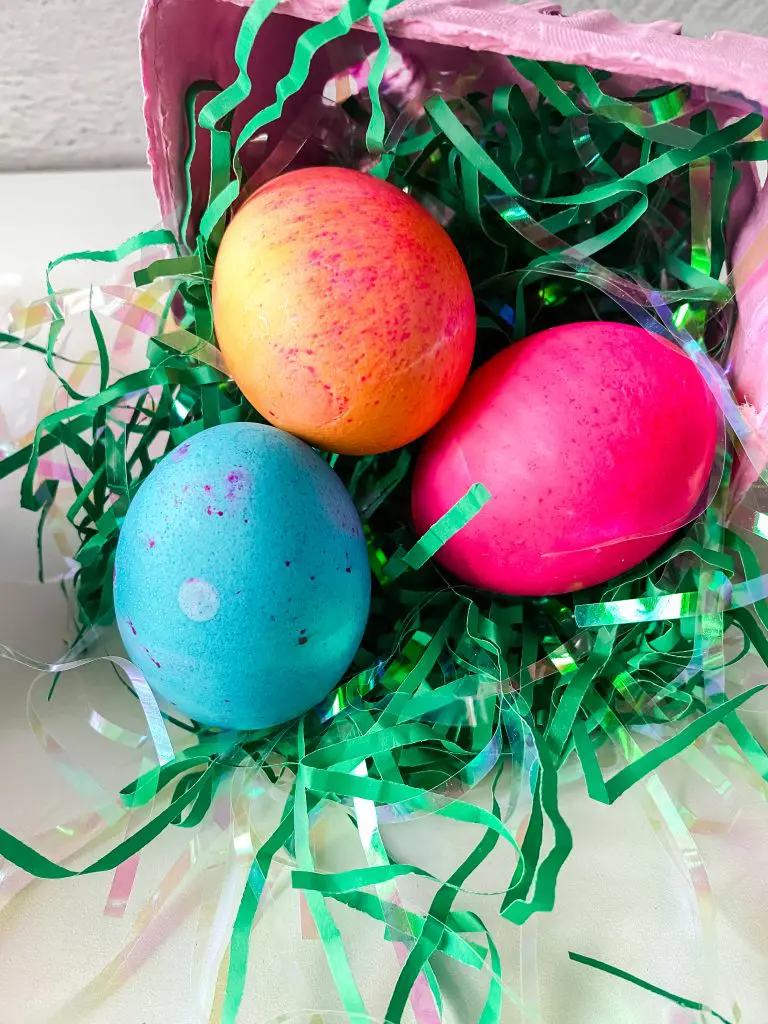 You and your kids will have so much fun dying Easter eggs together. It is worth the time and effort and maybe even a little bit of mess to figure out how to dye Easter eggs so you can give this special magical time to your kids.
What You Will Need to Dye Easter Eggs with food coloring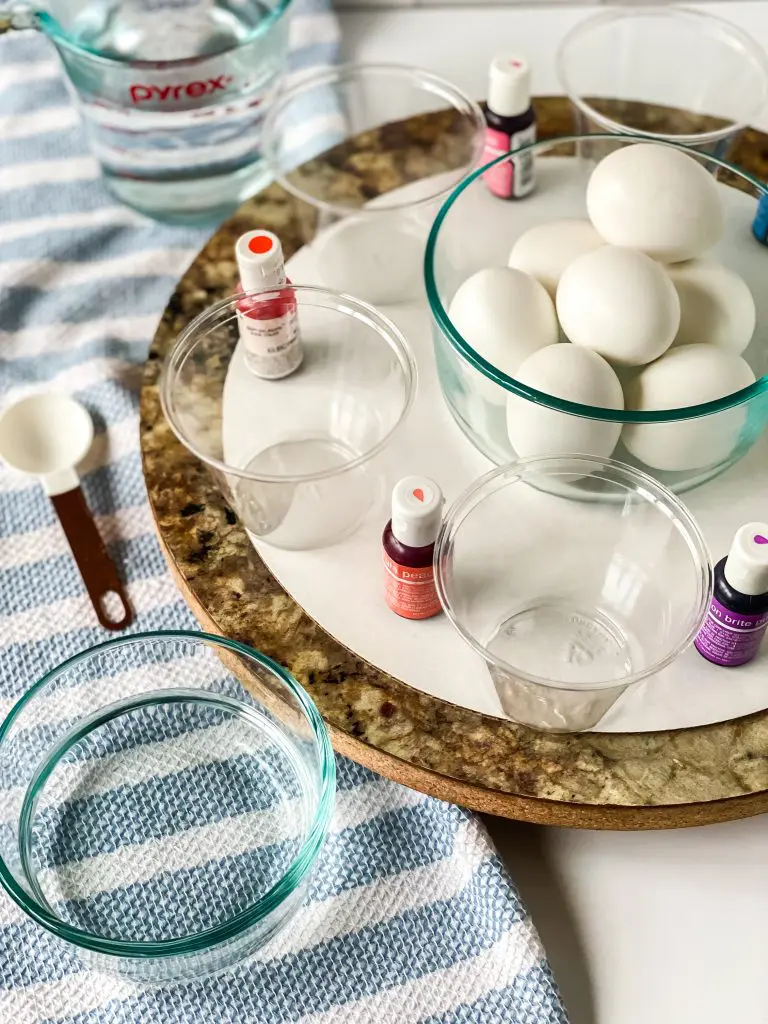 If you've been asking how to make homemade easter egg dye, here's the answer. All you need is white vinegar and food coloring!
How to Dye Easter Eggs Instructions
Fill cups, bowls, or containers with enough boiling water to cover the egg, 1 teaspoon of white vinegar, and food coloring.
Place the egg on a slotted or regular spoon and dunk into the mixture, turning occasionally so both sides are colored.
Keep in the liquid for up to 5 mins or longer for darker colors.
Carefully remove the egg and set it aside to dry.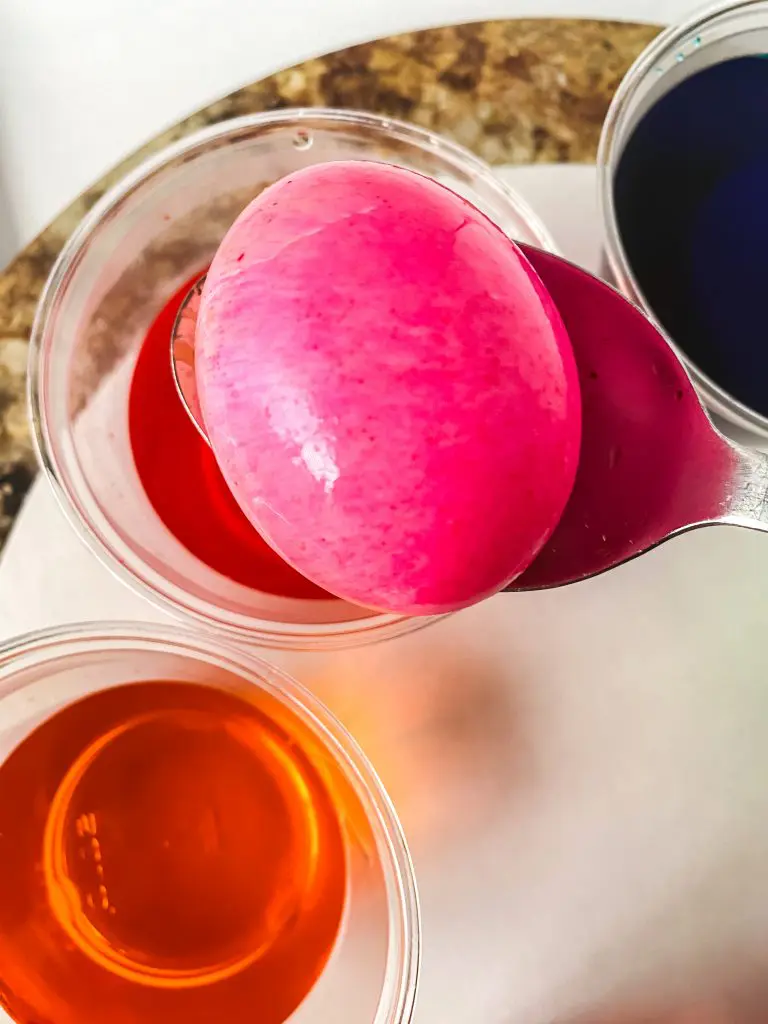 Notes about How to Dye Easter Eggs without a kit
The key to properly dyed eggs is taking your time throughout this process.
Cover your work surface with towels or newspapers to protect them from being stained.
Each color will need enough boiling water to cover the egg completely once submerged.
Using liquid colors will require up to 20 drops, using gel colors requires 1-3 drops depending on the intensity of color.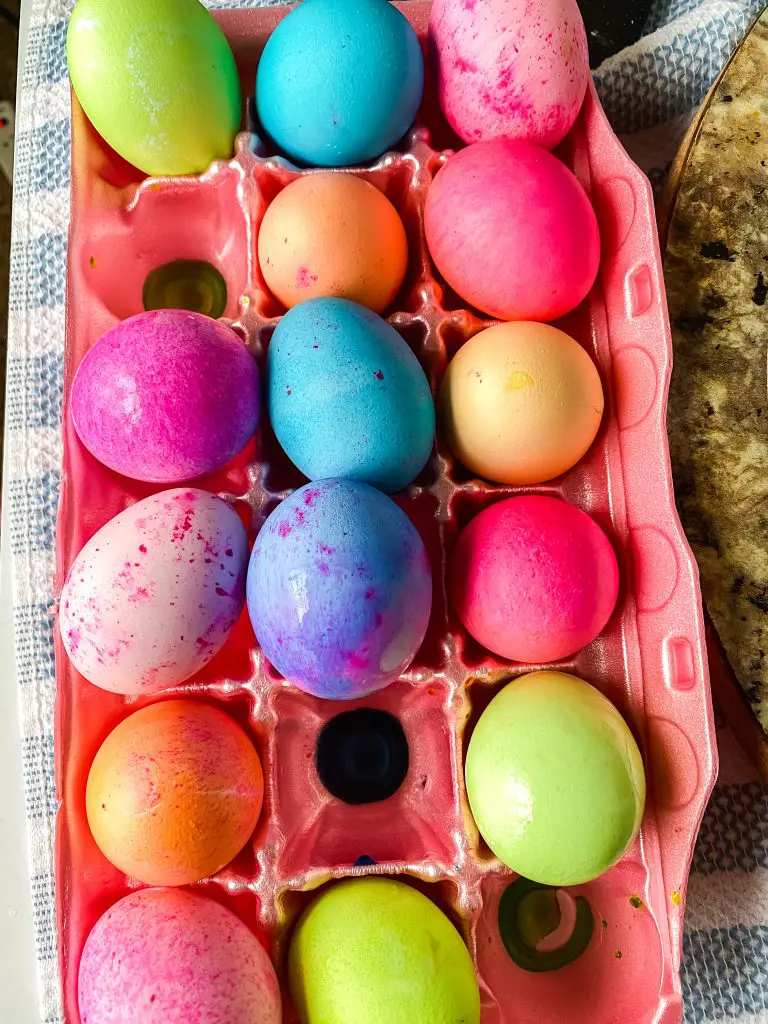 Tips and Tricks for How to Dye Easter Eggs with Food Coloring
Some food coloring gels are smoother than others. If there is anything floating in the mixed dye it will show up as specks. I kind of liked the variety, however.
Also, eggs can be double dipped. It's easier if you let one end dry before attempting to dip the other end.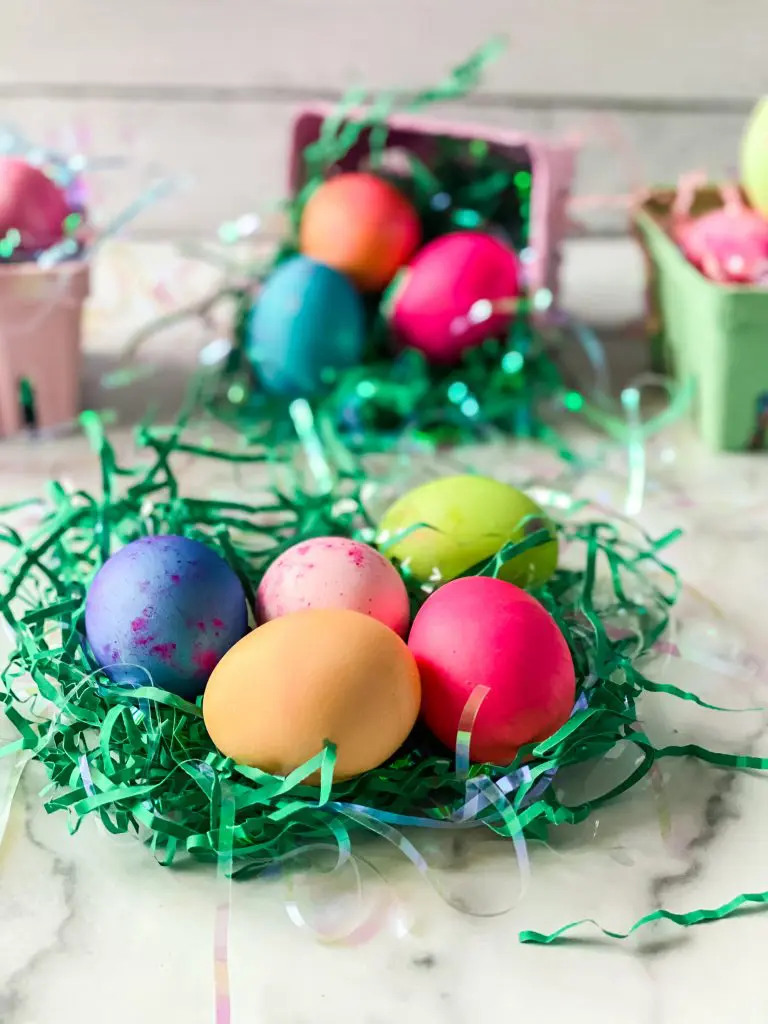 How to Make Hard Boiled Eggs – 3 ways
Hard-Boiled Eggs in the Instant Pot
My favorite way to cook hard-boiled eggs is in the Instant Pot. It's easy to remember because I call it the 5-5-5 method. They turn out perfectly, and are so easy to peel!
Place one cup of water in the Instant Pot and set it to sautee to pre-heat the water.
Add the trivet to the bottom.
Add the eggs on top of the trivet, as many as you like.
Cook the eggs on high pressure for five minutes.
Allow a natural release of pressure for five minutes, then quick-release.
Chill in an ice bath for five minutes.
Hard-Boiled Eggs On the Stove Top
Place the eggs in a pot and cover them with cold water.
Add in 1 tablespoon or more of salt (depending on the number of eggs).
Bring to a boil.
Boil for 8-10 mins, remove now for a creamy yolk or;
Turn off the heat and let them sit in the hot water an additional 3-5 mins for a paler and opaque color often used for deviled eggs.
Move eggs to an ice bath to stop the cooking process.
Let sit 5-6 minutes if serving immediately.
Let sit 10 minutes if using later on.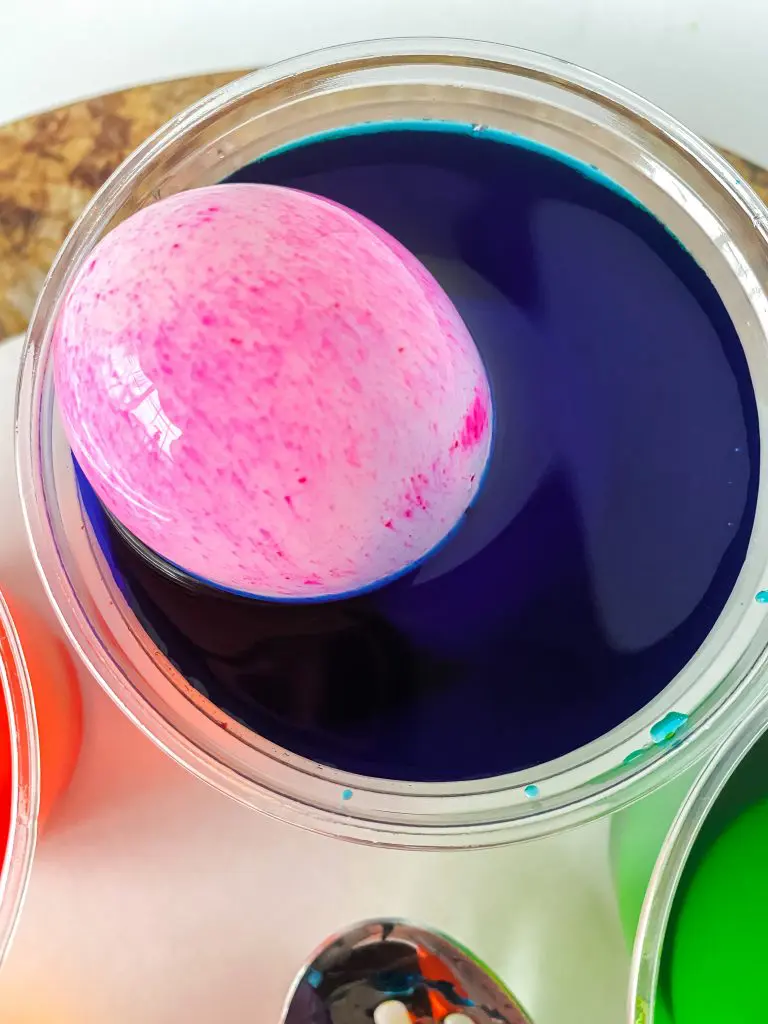 Hard-Boiled Eggs In the Oven
Preheat the oven to 325°F. Place one egg in each cup of a muffin tin, then carefully pour water until it is full to the brim.
Cook for 30 mins.
Immediately remove them from the tins, to stop the cooking process.
Place eggs into an ice bath for five minutes.
Some brown spots may appear on the shell, the eggs will be fine.
Peel, Dye, or prepare as desired.
Tips and Tricks for Hard-Boiled Eggs
Adding salt to the water prior to boiling helps remove the shell without it breaking into a lot of pieces. If you plan to eat the eggs, this is a very helpful step.
Using an ice bath can help prevent the greenish color around the yolk that overcooked hard-boiled eggs sometimes present and make the eggs easier to peel.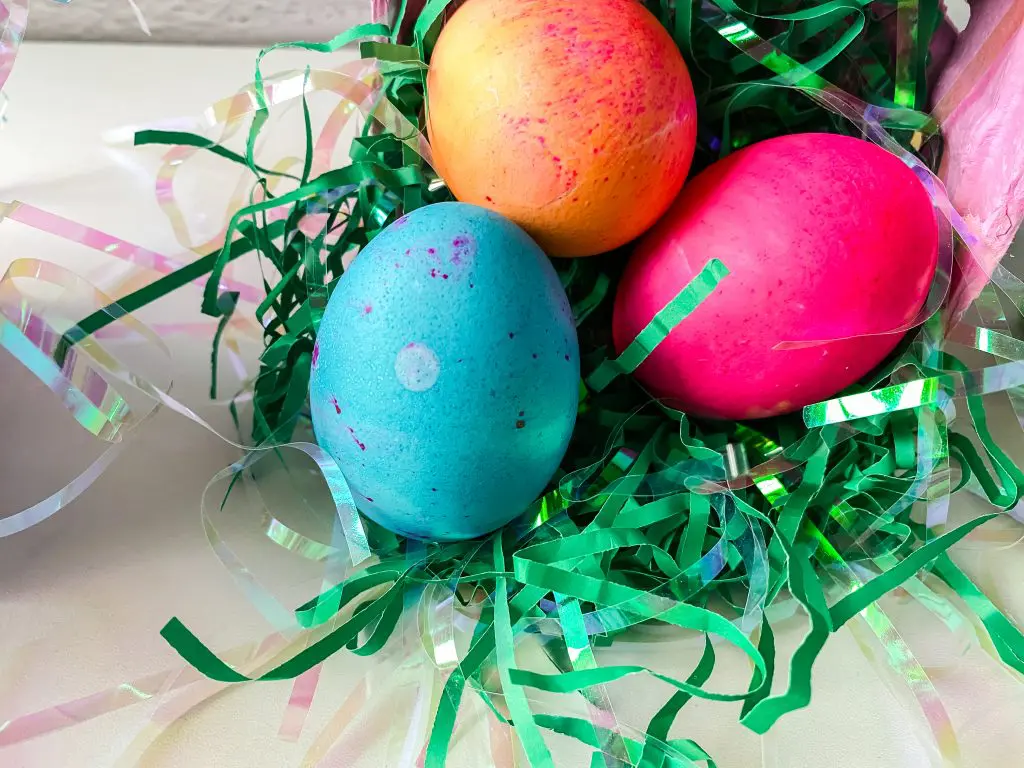 Easter Egg FAQ
Is Easter egg dye the same as food coloring?
Yep. That's pretty much what you are paying for when you buy that Easter egg dying kit. We always use regular food coloring to dye our Easter eggs.
Do you need vinegar to dye eggs?
Vinegar or some form of acid like lemon juice will make the colors more vibrant and intense but aren't strictly necessary.
Should eggs be at room temperature before dying?
No. You should keep hard-boiled eggs refrigerated and cool. Dye the eggs once they have been chilled and put them right back in the refrigerator for storage.
Do brown eggs color well?
Brown eggs add a whole new color palette for your colored eggs and all of the colors will be rich, earthy jewel tones. Try it!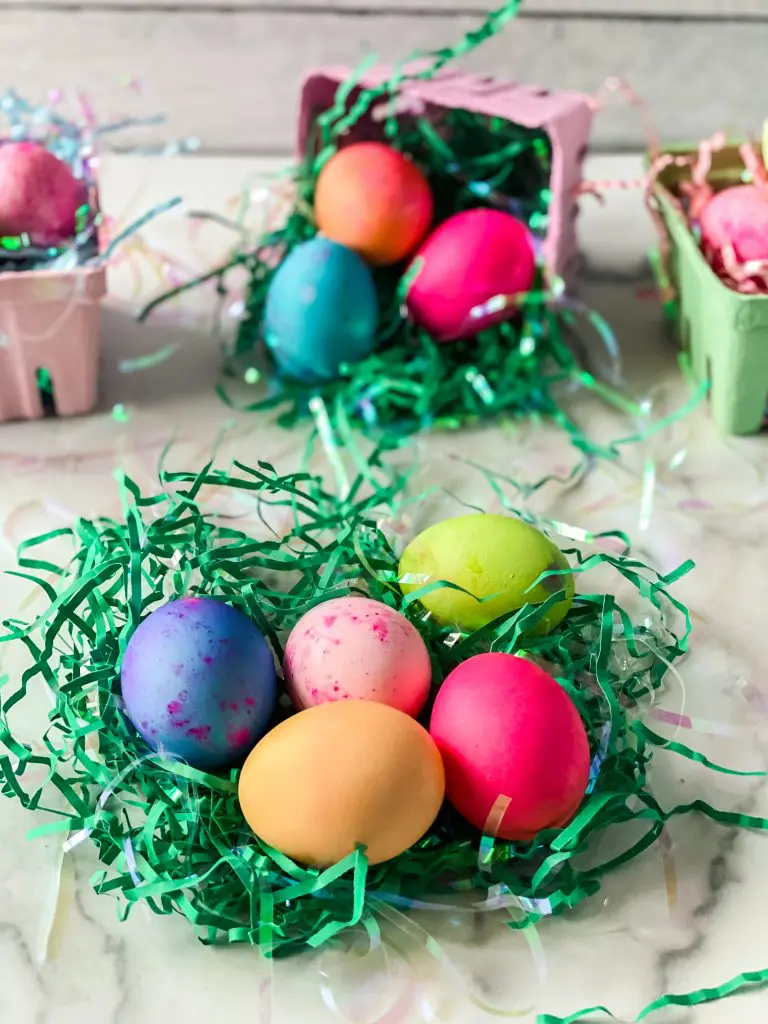 More Recipes you may enjoy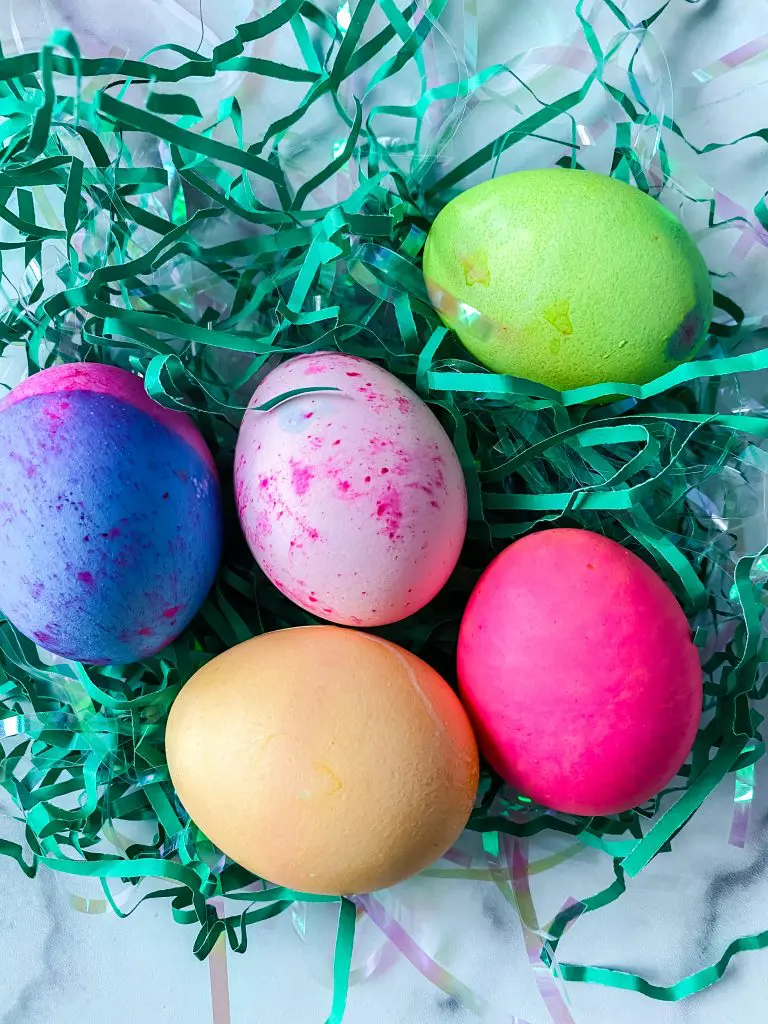 Storage of Dyed Easter Eggs
Peeled or unpeeled eggs will keep in a fridge for up to 5 days. If unpeeled, keep in an airtight container. If the eggs have been warm for more than two hours (during an egg hunt for instance) do not eat them. We don't recommend freezing boiled eggs.
Recipes for Dyed Easter Eggs