Puff Pastry Baskets with Creamy Lemon Filling are the perfect way to welcome in Spring, They are perfect for a sunny brunch or Easter dinner. They're also a great activity for the kiddos to help with!
These cheery puff pastry baskets just remind me of sunshine. The sweet tartness of the lemon filling is a great contrast to the cold sweet whipped cream.
Delicious pastry baskets are filled with lemon pudding and topped with a creamy dollop of Reddi-wip® and a fresh raspberry to finish the whole thing. Two puff pastry sheets make 12 puff pastry dessert baskets.
They're easy and fun to make and you are going to love how they turn out!
This post has been updated from 2017 with some great ideas on making and filing these adorable Puff Pastry Baskets.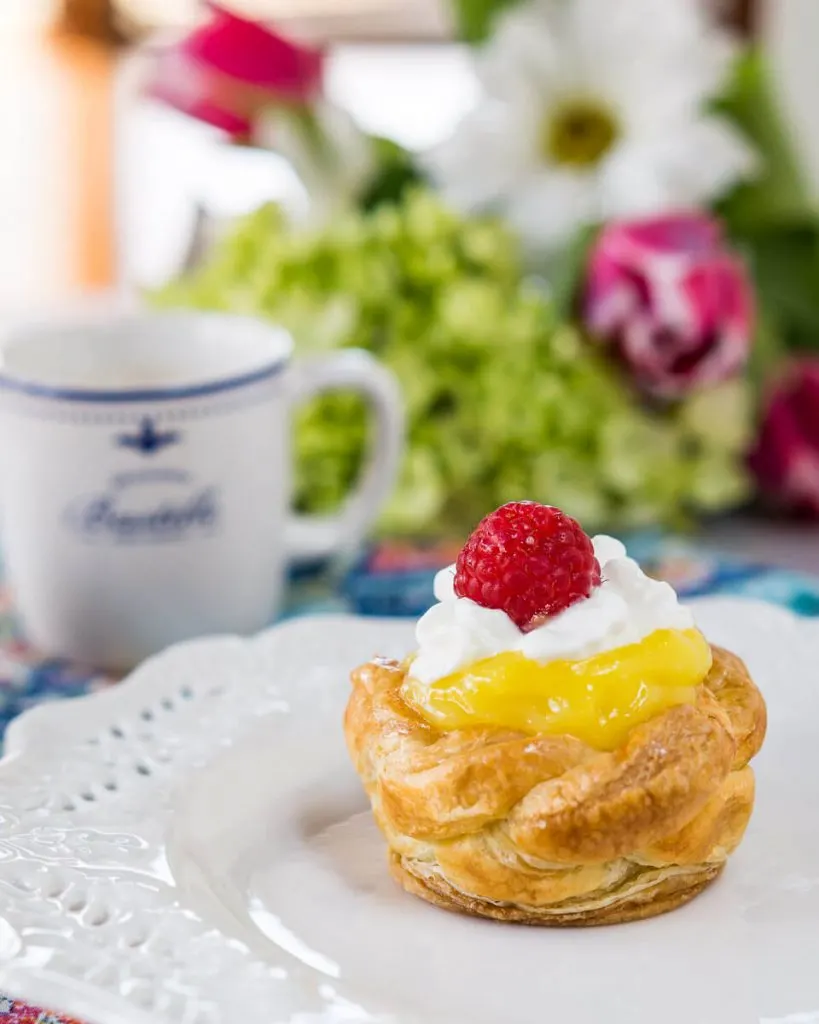 Once the days start getting a little longer, you know Spring is just around the corner. My thoughts start turning to clean up the yard, new flowers, and plants, hosting my friends for a sunny brunch, or hosting my family for Easter dinner. Puff Pastry Baskets with Creamy Lemon Filling are perfect for either.
Why You'll Love These Homemade Puff Pastry Shells
Recipes using puff pastry are a lot of fun. I've had this idea of making it into braids so that it looks like cute little woven baskets for some time.
Sometimes my ideas just turn into a big ole mess that made me wonder what in the heck were you thinking? But other times they just make me want to do a happy dance. These puff pastry dessert baskets are definitely worth doing a little jig.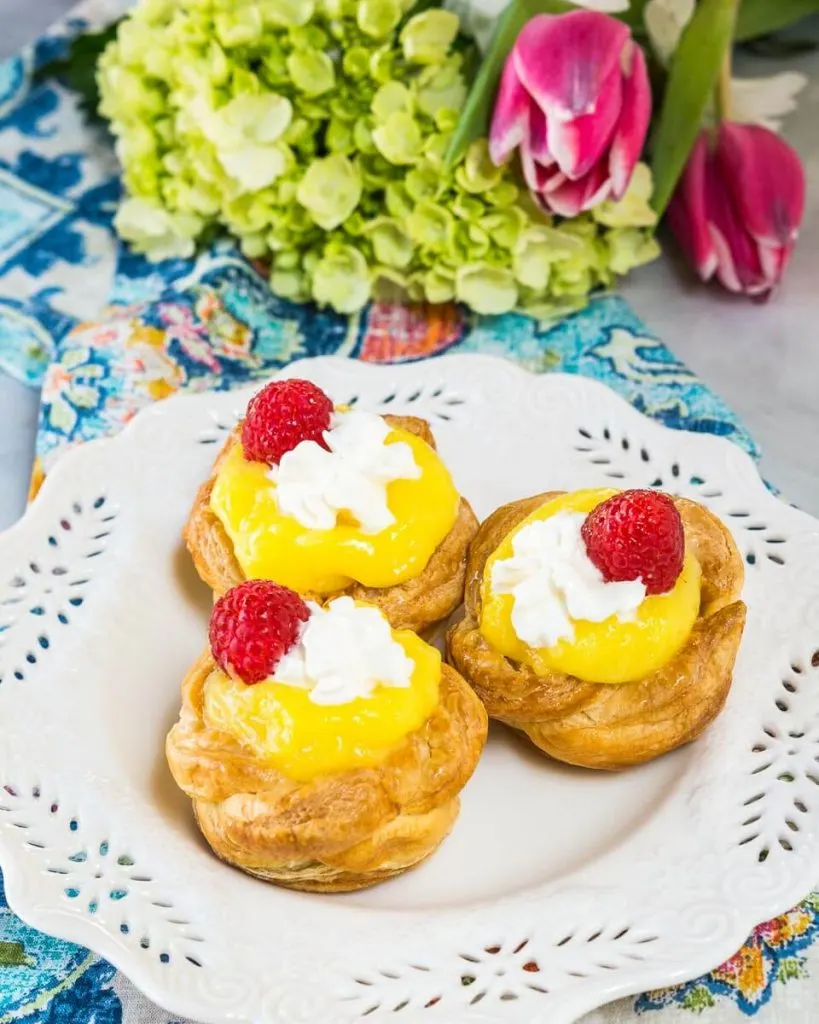 This post was originally compensated by Collective Bias, Inc. and ConAgra Brands. All opinions are mine alone.
Brunch-ready. Whether you make this exact recipe or use one of the variations we recommend, these puff pastry baskets are perfect for your next brunch. They are incredibly simple to make with puff pastry dough but look amazing.
Customizable. If you have a specific theme or holiday and you need food to match, customize the puff pastry baskets according to the theme! Use these ideas for variations as a springboard, but really the possibilities are endless.
Elegant enough to go formal. This puff pastry basket recipe is an elegant, polished dessert that works perfectly for a bridal shower or formal event where the food on display needs to be gorgeous and delicious at the same time.
Equipment Needed to Make a Pastry Basket
12-cup muffin pan – I love these muffin pans and have three of them so I can get them all filled and baked at once. They're great for egg cups too!
Clear ruler. This will allow you to measure 1/2″ strips of dough.
Ingredients for your Puff Pastry Baskets
Puff Pastry. I used two sheets of pre-made Pepperidge Farms puff pastry.
Reddi-wip® 13oz can is so convenient but any whipped cream will work.
Lemon Pudding. Get the cook and serve kind for best results.
Egg. You will use this mixed with water for an egg wash.
Raspberries. Fresh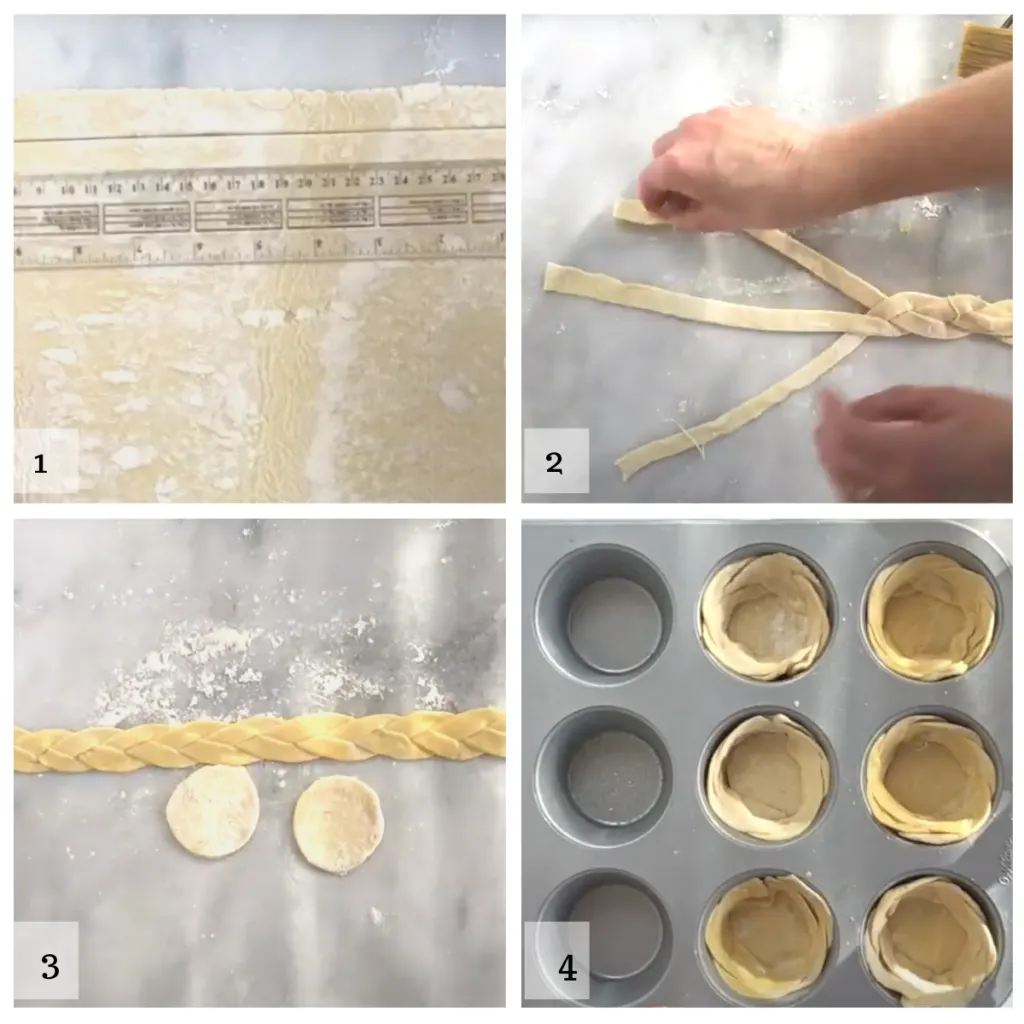 How To Make Puff Pastry Baskets
Don't you think that the kiddos would love topping their own lemony pudding baskets with a mound of whipped cream? That's always been a dream of mine too! Didn't you envision being the boss of your own can when you were growing up? I know I wasn't the only one!
I highly recommend letting your kids help make and assemble the puff pastry baskets for a fun activity. And say yes to the can of whipped cream!
Make sure to follow the printable recipe card at the end of this post for detailed step-by-step instructions.
Step One. Unwrap and roll out the puff pastry sheet, measure, and cut 1/2″ strips.
Step Two. Braid the strips of dough following the illustration above.
Step Three. Line the muffin tin with a circle for the bottom and a length of the braid for the sides. I used a biscuit cutter for the circle but any round shape such as a glass or cup will work.
Step Four. Bake the homemade puff pastry shells. Allow time for them to cool.
Step Five. Fill and serve!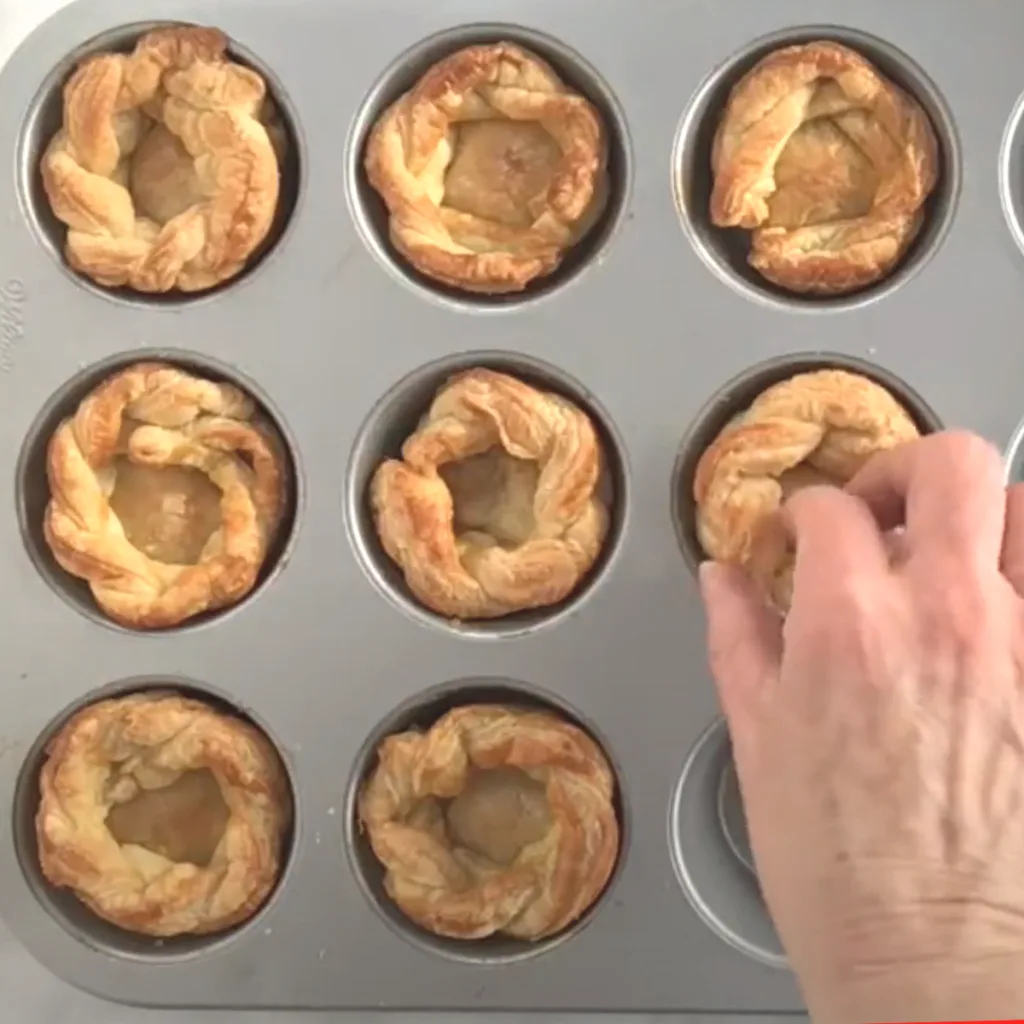 Puff Pastry Creamy Filling Variations
Use your favorite pudding or pie filling. Canned is quick and easy.
Jam or jellies.
Nutella
Sprinkles on top would be fun and festive too.
What to Serve with Puff Pastry Baskets
Use these beautiful baskets at your table as a place setter.
Add fruit
Add a marshmallow peep or easter egg jelly beans at Easter
Fill with candy corn for a fall gathering or Thanksgiving.
How to Keep Leftover Puff Pastry Baskets
Best Way to Store Pastry Baskets
If you happen to have leftover pastry baskets you can place them in an airtight container and keep them in the refrigerator.
How Long Will Puff Pastry Baskets Last in the Fridge?
Filled pastry baskets will last for two or three days until the whipped cream or pudding become weepy or droopy. I recommend adding the whipped cream right before serving for this reason.
Can I freeze Homemade Puff Pastry Shells?
Yes. You can freeze them unfilled in an airtight container for up to five months. Thaw and fill when ready.
Pastry Basket FAQ
Can I make puff pastry baskets ahead of time?
Yes. You have a couple of options here. You can bake the homemade puff pastry shells ahead of time, and fill them on the day of the event.

Or you can make and fill the pastry baskets the day before your event and refrigerate them in an airtight container until you are ready to fill your party trays. Don't add the whipped topping until you're ready to serve or display them.
Can I make my own puff pastry dough?
Yes. You can make your own pastry cups if that is your thing, but I find that the store-bought puff pastry dough is so much easier!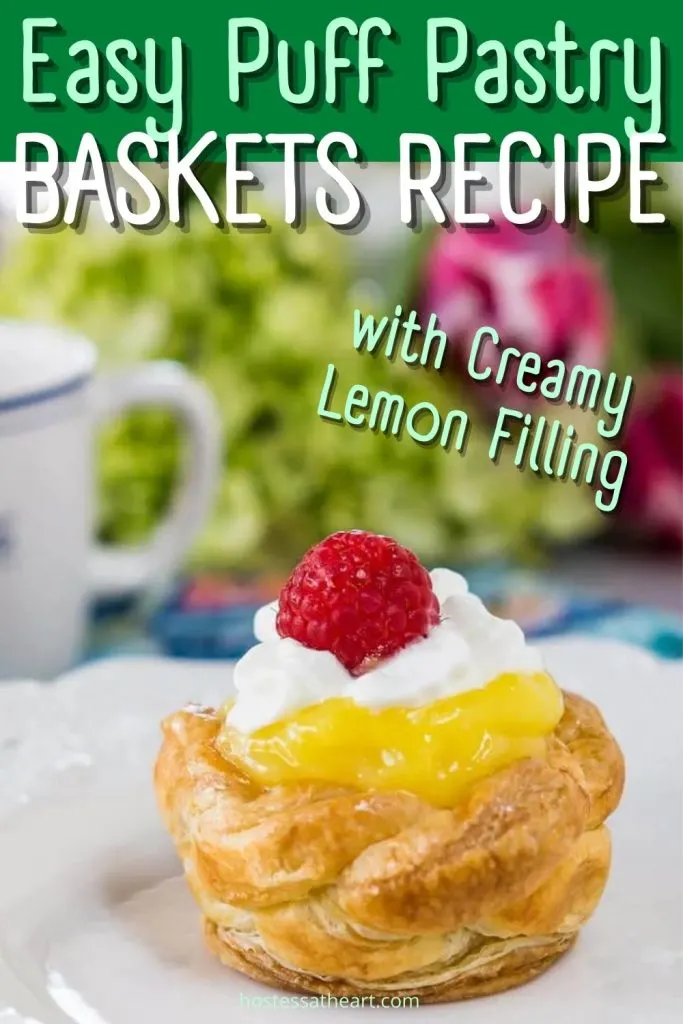 Tips to Make the Perfect Puff Pastry Baskets
I prefer using the cook and serve pudding. It's a little firmer and I believe a little more tart than the instant pudding.
You can buy Pepperidge Farm's puff pastry shells instead of making these baskets but I think the baskets are a little fancier and a heck of a lot of fun to make. The kiddos will love helping!
You can line the muffin tin inserts with puff pastry circles large enough to fill the cup instead of weaving strips if you want to simplify the process. You'll be missing out on all the fun though!
Make sure your filling doesn't contain a lot of juice or moisture which will make your baskets soggy.
If you liked this recipe, I think you'll enjoy these too
Don't Forget To Come Back And Let Me Know How Your Puff Pastry Baskets Turned Out!