Home Baked Lemon Pistachio Muffins have a soft and tender crumb and are glazed with a fresh lemon drizzle. They're the perfect bakery treat when you're craving something a little sweet.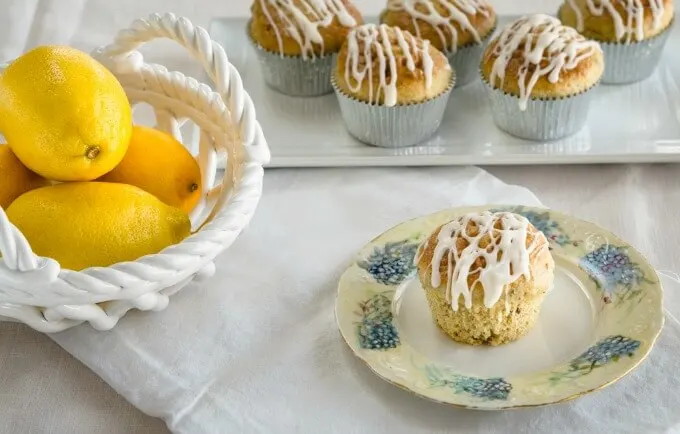 This Pistachio muffin has a fresh lemon essence that is like a breath of Spring! I'm a huge fan of lemon and could eat lemon muffins or lemon desserts every day of the week if my waistline could tolerate it.
I've been on a serious homemade muffin kick lately. It's no secret that I love making easy muffin recipes. One of the recipes that have just blown up the blog this year is my Homemade Muffin Recipe.
Lemon just brightens anything up, including me! I especially like baked goods with lemon flavors such as these simple lemon muffins with glaze and pistachios!
How to Make Lemon Pistachio Muffins
Making homemade pistachio muffins from scratch isn't difficult. If you think about it, store-bought muffin mixes are just the dry ingredients and YOU add the wet ingredients such as egg, milk, oil, and extracts. So why not mix the dry ingredients yourself, save a little money, and know exactly what goes into your food.
Ingredients for Lemon Pistachio Muffins
You are buying very basic ingredients that you may already have on hand such as flour, sugar, salt, and leavening agents (baking soda and baking powder). I'm all for convenience so use what is right for you.
Besides ingredients from your baking pantry, you'll also need
a lemon.
lemon extract. This is not the same as lemon juice and is found with the spices and extracts at your grocery store.
pistachios.
whole milk. The extra fat in whole milk keeps these muffins moist.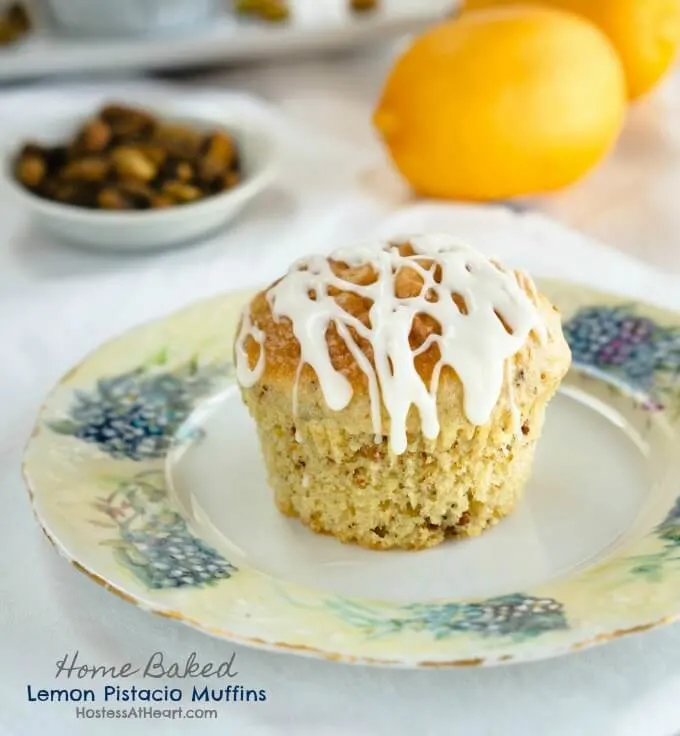 What is the best kind of flour to use to make muffins?
All-purpose flour is perfectly fine for muffin recipes. The impact of the kind of flour that you use in some finer desserts or sturdier bread recipes is more measurable.
It's based on the protein content. The higher the protein content, the sturdier or stronger the flour. There are several references for explaining the differences in flour such as Fine Cooking.
What is the difference between muffins and cupcakes?
My first thought is it's perfectly acceptable to eat them for breakfast! But in all seriousness this is what the differences generally are:
| | | |
| --- | --- | --- |
| Difference | Muffin | Cupcake |
| Flavor | Sweet or Savory | Sweet |
| Topping | None, streusel, glaze | Frosting |
| Crumb | Denser | Light, Soft |
| Served | Breakfast, with meal | Dessert |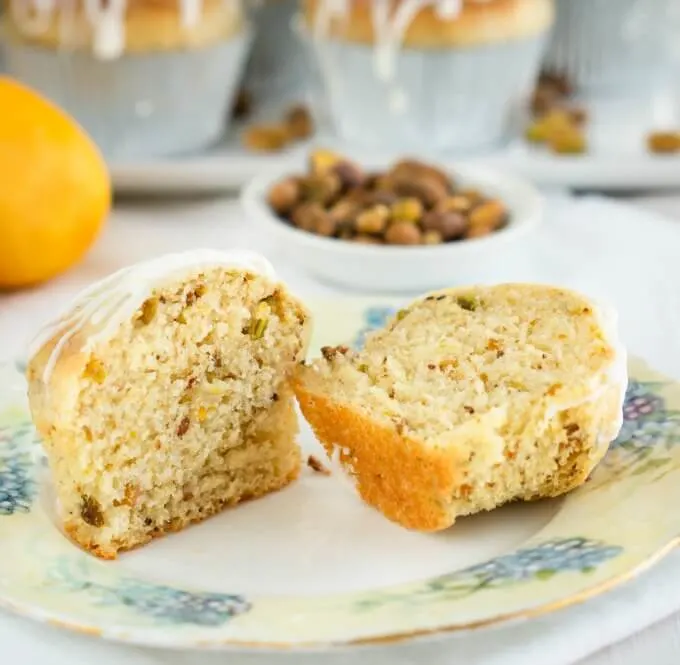 Tips for Making Lemon Pistachio Muffins
One question I always like to ask is – are your leavening agents active? Try these tests.
To test baking soda, add a couple of ounces of vinegar to 1/2 teaspoon baking soda. If it fizzes, it's active.
To test baking powder, add 1/2 teaspoon to about 1/4 cup of warm water. If it fizzes, it's active.
Replace baking powder and baking soda every six months or less.
We mix a little bit of flour with the pistachios. This keeps them suspended in the batter so they don't all fall to the bottom of the muffins.
Don't overmix. That will result in a tough muffin.
Using room temperature ingredients will assure that your batter is smooth. If you don't have time to pull ingredients out of the refrigerator a couple of hours ahead (and who actually remembers to do that?!), here are some tips.

To take the chill off of the egg, submerge it into warm water food 5 minutes.
The milk can be microwaved for 15 to 30 seconds.

Don't be tempted to overfill the tin.
The glaze can be kept in the refrigerator and drizzled on before serving
This batter will make about 40 mini muffins.
Storing Your Muffins
My Lemon Pistachio Muffins can be stored at room temperature or in the refrigerator in an airtight container for 3 to 5 days, if you actually have leftovers!
Lemon Pistachio Muffins freeze well for up to 3 months in an airtight container. We recommend glazing the muffins after thawing them. This allows you to thaw them in the microwave for speed, without destroying the glaze.
Baking Tools You May Need
12-cup Non-stick muffin pan – I love these muffin pans and have three of them so I can get them all filled and baked at once. They're great for egg cups too!
Mini-Prep Food Processor – This little genius is a work-horse in my kitchen. I love that I don't have to drag my big heavy one out when I want to chop nuts or veggies.
Scoops – Wonder how those cookies are the same size? Scoops and I use them for my cupcakes too!
Similar Muffin Recipes to Try
More recipes with Lemon that we love!
As crazy as I am for a good muffin, I'm always looking for new inspiration.
Are you looking for a flavor you'd like developed into a muffin? Perhaps you have a memory of one that the recipe has disappeared?
Let me know and I'll do my best to make it and you'll see it here!
Our most popular recipes