Lemon Olive Oil Cake is a light and tender cake recipe, bursting with fresh lemon flavor and a sweet simple lemon glaze. Our easy lemon cake recipe with olive oil is perfect for a delicious dessert or sweet snack with afternoon tea.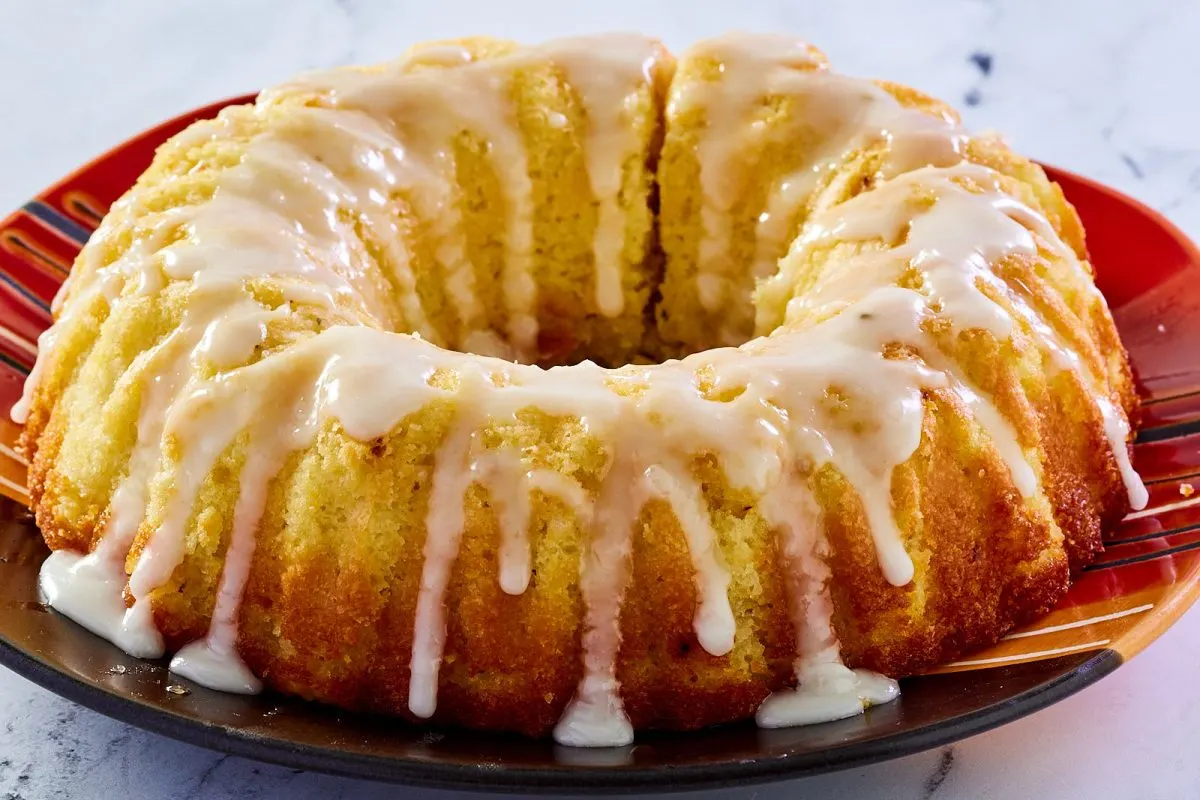 Tried by hundreds, this Sur La Table cake recipe is a favorite of anyone who bakes it.
One whiff of lemon, and I feel renewed! One taste of Lemon Cake with olive oil takes me back to summer and sunshine but can brighten any day of the year.
What is a Lemon Sur La Table Olive Oil Cake
One afternoon my daughter and I went into Sur La Table. This is a kitchen gadget store that I visit once in a while just because.
On this particular day, they were having a sale on Marca Verde olive oil and handing out samples of a baked lemon olive oil cake. What? Olive oil in a cake?
I had never heard of it, but one measly little bite of that tangy treat later, and I was in love. I grabbed a copy of the recipe and left. Thank you, Sur La Table (hearts inserted here).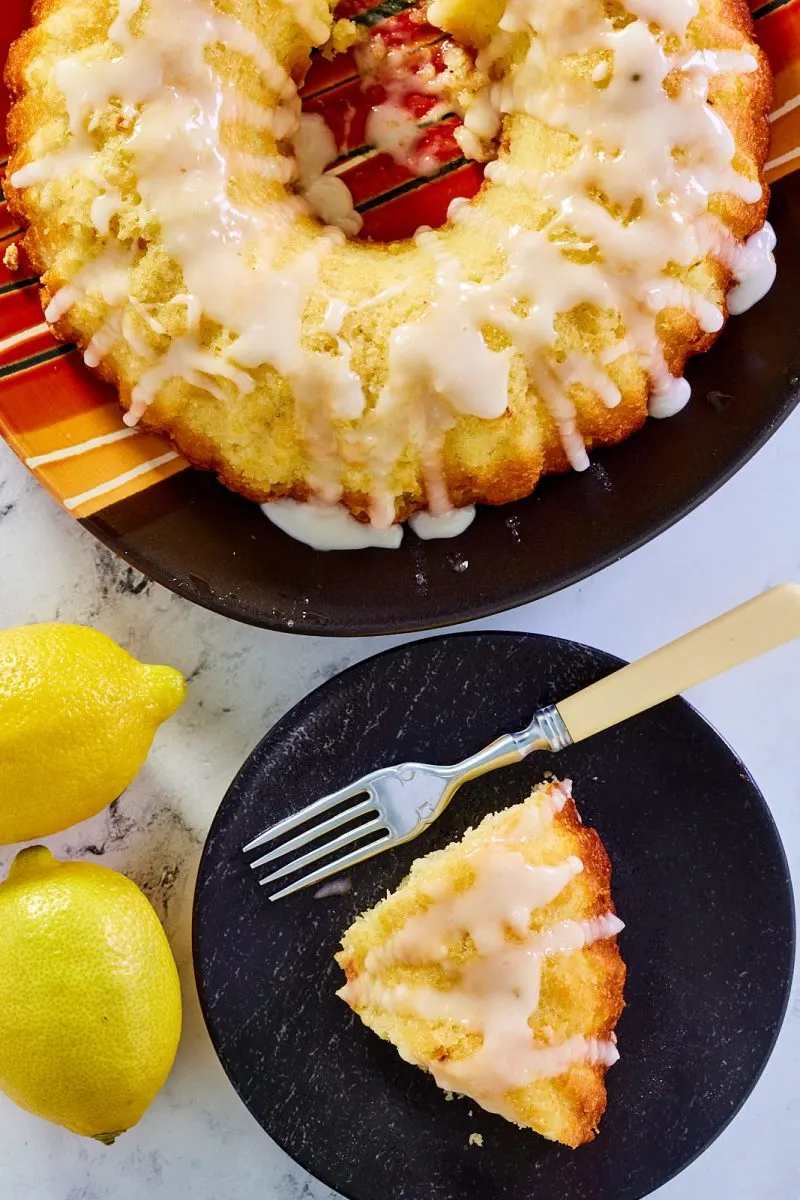 Lemons are one of those gifts that we have in the wintertime that remind us that not everything is blah and colorless!
I couldn't stop thinking about this cake. It was so fresh and delicious. I went back a couple of days later and bought the olive oil.
I waited for two whole days. No obsessive-compulsive behavior here. I put this wonderful cake together and knew I had to share it.
Why You'll Love this Olive Oil Cake with Lemon
Simple ingredients. You probably have everything you need already in your kitchen, especially if you love good olive oil as much as I do.
Full-size cake. Fill a 9 x 13 pan, or bundt pan, or make a lemon loaf cake and serve everyone you love with this zesty lemon olive oil cake recipe!
Perfect any time of year! This simple cake doesn't need a special occasion. Whether you are relishing in the heat of summer poolside or huddling around the fire in February, you will enjoy this cake.
The texture is divine. This soft and tender lemon oil cake is always perfectly moist and has a beautiful glaze that adds a light crunch.
Equipment Needed to Make Lemon Cake with Olive Oil
Hostess At Heart participates in affiliate programs. As an Amazon Associate, I earn a commission from qualifying purchases. Please refer to my disclosure page for more information about these affiliate programs.
Bundt cake pan. This cake uses everyday ingredients and no fancy gadgets. You can also make this in a 9″x13″ cake pan.
Citrus Juicer – A good citrus juicer is a must that will make squeezing lemons a breeze.
Microplane Zester. I use this tool not only for zesting citrus but for grating cheese and chocolate too.
Easy Olive Oil Cake with Lemon Ingredients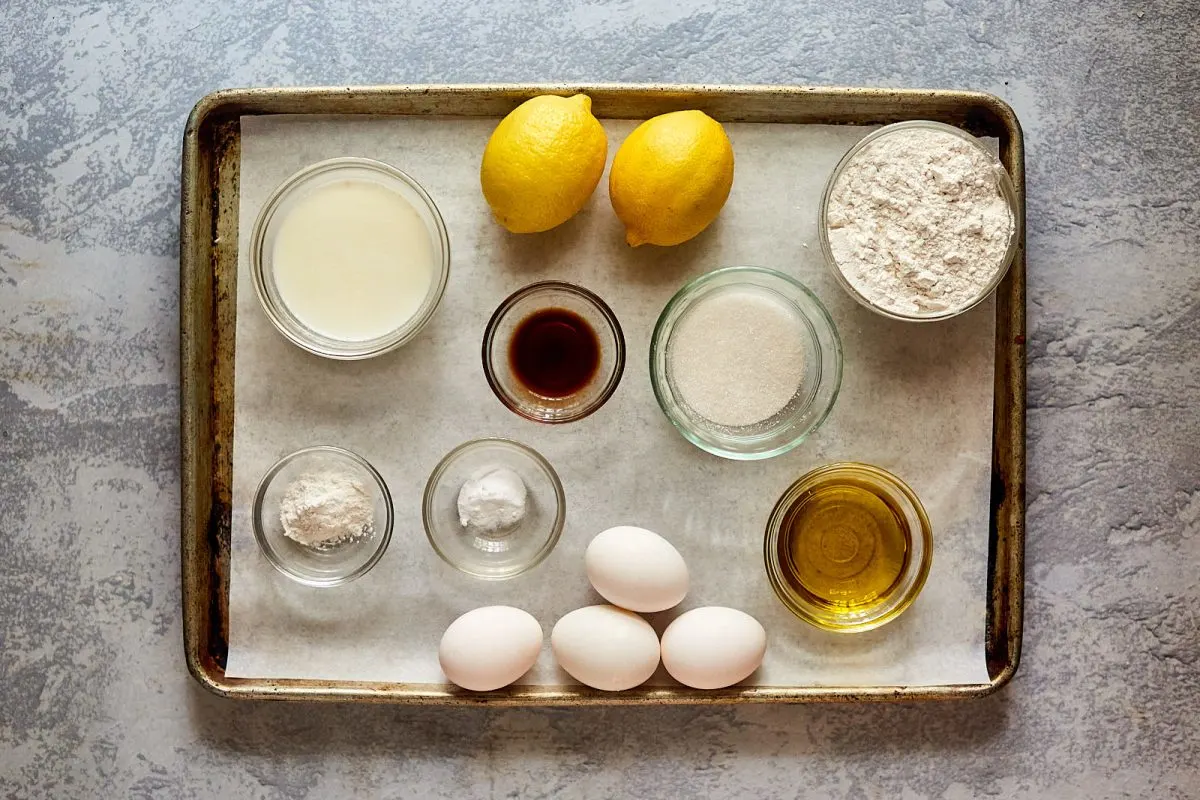 There isn't anything unusual here, so you should be able to get all of these olive oil cake ingredients at your local grocery store, and you may already have them on your shelf.
Flour. All-Purpose Flour works perfectly.
Sugar. White Granulated Sugar.
Baking Powder & Baking Soda. These help this cake rise in the oven and achieve the perfect texture you will love.
Salt. You can use any variety, and it will work.
Milk. I used skim milk but plant-based milk is fine. Use what you have on hand.
Lemon. Zest and freshly squeezed juice.
Extra Virgin Olive Oil. I used Marca Verde Extra-Virgin olive oil, but any good quality olive oil will work. You also can use a lighter olive oil for less olive oil flavor.
Vanilla – Pure or imitation will work.
Eggs – I always use large for the sake of consistency.
Powdered Sugar – The confectioners' sugar is used for the glaze as a finishing touch.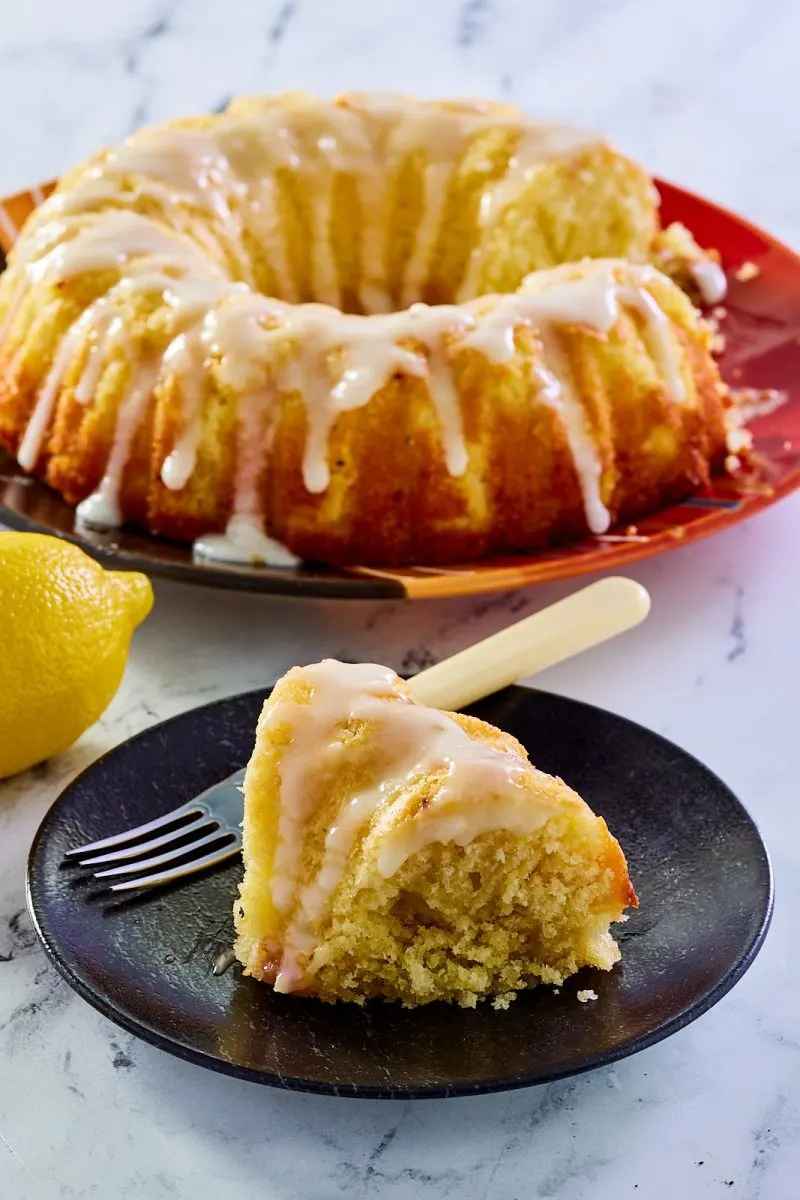 Please note, that the printable recipe card has ingredient quantities, complete instructions, and nutritional information. The following is a quick overview of the recipe.
How to make Lemon Olive Oil cake from scratch?
In a large bowl, combine all of the dry ingredients. Stir the wet ingredients together in a medium bowl. Fold together until combined. You don't need an electric mixer for this recipe.
Pour the cake batter into a prepared pan and bake.
While the cake bakes, make the glaze by adding the ingredients to a small bowl and whisking it together until smooth and free of lumps.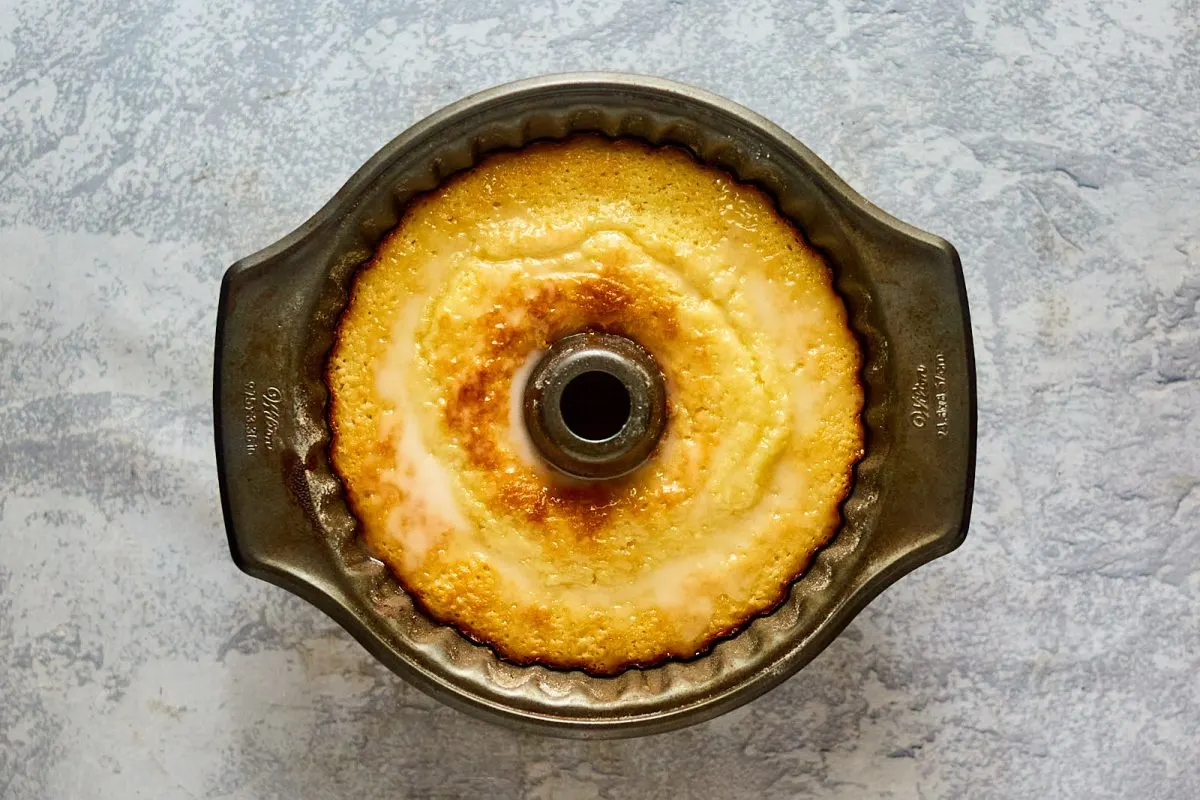 Remove the cake from the oven when golden brown and a toothpick inserted into the center comes out clean or with just a few crumbs.
Spoon half the glaze over the cake. Let the cake cool in the bundt pan for 10 minutes on a wire rack and then turn it onto a serving plate.
Drizzle the remaining glaze over the cake and allow it to cool completely.
How do I pick the perfect Olive Oil for baking?
The best olive oil is Extra Virgin Olive Oil. This oil is cold-pressed and the result is very pure oil with a fruity aroma. Other olive oils are a mixture of oils that may be cold-pressed and may be processed differently. As a result, they are less pure and have a less rich flavor.
What to Serve with your Olive Oil Lemon Cake
This cake is lovely all by itself, but if you want to be extra (and sometimes we should be!), top the cake with fresh berries, macerated fruit, whipped cream, or ice cream.
Substitutions – Additions – Variations
Sub orange juice instead of lemon. It is sometimes called a citrus olive oil cake and works with other juice as well.
Add poppyseed for a classic twist.
Go extra rich. Top the cake with cream cheese frosting.
Use a different pan. Get my free Baking Pan Conversion Chart.
Add contrast. Top with fresh fruit such as raspberries or strawberries or macerated fruit for a nice contrasting flavor.
Grate Lemon Zest. Add a sprinkling of lemon zest to the glazed cake for a special touch.
Dress it up. Add a dollop of mascarpone cheese or crème fraiche.
Best Way To Store Lemon Cake with Olive Oil
Store your leftover cake at room temp lightly covered or refrigerated for 4 to 5 days.
Can I Freeze/Thaw Olive Oil Cake with Lemon?
Yes. Freeze the cake whole in an airtight container or freeze individual slices. To thaw the whole cake, remove it from the freezer at least one day in advance. To thaw individual servings, about thirty seconds in the microwave should do it. Add small amounts of time until it is thawed the way you want.
You may want to mix up more of the simple lemon glaze and drizzle it over the top before serving after thawing it out. You can also just give it a fresh dusting of confectioner's sugar.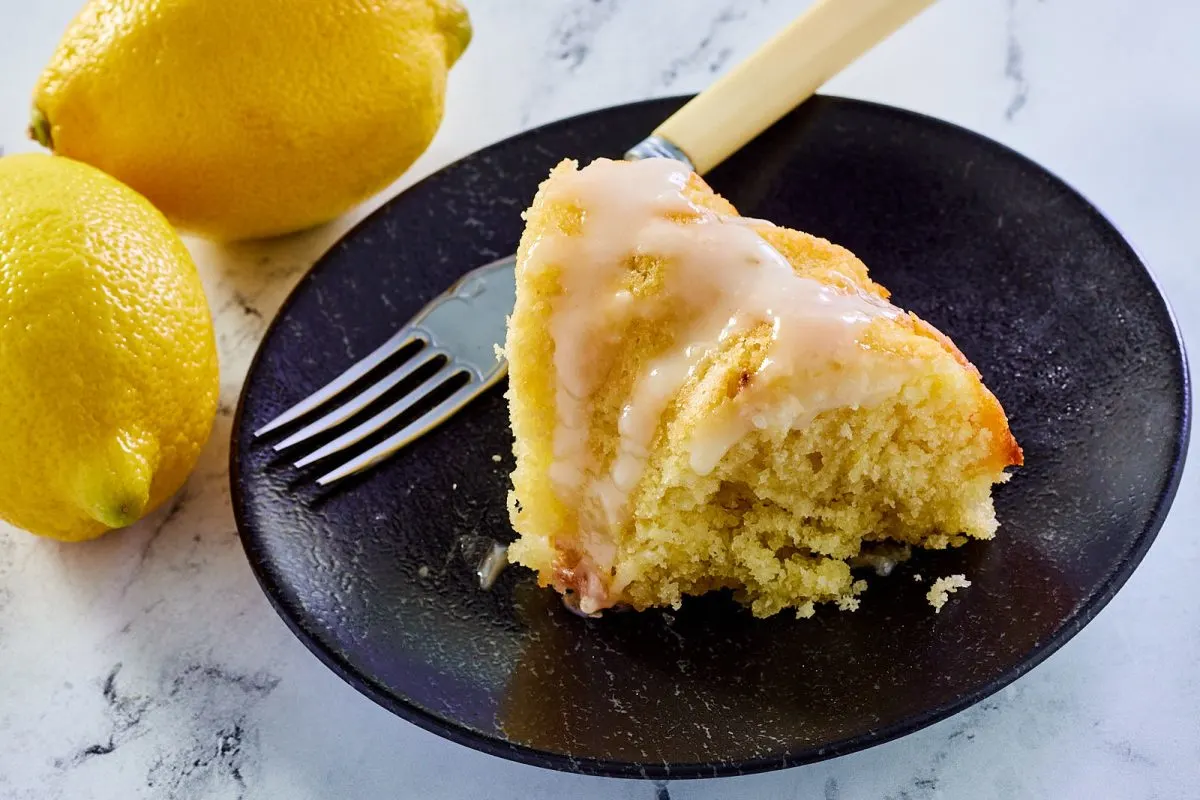 Lemon Olive Oil Cake FAQs
Is lemon cake with olive oil healthier than other cakes?
Not significantly. However, since it doesn't contain dairy, it is a cake that people on non-dairy or restricted dairy diets people can try.

Olive oil replaces other saturated fats such as butter and shortening. It also adds a boost of vitamin E to your baking.
What does olive oil do to a cake?
Olive oil makes this cake moist and tender.
Can I use Olive Oil as a substitute for vegetable oil in baking?
Yes, you can replace vegetable or canola oil with olive oil at a 1:1 ratio. However, You will not get the flavor that olive oil adds so I don't recommend it. EVOO is the star.
What does Olive oil taste like in cake?
Olive oil has a distinctive taste that adds richness and boosts the flavor of the lemon in this cake.

Olive oil can lose some of its flavors when baked. Use a lighter type of olive oil than extra-virgin olive oil if you want a less intense olive oil flavor.
How should a prepared cake pan be prepped before pouring in the batter of a Lemon Olive Oil Cake Recipe?
You can use a paper towel or a pastry brush and coat the pan with butter or shortening. Add flour (about 1⁄4 cup) and gently tap and rotate the flour around the sides to make sure the surface is completely coated.

My second favorite way to grease a cake pan is what I learned in a cake decorating class I took several years ago. It combines the grease and flour together and you can make as much as you want. I store it for about 6 months at room temperature.

This is how it's done:
Homemade Pan Release: Take an even amount of flour, vegetable oil, and shortening and blend it together until it becomes a smooth paste. Apply this mixture evenly over the inside of the pan with a brush or papertowel.
What techniques can be used to ensure an incredibly moist cake with Lemon Olive Oil Cake recipes?
Do not overbake the cake. This cake is so moist as long as you don't bake it too long you should not need to worry.
Why is it important to use freshly squeezed lemon juice when making a Lemon Olive Oil cake?
Freshly squeezed juice has more flavor and a lower acid content than bottled lemon juice.
Tips to Make the Perfect Lemon OIive Oil Cake
Use fresh lemon. It isn't hard to juice a lemon and the resulting juice has better flavor and less acid than bottled.
Use quality Extra Virgin Olive Oil. If it's the most common brand at the grocery store it probably isn't the most high quality. Quality definitely makes a difference when it comes to EVOOs.
Zest the lemon before juicing it.
Cool completely before slicing. This is a tender cake that will slice best once it's allowed to cool.
Want more delicious recipes? Follow Hostess At Heart on Pinterest!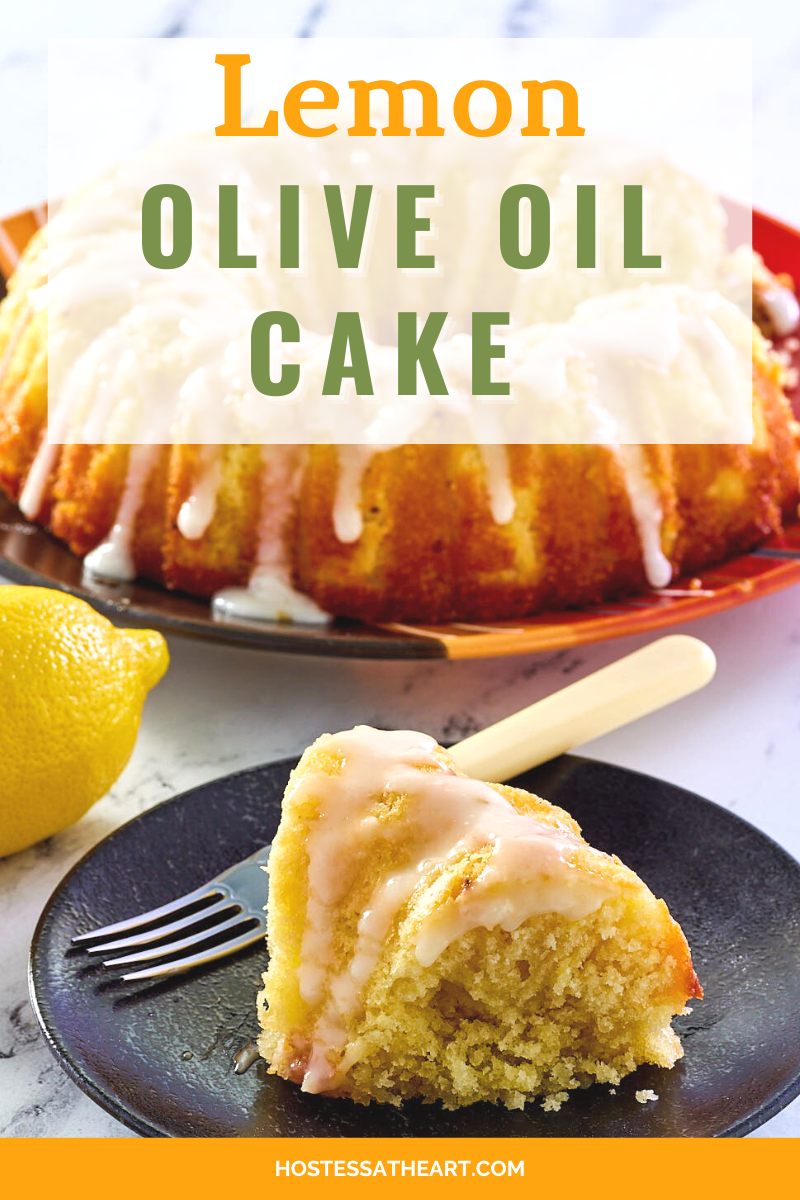 Some of our Favorite Recipes with Lemon
I hope you'll stop back and let me know how your Lemon Olive Cake turned out!
This recipe for Lemon Olive Oil Cake was originally shared on 3/10/15. I've added some new images, tips, and answered some questions to improve my reader's experience. No changes were made to the recipe.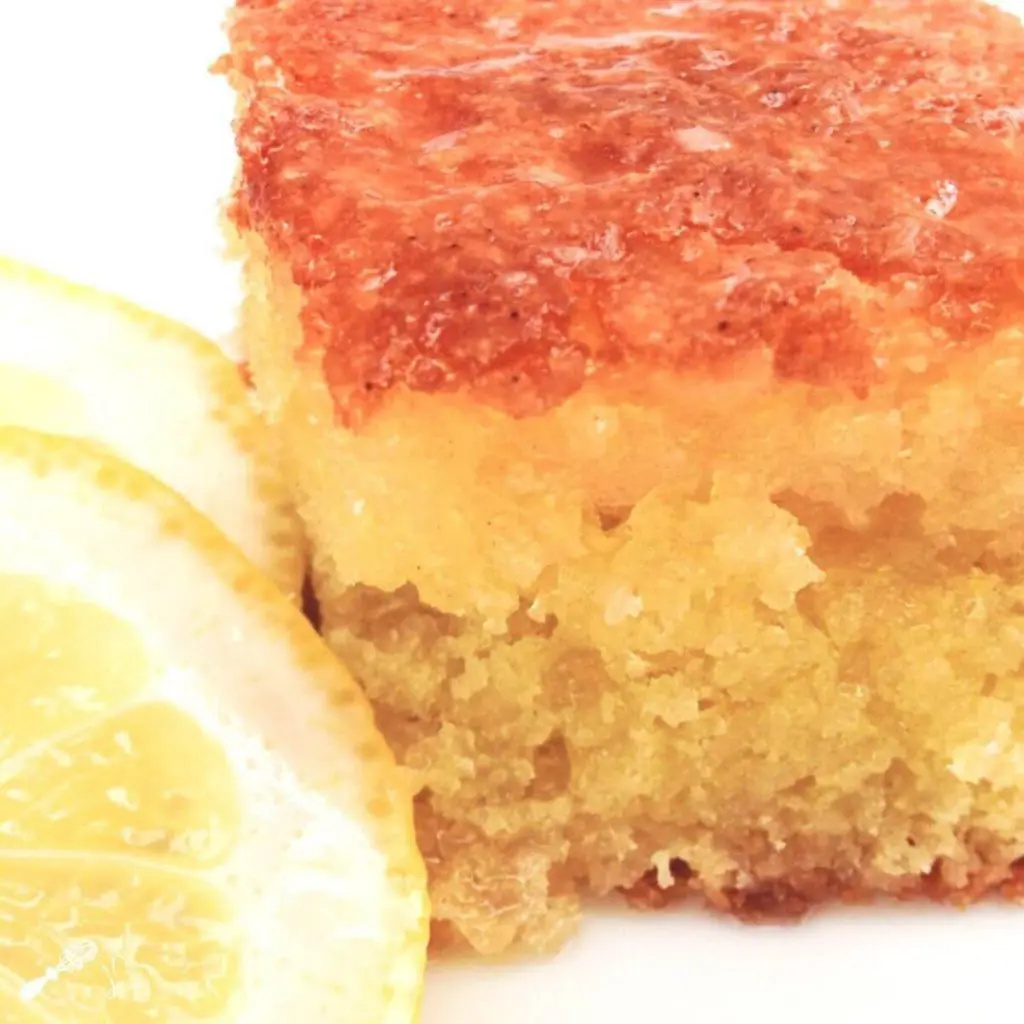 If you liked this olive oil lemon cake recipe, here are a few more you may enjoy
Lemon is so versatile. It's a healthier way to add flavor to your favorite dish and is an amazing cleaning product. Here is a free printable for some of my favorite ways to use it.
Our most popular recipes!