This Easy Baked Blackened Salmon recipe is tender and juicy. It has the perfect contrast between the spicy Blackened seasoning and the sweet salmon. A Browned Butter lemon drizzle ties everything together giving it a bright finish.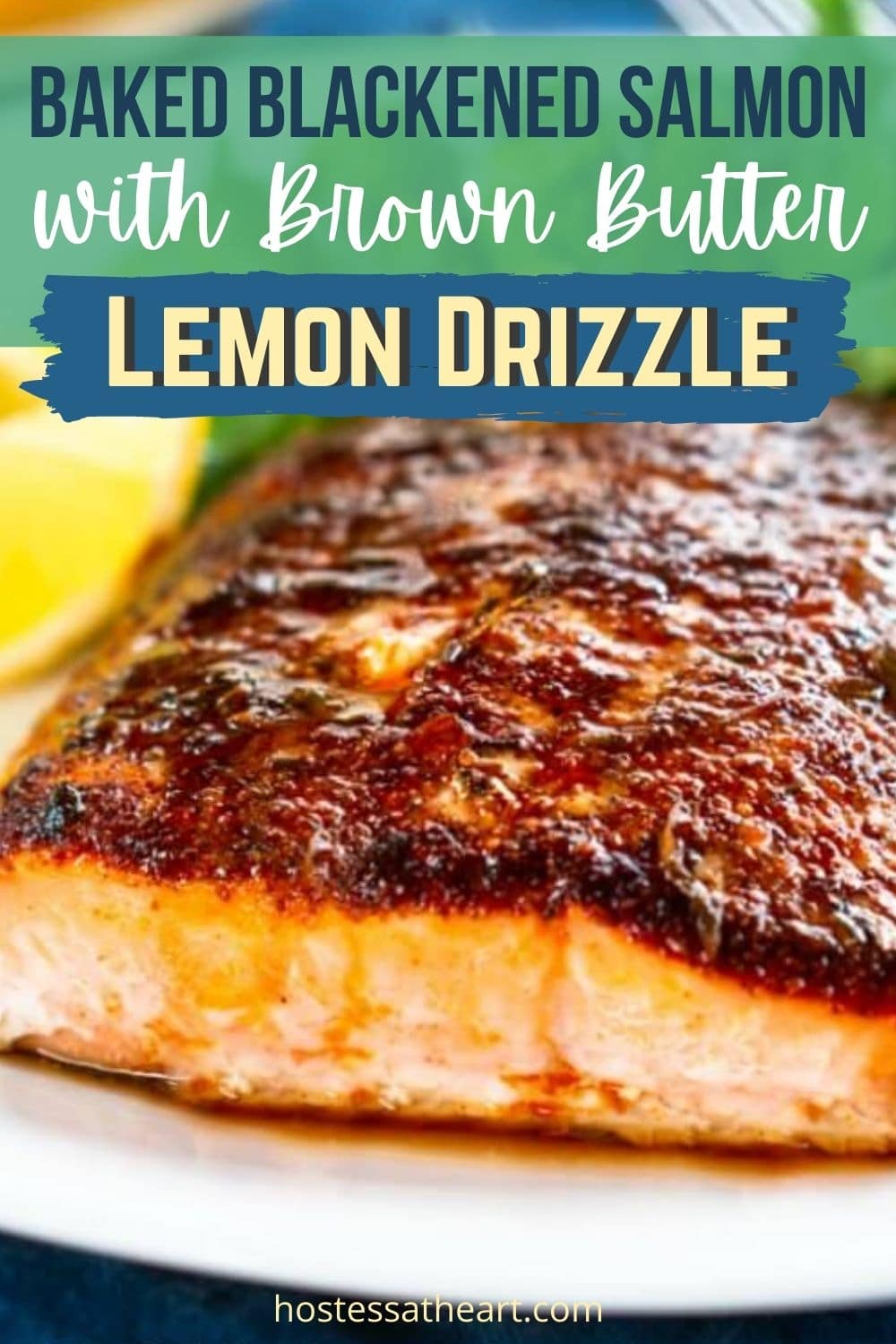 I grew up eating comfort foods and didn't understand what healthy eating was. I ate when I was tired, stressed or bored. My idea of taking off a few pounds usually included starving myself and as a result was either too heavy or thin for most of my life. I understand what is meant to lose the same 10 pounds over and over and over. I've since added Baked Blackened Salmon in my fight against my weight.
As an adult, I've tried many programs and lost weight with success…for a while. In 2013 I found a program that gave me just a few rules. I could eat whatever I wanted but once I hit my daily calorie allowance I was done for the day. Another requirement was that I had to exercise 30 minutes every day. By counting calories, I learned to make better choices like dinner recipes with salmon. Exercising regularly made me feel better about myself.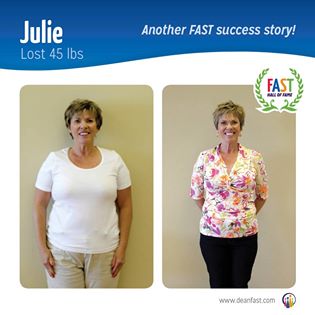 I ended up losing 45 pounds. It was life-changing. Feeling this good motivates me to cut back when the weight starts creeping back. It's easier to tackle 5 pounds than it is 25. There is no silver bullet for weight loss. I just take it day by day and sometimes minute by minute.
I don't share this picture very often but was thinking why not. There's no shame in being overweight. Thinking like that makes me want a pound of chocolate! Share and be proud of the hard work you did to get it off. Right?
Back to the Blackened Salmon Recipe!
I don't starve myself anymore. Instead, our meals include easy baked salmon recipes like this one or our Sensational Baked Blackened Shrimp which is perfect as an appetizer, dinner or on a salad. I seasoned both of them with this Homemade Blackened Seasoning Blend.
What are the different types of salmon?
There are 5 types of wild-caught salmon available to the United States. They are all Pacific salmon and sometimes these salmon types go by different names.
Chinook salmon

can also be called King salmon and have a higher fat content. Chinook salmon is one of the best tasting Their color ranges from white to deep red.

Coho salmon

can also be called Silver salmon because of their silver skin. The Coho color is a bright red and has a more delicate texture. Their flavor is similar to Chinook salmon.

Pink salmon

are most commonly canned but can also be eaten fresh. Pink Salmon have a light color and flavor and a low-fat content. This fish can be called humpback or humpies after the hump they develop on their back when the spawn.

Red Salmon

commonly called Sockeye salmon are noted for having a deep red flesh and a rich flavor

Chum salmon

also goes by Dog salmon, Keta salmon or Silverbrite Salmon. This fish averages about 8 pounds and has a pale or medium colored flesh and lower fat content than other salmon.
You can learn more about salmon from Salmon Fishing Now and The Spruce Eats
Let's keep in touch! Stop on over and say hello. I always love hearing from you.
---
---
Is there a difference between wild-caught and farm-raised salmon
Wild-caught salmon is said to be healthier for us to eat. Wild-caught calorie and fat content are lower than farm-raised because of their natural diet and they contain fewer contaminants. Capturing wild-caught salmon is regulated by safe fishing practices.
Many farm-raised salmon are fed color-enhancing food and given antibiotics. These measures increase their calorie and fat content. Farmed salmon has had issues regarding sustainability practices. While practices have improved, it's best to look into the source if this is important to you.
What is the best tasting salmon
While personal opinions vary, and all 5 types edible, my research shows preference in the following order
Chinook salmon
Coho
Sockeye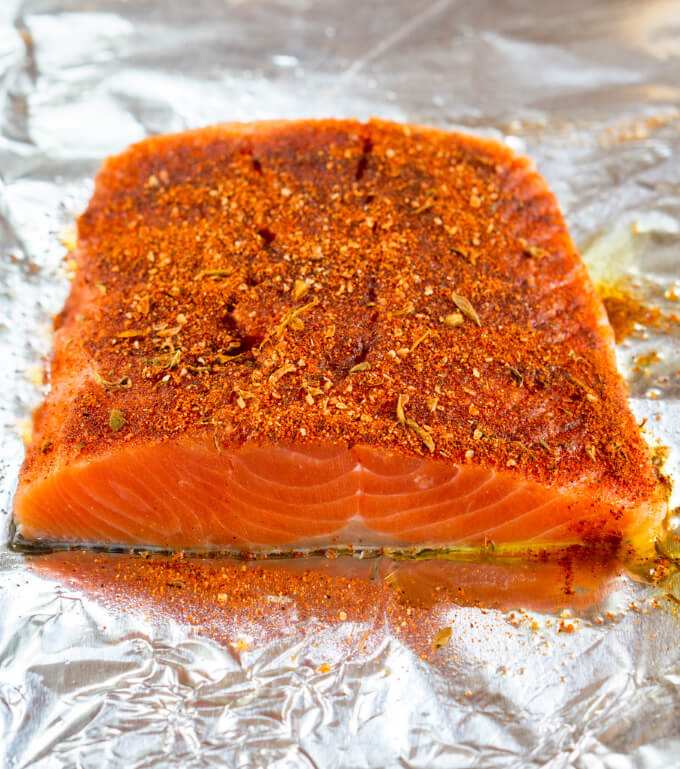 How do I make a Baked Salmon Fillet recipe?
Prepare brown butter and cut one lemon in half
Fillets should be the same size so they bake evenly.
Pat salmon dry with a paper towel
Drizzle fish lightly with olive oil.
Season flesh side with blackened seasoning
Put fillets on a lightly oiled foil-lined rimmed baking sheet
Bake and remove from hot pan immediately
Drizzle with brown butter lemon mixture.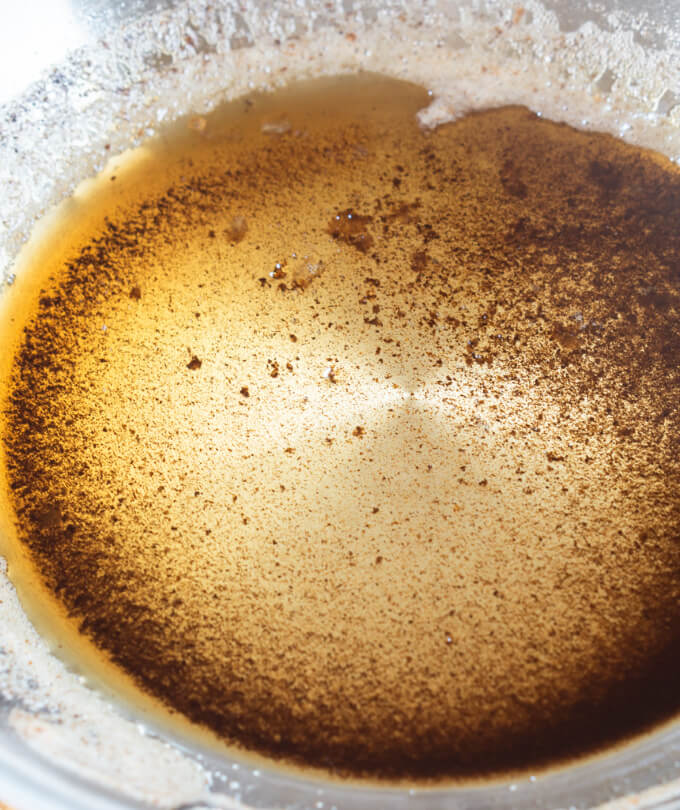 How do I make Brown Butter Lemon drizzle
Use a pan with a light covered bottom so you can see the color.
Start melting the butter over medium heat.
Swirl the pan. The butter will foam but that will reduce as it cooks.
Once the butter is a rich brown and milk-solids settle in the bottom.
Spoon or strain the butter into a separate container. Some people include the milk solids but I just use the golden butter.
Allow the butter to cool slightly before you add lemon.
---
PIN THIS

RECIPE

TO YOUR FAVORITE INSTANT POT BOARD FOR EASY REFERENCE
---
YOU MAY NEED
The following are affiliate links. Hostess At Heart is a participant in the Amazon Services LLC Associates Program, an affiliate advertising program designed to provide a means for us to earn fees by linking to Amazon.com and affiliated sites. You can read my full disclosure.
10-inch Fry Pan – I use this skillet all the time. It's sturdy and cleans up like a dream.
Baking Sheet – These sheet pans are durable and I have four of them so I can get all of my cookies baked in a jiffy!
Love this recipe? Be sure and comment below with a five-star rating! If you're on Instagram and snap a photo, be sure and tag me with #hostessatheart so I can see your creation!
Here are a few more that I think you'll love!
If salmon isn't your thing, you can make any blackened fish recipe. This seasoning is great on chicken too!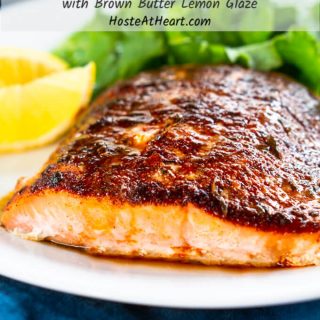 Baked Blackened Salmon with Brown Butter Lemon Glaze
This Easy Baked Blackened Salmon recipe is tender and juicy. It's a heart-healthy dish that has the perfect contrast between the spicy Blackened seasoning and the sweet salmon. A Browned Butter lemon drizzle ties everything together giving it a bright finish.
Ingredients
4

salmon fillets

2

tsp

Extra Virgin Olive Oil
Brown Butter Lemon Glaze
3

tsp

unsalted butter

.5

lemon
Instructions
Preheat the oven to 375°F. Line a rimmed baking sheet with foil and drizzle lightly with olive oil or spray with a non-stick cooking spray.

In a medium-sized saucepan over medium heat melt the butter. Swirl the pan until the butter is browned and the milk solids are brown. Remove from the heat and put the butter in a separate container. *Discard the milk solids. Set the butter aside and allow it to cool

Place the salmon on the rimmed baking sheet skin-side down. Tap the fish dry with a paper towel. Drizzle lightly with olive oil and season with blackening blend. Bake 12 to 15 minutes or until an instant-read thermometer measure 120°F and fish is flaky. I removed the foil from the pan with the fish on it immediately to stop any further cooking.

Squeeze 1/2 a lemon into the browned butter.

Top with salmon with a drizzle of the browned butter lemon glaze
Notes
Some people use milk solids. It's up to you. If you put lemon in the butter when it's hot it will pop and sizzle.
Nutrition
Calories:
282
kcal
Carbohydrates:
1
g
Protein:
33
g
Fat:
14
g
Saturated Fat:
3
g
Cholesterol:
101
mg
Sodium:
75
mg
Potassium:
851
mg
Vitamin A:
160
IU
Vitamin C:
7.2
mg
Calcium:
24
mg
Iron:
1.4
mg
Nutritional Disclaimer
This recipe was calculated using the exact brands and measurements I used to make this recipe. If you are following a strict diet please note changing anything will cause the nutritional info to change. My calculations are intended as a guide only.