This Superfood Salmon Salad with Balsamic Blueberry Sauce is a complete meal that only takes 20 minutes to make. It's perfect for guests or a weeknight meal!
This recipe was first published on 1/11/18 and has been updated to improve reader's experience
Superfood Salmon Salad with Balsamic Blueberry Sauce is delicious and looks complicated. This beautiful dish is perfect for entertaining or a weeknight dinner. This salmon was cooked perfectly and the blueberry sauce is just decadent without all of the fat and sugar that's in a lot of sauces.
John and I try pretty hard to watch what we eat. Every once in a while we go off the deep end for a few days at a time. You've seen the evidence like my Triple Chocolate Caramel Cookie Bars and Decadent Dark Chocolate Tart right? Well after a few days we're ready to get back on track with meals like this Superfood Salmon Salad with Balsamic Blueberry Sauce.
Not to long ago I was reading an article on Superfoods that was put out by a physician with a local health institution. In order for a food to be considered a "Superfood", it has to be densely packed with nutrients, antioxidants, vitamins, and minerals and when added to a balanced diet beneficial to your health. These are the ingredients that he covered:
Blueberries contain the highest antioxidants of all fruit and vegetables. Antioxidants prevent cell damage and help fight disease.
Avocados contain healthy fats that help reduce cholesterol levels which may help prevent diseases in your heart and brain.
Salmon contains Omega 3 fatty acids that our bodies can't produce. It also reduces inflammation and improves circulation.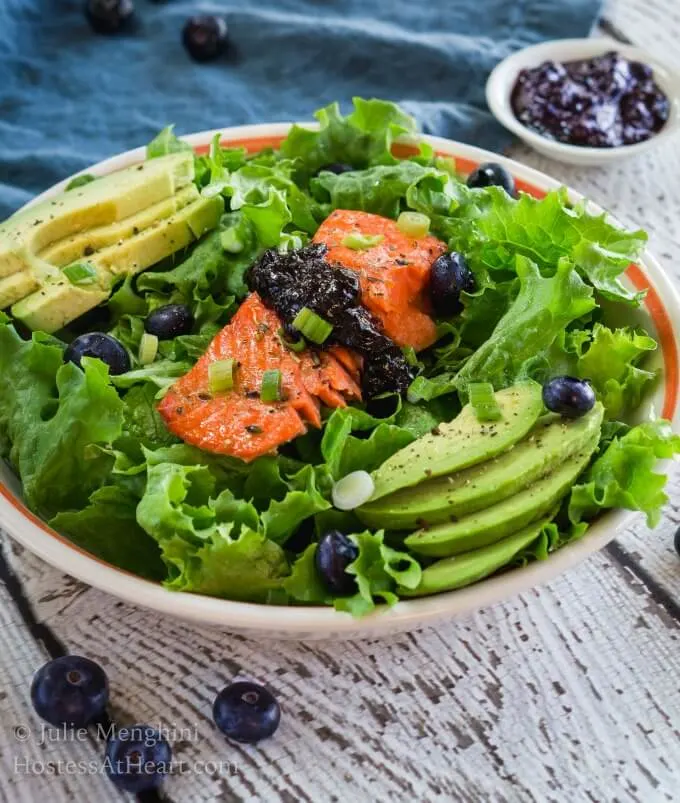 Reading this article it didn't take long to come up with this dish that combines many of these superfoods. This recipe has other health benefits such as plenty of fiber and low in sugar. Best of all it's delicious which proves foods that are good for you can taste good too.
Don't forget to Pin this recipe to your favorite Pinterest Board!
I need more superfoods incorporated into our weekly dinners. We don't always get it right but ingredients like these make it easier to stay on track. It was sure easy to do with this Blueberry Salmon Salad. Other superfood ingredients
Beets are high in nitrate levels which can lower your blood pressure and amino acid which are a natural anti-depressant.
Black Beans supply an ample amount of protein, fiber, and iron.
YOU MAY NEED
Some of the items below contain affiliate links; I am a participant in a variety of affiliate programs, including the Amazon Services LLC Associates Program, an affiliate advertising program designed to provide a means for us to earn fees by linking to Amazon.com and affiliated sites. However, I only promote things that I love and think you will love, too. For more information, please see our disclosure.
Nordic Ware Natural Aluminum Commercial Baker's Jelly Roll Baking Sheet – These sheet pans are durable and I have four of them so I can get all of my cookies baked in a jiffy!
Fish Turner – I use this turner for everything! It should be calle1d a food flipper! It's indispensable for browning meat or serving delicate pieces of fish!
If you LOVE this recipe would you please leave me a comment and 5-star rating? Thank you from the bottom of my heart! Hostess At Heart
Here are a few other delicious recipes that are guilt-free!
Our most popular recipes