This Fresh Baby Spinach Salad Recipe is full of good for you ingredients, flavor, and texture that will leave you feeling healthy and satisfied.
Salads do not have to be boring. They can be extravagant, taste amazing, and are a meal you can feel good about eating and feeding your family.
This post was updated from 2017 to improve readers' experience. No changes were made to the recipe.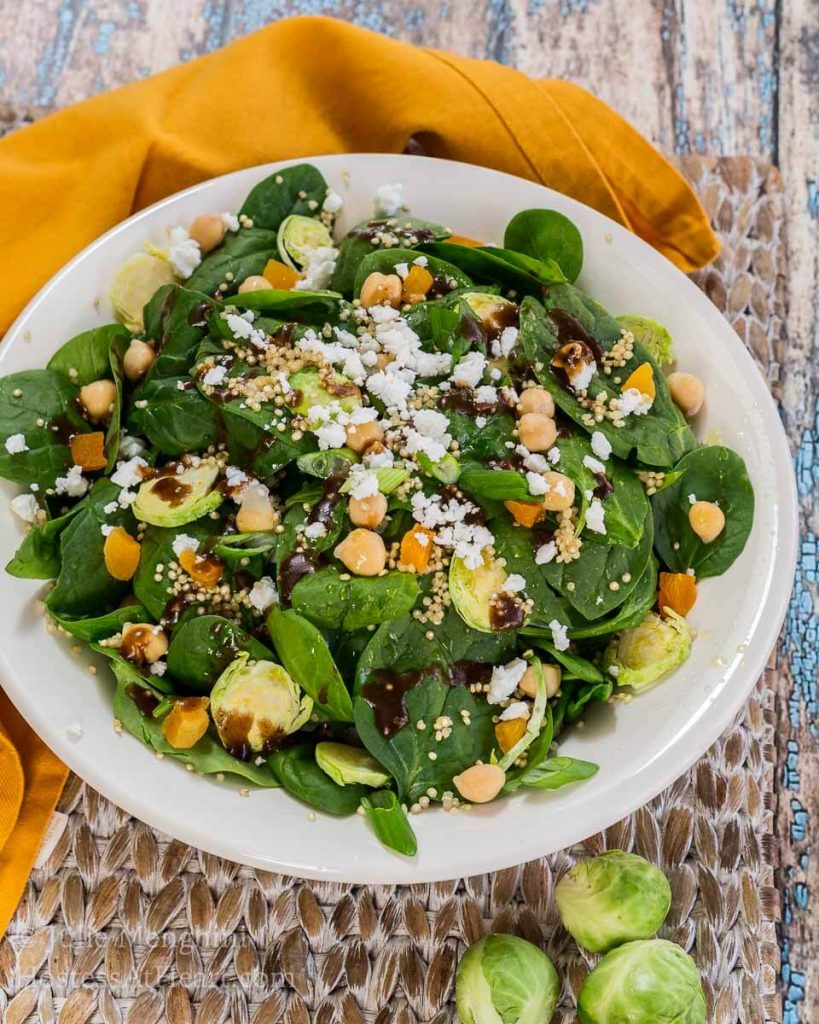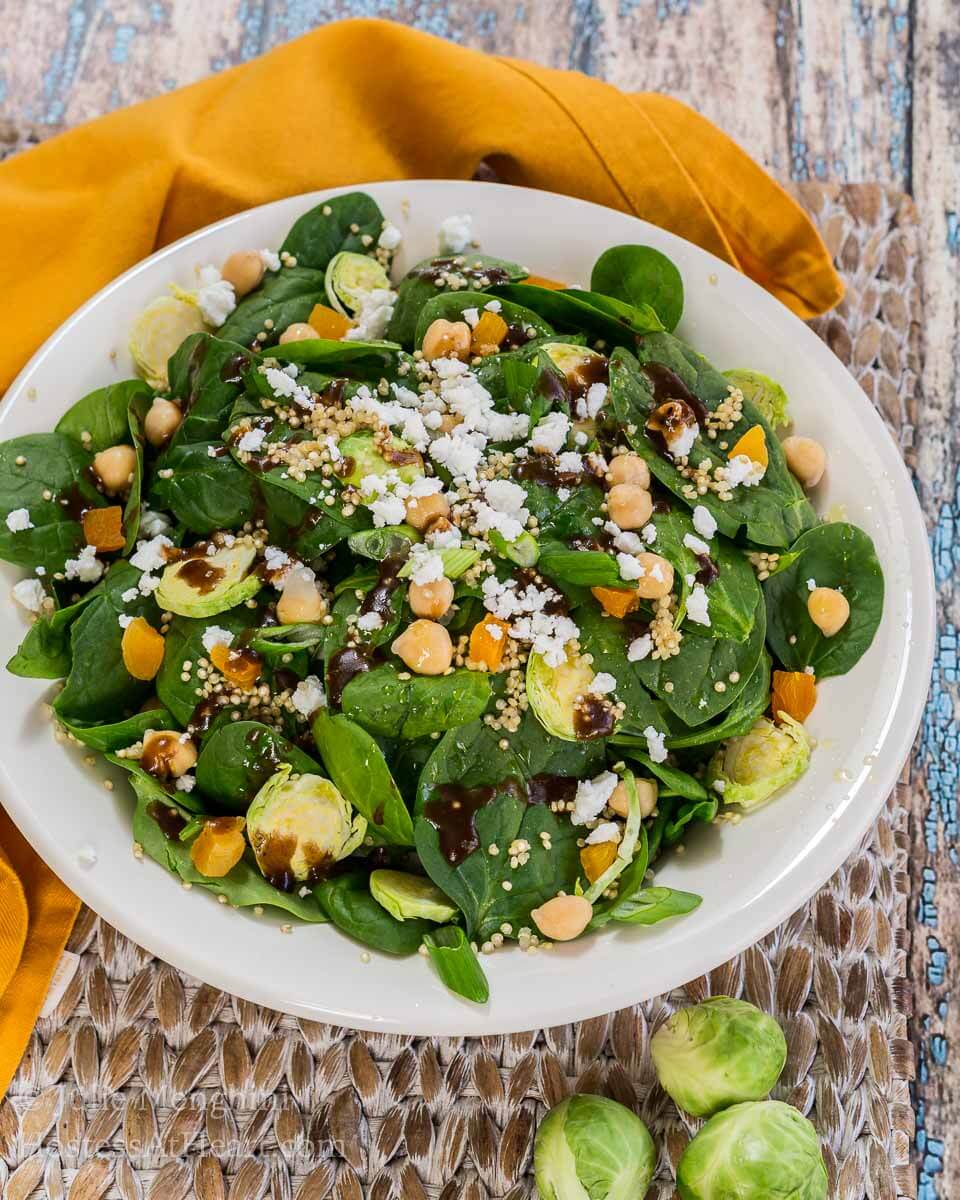 This Baby Spinach Salad isn't your ordinary salad. It is one of those meals that will not make you feel like you are missing out or sacrificing anything when you eat it! And the variations are endless. I've eaten this salad for an entire week without getting tired of it!
Why You'll Love This Healthy Spinach Salad Recipe
Flavor. This salad is chock full of flavor, healthy ingredients, and tons of texture. Best of all, it's absolutely delicious. Every bite will make you wonder why you don't eat more meals like this healthy salad recipe.
Energy that doesn't weigh you down. When I start feeling sluggish, I just crave food that is good for me like this Vegetarian Spinach Salad Recipe.
A Complete Meal. This baby spinach salad is a meal all by itself. It can be a quick and simple side dish, a quick lunch, or the main dish for dinner. It's very filling.
Easy Individual Servings. You can let everyone make their own salad and it is super easy. That way each person can customize the salad to their taste.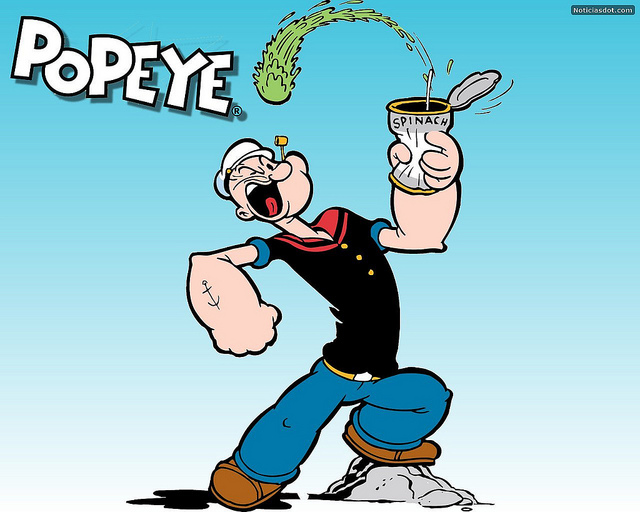 I'm going to date myself here. I grew up watching the cartoon Popeye. All he had to do was squeeze a can of spinach into his mouth and he gained superpowers that helped him defeat his nemesis, Brutus.
I grew up eating spinach out of a can and had no idea that people ate it fresh. I think you'll agree this is a huge improvement!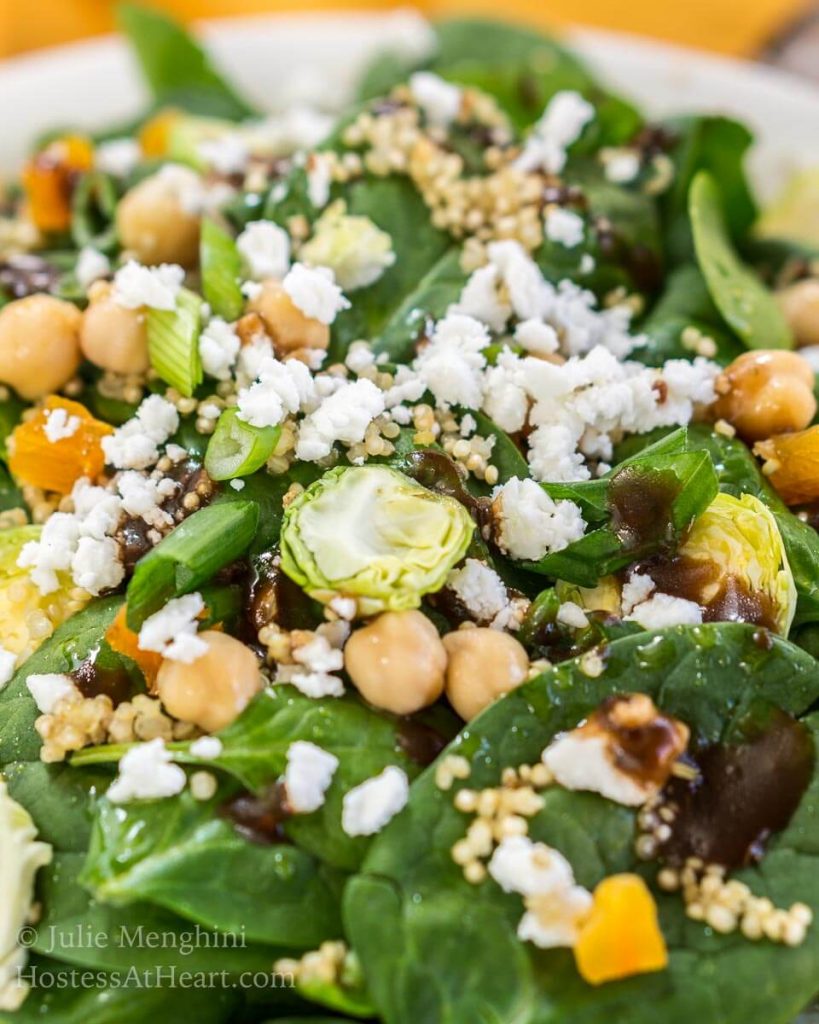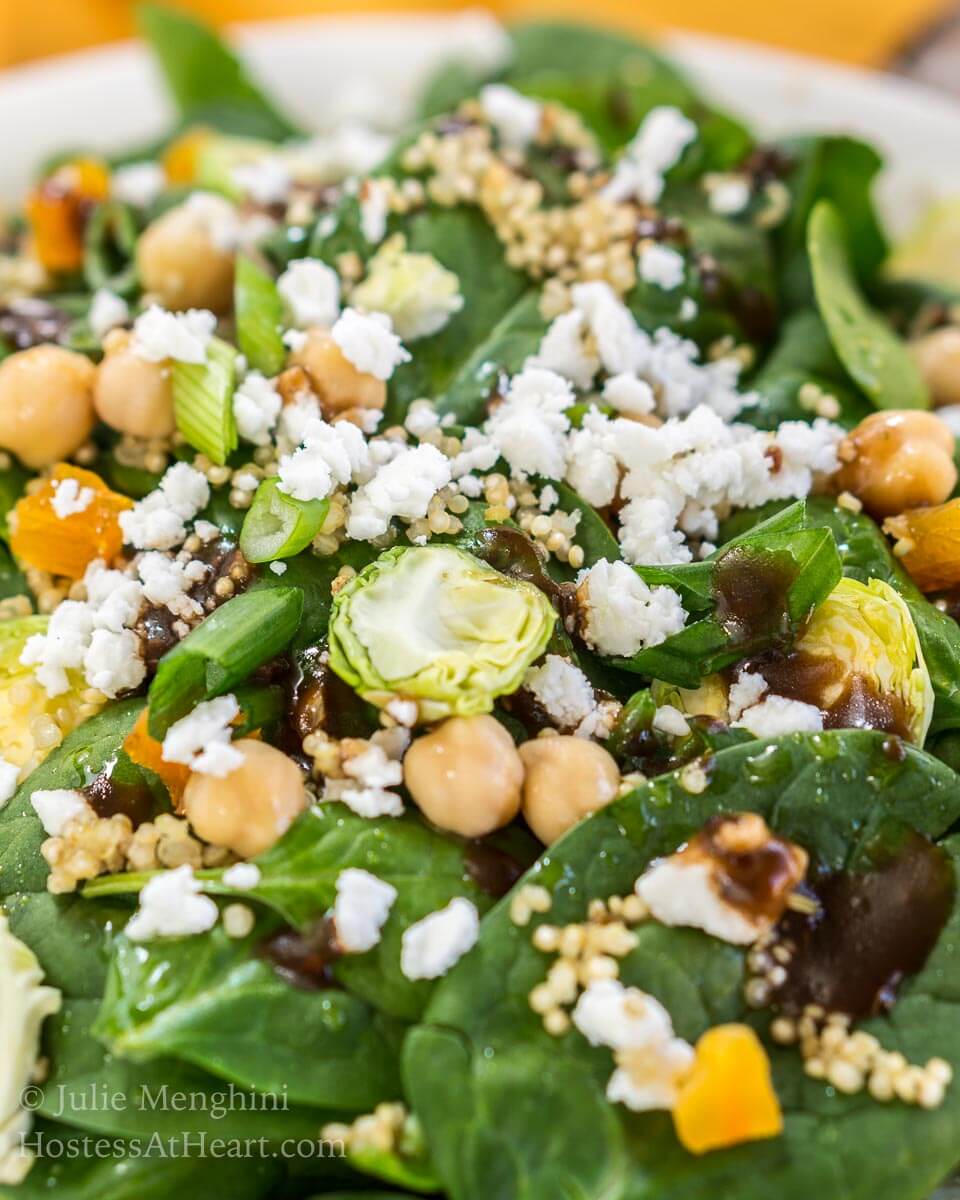 Equipment for the Spinach Salad Recipe
I wash all of our bagged greens even if they're triple washed. I love using a salad spinner. Food-born bacteria grow quickly on greens.
A good sharp knife with a cutting board is all you need.
You can also use a mandoline for cutting the brussels sprouts but they can now be purchased already sliced or shredded, which is a huge time saver.
A vinaigrette shaker is very handy for making your own salad dressing — you'll love fresh homemade dressings!
Fresh Spinach Salad Ingredients
Once you have all of the ingredients a baby spinach salad is a snap to throw together. To keep this salad nutritious, don't be tempted to add sugar-coated nuts or empty carbohydrates such as croutons.
Fresh Spinach. This salad starts with a pile of fresh spinach which is loaded with vitamins.
Quinoa. We've added quinoa which is higher in protein than other whole grains and chickpeas. Both add good carbs for energy and fiber too. Protein helps to keep you feeling full among other benefits.
Shaved brussels sprouts. May have cancer-reducing effects and lower cholesterol. If you don't care for cooked brussels sprouts, I believe you'll love eating them raw. That's my hubby's opinion.
Garbanzo Beans. Chickpeas have a nutty flavor and are full of vitamins, minerals, fiber, and protein which will keep you satisfied for hours.
Feta Cheese. There is some feta cheese on this salad because who doesn't love cheese? Feta is lower in fat and calories than some other cheeses. Moderation is important.
Dried Apricots. You can also see I've included a few diced dried fruit — its apricots. I love the little bit of sweetness they add to a salad.
Spinach Salad Dressing. Lastly, the whole thing is lightly dressed in a simple balsamic dressing made with olive oil and smooth dijon mustard. I use a touch of white sugar but you could replace it with maple syrup for a delicious twist.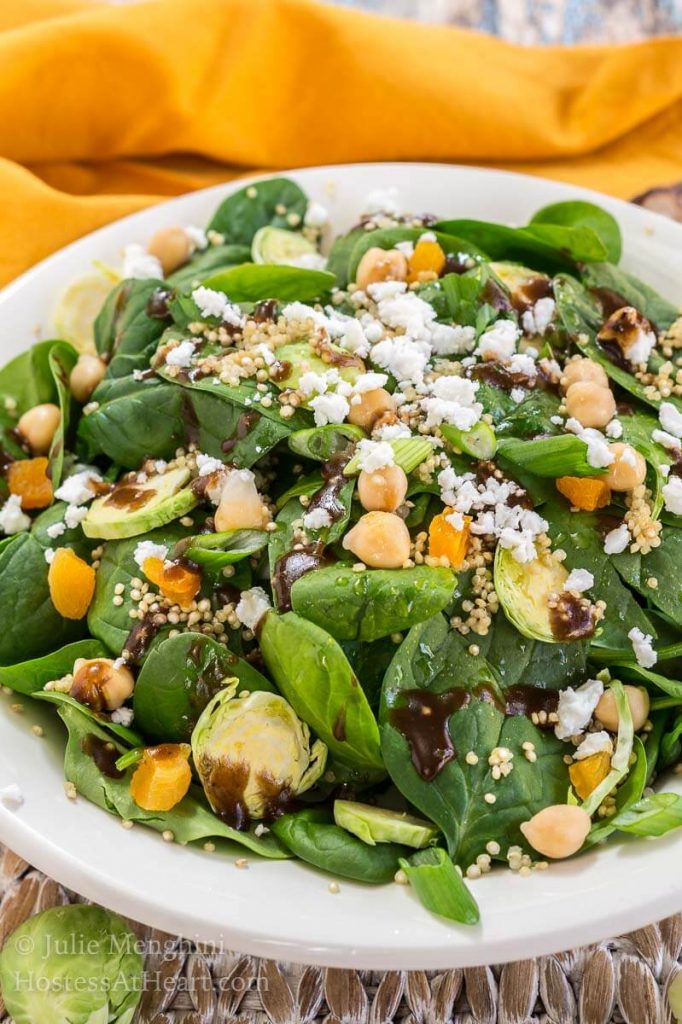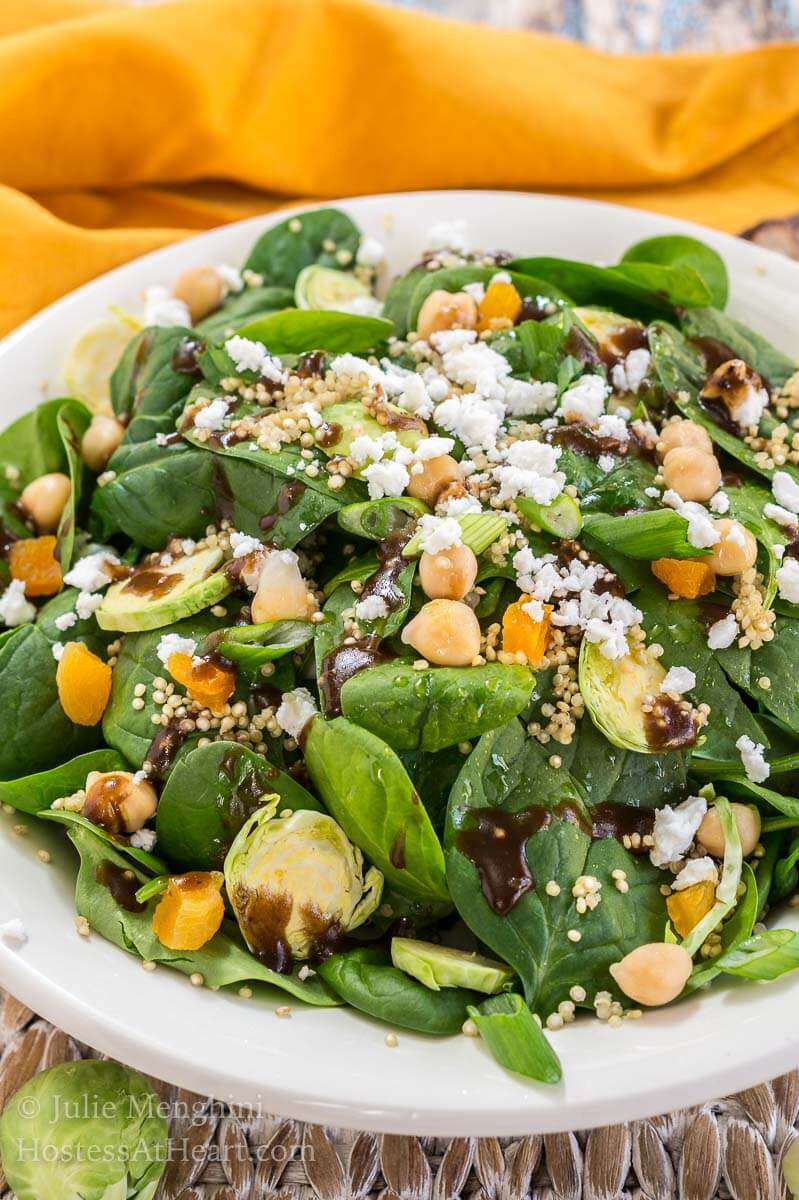 How To Make A Fresh Spinach Salad
Making this amazing salad could not be simpler. You are going to love how quick and easy it is!
Step One: Make the dressing first so the flavors have a chance to meld. Combine all of the ingredients and shake them together until blended.
Step Two: Divide spinach among 4 large bowls or plates. Add the remaining ingredients.
Step Three: Drizzle lightly with Vinaigrette. Add a grind of salt and pepper if needed.
What to Serve with your Healthy Spinach Salad Recipe
This salad is a meal all by itself or it can be paired with a bowl of soup, a sandwich, or a nice crusty bread.
Subsitutions & Additions
Change out the balsamic vinaigrette for our honey jalapeno dressing that's sweet with a kick. A warm bacon dressing would be delicious if you're not watching those pesky calories.
Exchange the dried apricots for dried cranberries (craisings) or fresh fruit such as pineapple, strawberries and apples.
Substitute the quinoa for whole grain orzo pasta or another grain such as farro or wheat berries (my favorite).
Add protein such as boiled eggs, shrimp, salmon or grilled chicken.
You can add any raw vegetable that you like. A few of our favorites would be tomatoes, cucumbers, pickled red onions, carrots, and red bell pepper.
Feta cheese can be replaced with goat cheese, manchego, or blue cheese would be amazing.
Add toasted walnuts or pecans for some healthy Omega 3 fats.
Avocado slices would be fantastic.
Pin this delicious Fresh Spinach Salad Recipe!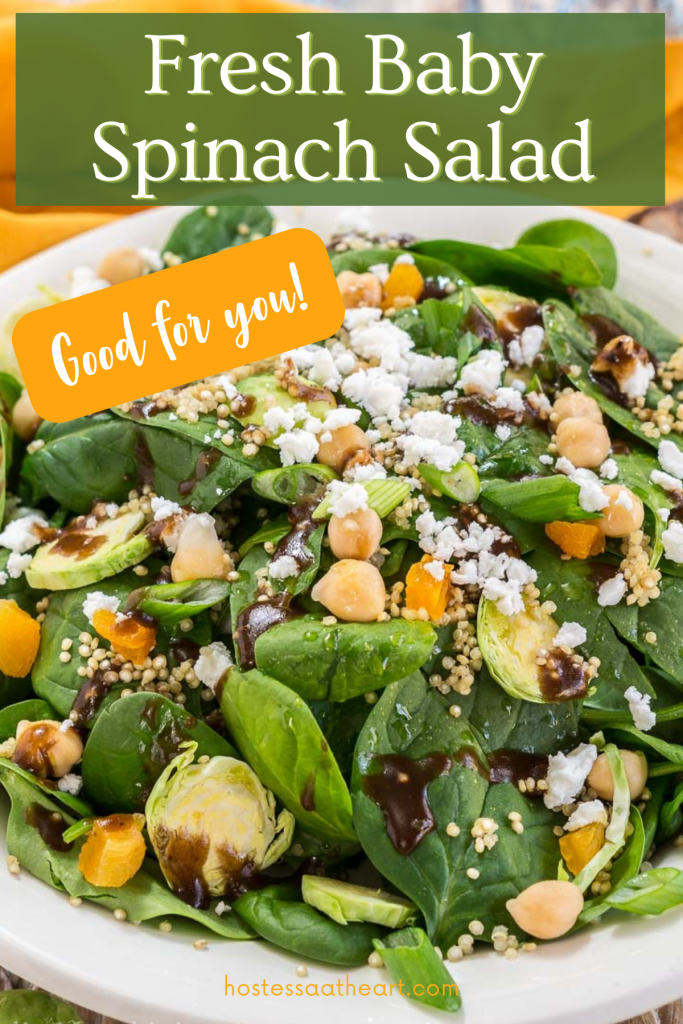 How to Store Leftover Baby Spinach Salad
Best Way To Store leftover Baby Spinach Salad
The salad stays freshest undressed, and loosely covered in the refrigerator. Do not put a salad in an airtight container or zipper bag. It needs to breathe and you do not want the container to retain moisture.
How Long Will Fresh Spinach Salad Last In the Fridge?
If you leave the dressing off, it will last from four to five days in the refrigerator.
Can I Freeze/Thaw the Healthy Spinach Salad Recipe?
No.
Healthy Spinach Salad Recipe FAQs
Can fresh spinach salad be made ahead of time?
Yes, but don't combine the ingredients and add the dressing until serving. Just get everything ready to throw in the bowl.
Is this baby spinach salad healthy?
Yes. This salad is low-fat and loaded with protein and fiber.
Tips to Make the Perfect Fresh Spinach Salad
Remove the stems from the spinach leaves.
Have ingredients laid out in separate bowls so everyone can make their own.
I don't recommend pre-dressing the salad. It will stay crisper if you don't dress it until the end.
More Great Recipes to Try
Don't Forget To Come Back And Let Me Know How Your Fresh Spinach Salad Turned Out!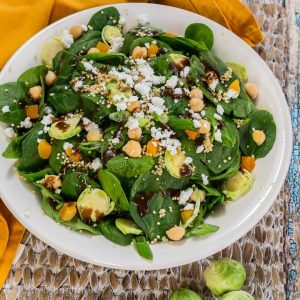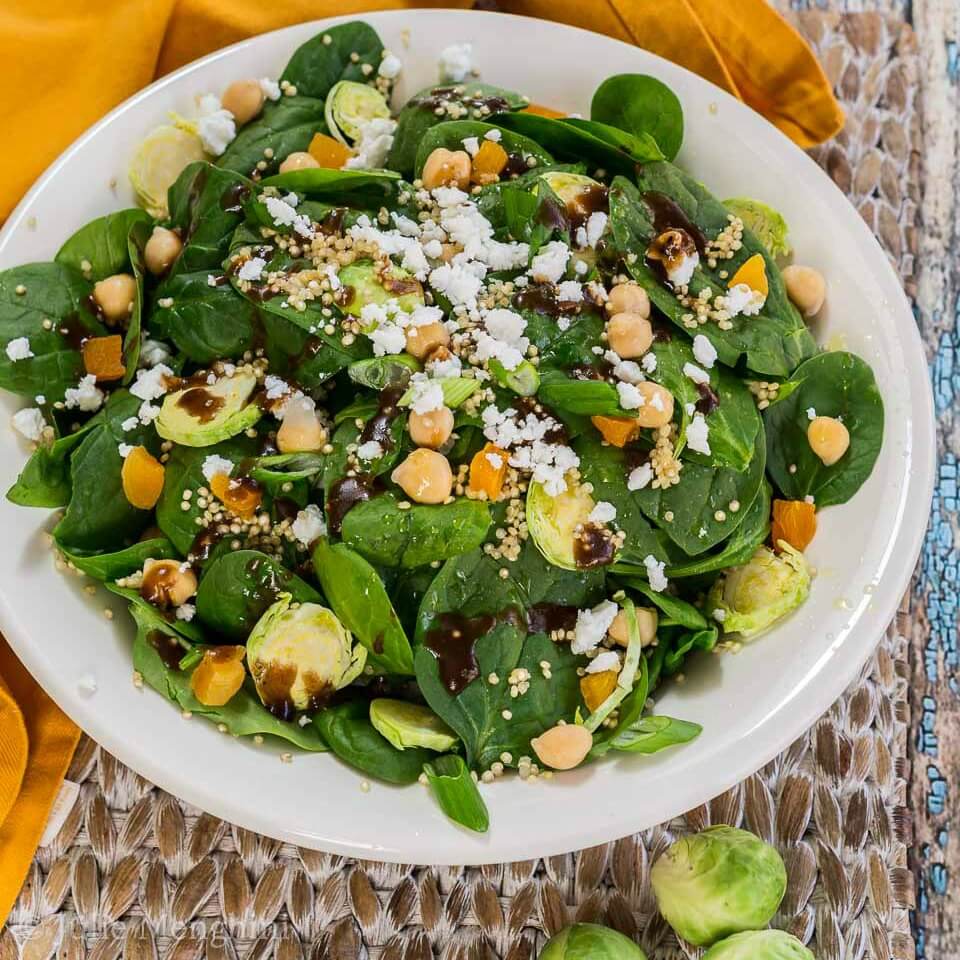 Fresh Baby Spinach Salad Recipe
This Fresh Baby Spinach Salad Recipe is full of good for you ingredients, flavor, and texture that will leave you feeling healthy and satisfied.
Ingredients
Salad
12

cups

Fresh Spinach Greens

washed and shaken dry

1

cup

quinoa

cooked according to directions

1

cup

chickpeas

canned and drained

2

scallions

sliced (white and green parts)

6

brussels sprouts

sliced thinly

4

dried apricots

diced

1/2

cup

feta cheese

crumbled
Balsamic Viniagrette
1/4

cup

balsamic vinegar

1/2

cup

Extra Virgin Olive OIl

1

clove

garlic

minced

1

tsp

dried herbs

I use Italian herbs

1

tsp

dijon mustard

1

tsp

white sugar

1/2

tsp

salt

1/4

tsp

ground black pepper
Instructions
Vinaigrette
Combine all of the ingredients and shake together until blended.
Salad
Divide spinach among 4 large bowls or plates. Add remaining ingredients.

Drizzle lightly with Vinaigrette.

Serve immediately.
Notes
Note that the nutritional values reflect using all of the balsamic dressing for four salads. We can actually dress over 8 salads with this amount.
Nutrition
Calories:
587
kcal
Carbohydrates:
55
g
Protein:
16
g
Fat:
35
g
Saturated Fat:
7
g
Cholesterol:
17
mg
Sodium:
604
mg
Potassium:
1111
mg
Fiber:
10
g
Sugar:
12
g
Vitamin A:
9081
IU
Vitamin C:
51
mg
Calcium:
251
mg
Iron:
7
mg
Nutritional Disclaimer
This recipe was calculated using the exact brands and measurements I used to make this recipe. If you are following a strict diet please note changing anything will cause the nutritional info to change. My calculations are intended as a guide only.