Perfectly soft and chewy, these Peanut Butter Blondies recipe with Chocolate Chips are full of gooey chocolate and have slightly crisp edges. It's an easy blondie recipe you likely can make without a trip to the grocery store!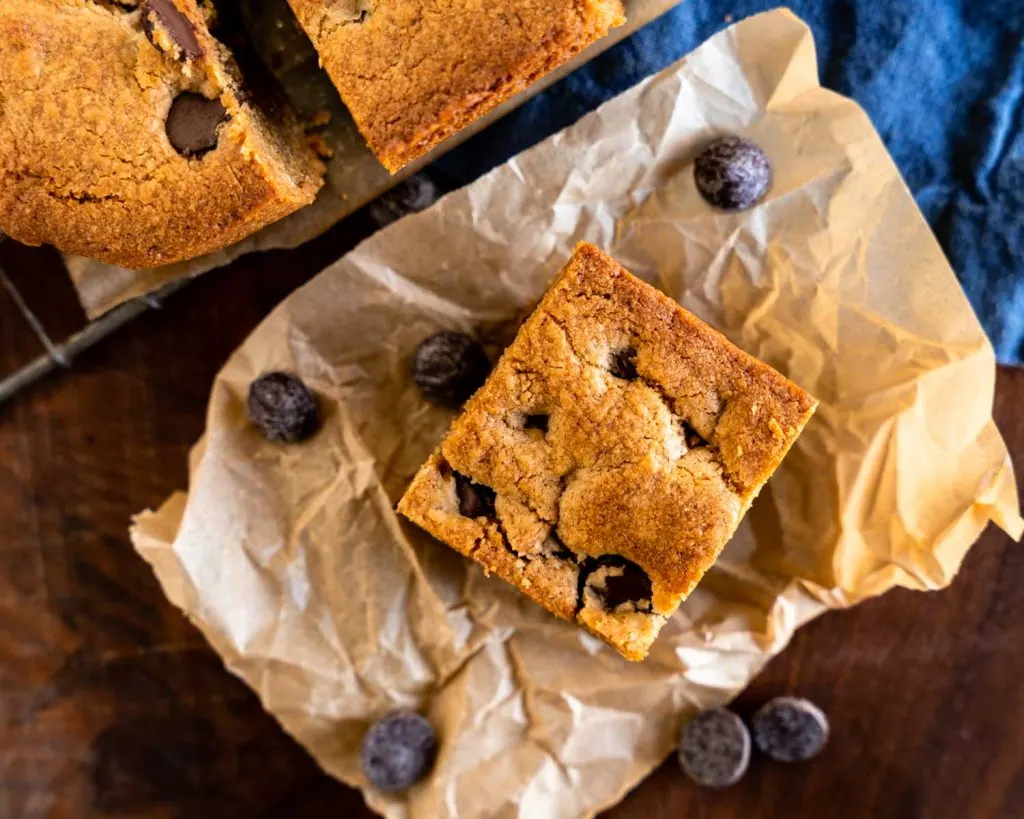 Who doesn't like peanut butter and chocolate? Peanut Butter Blondies start with a good peanut butter cookie loaded with chocolate. They're soft and delicious with a golden brown crispy edge. You'll love sinking your teeth into this quick and easy blondie recipe.
Why You'll Love Peanut Butter Chocolate Chip Blondies
Don't require a mixer. Mix up this easy blondie recipe with nothing but a spoon!
Simple to make. Our peanut butter blondies recipe comes together super fast with the easy-to-follow instructions on our printable recipe card.
Done in 40 minutes. Serve a fun dessert quickly when last-minute guests or grandkids are coming over.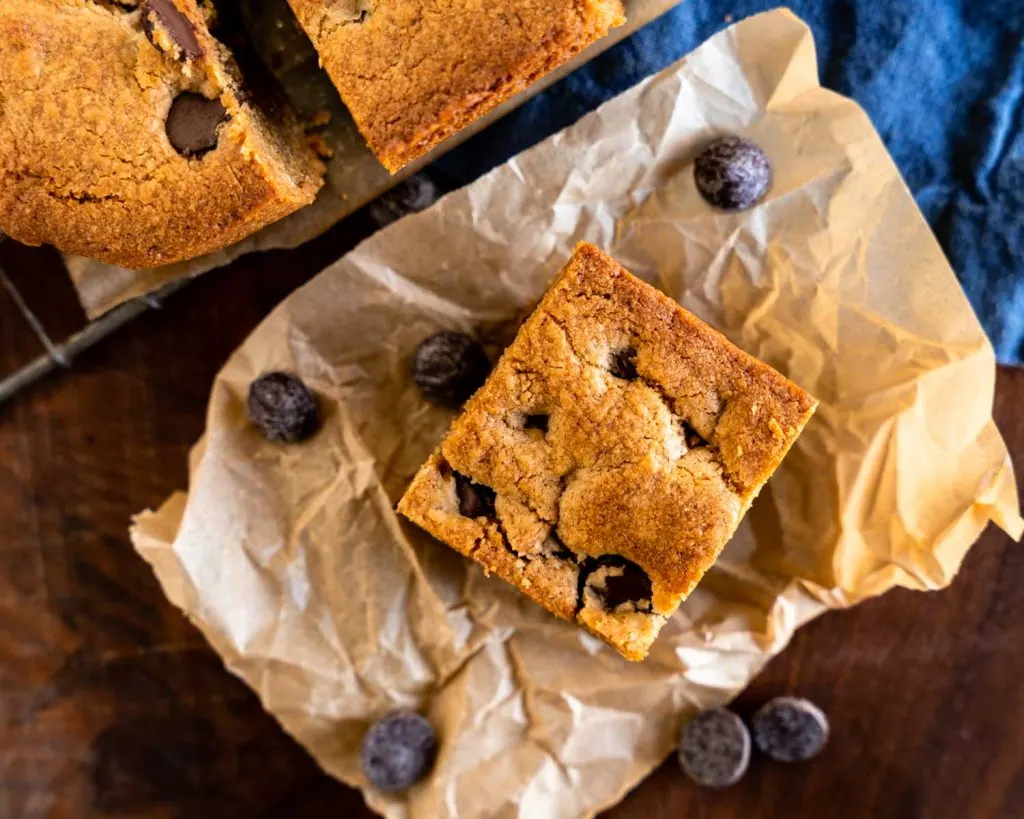 What's so special about these Peanut Butter Blondies?
As much as I would love to take credit for creating this chewy Peanut Butter Blondies with Chocolate Chips recipe, this recipe is actually inspired by our Freaky Friday Blog Hop.
What is the Freaky Friday Blog Hop? Freaky Friday is a blog hop with some of my favorite food blogger buddies!
We secretly get assigned one another's blogs to make a recipe from, and then we all reveal who we had and what we made on the same Friday, and that is today!The Freaky Friday blog hop is organized by Michaela who runs An Affair From the Heart.

I was so excited to get Sue's blog, Sue Bee Homemaker for Freaky Friday.
Let me tell you a little bit about Sue
Sue and I have a lot in common. My mother was from a large family (9) and I grew up watching her and her sisters cooking together. Sue has the same memory of her mother who was one of 14! We both have two cherubs and a pup and love to ride bikes with our hubby's.
Sue started her blog as a soon-to-be empty nester. I did as well and much of my inspiration came from cooking and baking with my grandmother. Hers was her amazing mother.
I had a heck of a time choosing just one recipe to share. That girl is a baking wizard! She shares my love of bread and I can't wait to try her Jalapeño Cheddar Sourdough. I'll definitely be making her Giant Cinnamon Twist Roll for our net set of overnight guests! My chocolate-loving sweet tooth won out, however, once I saw her Peanut Butter Chocolate Chip Blondies.
I followed Sue's recipe word for word and didn't make any changes. It's great as is and she does an amazing job explaining the recipe.
Peanut Butter Chocolate Chip Recipe
Blondies vs Brownies
What is the difference between a brownie and a Peanut Butter Blondie?
Brownies usually have an intense chocolate flavor whereas this blondie is like a soft chewy chocolate chip cookie.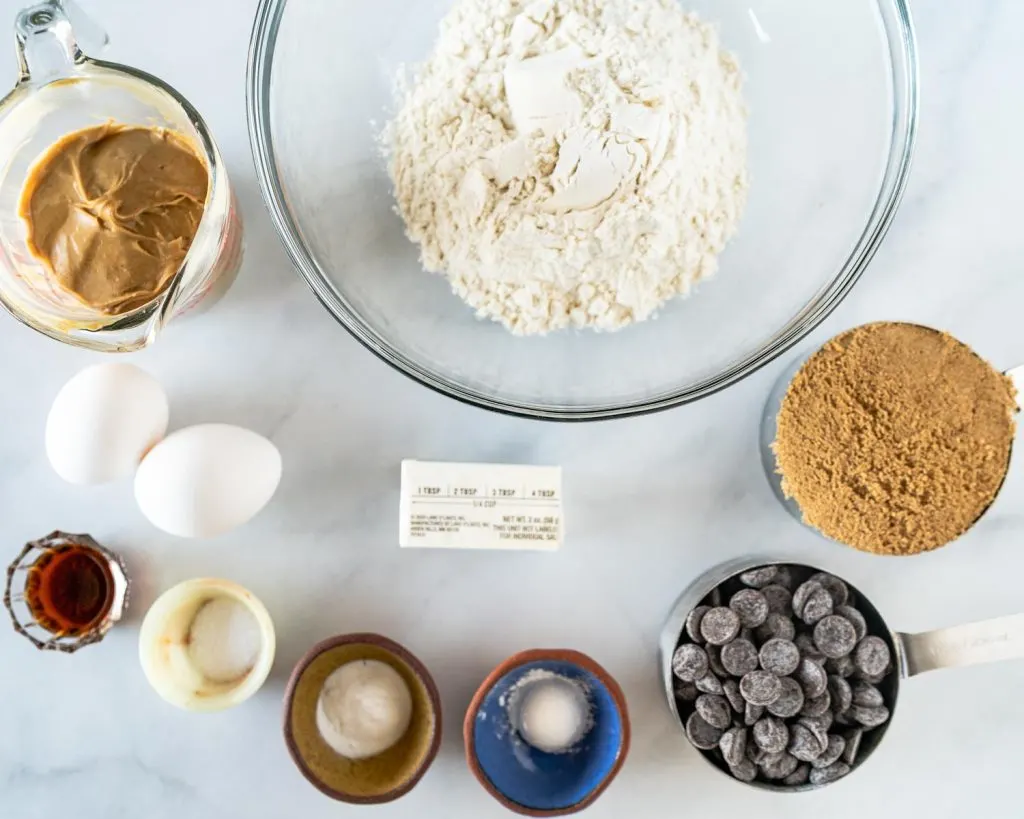 Ingredients for your Blondies with Chocolate Chips
Unsalted Butter. If you use salted eliminate additional salt in the recipe.
Brown Sugar. I prefer dark for a more intense flavor but light is fine
Peanut Butter. Smooth or crunchy will both work.
Large Eggs.
Vanilla.
All-Purpose Flour. Bleached or unbleached either one.
Baking Soda.
Cornstarch.
Salt. Eliminate if you used salted butter.
Chocolate Chips. You can use any kind you want — semi sweet, milk chocolate, white chocolate, or dark chocolate.
Please note, that the printable recipe card has ingredient quantities, complete instructions, and nutritional information. The following is a quick overview of the recipe.
How to Make Peanut Butter Blondies
Preheat your oven first. Having a hot oven will help your blondies with chocolate chips bake more evenly and come out of the oven at the expected time. Go ahead and get your pan prepared with parchment paper as well.
Melt the butter and then stir in the peanut butter. Next add the brown sugar, eggs, and vanilla and stir until combined. These are the liquid ingredients.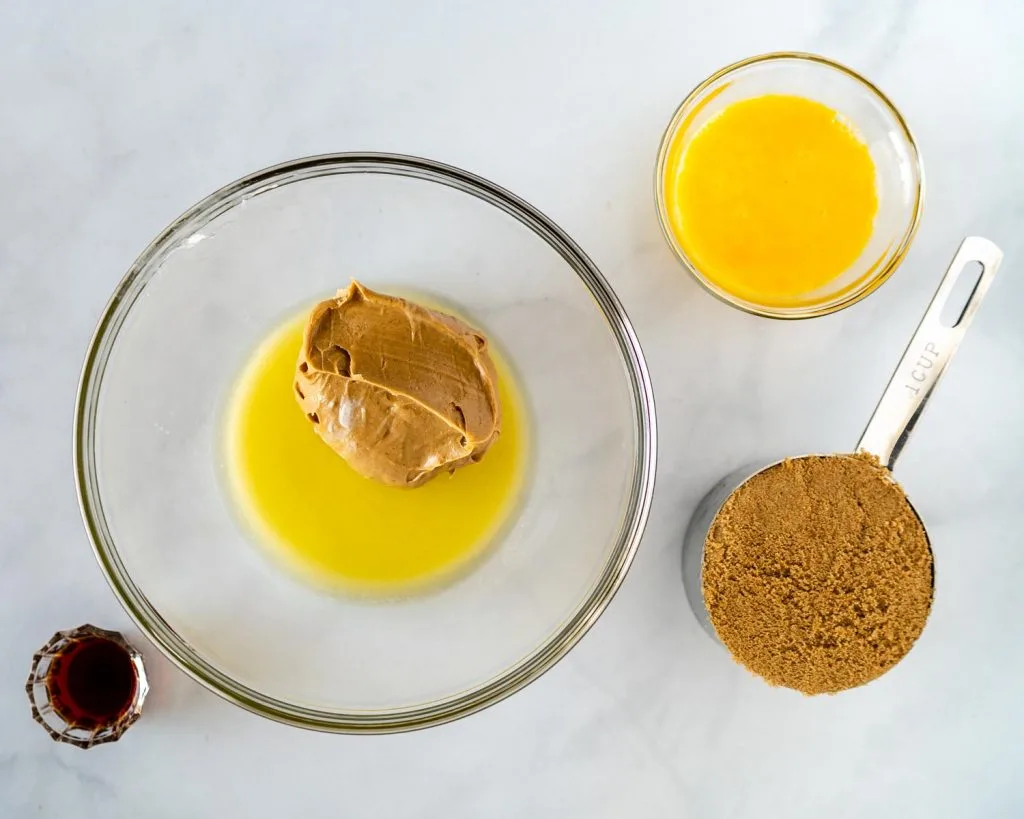 In a separate bowl, mix the dry ingredients: flour, baking soda, cornstarch, and salt with a whisk.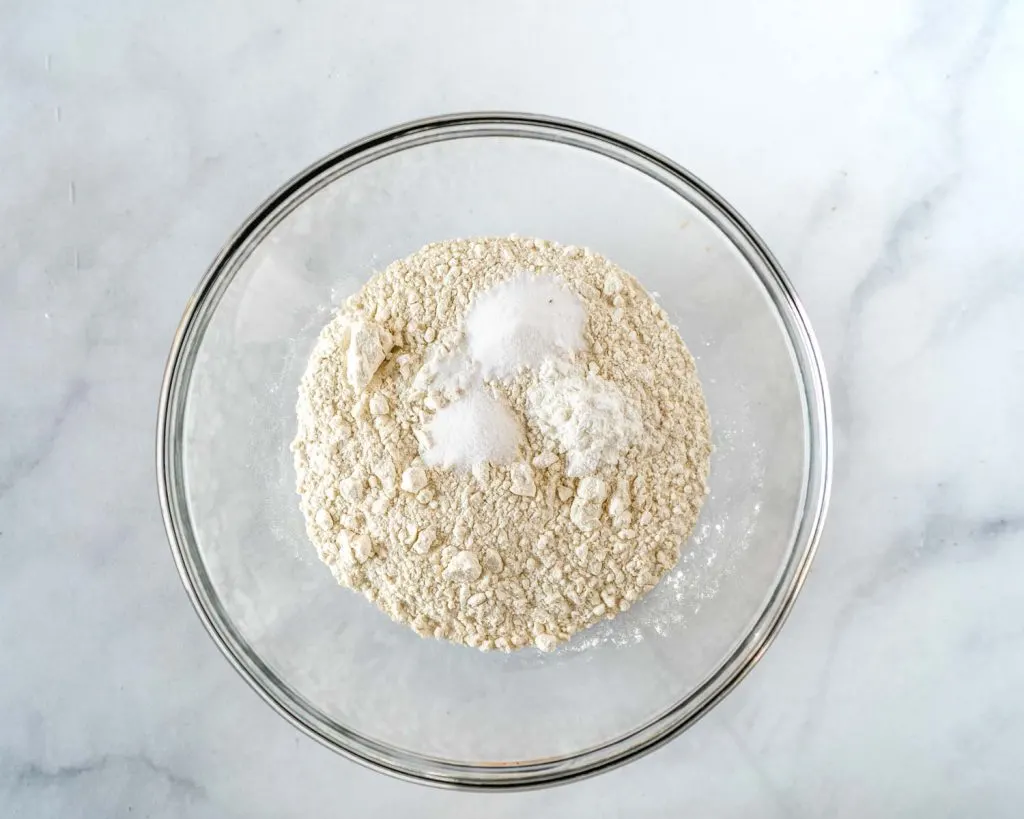 Once both the liquid ingredients and the dry ingredients are mixed separately, they are ready to be combined. The dough will be thick and resemble cookie dough. Fold in the chocolate chips.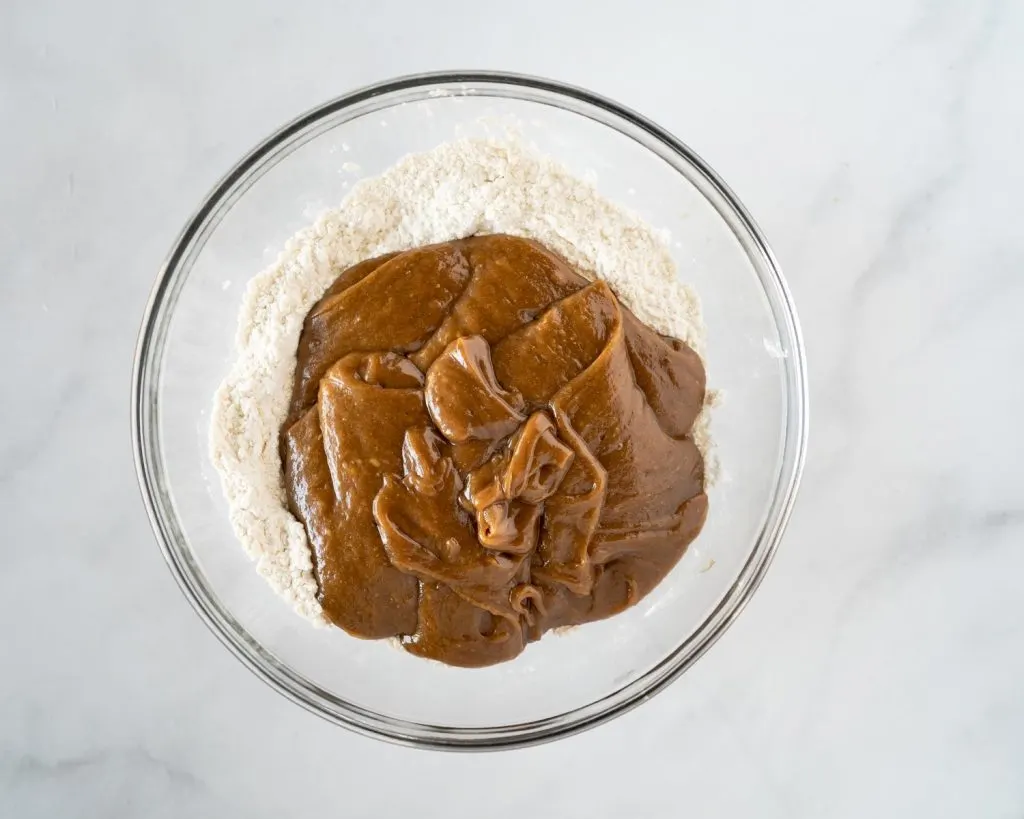 Spread the blondie batter in your prepared pan evenly and then bake. Cool on a cooling rack for fifteen minutes or so before serving or serve hot. These taste amazing served hot with ice cream!
What to Serve with Your Peanut Butter Chocolate Chip Blondies
I like to pair anything that contains peanut butter and chocolate with a cold glass of milk. Ice cream on a warm peanut butter blondie is a match made in culinary heaven.
If you will be having multiple desserts, such as at a party — choose a variety of hand-held bar recipes so there is something for everyone.
Pin this amazing Peanut Butter Chocolate Chip Blondie Recipe!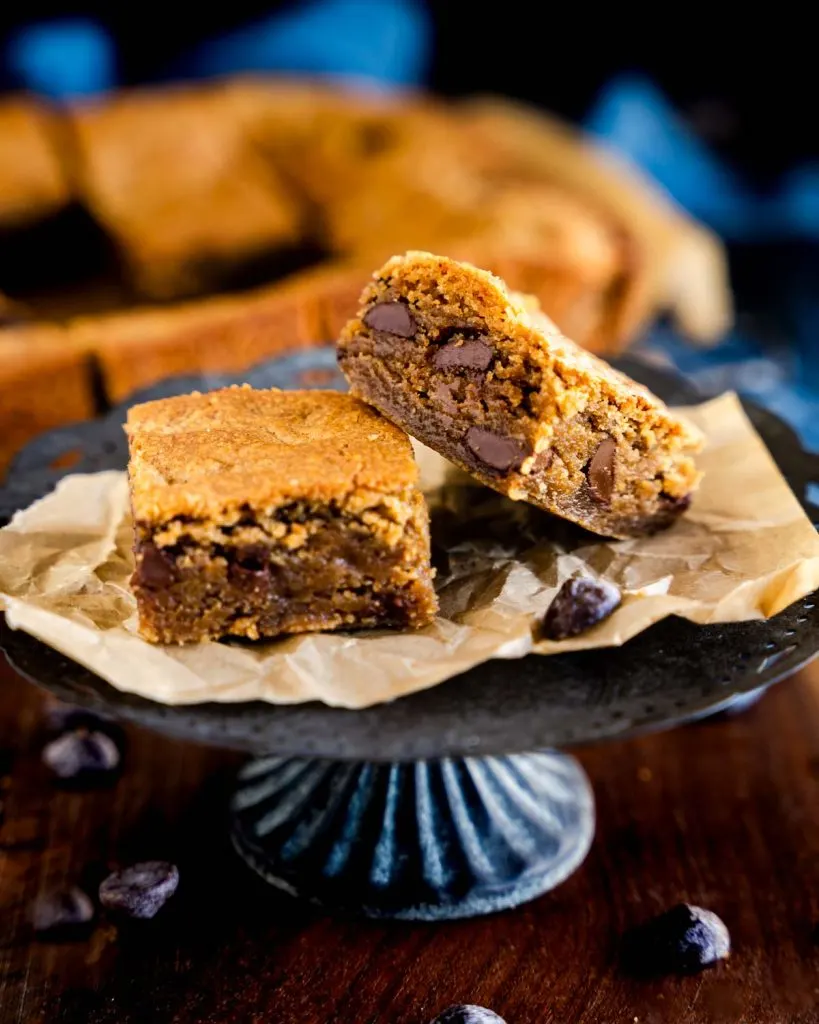 Substitutions & Additions
Instead of chocolate chips, you can choose anything from this list for a one-for-one substitute or mix and match.
butterscotch chips
peanut butter chips
nuts such as chopped walnuts or chopped pecans
dark chocolate chunks
Reeses® Pieces candies
chopped Reeses® cups
any chopped candy bars
M&Ms
How To Reheat & Store Peanut Butter Blondies
Best Way To Store Peanut Butter Chocolate Chip Blondies
You can keep these bars at room temperature for 3 days or 5 days in the refrigerator. In both cases, you will need an airtight container.
How Long Will Blondies with Chocolate Chips Last In the Fridge?
Five Days.
Can I Freeze and Thaw This Chocolate Chip Peanut Butter Blondies Recipe?
Yes! If you want to make these ahead of time, you can freeze the dough! I freeze it in the pan and then once frozen, I can remove it by grabbing the parchment paper edges and slide it into an airtight container/bag.
You can also freeze baked brownies. Freeze in smaller portions for a quick and easy dessert.
How to Reheat Peanut Butter Chocolate Chip Blondies
Just a quick burst in the microwave, maybe ten seconds or maybe twenty seconds, and then top with ice cream!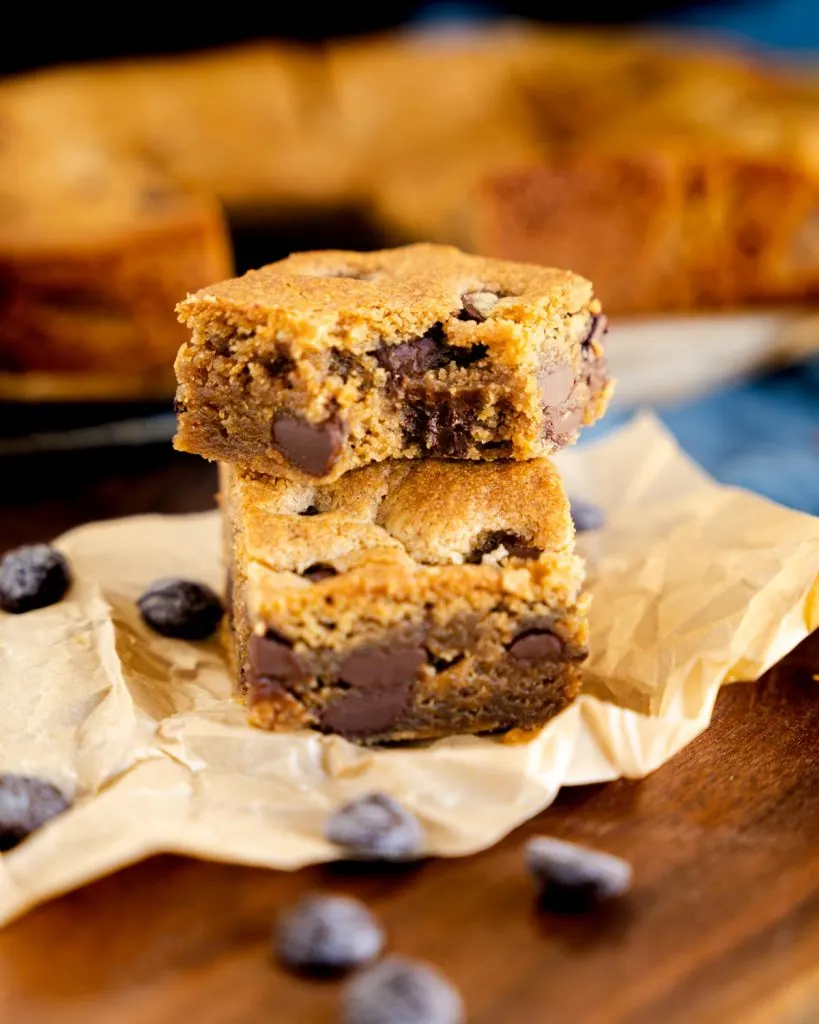 Easy Blondie Recipe FAQS
Can I make blondies with chocolate chips ahead of time?
Yes! See my storage information.
Can underbaked blondies be returned to the oven?
Yes! Even if they've been out of the oven for up to 2 hours. Put the pan in the oven that's preheated to 350ºF and bake until done.
Can I bake Peanut Butter Blondies in a 9×13 pan?
Yes. Simply double the recipe. If you double the servings in my recipe card the math will automatically be done for you!
Tips to Make the Perfect Peanut Butter Blondies
Lightly spray your baking pan with nonstick cooking spray and then line your pan with parchment paper. This will help your parchment paper stay in place and you don't have to worry about covering the corners.
Instead of trying to get one large piece of parchment paper to fit your baking pan, Cut two pieces. Lay one across the pan and lay the other one across the other one (like a cross).
Don't overbake your peanut butter blondies. To get that moist gooey center with all that melty chocolate remove the brownies from the oven when the edges start to brown but the center is still slightly underbaked. Blondies will continue to bake in the pan once they're removed from the oven.
Don't over mix – whether you are using a mixer or mixing by hand, only mix until the ingredients are combined. Over mixing will make blondies cakey from too much air in the batter.
Don't cut into pieces until you need them and they'll stay fresh longer.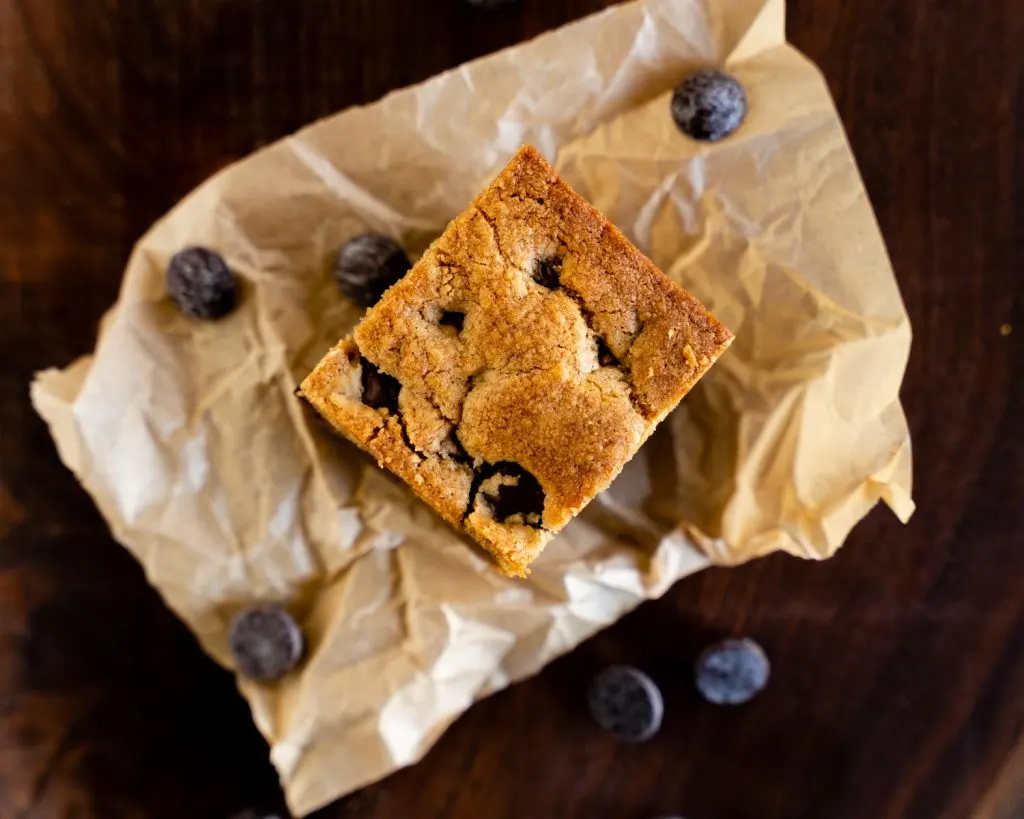 Other recipes you may enjoy
Don't Forget To Come Back And Let Me Know How Your Peanut Butter Blondies Turned Out!
I want to thank Sue for an amazing recipe and I hope you'll take a look at her blog, SueBee Homemaker. I'll guarantee you'll love her recipes!
Take a look at all of our 2022 Freaky Friday Winter Edition Recipes: