Peanut Butter lovers rejoice! Our homemade easy Peanut Butter Bundt Cake recipe with peanut butter glaze makes an incredible, moist, and tender peanut butter dessert.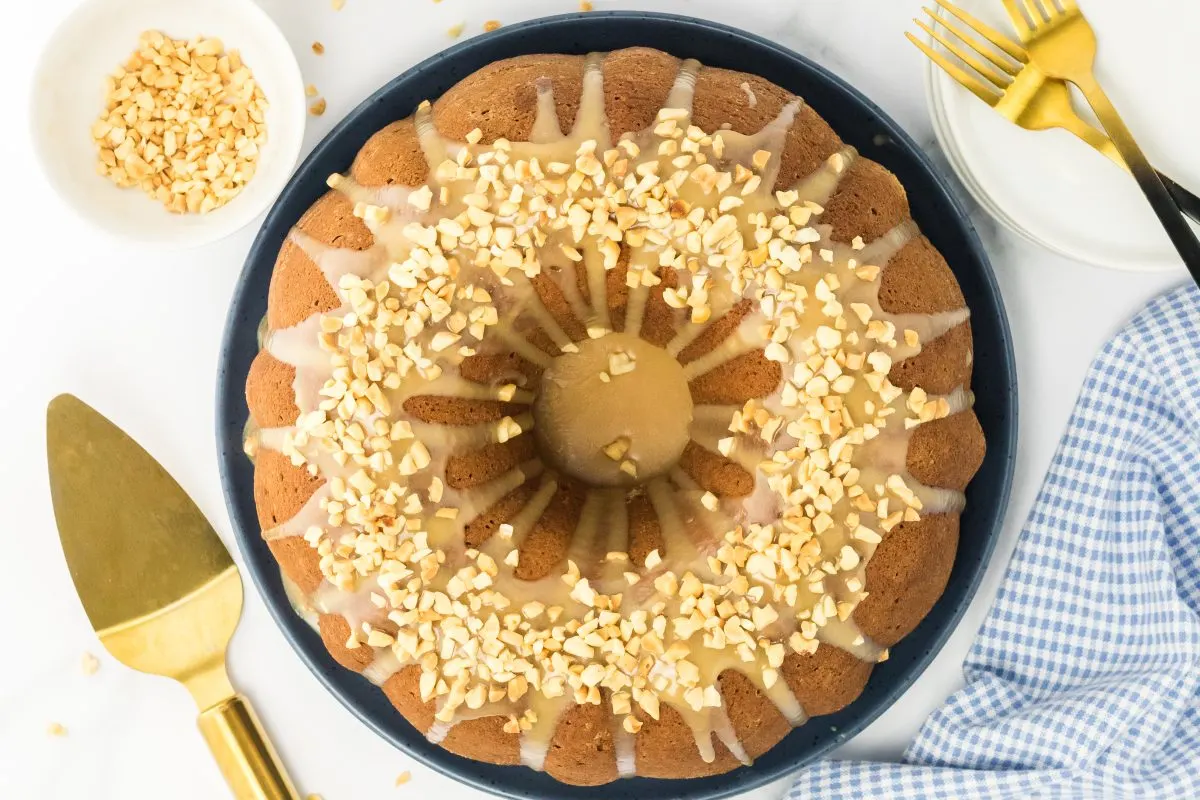 My mother absolutely loved peanut butter desserts. When we got together, I always made something that she'd love. We would have talked about how I made it over a hot cup of coffee. She would have loved this peanut butter bundt cake, and I hope you will too. This one's for you, Mom.
Why You'll Love Our Easy Peanut Butter Bundt Cake Recipe
Unique Flavor. This cake has just the right amount of sweetness, with a soft peanut butter flavor that isn't overpowering. The glaze adds another layer of peanut butter that makes this cake a peanut butter lover's dream.
Gorgeous cake. This recipe makes the perfect cake for events such as brunch, party, or holidays.
So easy. Once you realize how easy it is to bake your own cake in an elegant bundt pan, you will want to make them all the time. We have a huge collection of bundt cake recipes on this site and a list of some of our favorites at the end of this post.
Ingredients you'll need for this recipe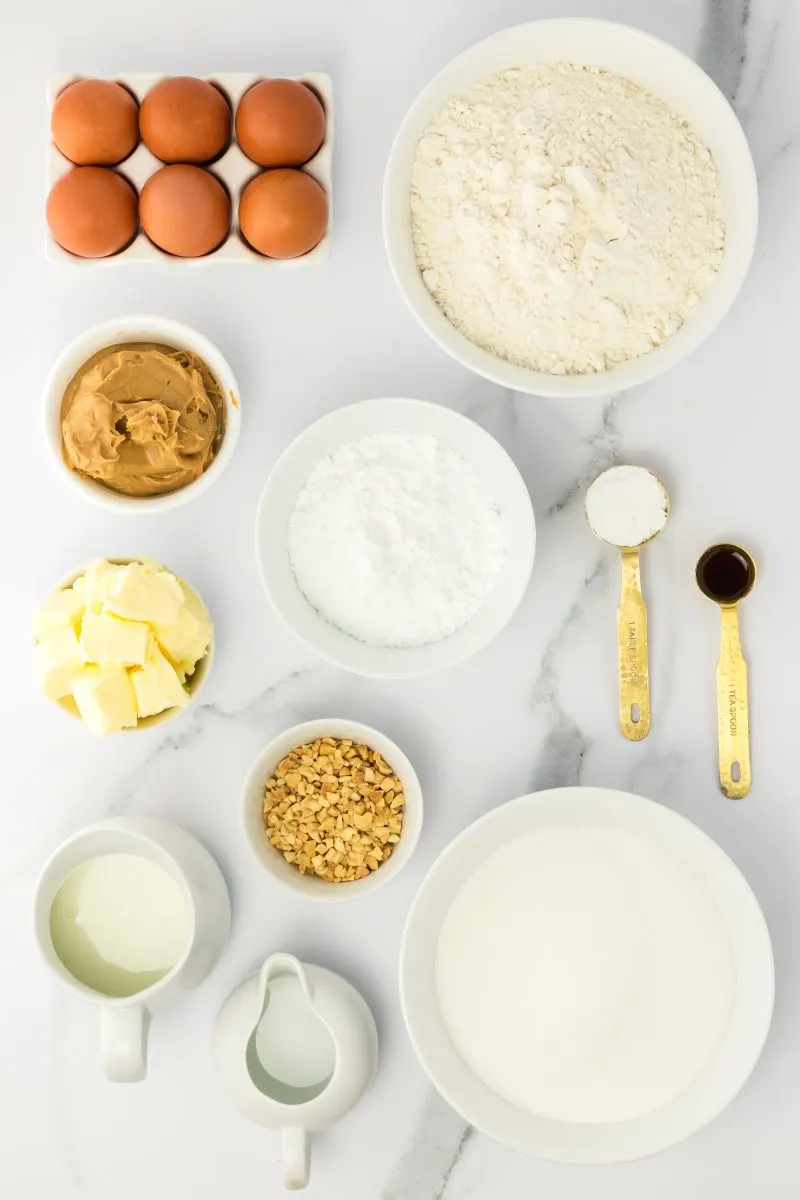 Unsalted Butter. You can use salted butter if necessary, but because peanut butter also has salt in it, the flavor can change. You can also use a non-dairy butter.
All-Purpose Flour.
Creamy Peanut Butter. This recipe needs processed regular peanut butter. The natural peanut butter varieties will not work.
Eggs. We use large eggs.
Buttermilk. Don't have buttermilk? No problem! Just measure the same amount of whole milk and add a teaspoon of white vinegar or lemon juice. Stir and let it sit for 5 minutes.
Granulated Sugar.
Water.
Baking Powder.
Vanilla Extract. Pure vanilla is what we prefer but use imitation if that's what you have.
Powdered Sugar. It is sometimes called confectioner's sugar or icing sugar.
Chopped Roasted Peanuts.
How To Make Peanut Butter Bundt Cake Recipe
Please note, that the printable recipe card has ingredient quantities, complete instructions, and nutritional information. The following is a quick overview of the recipe.
Step One. Get everything ready.
Pull out your ingredients, preheat your oven, and prepare your bundt pan.
Step Two. Cream the liquid ingredients.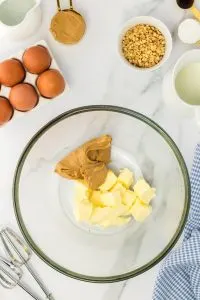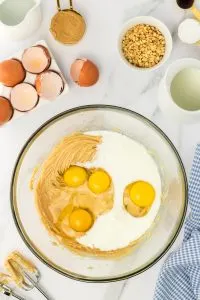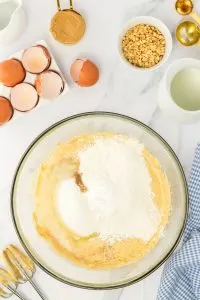 We use an electric mixer to combine peanut butter with the butter. Mix on medium speed until smooth and creamy. Add the eggs, vanilla, and buttermilk and mix at low speed until combined.
Step Three. Add the remaining ingredients.
Whisk flour, sugar, and baking powder together in a large bowl. Gradually mix the dry ingredients and the water to the peanut butter batter and beat on low until smooth, about 3 minutes.
Step Four. Bake your Peanut Butter Bundt Cake Recipe.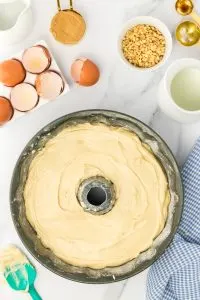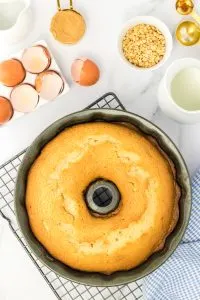 Pour the batter into the prepared 10-inch bundt pan and bake. Cool in the bundt pan for 15 minutes before turning the cake out onto a serving platter.
Step Five. Make the Peanut Butter Glaze.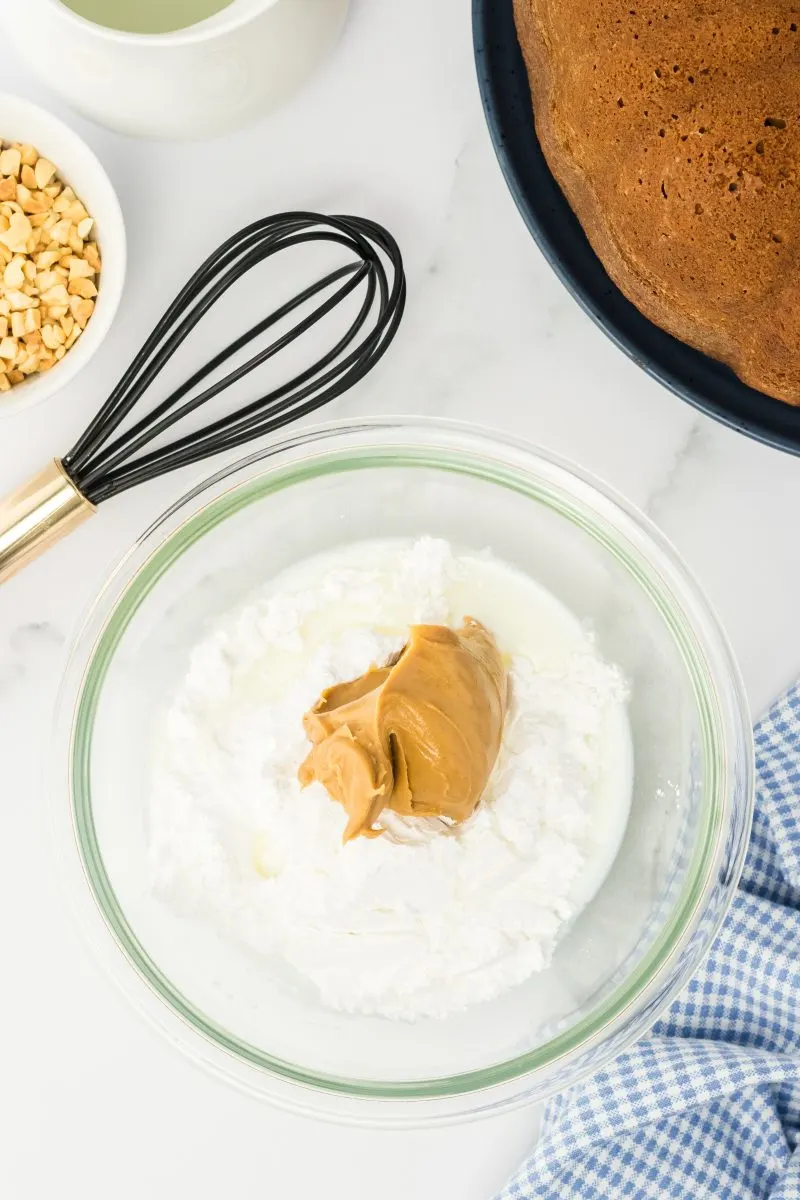 Meanwhile, make the peanut butter glaze. Whisk everything together in a small bowl, including the remaining buttermilk. Spoon it over the top of the cake, letting it drizzle down the sides. Garnish with the roasted peanuts.
Note: You want the glaze to be thin enough to run down the sides. If your glaze is too thick add liquid. If it's too thin add powdered sugar.
Frequently Asked Questions
How many servings are in a bundt cake?
A bundt cake could sensibly serve up to 30 people. However, we're using a realistic serving size of 16 slices.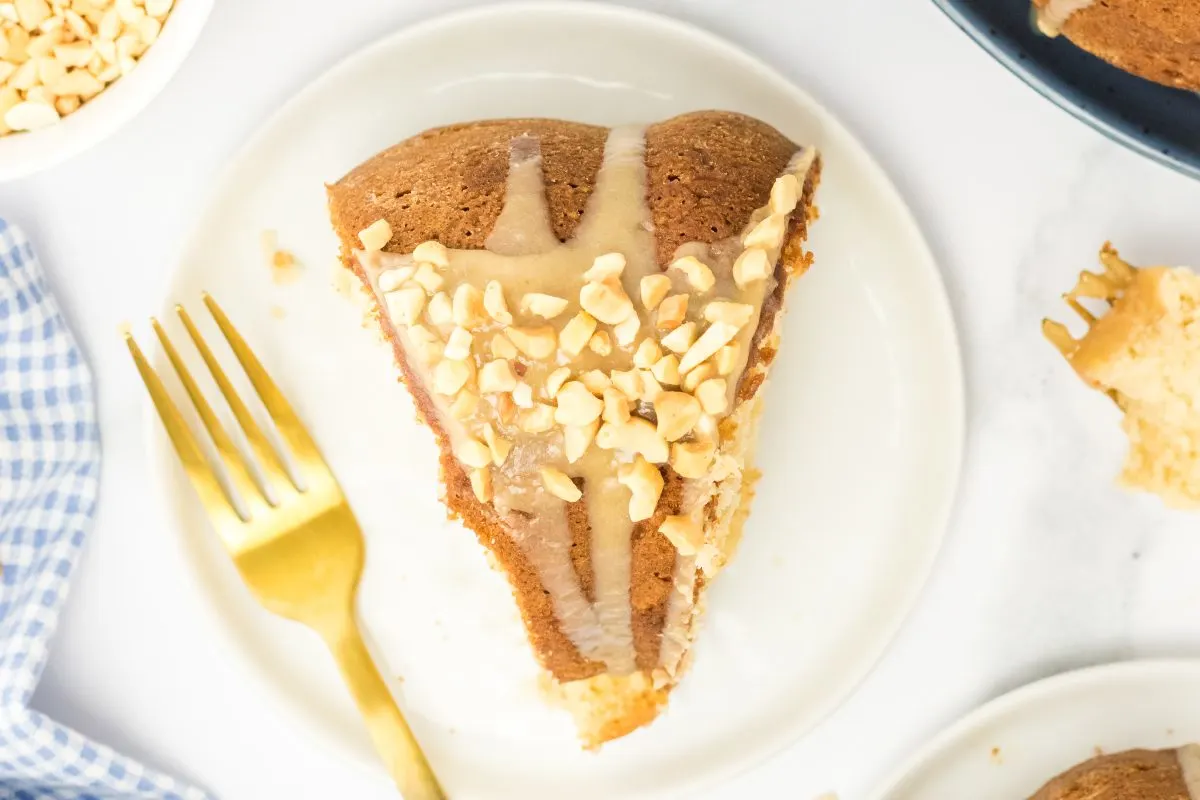 How To Store Peanut Butter Bundt Cake
Best Way to Store the Easy Peanut Butter Bundt Cake
Store leftovers, covered or in an airtight container, on the counter for up to 4 days.
Can I freeze this Peanut Butter Bundt Cake?
You can freeze this cake for up to 3 months. Store in an airtight container or cover completely with plastic wrap, then wrap in aluminum foil.
How to thaw a frozen Peanut Butter Bundt Cake?
To thaw, completely uncover the cake and place it on a serving dish. Thaw on the counter and enjoy it when it's at room temperature. The peanut butter drizzle may soak into the cake after thawing. You can mix some more glaze and spoon it over the thawed cake if desired.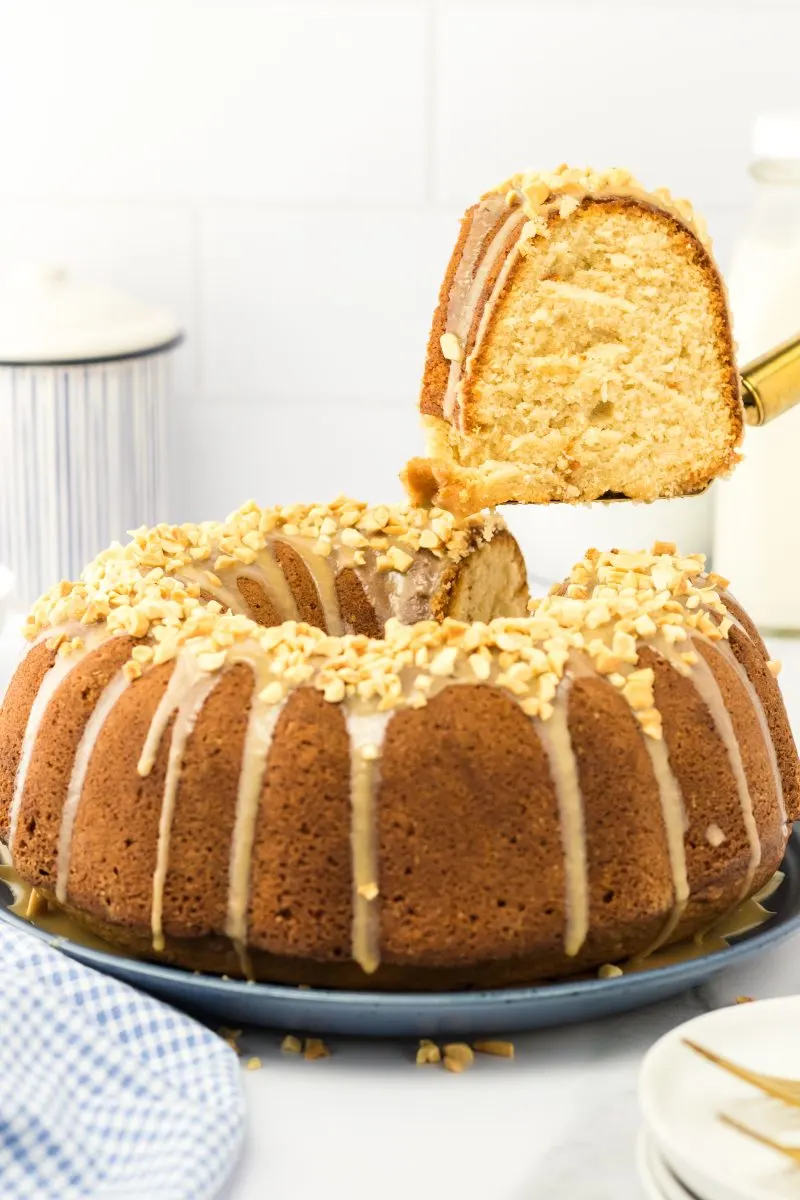 Variations and Substitutions
Some cakes cook better in a bundt pan because more of the cake is in contact with the pan, assuring that the cake cooks evenly. You can use any bundt pan, but ensure it has a 10-cup capacity. If you'd rather not use a bundt pan, our free pan conversion may be helpful.
Add Reese's pieces, peanut butter chips, chocolate chips, or butterscotch chips to level up your cake.
If you love the combination of chocolate with peanut butter, you can replace the peanut butter icing with a chocolate ganache, top with mini peanut butter cups, or add semi-sweet chocolate chips to the peanut butter cake batter.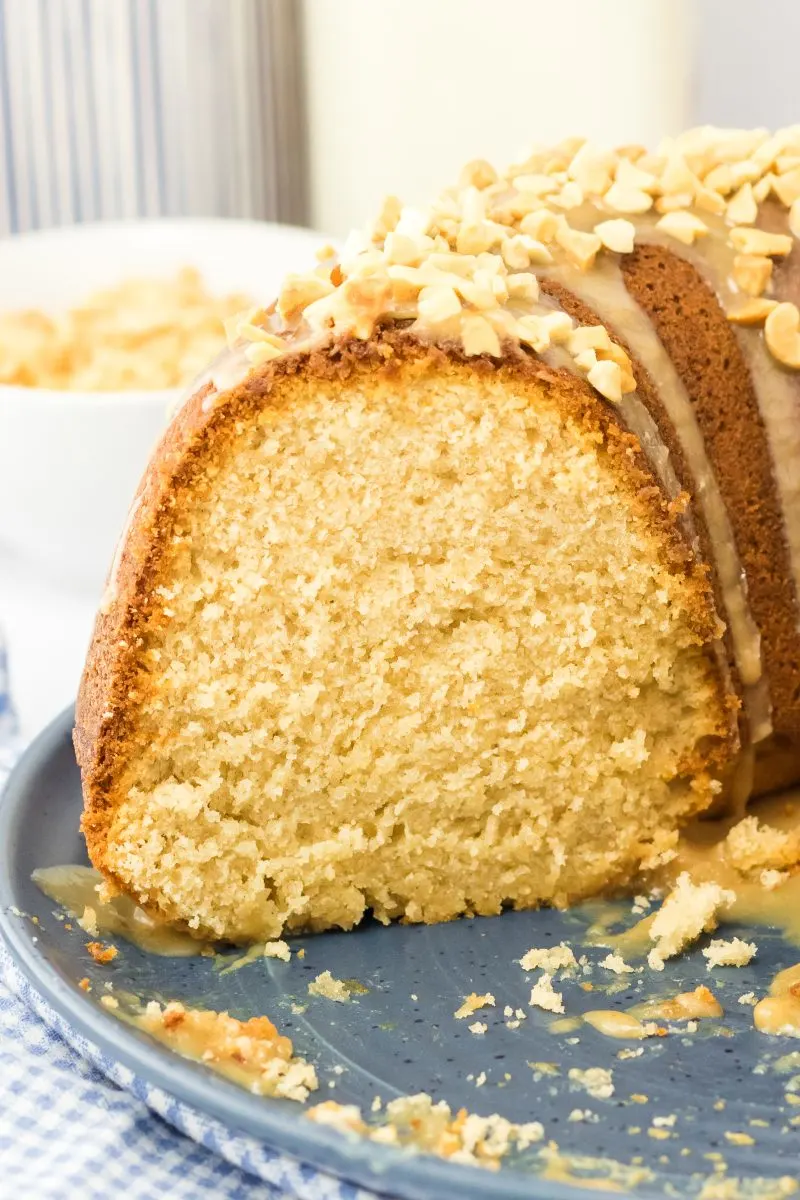 Hostess Tips for the Perfect Peanut Butter Bundt Cake Recipe
To make sure everything blends more evenly, the milk and eggs should be at room temperature.
Don't over-mix the batter. The liquid ingredients should be beaten until light and fluffy, but everything else is only mixed until incorporated.
Attention to detail will prevent your cake from sticking. Bundt pans have nooks and crannies, so make sure you grease and flour the pan thoroughly so that your cake does not stick to the sides and tear getting out. I get the best results using shortening instead of baking spray.
Set your bundt pan on a baking sheet so that removing the bundt pan from the oven is easier.
Turn the cake in the oven halfway through. Since it is a round cake, this will help it bake and brown more evenly.
Don't overbake the cake. When a toothpick or cake tester comes out with a few moist crumbs, it's ready. The cake stays in the pan for about 15 minutes to finish cooling, and it will set as it cools. Don't skip this step.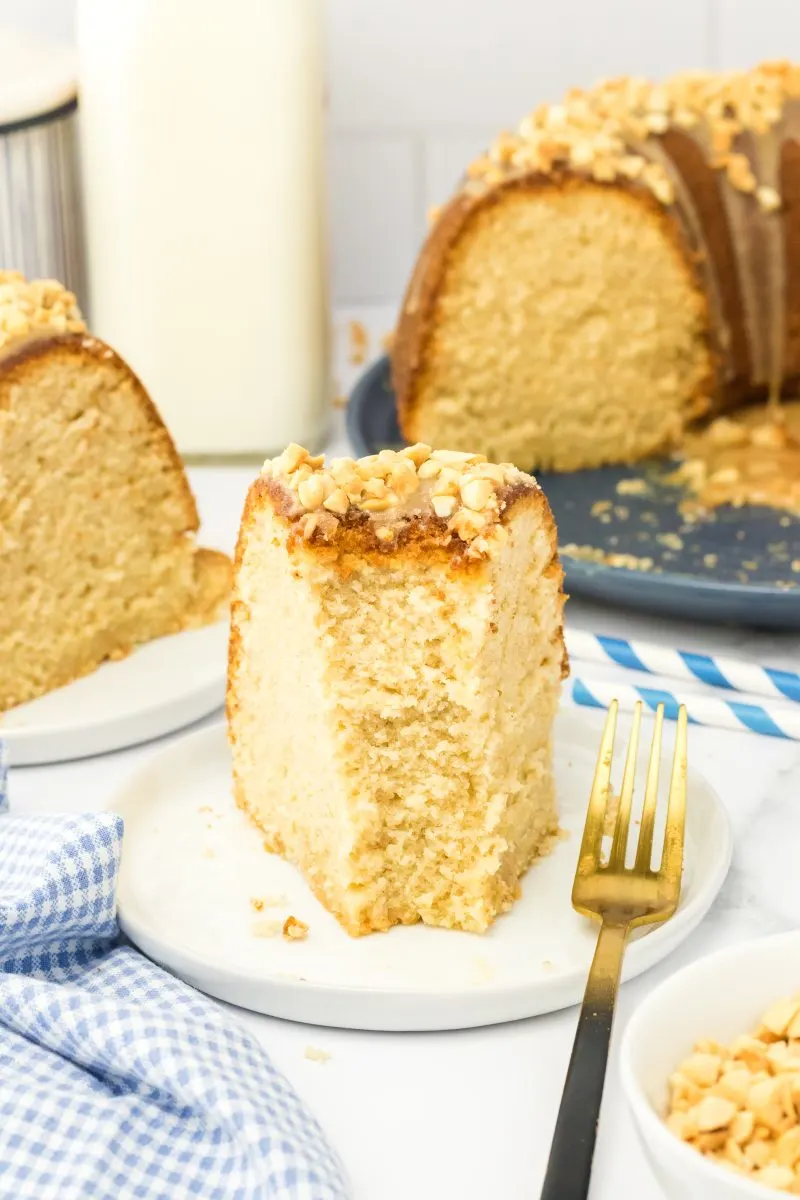 If you enjoyed this easy bundt cake recipe, I think you'll enjoy these too!
Bundt cakes are such an elegant addition to your table all year long! Try this lovely Gingerbread Bundt Cake during the Fall and Winter to bring warmth and spice to your dessert. Celebrate everything with this fun Pumpkin Bundt Cake. Try something different this summer with our fresh Peach Bundt Cake. Go full-on extra with this decadent Bananas Foster Bundt Cake. If you're looking for a chocolate bundt cake, this Raspberry Chocolate Bundt Cake is a family favorite.
I hope you enjoyed this delicious recipe as much as we do. Drop me a comment below, and don't forget to give it a star rating. ⭐⭐⭐⭐⭐. Your comments and ratings help others decide if this recipe is for them too.
Pin this amazing recipe!