Chocolate Charlotte Royal is a show-stopper dessert that is a soft cake and chocolate buttercream roll, filled with a smooth bavarian filling.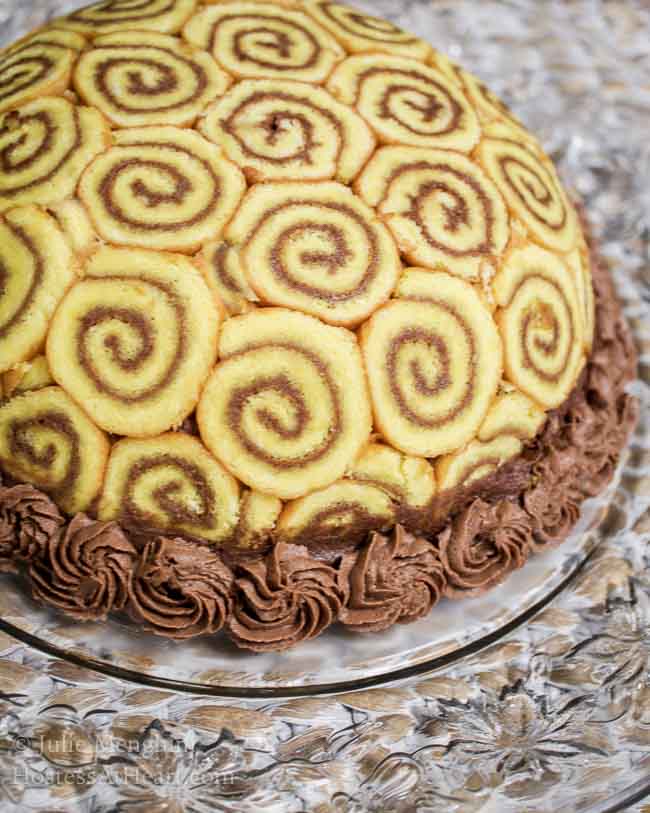 For the June daring bakers challenge, Rebecca from BakeNQuilt.com, challenged us to make Charlotte Royale and Charlotte Russe from scratch. Savory or sweet Charlottes were definitely tasty showstoppers.
I am really enjoying this group. So far almost every challenge has been something that I have never attempted. Many of the recipes are for items I probably wouldn't have otherwise attempted, and sometimes never even heard of. I've seen both the Charlotte Russe and the Charlotte Royal before, and decided to go with the Charlotte Royal.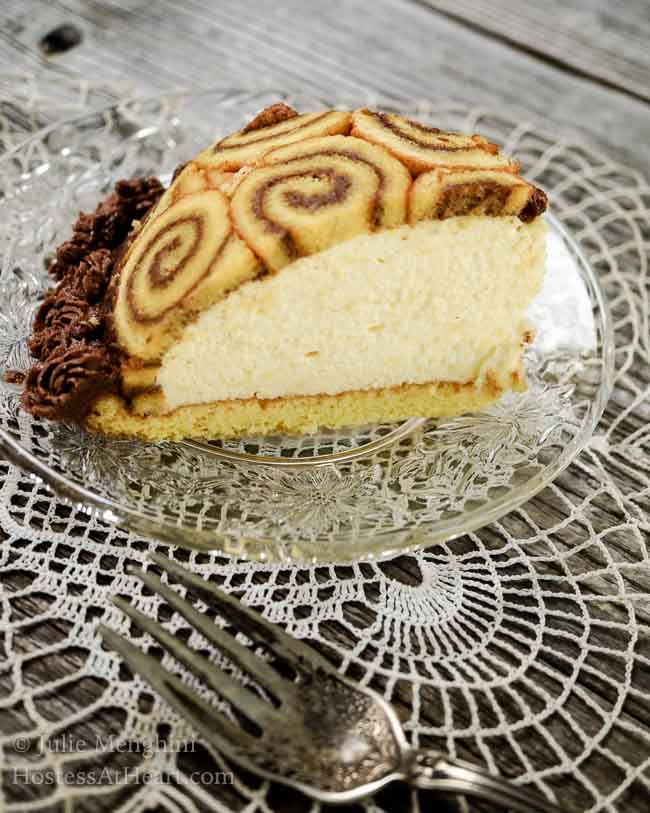 I shared this cake with the same group of friends that I shared my Esterhazy Torte with. They thought it would be an excellent idea to be my taste testers for all future challenges. That's why I cook and bake. Sharing with friends and family is my way of showing them how special they are to me!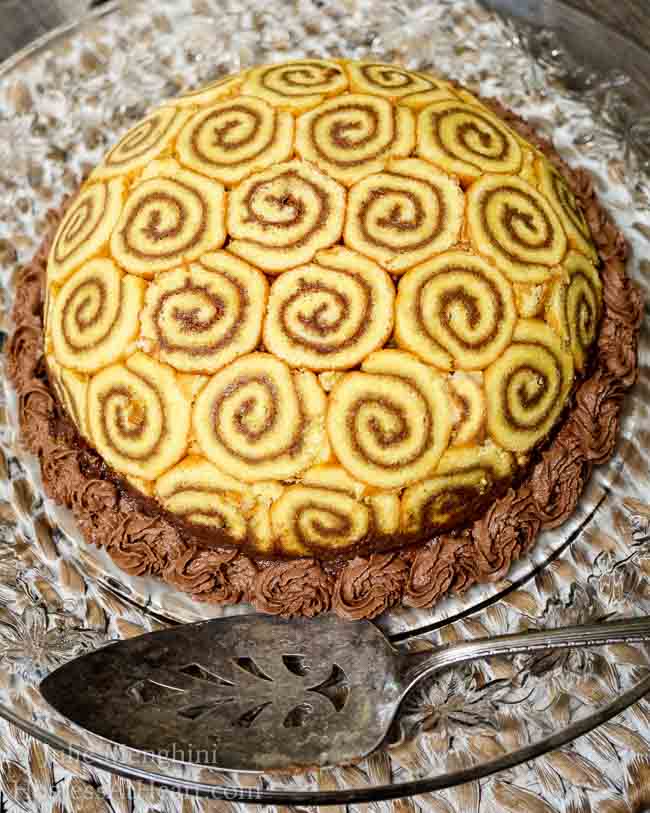 This cake is best completed over two days. It doesn't take that much time each day, but you need chill time. This challenge required that we follow a basic recipe, but the cake and fillings were our choice. So, guess what I choose? You got it, chocolate….and what goes with everything….Bavarian Cream! This cake was delicious. Moist, creamy and gorgeous.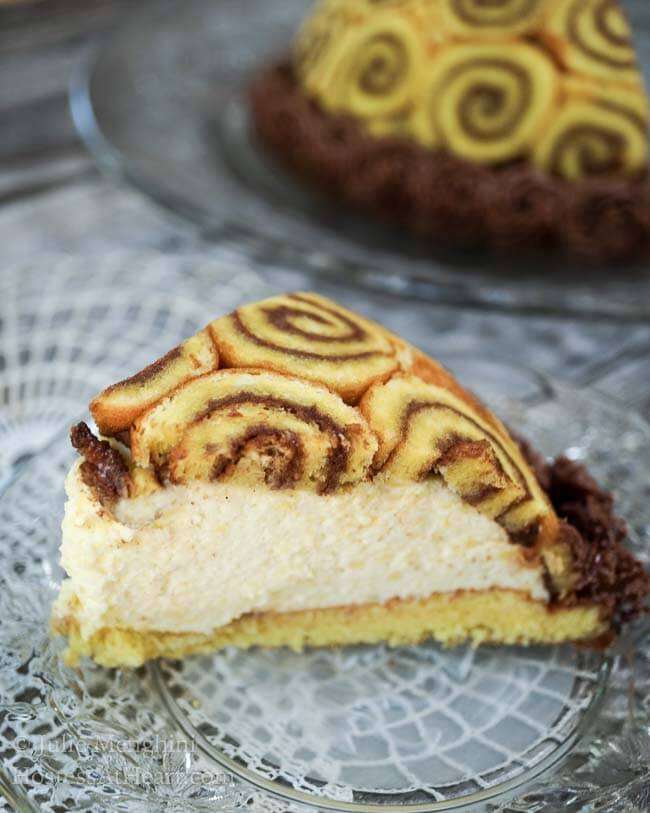 Chocolate Charlotte Royal
Chocolate Charlotte Royal is a show-stopper dessert that is a soft cake and chocolate buttercream roll, filled with a smooth bavarian filling.
Ingredients
Cake
1/3

cup

80 ml (1.16oz/33gm) sifted cake flour

3

tablespoon

45 ml (.8oz/23gm) unsifted cornstarch, preferably organic, non-GMO

4

large eggs

8oz/227g weighed in the shell, room temperature

1

large egg yolk

3 1/2 tsp/0.64oz/18g, room temperature

1/2

cup

plus 1 tablespoon

4 oz/113g sugar, divided

3/4

teaspoon

vanilla

1/4

teaspoon

cream of tartar
Chocolate Buttercream Filling and Decoration
1/2

cup

Crisco shortening

2

cups

1/2 pound powdered sugar

1

teaspoon

vanilla extract

1/2

cup

cocoa powder

water
Bavarian Filling
1/3

cup

80 ml (2.25oz/65gm) sugar

Pinch

of salt

1

tablespoon

3 teaspoons/.333 oz/9.3gm unflavored gelatin powder

3

large egg yolks

3.25oz/95gm

1-2/3

cups

400 ml milk

1

vanilla bean

split (you may also use extract/paste, but add it when the cream is cool)

1

cup

240 ml heavy cream
Instructions
Using a six cup round bowl, turn it over on a piece of parchment paper and draw and cut out a circle for the base of your Charlotte. It's best to have a deeper than wide bowl. Otherwise you may need to use a smaller bowl.

Position the oven rack in the lower third of the oven and preheat to 450 F/230 C. Grease a 17"x12" (43 x 30 cm) jellyroll or half sheet pan and line it with parchment paper. Grease and flour again or spray with nonstick cooking spray that contains flour.

In a small bowl combine the cake flour and cornstarch and whisk to combine.

Separate 2 of the eggs, placing the yolks in the bowl of a stand mixer, and the whites in a separate bowl. To the yolks, add the additional yolk, remaining two eggs and sugar. Beat with the paddle attachment on high for 5 minutes or until thick, fluffy and tripled in volume. Add vanilla.

Sift half of the flour mixture over the egg mixture and fold in gently with a whisk. Repeat with the second half of the flour mixture.

Beat the egg whites with the whisk attachment until foamy. Add cream of tarter and beat until soft peaks form. Add 1 tablespoon of sugar and beat until stiff.

Fold the whites into the batter and pour into the prepared pan.

Bake for 7 minutes or until golden brown and a cake tester comes out clean.

As soon as the cake has finished baking, slide it out of the pan onto a flat surface using the parchment to help move it. Flip the cake onto a clean dishtowel and carefully remove the parchment paper.

Place the parchment paper circle on one end of the cake and cut the cake in half horizontally, just wide enough for the circle. Cut the circle out using a sharp knife or scissors. Store circle and cake pieces in a air tight container or plastic bag.

While the cake is still hot, roll the remaining cake up tightly from the longest side with the darkest side on the inside. Rolled cake should be less than 2" (5 cm) in diameter. Cool in the towel on a cooling rack.

Prepare buttercream while cake cools by combining shortening, 3 teaspoons of water and extract. Beat on high until shiny, about 4 minutes. Add remaining ingredients and beat to combine. Add additional water to get a medium stiff cream.

Gentry unroll cooled cake. Add a very thin smear of the buttercream on inside of cake. If to thick it will bleed onto the outside of your spirals. Roll back together tightly. Wrap in plastic wrap and then foil. Freeze for at least two hours or overnight. Store remaining buttercream in the refrigerator.

Spray the inside of the 6" bowl with nonstick cooking spray. Line with plastic wrap, overlapping the sides.

Quickly slice frozen cake into 1/4 inch slices. You want to get as many slices as possible. Place first slice in the bottom center of your bowl, and remaining spirals as close to the center spiral as possible to prevent gaps. Continue placing spirals in rows until you reach the top or run out of circles. Plug any gaps with additional cake pieces and/or buttercream so your Bavarian Cream mixture doesn't leak through. Cover the lined bowl and refrigerate while you prepare the Bavarian Cream.

Place a fine strainer over a small bowl.

In a heavy saucepan, stir together sugar, salt, gelatin and yolks until well blended, using a wooden spoon.

In another small saucepan heat the milk and vanilla bean to just below a simmer (170°F/77°F/82°C). There will be steam rising off the milk and there may be some small bubbles but it will not be at an active simmer yet. Stir a few tablespoons of hot milk into the yolk mixture to temper it. Gradually add the remaining hot milk and vanilla bean, stirring constantly.

Heat the egg and milk mixture, stirring constantly, to just below a simmer again (170°F/77°F/82°C). Steam will begin to appear and the mixture will be slightly thicker than heavy cream. It will leave a well-defined track when a finger is run across the back of a spoon. If the mixture gets too hot (above 180°F/82°C), the cream can curdle. If this happens, immediately pour it into a blender and (with the vent open or a towel over the top) blend it to try to bring it back together smoothly.

Immediately remove from the heat and pour the mixture through the strainer, scraping up the thickened cream that settles on the bottom of the pan. Remove the vanilla bean and scrape the seeds into the sauce. Stir until the seeds separate.

If time allows, chill the pastry cream in the refrigerator for about 11/2 hours (checking frequently and stirring occasionally) until whisk marks barely begin to appear when stirred. For faster results, cool the sauce over an ice-water bath, stirring with a whisk, until whisk marks barely begin to appear. The mixture will start to set around the edges but will still be very liquid.

Whip the cream until it mounds softly when dropped from a spoon.

Fold in the whipped cream just until incorporated. The mixture will be soupy, like melted ice cream. Pour into a cake-lined bowl. Trim the cake spirals if needed, and place the cake circle over the top of the cream, touching the cake spirals. Refrigerate for at least 4 hours before unmolding. The flavor will improve as it sits, so letting it chill for 24 hours before serving will be even better.

To unmold, invert onto a plate and lift away the bowl, tugging gently on the plastic wrap to release it.

Pipe additional chocolate buttercream around the bottom of the cake if desired.

To prevent drying out, leave the plastic wrap in place until serving.

The Charlotte Royale must be assembled at least 8 hours ahead. Charlottes may be prepared as much as 3 days ahead. They also keep very well in the refrigerator, and can also be frozen for up to 3 weeks.
Nutrition
Serving:
12
g
|
Sodium:
37
mg
|
Calcium:
41
mg
|
Vitamin C:
1
mg
|
Vitamin A:
468
IU
|
Sugar:
34
g
|
Fiber:
1
g
|
Potassium:
117
mg
|
Cholesterol:
148
mg
|
Calories:
353
kcal
|
Saturated Fat:
8
g
|
Fat:
20
g
|
Protein:
5
g
|
Carbohydrates:
42
g
|
Iron:
1
mg
This recipe was calculated using the exact brands and measurements I used to make this recipe. If you are following a strict diet please note changing anything will cause the nutritional info to change. My calculations are intended as a guide only.
Cake, chocolate, bavarian filling, what more does one need? This cake is so pretty and isn't one that you see on every table. I will make this one again, and must give the Charlotte Russe a try too! It uses lady fingers to hold in all of that beautiful filling and is gorgeous too. I want to thank Rebecca for giving us such an enjoyable challenge, and please head over to her site, BakeNQuilt.com, for some great step-by-step pictures!