This Esterhazy Torte a.k.a the Hungarian dream takes some time to put together, but I'll guarantee you will not regret it after your first bite. It's definitely what sweet dreams are made of.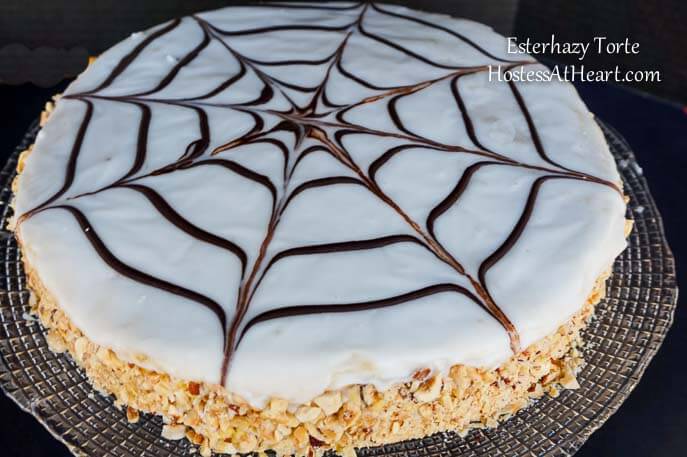 As a part of my new years' resolutions, I wanted to learn more about cooking. I know how to cook, but I wanted to push myself to learn some new techniques. I'd heard about a website called The Daring Kitchen that issues monthly challenges and joined immediately. This Esterhazy Torte taught me some new techniques and then some!
For the month of January, Jelena from A Kingdom for a Cake invited us to start this year with a dreamy celebration cake. She challenged us to make the Esterhazy cake a.k.a the Hungarian dream. What better way to start the year than with a sweet dream?


Being my first challenge, I was a bit nervous about how this torte would come out. I even did something totally crazy, I made it so we could share it with two other couples that weekend. What was I thinking? Talk about pressure!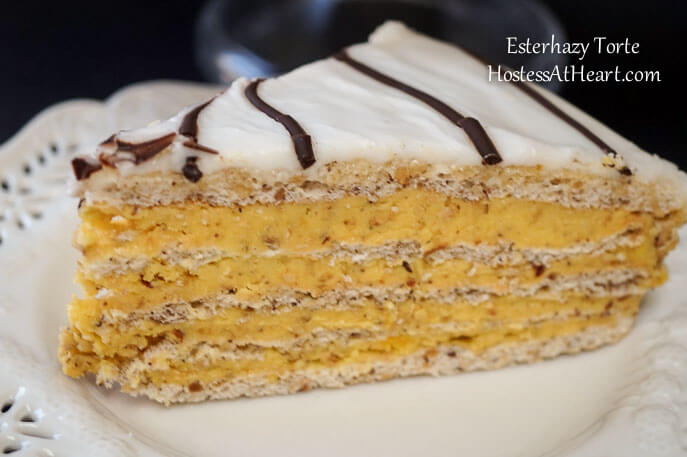 This is a very involved recipe. Make sure you have time to devote to it before starting it. Once you finish it, it has to rest in the refrigerator for 24 hours before you cut it. The great thing about it is you can spread out the steps over more than one day.
Don't have time to make it now?

Pin it

for later!
Esterhazy Torte
This Esterhazy Torte a.k.a the Hungarian dream takes some time to put together, but I'll guarantee you will not regret it after your first bite. It's definitely what sweet dreams are made of.
Ingredients
Hazelnut Cream

12

large egg yolks


1

cup

plus 1 tablespoon

250 gm caster (superfine) sugar


2

tablespoons

20 gm vanilla sugar


1-1/3

cups

300 gm butter at room temperature


1-1/2

cups

150 gm toasted ground hazelnuts
Apricot Jam Glaze

3

tablespoons

45 gm apricot jam


1

teaspoon

5 ml water
White Icing

3-1/4

cups

400 gm powdered sugar


2

teaspoons

10 ml neutral oil (sunflower, vegetable or canola)


3-4

teaspoons

15-20 ml lemon juice
around

4

tablespoons

hot water

60 ml
Chocolate Decoration

1/4

cup

50 gm dark chocolate


1

teaspoon

5 ml oil


3/4

100 gm roughly chopped hazelnuts
Hazelnut Sponge Layers
12

Egg whites

250

grams

Caster sugar

superfine, 1 cup plus 1 tablespoon

2

tbsp

Vanilla Sugar

2 1/2

cups

Ground Hazelnuts

2/3

cup

All Purpose Flour
Instructions
Hazelnuts

Roast hazelnuts on a baking sheet at 350° F until darkened and aromatic. Meat will become a caramel color. Watch carefully to prevent burning. Cook 15-20 minutes. Allow to cool.

Roughly chop 3/4 cup (100 gm). These will go around the cake at the end.

Grind remaining hazelnuts into 2 batches of 2-1/2 cups (250 gm) and 1-1/2 cups (150 gm) for the sponge layers and the filling. Don't turn them into nut butter just grind finely.
Hazelnut Layers (Dacquoise layers)

Preheat the oven to325° F. Don't use convection (fan).

With an electric mixer beat egg whites while gradually add the sugar and vanilla sugar for about 5 minutes until stiff peaks form.

Turn the mixer to the lowest speed and add in the hazelnuts mixture with the flour and beat until just combined. I split the mixture into 5 bowls because (I didn't trust my eye to do it evenly.)

Cut parchment paper into five squares large enough to draw a 10-inch circle (25 cm) in diameter on each of the squares.

Turn the paper over and place the paper onto an upside down baking sheet and delicately spoon inside the circle one-fifth of the beaten egg white mixture.

Bake for 14 minutes. It will look soft but you know it is done when it is no longer sticky to touch.

Remove from oven and slide paper to an even surface. Allow pan to cool before baking the next layer or use another baking sheet. Repeat for all 5 layers.

At this point, you can cover them with a linen towel and continue the next day or continue onto making the filling.
Hazelnut Filing

The filling is cooked in a double boiler. Fill the bottom of the double boiler with 1 inch (2 cm) of water and bring the water to a slow boil. Don't allow the water to touch the bottom of the top pan.

Beat the egg yolk and the sugar with an electric mixer in the top pan. Place over the top of the boiling water and cook for 14-15 minutes. Stir every 2-3 minutes for a short time with a wooden spoon, scraping the sides and bottom. Stir constantly near the end.

Let the filling cool.

Beat the cooked yolk mixture for 30 seconds with an electric mixer.

Beat the room temperature butter for 2 minutes until light and fluffy and then beat into the cooked yolks.

Add the ground hazelnuts and beat again until combined.

Set aside 3 tablespoons of the filling to spread around the torte at the end. Divide the rest of the filling into 4 bowls.

Line a large tray with some parchment paper.

Remove the parchment paper from one of the dacquoise and place it onto the upside down baking sheet. Spread filling evenly over the dacquoise. Place another layer on the top and repeat. Make sure that the last dacquoise is placed upside down and do not place filling on this surface.

Place parchment paper over the torte. Press evenly to smooth with your hands. Put another tray over the top of the torte and then place something heavy on top to allow the torte to level up. I used a pan filled half-full of water. Place the torte in the refrigerator for 1 hour.
Apricot Jam Glaze
Heat the apricot jam and water on the stove.

Remove the parchment paper from the top of the torte and spread the jam on top very thinly. Place the torte back in the fridge for 30 minutes to cool.

After 30 minutes, spread the reserved hazelnut filling around the torte.
White Icing and Decorative Chocolate Design
The chocolate needs to be prepared first so it is ready to go onto the icing while the icing is still wet.

Melt the chocolate with a teaspoon of oil. Mix until smooth. Allow to cool and spoon it into a piping bag with a small round tip or use a resealable plastic bag with the corner cut. Set aside.

By hand, mix the powdered sugar, oil, lemon juice while adding teaspoon by teaspoon of hot water, until the mixture is creamy, but not runny. Mix vigorously for a couple of minutes. You will have some icing left over, but it is better to have too much than not enough. If it spreads uneven, just turn on a hair dryer and heat the icing so it will smooth out a bit.

With a hot wet large knife, quickly spread the icing over the apricot layer.

Pipe 4 chocolate circles onto the cake, starting with the middle. Using a knife (not the sharp side) or a wooden skewer, run the knife or skewer toward yourself, turning the cake each time for a total of six lines.

Press the remaining crushed hazelnuts around the cake to complete the decoration.

Cover and let rest in the fridge for at least 24 hours before cutting
Notes
Store Torte in the refrigerator covered for up to 7 days.
Recipe adapted from Jelena, A Kingdom for a Cake
Nutrition
Serving:
12
g
|
Calories:
555
kcal
|
Carbohydrates:
65
g
|
Protein:
11
g
|
Fat:
29
g
|
Saturated Fat:
7
g
|
Cholesterol:
209
mg
|
Sodium:
107
mg
|
Potassium:
106
mg
|
Fiber:
4
g
|
Sugar:
53
g
|
Vitamin A:
427
IU
|
Vitamin C:
2
mg
|
Calcium:
71
mg
|
Iron:
3
mg
This recipe was calculated using the exact brands and measurements I used to make this recipe. If you are following a strict diet please note changing anything will cause the nutritional info to change. My calculations are intended as a guide only.
This cake gets better the longer that it sits. Jelena stated that it will last covered in the refrigerator for 7 days. Ours didn't last that long, but it was definitely delicious on the 5th day after I had first cut it.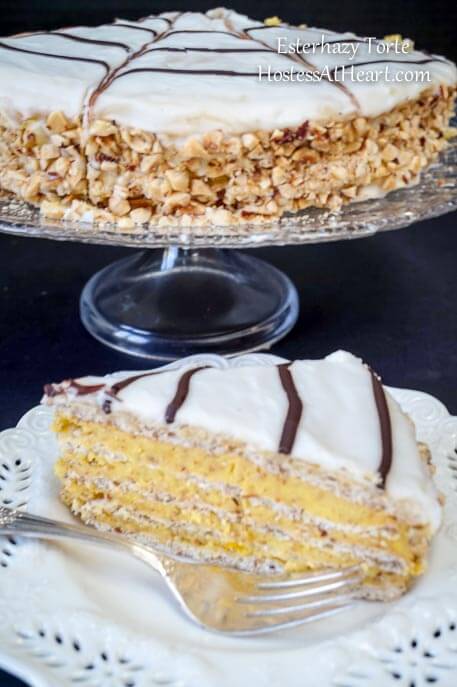 Let's keep in touch! You can find me on Pinterest, Instagram, Facebook, and Twitter! Better yet, enter your email address in the box below and never miss a recipe!