White Cheddar Meatballs are perfect for dinner or as an appetizer. These healthy baked meatballs have a delicious crunchy exterior and a tender cheesy center that contrasts perfectly with the sweetness of the bbq sauce glaze. They're guaranteed to disappear in a jiffy.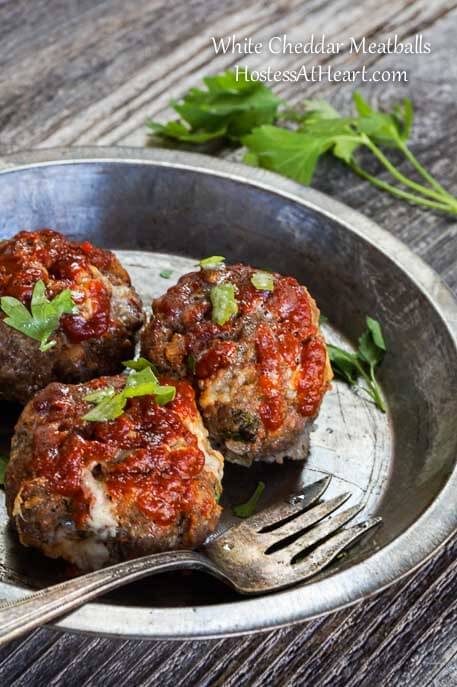 We love a recipe that can serve as multiple options. Baked White Cheddar Meatballs as a meal or as an easy appetizer.
I don't know of anything that says comfort food like meatballs.
You can make them large for the main meal, or smaller for an appetizer.
Another benefit is that you can make a small number or a large number and freeze them.
Regardless of the occasion, you'll love these Stuffed White Cheddar Meatballs.
Baked Cheddar Meatballs are something that I put together when I was losing weight.
Out of a pound of meat, I made 12 healthy meatballs.
Instead of cutting a big ole slice of meatloaf, I can have pre-portioned meatballs.
Served with a side salad or fresh veggies, these stuffed meatballs make a delicious meal.
You can also make them mini-size and serve them as an easy appetizer.
These meatballs are so good that they don't need to be drowned in sauce, and they're so easy to put together.
Cheddar Meatball Ingredients
Italian breadcrumbs – Plain will work as well
Onion – We use yellow onion but a white onion will work too.
Garlic cloves – Fresh garlic
Barbecue sauce – Use what you like. Hickory, Chipotle, Sweet etc.
Fresh parsley
Parmesan cheese
Dijon mustard – We love how smooth and creamy Dijon mustard is and while adding flavor doesn't take over the flavor profile the way yellow mustard can.
Dried oregano
Salt and Pepper
Cheddar cheese – White cheddar tastes like yellow. The difference is that there's less processing. Use what you like.
Ground Sirloin lean – You could use ground round or ground chuck.
Egg – Grade A
How to make meatballs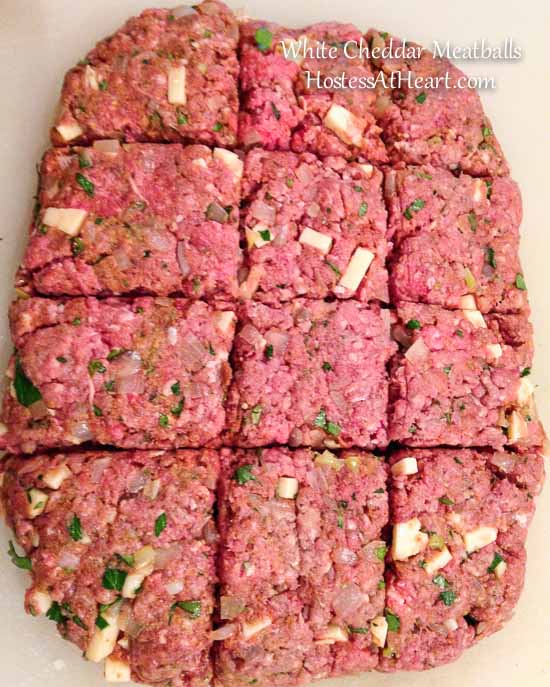 All of the ingredients were combined in a large bowl.
Form the mixture into a square and divide it into 12 even pieces. Some may have been a little smaller than others. I'll give those to John. He will not know.
Roll each square into a ball and place the meatballs onto a foil-lined baking sheet.
Glaze with BBQ sauce.
Bake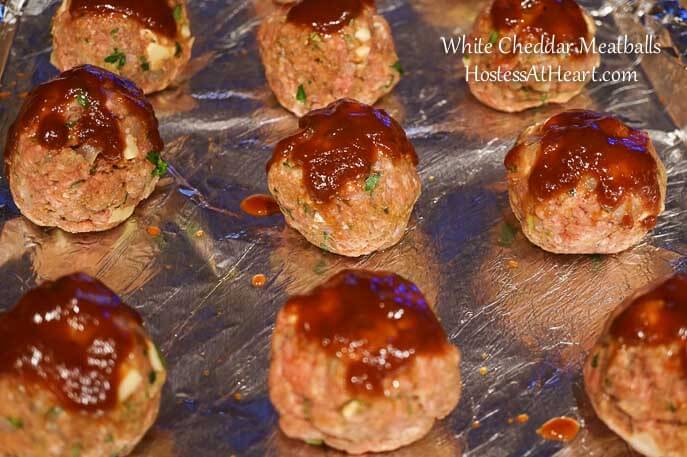 ---
Don't forget to

pin this

great recipe to your favorite Pinterest Board!
---
YOU MAY NEED
Hostess At Heart participates in affiliate programs. As an Amazon Associate, I earn a commission from qualifying purchases. Please refer to my disclosure page for more information about these affiliate programs.
Cookie Scoop
– I love using cookie scoops. They make all of my meatballs or cookies or cake balls all the same size. It makes my OC self happy.
Baking Sheets – These sheet pans are durable and I have four of them so I can get all of my cookies baked in a jiffy!
THERE ARE SO MANY GREAT WAYS TO MAKE MEATLOAF. HERE ARE A FEW MORE RECIPES YOU MAY LIKE
Don't forget to stop back and let me know how your cheesy cheddar meatballs turned out.
These meatballs taste like something that's going to be hard on the waistline. Instead, they're tender and delicious and baked with no guilt added.