Cheese Stuffed Meatloaf recipe is easy to make and guarantees delicious melted cheese in every bite. This is our family's favorite meatloaf!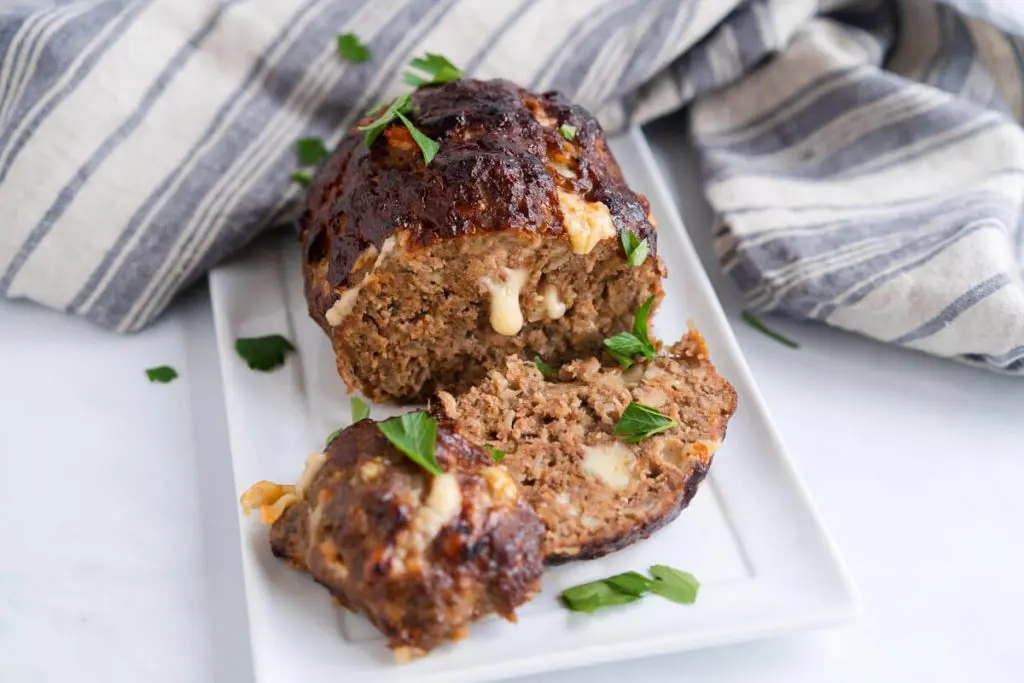 Cheese Stuffed Meatloaf recipe is tender and moist and will soon become your meatloaf recipe of choice.
This Meatloaf stuffed with cheese guarantees that every bite is filled with rich cheddar cheese and not a flavorless stick of string cheese.
We love the perfect balance of meat to cheese in this meatloaf recipe.
We also love the texture of this meatloaf. It's tender and juicy not dense and dry.
Meatloaf Ingredients
Beef – Ground Sirloin is what we use to create a tender meatloaf that's full of flavor. We usually go for an 85/15 lean ratio but use what you prefer.
Pork – We use two varieties of ground meat in this recipe. The addition of pork with the beef adds flavor as well as an additional fat that provides moisture. Make you use ground pork and not pork sausage!
Egg – We use Grade A large eggs in all of our recipes which give us consistent results.
Bread Crumbs – We usually use Italian Bread Crumbs, but plain will work too.
Grated Parmesan – Grated parmesan adds another flavor profile to this recipe.
Cheddar cheese – We use white cheddar but either is fine. Buy the block version and cube it yourself.

Pre-cut or pre-shredded cheese contains anti-clump ingredients which in our opinion dries out the cheese.
A delicious variation would be pepper jack or mozzarella. Use a cheese that will melt but isn't so soft that it disappears.

BBQ Sauce – This is an opportunity to add additional flavor and moisture. Use what you like such as hickory-smoked or a spicy blend.
Onion – We cook with yellow onion because they seem to sweeten as they cook. You can use a white onion or sweet Vidalia. Use what you like.
Garlic – Adds a well-balanced flavor.
Seasoning – We used dried oregano, salt, and pepper in this meatloaf. You could add a seasoning or seasoning blend such as Italian seasoning too.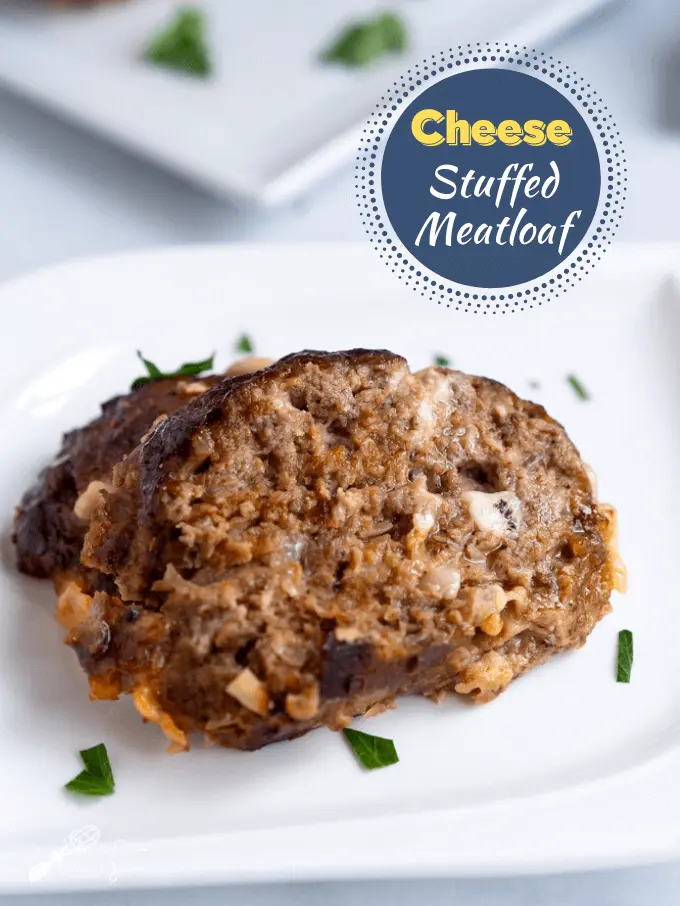 Tips for creating the perfect Meatloaf with Beef and Pork
The biggest problem I see is that people overwork meatloaf ingredients together. This creates a dense grainy meatloaf. You only need to mix until the individual ingredients are combined.
Use room temperature ingredients. This helps meld the ingredients together and you will be less likely to overwork the ingredients.
Using ground sirloin and ground pork creates a tender and moist meatloaf because of the richness of the ground sirloin and the fat in the ground pork.
We dice our cheddar cheese so each bite has cheesy goodness and not the cheese blob that using string cheese or thick strips do. Keeping our pieces at a fairly good size keeps the cheese from disintegrating into the recipe.
Glazing the meatloaf with barbecue sauce provides a great crust and flavor to each slice.
We make two meatloaves with this recipe. That allows them to bake evenly and quicker. It also allows us to put one in the freezer for another day.

You could also make one large loaf, meatloaf minis, or meatballs with this recipe.

We cook our meatloaf over a broiler pan. This allows the fat drippings to drain as it cooks instead of sitting in a layer of fat as it cooks.
Let the cooked meatloaves rest for 10 to 15 minutes prior to slicing. This assures that the juices don't run from the loaves when sliced, leaving you with a moister and flavorful meatloaf.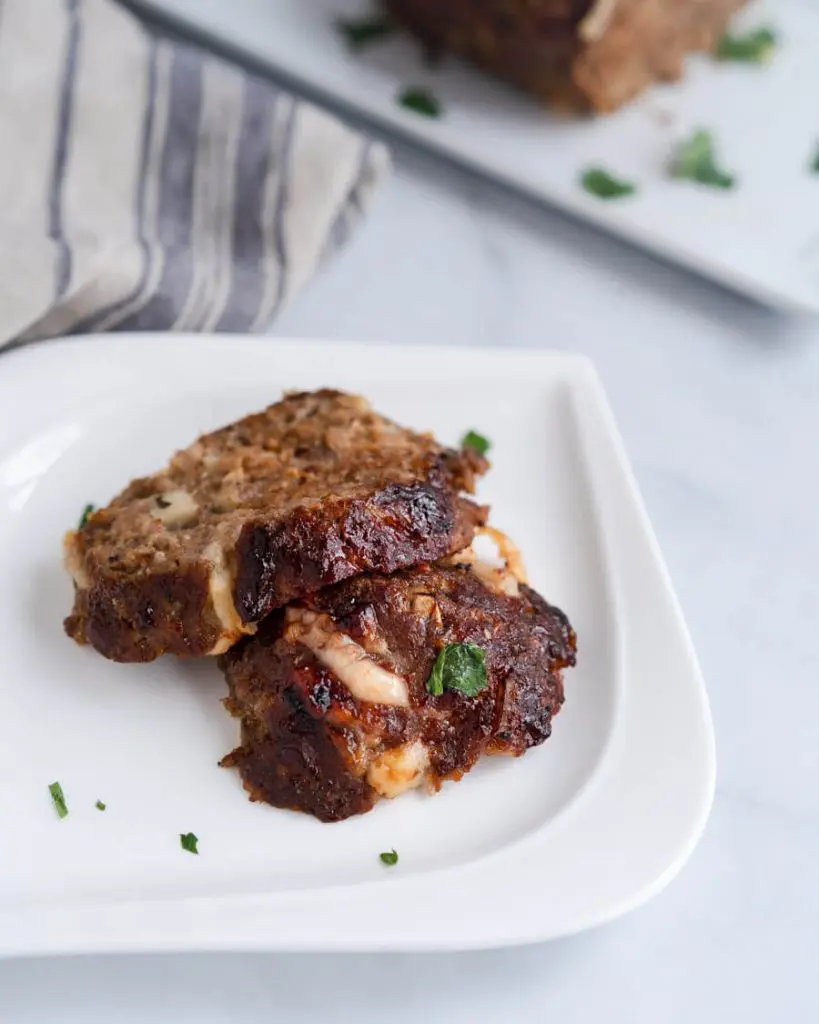 How to make Stuffed Meatloaf
Coat a 10-inch skillet with olive oil or neutral cooking oil and brown the onion. As soon as the onion begins to soften and starts to turn golden brown, add the garlic. Remove from the heat and set aside.

We saute the onion which makes it sweeter. You could add raw onion to your meatloaf mix if you choose to.

In a large bowl, combine the meat, egg, 1/2 cup of the bbq sauce, bread crumbs, parmesan, and seasonings. Mix until just combined.

We use our hands or a wooden spoon for mixing.

Fold in the diced cheddar cheese.
Shape the loaves. We make two loaves so they cook evenly and quicker. Plus, we can eat one and put one in the freezer for another day.
Spray a broiler pan with non-stick spray and add the shaped loaves.
Bake uncovered for 45 minutes and then glaze with reserved bbq sauce. Bake for an additional 15 minutes or until the meat registers 160°F when tested with an instant-read thermometer.
Let the meatloaves rest for 10 to 15 minutes before slicing.

If you cut the meatloaf right away, the juices will run from the meat leaving it drier. Letting it rest assures that the juices are soaked back up into the meat.
Still looking for more meatloaf or meatball recipes?
Pin this amazing Cheese Stuffed Meatloaf recipe!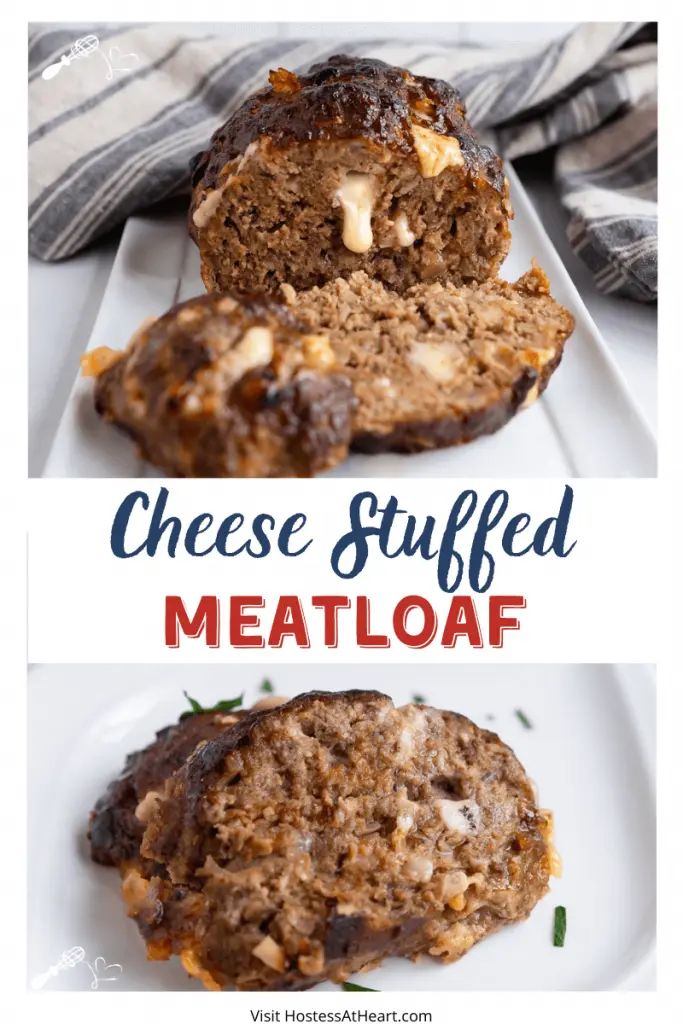 The perfect side dish!
You can find all of our side dish recipes here!