Hershey's Chocolate Syrup Cake is a beautifully simple cake to make. The deep chocolate syrup center makes a delicious surprise without any fancy techniques making it perfect for any occasion.
This post was originally posted in 2015 and has been updated to improve our readers' experience.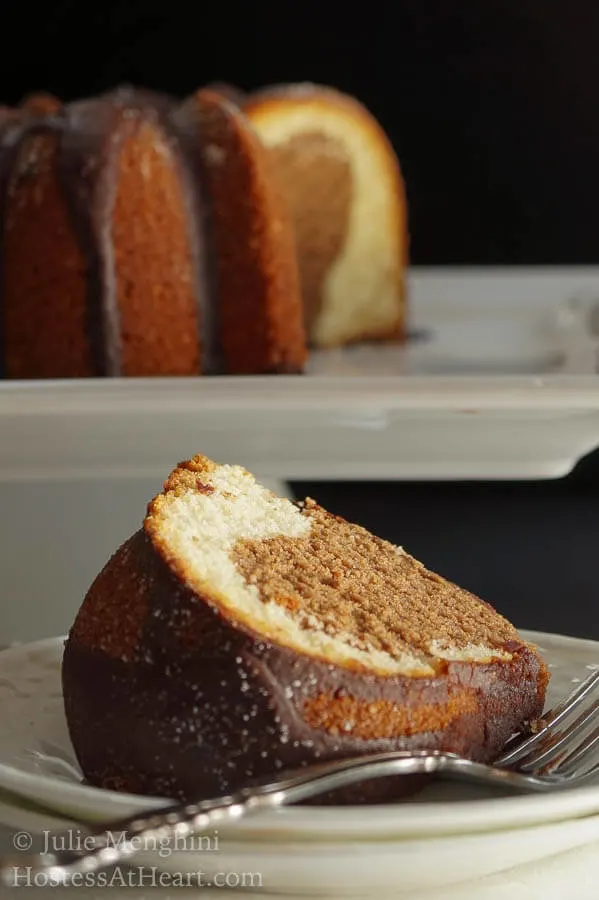 Imagine everyone's surprise when you lift that delicious piece of Hershey Syrup Cake with that chocolate center. This cake is an old recipe that still works today for any occasion.
What you need to make a Hershey's Syrup Chocolate Cake recipe
Hostess At Heart participates in affiliate programs. As an Amazon Associate, I earn a commission from qualifying purchases. Please refer to my disclosure page for more information about these affiliate programs.
Hostess At Heart participates in affiliate programs. As an Amazon Associate, I earn a commission from qualifying purchases. Please refer to my disclosure page for more information about these affiliate programs.
Butter. Salted butter was used in this recipe.
Eggs. Large grade A eggs are what I use for consistency in my baking.
Sugar. White granulated sugar.
Salt. Ordinary table salt.
Vanilla. Pure is my preference but imitation works well in this recipe too.
Milk. Whole milk is what I use in baking but any variety including almond milk works fine.
Flour. All-purpose flour.
Baking powder. Make sure it's fresh and still active. See how to test it here.
Chocolate Glaze Ingredients
Powdered sugar. Also called confectioners sugar.
Cocoa powder. Any variety. I like this cocoa for baking and my glazes.
Butter. Salted or unsalted.
Milk. Any variety including almond milk.
How to make Chocolate Syrup Cake
1st Step: Prep
Preheat the oven and grease and prepare the cake pan. (I cover this below)
2nd Step: Prepare the batter
In the bowl of an electric mixer, cream the butter and sugar together until light and fluffy. 3 to 5 minutes. Add the eggs and mix until completely combined.
In a separate medium-sized bowl whisk the flour and baking powder together.
Alternate adding the milk and the flour mixture to the creamed butter mixture with the mixer running on low speed.
3rd Step: Assemble
Pour half of the batter into the prepared cake pan.
Add the Hershey's syrup and salt to the remaining batter in the mixing bowl and mix until combined.
Pour the chocolate batter over the top of the first layer in the cake pan.
4th Step: Bake
Cover the pan with foil and bake for 20 minutes.
Remove the foil and continue baking for 40 minutes or until the cake tests done.
Set the cake on a cooling rack for 15 minutes.
Remove the cake onto a serving plate.
5th Step: Prepare the glaze
Prepare the glaze by sifting powdered sugar and cocoa together. Stir in butter and milk. Set the bowl over a pan of hot water. Stir until the glaze is smooth, adding more milk to thin the glaze if necessary.
Drizzle the glaze over the cake with a large spoon. Dust with additional powdered sugar if desired.
Glaze Variations
I used a delicious chocolate glaze on this cake and just drizzled it on. You could simply just dust it with a little powdered sugar as well.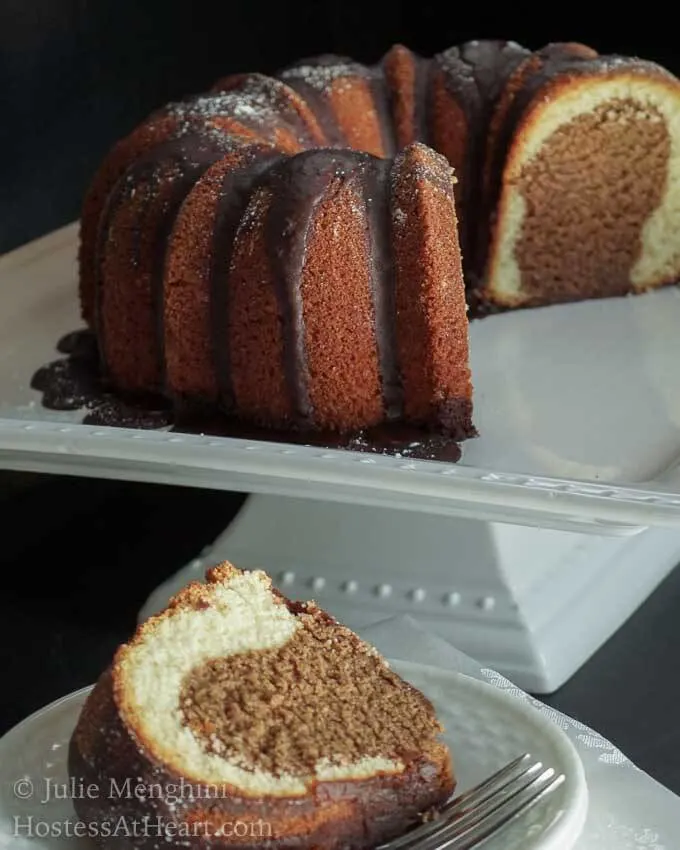 Tips for the perfect Hershey Syrup Cake
Don't over mix the batter. This being said, make sure your butter and sugar are light and fluffy and then everything else is only mixed until incorporated.
Properly prepare the pan before filling. Bundt pans aren't hard to cook in, but if the pan isn't properly prepared, your cake will stick to the sides and tear getting out. I show you my favorite way to prepare the pan below.
I usually set my bundt pan on a baking sheet which makes inserting and removing the bundt pan from the oven so much easier.
Turn the cake in the oven halfway through. Even the best ovens can bake unevenly from front to back.
Don't overbake the cake. When a toothpick or cake tester comes out with just a few crumbs, it's done. Since this cake stays in the pan to cool for about 15 minutes, it will continue to set as it cools. Don't skip cooling the cake in the pan.
FAQ's
Why use a bundt pan?
Some cakes cook better in a bundt pan because more of the cake is in contact with the pan assuring that the cake cooks evenly. The center of some denser cakes such as a pound cake would have trouble getting the center cooked if placed in a round cake pan.
We love using a bundt cake pan with this recipe because it dramatically shows off that hidden center.
What is the best way to prepare a bundt pan? (Besides praying.)
You can use a paper towel or a pastry brush and coat the pan with butter or shortening. Add flour (about 1⁄4 cup) and gently tap and rotate the flour around the sides to make sure the surface is completely coated.
My second favorite way to grease a Bundt cake pan is what I learned in a cake decorating class I took several years ago. It combines the grease and flour together and you can make as much as you want. I store it for about 6 months at room temperature. This is how it's done.
Homemade Pan Release: Take an even amount of flour, vegetable oil, and shortening and blend it together until it becomes a smooth paste. Apply this mixture evenly over the inside of the pan with a brush or paper towel.
How long do you let a bundt pan cool?
Cool the bundt cake over a cooling rack for 10 to 15 minutes. You don't want to overdo this because it can adhere to the sides.
Release the cake – I check the edges to make sure that the cake has been released from the side of the pan. You can use a sharp knife if there are any edges still attached. I then cover the top with a serving plate and flip it over. You can gently shake it to release it as well.
Storing Leftovers of the Hershey Syrup Chocolate Cake
Keep the leftover cakes in an airtight container on the counter for 2 to 3 days or in the fridge
for up to 5 days.
You can also freeze individual gingerbread cake slices by wrapping each piece in parchment paper like you would a present, and then putting it into a freezer-safe baggy. Thaw for thirty seconds or so in the microwave to serve.
I hope you enjoyed this delicious recipe as much as we do. Drop me a comment below, and don't forget to give it a star rating. ⭐⭐⭐⭐⭐. Your comments and ratings help others decide if this recipe is for them too.
If you enjoyed this Chocolate Syrup Cake recipe, check out these!
When my in-laws moved to an independent living facility, I was the benefactor of my mother-in-law's recipe box. This box is a piece of art. It was made by my father-in-law who still whittles at 93 years of age. He also hand-carved the lettering. He made one for me years ago too.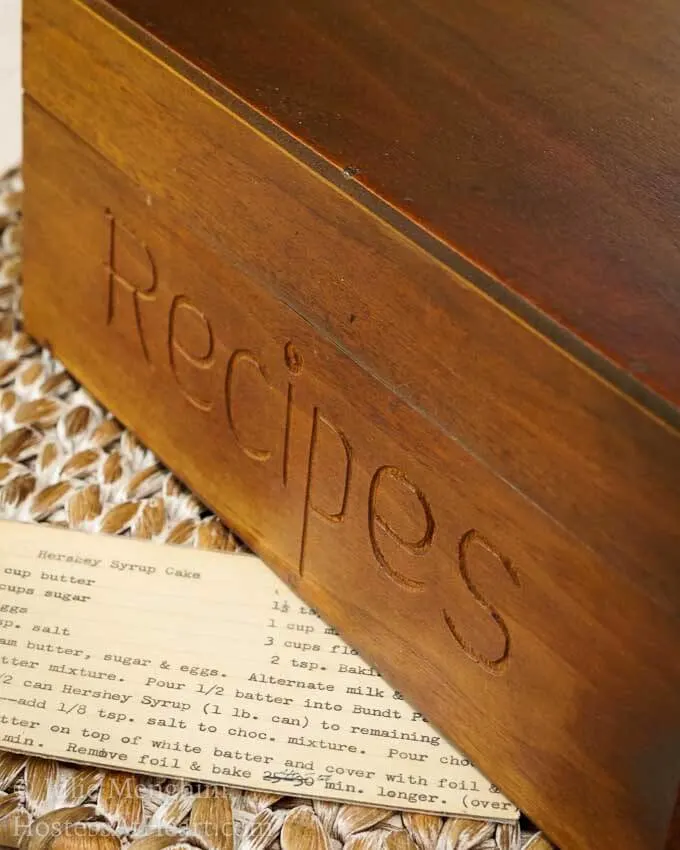 The thing that I love about my mother-in-law's recipe box is that it is full of recipes that represent the dishes that she made for her family.
Some of these recipes come from the family that spans more than 90 years, and some recipes are those that we copied from our favorite brands, such as this Hershey's Chocolate Syrup Cake. She also gave me her heavy metal bundt pan that she purchased just for this recipe. Nothing sticks to that pan!
My husband John stated that this was often his mother's go-to cake, so I thought it would be a special surprise when we had them over on Father's Day. I went to Hershey's website and didn't find this particular cake. The recipe card has her friend's name on it so either Hershey's retired it or it was created by her friend.
Either way, it was definitely a great surprise to them. This cake was easy to make and delicious to eat. I also served it with a bit of vanilla ice cream. How can you have cake without ice cream? Don't answer that. I don't intend on trying anyway.
When you cut into this cake, you get the two-toned crumb that makes it look like you went to a lot of work. Go ahead, dab that brow and bake this cake for your loved ones.