Tradition is important, but a little twist on tradition can be a very good thing. My Hersheys Kiss Cookie Recipe brings a unique spin to this classic blossom or thumbprint cookie. Nostalgia aside, these peanut butter-free cookies taste amazing and make us all feel like kids again.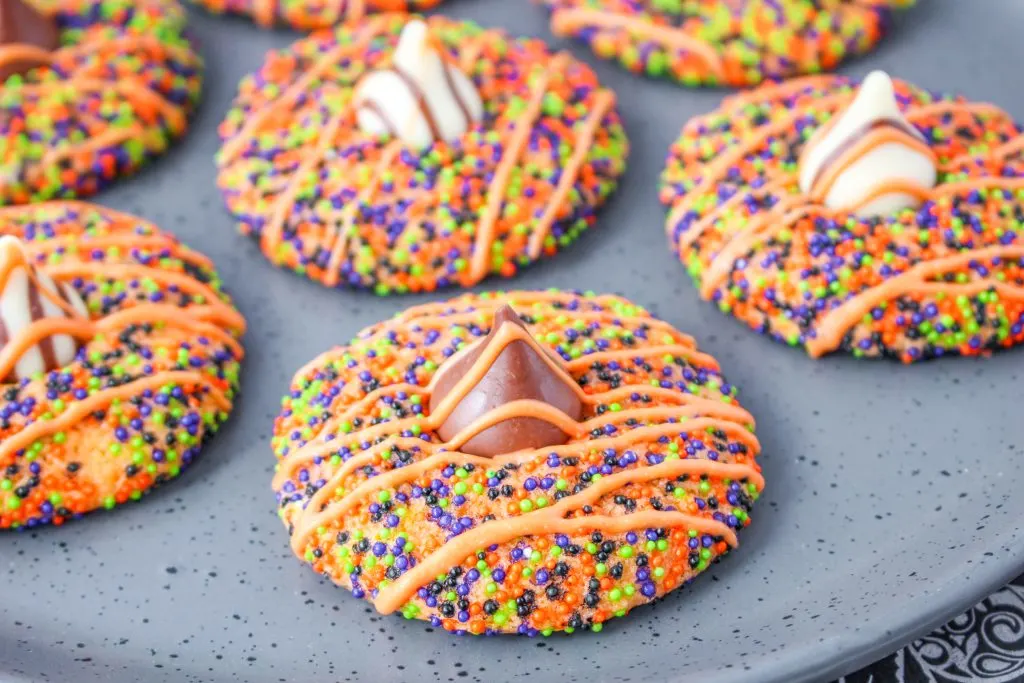 Gorgeous Halloween sprinkles and a touch of melted candy drizzle make this cookie a treat for the eyes as well as the mouth. Make these Hershey's Kisses Cookies for your next class party, grandbabies, company meeting, or the group of teens crashing your house to hang out.
Why You'll Love These Hershey's Kisses Cookies
Allergy Friendly. Unlike peanut butter blossom cookie recipes, this recipe doesn't contain nuts, so it is safe for people with nut allergies. Note: At the time this post is being written, Milk Chocolate Hershey's Kisses are produced in a factory that is peanut-free and tree-nut free. However, that can change at any time. If you plan to serve these to someone with a peanut allergy you should read the label on your package just to be sure and look for an AIS Statement for possible cross-contamination.
Customizable. Change up the thumbprint cookie by changing up the type of Hershey's Kiss you use.
Kid-Friendly Recipe. Get your little ones involved with unwrapping the candies and placing a chocolate onto each cookie. It's such a wonderful bonding experience to bake with your children.
Ingredients For Your Hershey Kiss Cookie Recipe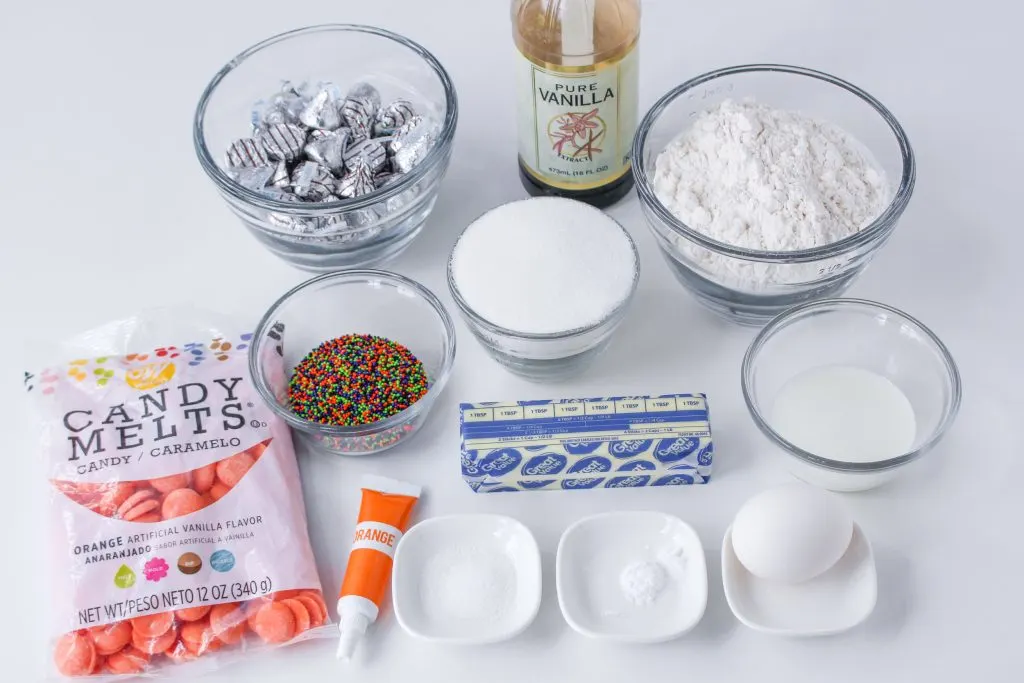 All-Purpose Flour. Use a one-for-one gluten-free flour for this recipe to make it even more allergy-friendly.
Baking Soda. Make sure you don't have old baking soda or your cookies won't rise. Your box needs replaced every six months or any time it absorbs moisture or odors.
Salt. You just need a bit for the chemistry of this cookie to work.
Unsalted Butter Softened. If you don't keep unsalted butter in your refrigerator, don't add salt to the cookies.
Sugar. White granulated sugar.
Egg. We buy large Grade A eggs.
Vanilla Extract. I always try to keep an extra jar of this on hand because we go through it so quickly! Especially near the holidays, make sure you have it in the house.
Milk. An unsweetened dairy-free substitute will work.
Brightly Colored Sprinkles. In your theme of choice. Customize these for any holiday or party!
Hershey's Kisses. You can pick your favorites!
Orange Food Coloring. This cookie is so covered in sprinkles your guests might not even notice the bright orange color until they take their first delightful bite.
Orange Candy Melts. For the drizzled effect.
Tools You'll Need For The Hershey Kiss Cookie Recipe
Hostess At Heart participates in affiliate programs. As an Amazon Associate, I earn a commission from qualifying purchases. Please refer to my disclosure page for more information about these affiliate programs.
Please note, that the printable recipe card has ingredient quantities, complete instructions, and nutritional information. The following is a quick overview of the recipe.
How To Make Hersheys Kiss Cookies
You'll love how easy it is to make cookies from scratch. For me, it's almost therapeutic. Getting in the kitchen and making goodies for the people you enjoy is worth the extra effort.
Step 1: Get everything ready.
Preheat your oven and either line the baking pans with parchment paper or spray them with non-stick spray.
Step 2: Mix the dry ingredients.
Set aside.
Step 3: Cream the butter and sugar.
First, beat the butter to get it nice and fluffy. Then cream the butter and sugar.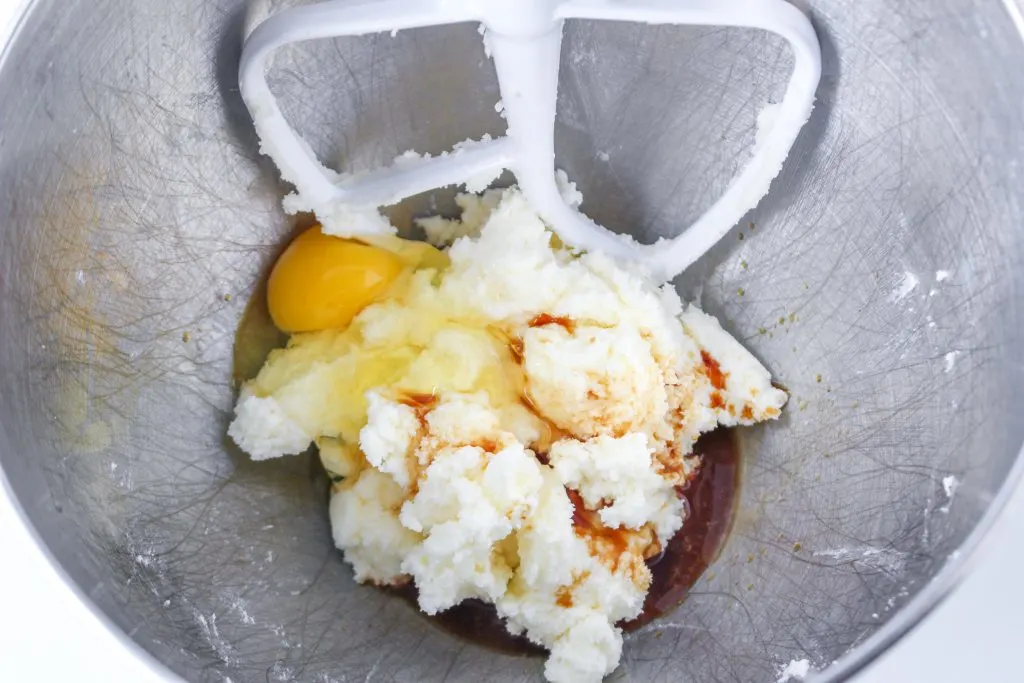 Step 4: Put it all together.
Add the eggs and vanilla and beat again. Then add the flour mixture a little at a time until fully incorporated.
Step 5: Finish by adding the milk.
Add just a little at a time until you get the right consistency.
Step 6. Prep the cookies.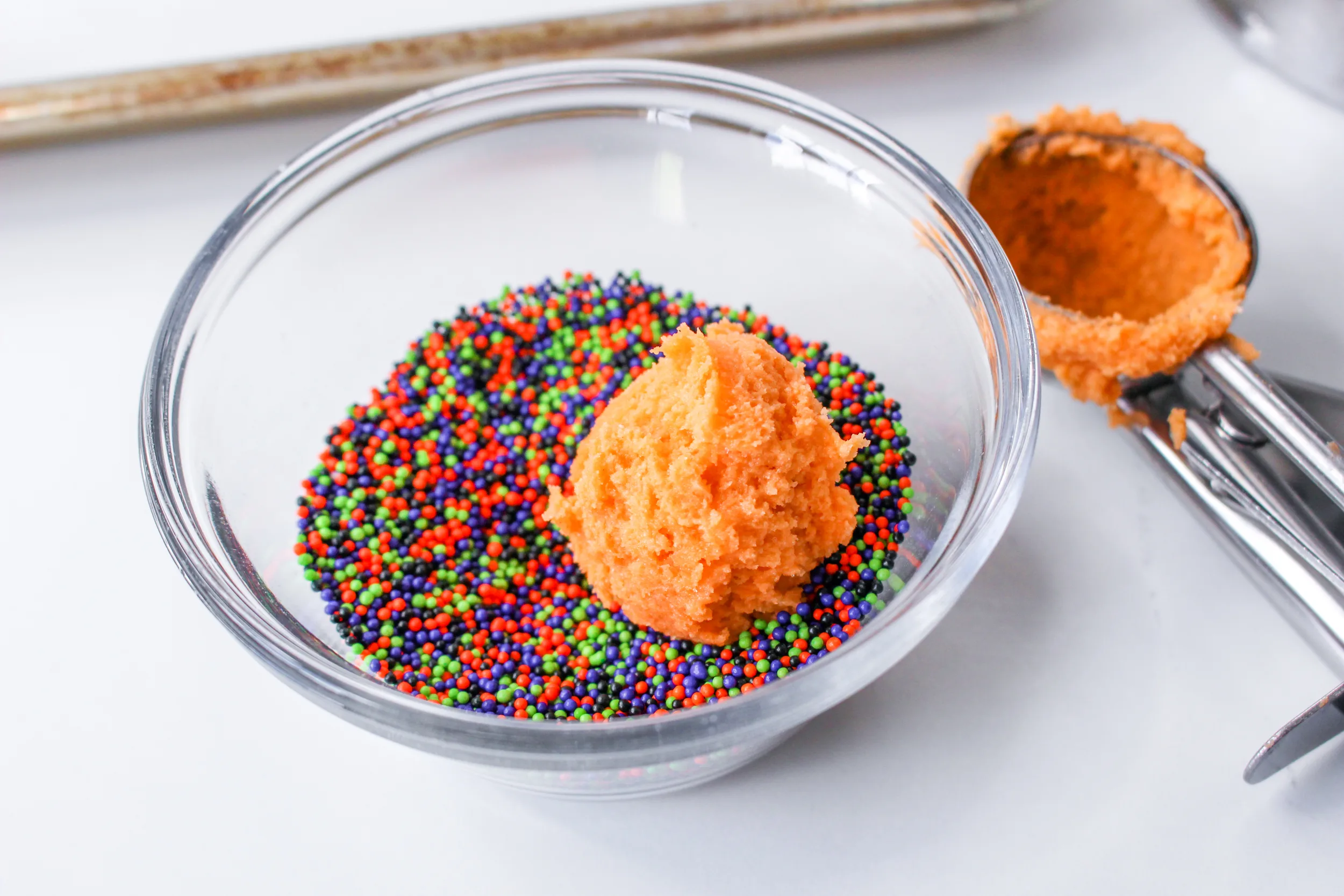 Scoop the dough to portion it. Roll the cookies into balls. Roll the balls in sprinkles. Place them one inch apart on a baking sheet.
Step 7. Bake the cookies.
Do not overbake.
Step 8. Add the chocolates.
Press a Hershey's kiss onto the center of each cookie gently.
Step 9: Cool.
Set the cookies on a cooling rack and leave them until the chocolates are fully set.
Step 10: Drizzle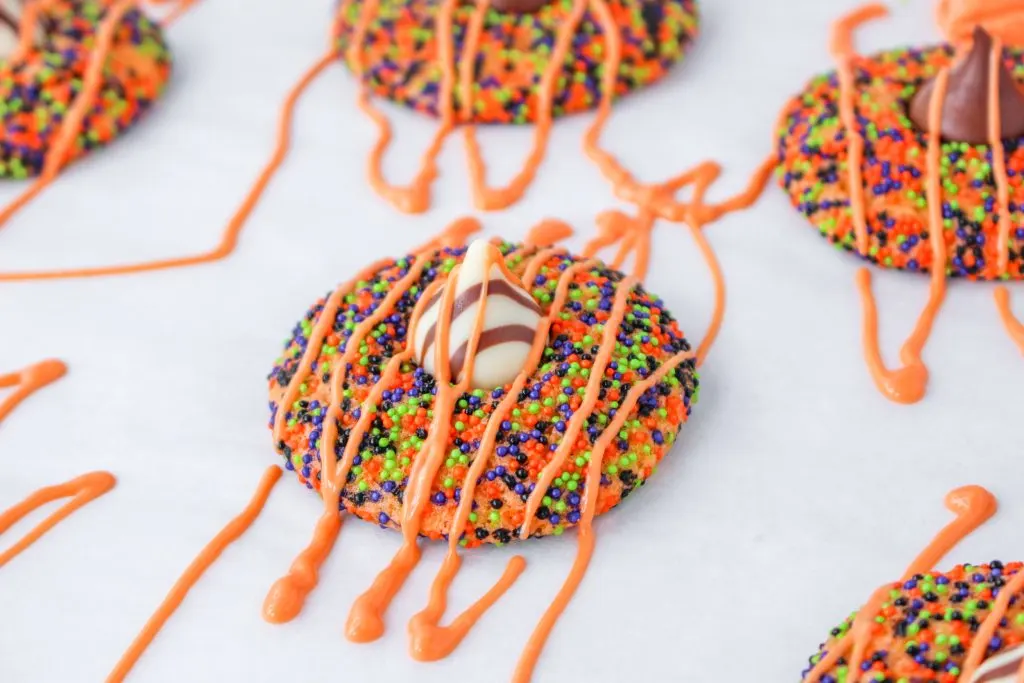 Melt the candy melts in a piping bag or reclosable zip bag. Drizzle the cookies after they've completely cool.
Hershey Kiss Cookie Variations & Additions
Use another variety of Hershey's Kiss which include: caramel, Special Dark, hazelnut
(deluxe), birthday cake, cookies'n'cream, milk chocolate almond, and white chocolate
(Hugs).
Leave or change out the sprinkles for another festivity or holiday.
Roll in nuts or coconut.
Want more delicious recipes? Follow Hostess At Heart on Pinterest!
How To Store Hershey's Kiss Cookies
Best Way To Store Hershey Kisses Cookies Leftover
If you have extra cookies, you can place them in a plastic storage bag or airtight container to keep them fresh for up to five days at room temperature.
Can I Freeze Hersheys Kiss Cookies?
Yes. Freeze cookies in an airtight container for up to three months or more. Easy after-school snacks!
How To Reheat Hershey Kisses Cookies without Peanut Butter
If the cookies are a tiny bit stale or you just want to soften the chocolate a little, try ten or fifteen seconds in the microwave to soften the cookie and the chocolate.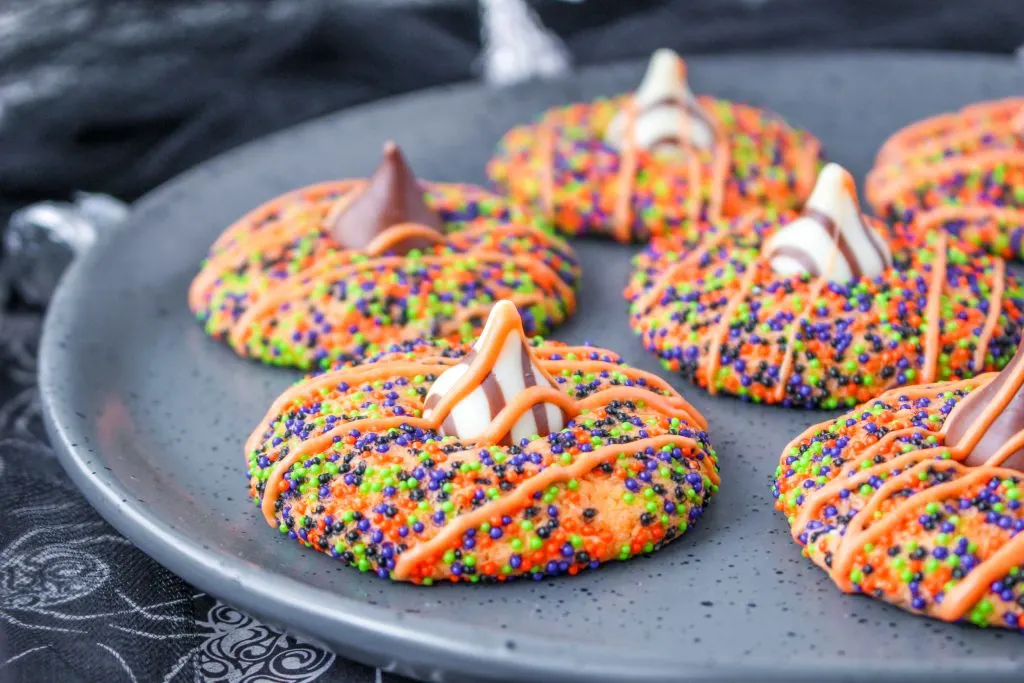 Hershey's Kiss Cookies FAQs
Do you flatten Hershey kiss cookies after you roll them?
No. They will flatten on their own.
Do Hershey's kisses go bad.
Yes. Like most chocolate, there is a best buy date on the package and after this date the chocolate will start to separate, harden, or taste "off."
Tips for the perfect Hershey Kiss Cookie Recipe
If desired, place candy melts or chocolate chips in a microwave-safe bowl. Microwave for 1 minute and stir well so the chocolate continues to melt with the residual heat. If needed, add to the microwave again, stirring vigorously every 15 seconds until melted.
If the candy melts are too thick, add coconut oil or vegetable shortening a little at a time until you reach your desired consistency. Transfer the melted chocolate into a piping bag and drizzle over the cookies or use a fork by dipping in the times and shaking it over the cookies. Allow to set completely before storing.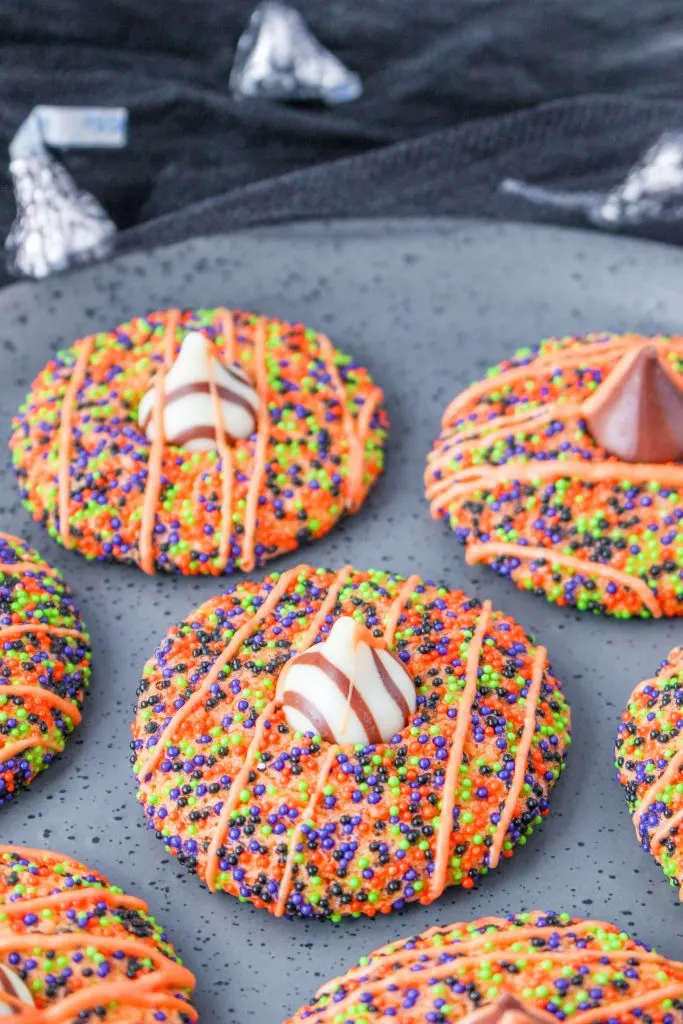 Other Easy Halloween Recipes You'll Love
Don't Forget To Come Back And Let Me Know How the Hershey Kiss Cookie Recipe Turned Out!
Pin It Now