If making cool treats is your jam, make sure to include my Monster Rice Krispie Treats in your plan for October and Halloween! These delightful Halloween Rice Krispie Treats will make everyone smile.
Serve these Rice Krispie Treats for Halloween school parties, parties at home, or just gift your kids with a really amazing after-school snack they will be talking about for days. Make sure to take pictures!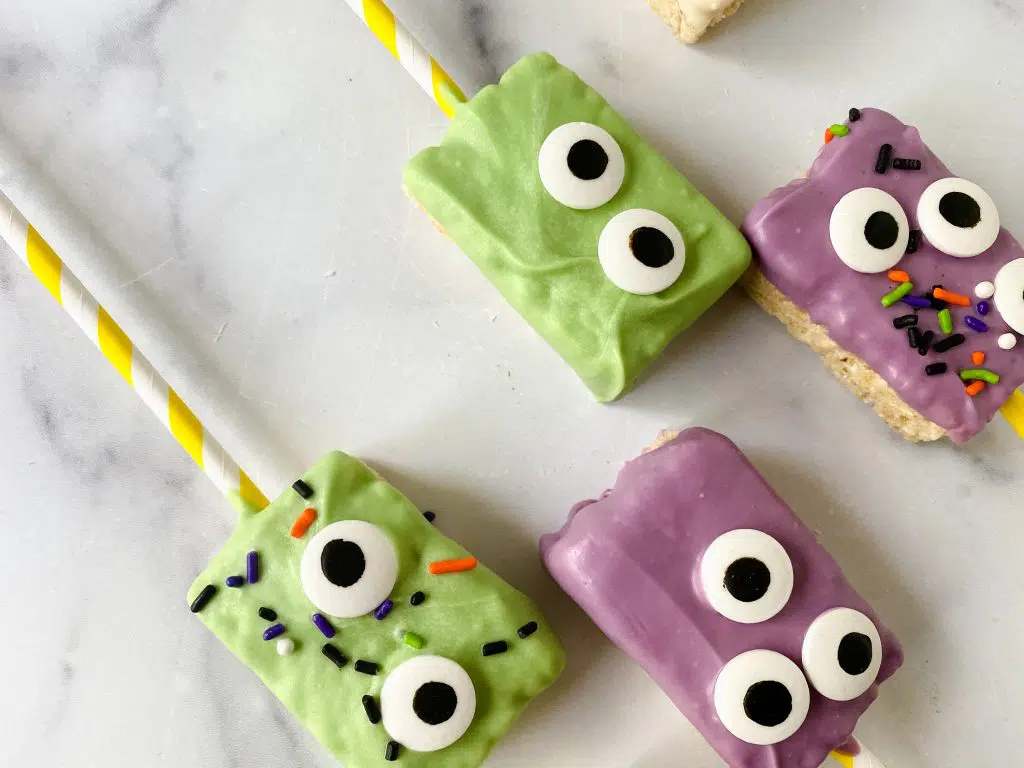 HOW TO MAKE MONSTER RICE KRISPIE TREATS
Start with this recipe for the Best Rice Krispie treats. These will form the base for your shockingly cool monster creations. First, you will need to melt the candy melts. If it is not smooth enough for easy dipping, add a little bit of vegetable oil and stir it really well.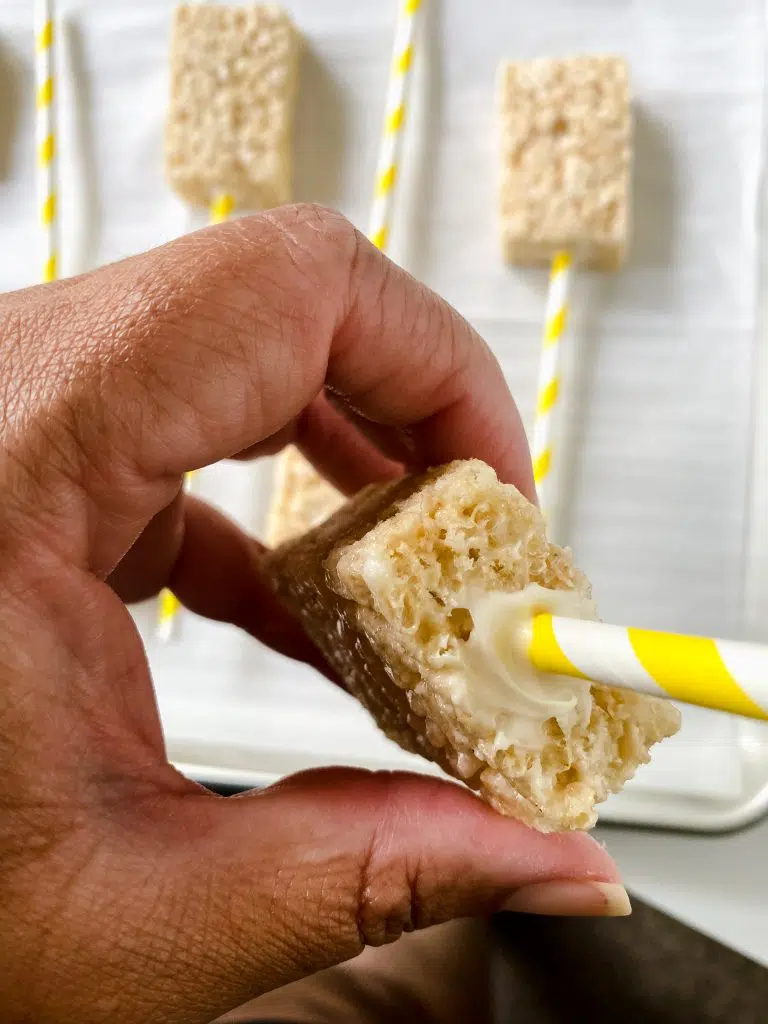 Once the mixture is ready, dip one end of each straw or popsicle stick into the melted candy and stick into the end of a Rice Krispie treat. Allow these to set for a bit, and then dip one side of each Rice Krispie treat into the melted candy. Immediately add the large candy eyes and sprinkles. Let these firm up on parchment paper before serving.
INGREDIENTS FOR MONSTER RICE KRISPIE TREATS
Rice Krispie Treats
Candy Melts
Large Candy Eyeballs
Vegetable Oil or shortening (if needed)
Halloween Sprinkles (optional)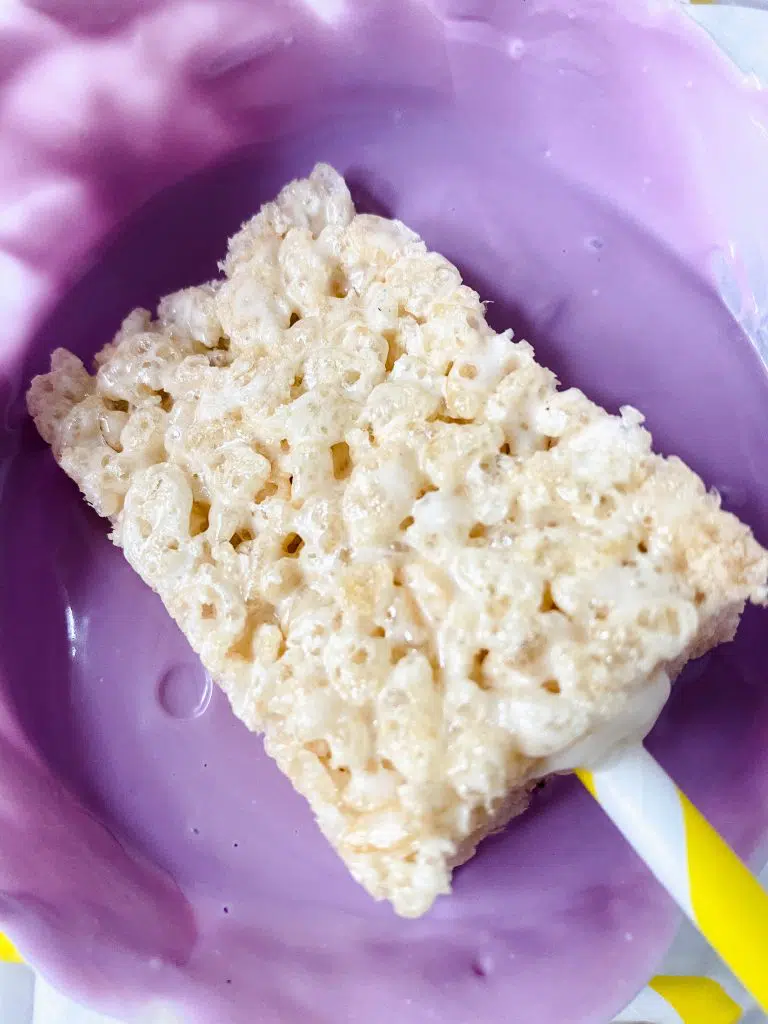 FAQ
ARE CANDY MELTS ALLERGY FRIENDLY?
Some candy melts contain allergens such as peanuts. To make the monster Rice Krispie treats allergen-free,
you can just put the gel food coloring into the melted marshmallow mixture before you add the cereal and add decorations instead of using candy melts.
As an alternative, you could also use allergen-free white chocolate as it will work nearly the same as candy melts. Just make sure you get a brand that is labeled allergen-free because peanut cross-contamination is prevalent.
HOW CAN I MAKE THE MONSTERS THINNER?
Anytime you want thinner Rice Krispie treats, you can use a jelly roll pan instead of the 9 x 13 pan.
CAN I USE STORE-BOUGHT RICE KRISPIE TREATS?
You could buy store-bought Rice Krispie treats but you will pay twice as much as when you make them at home. Plus, you don't get to scrape the sides of the bowl! My favorite recipe for Rice Krispie treats is super easy.
HOW LONG CAN I KEEP MONSTER RICE KRISPIE TREATS?
You can only keep the coated Halloween Rice Krispie treats for 2 to 3 days in an airtight container at room temperature. After that, they will start to dry out. However, you can freeze these for up to four months.
Wrap the treats individually in plastic wrap, secure the plastic wrap with tape, and then place all of them in an airtight container or freezer quality zipper bag. This is super handy if you need to make a bunch ahead of time and don't want them to dry out.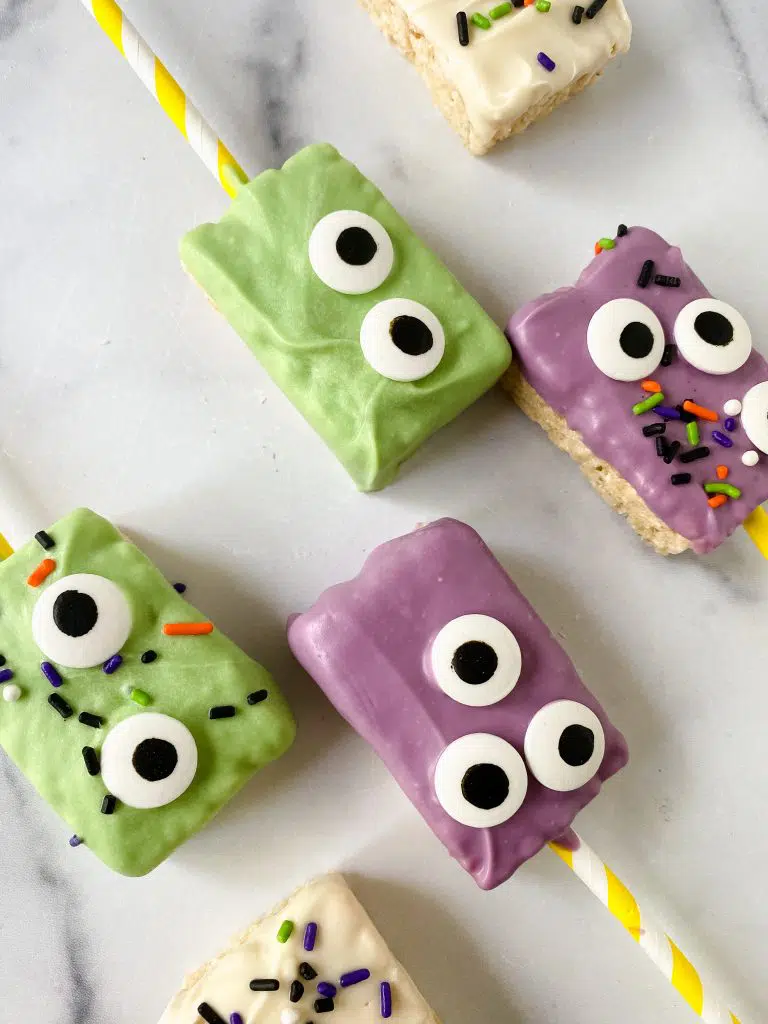 TIPS FOR THE BEST MONSTER RICE KRISPIE TREATS
Melt the butter and then add the marshmallows. Don't cook the mixture too quickly. You'll end up with rock hard krispie treats.
Rice Krispies need to be eaten within 2 to 3 days because they go stale and dry quickly.
Make sure to add the candy eyes and sprinkles before the candy melts set back up. Otherwise they will not stick.
Allow plenty of time for the candy melts to set up before you need to display or serve these treats. If it is humid, this will take a little longer than normal.
WHAT ARE CANDY MELTS?
Candy melts are actually a mixture of sugar and vegetable oil, and not chocolate at all.
Always use fresh candy melts. If you use old candy melts that have been sitting in the cabinet for a while. they tend to create problems when melting. If you find that your candy melts are clumping up as you melt them, it's time to get a new bag.
HOW TO MELT CANDY MELTS
Always use a completely dry bowl or pan. Liquids and candy melts do not mix!
Do not cover the candy melts while heating. The moisture from the steam will cause them to seize up.
We recommend melting the candy melts at 50% power for 30-second intervals in the microwave or slowly in a double boiler. If you try and melt it at full power, it can tend to seize up which is a complete mess.
If the candy melts become too thick or seizes up (dry clumpy mess) due to overcooking, you can try adding 1 teaspoon of solid shortening for every 12 to 16 ounces of candy melts to save the unicorn popcorn recipe.
Never mix liquids to candy melts. That will cause them to seize up immediately. I use a small amount of vegetable oil when needed to thin the candy melts.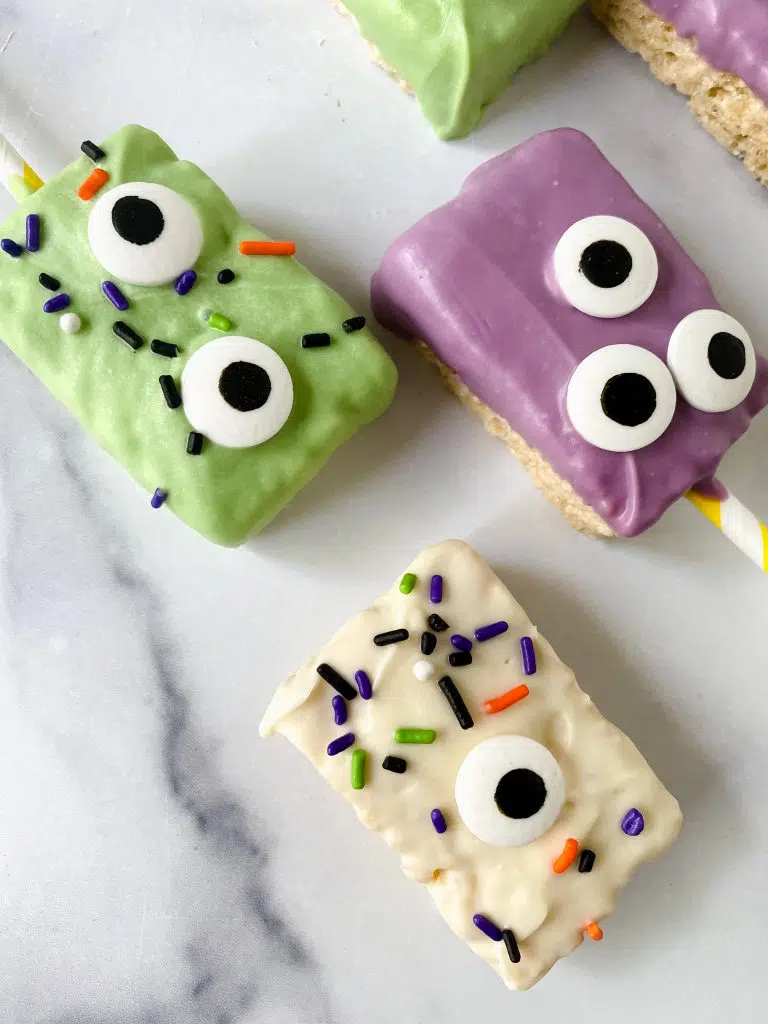 MORE GREAT MONSTER RECIPES
Monster Cupcakes. Adorable Halloween Monster Cupcakes your kids will find amazing.
Chocolate Cake Pumpkin Faces. These easy pumpkin faces are so fun. They're the hit at any Halloween get-together
Mummy Pretzels. These super cute decorated pretzels are perfect for a handheld treat or as an addition to your Halloween jarcuterie.
Halloween Hershey's Kiss Cookies – Super cute and peanut butter free!
Monster Cake. A super cute cake you can make for events where you don't want cupcakes.
Halloween Cookie. Turn a giant cookie into a cool spiderweb with these instructions.
Halloween Cakes, Cupcakes, and Cake Pops. A ton of Halloween-inspired recipes.
Rice Krispie Treats for Halloween are so easy to make and tons of fun. Make sure you check out our Snowman Rice Krispie Treats!
Related Recipies
Creepy Creations

We share Recipes From Our Dinner Table! Join our group and share your recipes, too! While you're at it, join our Pinterest board, too!