Chocolate Peanut Butter Balls Recipe is sweet and smooth with a crispy crunch. This No Bake family favorite is easy and delicious and always the first to disappear.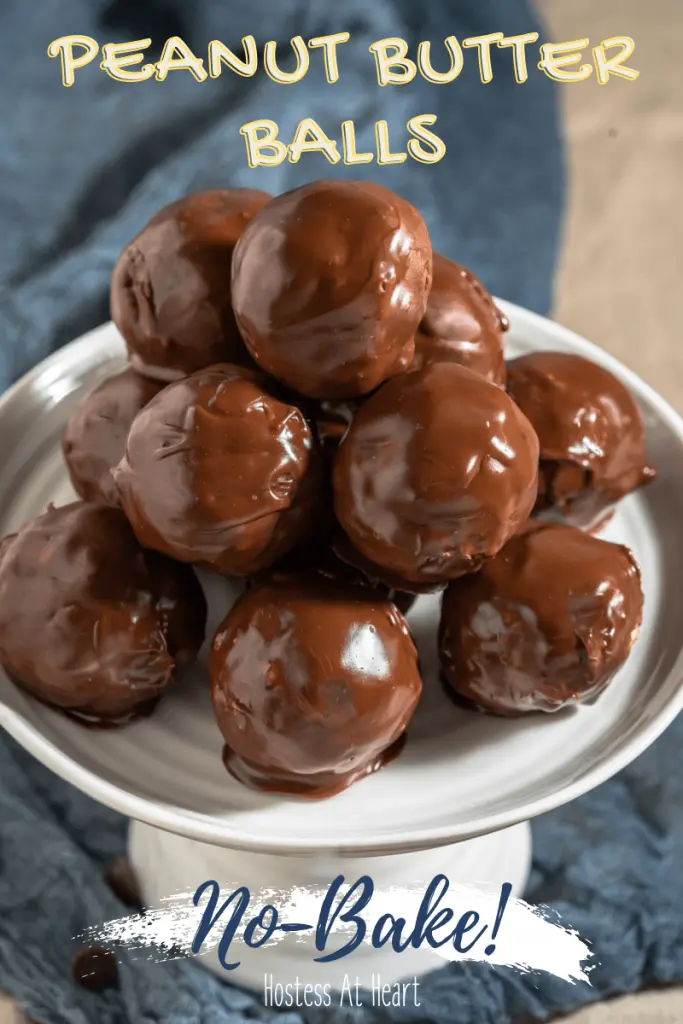 Peanut Butter Balls recipe is the first recipe that we make for the holidays. If we gave our family the choice for one holiday treat, this would be their choice.
This quick no bake recipe is easy to make ahead of time and can be doubled or tripled!
While No Bake Peanut Butter Balls are great any time of year, they make a great holiday gift and no cookie platter would be complete without them.
Our family has been making Chocolate Covered Peanut Butter Balls for over 30 years!
Chocolate covered Peanut Butter Balls with Rice Krispies are sweet and smooth with a delightful crispy crunch.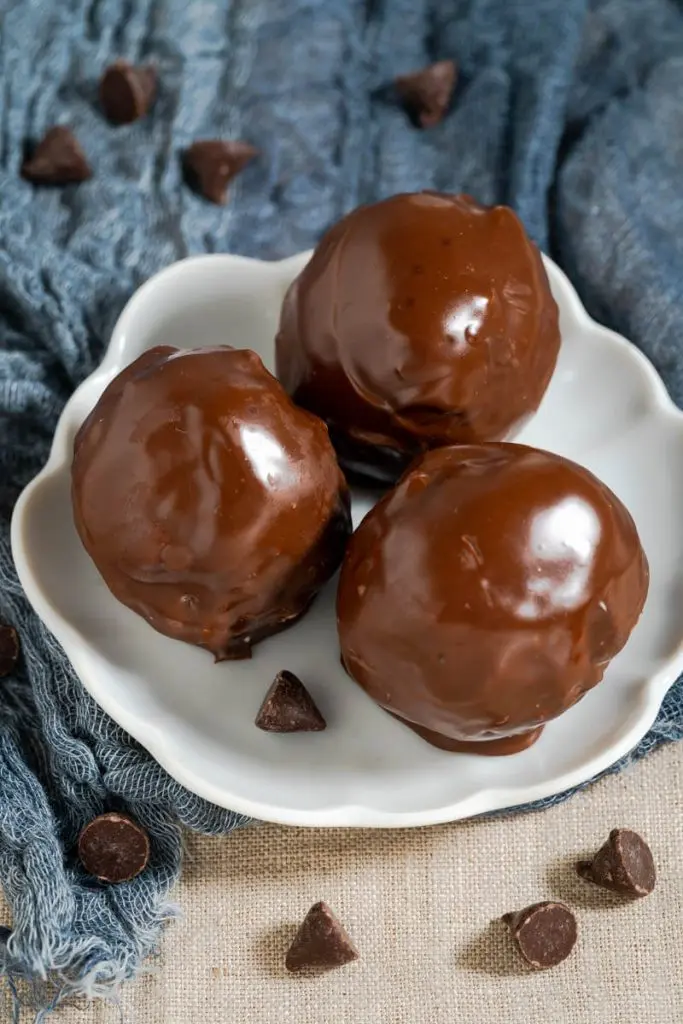 Why we love Peanut Butter Balls.
They're quick and easy to make.
There are a variety of ways to dress them up.
They don't get stale like traditional cookies.
You can make them just as big or small as you want.
They can be made ahead of time.
They freeze beautifully.
Ingredients and Variations
Peanut Butter – We use smooth but crunchy would be delicious too.
Butter – We use real butter but you can use an alternative.
Powdered Sugar – We wouldn't substitute. It blends well into this recipe.
Rice Krispie Cereal – There are variations of this cereal such as gluten-free and brown rice. We like the size, texture, and crispy crunch that this cereal adds so we don't substitute.
Chocolate Chips – We used semi-sweet. Feel free to use milk chocolate or dark chocolate. You could also use chocolate almond bark, bar chocolate, candy melts, or chocolate wafers.
Paraffin wax – This is an optional ingredient that we use when using chocolate chips. We haven't used it with chocolate chip alternatives. We will explain more about it.
Sprinkles or other decorative toppers – totally optional!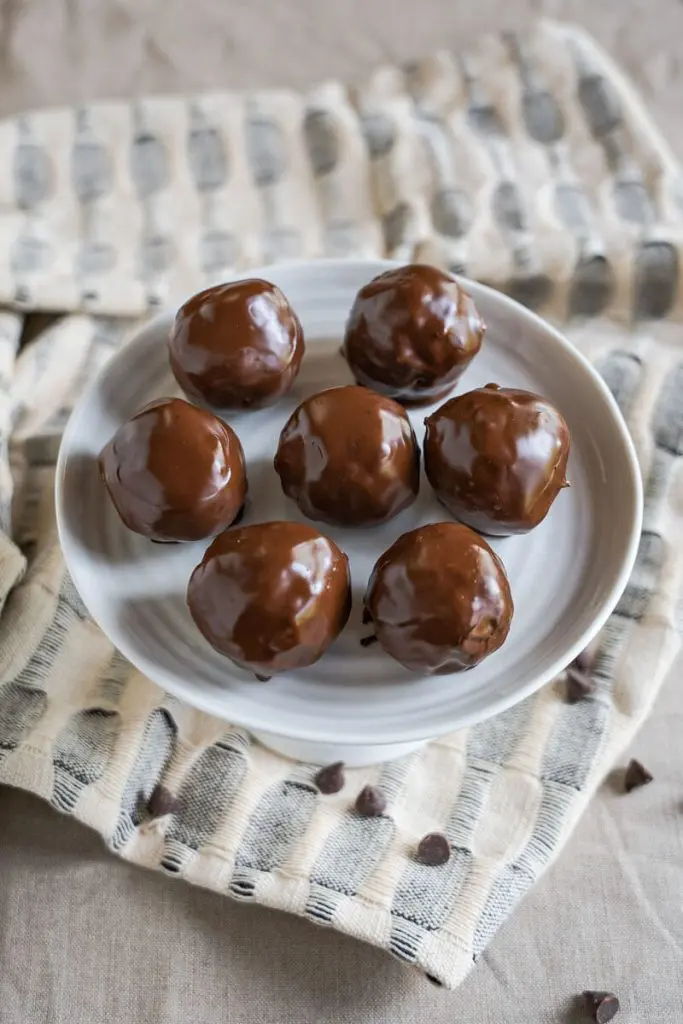 Why use Paraffin Wax in chocolate?
We've always used paraffin wax in our Chocolate Peanut Butter Balls recipe. Paraffin wax adds a glossy shine when melted with chocolate chips. It also helps the chocolate remain solid at room temperature.
Is Paraffin Wax safe to eat?
Food Grade paraffin wax is used in canning and making chocolate treats. Food Grade Paraffin wax is made with ingredients that pass through the body undigested and it has no nutritional value.
We use Gulf wax which is food grade and food safe.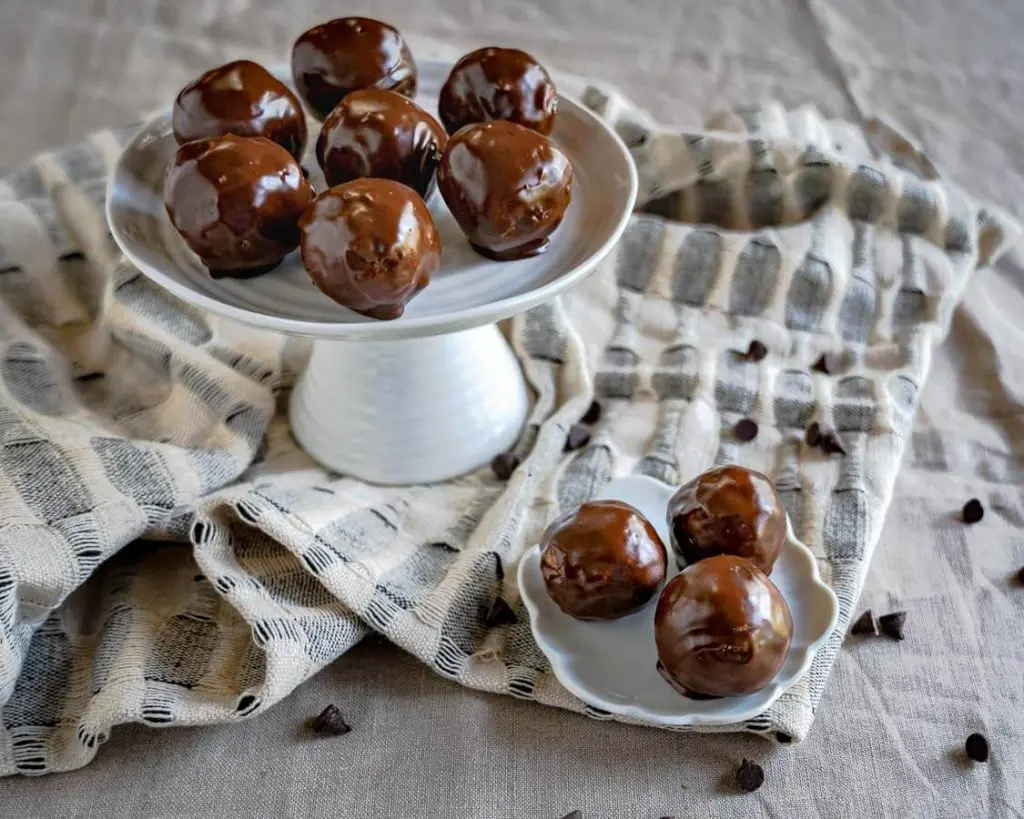 How to melt chocolate for dipping
You can use a double boiler, in a saucepan on the stove, or microwave for melting chocolate. We prefer to use a double boiler.
Note: Make sure that any equipment that you are using is totally dry. Water will cause chocolate to seize up into a clumpy mess.
To get smooth melted chocolate on the stove, melt slowly over low heat stirring occasionally in a double boiler.
When you use a double boiler, you want to fill the bottom pan with water but make sure the top pan isn't touching the water. It should hover just above the water.
You can also make your own double boiler by setting a heatproof metal or glass bowl over a saucepan. Make sure you get a good fit so the top doesn't slide. Sliding can cause an accident or cause burns from hot steam. Again, you want to put water in the bottom pan but don't allow the top to sit in the water.
If you use your microwave, heat the chocolate at 50% power for 30-second intervals stirring in between.
If using paraffin wax, melt the wax and then add the chocolate chips.
The reason we prefer a double boiler is that once the chocolate is melted you can put it on a hot pad and it will keep the chocolate warm while you dip them. We are finished before our chocolate cools and becomes too solidified to dip.
How to dip Chocolate Peanut Butter Balls
When the chocolate is melted, dip the chilled peanut butter balls into the chocolate. Turn the balls until thoroughly coated.
We remove them lifting them with a fork or tongs. We don't pierce them which would cause them to crumble in the chocolate. 😢
Place the chocolate coated balls on a wax paper-lined baking sheet.
Allow the dipped balls to dry in a cool area, uncovered.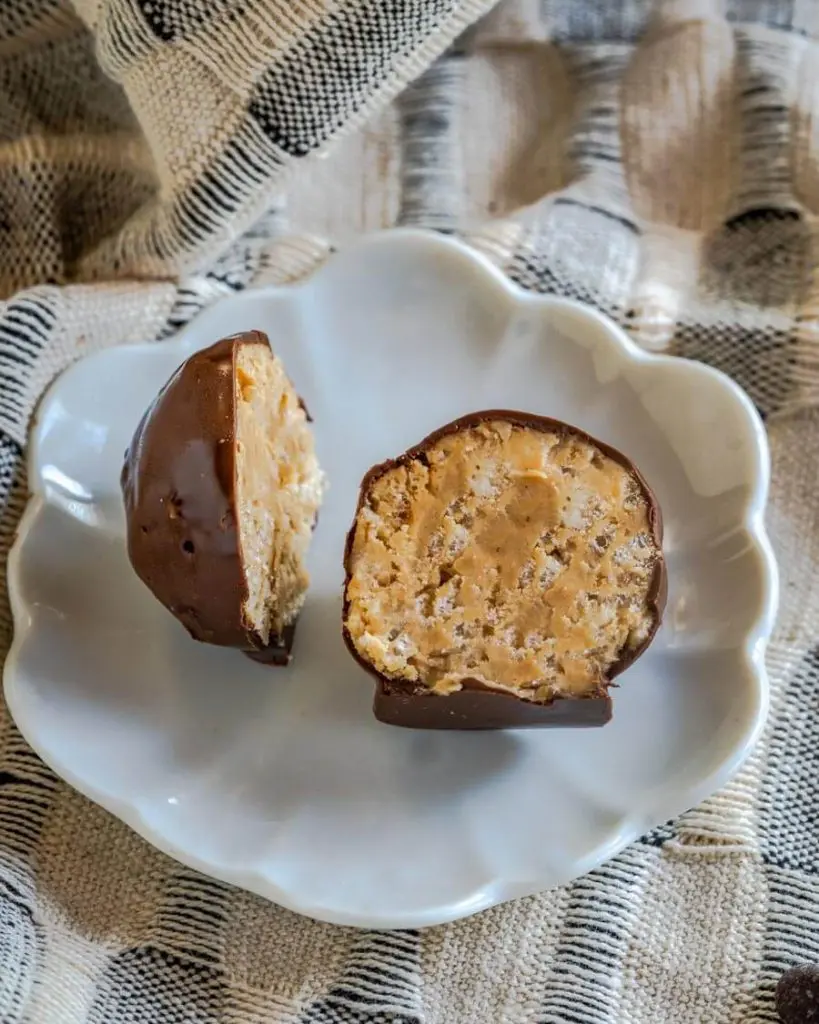 How to make Peanut Butter Balls
In a large bowl, add the melted butter and peanut butter. Stir in the powdered sugar and Rice Krispies cereal. Mix everything together. We use our hands to do this because the mixture is thick.
Roll the filling into balls. You can make them as big or as small as you like. We prefer to make them about 1 tablespoon in size which is 2 to 3 bites and use a cookie scoop to speed them up.
Chill for 30 minutes or make them one day and dip the next!
Melt the paraffin wax (if using) and then add the chocolate, stirring occasionally until melted.

If you aren't using paraffin wax, melt the chocolate using one of the methods described above.

Dip the chilled balls into the melted chocolate and place them on a wax paper-lined baking sheet.
We love peanut butter! Here are some of our favorite recipes!
Can you freeze No Bake Peanut Butter Balls?
Absolutely! We will often make them in November and use them for our Christmas cookie platters.
They defrost at room temperature very quickly, but we love nibbling on them frozen too.
Not that I would know, but you can hide them in the freezer so none go to waste. They will last for several months in an air-tight container.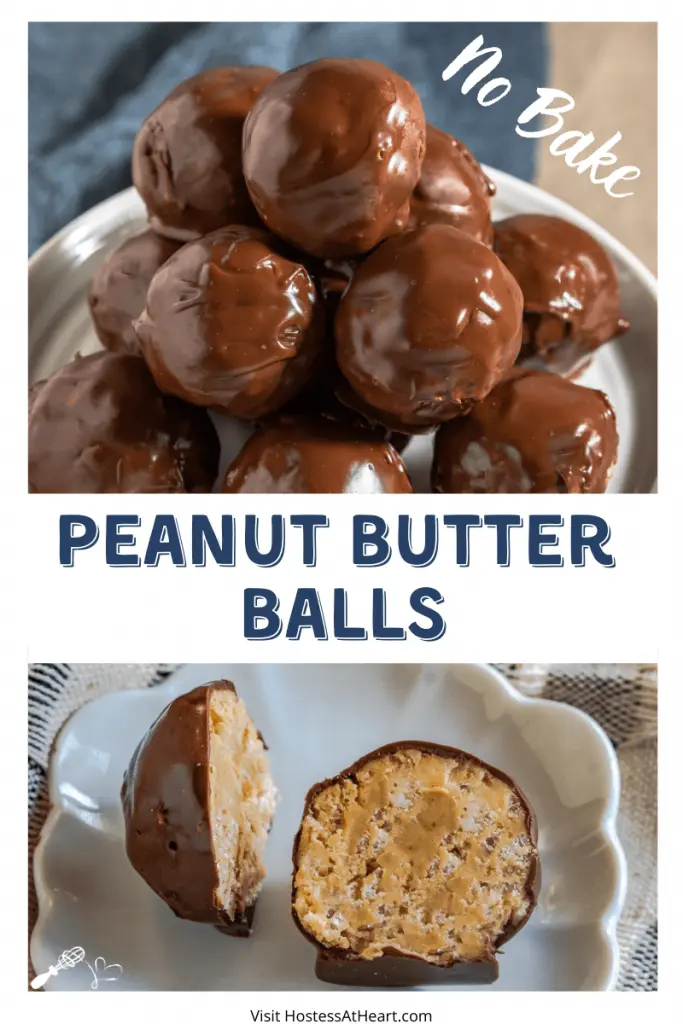 Favorite Cookie Platter Recipes
We love cookies! You can find all of our cookie recipes here!