Frozen Peanut Butter Cheesecake is an easy to make peanut butter dessert that's cool and creamy. This luscious treat is topped with peanut butter crumble and shaved chocolate making it fancy enough for any occasion but simple enough for every day.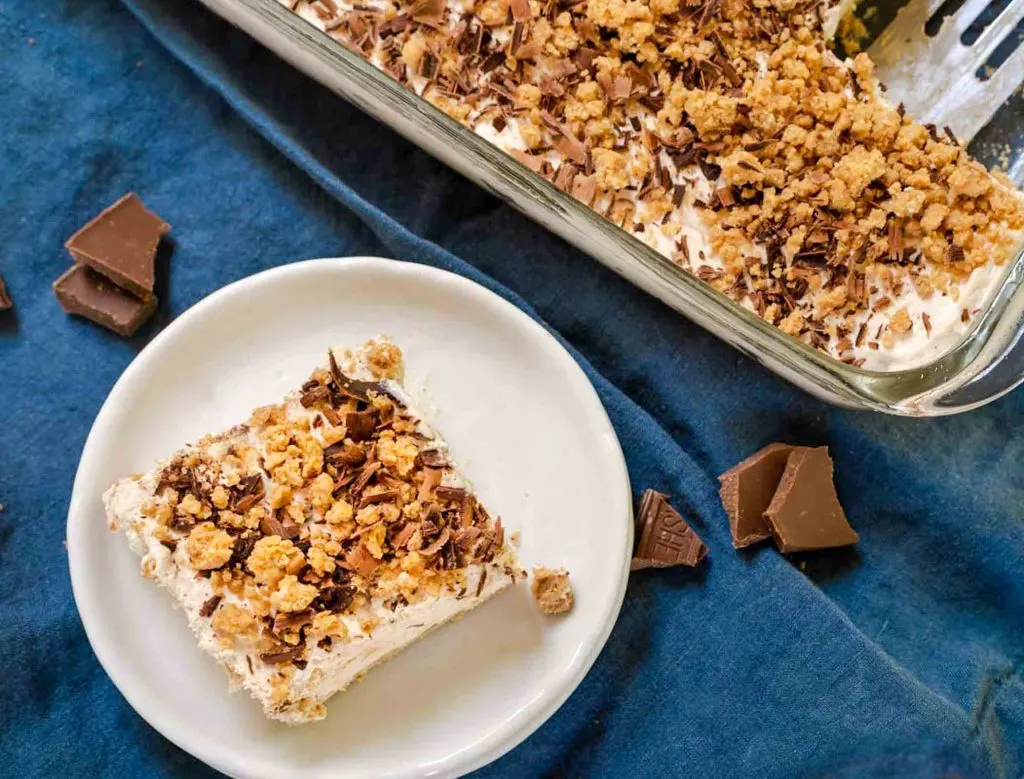 There's nothing more delicious than a cold and creamy Peanut Butter Cream Cheese Dessert when it's sweltering outside or when celebrating a winter holiday.
You know how I love celebrating anything right? For instance, my billion Mexican recipes for Cinco de Mayo or my half-billion Mardi Gras recipes even though I'm not Mexican or live in New Orleans let alone Louisiana?
This frozen peanut butter cheesecake recipe was definitely the answer to everything that I wanted!
Why we love Frozen Peanut Butter Cheesecake
"National Cheesecake Day"! I think this celebration is one I totally qualify for because it's a dessert and we should all celebrate year-round with desserts.
Make ahead. Entertaining couldn't be any easier than making frozen peanut butter cream cheese dessert recipes, sliding them in the freezer and then moving on.
Easy Peanut Butter Cheesecake. When I think of cheesecake, I think of putting cheesecake ingredients together and baking them in a water bath. Not this cheesecake. Peanut butter cream cheese dessert is creamed together and put in the serving dish of your choice.
No melting. It looks like this is a peanut butter ice cream dessert recipe. It's not. There's no ice cream to melt so serving it is much easier.
Minimum baking. In the variations below I'll show you how to make it a No-bake Peanut Butter Cheesecake.
Feeds a crowd. I'll show you how to cut down the size and have one to share or stash in the freezer for when that spoon finally gets out of the peanut butter jar.
I like anything with peanut butter. Even if it's just a spoon that happens to fall into the jar of peanut butter. It's genetic. My mother trumps my love of peanut butter by a thousand. I've actually given her humongous jars of peanut butter for Christmas (several times) so I could be her favorite daughter.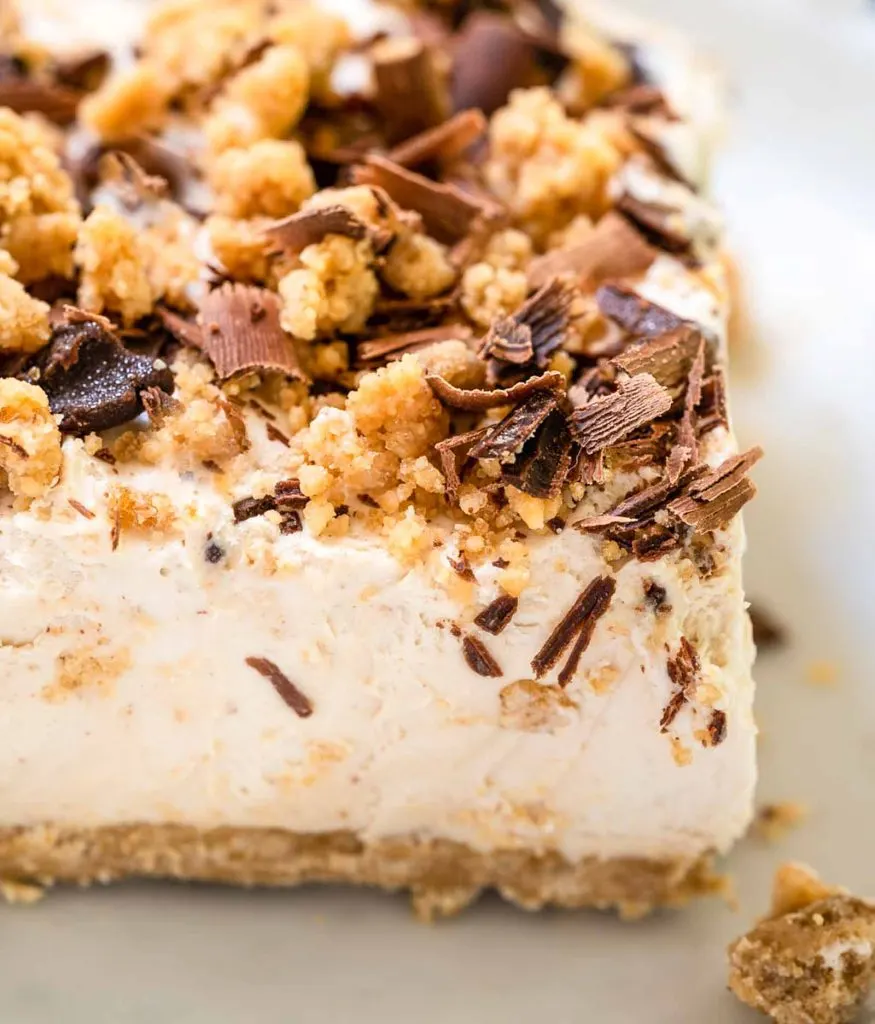 I've made some delicious cheesecakes over the years. I'm usually assigned the dessert when we get together with family and friends. I've made some really elegant ones using the water bath method with several layers that took hours to put together.
I just wasn't in the mood for that kind of work. Besides that, it's been so hot. Anything that I can make without having to have my oven on for several hours gets my vote.
Frozen Peanut Butter Chocolate Cheesecake Ingredients
Peanut Butter Dessert Crust and Crumble
Brown sugar. Dark or light variety is fine.
Peanut butter. I used the creamy full-fat variety. You could use the crunchy variety.
Flour. All-purpose flour bleached or unbleached.
Butter. I used real unsalted butter. There's salt in the peanut butter so I used unsalted. You could use salted butter since it's such a small amount.
Peanut Butter Cream Cheese Filling Ingredients
Cream cheese. I used the original variety. You could use reduced-fat but I wouldn't use fat-free.
Peanut butter. Creamy full-fat variety is what I used.
Chocolate syrup. This is used for ice cream. It's optional but recommended.
Vanilla extract. Pure or imitation.
Powdered sugar. Also known as confectioners sugar.
Whipped topping. I buy whipped topping for this recipe.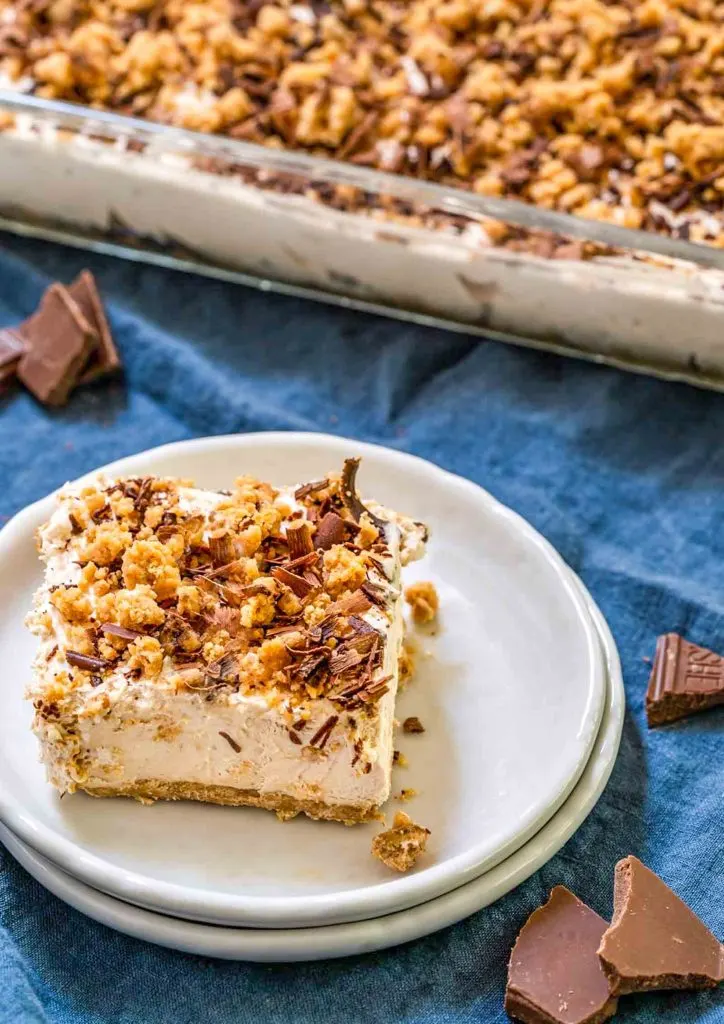 How to make Peanut Butter Cheesecake Recipe
Step 1: Make the Peanut Butter crust and crumbled topping.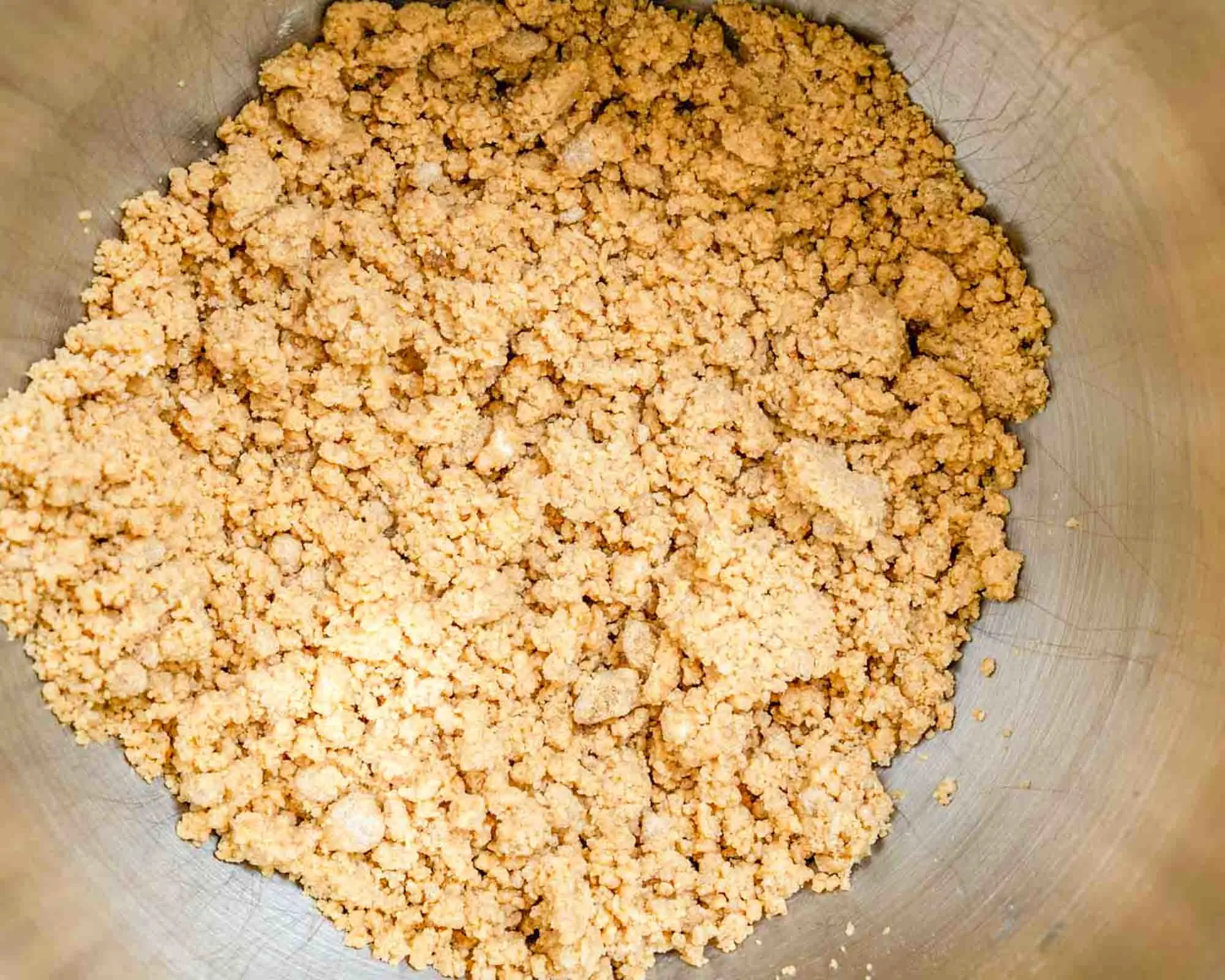 Start by making the crumbled topping. Press all but one cup of the topping into the bottom of a baking dish. Bake and cool. The reserved cup is for the topping.
Step 2: Make the peanut butter filling & assemble
Cream the peanut butter cream cheese filling together. Fold in the whipped topping. Layer the filling over the cooled crust.
Sprinkle the filling with the reserved peanut butter crumble and then top with chocolate shavings.
Step 3: Freeze
Cover the peanut butter dessert and freeze for about 4 hours or overnight.
Tips for a creamy filling:
The thing that I can't give you is something I've had to learn often the hard way and that's patience! With any creamy filling, it's always important to fold in your whipped toppings and not stir them in. You see, when you use a heavy hand you're actually deflating the topping and breaking it down.
It's also important that the cream cheese is at room temperature before you combine it with the creamy peanut butter. If you refrigerate your peanut butter make sure it's at room temperature as well. It will not hurt to take them out of the refrigerator the night before. If they're at the same temperature they'll blend together instead of separate.
Variations you can make this Peanut Butter Cheesecake Recipe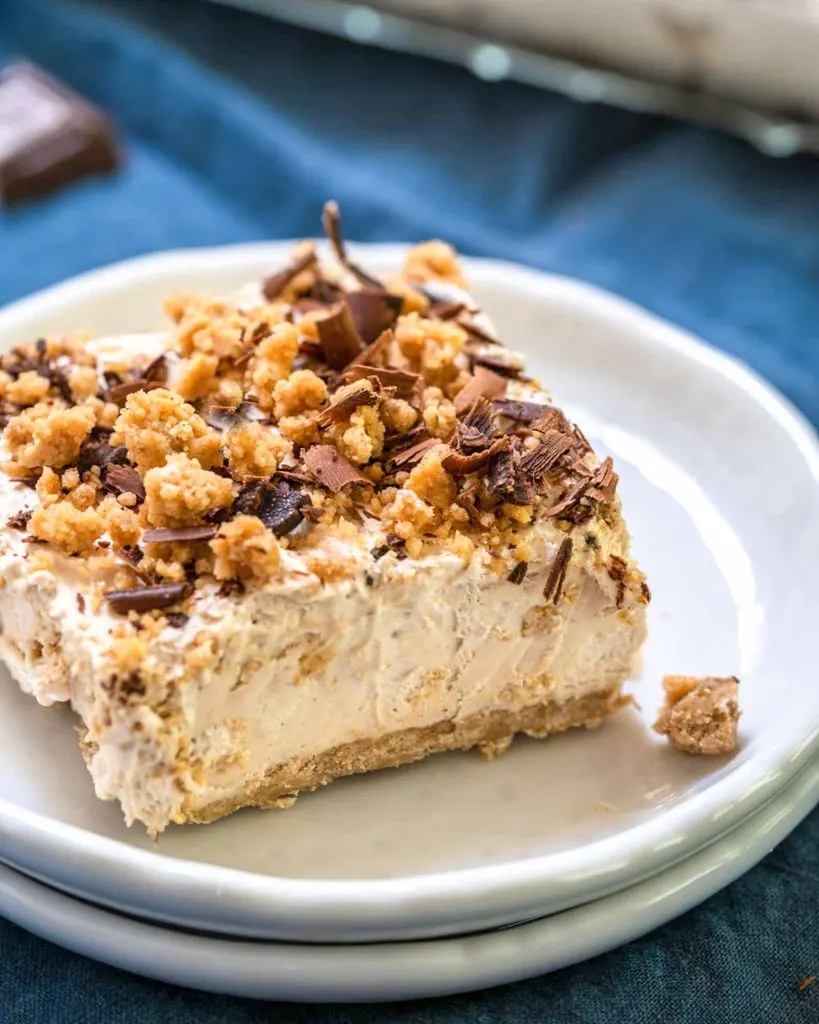 Make this a Chocolate Peanut Butter Cheesecake (As I did this one) by adding chocolate syrup to the filling and shaved chocolate to the top.
Add pieces of chocolate peanut butter candies to the filling. Make sure they're not of the nougat variety. Since this peanut butter dessert is frozen it'll likely break a tooth when you bite into it. If that's what you want to add, I recommend adding it as a topping after removing it from the freezer before serving it.
If you don't want to shave chocolate, drizzle the top with chocolate syrup.
Use any pre-baked crust or graham cracker crust for a no-bake version. Those premade graham cracker pie crusts work well and freeze great too. This filling could probably make 3 pies! You don't need to add the crumble to the top. Just sprinkle (or not) with candies, chocolate shavings, or chocolate chips prior to serving.
If you don't need a whole 9×13 dessert, separate it into two dishes. Use what you want now and freeze one for later.
Best way to cut a frozen Peanut Butter Cheesecake:
A lot of the time instructions will advise you to take it out of the freezer and let it sit for 15 minutes before you cut it. O.k., you can but I want my dessert frozen not on the verge of becoming soft. I heat up a sharp knife by running it under hot water and dry it before making my cut. Do this each time you remove the knife from the dessert. It's convenient to just put the hot water in a glass and dip it too then just dry it with a paper towel.
A few gadgets you may need to make this cheesecake with peanut butter:
Hostess At Heart participates in affiliate programs. As an Amazon Associate, I earn a commission from qualifying purchases. Please refer to my disclosure page for more information about these affiliate programs.
9×13 Baking Dish – I've got this one and love it. It comes with a lid that makes taking and refrigerating my treats a lot easier.
Silicone Spatulas – This pretty set has a flat side and a curved side to take on your toughest job. I love that they are all one piece and can withstand 500°F! Throw out those old chipped ones and treat yourself!
Electric Stand Mixer – I used this mixer for doing almost everything in this recipe. It is my workhorse and I even have the attachments to make pasta and grind meat and nuts with too.
I hope you enjoyed this delicious recipe as much as we do. Drop me a comment below, and don't forget to give it a star rating. ⭐⭐⭐⭐⭐. Your comments and ratings help others decide if this recipe is for them too.
If you liked this recipe, check these out!
Pin this amazing Frozen Peanut Butter Dessert!
This post has been updated to improve the readers experience. No changes were made to the recipe.
Check out all of these other cheesecake recipes!