Pear Hand Pies with Dark Chocolate Drizzle are packed with pears that have been baked in brown sugar and cinnamon between a flaky crust dusted with coarse crunchy sugar. The drizzle of dark chocolate gives this pie a deep richness.
THIS POST HAS BEEN UPGRADED FROM 10/18/16 TO IMPROVE READER EXPERIENCE.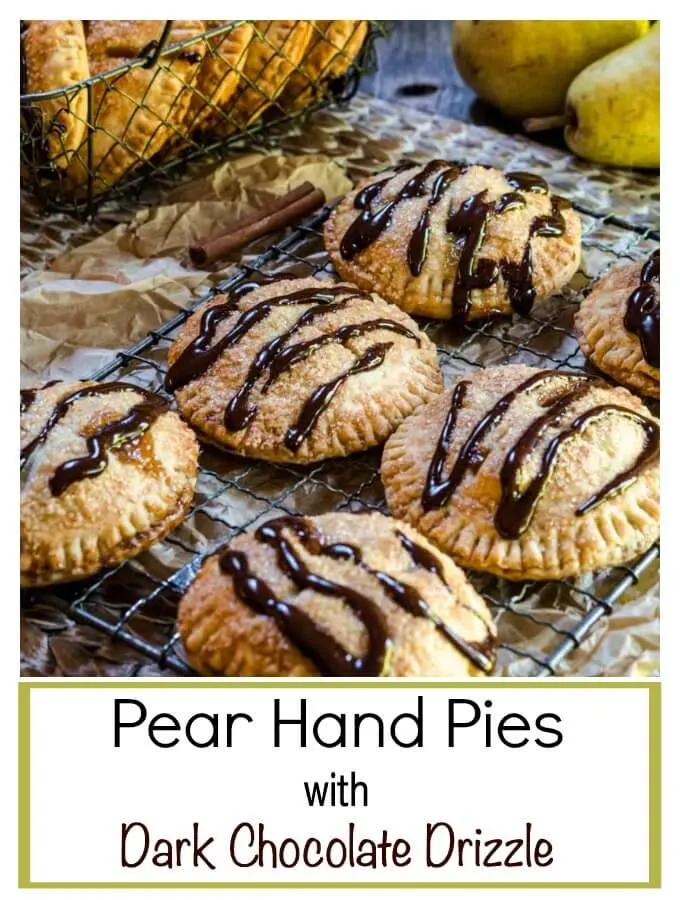 I think people are either pie lovers or cake lovers, don't you? Me, I'm definitely a pie lover. That doesn't mean that I would turn down a great slice of cake. If you throw in chocolate, the lines definitely get a little more blurred. These Pear Hand Pies with Dark Chocolate Drizzle would convince any cake lover that they are definitely a pie lover.
Growing up I had the largest pear tree right outside my bedroom window. I loved the pears that tree provided every year but during a storm, that tree would scrape my window making scratching noises and scary shadows. My imagination had me diving under the covers.
My grandmother canned those pears, and I could almost eat a whole jar by myself. I just loved how soft and sweet they were. The pears in this Pear Pie recipe are just like that. Pear filling baked between a flaky buttery crust and then drizzled with dark chocolate gives this pie a warm richness.
Making individual pies guarantee that everyone gets their own serving, and I'll take mine with a scoop of ice cream.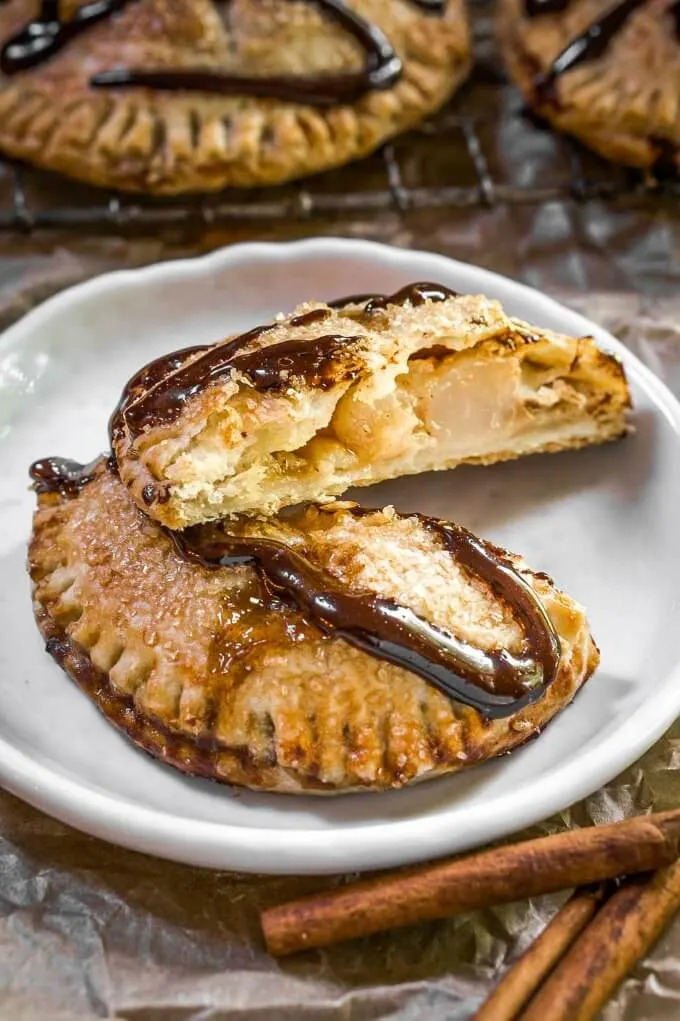 What are the best pears for baking?
Anjou or Bosc is the recommended varieties for baking. However, I grew up using Bartlett Pears and that's my go-to now because I love them! It's not recommended to use Comice pears.
What is the history of hand pies?
According to Oregon Live, hand pies were usually meat so were called meat pies or pasties. They originated from 19th century England as a convenient lunch for Cornish tin miners. Thank you, England!
Tips for storing and baking individual pear pies:
Individual fruit hand pies can be assembled and then frozen unbaked for up to 3 months. To Bake put them, place in a 350°F oven right from the freezer (no need to thaw). Bake 5 to 10 minutes longer than the original recipe calls for so in this case 35 to 40 minutes.
Baked pear hand pies can be frozen as well. To reheat allow the hand pies to thaw (in the refrigerator overnight works great). Place on a baking sheet in a preheated oven and bake for 12 to 15 minutes or until heated through. Cover loosely with foil is they start to get too brown.
Fruit pies keep at room temperature for two days; you can store them, loosely covered, in the refrigerator for up to four days.
I don't recommend cooking them in the microwave. A quick reheat for ice cream purposes is encouraged, however!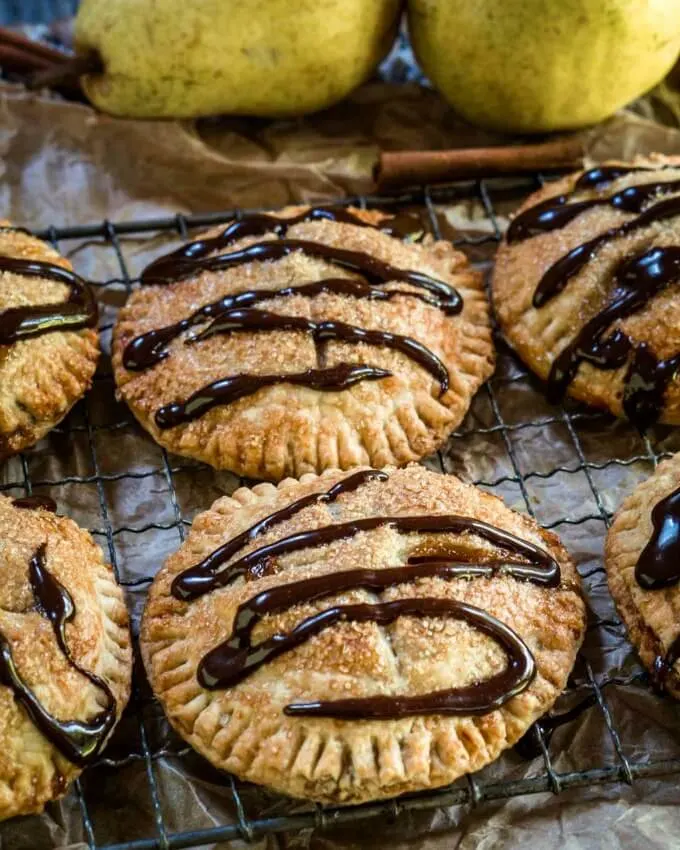 A few gadgets to make this recipe easier!
Biscuit cutter – Why buy 1 when you can have 9? Stainless Steel will not rust and these cutters are great for cutout cookies, empanadas, and even ravioli!
Baking Sheets – These sheet pans are durable and I have four of them so I can everything baked in a jiffy!
Unbleached Parchment Paper – This is my favorite parchment paper. It's important to know that there is an oven temperature rating on parchment paper. If you exceed it your parchment paper can catch fire in your oven. This one is rated to 450°F, high enough for my bread recipes too.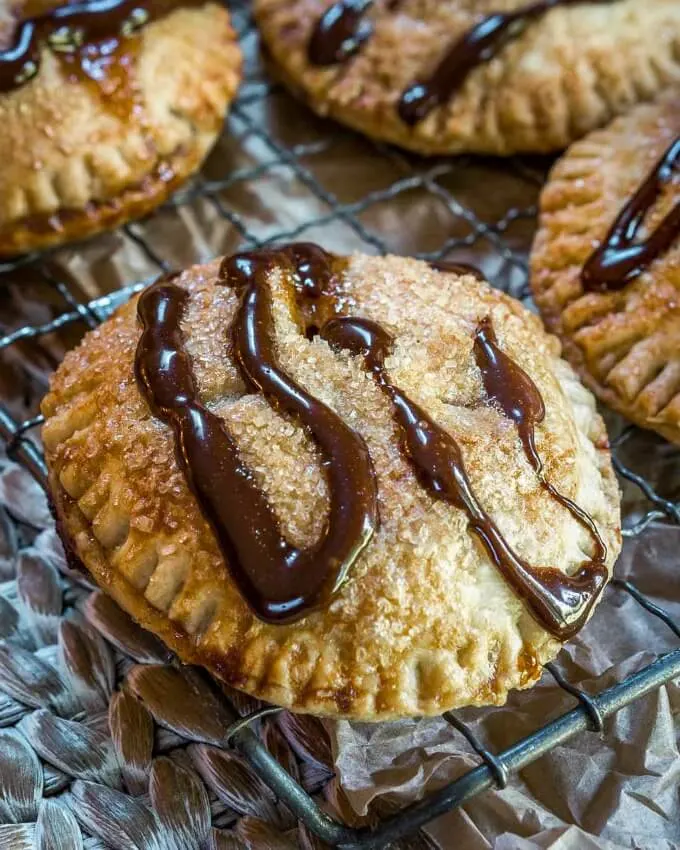 The BEST thing about Hand Pies!
The thing that I love the BEST about Hand Pies is that I get my own! I don't have to be secretly disappointed by getting the smallest slice of a pie. Shhhh. You too right?
DON'T FORGET TO PIN THIS RECIPE TO YOUR FAVORITE PINTEREST BOARD FOR QUICK REFERENCE!
If you have some inspiration you'd like to see, leave me a note in the comments or drop me an email. I read and respond to all of my correspondence.