Dark Chocolate Puff Pastry Hand Pies have a light, airy and soft interior enhanced by deep dark chocolate. The whole thing is wrapped in a golden brown Puff Pastry with a delicate crunch.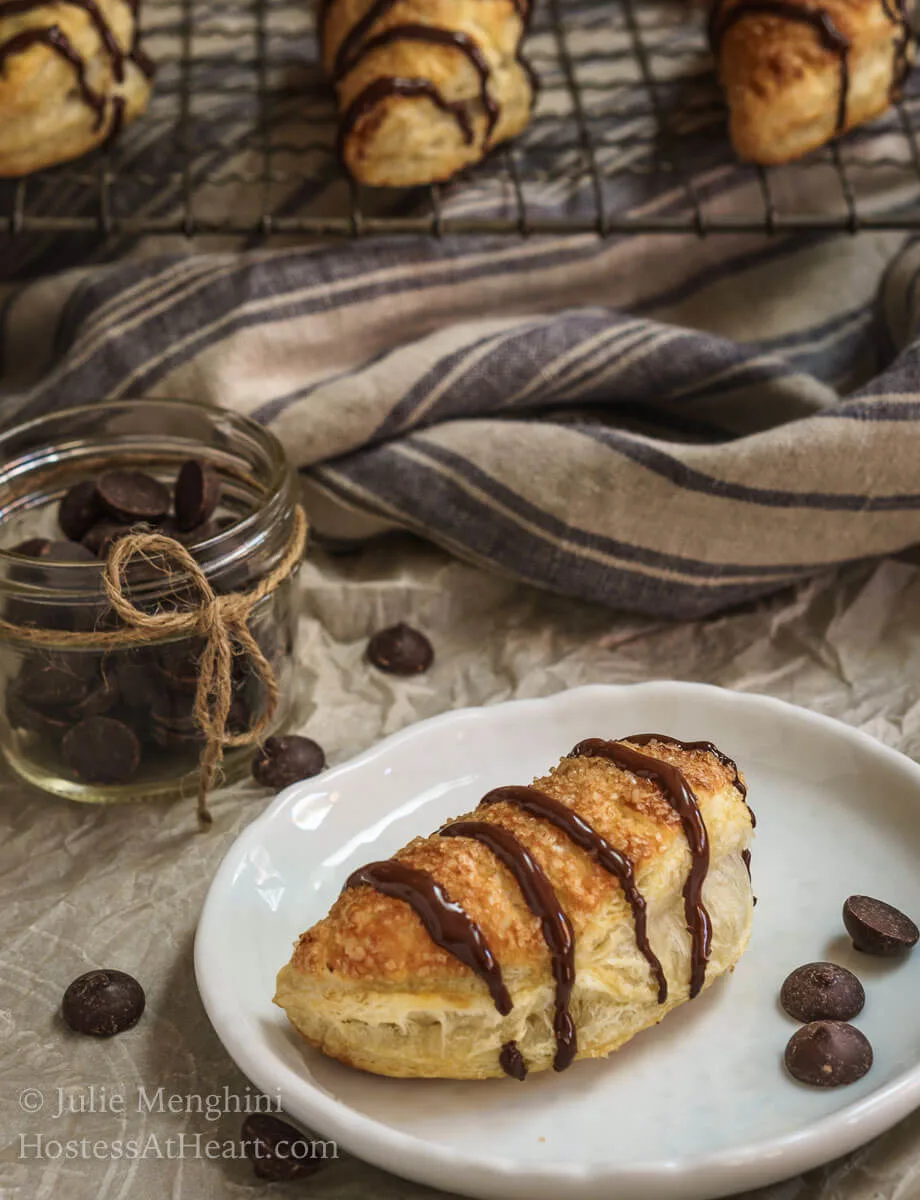 When I made those Pear Hand Pies, I went to the trouble to make my own crust. With the holidays coming up, I wanted to come up with something that would be perfect for my holiday brunch.
I needed it to be quick and make my guests feel like I'm glad that they were here.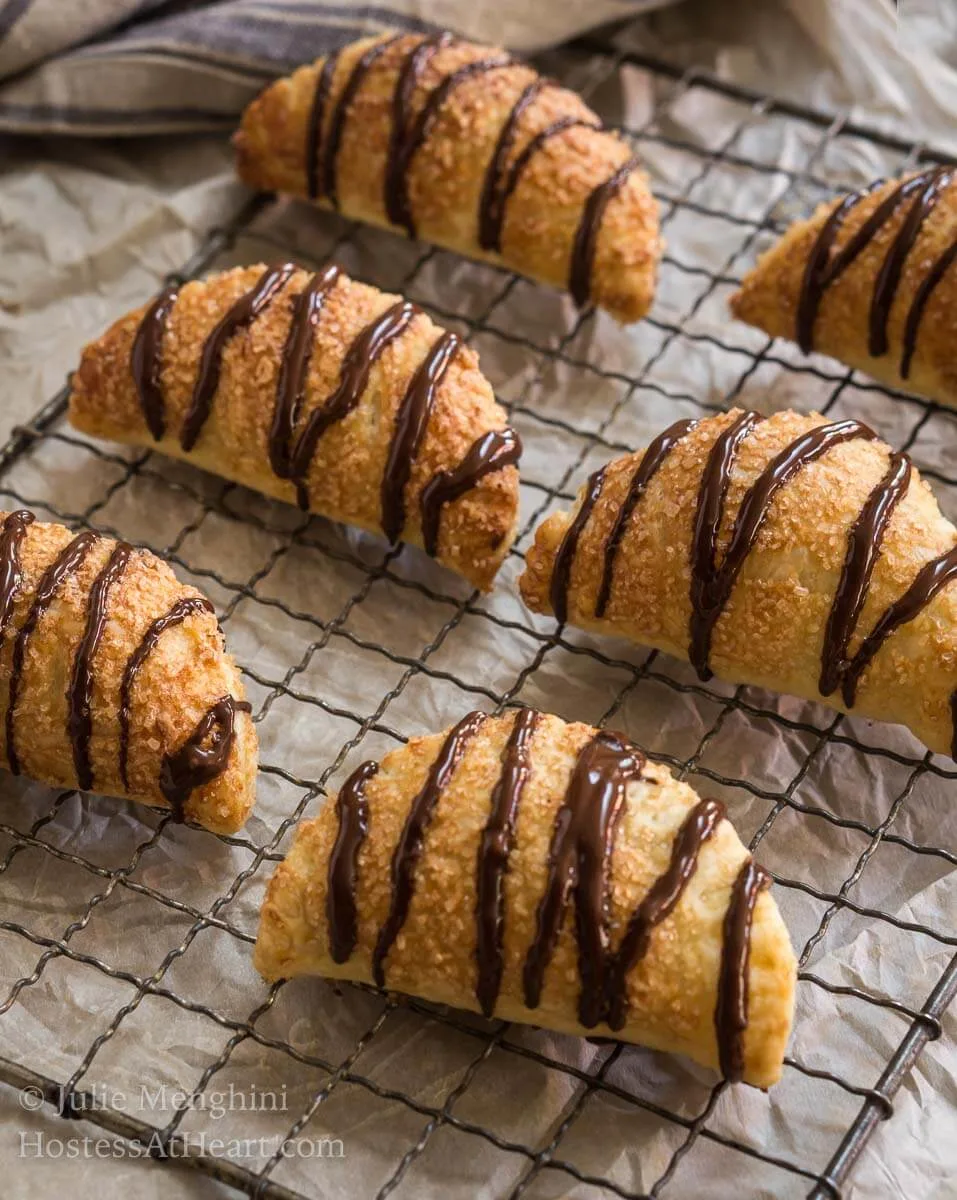 This post is sponsored by Pepperidge Farm® Puff Pastry Sheets but my love of their product and the opinions stated here are all my own.
Puff Pastry was my answer. I've used Pepperidge Farm® Puff Pastry Sheets for so many dishes in the past including this delicious Lamb Pot Pie, sweet Apple Pecan Pastries, Blueberry Puff Pastry Rolls which are perfect for overnight guests, and Herbes de Provence Pot Pie, a lightened up vegetarian recipe. I knew Puff Pastry would be perfect for this project too.
What is a Hand Pie?
A hand pie is simply a small, sealed pie that can easily be held in your hand without making a mess. This puff pastry hand pie is perfect for grabbing on the go for breakfast or a snack. They are also a great addition to lunch bags.
How to Make Hand Pies
I dusted my counter with a little flour and rolled the puff pastry sheets out gently from the center just to smooth them out. If you have a tear you can easily repair it with a finger dipped in a little water. If you haven't already, make sure you preheat your oven to 400º.
Next, melt your chocolate chips in a double boiler. Remove the chocolate from the heat when it is about half melted and stir until it is completely melted.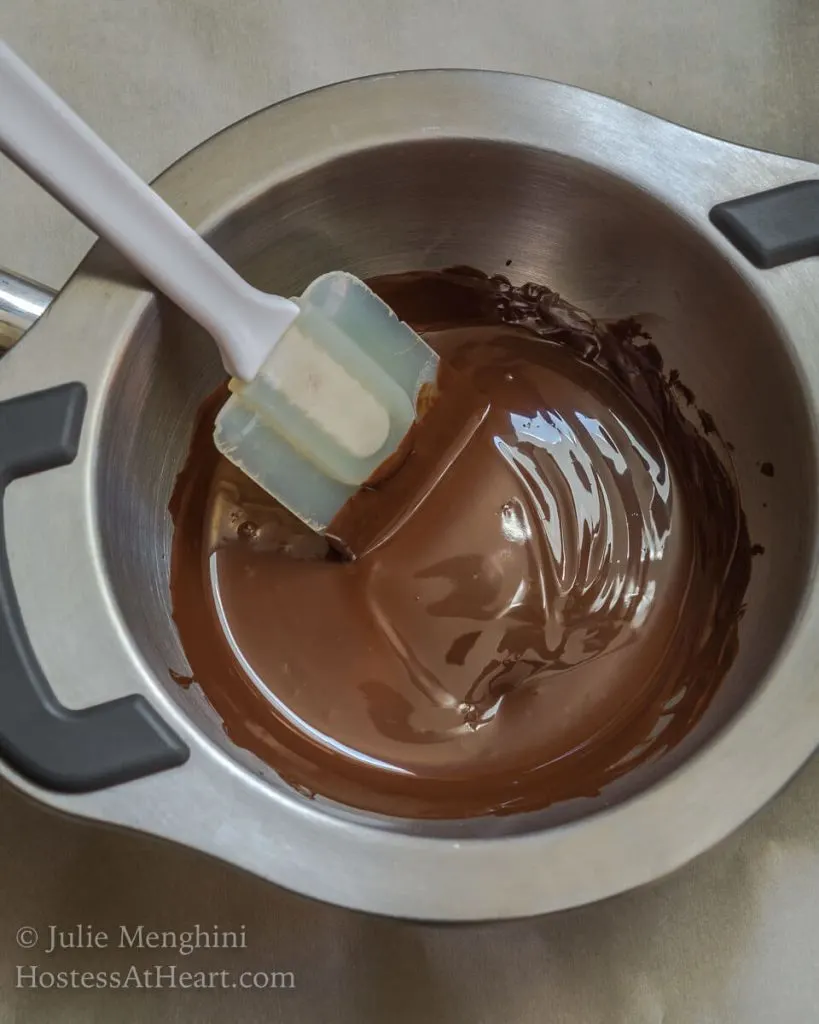 Lightly flour your work surface and roll out the puff pastry dough. Cut four-inch circles.
Place a tablespoon of the melted chocolate in the center. Then mix your egg whites and water and lightly brush the edges of your pastry dough with the mixture.
Fold the dough in half and crimp the edges with a fork to seal the edges. Place the chocolate hand pies on a parchment paper-lined baking sheet.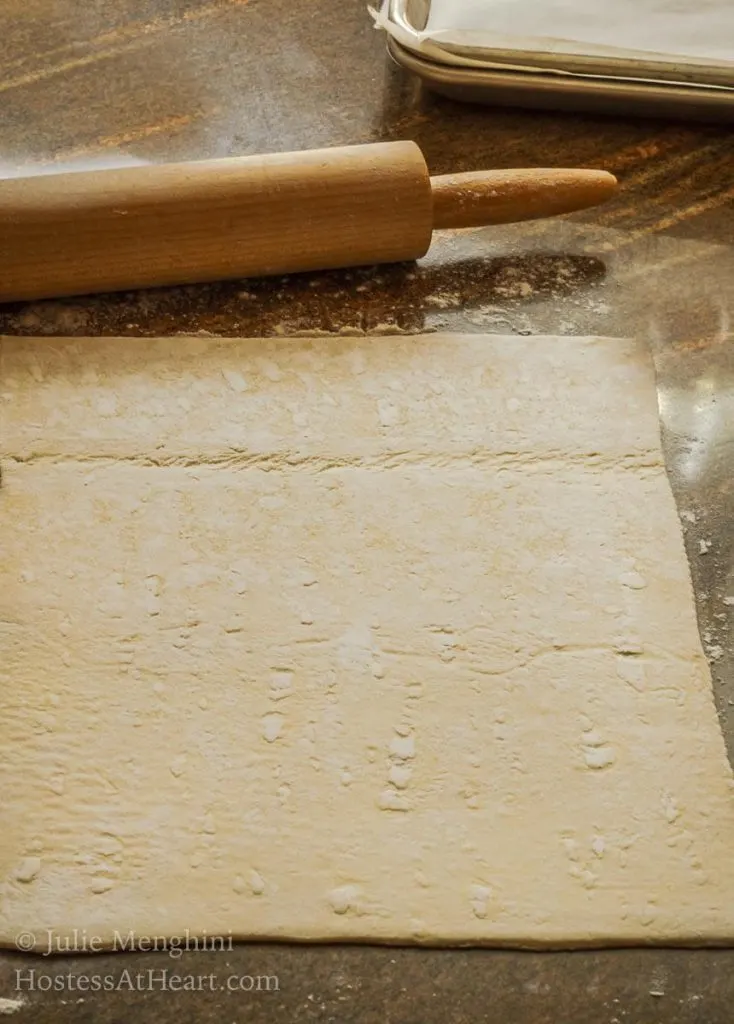 Using a pastry brush, brush the tops with egg wash and immediately sprinkle them with turbinado sugar. The egg wash will help the sugar stick to the puff pastry and will give them a beautiful golden color.
Pierce the top and bake until golden, approximately 10 to 12 minutes. Drizzle the cooled puff pastry hand pies with the remaining melted chocolate.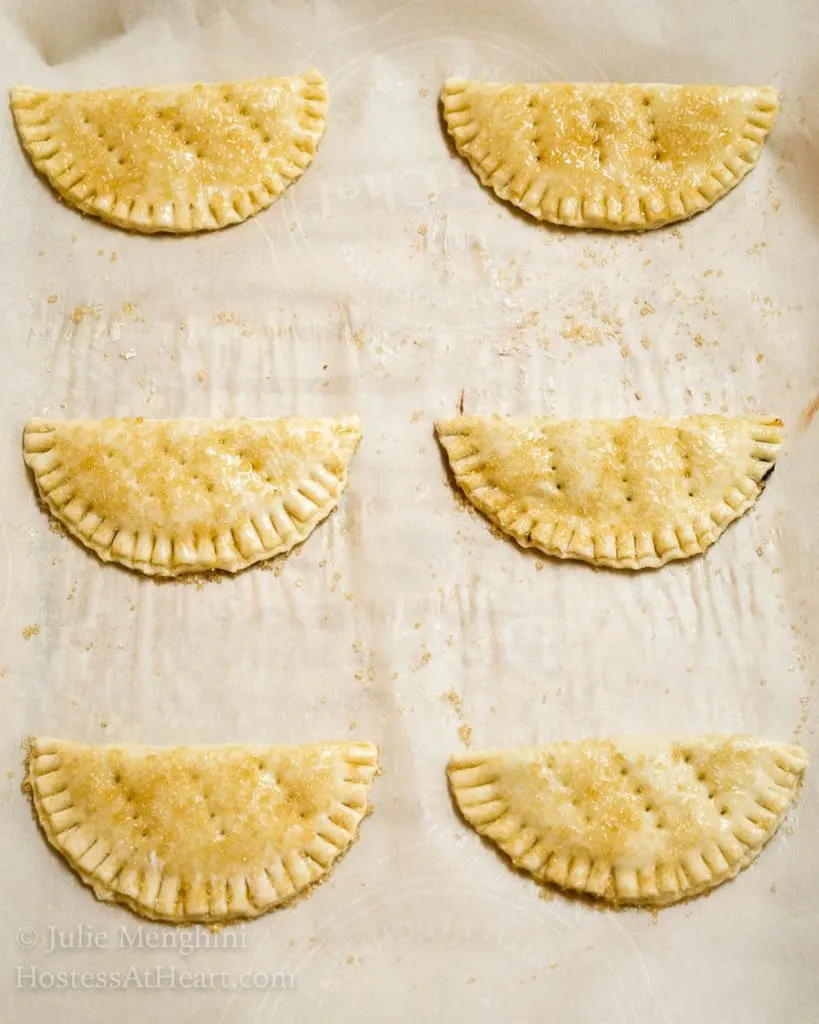 Ingredients for Chocolate Puff Pastry Hand Pies
Pepperidge Farm Puff Pastry. Store-bought Puff Pastry Sheets are so easy to use and are perfect for these chocolate hand pies.
Bittersweet Chocolate Chips. You could use semi-sweet if you wish.
Egg Whites help seal the edges and turn the puff pastry pies to a golden brown while baking.
Water.
Turbinado Sugar is perfect because it holds its shape as it bakes on these hand pies and doesn't just melt and disappear. It's optional but I love the crunchy texture it adds to the chocolate hand pie.
What you may need to make Puff Pastry Hand Pies
Baking Sheets – These sheet pans are durable and I have four of them so I can get everything baked in a jiffy!
Pastry Brush – There's a difference between a pastry brush and a basting brush. I like using natural bristles for my bakery for soft even coverage.
Parchment Paper – This is my favorite parchment paper. It's important to know that there is an oven temperature rating on parchment paper. If you exceed it your parchment paper can catch fire in your oven. This one is rated to 450°F, high enough for my bread recipes too.
Variations for on the Hand Pie Recipe
Filling Variations
Our Apple pie filling or Pear Pie filling recipes are perfect for hand pies. Just be sure to cut the fruit small enough to get a lot in each pie. You can also use store-bought pie filling or use any other pie filling recipe with this puff pastry crust.
Shape Variations
You can cut the puff pastry into any shape using a cookie cutter. Our half-moon shape is probably the easiest next to making pastry squares using a knife or pizza cutter. Make sure the shape is large enough to fill and then crimp the edges. We use a 4" cutter.
Don't forget to pin this scrumptious Dark Chocolate Filled Puff Pastry!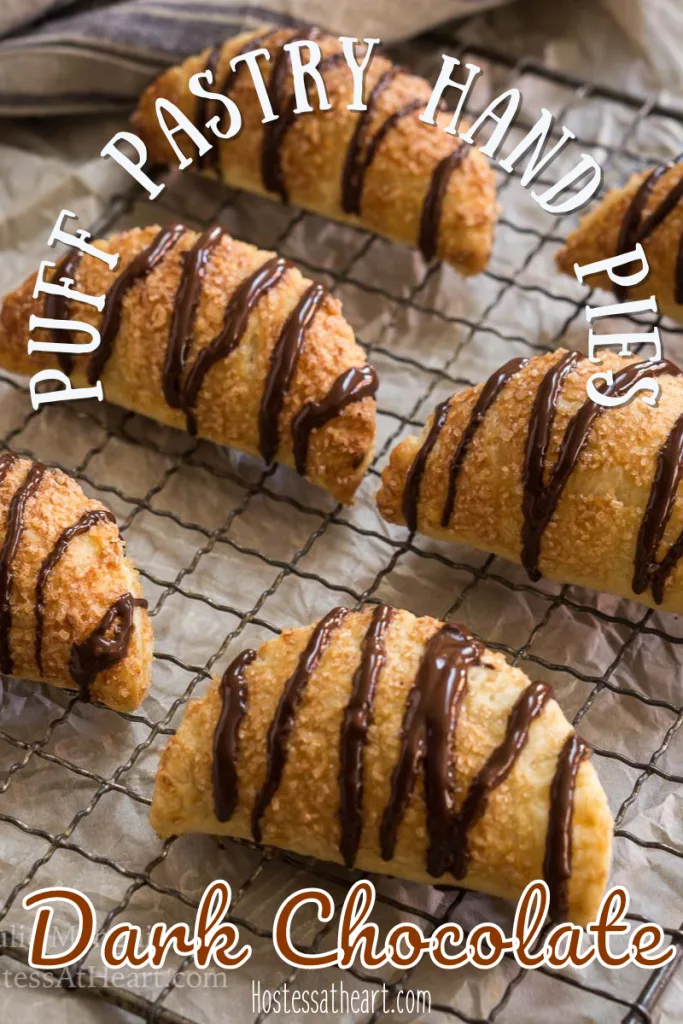 FAQ for Chocolate Hand Pies
How do I stop my pies from leaking?
Don't over-fill. Leave some space between the filling and the edges.
I roll the puff pastry just to even out any folds. We don't roll the puff pastry thinner.
Crimp the edges completely. I just use a fork.
Vent the hand pies by piecing them a couple of times with a fork or sharp knife.
Can hand pies be frozen?
Yes, they freeze well baked or unbaked. Just make sure that they are crimped well and vented first. Place the hand pies in a single layer on a baking sheet. Once frozen, put them in an air-tight container.
There's no need the thaw them before baking. If you vented them just place them on a parchment-paper-lined baking sheet in a preheated oven and bake. They may take a couple of minutes longer than from a thawed state.
How do you store hand pies?
Hand pies are the best on the day they're made. I store baked hand pies at room temperature or refrigerate in an airtight container for up to 2 days. Warm briefly in the microwave. The chocolate will melt on the inside as well as that chocolate drizzle.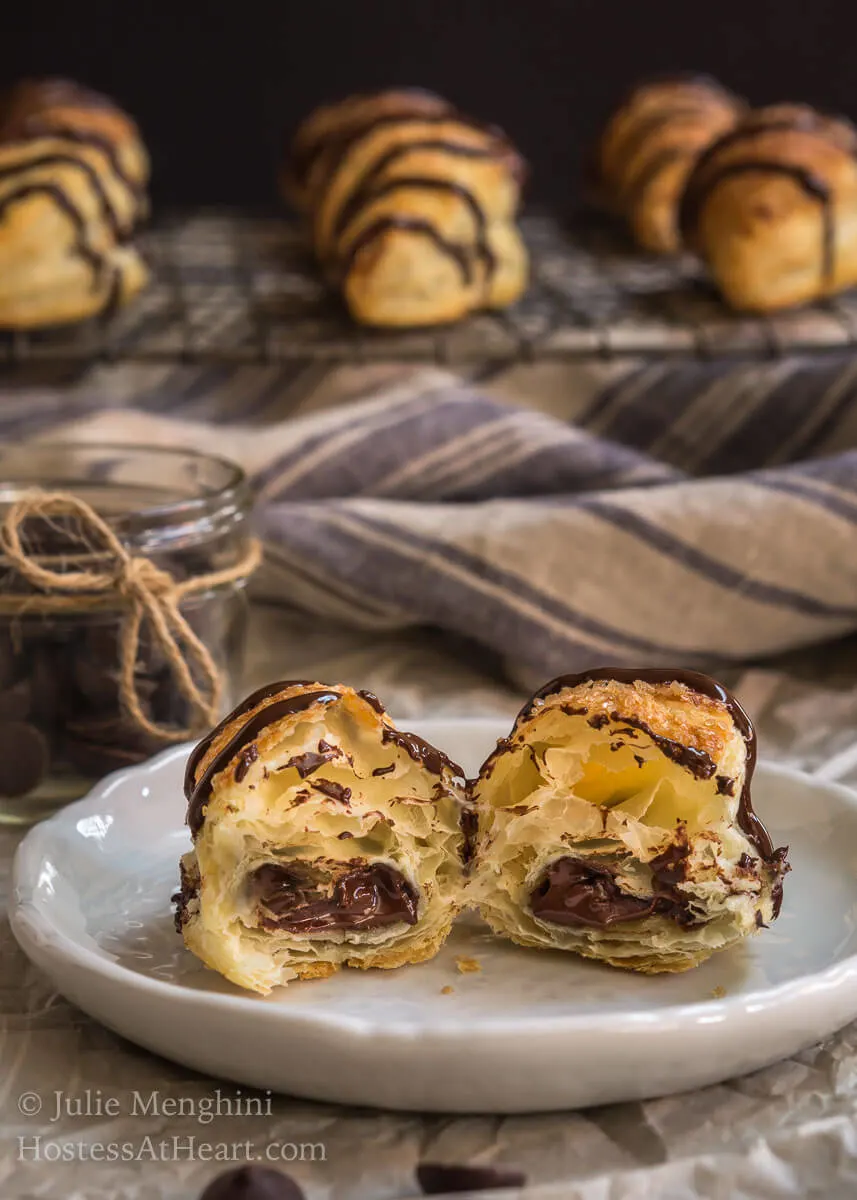 These Puff Pastry Hand Pies looked and tasted exactly like what I want on my brunch table.
More Great Pies to Try
Pear Hand Pies with Dark Chocolate Drizzle
Easy Blueberry Pineapple Hand Pies
Cherry Hand Pies from my friend at An Affair from the Heart.
Fresh Peach Pie – No-Bake Recipe
Don't Forget To Come Back And Let Me Know How Your Chocolate Hand Pies Turned Out!
Oh, by the way, my little neighbor boy did a taste test and these Dark Chocolate Puff Pastry Hand Pies passed with flying colors! Whew! I can't wait for a couple more ideas from this kid!

Let's keep in touch! You can find me on Pinterest, Instagram, Facebook, and Twitter! Better yet, enter your email address in the box below and never miss a recipe!