Nothing is more festive on your party table than a plateful of brightly colored Christmas Cream Cheese Mints. Our cream cheese mint recipe is super easy and fast because it can be piped instead of molded.
Use Christmas colors to make these mints both beautiful and delicious.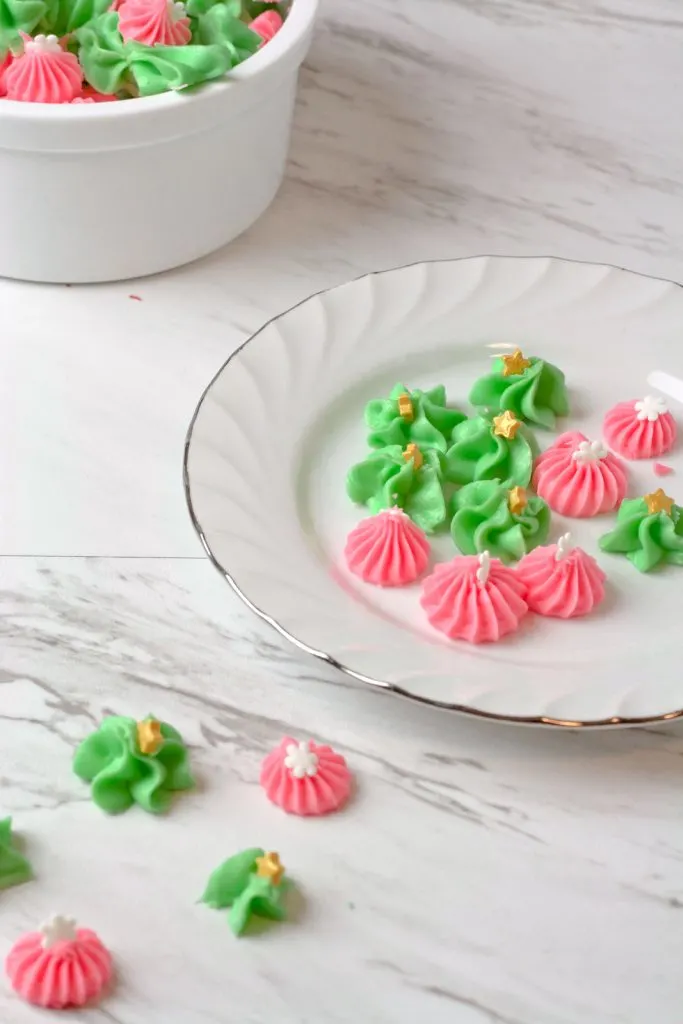 Why I love these Cream Cheese Mints for Christmas!
Making and piping these beautiful cream cheese mints for Christmas is so incredibly easy! Here are more reasons to love this cream cheese mint recipe.
Adorable!
Much quicker than using molds.
Less mess and cleanup!
Can be made up to 2 months in advance.
They're great for Christmas Cookie platters and gifting.
Easily adapt this Cream Cheese Mint recipe for other events.
You can use molds if you really, really want to and I'll explain how to do that in the FAQ.
How to Make Cream Cheese Mints
Step 1: Properly Mix the cream cheese mint ingredients.
To make my Christmas cream cheese mints, start by beating your room temperature cream cheese until it is nice and fluffy. Next, start adding your powdered sugar, one cup at a time on low. Make sure to fully incorporate each cup before adding the next. After the last cup is mixed in, add the peppermint extract and beat for one more minute.
Color and pipe Christmas Cream Cheese Mints.
To make special colors, separate the mixture into separate bowls for each color you desire, and add the food coloring. Choose your tips — I used 2D and 4B — and fill your disposable decorator bags. Pipe your mints.
Add a tiny sprinkle if desired. Chill for at least three hours and preferably 24 hours before serving.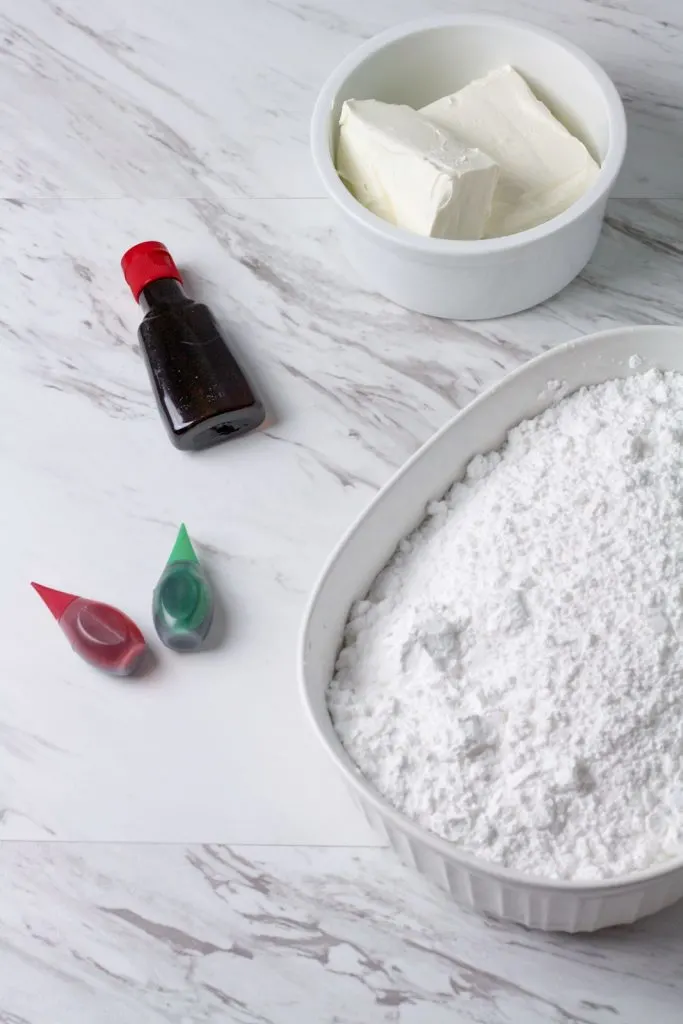 Ingredients for Christmas Cream Cheese Mints
Cream Cheese. Set this out on the counter several hours beforehand so it comes to room temperature. You don't want the cream cheese warm, however, because it will not pipe properly.
Powdered Sugar. Sifted. Brand name powdered sugar is best since generic brands use fillers.
Peppermint Extract. The flavor can be adjusted to anything you like. They don't have to be mint. Orange or Vanilla would be great flavors for Christmas too.
Food Coloring. We prefer the gel food colors. They have beautiful colors and are safe for people with nut allergies.
Special Sprinkles. These are optional! Our mints are shown with tiny stars or snowflakes added to each tip.
Equipment Needed to Make Cream Cheese Mints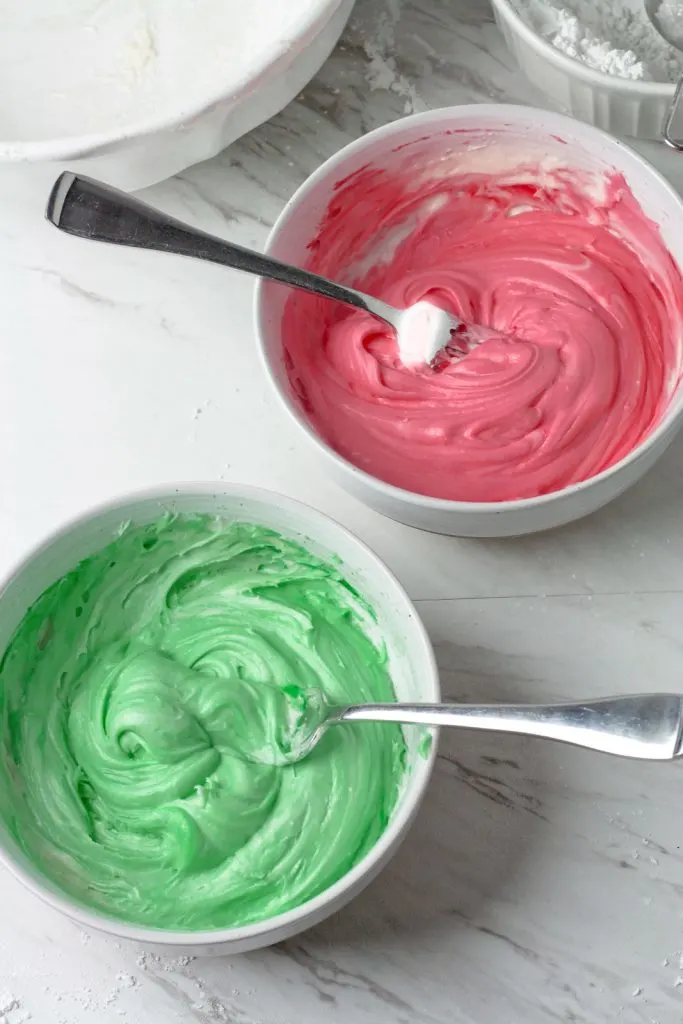 Tips for the Best Cream Cheese Mints
It is absolutely key that you are sure your cream cheese is room temperature or it will not whip up nice and fluffy and will be difficult to pipe.
I always sift the powdered sugar before adding it to the cream cheese. Sifting will guarantee a smooth and creamy cream cheese mint without pesky lumps.
Make sure to stop squeezing on your piping bag before you move on to the next mint, or your mints will all have long tails on top.
If your mints become to thin to hold their shape, put the piping bag in the refrigerator to firm the mixture up.
These mints are delightful, but very rich. Mixed nuts served alongside the mints will be a nice balancing touch.
Make sure you allow plenty of time to chill your mints. Pipe them directly onto parchment lined trays that will fit in your refrigerator and plan to chill them for at least three hours before plating for your event. If you are taking them to an event away from home, keep them chilled until you leave.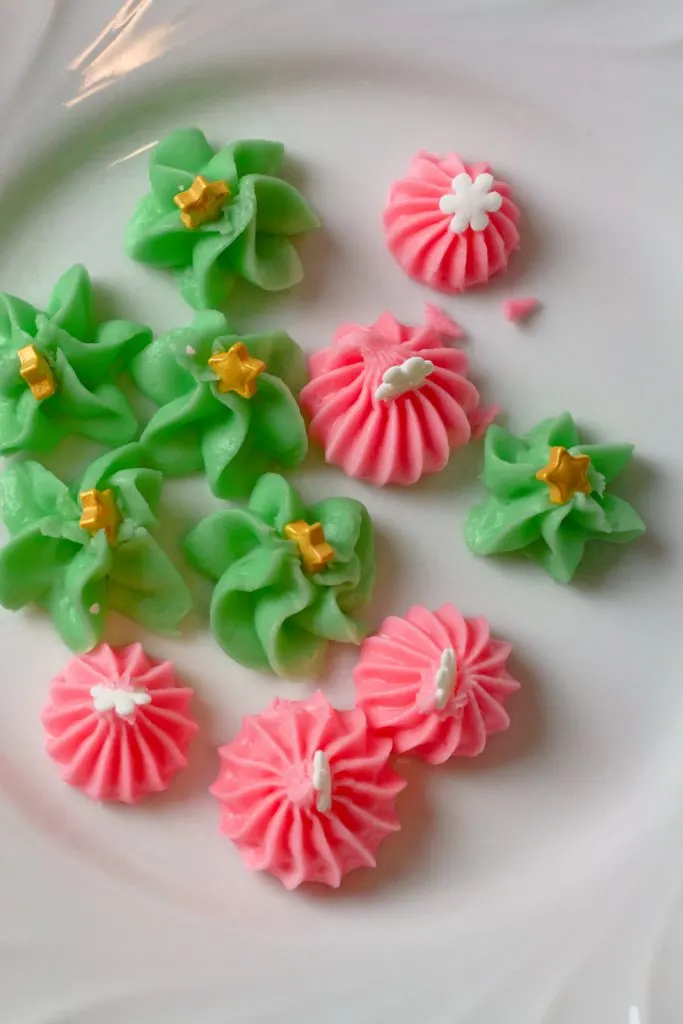 FAQ
How do you store cream cheese mints?
Mints can be frozen for up to 2 months in advance. Remove them from the freezer 30 minutes before serving. When freezing, be sure to put parchment paper between layers of mints in a sealed container so they don't stick together.
Mints can also be kept in the refrigerator in a single layer for up to 2 weeks. Cover them so they don't dry out and develop a crust.
How are Cream Cheese Mints piped?
The process of piping is simple and fast. Just place your tip of choice in the bottom of a disposable piping bag.
Then fill the bag about halfway with the mint mixture. Twist the bag several times at the edge of the frosting to keep it sealed in your hand.
Next, holding the bag at a 90º angle, squeeze gently onto the parchment paper until your desired mint size is reached. Before lifting up from your mint, stop the pressure on the bag to preserve the design. Top each mint with a tiny sprinkle if desired. The result is so cute!
Do Cream Cheese Mints require refrigeration?
Yes, they should be refrigerated in an airtight container in single layers separated by parchment paper or wax paper. They can be refrigerated for up to 2 weeks.
How many mints per person for a party?
2 to 3 mints per person. I make plenty and freeze them in individual containers. if my tray is getting low I take another container out of the freezer.
Can this recipe be used with molds?
Yes, this cream cheese mint recipe works in rubber or silicone molds. However, you'll want a stiffer cream cheese mixture so add powdered sugar until they can be handled. I've found that if I roll the mints mixture in marble-sized balls and then in sugar, they're less likely to stick in the molds. It's also best that the mixture be chilled slightly before being molded. Press them into the mold and pop them right out.
Here are a few Christmas Cream Cheese Mint molds you might like to try.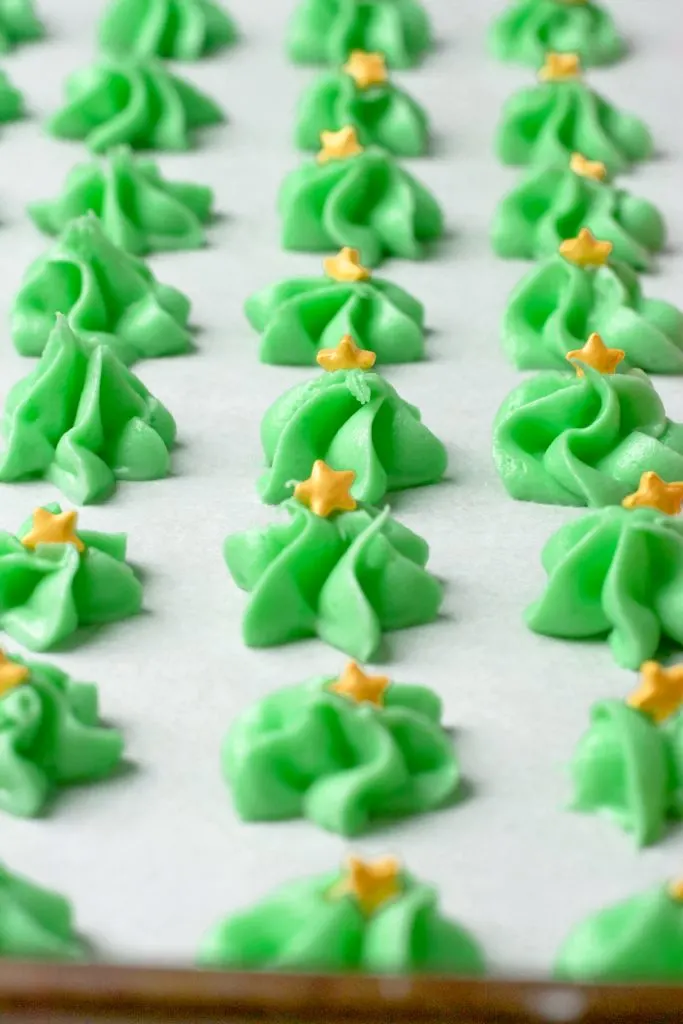 What Else to Serve at Christmas Parties
Pineapple Campari Cocktail Recipe
Reindeer Food Recipe – People Love It Too!
Chocolate Peanut Butter Balls Recipe
Vodka Chocolate Covered Strawberries
Chocolate Almond Microwave Fudge
If you make Cream Cheese Mints for Christmas stop back and let me know how they turned out!
Related fun recipes for all year long
Monster Cupcakes – These fun and adorable cupcakes are perfect for a child birthday party to Halloween
How to Make a Basket Weave Cake – If you love to pip frosting or want a great project to learn, just take a look at this beauty. It's perfect for Mother's Day, Birthdays, or Holidays.
Bunny Butt Cupcakes – I love making these cupcakes for Easter. My Granddaughter loves to help (and say butt).
Mummy Pretzels – I your'e serving the Monster Cupcakes or Monster Cake, these pretzels are a must. They're quick, easy, and so much fun!
Pin this Cream Cheese Mint Recipe!