Whenever you want to have a show-stopping cookie tray for your next holiday party, serve these beautiful white chocolate oreo truffles. Guests of all ages will adore this special treat sometimes called Oreo snowball cookies.
This gorgeous cookie treat also works great to make in large batches and hand out to your neighbors and friends as a holiday gift. Customize our White Chocolate Oreo Truffle Balls Recipe to your friends' tastes using the variations we've mentioned for a personalized gift basket.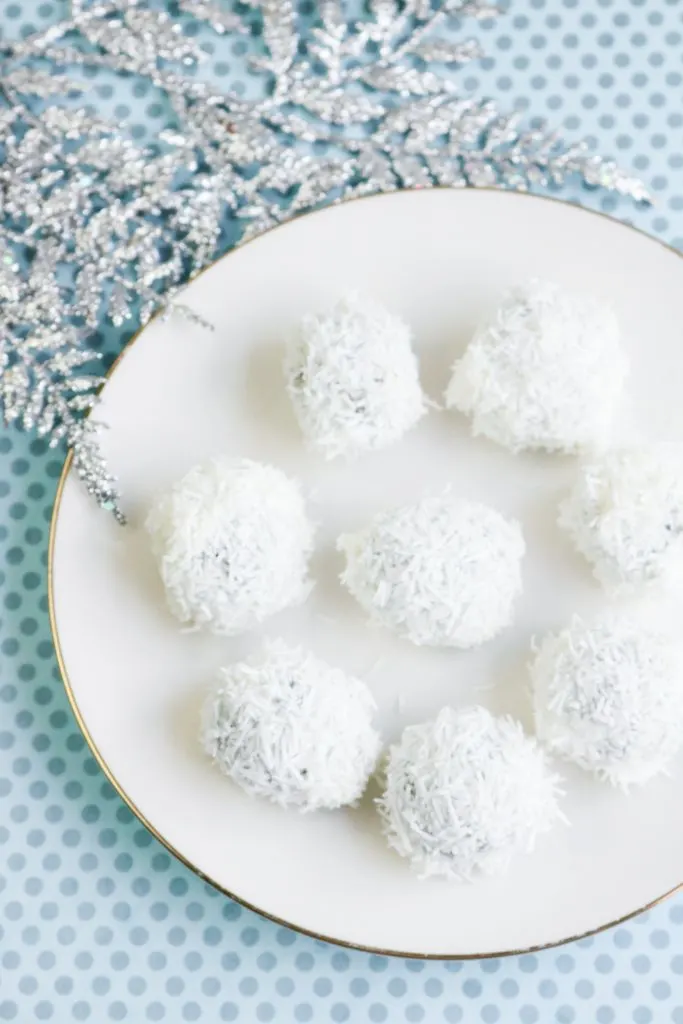 Why You'll Love These Oreo Snowballs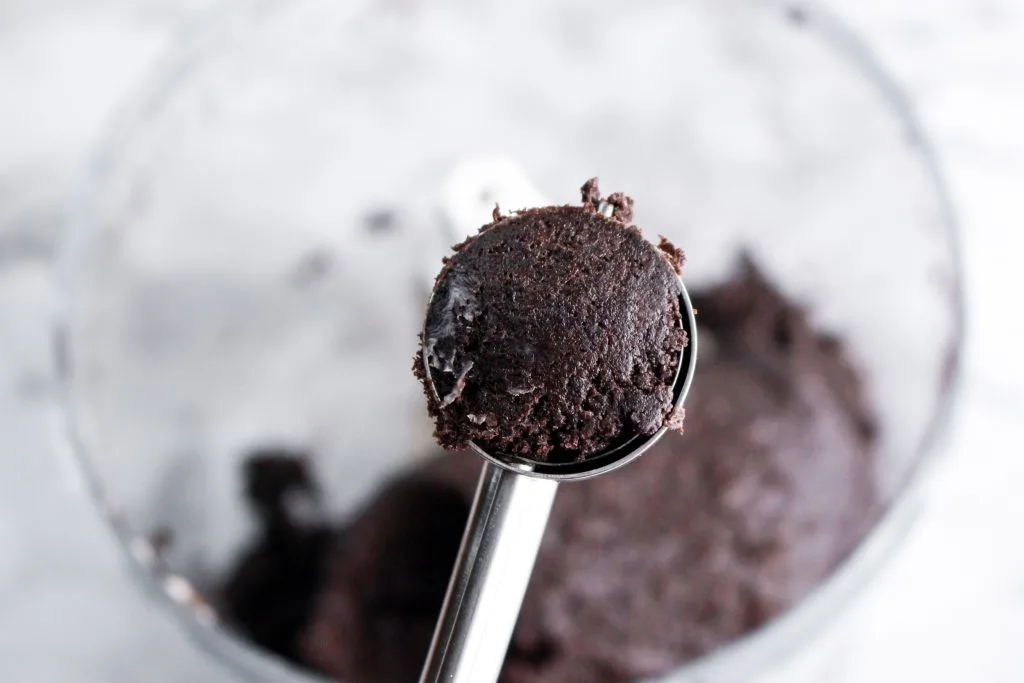 Equipment Needed To Make the White Chocolate Oreo Truffle Balls Recipe
Food processor. I love my food processor and it makes it so easy to crush the Oreos and make this dessert fast.
Electric stand or hand mixer. If you don't have a food processor you will need to crush the Oreos by hand and mix the ingredients using a stand mixer.
Cookie Scoop. This handy tool is a kitchen essential for me and allows you to get each cookie or oreo truffle perfectly uniform.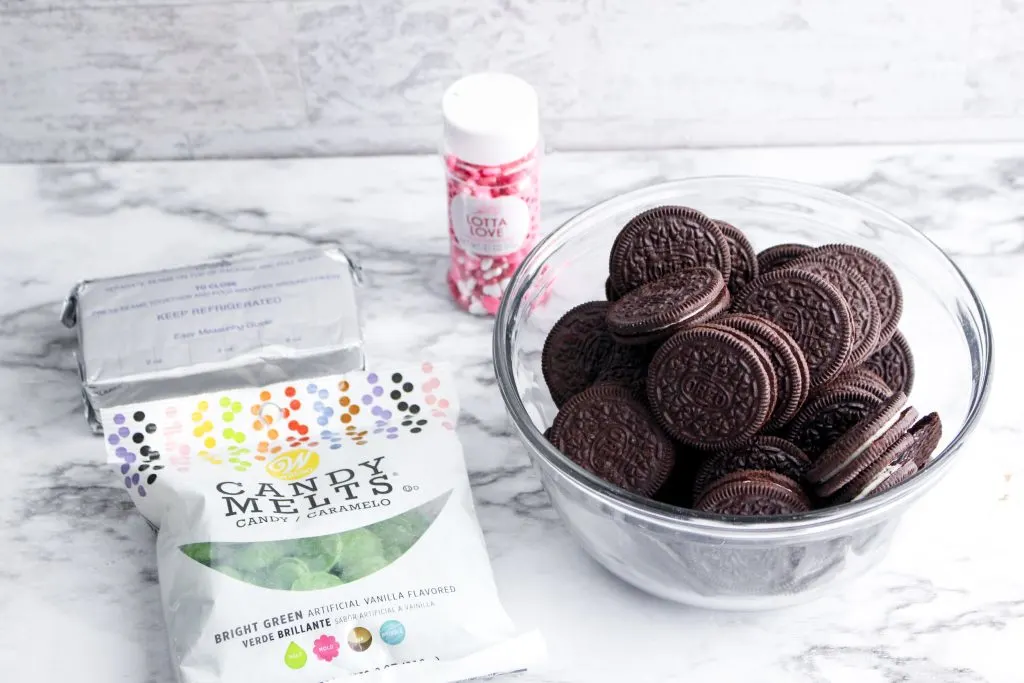 Ingredients For Your White Chocolate Oreo Truffles
Oreo Sandwich Cookies. You can actually use any flavor of sandwich cookies for variations on Oreo truffles. I don't use the double stuffed variety.
Cream Cheese – Full-fat version is preferred. Set it out so that it comes to room temperature.
Melting Chocolate, Candy Melts or Almond Bark.
How To Make White Chocolate Oreo Truffles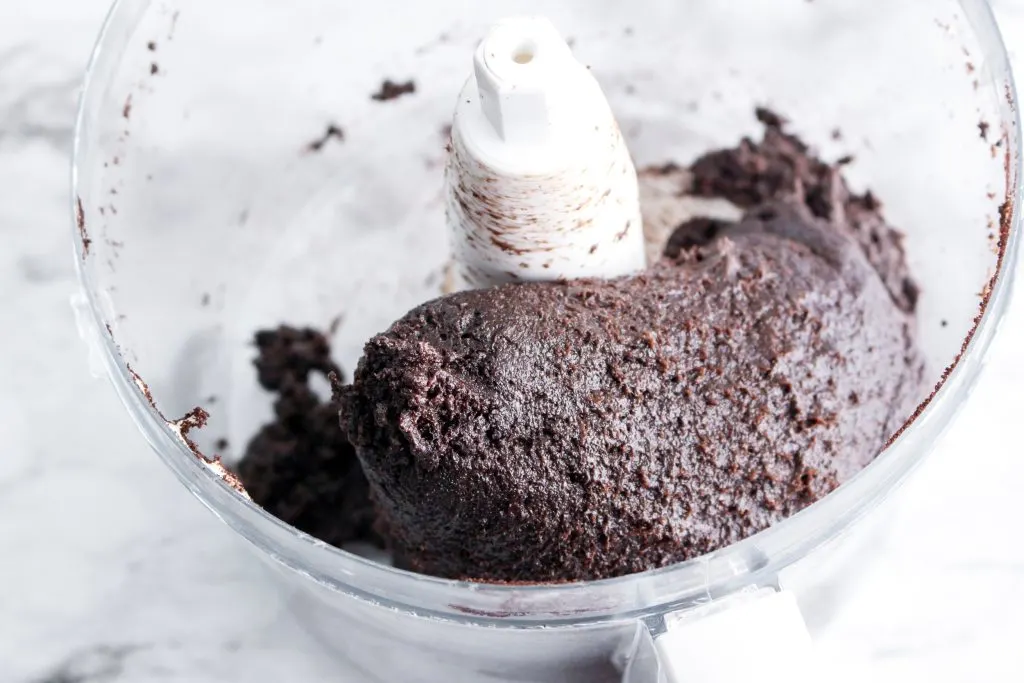 Step 1 – Line a baking sheet with waxed paper or parchment paper. This will keep the Oreo snowballs from sticking.
Step 2 – Place the Oreo cookies into a food processor and pulse until the cookies become fine crumbs.
Step 3 – Cut the cream cheese into chunks and add the cream cheese to the food processor. Pulse until the mixture is well blended and forms a large ball.
Step 4 – Using a small cookie scoop, portion the cookie dough into 1-inch balls and roll it into a smooth ball.
Optional: For best results, chill the oreo balls 30 to 60 minutes prior to decorating.
Step 5 – Dip each ball into the melted chocolate and tap to remove the excess chocolate. Place the cookie ball on the prepared cookie sheet and immediately decorate by rolling in coconut, additional cookie crumbs, or sprinkles.
Step 6 – Place the cookie sheet in the refrigerator for about 1 hour or until firm.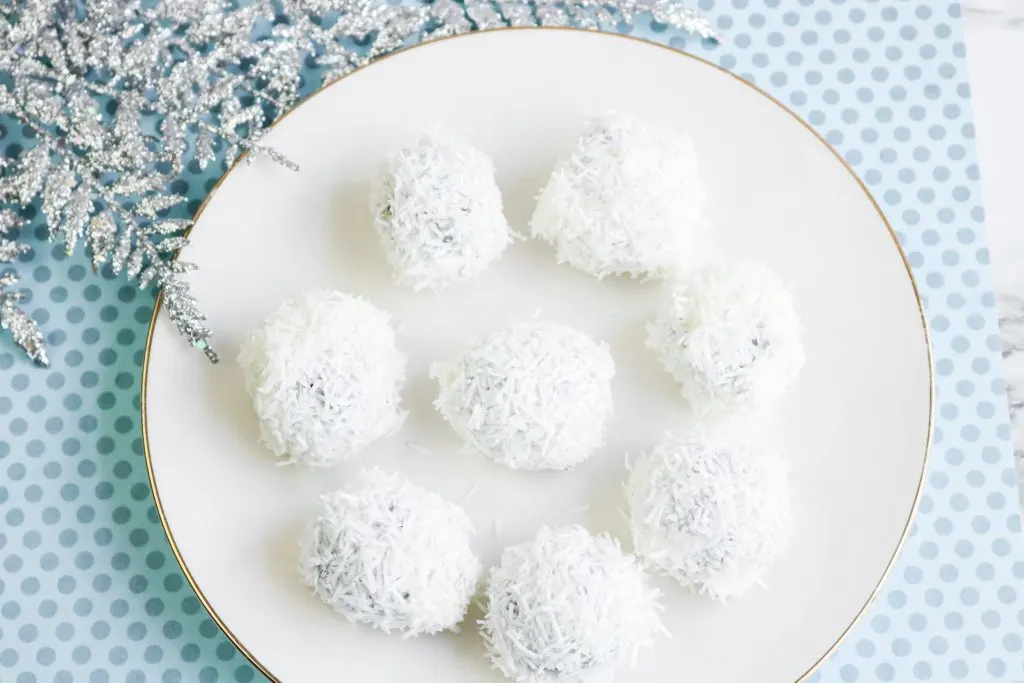 Tips to Make White Chocolate Snowball Truffles
Don't use light cream cheese. It is thinner and will not set as firmly.
I prefer to chill the balls for 30 to 60 minutes before dipping them. They set up quickly in the refrigerator.
I use a meat fork to dip the balls. It has fine tines and straddles the balls perfectly.
If using candy melts, add vegetable shortening or coconut oil to the candy as it melts. This makes the candy spread move evenly and creates a smoother shell around the truffle.
Be sure to add your sprinkles, coconut, or other garnish quickly before the white chocolate hardens.
Substitutions and Variations
Use Mint flavored Oreo cookies for Mint flavored Snowball Cookies.
Add crushed peppermint to the filling for Peppermint flavored Oreo Snowballs.
Use lemon Oreos to make White Chocolate Lemon Truffles.
Change up what you roll the cookies in! You can use crushed peppermint, crushed Oreos, sprinkles, shaved chocolate, coconut flakes, roasted and crushed nuts of any kind, crushed hard candies, or crushed butterfingers.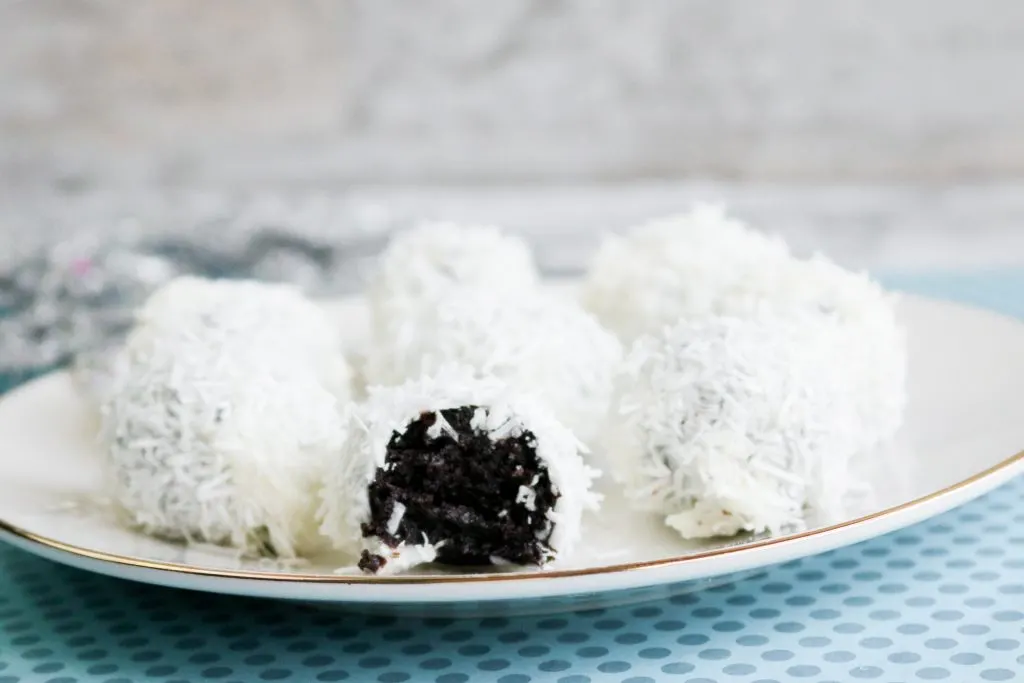 How To Reheat & Store White Chocolate Oreo Truffles
Best Way To Store Oreo Snowballs
Since they contain cream cheese (dairy), leftovers should be stored in a covered container in the refrigerator.
How Long Will White Chocolate Oreo Truffles Last In the Fridge?
Up to 3 weeks in an airtight container.
Can I Freeze White Chocolate Snowball Truffles?
Yes in a covered container. They're delicious to eat frozen or thaw quickly at room temperature or can be thawed in the refrigerator.
FAQ
Can I leave Oreo Snowballs out on a tray for a party?
Your White Chocolate Snowball Truffles can sit out for at least a couple hours but will gradually soften over time and should be refrigerated when your event has ended.
How do you dip white chocolate oreo truffles without making a mess?
I use a meat fork to hold each truffle as I dip it. The tines of a meat fork are perfectly spaced to provide a stable surface and also let the white chocolate drip through. Place the dipped balls on a baking sheet lined with waxed paper or parchment paper to rest while they set. If you put the tray in a refrigerator, they will set more quickly.
How do you keep the melted white chocolate from seizing?
Two things can cause white chocolate to seize. The first is old and expired white chocolate. It tends to clump and seize as it melts. The second is adding a water-based or alcohol-based liquid flavoring or food color. If you want color, add it to the coconut.
How do you color coconut?
Put sweetened flaked coconut into a jar or ziplock bag. Add a couple of drops of food coloring. Seal the bag or put the lid on the jar and shake.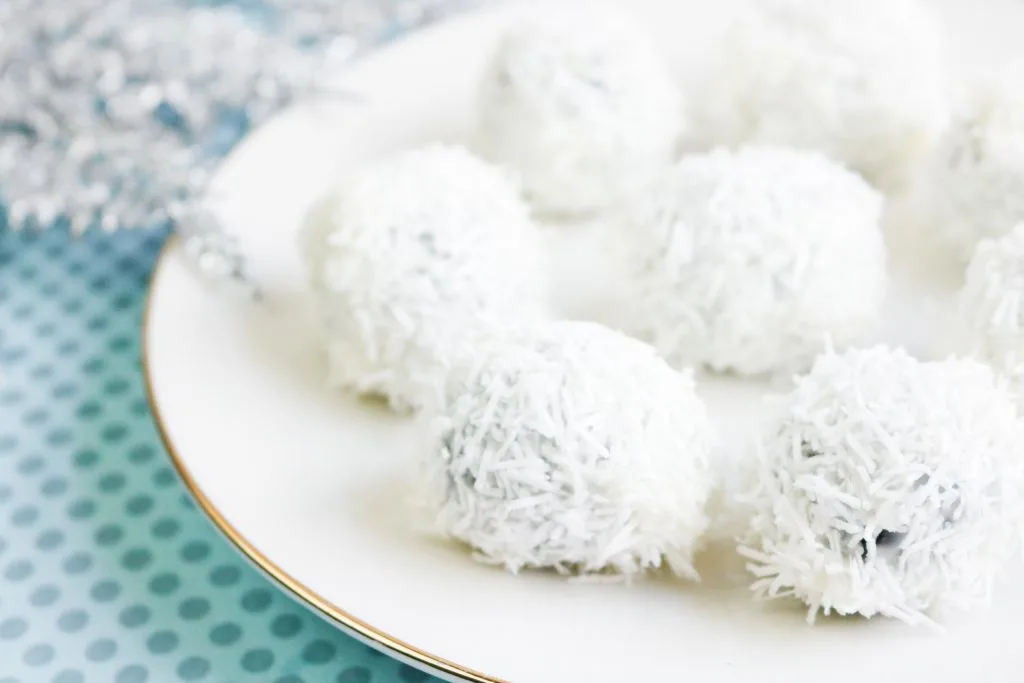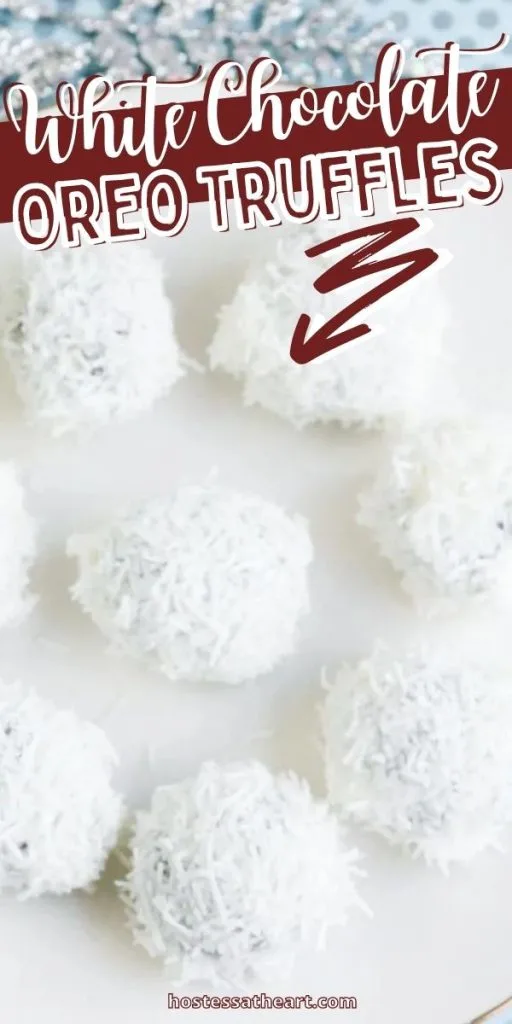 Other Treat Recipes You'll Love
Cookies for Kids' Cancer

There's a deliciously sweet reason for these Snowball Cookies this year.
We're raising money for the Cookies for Kids' Cancer organization through the end of December. I would love it if you'd check them out.
One cool thing: Cookies for Kids' Cancer is in a matching window with their friends at OXO, who will be matching every dollar raised through the end of the year, up to $100,000. So whatever money is raised will automatically double!
You can check out their Fund Raising Page and if it's in your means, help this worthy cause.
Don't Forget To Come Back And Let Me Know How Your White Chocolate Oreo Truffles Turned Out!