Nothing says love like these gorgeous homemade chocolate truffles. They're a decadently rich no bake truffles recipe that will not be forgotten.
An easy no-bake recipe makes these chocolate truffles with cocoa powder a breeze to pull off. No fancy steps are necessary.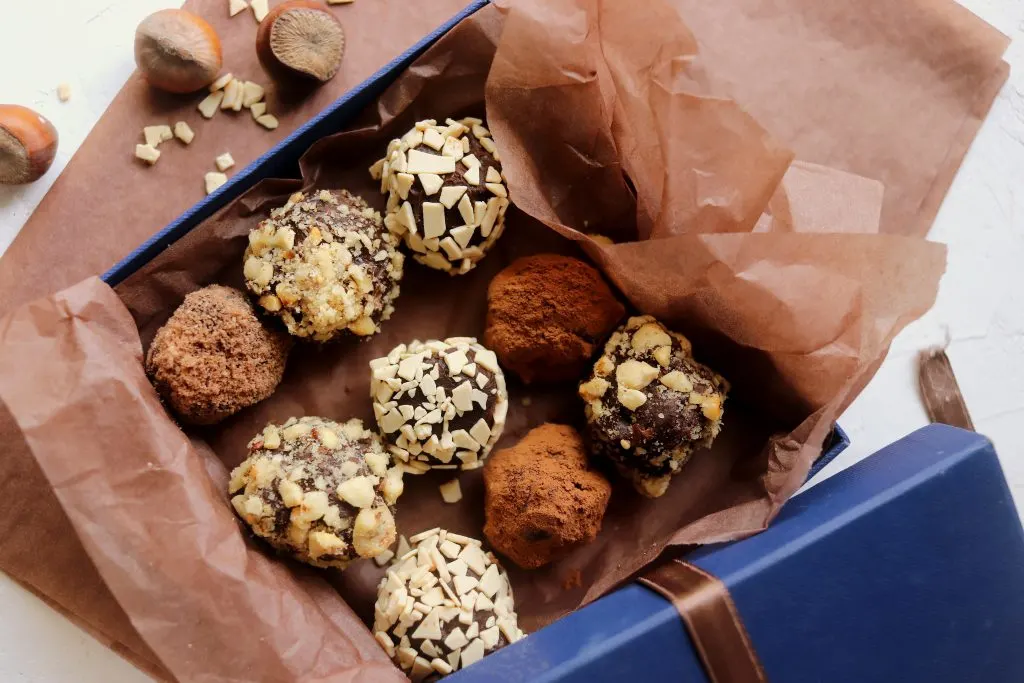 Why You'll Love These Decadent Chocolate Truffles
Decorating your chocolate truffles recipe for a theme is so simple to pull off. Simply change up the sprinkles or sugar and you've changed the theme!
Because these homemade chocolate truffles are so beautiful, so simple to make and so tasty, they are pretty much the perfect gift. Impressive, but easy.
Chocolate no bake truffles can be made ahead of time for your big event or special occasion and kept refrigerated until you need them.
You can make the chocolate truffles with cocoa powder for any occasion, formal or casual. Dressed up or dressed down, your guests are just going to want to eat them.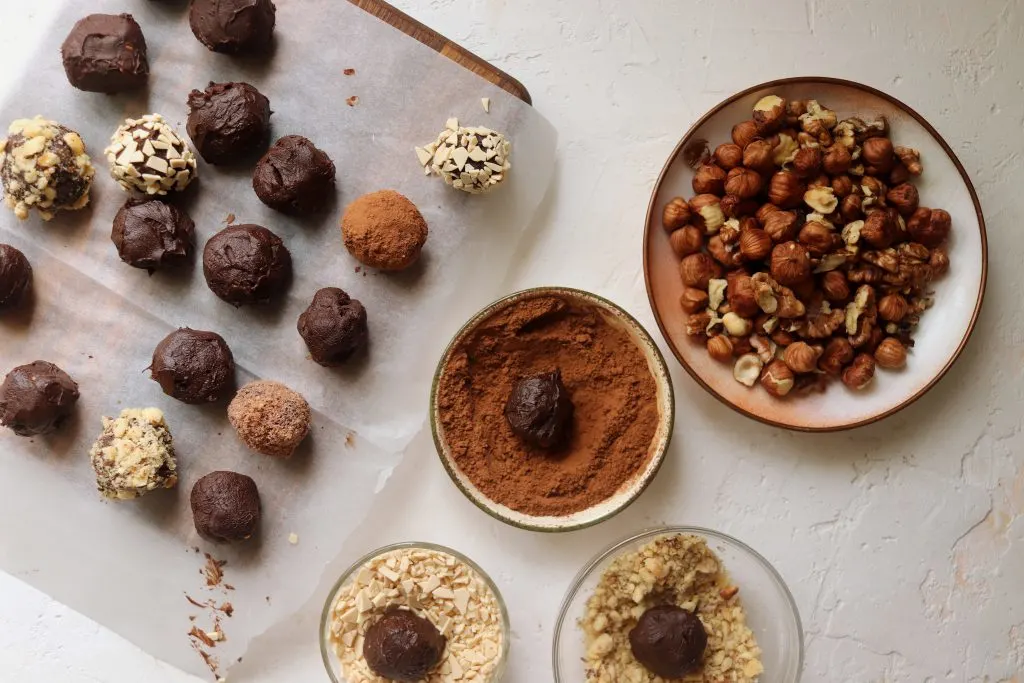 Ingredients Needed for Homemade Chocolate Truffles
Dark Chocolate. Good dark chocolate adds depth of flavor and an ever so slight bitterness that perfectly counters the sweet.
Milk Chocolate. Rich milk chocolate is everything we love about cocoa.
Heavy Cream. Melts the chocolate and allows the two types to be combined into the perfect truffle bite.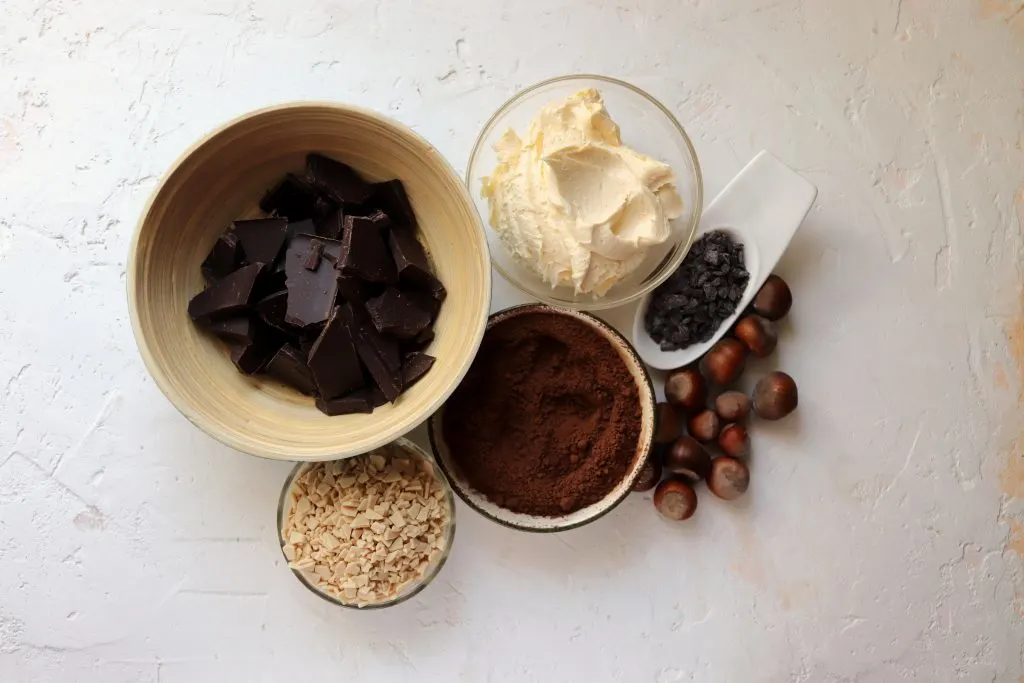 How to Make Homemade Chocolate Truffles
Pouring cream over chocolate as we do in this recipe is actually how "ganache" is made. It's rich and creamy like a soft fudge. This recipe isn't baked. It's chilled. Follow these simple steps to make truly decadent chocolate truffles everyone will love.
Step One. Put the chopped dark and milk chocolate in a heat-proof bowl and cover it with the cream.
Step Two. Set the bowl over the saucepan and bring to a high simmer or low boil. (Some bubbles but not rolling bubbles).
Step Three. Stir continuously with a spatula until the chocolate is completely melted, smooth, and glossy in appearance.
Step Four. Put the chocolate mixture into the refrigerator for at least 1 hour or until the mixture is hard but not solid. If you press it with your finger it will dent but not push through.
Step Five. Line a small baking sheet that will fit in your refrigerator with parchment paper.
Step Six. Place the garnishes on small plates or saucers.
Step Seven. Scoop balls of the chocolate mixture (1 to 2 teaspoons size) and roll them into the garnishes.
Step Eight. Place them on the parchment-lined baking sheet and refrigerate to harden.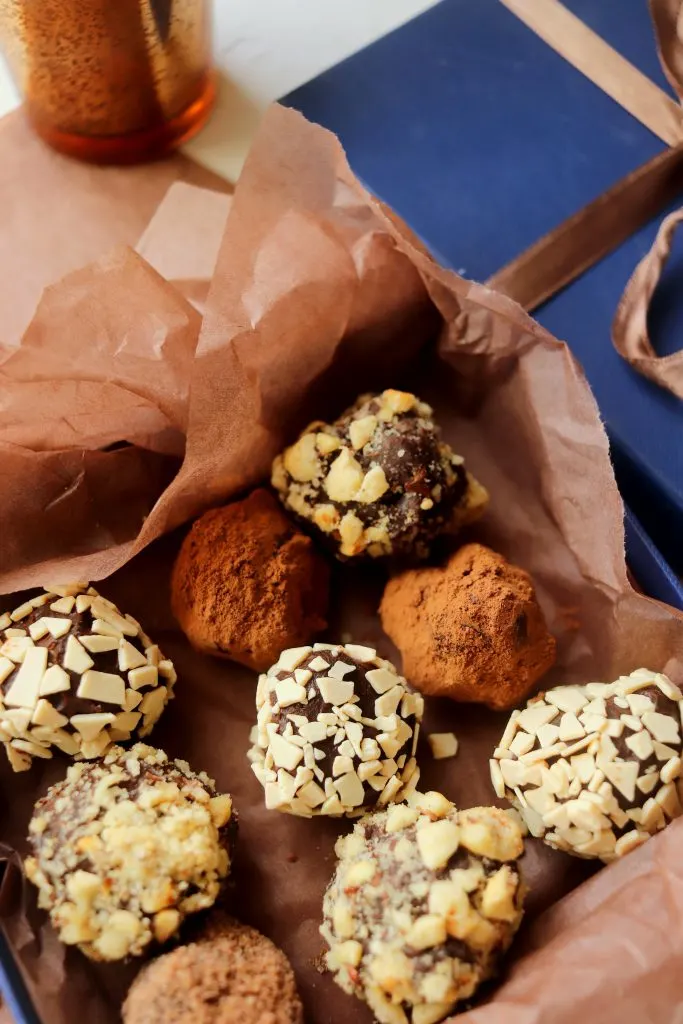 What To Serve with your Decadent Chocolate Truffles
These amazing truffles are a perfect gift on their own and will also make a great addition to any party menu. Add no bake truffles to your sweet charcuterie board or party tray.
Chocolate Truffle Flavor Variations
We don't recommend adding liquid such as extracts to this recipe as they will cause the chocolate to seize. Instead, add a little flair and use flavored chocolate such as chocolate with mint or orange!
Chocolate Truffle Toppings
Sprinkle with your choice of chopped, toasted nuts.
Dust some of the truffles with black chocolate cocoa for a dramatic result.
Sprinkle some finished truffles with a little flake sea salt.
Roll in coconut flakes.
Cookie crumbs.
Crushed peppermint.
Toffee Bits.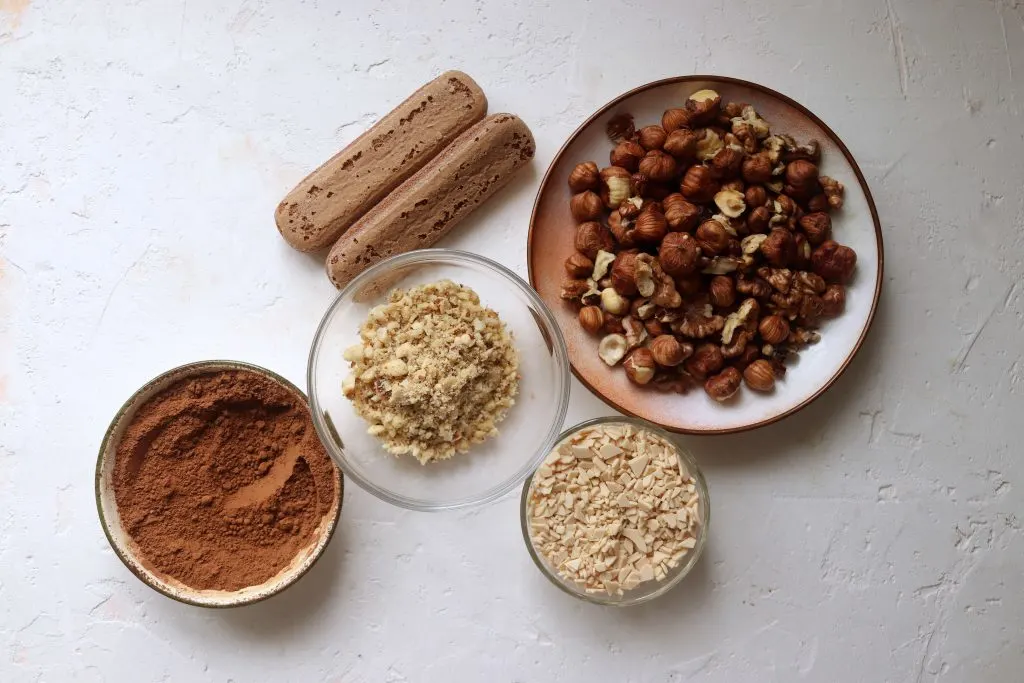 How to Store Homemade Chocolate Truffles
Best Way To Store Valentine's Day Chocolate Truffle Recipe Leftovers
Make sure to use an airtight container for storage. Until the truffles harden, it is best to keep them in a container where they can be separated and are not touching each other. Once they are coated in the garnish of choice and completely hardened, they can be kept in a smaller container where they touch.
How Long Will Homemade Chocolate Truffles Last In the Fridge?
Once hardened they can be stored in an air-tight container in the refrigerator for 2 weeks.
Can I Freeze Decadent Chocolate Truffles
Yes. You can keep these candies in your freezer for up to two months in an airtight container once they have hardened. Freezing chocolate truffles is easy. Try keeping them separated on a tray until they are fully frozen and then you can simply drop them into a freezer-quality plastic baggy and remove the excess air. You can also use any airtight plastic container.
How To Thaw Chocolate Truffles with Cocoa Powder
I prefer to thaw frozen chocolate truffles in the refrigerator. They don't sweat using that method.
Valentine's Day Chocolate Truffle Recipe FAQs
What if I don't have a double boiler?
I make my own by adding a couple of inches of water in a saucepan and setting a glass bowl over the top. Make sure the bowl isn't sitting in the water. You want the bowl to fit fairly well on the top so that it doesn't slide around. I use a glass bowl so I can tell when the water comes to a boil and to make sure that the pan
doesn't cook dry.
I thought truffles were a mushroom only used on Food Network and in fancy restaurants. Why do we call chocolate truffles "truffles" anyway?
Believe it or not, chocolate truffles are named after the actual mushroom because of their dark and bumpy appearance, which is similar.
How long do chocolate truffles last?
Up to two weeks in the refrigerator or two months in the freezer.
Are the homemade chocolate truffles gluten-free?
Yes. Gluten is a component of wheat products, and this recipe does not include wheat flour.
Can I make dairy-free chocolate truffles?
Yes. Make sure to purchase dairy-free chocolate, and if a true allergy is a concern, read the label to check for cross-contamination. All allergens must be clearly spelled out on the labels of food items in the U.S.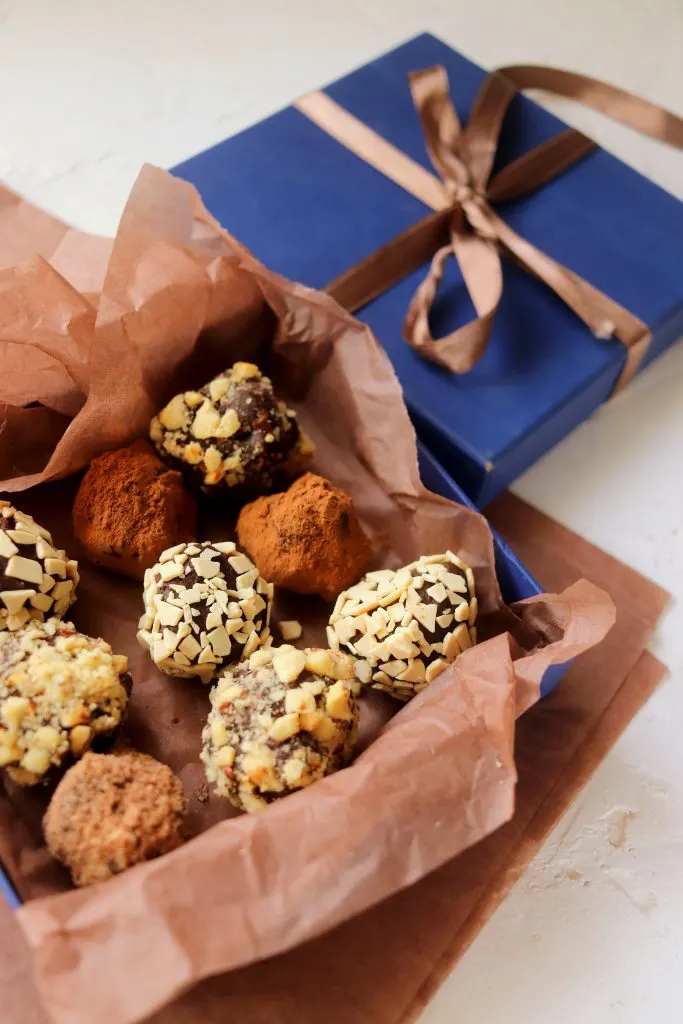 Tips to Make the Perfect Homemade Chocolate Truffles
Chop the chocolate into small pieces. That will help it melt quicker and smoother without burning.
Using a sharp knife or a serrated knife to chop the chocolate will keep it from breaking off into big pieces.
Use a cookie scoop to make uniform truffle balls.
Applying a little oil or cocoa powder to dusting your hands can make this a little less messy.
If the chocolate is too hard to scoop, let it stand at room temperature for a little bit.
If it's too soft, it may be because your hands are warm. This is the reason that I use a small scoop and handle them as little as possible. You may want to chill them again and if that doesn't harden them you may have to reheat the chocolate mixture and add more chocolate.
Have you ever wanted to know more about chocolate including making it yourself? You may enjoy this article on making it from scratch.
Other Chocolate Recipes You Will Love
I hope you enjoyed this delicious recipe as much as we do. Drop me a comment below, and don't forget to give it a star rating. ⭐⭐⭐⭐⭐. Your comments and ratings help others decide if this recipe is for them too.
Don't forget to pin these decadent Chocolate No Bake Truffles Recipe!