Chocolate French Silk Pie recipe is a truly decadent treat that combines a rich and creamy chocolate mousse-like filling with a crushed cookie crust and is guaranteed to bring a smile to even the most discerning sweet tooth.
Not only is this classic dessert deliciously indulgent, but it's surprisingly easy to make.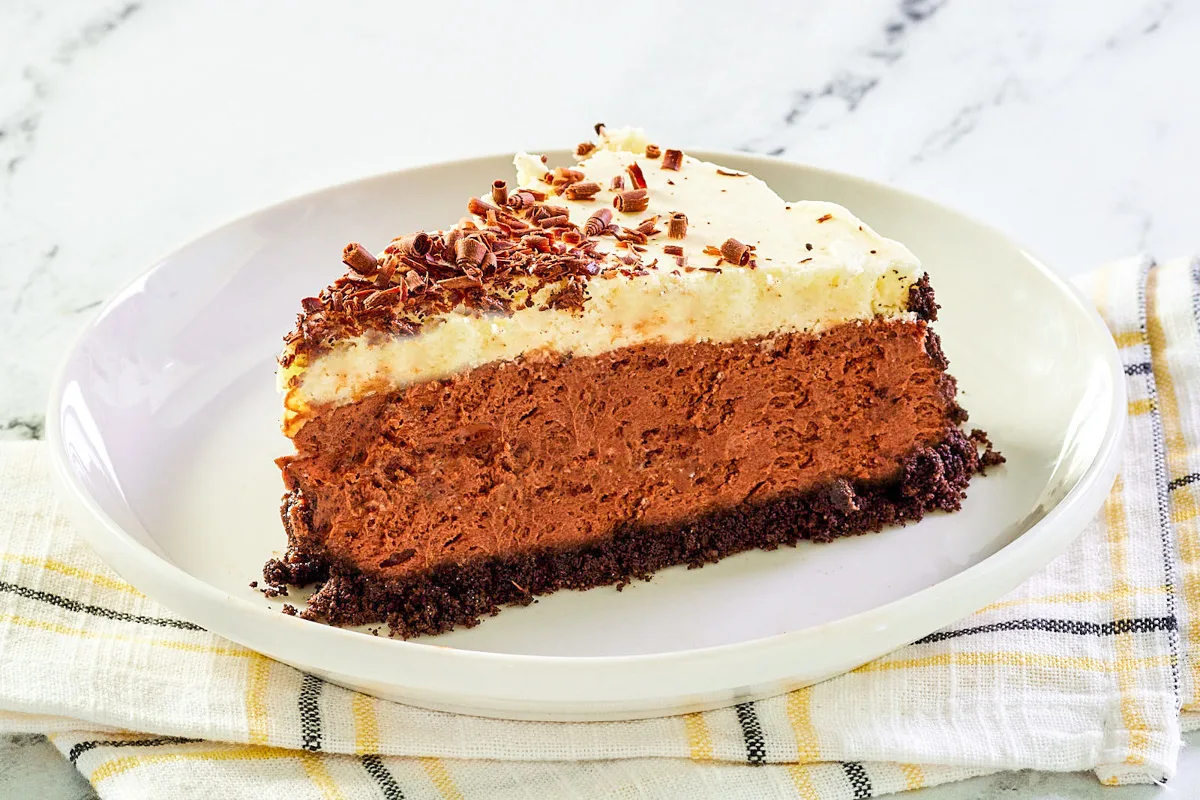 Your sweet tooth is going to love this French Silk Chocolate Pie. This classic dessert is a chocolate lover's dream that is sure to impress your guests.
This pie requires 6 hours of chill time so you'll want to plan ahead.
Why You'll Love French Silk Pie
Flourless. While we used Oreos for our pie crust recipe, it would be super easy to make this pie gluten-free simply by making or buying a gluten-free pie crust. You can even buy gluten-free Oreos this day and age, so it is as easy as — pie — to go gluten-free here.
Make Ahead. You can make this pie a couple of days in advance and keep it refrigerated for the big day, which comes in very handy for holidays and special occasions with lots of cooking involved.
Gorgeous and Indulgent. No need to dole out money to the bakery when you can make your own French Silk Chocolate pie with a smooth chocolate filling.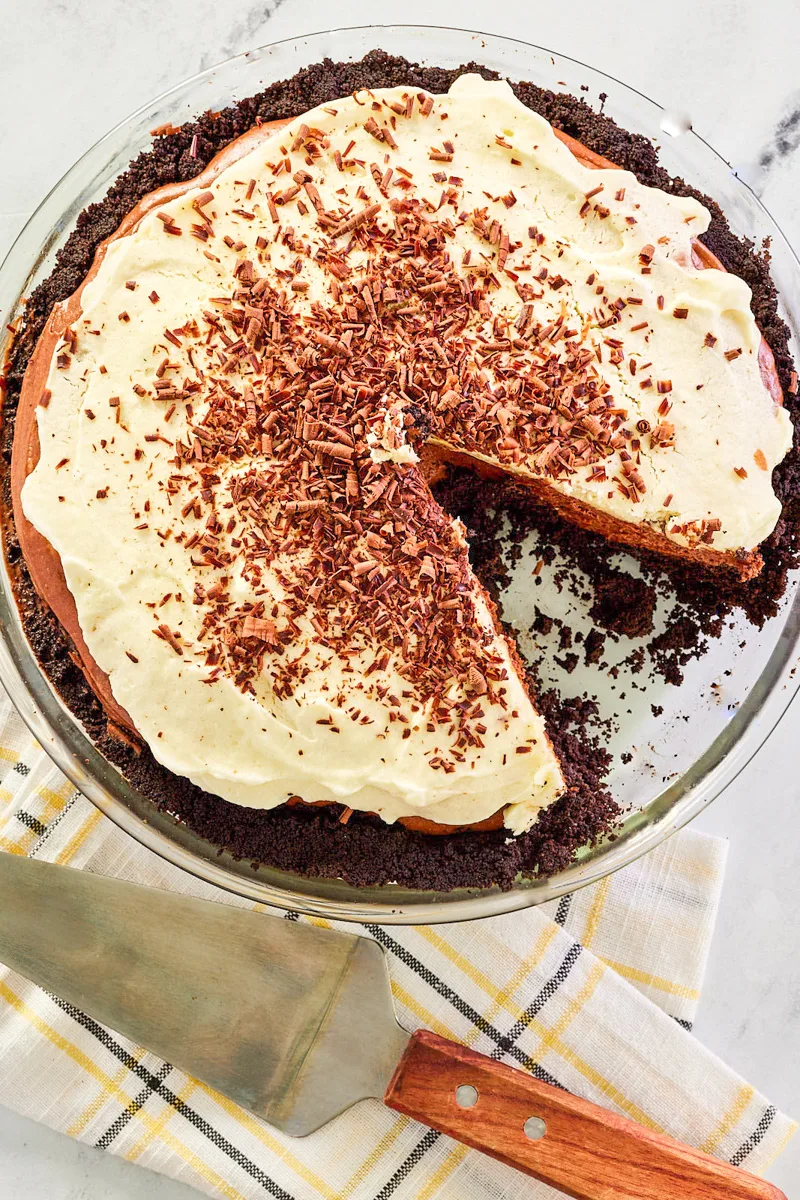 What is French Silk Pie?
If you've never had French Silk Pie, you might be wondering how it got its name. One bite and you will not wonder any more. This particular chocolate cream pie is the smoothest, silkiest pie you've ever eaten.
You'll want to savor the rich flavor, texture, and crunch of the Oreo cookie crust. This classic recipe was first known as submitted to the 3rd annual Pillsbury Bake Off competition and has been famous ever since.
Equipment Needed
Ingredients you'll need for this recipe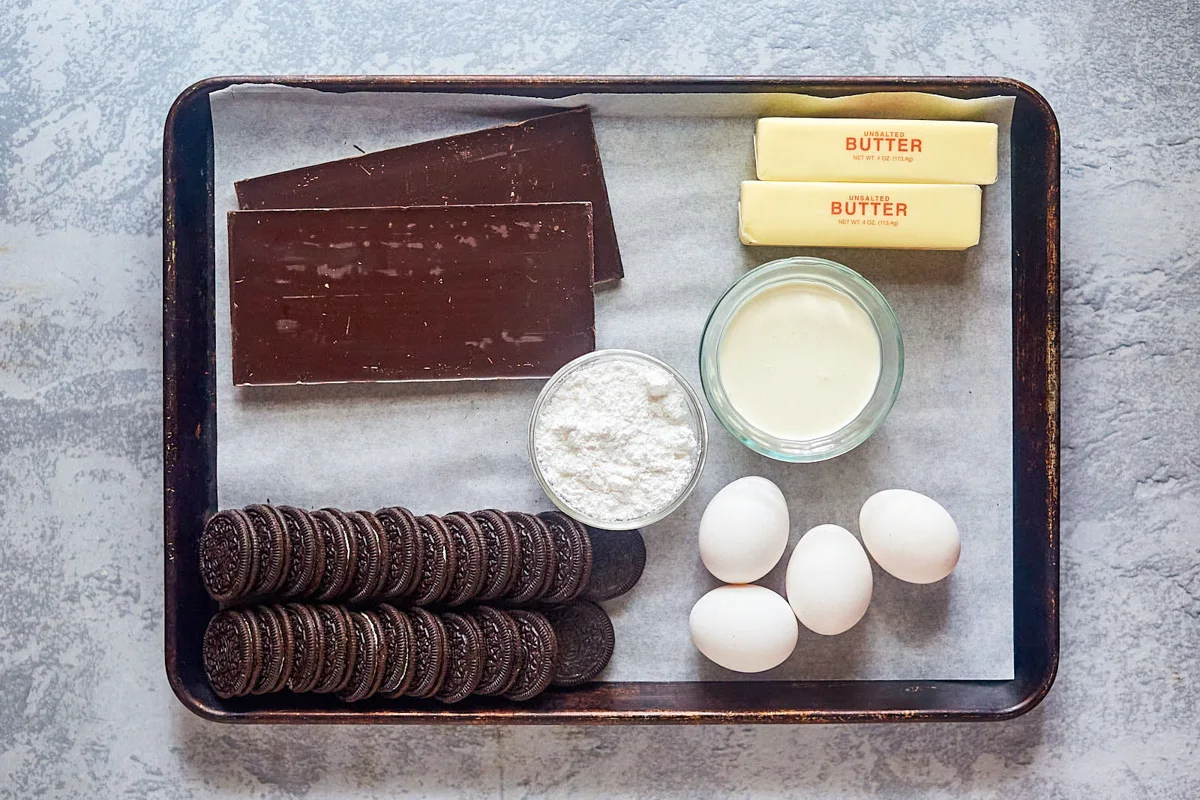 Ingredients for the Crust
Oreos. You can use any brand of chocolate sandwich cookie with creme filling and keep them whole.
Unsalted Butter. The cookies have enough salt. You don't need extra salt in the crust.
French Silk Pie Filling Ingredients
Granulated Sugar.
Eggs. The eggs make this pie so silky and light and smooth. You can also use pasteurized egg products (egg beaters) to make this pie filling. Whisk the raw eggs before incorporating them to make blending them easier.
Bittersweet Baking Chocolate. Do not be tempted to get chocolate like semi-sweet or milk chocolate. The darker flavor works well with this easy pie recipe.
Unsalted Butter.
Heavy Cream.
Powdered Sugar. Also known as confectioners' sugar.
Topping
Heavy Cream. You will use this to make your own whipped cream, so if you can find heavy whipping cream it has a slightly higher fat content than heavy cream and will whip a tiny bit easier. Both will work perfectly though.
Powdered Sugar. I use powdered sugar to sweeten the whipped cream. I believe that it incorporates with the heavy whipping cream and isn't grainy like granulated sugar can be.
Chocolate Shavings for Garnish. For this you will want to use semi-sweet chocolate or milk chocolate or your favorite chocolate candy bar. Not unsweetened chocolate that's found in the baking section of your grocery store.
How To Make French Silk Pie Recipe
Please note, that the printable recipe card has ingredient quantities, complete instructions, and nutritional information. The following is a quick overview of the recipe.
Step One. Prepare the crust.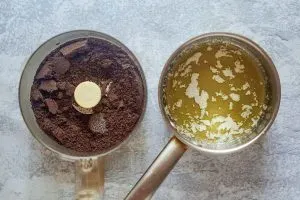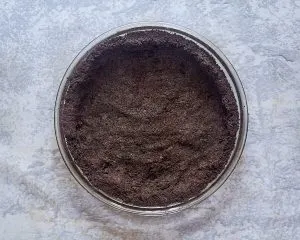 Place the whole Oreos in a food processor and pulse them until crushed. Then add melted butter. Press this mixture into the bottom of your pie pan and a little up the sides. Bake for ten minutes. Cool completely.
Step Two. Make the French Silk Pie filling.
Using a microwave-safe bowl, add the chopped bittersweet chocolate. Microwave for 30-second intervals stirring after each one until the chocolate is melted and smooth. Set aside to cool.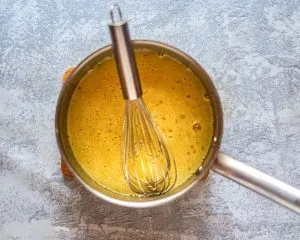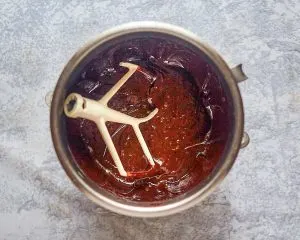 Whisk together the sugar and eggs in a saucepan and then set them on medium heat. Whisk constantly until it reaches 160ºF. Then remove it from the heat and add the chocolate and vanilla.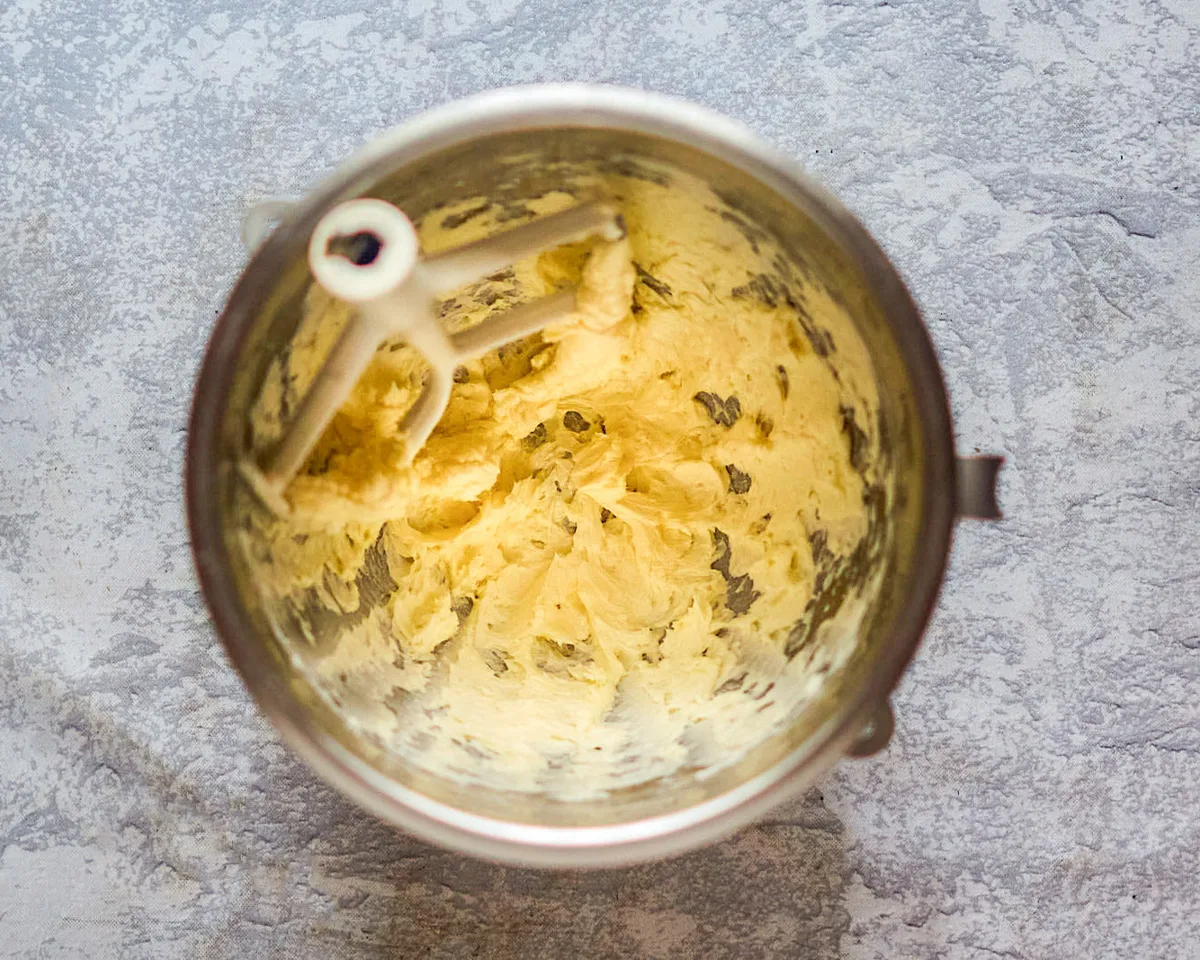 Use a hand mixer to beat the room temperature butter until it is light and fluffy, then gradually add the melted chocolate mixture and beat on high.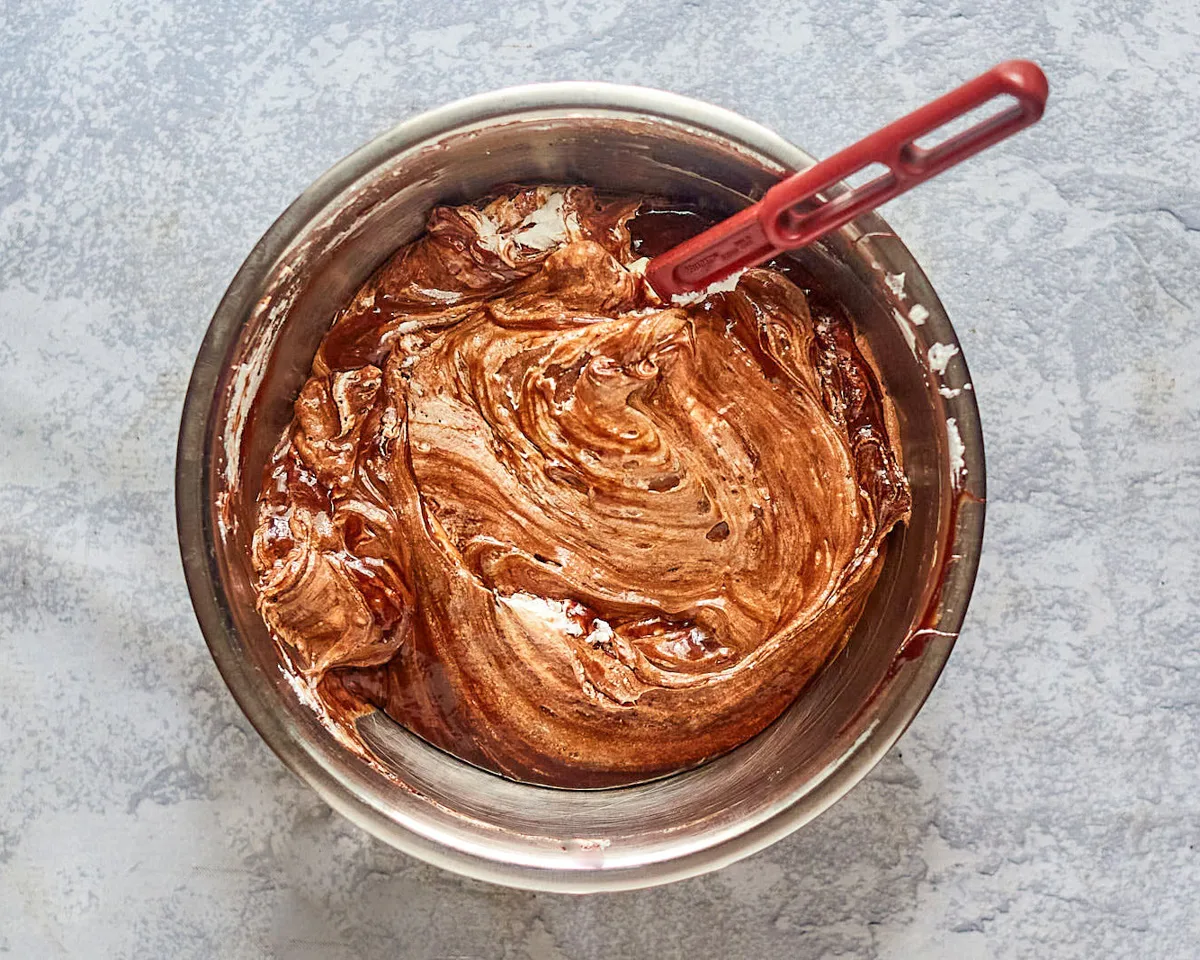 In a clean mixing bowl, beat the heavy cream until it thickens. Add the powdered sugar and beat until soft peaks form. Fold this mixture into the chocolate egg mixture.
Step Three. Put it Together.
Spread the chocolate filling over the pie crust and chill for six hours. At the end of six hours, make your homemade whipped cream for the topping.
Step Four. Make Homemade Whipped Cream.
Use an electric mixer to beat the cream, powdered sugar, and vanilla on high speed until stiff peaks form. Top off the pie with your whipped cream and chocolate shavings or a dusting of cocoa powder.
Frequently Asked Questions
What kinds of chocolate can I use to make chocolate curls?
High quality chocolate is best. Lindt is a good brand. Ghiradelli and XOXO are also excellent. Any chocolate bar will work. To make big curls, you will want a long chocolate bar, not little miniatures.
How do I make shaved chocolate curls?
The best way to do this is to use a vegetable peeler on a long piece of chilled (but not frozen) chocolate candy bar. Move fast to get a curled shape. You can also just grate the chocolate for little shavings.
Can I use margarine or a non-dairy butter to make French Silk Pie?
No. In most recipes, you can use non-dairy butter substitutes and it is fine, but this pie relies on so many dairy ingredients there really is no point; the butter's superior flavor and fat content will make a difference. I do not recommend a substitution.
Can I use Cool Whip for French Silk Chocolate Pie?
Yes. But since you are already going to all the work to make this amazing homemade pie, you might as well make homemade whipped cream. It's not hard at all and the taste and texture are so much better. Plus, you know exactly what you are eating. It's a win-win.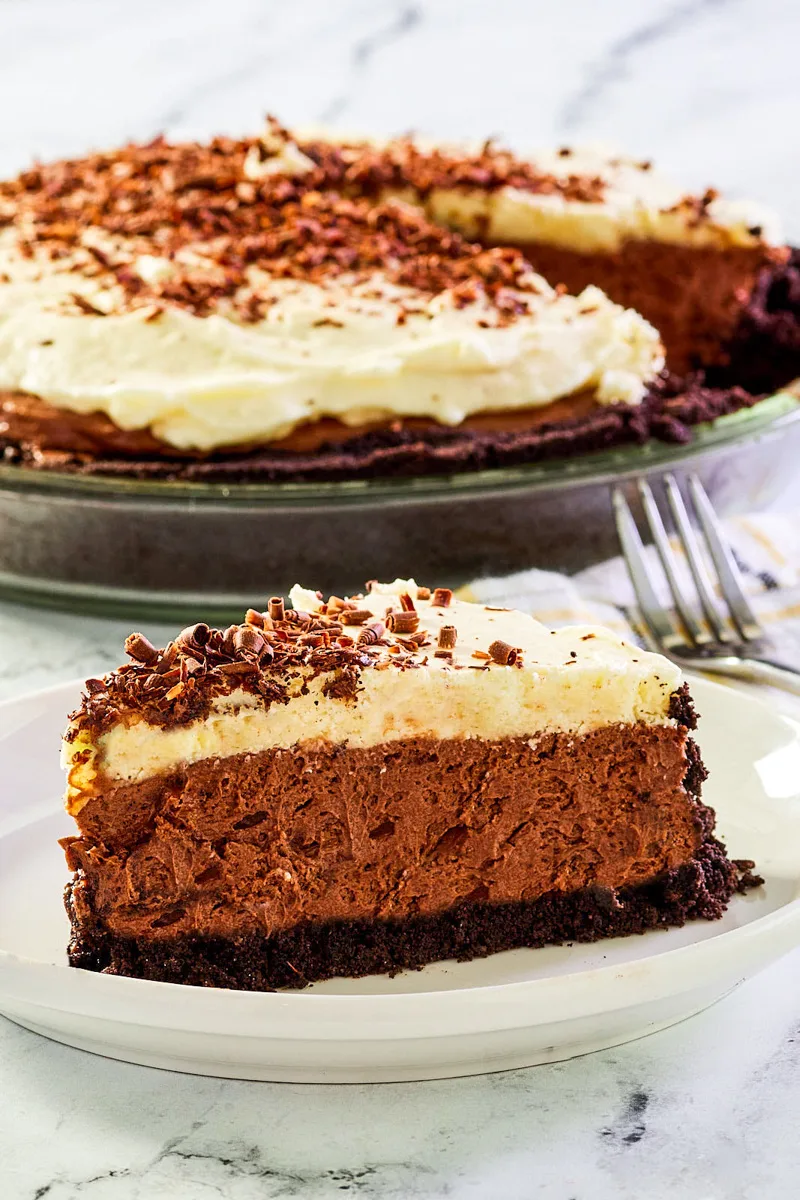 How To Store French Silk Pie
Best way to Store French Silk Chocolate Pie
Keep any leftover pie in the refrigerator, lightly covered with plastic wrap, or in an airtight container. It will keep for three to five days and will start to weep and separate.
Can I Freeze French Silk Pie?
Yes. You can freeze the pie whole or in pieces. It will keep in an airtight container for up to three months. Remove the frozen pie from the freezer and allow it to soften slightly before slicing it.
Tips for the Perfect French Silk Pie Recipe
Variations: We used crushed Oreos to form the crust of our pie, but you can use a regular pie crust or a Graham cracker crust for this pie. You can make your own baked pie shell or purchase a pre-made store-bought crust for convenience.
You can deepen this rich pie even further with 1/4 teaspoon of espresso powder to the chocolate filling.
If the chocolate curls feel daunting to you, you can sprinkle the top of the pie with chocolate cookie crumbs or mini chocolate chips for the perfect finishing touch.
To cook your egg and sugar mixture perfectly to 160ºF, you can use a candy thermometer. Leave the candy thermometer in the saucepan the entire time. Remove it from the heat when it gets to 160ºF. You can also tell the temperature by when the mixture will coat the back of the spoon.
Make sure you use medium-low heat for your saucepan so that you don't end up scrambling the eggs. This is also why you mix the sugar and eggs before turning on the heat.
Your butter will need to be at room temperature but not melted, so don't try using the microwave. Instead, set the butter out on the counter for several hours.
Don't overwhip the topping. Use a chilled clean bowl and an electric stand mixer fitted with the whisk attachment and mix it until soft peaks form. If you overwhip it, you'll lose the right texture.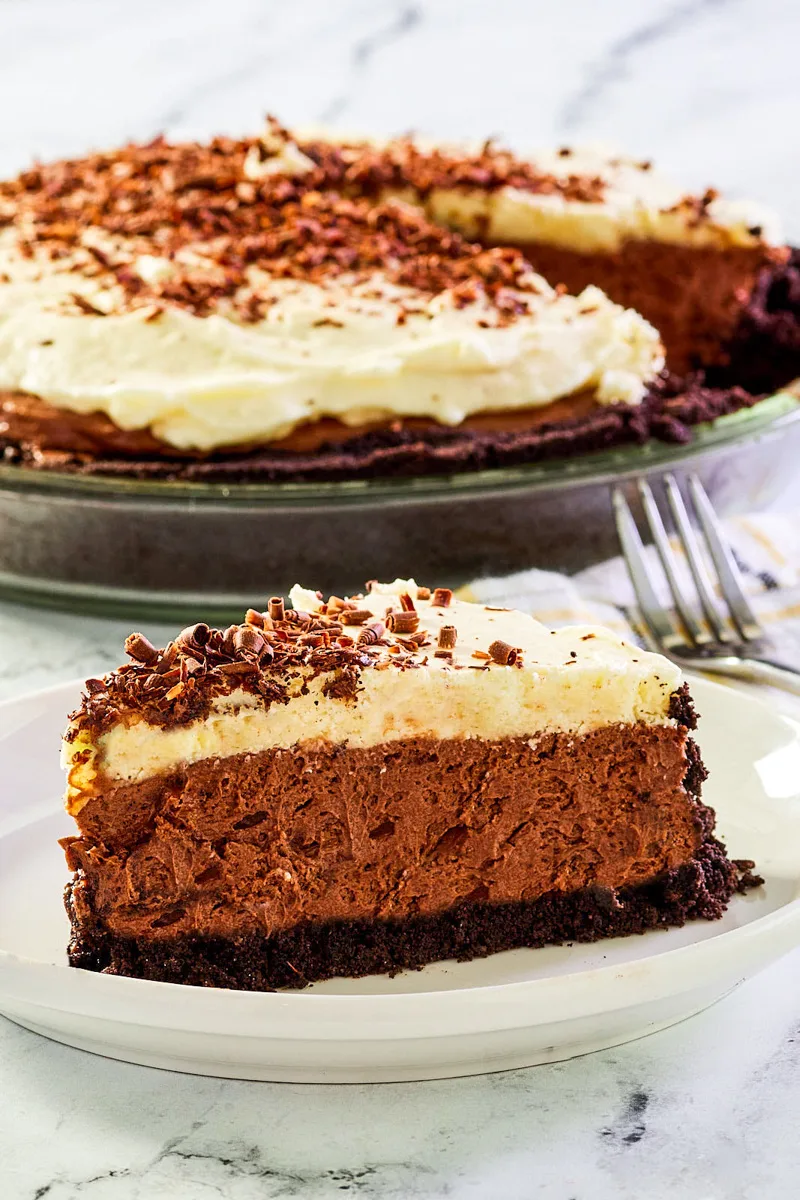 I hope you enjoyed this delicious recipe as much as we do. Drop me a comment below, and don't forget to give it a star rating. ⭐⭐⭐⭐⭐. Your comments and ratings help others decide if this recipe is for them too.
If you enjoyed this recipe check these out!
Pin this amazing recipe!