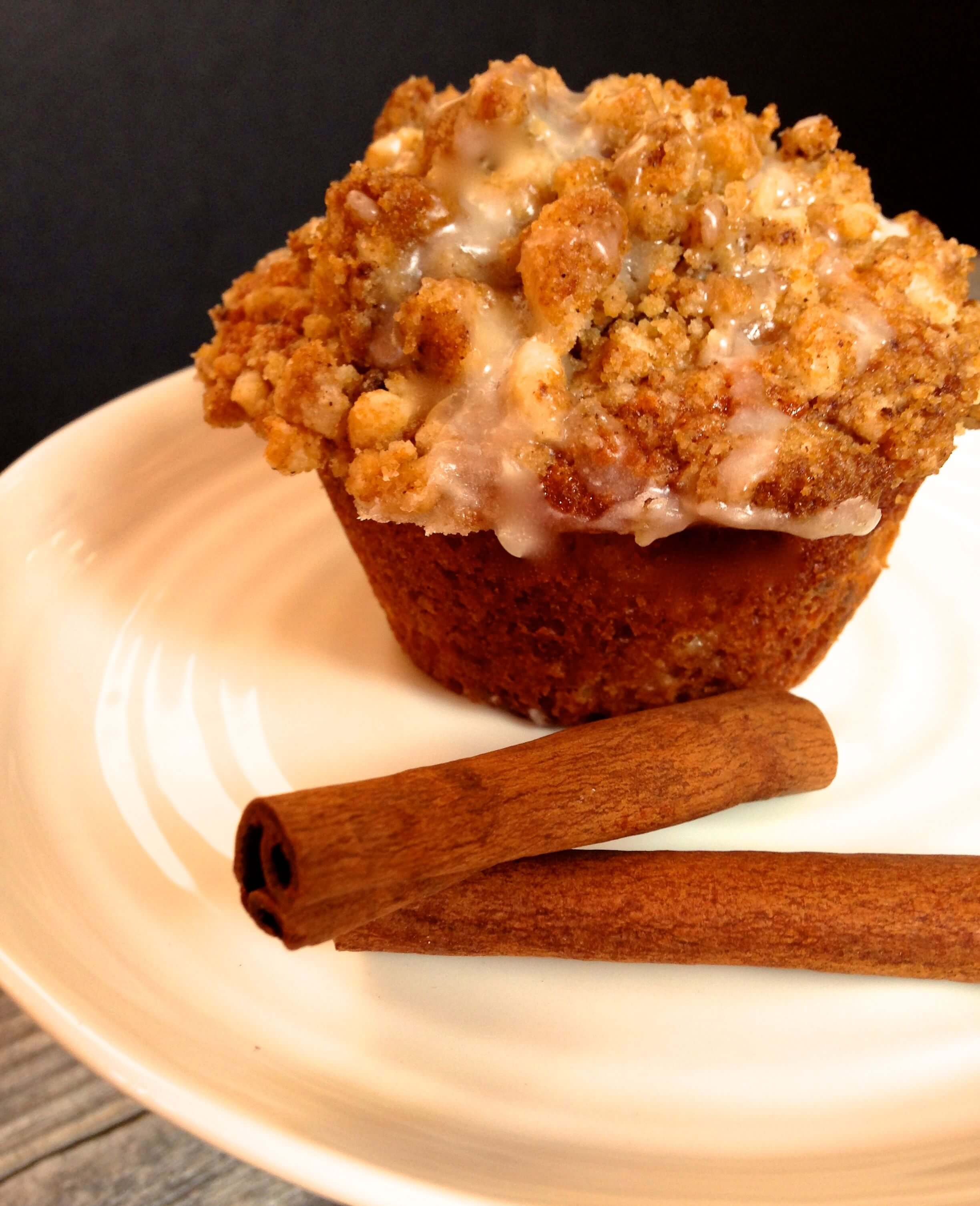 When I plan a meal, I like to have a balance of "opposites". For instance, if I have a savory dish, I will also serve something with a little sweetness or a rich dish with something a little bland. Some things just go together. A rich braised meat goes well with polenta, spicy shrimp with a sweet mango salsa, or peanut butter with jelly!
When I made the Easy Sausage, Hashbrowns and Egg Casserole, it was so delicious and had some great flavors such as the spicy sausage going on. I wanted to balance it out with a sweet bakery item. Boy did I! I found this recipe for Glazed Apple Crumb Muffins. One bite and you knew that you had bitten into decadence. It was like apple crisp and cinnamon roll got together and had a baby apple cinnamon roll muffin. It was all I could do to keep myself from moaning and rolling my eyes. I was in bakery heaven. The yummy flavor just went on and on. This muffin complimented my egg casserole perfectly, and may make a return visit over one of the holidays.
Glazed Apple Crumb Muffins
Notes
Muffin Ingredients
1/2 cup unsalted butter, room temperature
1/2 cup brown sugar
1/4 granulated sugar
2 eggs, room temperature
1/2 cup plain fat free yogurt
2 teaspoons vanilla extract
1-3/4 cup all-purpose flour
1 teaspoon baking soda
1 teaspoon baking powder
1 teaspoon ground cinnamon
1/2 teaspoon salt
1/4 cup milk
1-1/2 cup of apple, peeled and diced Crumb Topping Ingredients
1/3 cup brown sugar
1 tablespoon granulated sugar
1 teaspoon ground cinnamon
1/4 cup unsalted butter
2/3 cup all-purpose flour Glaze Ingredients
1 cup confectioners sugar
3 tablespoons milk
1/2 teaspoon vanilla extract Directions
Preheat oven to 425 degrees F. Prepare a muffin tin with non-stick cooking spray. I got 12 muffins. You may get a couple more. Make your crumb topping first. In a medium bowl, combine both sugars, cinnamon, and melted butter. Using a spatula, stir in the flour until thick and crumbly. Set aside. In your mixer bowl, beat softened butter until creamy. Add brown sugar and white sugar. beat on high until creamed together. Add the eggs, yogurt and vanilla. Beat on medium for one minute and turn up to high speed and beat until the mixture is combined. In a large bowl, combine flour, baking soda, baking powder, cinnamon, and salt. Whisk to combine. Slowly add the dry ingredients to the wet ingredients and beat on low to combine, scraping down the sides of the bowl as needed. Add the milk, gently beating until combined. Fold in the apples with a wooden spoon or rubber spatula. Fill the muffin tin until they are full all the way up to the top. Press crumb topping into the top of each muffin with your hands. Keep some of the crumbles in large chunks. Bake for 5 minutes at 425 degrees F, then reduce the temperature to 350 degrees F and continue baking an additional 21 to 23 minutes. Allow to cool in the tin on a cooling rack. Combine the ingredients for the glaze, blending until smooth. Add additional milk if it needs thinning. Drizzle over warm muffins. Allow to set up. Store muffins in an air-tight container for up to 5 days, or freeze unglazed muffins up to 3 months. Recipe adapted from
Sally's Baking Addiction
It's time to share this recipe with my friends at Fiesta Friday! Head over and party with
Prudy @Butter, Basil and Breadcrumbs and Jess @Cooking Is My Sport.