Delicious and EASY Chocolate Trifle Recipe combine tender chocolate cake with creamy chocolate pudding, sweet whipped cream, and a sprinkle of Oreos.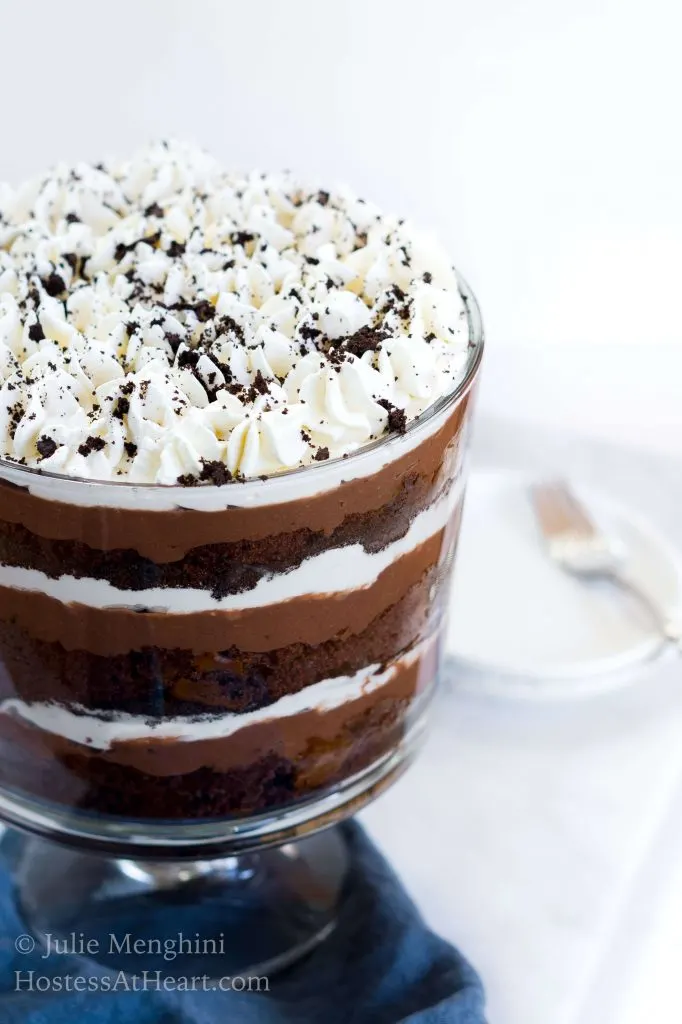 We've been making this Chocolate Cake Trifle for our family for over 20 years. Chocolate Trifle is an easy and delicious chocolate pudding dessert that is a great make-ahead recipe that chocolate lovers will crave.
We have a tradition that my sister hosts Thanksgiving and I host Christmas. For Thanksgiving, I am always assigned to bring the dessert. I know that's a stretch, right?
Several years ago after I first made this Chocolate Pudding dessert and my nephew declared it as his all-time favorite dessert so now I make it regularly.
What is a Chocolate Trifle?
Very simply, it is a dessert with layered ingredients, typically in a trifle bowl.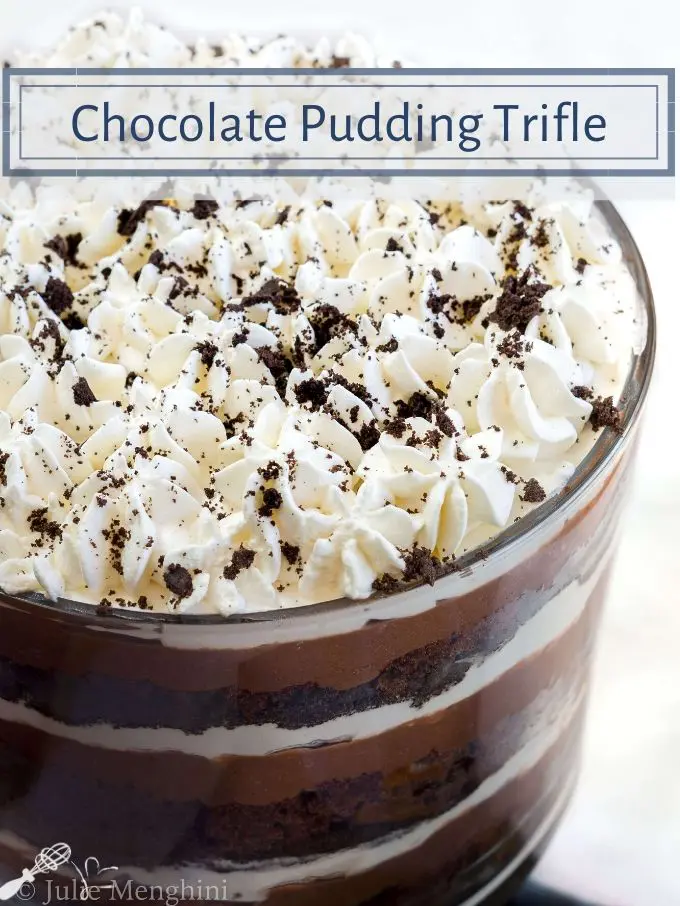 How to Make a Chocolate Trifle Dessert
This dessert is impressive to look at but isn't difficult to make. Take care when layering this cake trifle so you can see each luscious layer.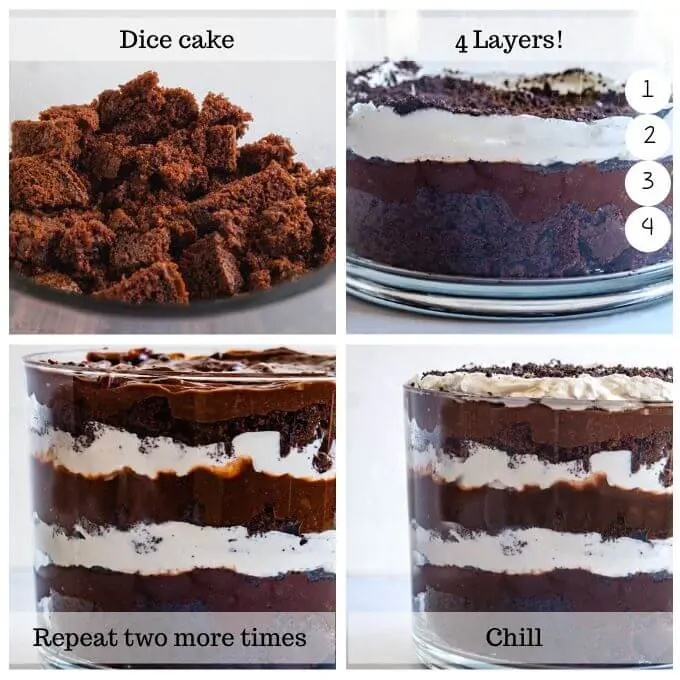 How to assemble a Chocolate Trifle Dessert
Have enough ingredients made up ahead of time so that you make three layers of each ingredient.
Start with the cake layer. You want your cake diced into 1-inch pieces so it can hold the remaining ingredients without turning to mush.
Spoon a layer of chilled pudding over the cake. Do not mix it into the cake.
Top the pudding layer with the whipped cream.
Sprinkle the whipped cream layer with cookie crumbs.
Repeat two more times ending with the cookie crumbs.
Chocolate Trifle Ideas and Variations you can make
You can use the ingredients that you like. Here are a few ways to make it your own:
Replace the cake layer with cooled brownies. A Chocolate Brownie Trifle would be amazing!
Use chopped candy bars or chocolate chips instead of the chocolate cookie layer
Use the cake and pudding you like. Milk chocolate or dark chocolate it doesn't matter. You can make a cake from scratch or use a boxed or purchased cake as well.
Make it in a 9×13 inch baking dish and only layer it twice. It's easier to scoop.
Instead of topping your chocolate pudding trifle with crushed cookies, cut the cookies in half and set them into the top of the trifle similar to what we did on our Lemon Poke Cake.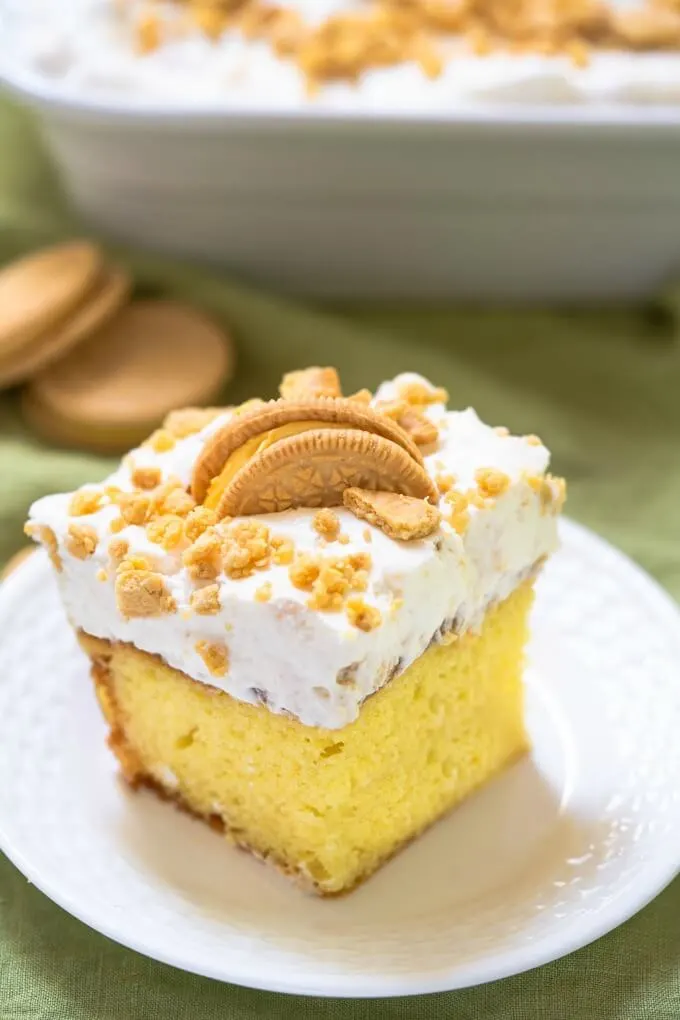 Pro Tips for the Perfect Chocolate Trifle Dessert
Carefully assemble the trifle ingredients into layers in the trifle bowl. Clean up the edges as you go. Seeing all of the layers is what makes this dessert look amazing.
I think it's best if you make your chocolate trifle the day before and let it sit in the refrigerator to let all of the layers blend together and the pudding makes the cake all fudgy delicious.
Make sure all ingredients are cool before you assemble it. You can actually make the cake and pudding earlier in the day and then assemble it before going to bed. I don't make up my whipped topping to far in advance of the assembly, however.
Making your own whipped cream topping is easy and tastes better. The trick is to not over whip it. I use an electric stand mixer with the whip attachment. Allow the peaks to just start forming and then gradually add your sugar. Don't over whip it. Stop when soft peaks form at the end of your attachment.
Lightly cover the pudding trifle in the refrigerator with plastic wrap so it doesn't develop a film or crust.
I would not freeze this chocolate trifle dessert. However, you can put leftover cake in the freezer so it is available when you get that strong Chocolate Pudding Trifle craving.
This chocolate dessert trifle is better the next day in my humble opinion. The consistency becomes thick and moist. That makes this the perfect make-ahead dessert!
PIN THIS

CHOCOLATE TRIFLE RECIPE TO YOUR FAVORITE DESSERT BOARD FOR EASY REFERENCE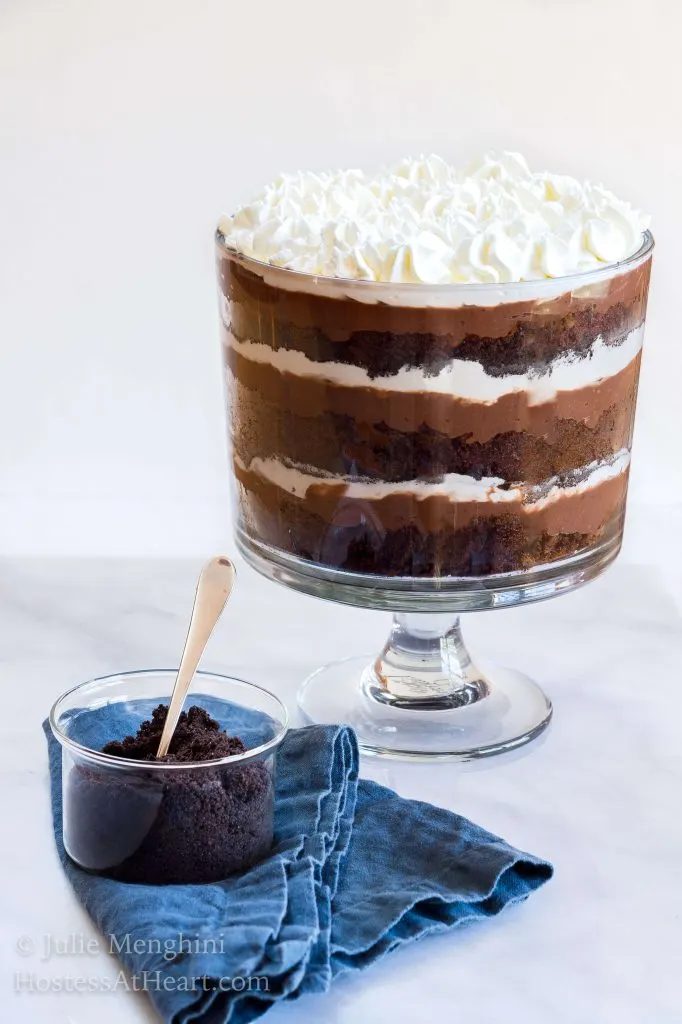 ---
Products we used
Trifle Bowl – I love this bowl and it has been used so many times. When my trifle isn't on the menu I can use it for fruit or other layered salads as well.
Baking Dish – I use this dish more than any dish in my house. I can bake cakes, cinnamon rolls, or a casserole in this dish. I love the lid that makes storing my bakery in an air-tight container easy or when I take this dish somewhere I'm not going to worry about spills.
Make a semi-homemade Chocolate Trifle
You can make this chocolate trifle dessert super fast if you buy an already made cake and use whipped topping from the freezer section. They also sell crushed cookie crumbs which can usually be found in the baking aisle.
If you like this recipe, here are a few more I think you'll enjoy.
For the Chocolate lovers!
I think if you google chocolate, my picture is in the definition!
If you like this recipe, we would appreciate your comment and a 5-star ⭐️⭐️⭐️⭐️⭐️ review!
Nothing is more special for a foodie as when people love the food you make right? I'm not sure if he's happy to see me or his beloved Chocolate Trifle Recipe!
Do you have any favorite food traditions? I'd love to hear if you make something special to share.
Our most popular recipes!