Double Chocolate Muffins are loaded with deep dark chocolate in a moist and tender muffin. Every bite is full of rich decadence that makes you want to curl up with a cup of joe and chill for a while.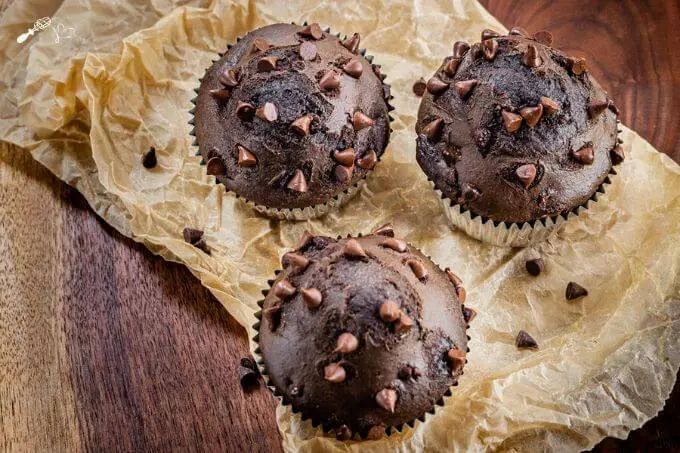 When it comes to defining chocolate, this Double Chocolate Chip Muffin is the definition. The flavor is deep, dark, and sweet. The texture is soft, tender, and moist.
In only 20 minutes these homemade chocolate muffins are ready to eat. That's a good thing because this Chocolate muffin will satisfy that chocolate craving keeping you feeling happy and content.
My love affair with chocolate goes back as far back as I do. It's no secret that I have an incredibly strong sweet tooth. 90% of the time it's got to be chocolate!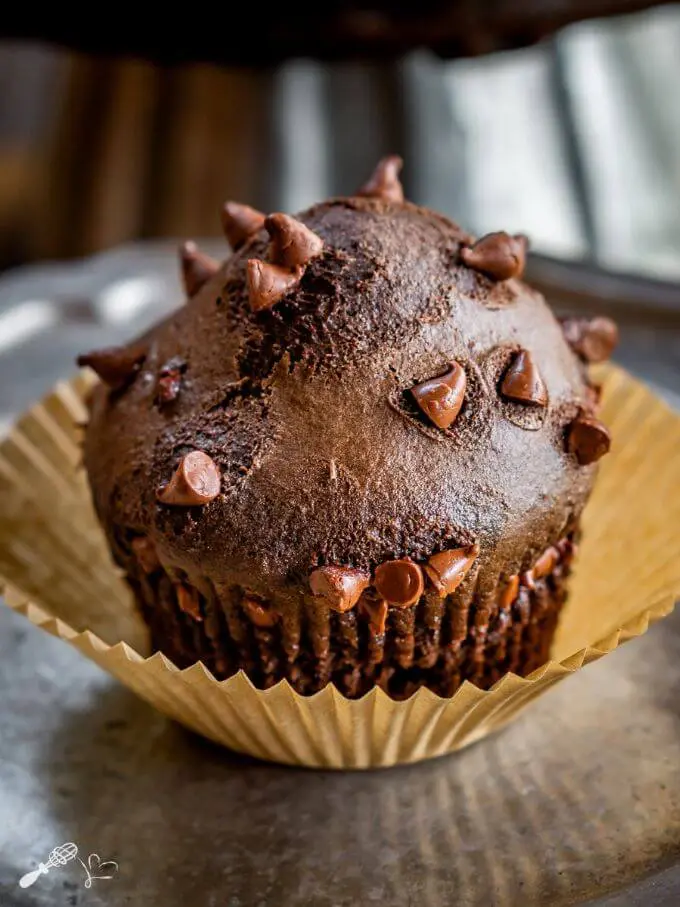 When I was young(er) my mother would "go to coffee" which was just another name for getting together with a friend for a visit.
I had a good ole fashioned "coffee" with some great friends, and whipped up a batch of these Chocolate Chocolate Chip Muffins.
There weren't a lot of conversations going on until after these dark, rich and soft chocolate muffins were devoured.
Double Chocolate Muffin Ingredients
Flour – I used all-purpose flour for this recipe. I don't recommend using whole wheat. Whole wheat will not produce a fluffy texture. It also tends to absorb more of the liquid so your muffin will be drier.
Applesauce – unsweetened applesauce adds moisture to this muffin. You can use sweetened and reduce the sugar by 1/4 cup.
Eggs – I use large eggs for a consistent outcome.
Cream Cheese – Provides a creamy flavor to these muffins and texture to the liquids. Full fat or lite is recommended for this recipe. I haven't tried non-fat.
Cocoa – I used Hershey's Special Dark but you can use any Natural cocoa. I don't recommend Dutch-Processed.
Baking Powder & Baking Soda – These are leaveners that work together to make your baked goods rise.
Sugar – White sugar is used in this recipe.
Salt – Works with the leaveners to give your baked items rise and adds flavor.
Chocolate Chips – Dark Chocolate Chips are my go-to but any will do. My

photos

show where I use the regular-sized chocolate chips, and the

video

in the recipe card shows the large Ghiradelli chips that are my favorite.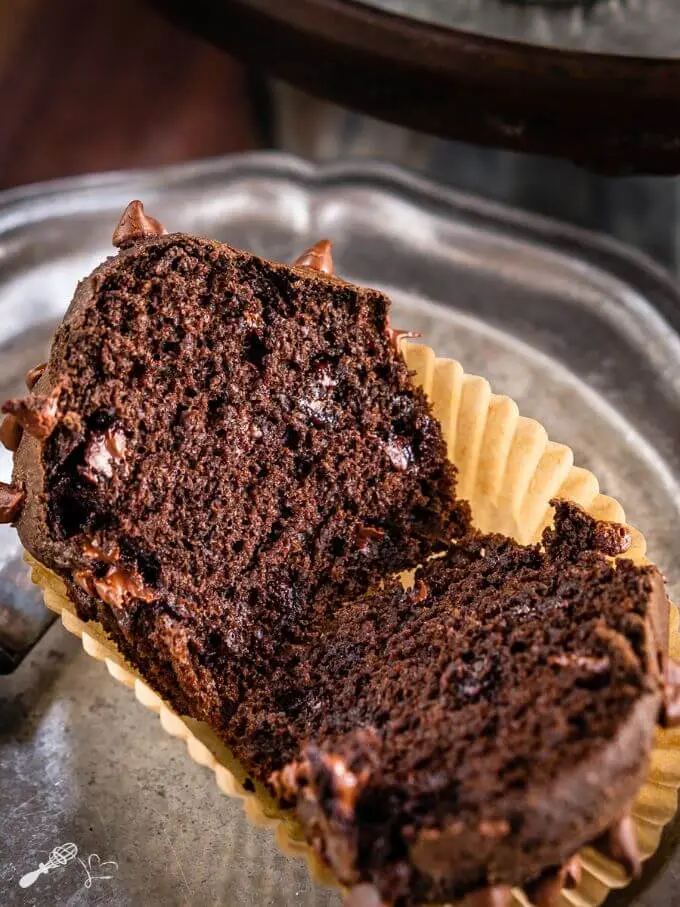 Tips for how to make the perfect Double Chocolate Muffins
Mix the liquid ingredients in one bowl and the dry ingredients in a separate bowl. That assures that the ingredients are dispersed evenly before adding them together. If you've ever bitten into a bakery item and got a mouthful of salt, they skipped that step!
Start with room temperature ingredients. They will cream together so much better.
ALWAYS sift cocoa. It naturally has lumps that sifting will remove.
Fold in the chocolate chips after the batter is mixed. This is a thick batter and they will not end up at the bottom of your cupcake.
Use an ice cream scoop to fill the muffin cups. It's not unusual to see muffins with that beautiful mushroom top so I filled mine 3/4 full. If you want a small "cupcake" like dome only fill them 2/3 full.
Top the chocolate muffins with more chocolate chips by pressing them lightly in the batter. Everyone wants to see the chocolate chips! I do the same thing to my cookies.
Don't overbake chocolate muffins. The edges will become dry and the chocolate can take on a bitter flavor.

Test these muffins with a toothpick in a couple of different spots to assure you don't dip into a chocolate chip and think it's not baked. Use a clean toothpick each time.

Remove the muffins from the tin as soon as you can handle them, This will keep them from staying hot longer than they need to and drying out.
How do you keep homemade chocolate muffins moist?
These Double Chocolate muffins have both applesauce and cream cheese in the ingredients making them moist muffins. They will stay moist if they're not overbaked and stored in an air-tight container.
There are different methods for keeping muffin recipes moist. Since it varies according to the ingredients used, this is addressed in individual recipes. If you ever have a question, just contact me.
If you love this muffin recipe, try these out!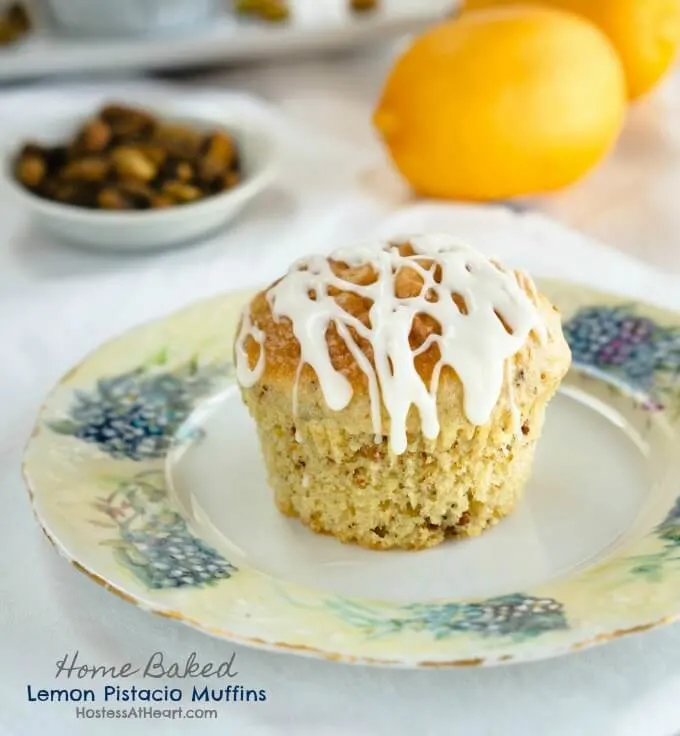 Variations you can make to chocolate muffins
Sprinkle the tops with turbinado sugar (sugar in the raw) before baking for a crunchy texture.
Top the muffins with raw coconut before pressing the chocolate chips into the top of the muffin and before baking. The coconut will toast up beautifully and the combination is divine.
Use white chocolate chips instead of dark chocolate.
Throw in some nuts. Macadamia, walnuts or pecans would be delicious. Chop them into small pieces and fold them into the batter when you add the chocolate chips.
How to store Double Chocolate Muffins
Store these homemade muffins at room temperature in an air-tight container for a couple of days. Chocolate muffins freeze beautifully for up to 3 months. Wrap them in plastic wrap or in a zip-top bag and then wrap them with foil.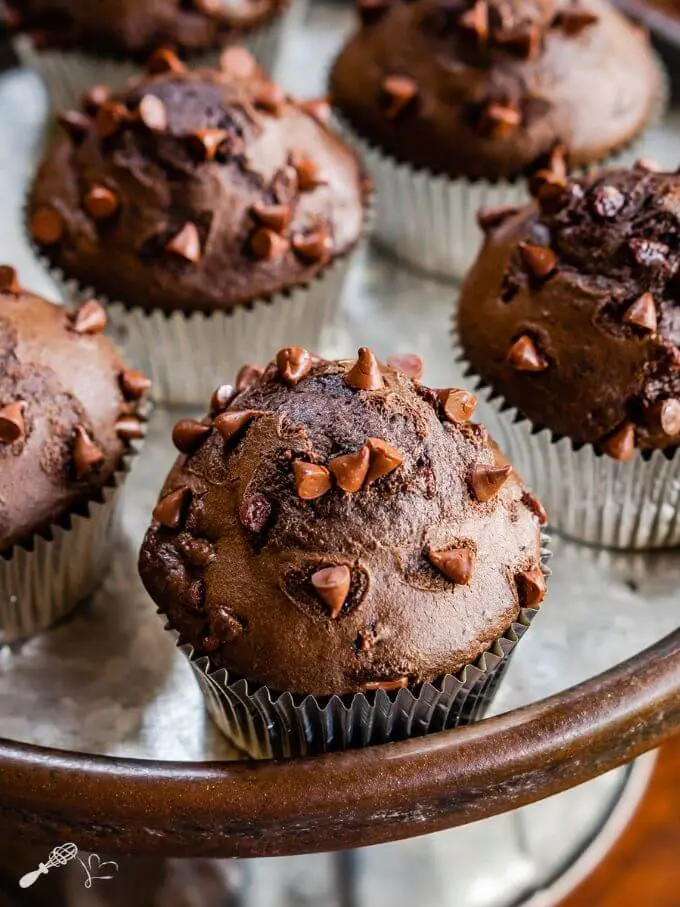 Products that I find very helpful in making homemade muffins
Muffin Tins – I love these 12-cup muffin pans. I believe you need at least two because most recipes, including this one, make more than 12.
Muffin Cup Papers – You can grease your pan but WHY? It's not that I'm lazy (ok I am), I believe using the papers keep your pan's looking good longer.
More Chocolate Recipes!
You didn't think I'd leave you hanging without more chocolate recipes, did you? That would just be wrong! Here are our most popular ones!
If you like this recipe, we would appreciate your comment and a 5-star ⭐️⭐️⭐️⭐️⭐️ review!
Do you have a favorite recipe that punches all your buttons? Leave a comment below.