Savory Vegetable Lamb Soup is a hearty yet light soup loaded with fresh vegetables. This Easy Lamb Soup recipe comes together quickly but tastes as if it simmered for hours.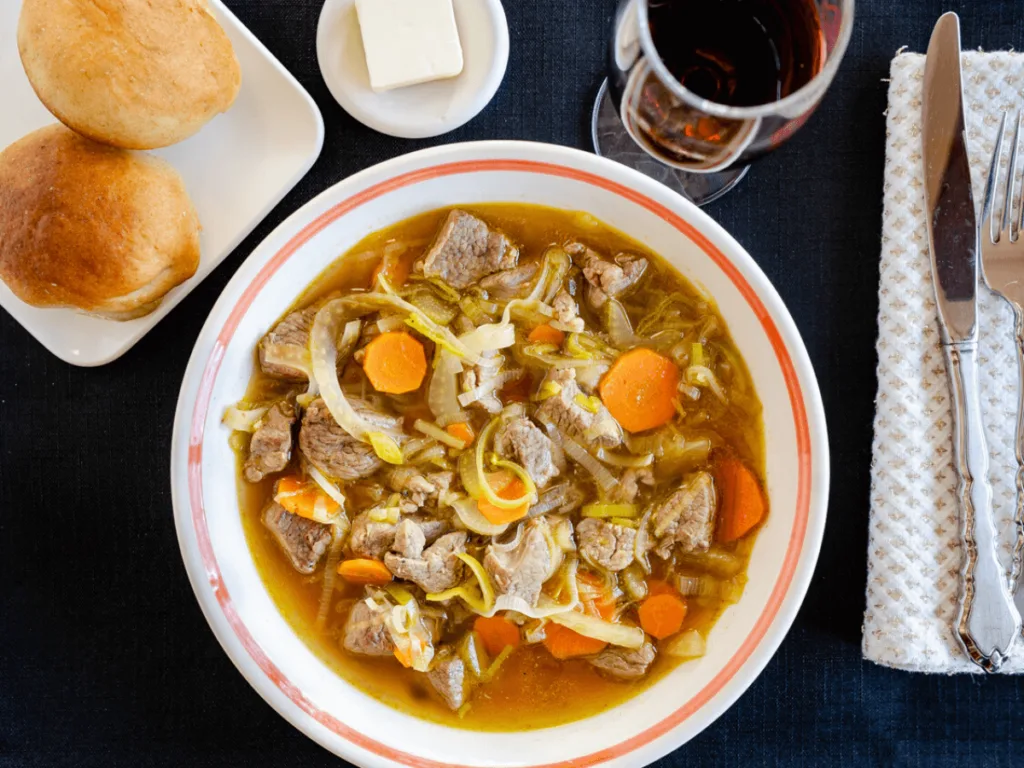 How can the cleanest and simplest of dishes be the best tasting? This Savory Vegetable Lamb Soup recipe is a complete meal that you'll feel good about eating.
The answer to how these simple dishes taste amazing is by using quality fresh ingredients. You don't need tricks or gimmicks to create a flavorful dish.
Let me tell you a little bit about why I made this soup and how I made it.
I can eat soup every single day and do it on most days. If they're not full of cream and butter, they can be a delicious and filling meal without the guilt or a food coma 30 minutes later. This Lamb soup is all of that and more!
This post is sponsored by True Aussie Beef & Lamb but the opinions here, and love I have for their products and their story are all my own.
I've always purchased Australian Lamb for my recipes. When I had the opportunity to work directly with True Aussie Beef & Lamb, I learned that I was making an excellent choice and that they do so much more than just producing quality lamb for the consumer.
The True Aussie Beef & Lamb Company produces lamb that is free-range and naturally fed on Australian pasturelands, so it's mild tasting and naturally lean and tender. Aussie Lamb is free of artificial additives and hormone growth promotants.
Aussie cattle producers have also committed to becoming carbon neutral by 2030.
This locator can help you find True Aussie Lamb in your area.
There's been a method to my madness with these recipes too. With our holiday entertaining, these recipes were thoroughly enjoyed.
We started off our evening with an easy to make and serve Lamb Bites with Fig Balsamic Glaze appetizer. This truly unique recipe set our night off perfectly.
Once everyone was seated, I wanted a recipe that was light but delicious. This Vegetable and Lamb soup was perfect. It was so easy to serve and I didn't have to worry about it overcooking or filling us up before the main dish.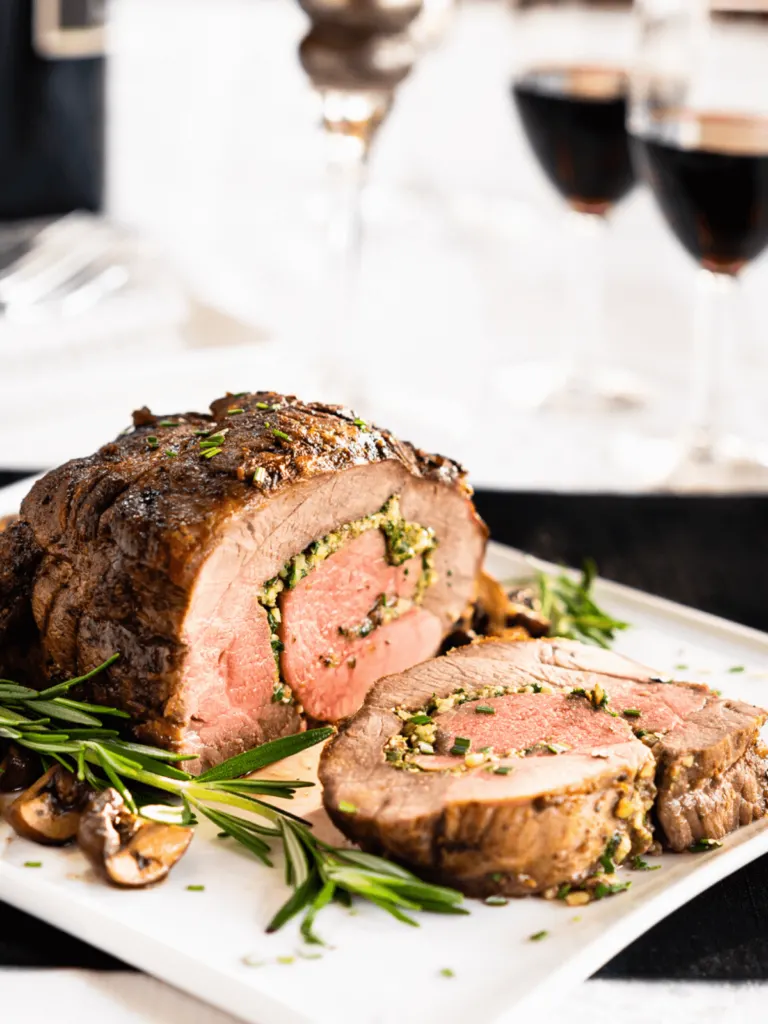 These two courses set up the beautiful main course perfectly. Easy Leg of Lamb Roulade Recipe was definitely a show stopper and we almost felt guilty getting the accolades.
The glory of making the Lamb Roulade recipe is that you cut off the narrower part of the leg of lamb. This allowed me to use the leftover lamb for this soup.
Lamb soup ingredients and substitutions you can make:
Lamb – I used a boneless leg of lamb but a shoulder would work too.
Leek – I love leek when I want a mild onion flavor. You could substitute with an onion but choose a mild one.

This site has a great onion guide if you need help.

Fennel – I love the flavor that fennel adds to the soup and really recommend that you use it as I have.
Celery – Adds a nice flavor and texture.
Carrots – Add a beautiful color as well as flavor and texture.
Beef Broth – Homemade or purchased is fine. I use low-sodium.
Seasoning – Rosemary, salt and pepper. Fresh Thyme would also be a great addition.
Variations: If you wanted a heartier soup, you could add white beans or potatoes. Grains such as rice, barley, spelt, or farro are also delicious additions you can make.
Tips for making the perfect Vegetable Lamb soup:
Cube the lamb in pieces that can easily be eaten with a spoon.
Slice the vegetables thin. This will allow you to sautee them quickly without overcooking them.
Cook the vegetables al dente for added texture to the soup. They're done when they take on a bright color and are just beginning to soften.
Tie the rosemary bundle together with cooking string. This will allow you to remove it easily when the soup is ready to serve.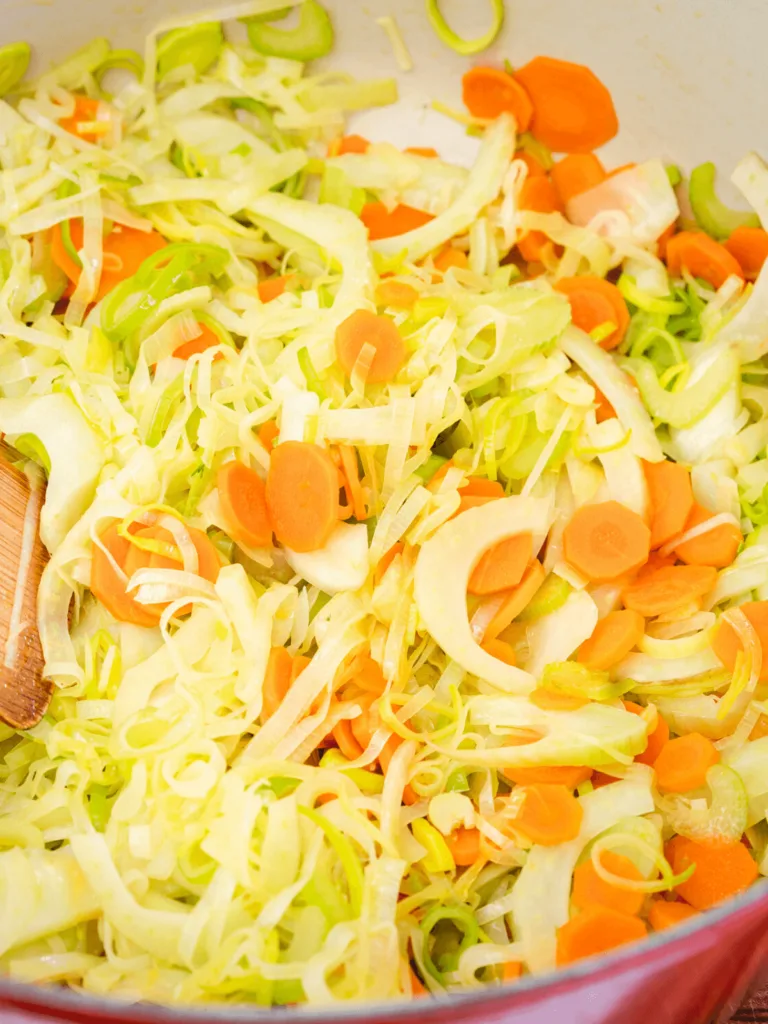 Cutting up fennel: The first time I used fennel, I wasn't sure how to do it. All you have to do is cut off the top and remove the core. You can then slice it thinly and the pretty fronds make a great garnish for your dish.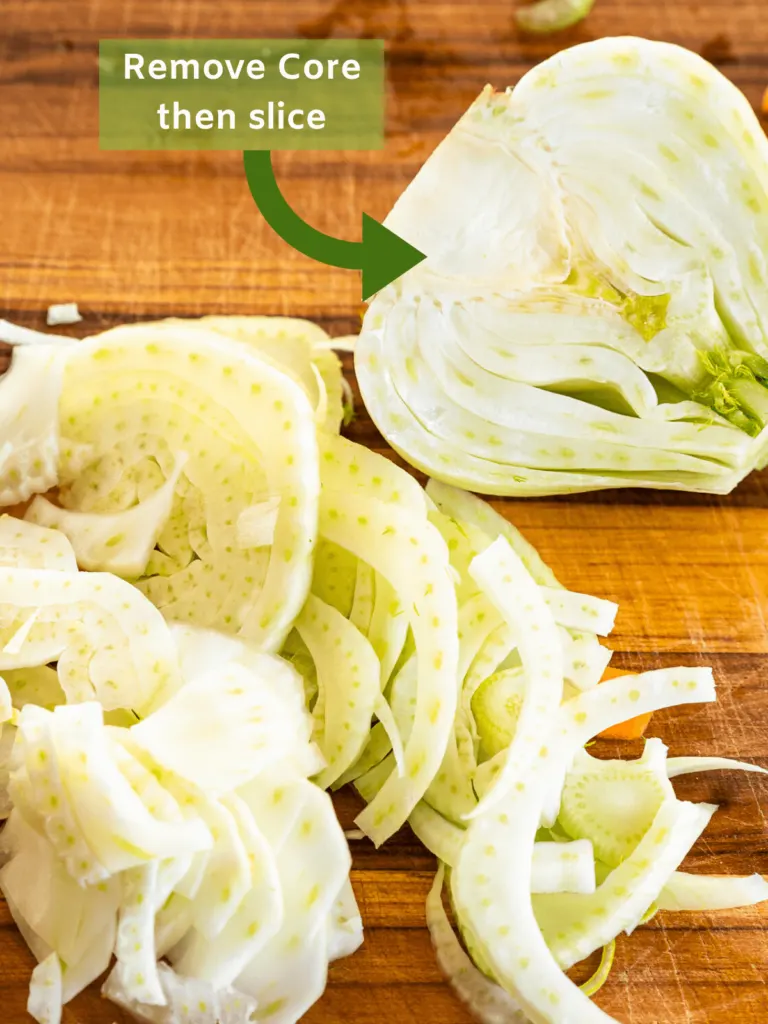 Leeks have a lot of layers that make getting them clean difficult. This is how I prepare them:
I use the white and light green parts of the leek.
Discard the dark green top which is tough.
Slice them thinly and put them into a bowl of cold water.
Scoop the leeks out with your fingers or a spider without disturbing the settled debris in the bottom of the bowl.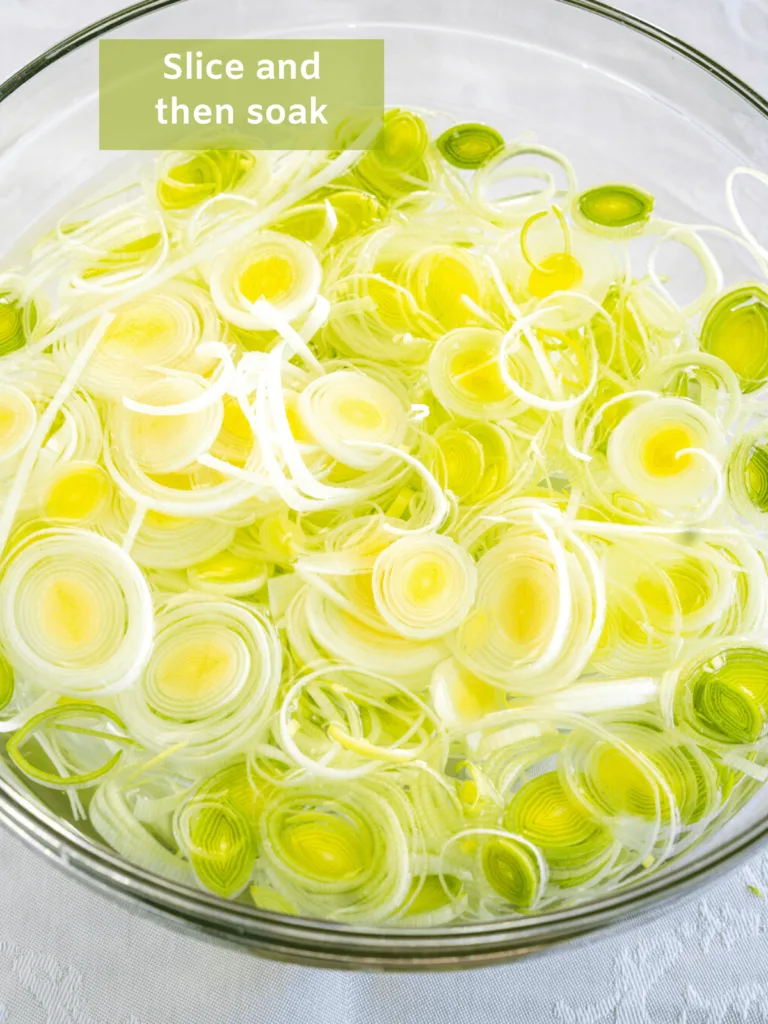 Products I use to make Lamb Soup:
Dutch oven – I have several enameled cast-iron dutch ovens. I started out with a few that cost about 4 times what this one does and it's my favorite! I make my sourdough bread in it and it's perfect for soups, stews, and so many other things. It cleans up like a dream too!
Chef's Knife – This is my favorite knife and the one I use 99.9% of the time. This knife is an investment and treated right will be like new for years.
Don't forget to Pin this amazing Lamb Soup!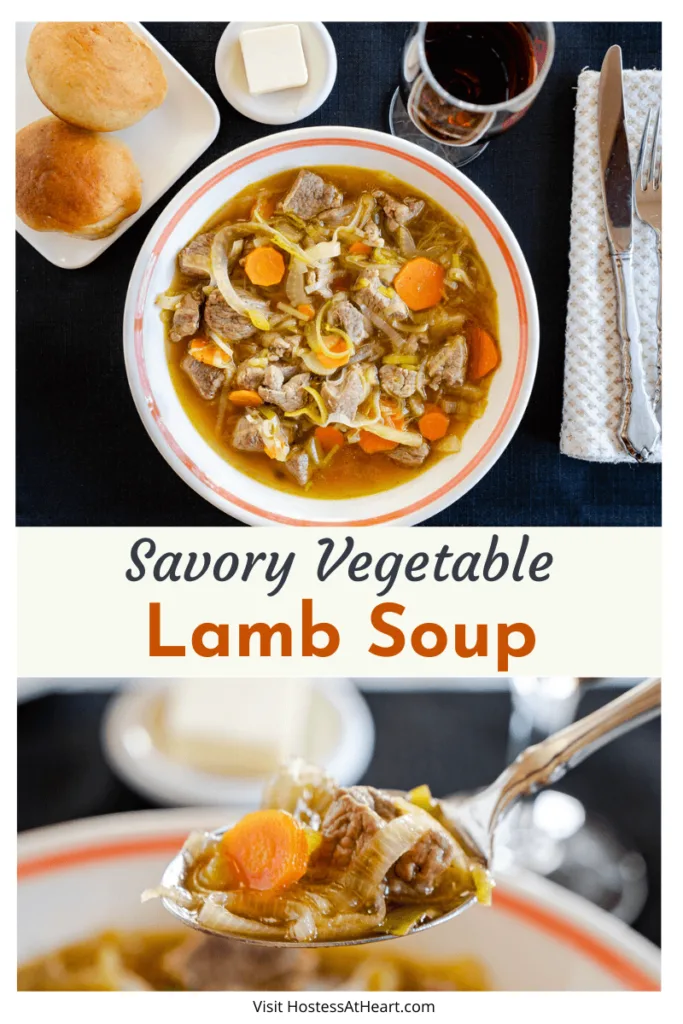 What should I serve with Vegetable Lamb Soup?
If you aren't serving this as a course, or even if you are, a good crusty loaf of bread goes perfectly! Make this one at home in under 2 hours! Here are a couple of other suggestions:
I still make enough to feed an army and that's on purpose. When you open my freezer door, I've got full shelves of just containers of soup. That's like money in the bank on a cold night or a day when we're just to busy to cook.
You can definitely freeze this soup. Use an air-tight container and label it with a sharpie or a label maker. You'll love this suggestion in 3 months. No mystery containers!
More lamb dishes I think you'll love:
We love lamb and you can find all of our lamb recipes here!
Related Recipes
I sincerely hope you've enjoyed these recipes as much as me. Please comment below and tell me your favorite lamb dish or a recipe you'd like Hostess At Heart to create and feature! You know you are my inspiration right?
Working with True Aussie Beef & Lamb has provided me with the opportunity to try some dishes that were only a glimmer in my brain. I'd like to thank them from the bottom of my heart for supporting Hostess At Heart.