Roasted Herb Chicken with Mushroom Risotto makes a buttery tasting chicken with crispy skin and creamy delicious rice into a quick and easy meal. Using the Instant Pot makes cleaning up a breeze.
Sunday dinner used to take most of the day to cook. This simple Roasted Herb Chicken is a no-fuss recipe, and making Instant Pot Mushroom Risotto gets dinner on the table in no time!
Growing up, our family had dinner seated together. Whether we were home or enjoying an activity somewhere else, dinner was homemade and together.
My mother made an amazing fried chicken and she'd often pack it up for a Sunday afternoon of family fishing.
I've carried that tradition on with my family. It can be difficult sometimes for all of us to settle around the table, but it's something we enjoy and have made our own memories around.
Another priority for me is to use fresh readily available ingredients that I can feel good about feeding my family. Living in the "Heartland", I have access to and rely on "farm to table" ingredients.
I know that isn't the case for everyone and don't underestimate how fortunate I am.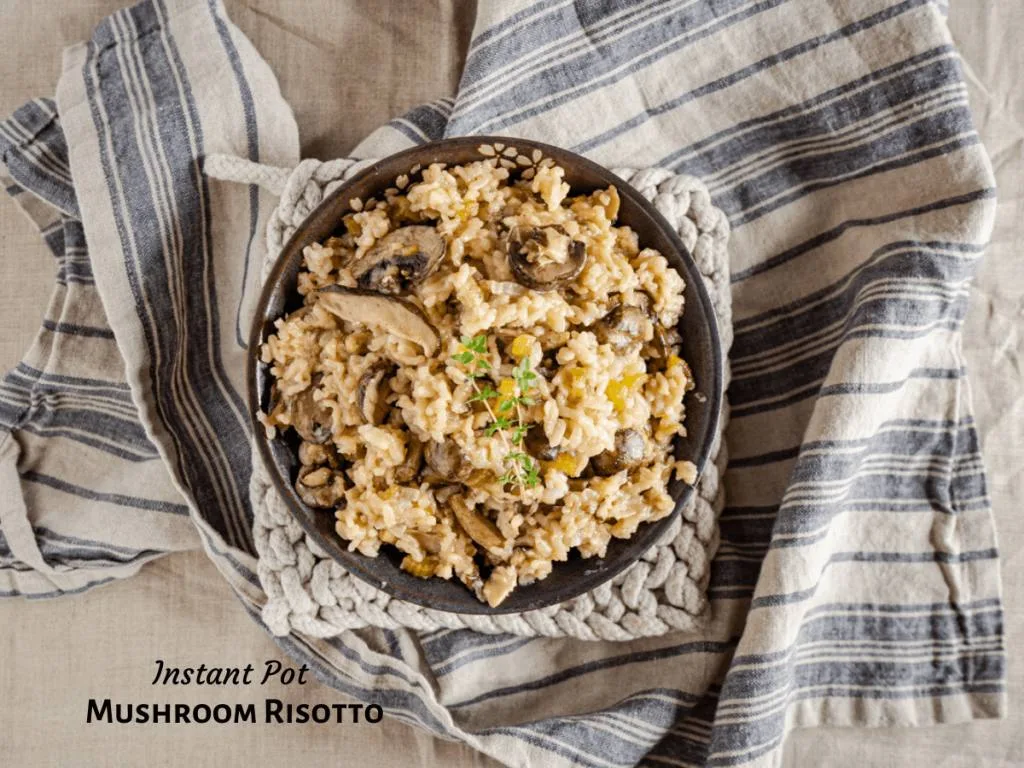 This post is sponsored by Perdue Farms but the opinions here, and love I have for their products are all my own.
Perdue Farms has always worked directly with small family farms to raise animals with care and passionate about land preservation and providing healthy and nutritious food.
While their name has been synonymous with chicken and turkey production, for the last 10 years they've transitioned to becoming the #1 supplier in the U.S. for Organic Chicken as well as Antibiotic Free, Non-GMO premium proteins.
Perdue Farms is launching a new direct to consumer website that will deliver these items directly from the small farmer to your door.
You can search and order by protein, by brand, or purchased curated bundles. Customers can save up to 10%! Take a look at the new Perdue Farms website to see if this might be something that can save you a ton of time and get quality proteins right to your door.
I recently received my own bundle directly at my door and it was filled with quality proteins. It was difficult to choose which one to use first!
I chose a whole chicken. Let me tell you a little bit more about this chicken.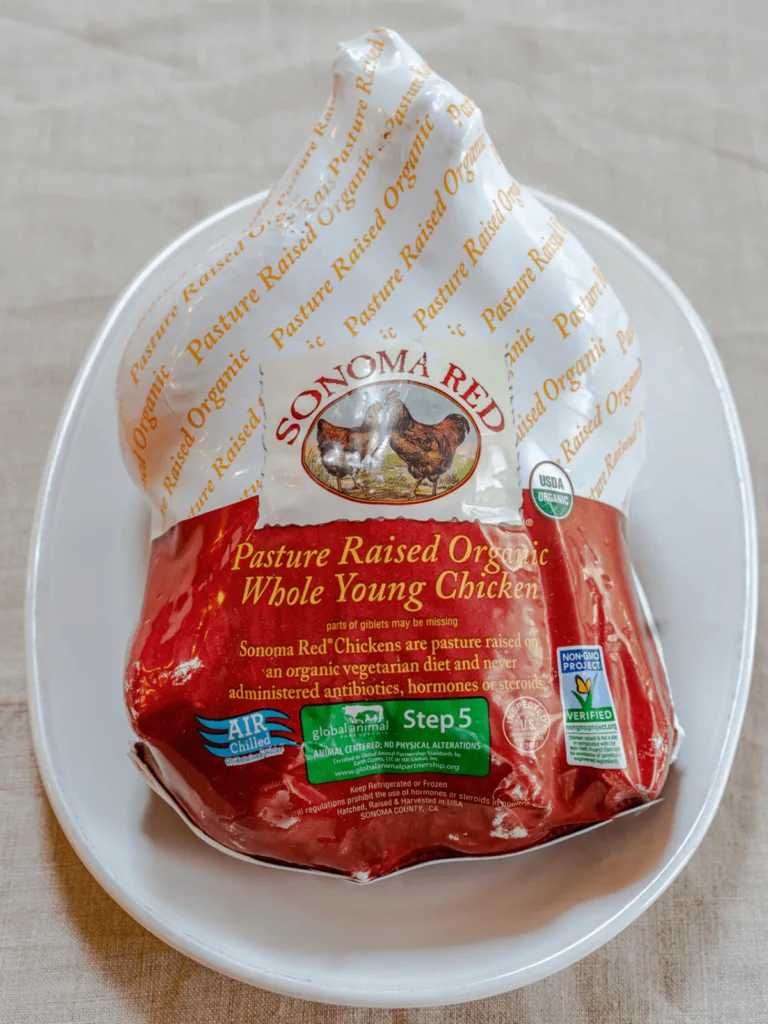 This is a Sonoma Red Organic Pasture Raised Whole Chicken with Giblets. This chicken is amazingly lean and raised in the countryside of Sonoma County, California. They're free to roam, roost and feed as they wish.
Whole birds are air-chilled to preserve the chicken's natural flavor and make a healthy choice for the family.
I simply roasted this whole chicken with a thin coating of herb butter. This method helps flavor the bird and guarantees a delicious crispy skin. Roasted Herb Chicken can't be easier to do! Keep scrolling for the recipe!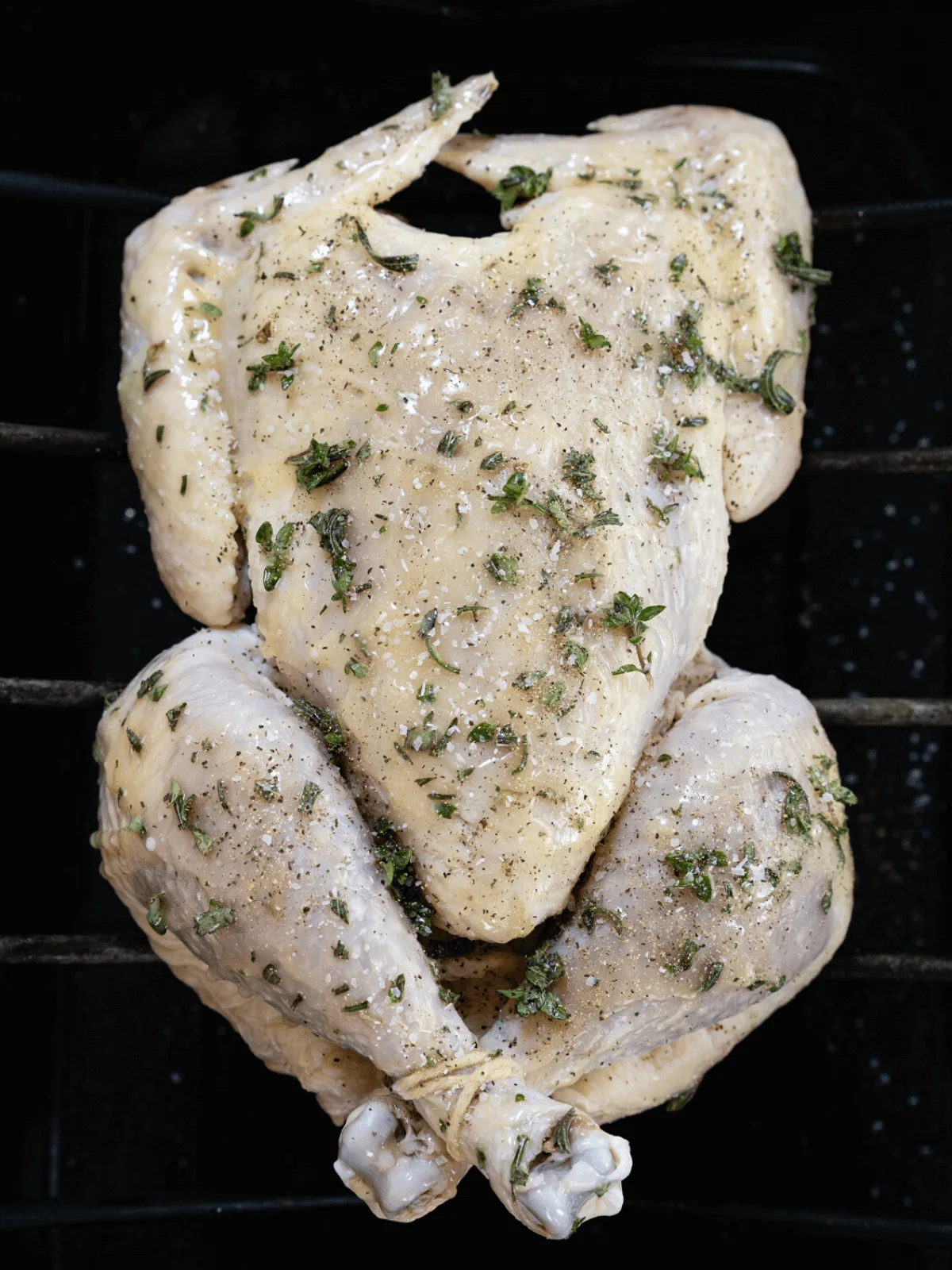 ---
If you need help carving this chicken or want to cook it quicker, we have a tutorial with a video on How to Spatchcock and Carve a Turkey which works on chicken.
---
In keeping with the easy theme which is how I roll, I made up a delicious mushroom risotto in the instant pot to go with my Roasted Herb Chicken.
Since I got my instant pot, I've not made rice any other way as you can see in our Easy Instant Pot Chicken and Rice and the 4-ingredient Tomatillo Rice.
The Easy Instant Pot Chicken and Rice recipe has a video and a tutorial on using your instant pot which can be helpful if you're new to using it.
For this Instant Pot Mushroom Risotto, I used Arborio rice which is the rice that risotto is traditionally made from.
Do I have to use Arborio Rice?
Arborio is a short Italian rice variety and is high in amylopectin starch, which is what gives risotto its creamy texture.
I'm not going to give you a technically correct answer, but no you don't. I've cooked brown rice in the Instant Pot, and it comes out creamy and delicious. I would not use long grain wild rice if you are looking for this consistency.
You could also use another variety of grain such as farro or spelt and it would be delicious!
Tips for making this Mushroom Risotto Instant Pot recipe:
Tips: You can put additional vegetables in this Mushroom Risotto Instant Pot recipe. I've used onion and celery which I sauteed prior to adding my other recipes. If you add vegetables that are going to absorb liquid, you may need to add more liquid than what the recipe calls for.
You can make this a Vegetarian Risotto recipe by replacing the chicken stock with vegetable stock or even water.
For a vegan option, omit the butter and just use olive oil or you can use vegan butter.
You can use any mushroom and I like using a combination for an earthy flavor. I used Crimini and Shitaki in this recipe.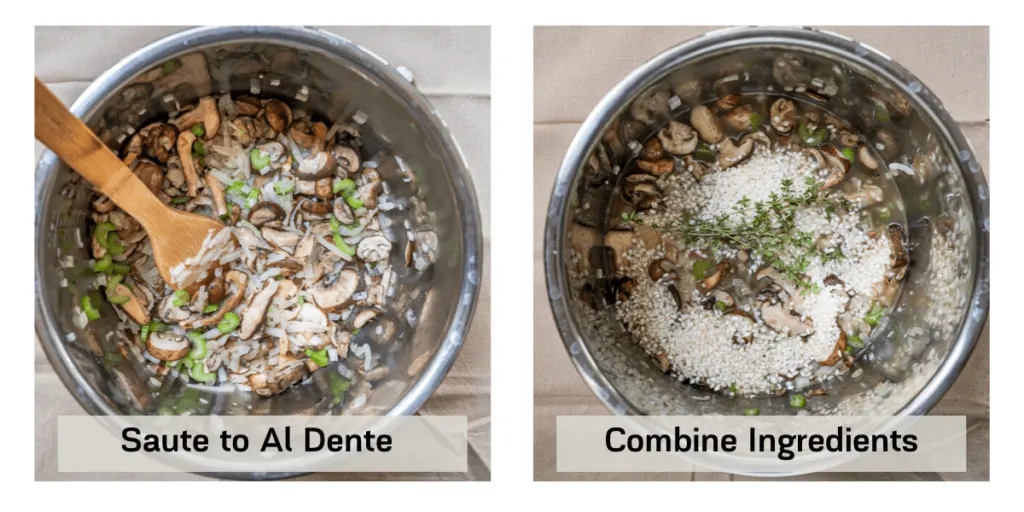 How do you make Instant Pot Mushroom Risotto?
Dice your onion and celery thinly. This is a quick cook recipe so you don't want huge pieces that aren't cooked when your rice is ready.
Remove tough stems from the mushrooms and wipe off any debris. DON'T wash the shrooms. They're like sponges and will be soggy (yuck!).
Add olive oil and butter to the instant pot and allow it to heat up on the saute mode. Add the mushrooms, celery, and onions. Cook just until they start to soften. Don't overcook the vegetables. They provide color and texture in the final dish.
Turn off the instant pot and pour the stock or broth over the sauteed vegetables. Add the rice and a couple of sprigs of fresh thyme.

Tie your sprigs of thyme together. It makes removing them at the end easier.

Give the ingredients a light stir. Put the lid on the instant pot and set the vent to sealing. Choose the manual mode and set it for 15 minutes at high pressure. When time is up turn off the instant pot and set your timer for 10 minutes to let it manually release.
After 10 minutes, using a wooden spoon or something else with a handle, release any remaining steam. Remove the thyme sprigs and stir the mushroom risotto.
We had plenty of roasted Herb Chicken leftover. I love repurposing my ingredients.
Great recipes for leftover chicken!
I understand that there are those folks that aren't mushroom lovers.
I don't get it but hey, I'm all about vegetable equality! Since I'm a veggie kind of girl, here are a few side dishes without mushrooms!
Side dishes without mushrooms:
Roasted Herb Chicken with Instant Pot Mushroom Risotto is delicious and easy to make. Why not make life easier and order your own Farm to Table ingredients from the comfort of your own home and get 10% off your order!
Recipe for Roasted Herb Chicken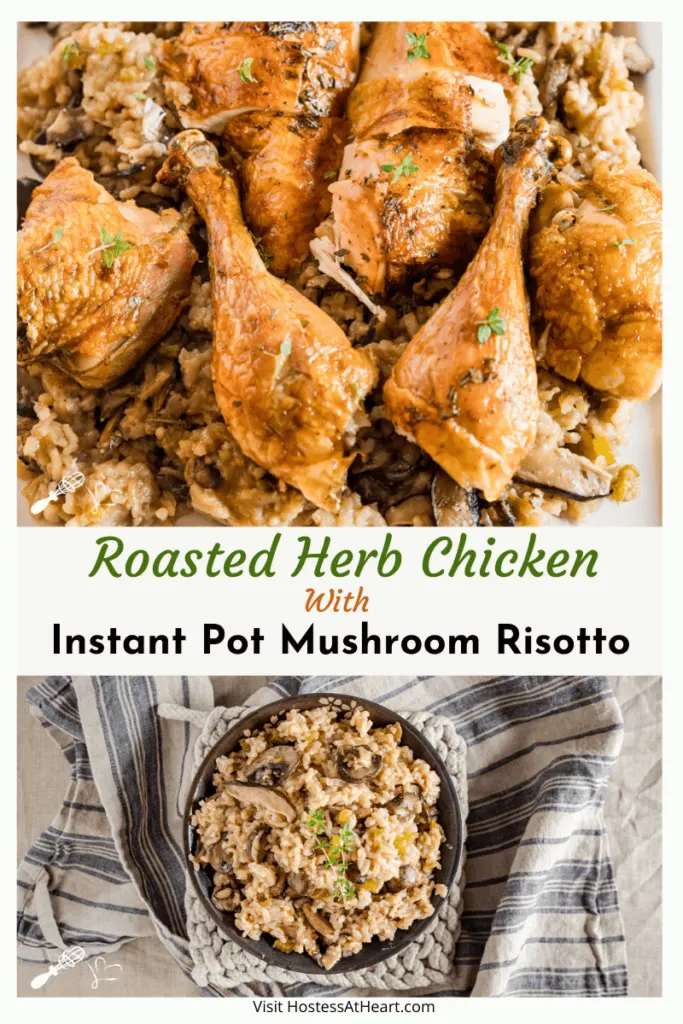 Follow Perdue Farms on Facebook, Instagram, Twitter, and Pinterest to find out more about the wonderful things they do and how you can get the quality farm to table proteins right at your door.
I can't get through the week without fixing chicken. Here are some of my favorites: