Succulent juicy fork-tender meat accompanied by delicious and flavorful vegetables, Instant Pot Corned Beef and Cabbage is a beautiful one-pot meal your family will love.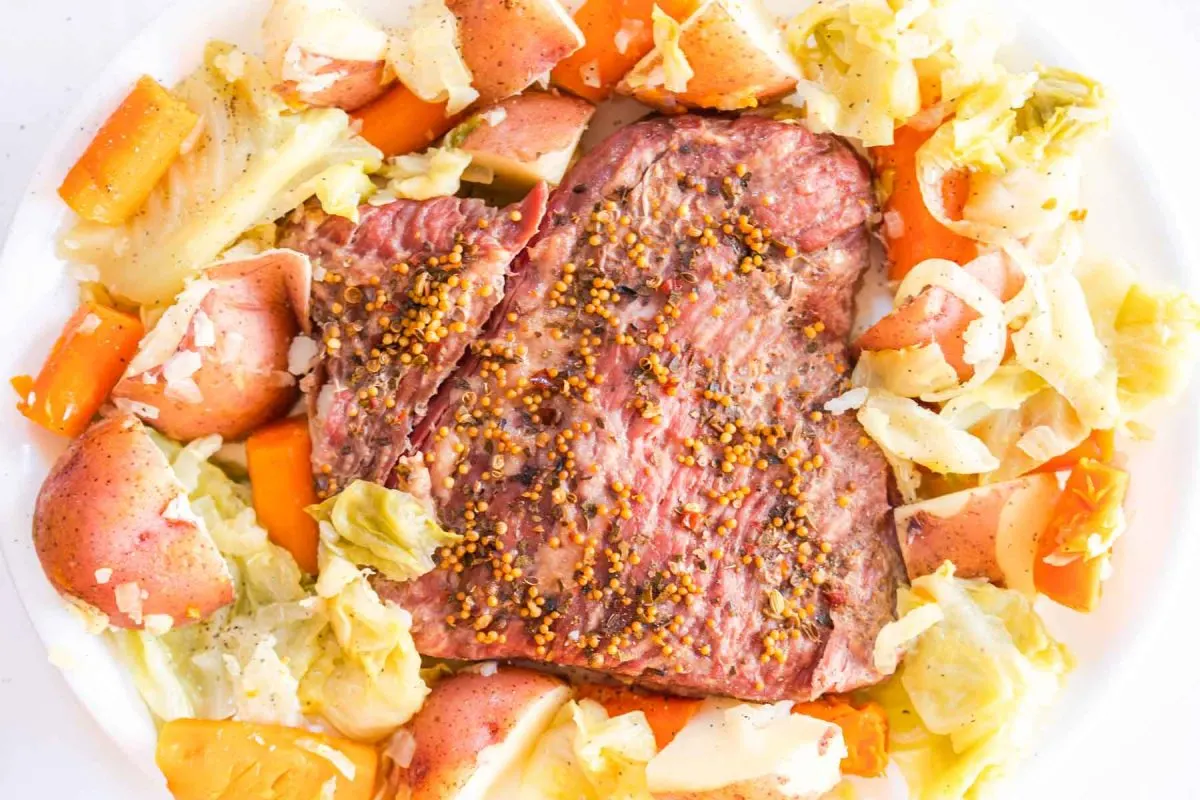 Whether making an American-Irish St. Patrick's Day meal or just a delicious dinner for your family, this Instant Pot Corned Beef and Cabbage Recipe is easy enough to make any time.
I was a little nervous the first time I made Corned Beef and Cabbage in the Instant Pot. We don't care for recipes that call for the corned beef to be boiled.
To my surprise, when making this Corned Beef and Cabbage Instant Pot recipe using the rack, the meat cooked perfectly. It was tender and moist and absolutely delicious. While I still love baking corned beef in the oven, this method is my quick and easy go too.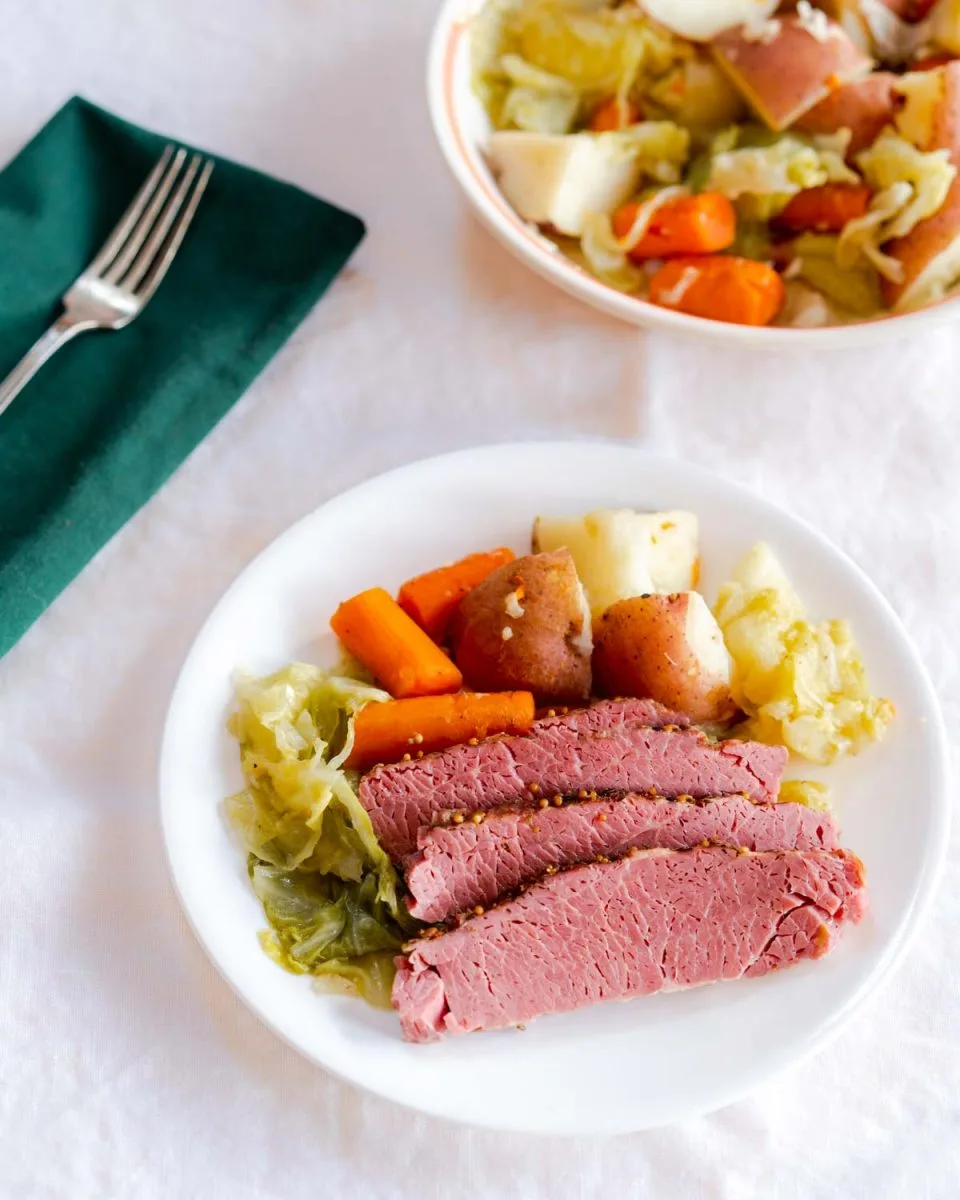 Why You'll Love Our Instant Pot Corned Beef Recipe
It's fast. Complete meal in 90 minutes
It's incredibly versatile. Don't like cabbage? Don't use it.
Need the easy button? This meal has no mess. Everything is cooked in a single pot and still comes out perfectly.
Equipment Needed to Make The Instapot Corned Beef
Ingredients You'll Need for this Recipe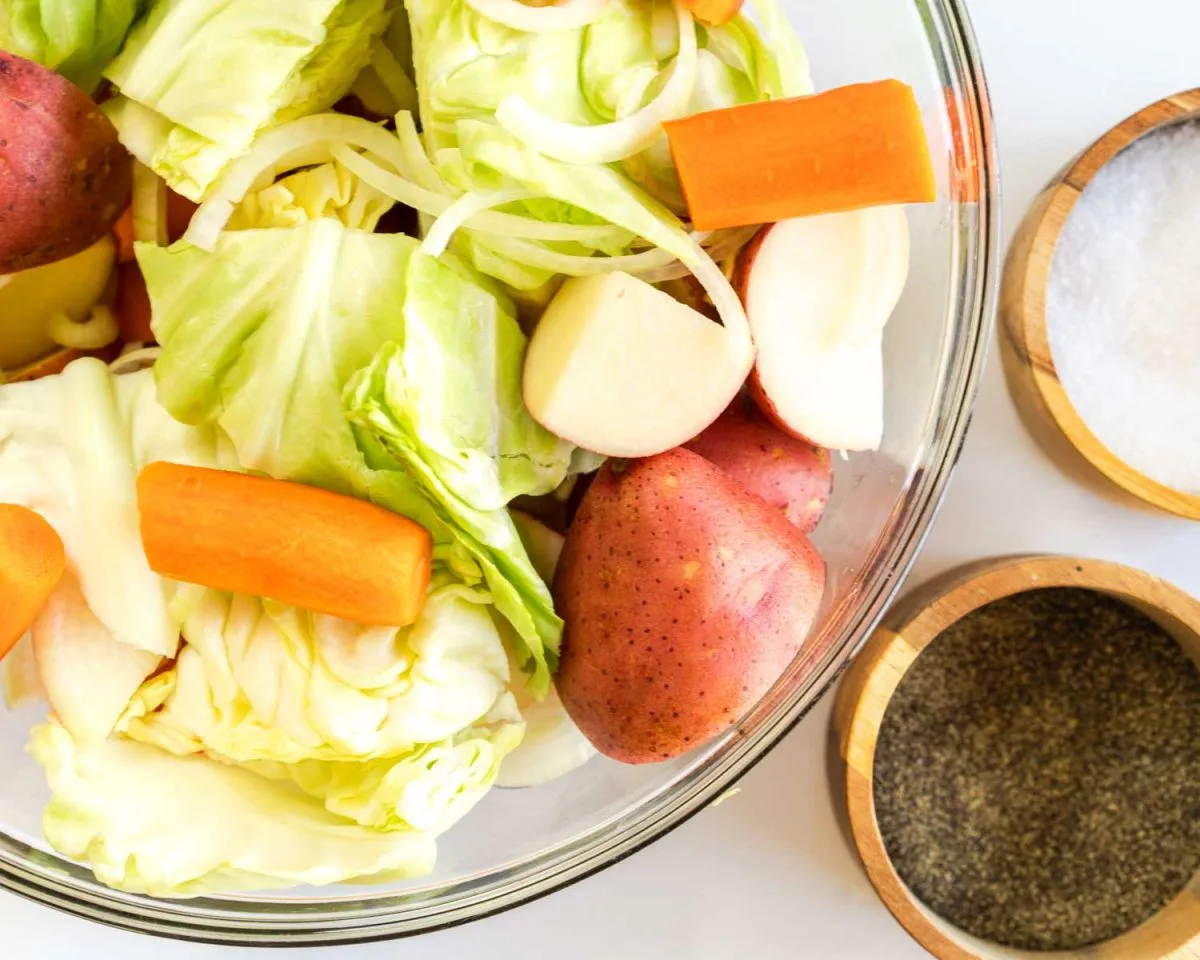 Corned Beef. This is nothing more than a brisket that has been brined according to tradition. It generally comes with a spice packet that we use to flavor the meat.
Red Potatoes. You can also use russet potatoes peeled and washed, or baby potatoes in their skin.
Carrots. Baby carrots are super convenient if you need fast, but I prefer the rich sweetness of a whole large carrot, peeled and diced. You will need three.
Green Cabbage.
Yellow Onion. You can use a sweet onion (Vidalia for instance), or a white onion. Red onions might be off-putting and not work as well.
Water. A must when using the Instant Pot, it creates steam that forms pressure in the appliance.
Parsley. Sprinkle your finished dish with fresh parsley for a beautiful presentation. (optional)
How To Make Instant Pot Corned Beef and Cabbage
Please note, that the printable recipe card has ingredient quantities, complete instructions, and nutritional information. The following is a quick overview of the recipe.
Step One: Preparation for the Instant Pot Corned Beef Recipe
Rinse the corned beef, pat it dry, and add the seasoning packet that came with it. Rinsing it will decrease the salt content without damaging the flavor.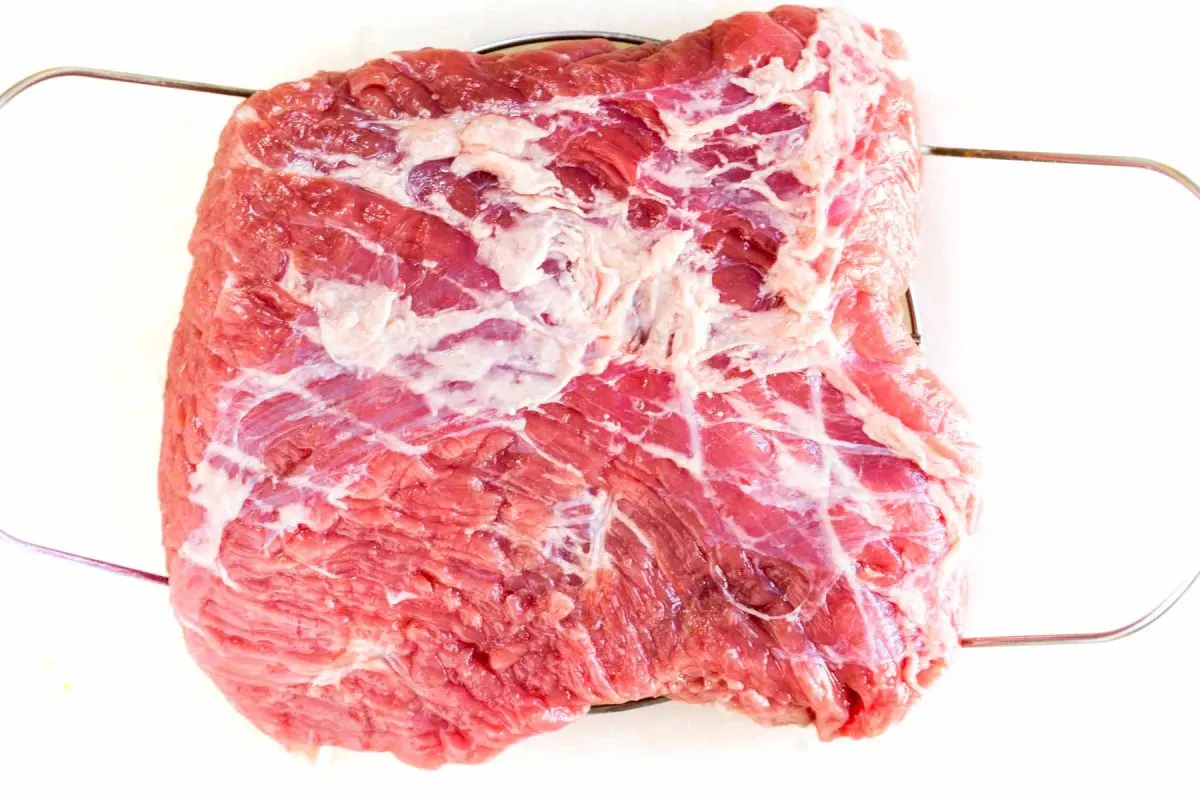 Step Two: Add the corned beef to the Instant Pot
Make sure to use a rack. This step will take 80 minutes under high pressure.
Step Three: Prepare and cook the Vegetables
When the corned beef is almost finished, wash and cut the vegetables.
Cooking tips: Since the cabbage cooks quickly, I recommend cutting it into large cabbage wedges.
Step Four: Remove the Corned Beef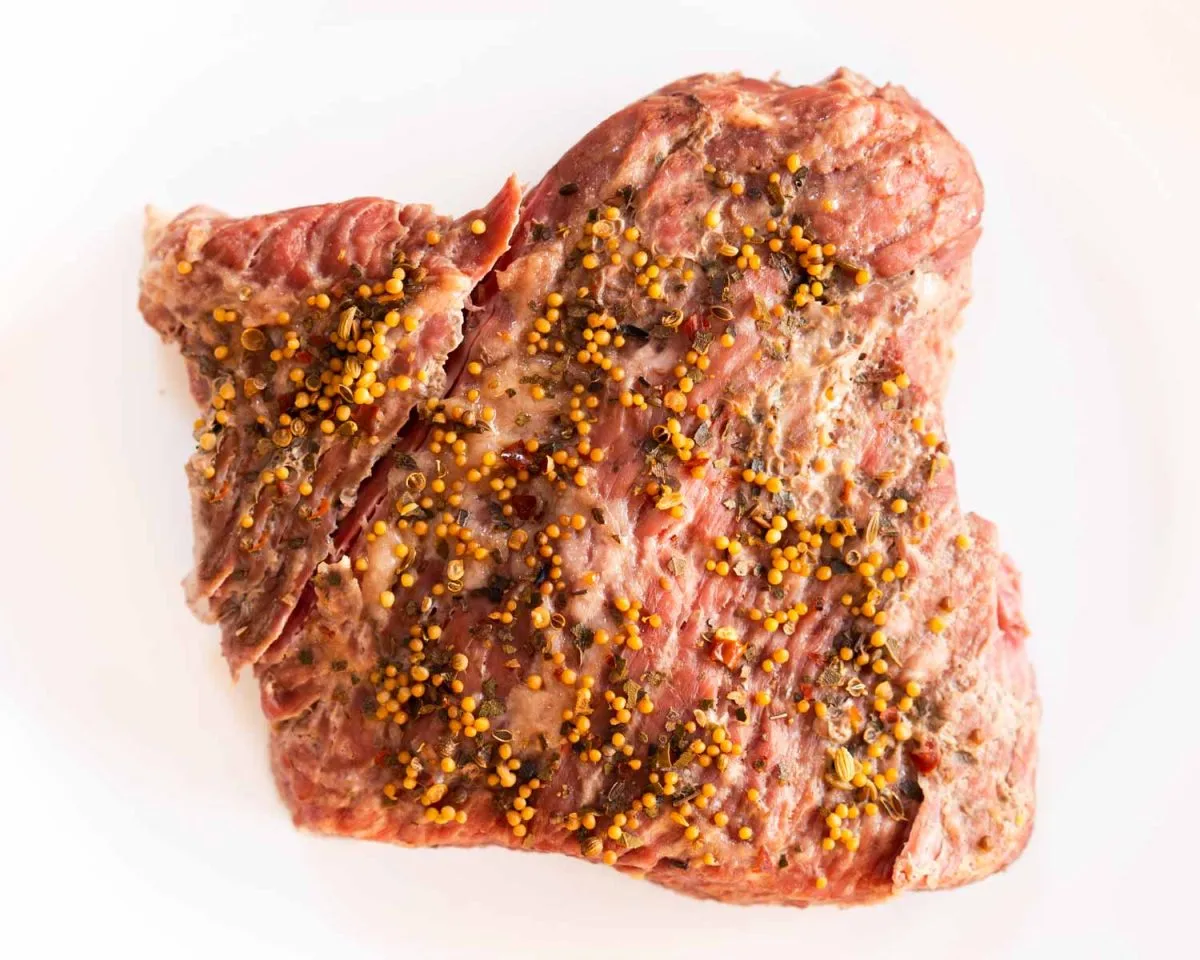 When the cooking time is up, do a quick pressure release and take out the rack with the corned beef on it. Let it rest.
Remove all but one cup of liquid. I pour it all into a large measuring cup and discard all but one cup then pour it all back into the instant pot.
Step Five: Cook the Vegetables
This takes just three minutes in your hot Instant Pot. Potatoes, carrots, and cabbage are our favorites with this recipe. You could add whatever you want and cook them the same way.
Step Six: Serve
Slice the corned beef and place it on a serving platter. Remove the vegetables from the Instant Pot with a slotted spoon. Surround the sliced brisket with the veggies. Sprinkle with freshly chopped parsley if desired.
We like serving corned beef with whole grain or Dijon mustard. A horseradish sauce would be delicious. A delicious slice of rye bread or one of my other favorites is a must for any Irish meal.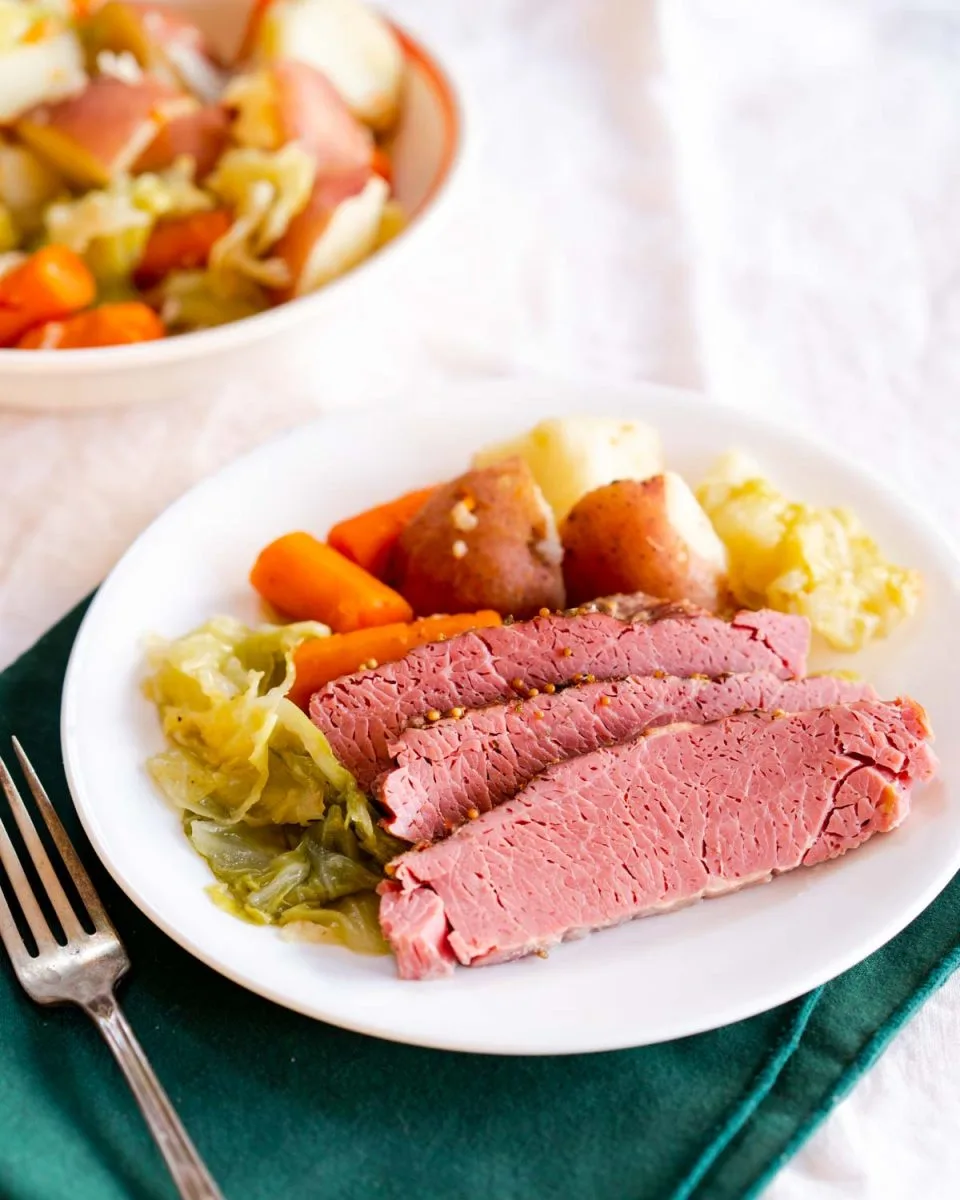 Frequently Asked Questions.
How to pick out the perfect Corned Beef Brisket?
You can purchase whatever size of brisket you need and it will not affect the final outcome as far as taste and flavor. However, you can only fit so much in your pressure cooker. I found that a 3 to 4 pound brisket worked perfectly.
Brisket will come in two different types of cut – point or flat. If you get a whole brisket, you will get both the point and the flat cut together. Either will work beautifully for this recipe. The two cuts should be separated before cooking and individually for even cooking.
Point cut is a rounder thicker piece of meat. It generally has more fat marbling so is very flavorful.
Flat cut can also be referred to as round and is a thinner piece of meat and it's a little leaner. It's easier to slice so it makes a nice presentation.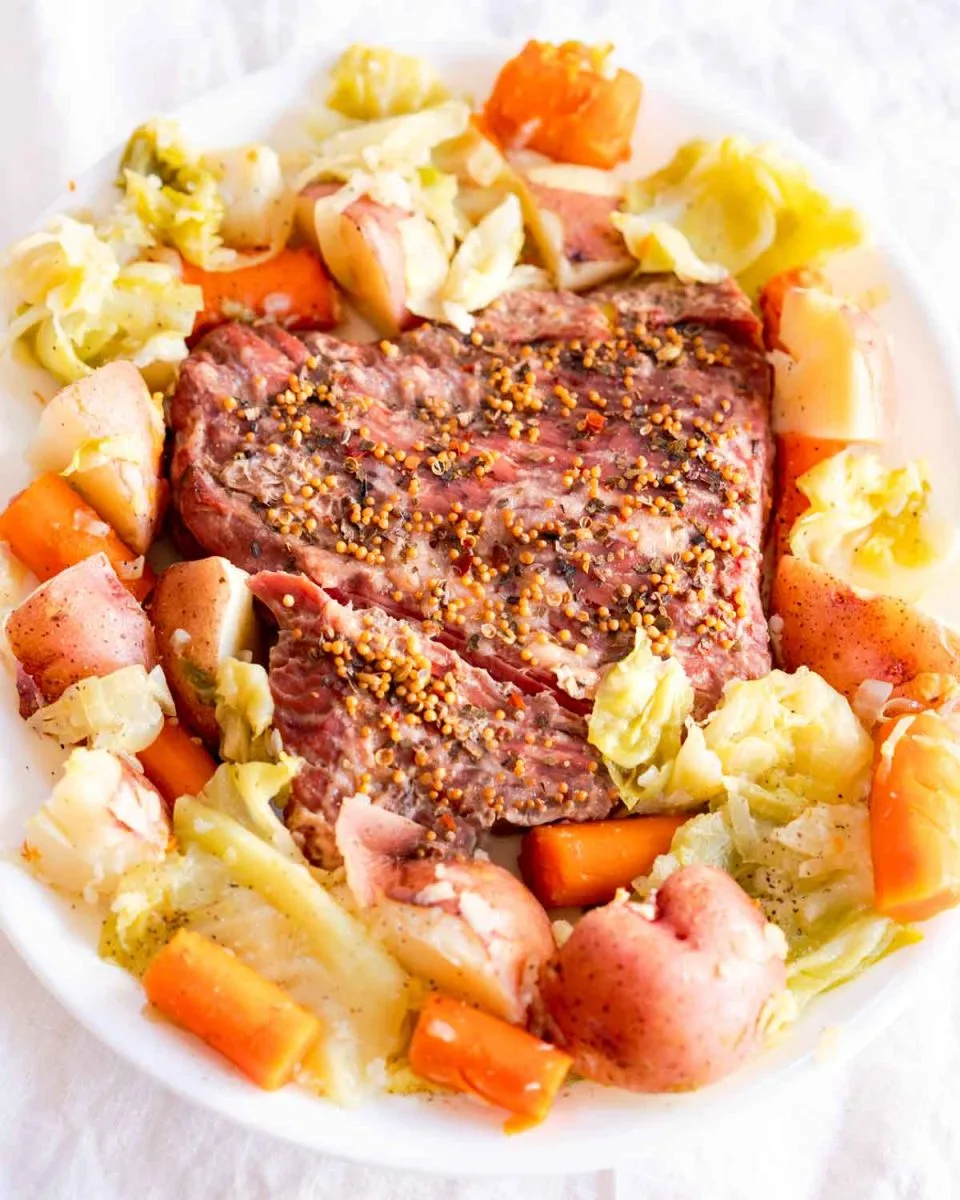 How much brisket equals 1 serving?
Plan on one pound of meat per person. This is because brisket cooks down significantly. You will need roughly 1/2 pound of cooked meat per person. Read more about brisket here.
Should the corned beef be rinsed before cooking?
Yes, rinsing the corned beef will reduce the amount of salt on the beef. It will not remove the flavor, however.
Do you brown corned beef before cooking it in the Instant Pot?
No. You can brown it on the sear feature of your instant pot if you desire but I didn't.
Should the fat be trimmed from the corned beef?
Yes, I trimmed the fat within 1⁄4 inch of the meat. This ensured that the meat was flavored with the spices. Note: I don't trim as aggressively when baking corned beef in the oven.
I prefer to cook my corned beef brisket fat side up because I like the way it flavors the meat.
How To Reheat & Store Instant Pot Corned Beef
Best way to store Instant Pot Corn Beef
Keep the leftovers in an airtight container in the refrigerator. You may want to separate the meat from the vegetables. Use within three days.
Can I freeze Instapot Corned Beef?
Yes. Place it in the freezer in an airtight container. Thaw it in the refrigerator or thaw it as you reheat it.
How to reheat Corned Beef and Cabbage Instant pot?
Reheat it in a microwave or skillet on medium heat until the meat reaches 165ºF. If using a skillet, you may need to add a little butter or vegetable oil to the pan.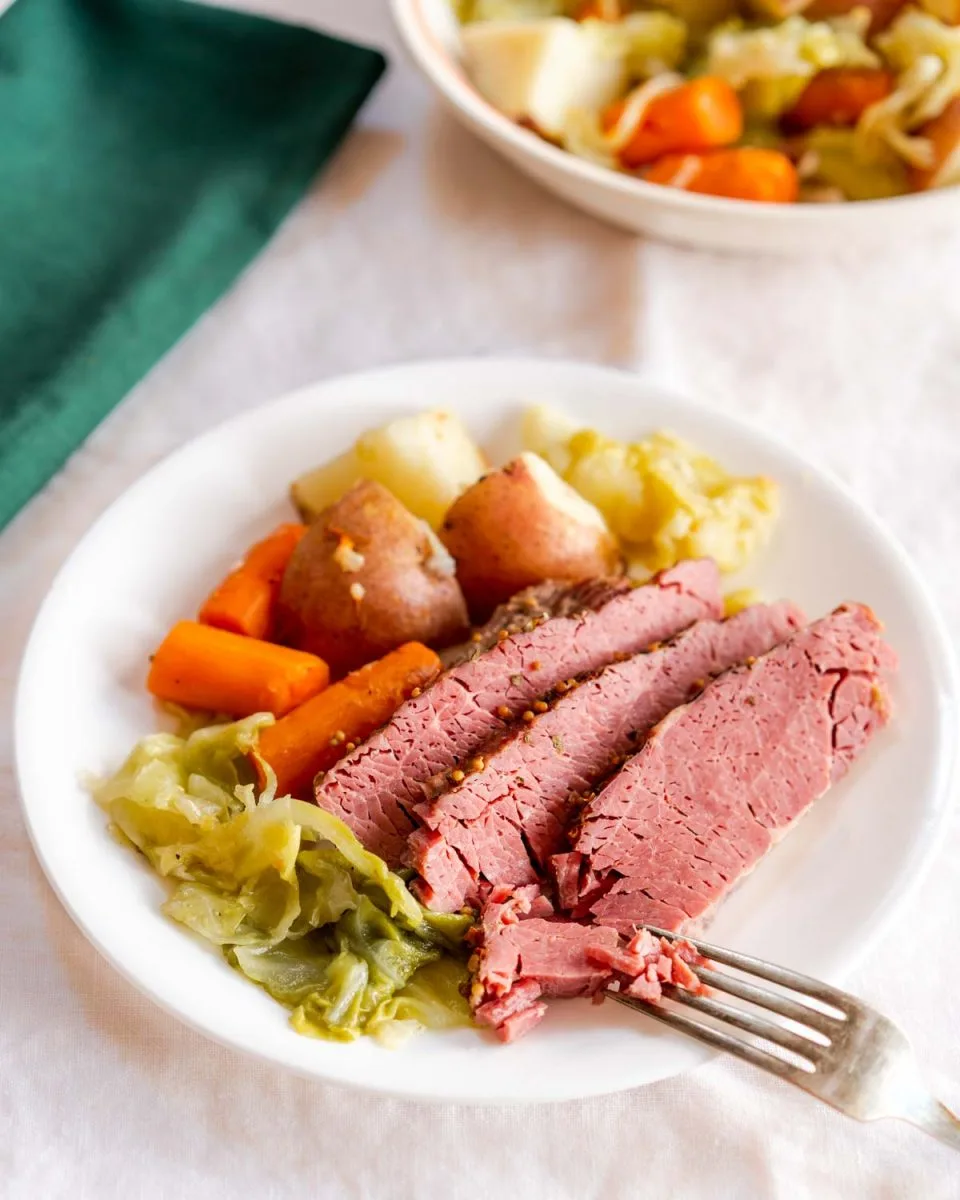 Tips for the best Instant Pot Corned Beef
If your corned beef brisket doesn't come with a seasoning packet, you can make your own brine and seasoning or add pickling spices.

Pickling spices are a mixture of coriander, allspice berries, mustard seed, bay leaves, cloves, and cardamom.

Use a rack and don't cover the corned beef with liquid.
Slice the beef against the grain for nice slices or with the grain if you want "pulled" corned beef.
Some recipes call for a dark stout beer such as Guinness beer or stock in the recipe. Since this corned beef doesn't sit in the liquid, there isn't any reason to use a cooking liquid other than water.
Cook the vegetables into fairly large pieces. If you get large potatoes, you can half or quarter them and there isn't any reason to peel them. I find red potatoes are sweet and pair well with the saltiness of corned beef.
Check out these Leftover Corned Beef Recipes!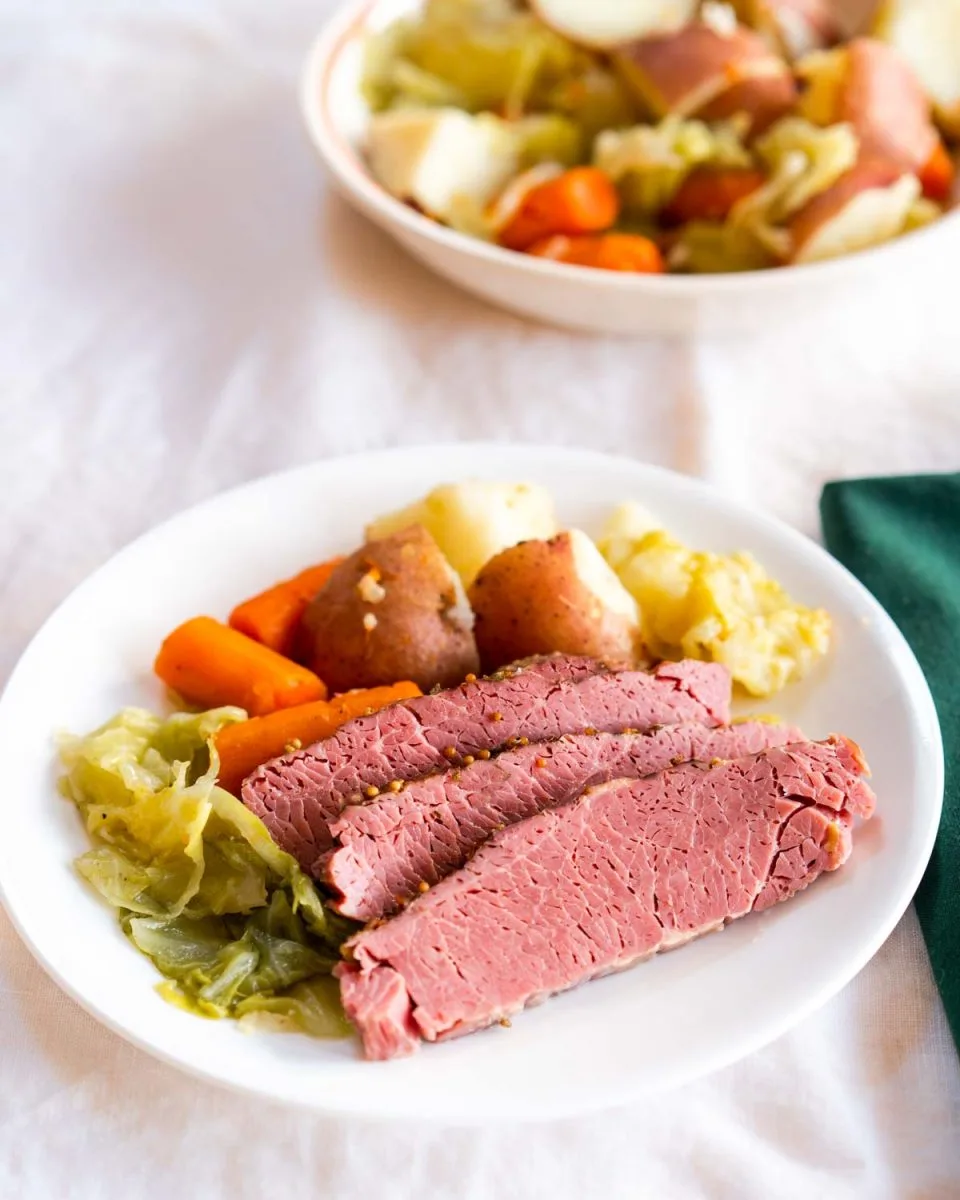 If you tried this delicious recipe, don't forget to rate it and leave me a comment telling me what you think. I love hearing from you!
Pin this amazing recipe!