Waterford Blaa bread roll recipe makes large soft and tender Irish Bread rolls that melt in your mouth. Blaa bread is simple to make and delicious with a slather of Irish butter or a great sandwich.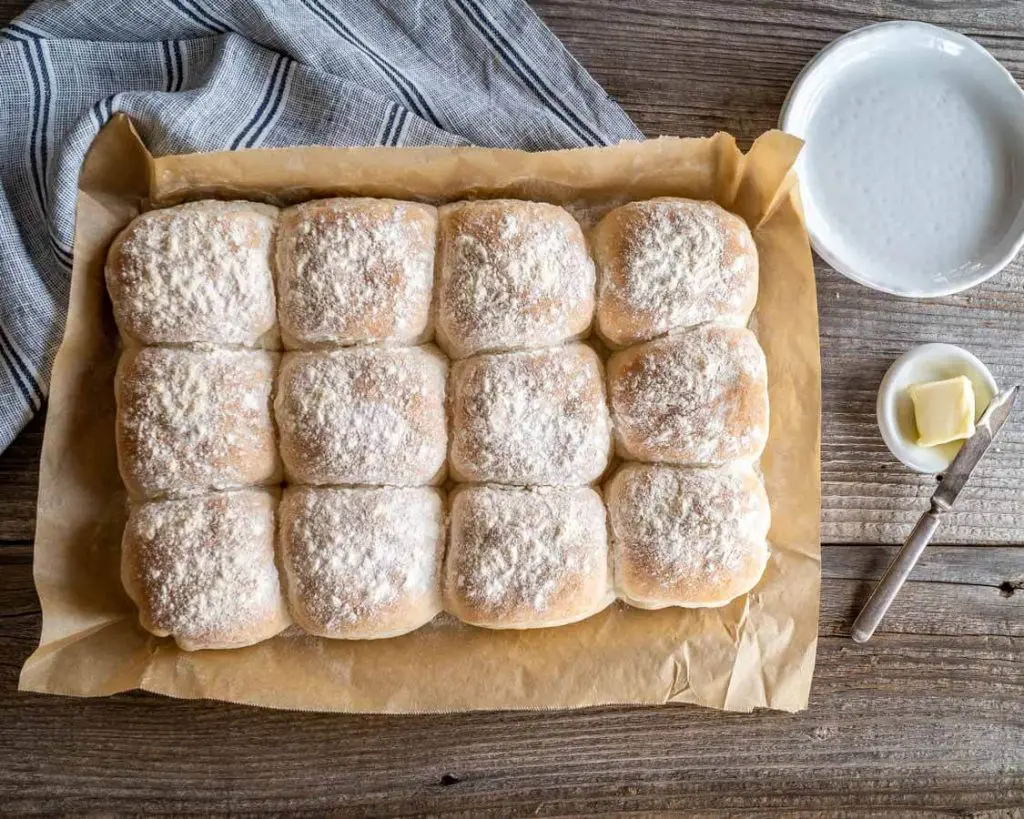 Waterford Blaa recipe is an easy yeast bread roll to make. They're our family's favorite go-to bread roll recipe.
Once you've sunk your teeth into these pillowy soft, melt-in-your-mouth bread rolls, this Waterford Blaa recipe will be your bread roll of choice too.
A year ago, one of my bread baking friends posted her Waterford Blaa Irish Bread recipe. The picture of those rolls just haunted me and it wasn't long before I knew we had to bake up a batch.
We've got to come clean here. Our rolls aren't Waterford Blaa rolls. Let us explain.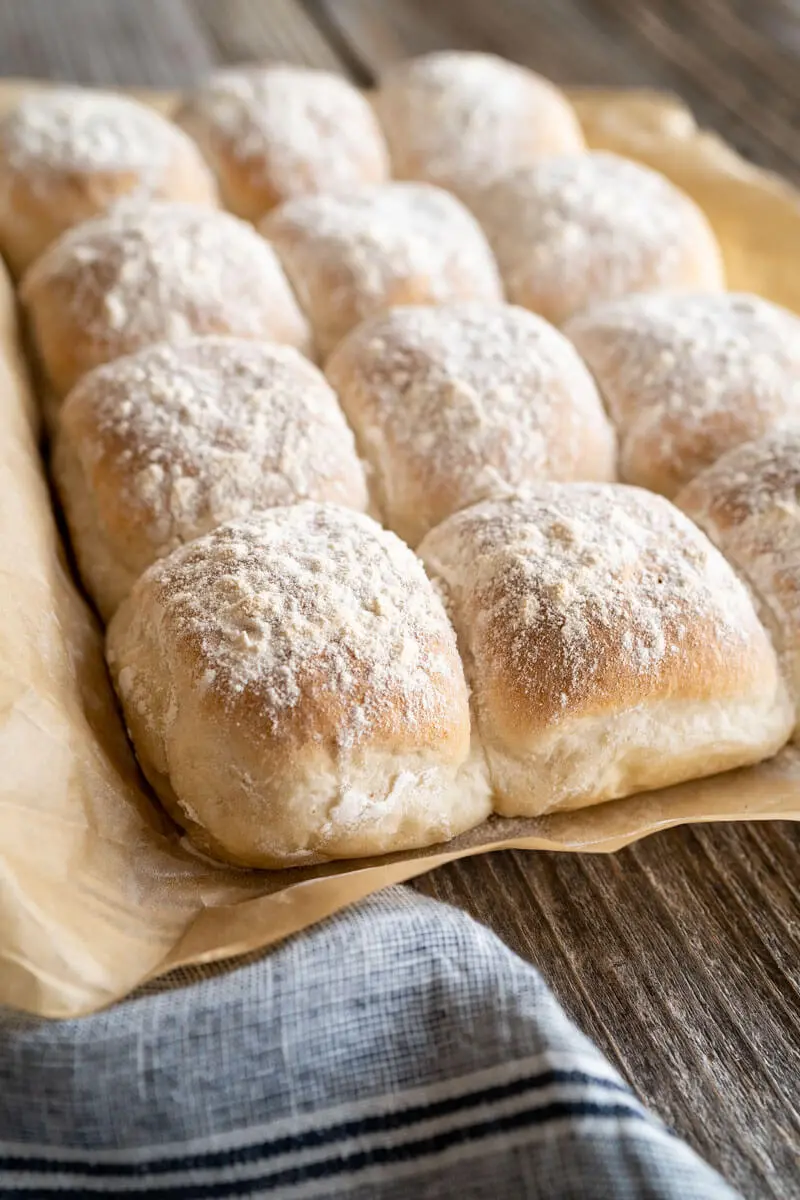 What is Waterford Blaa?
Waterford Blaa is an Irish Bread made in Waterford Ireland. Waterford Blaa has gained a protected designation which states they must be made in a certified Waterford Ireland bakery in order to be called a Waterford Blaa roll.
How are Waterford Blaa eaten?
Blaas are often eaten at breakfast in Ireland. A breakfast blaa can be eaten with just a slather of butter but is often eaten as a sandwich with bacon or lunchmeat.
How are traditional Blaa rolls made?
Over 12,000 Blaas are sold each day in Waterford. Bakers often bake them close together on a baking sheet so they often have more of a square shape than our round rolls. They're distinguished by a dusting of white flour.
Knowing that we couldn't officially call our rolls Irish Waterford Blaa, didn't stop us from making this Irish Bread Roll recipe, however.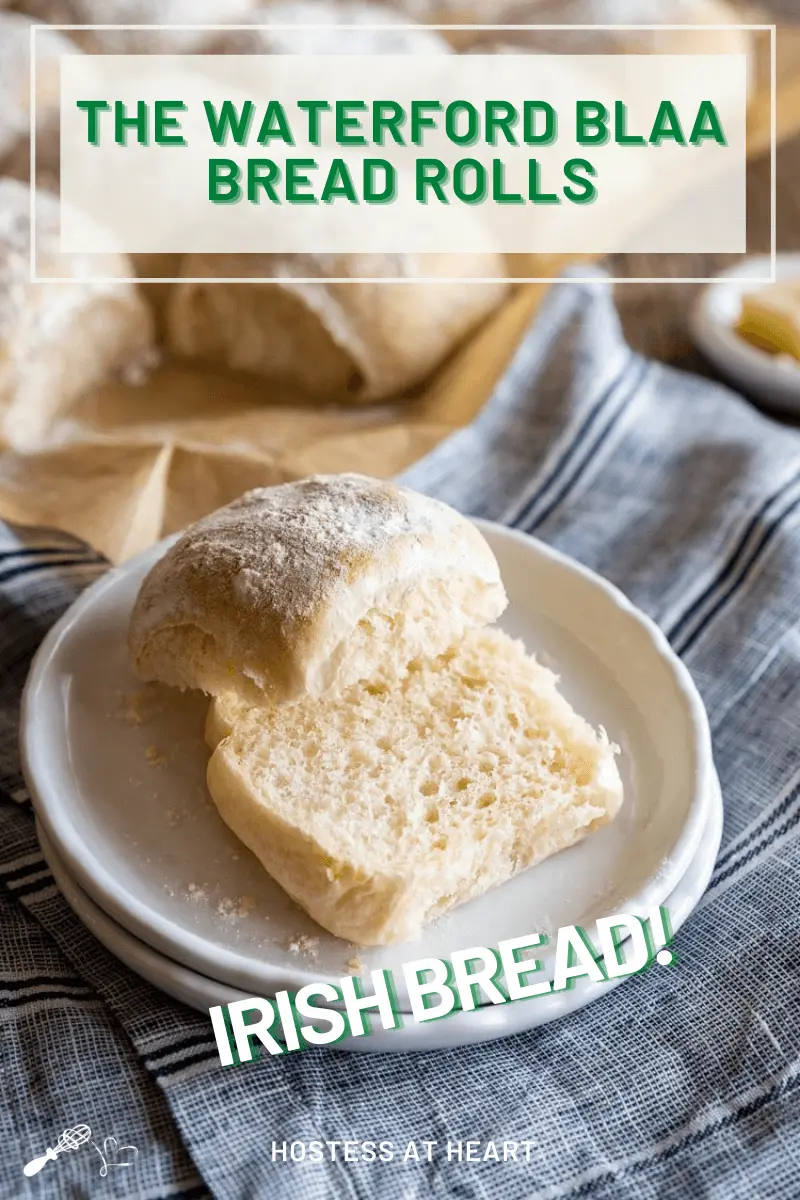 Ingredients you need to make Blaas
The ingredients in this recipe make them easy to make in any kitchen. Traditional Irish Blaa ingredients are noted.
Bread flour – Bread flour has a higher protein content than all-purpose flour.

If you choose to use all-purpose flour, you may need less liquid because of the lower protein content.

Yeast – We used instant yeast, also called rapid-rise yeast. Traditional recipes often use an active yeast that's made into a sponge.
Sugar – White granular sugar.
Salt – We use fine sea salt in our baking. We believe that it dissolves better and we often add it to the liquid instead of the dry ingredients.
Unsalted Butter – We use real butter.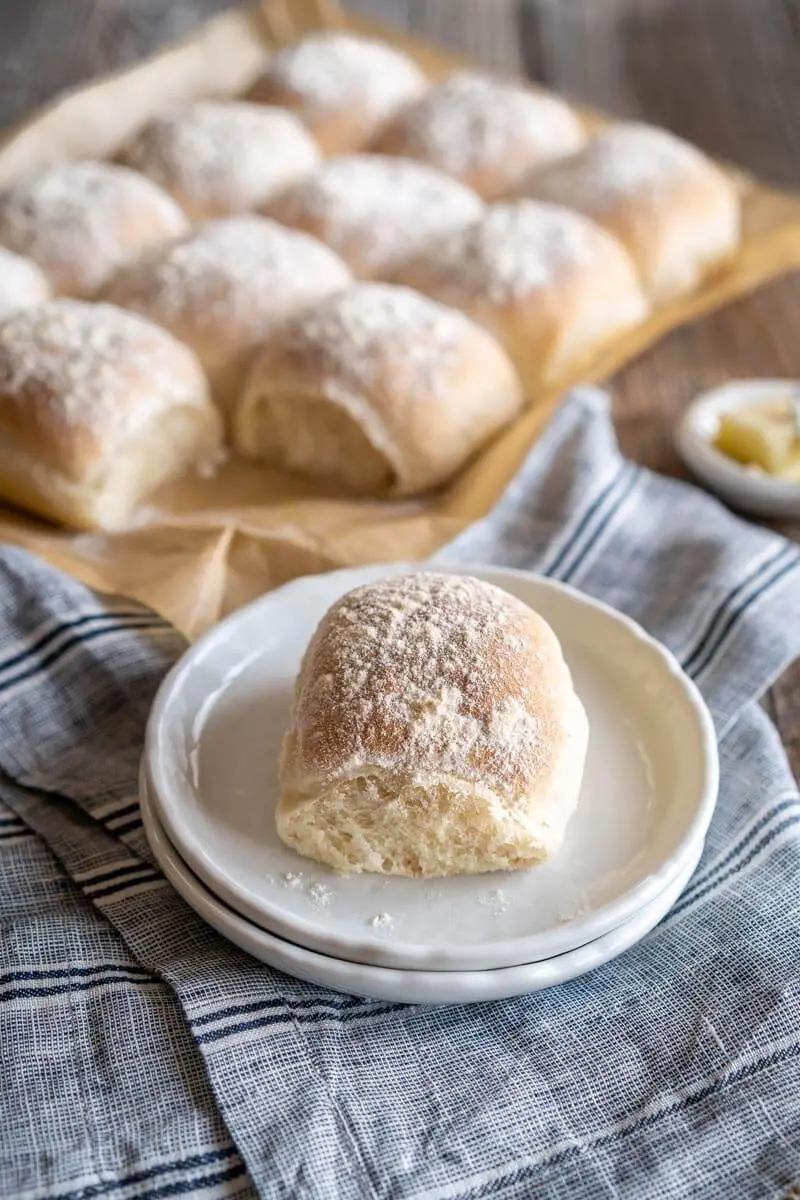 How to make Waterford Blaa Recipe
This recipe is for 12 rolls. However, we frequently double the recipe.
Mix the warm water, yeast, and sugar together in a large bowl or in the bowl of an electric stand mixer.
Add the salt, butter, and flour to the yeast mixture. Mix until just combined using the paddle attachment or a wooden spoon.
Exchange the paddle attachment for a dough hook or knead the dough by hand for 10 minutes or until the dough is smooth.

The dough may be sticky but resist adding additional flour.

Place the dough in a large oiled bowl. Cover with oiled plastic wrap and place it in a warm area to rise until doubled, approximately 45 minutes.

If it's cool or dry when you bake, it may take longer to rise. If it's warm or more humid, it may take less time. Just start watching them when to they've risen for approximately 40 minutes.
The dough may be sticky. Flour your hands in order to handle it.

Line a 9×13 baking dish or cake pan with parchment paper and then dust it liberally with flour.
Divide the dough into individual rolls.

For very large rolls, divide 8 times placing the rolls 4 down and 2 across.
We usually make 12 rolls and place them 3 across and 4 down.
You can also shape them into 15 rolls using the same sized 9×13 pan.
For a double batch, we shape them into 24 rolls and use a 10×15 baking dish. They can also be placed free form on a baking sheet.
I often weigh my rolls to get a consistent size.

Press each roll into a slightly flat disk with the palm of your hand.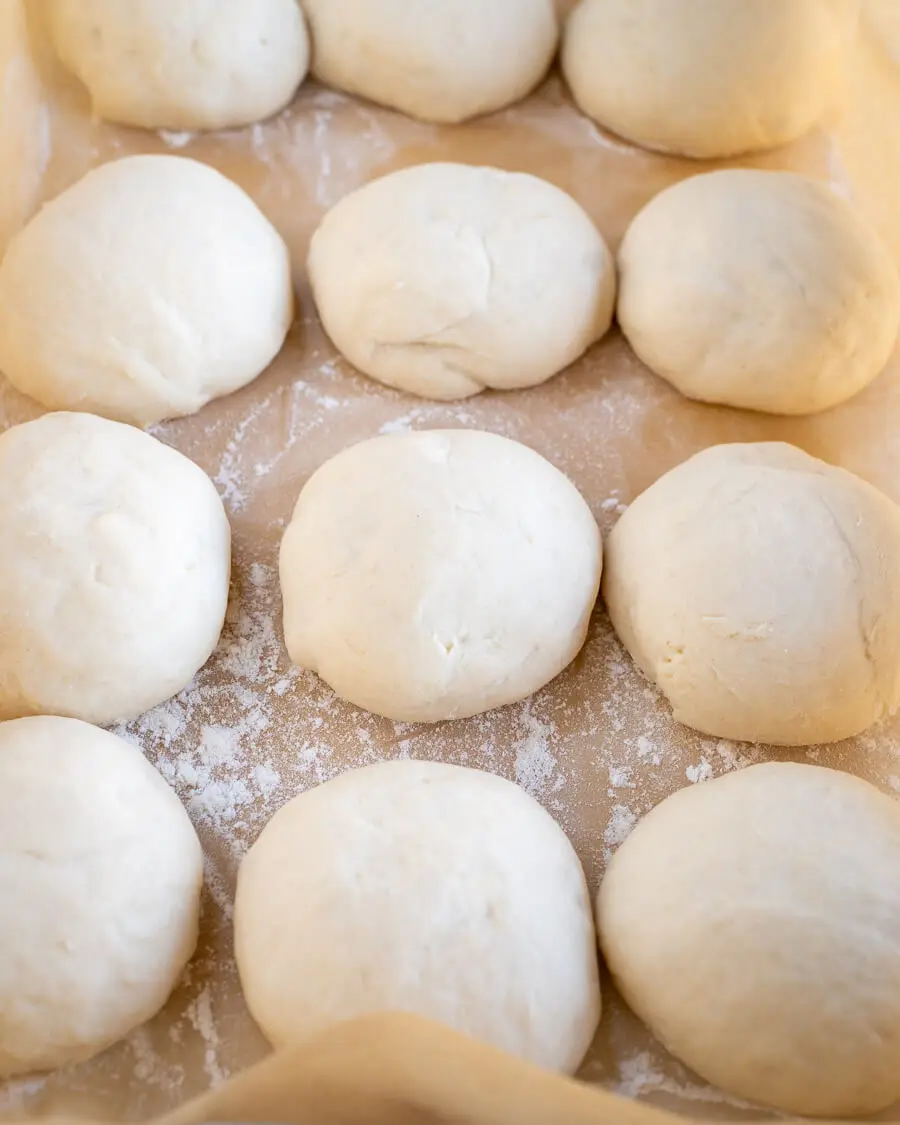 Cover the pan and allow the rolls to rise for about 45 to 50 minutes.
Dust the rolls liberally with flour. Bake.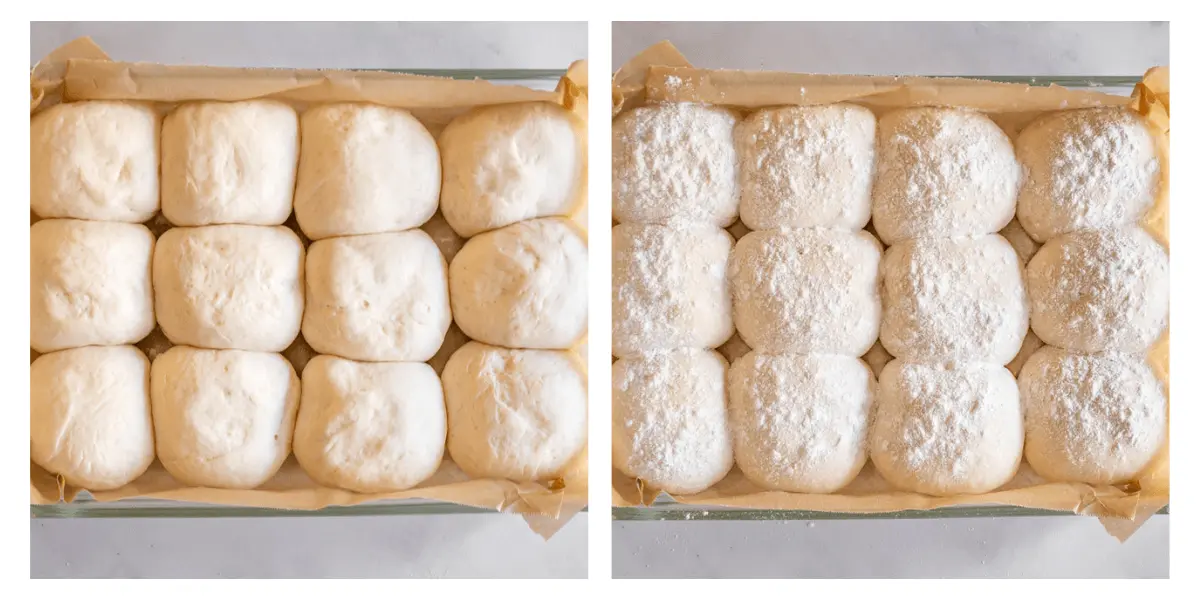 Tips for making Blaa Bread
If it's cooler or dry when you bake, it may take longer to rise. If it's warmer or more humid, it may take less time. Just watch them when to approach 40 minutes.
The dough may be sticky. Flour your hands in order to handle it. Resist adding more flour to the dough because that can toughen them or make them dense.
The number and size of your rolls can affect baking time. If you make smaller rolls, they will bake faster by a few minutes.
You don't have to use a 9×13 pan. You can place them free form on a baking sheet about 1 inch apart.
Note: US Customary Volumes are provided after the recipe card. They are approximates but should work for you,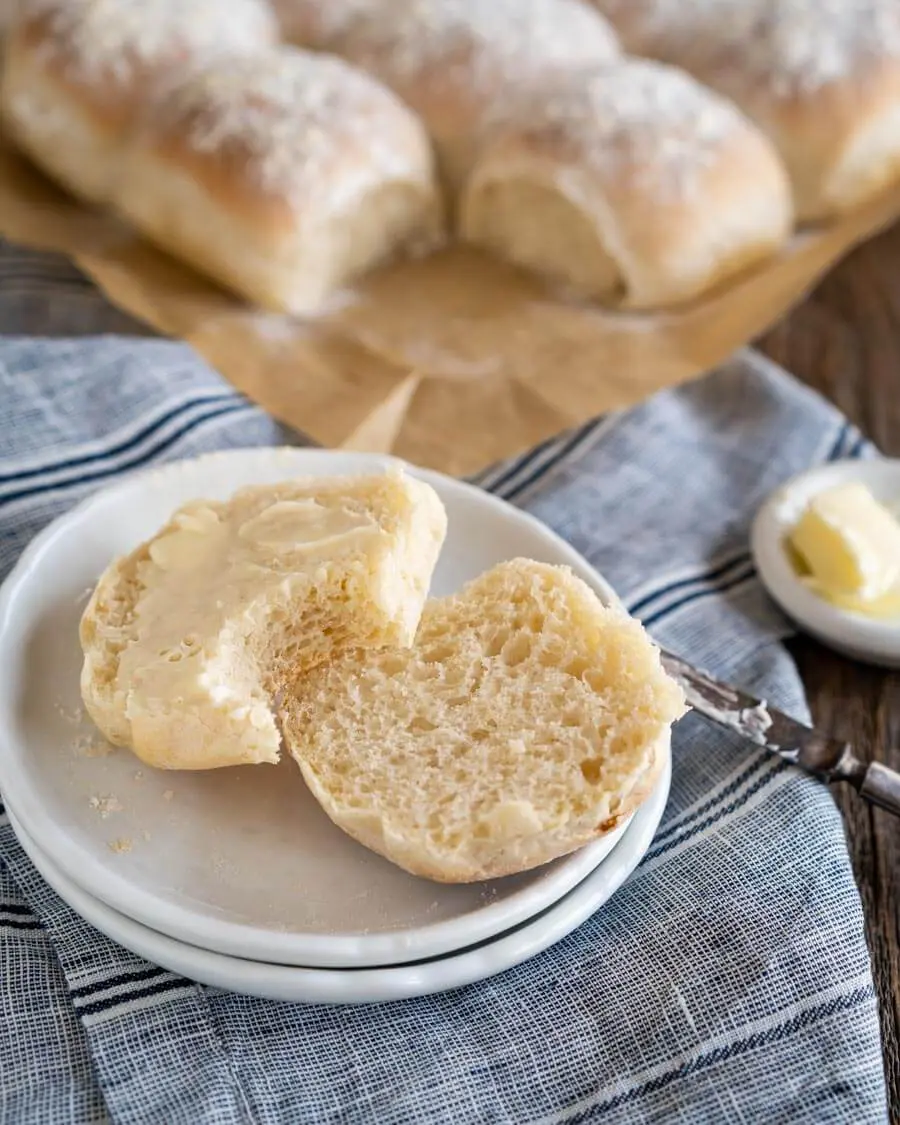 How to store freshly baked Waterford Blaa rolls
These rolls are best eaten fresh and may be eaten warm or cold.
Store uneaten rolls in an air-tight container at room temperature for 2 to 3 days.
Bread may be frozen in an air-tight container for up to 3 months. Let the rolls thaw at room temperature.
To freshen place in the microwave for 15 to 30 seconds or place in a 350°F oven for 10 minutes.
Make bread crumbs – Stale bread can be made into bread crumbs. We tear up the bread and allow it to dry further. Put the bread pieces in a food processor and process until you have a coarse texture. Bread crumbs can be frozen in an air-tight container.
Supplies we used
We LOVE baking bread! You can find all of our bread recipes here!
Bread recipes perfect for St. Patrick's Day
I hope you enjoyed this delicious recipe as much as we do. Drop me a comment below, and don't forget to give it a star rating. ⭐⭐⭐⭐⭐. Your comments and ratings help others decide if this recipe is for them too.
Conversions for Waterford Blaa Bread Rolls recipe
We realize that many of you aren't comfortable using a scale. The closest conversions are the following.
285 gr water warmed (98°) – 1.2 cups
• 10 gr instant yeast – 3.2-3.3 teaspoons
• 10 gr white sugar – 2-1/2 teaspoons
• 500 gr bread flour – 4 cups
• 10 gr sea salt fine 1-3/4 teaspoons
• 10 gr unsalted butter softened – 2 teaspoons
More Great Bread Recipes
Organic Honey Whole Grain Bread Recipe
Pin it!