Homemade Potato Rolls Recipe makes a soft and tender bread roll that's slightly sweet. They make perfect dinner buns and great potato bread sliders too.
Potato bread rolls are so easy to make that even the beginner baker is going to love making them.
This recipe was originally written in 2017 and has been updated to improve your experience.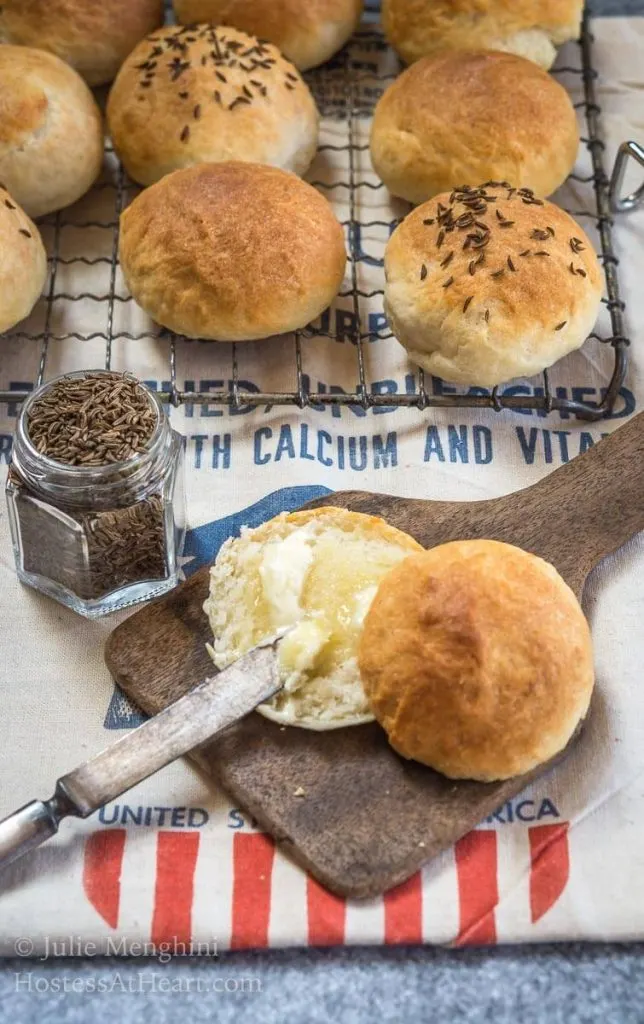 Potato Rolls recipes are a must for St. Patricks Day and so easy you can make them all year long.
What you'll love about Potato rolls
You can make mashed potato rolls with leftover potatoes.
This potato bread roll recipe is that it's so versatile, I'll be sharing ways that you can change them up so they're perfect with whatever you're serving.
I know that baking bread can be intimidating for people that have never baked bread before or done it unsuccessfully. These potatoe rolls are so easy to make that they're a great way to gain confidence in baking bread.
To some people, yeast is a scary ingredient. If you are one of those people, this Super Easy potato yeast bread roll recipe is for you!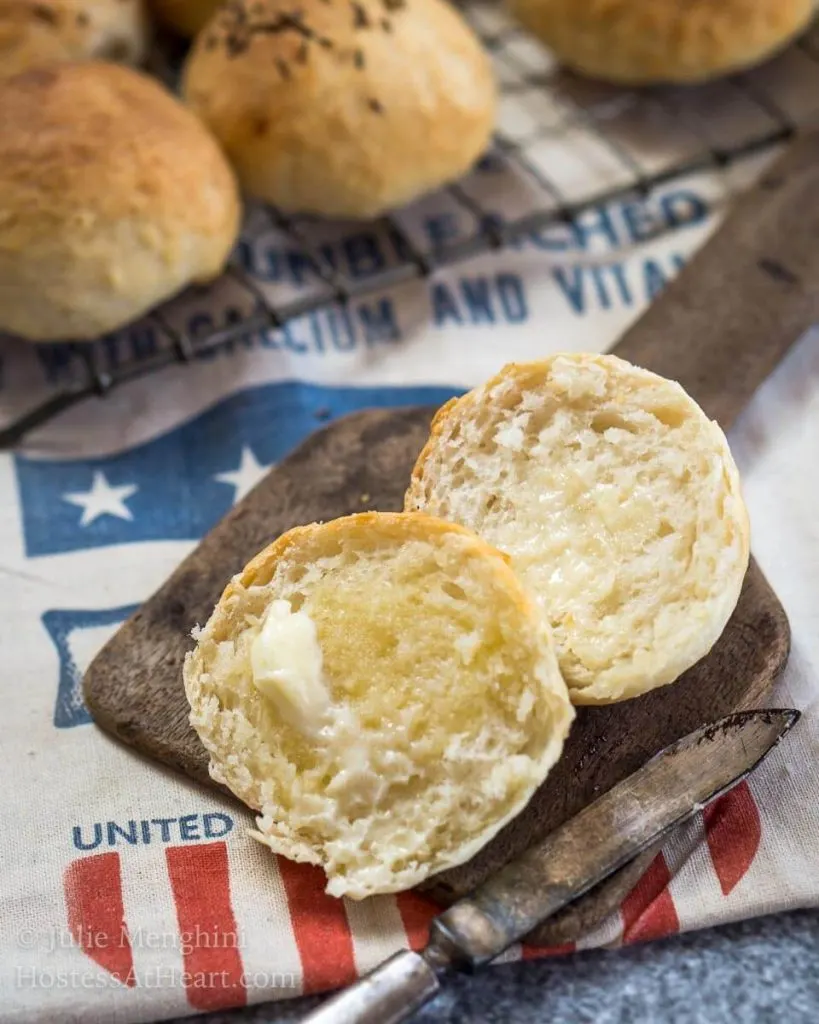 What is a Potato Roll?
Potato rolls have cooked potatoes in the ingredients which make them moist and tender.
Potato roll ingredients
This recipe uses very simple ingredients and in uncomplicated steps. Let's break it down.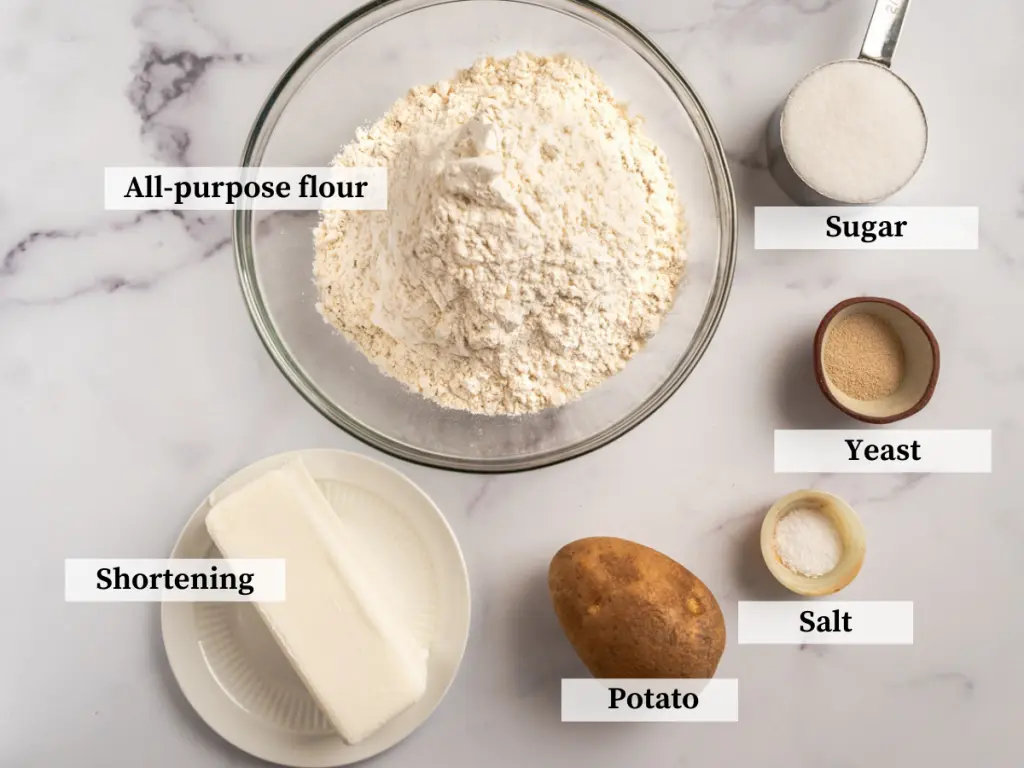 Mashed potatoes – peeled and boiled potato before any cream or butter is added. We used one medium-sized potato, 1 cup. You want to use them when they are at room temperature.
Potato water – Retain one cup. You can also use plain warm water if you don't have potato water.
Instant yeast – Yeast may also be labeled as rapid-rise. If the different names for yeast confuses you, you're not alone! I explain them here.
Flour – All-purpose flour
Sugar – White granular sugar
Shortening – makes these rolls soft and tender. We always use the Crisco brand.
Salt – We use Kosher salt in this recipe.
What you may need
How to make potato rolls
This recipe can be hand mixed and kneaded. However, I've found that it works better with an electric stand mixer.
The dough is soft and buttery but not overly sticky. When I put the dough hook on the mixer it comes away from the sides of the bowl and forms a ball.
When you mix by hand, you may have to flour your hands to prevent the dough from sticking to your hands.
You use what you have. I've done it both ways and it works regardless.
Boil a medium-sized peeled and diced potato. Pour the potato water into a glass measuring cup. Mash the potato until fairly smooth.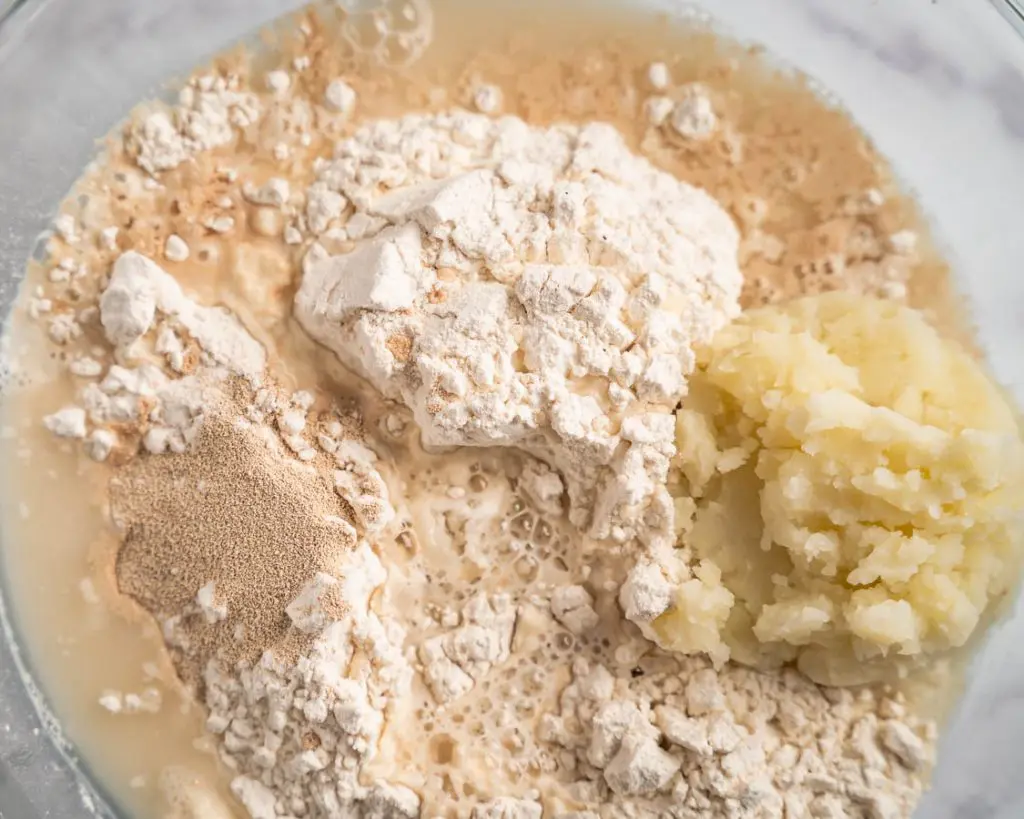 Combine all of the ingredients into the bowl of an electric stand mixer fit with the paddle attachment. Mix until the ingredients are well combined.
Change the attachment on the mixer to the dough hook and allow the mixer to knead the bread for 7 minutes. The dough should come away from the sides of the bowl and form a ball.
Put the dough in a large bowl that's been oiled or sprayed with non-stick cooking spray. Cover the bowl and let it rise for 90 minutes.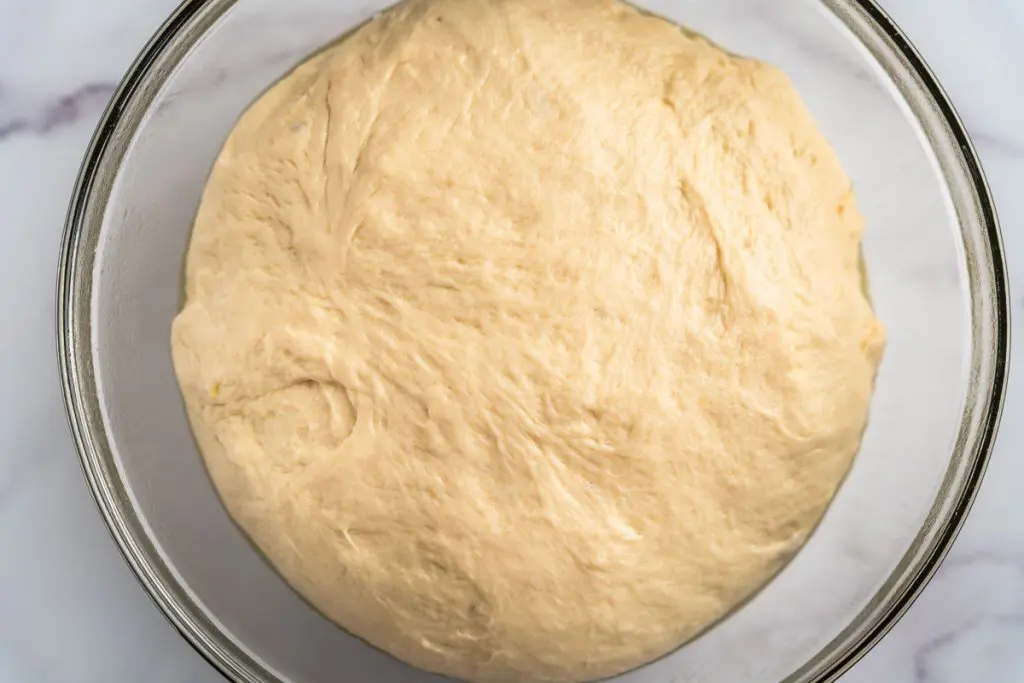 Divide and shape the dough. Place them on a parchment paper-lined baking sheet or in a baking dish. Cover them with oiled plastic wrap and let them rest for 1 hour.
Remove the plastic wrap. If you want to top with seeds or grains such as caraway, sesame, poppyseeds, or oats, brush with melted butter and apply your garnish.
Bake until golden brown. Brush with melted butter if desired.
Tips for the perfect Potato Dinner Roll
If you're making mashed potatoes for dinner, just make them earlier in the day. Scoop out a cup before adding the cream and butter for Potato Rolls!

You can either finish making your mashed potatoes and warm them up or finish making them right before dinner.
When you bake potatoes just add an extra one or two so you have leftover potatoes purposely to make this potato roll recipe.

You can use instant mashed potatoes (not just the flakes). You'll need 1 cup.
Mashed potatoes blend better when they're at room temperature or slightly warm but not too hot. You can kill the yeast mixture.

I mash the potatoes ahead of time and let them cool. Don't forget to reserve the water.

I like our rolls approximately the same size so they bake at the same rate.

Using a kitchen scale, weigh the entire piece of dough and then divide that number by the number of rolls that you want.
I've made this recipe into 24 rolls which are perfect for a dinner roll and 34 rolls for sliders.

If you want your rolls to be individual round rolls place the dough balls a little further apart on the baking sheet so they don't touch once they've risen. For a tear-apart dinner roll, you can place them closer together in a baking dish so they're touching once they rise.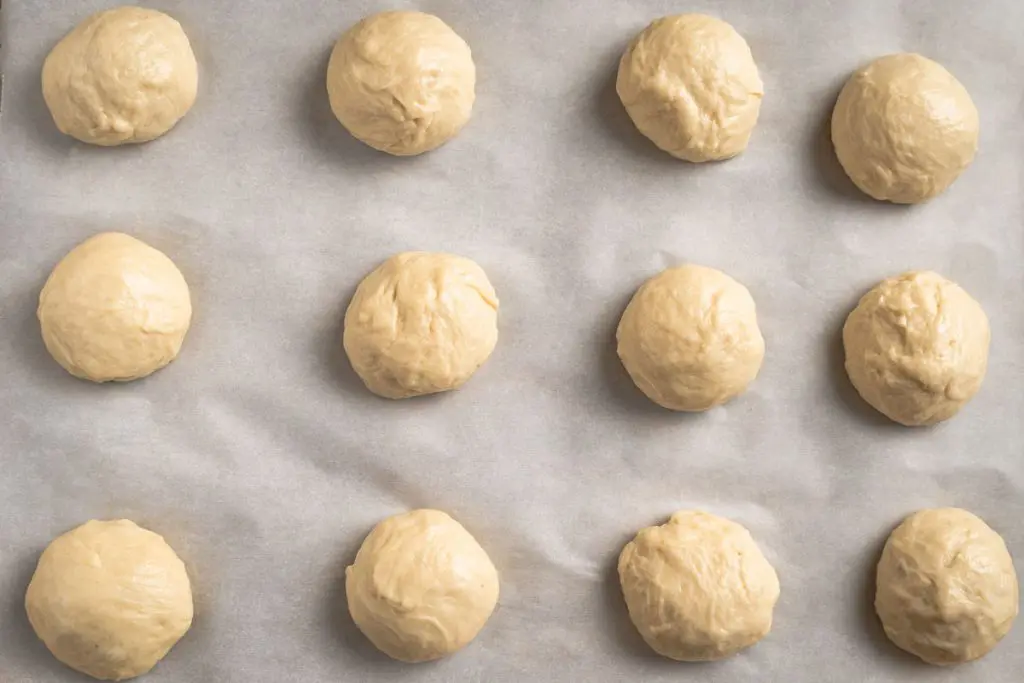 If you want to garnish the rolls with seeds or grains, brush the dough with melted butter and apply the garnish right away so it will stick. For ungarnished rolls, you don't need to brush the dough with the butter.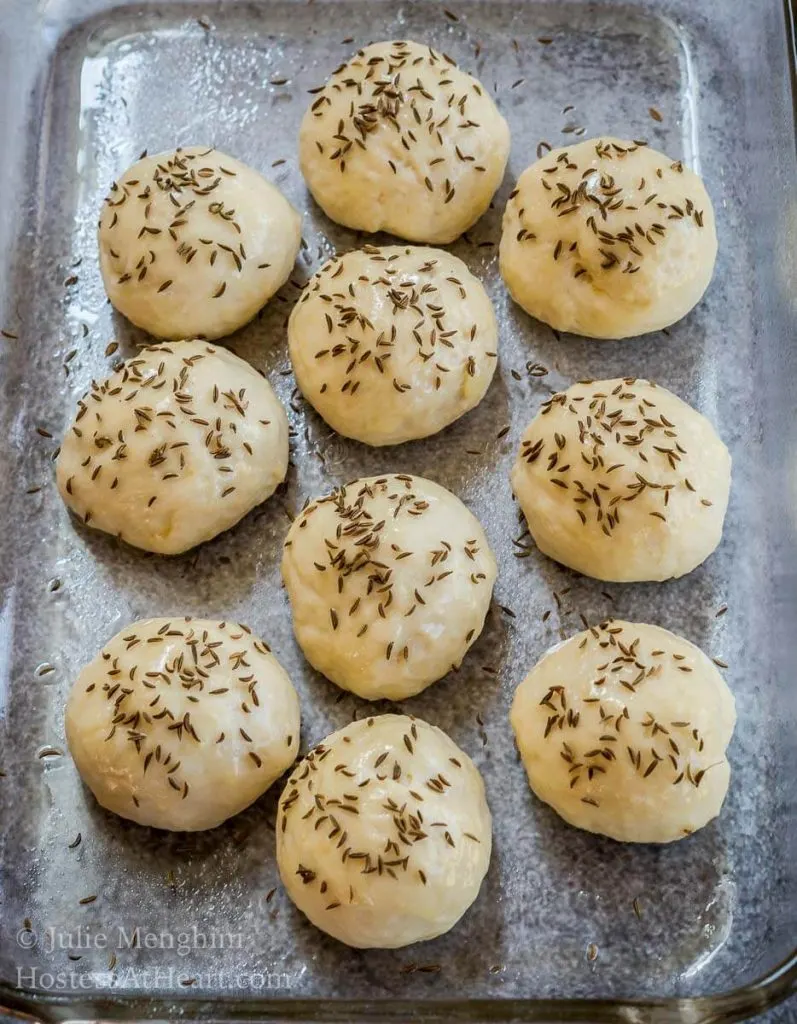 I brush our ungarnished baked potatoe rolls with butter because it keeps the crust soft.
If baking scares or confuses you, check out or Baking Basics Techniques, Tools, and Ingredients article.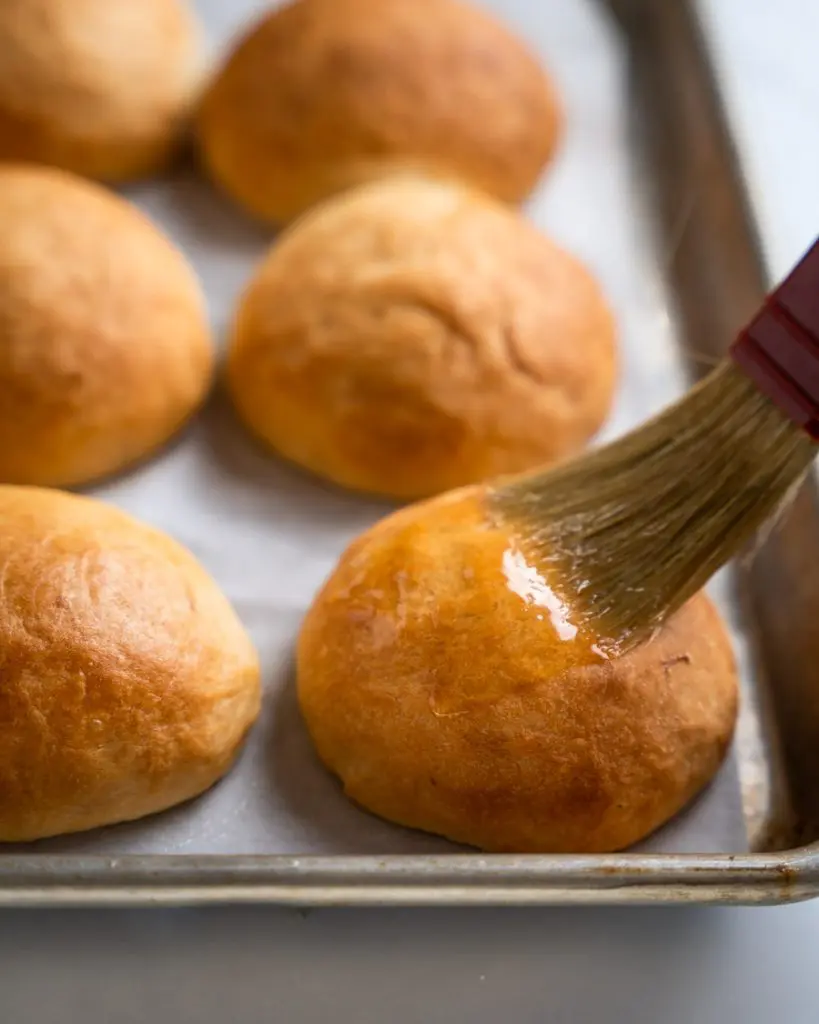 These are dinner roll-sized but I could easily have made them into 12 hamburger-sized potato buns. I've made this recipe into 24 dinner rolls and even 34 smaller rolls for sliders.
That's exactly what we do when we make Brioche buns too.
Potato Roll Variations
As you can see in the pictures, potatorolls can be bake individually on a baking sheet or in a baking dish.
Top with seeds and grains. Are favorites are oats, fennel, caraway, poppyseeds, or sesame seeds.
Make a cheesy roll. Add up to 1/2 cup of cheese. My favorite is cheddar.
Add seasonings to the dough. One teaspoon of Italian seasoning or a Mediterranean blend are amazing.
Storing + Freezing
Storing
Baked rolls can be stored in an air-tight container at room temperature for up to three days at room temperature or up to five days in the refrigerator.
They can also be placed in an airtight container and frozen for up to 3 months.
Can you freeze the dough?
You sure can. I let the dough rise and then shape the rolls. Put the rolls on a parchment-lined baking sheet and slip them into the freezer before they rise a second time.
Once they're frozen, you can put them in an air-tight freezer bag or container and take out the amount you want to bake.
To bake, place the frozen bread on a parchment-paper-lined baking sheet and cover them with plastic wrap sprayed with non-stick cooking spray. Let them rise until doubled in size, 3 to 5 hours.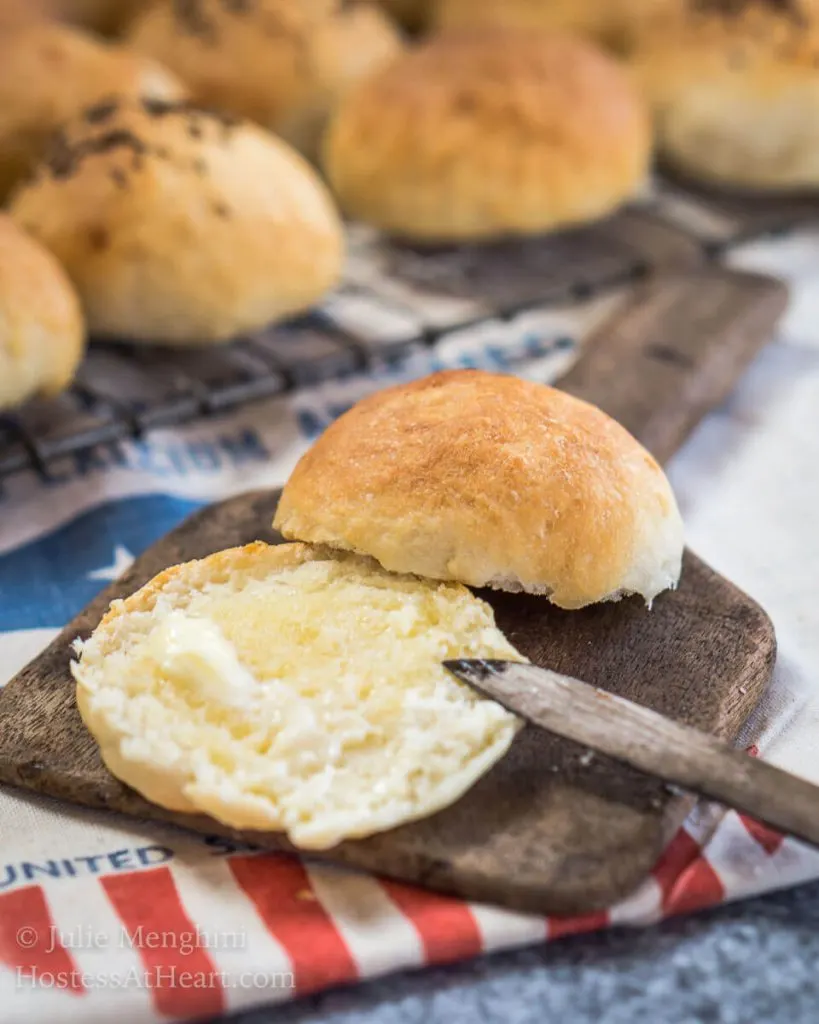 What kind of potato works best for potatoe rolls?
You can use any potato. I like russets or Yukon. Potatoes work best before you add butter and cream when making mashed potatoes.
Can potato rolls be made ahead of time?
Yes, potato bread rolls can be made ahead of time. After you mix up the dough cover it with plastic wrap that has been sprayed with non-stick cooking spray. Slip the bowl into the refrigerator.

To bake them the next day, remove the dough from the refrigerator and shape it into rolls. Allow the rolls to rise until doubled in size. Since the dough is cold, this may take up to 2 hours.
How long do bread rolls need to rise?
I let these rolls rise for 90 minutes or until doubled in size. The rolls are then shaped and allowed to rise again for 1 hour.
How do I speed up the rise time?
A cool or drafty environment will slow down the rise time. When it's cool I'll often put a measuring cup of water in the microwave and warm it for 2 minutes. Leaving the cup in the microwave I'll put the covered dough in the microwave and close the door.

You can also preheat your oven to 200°F and put the bowl in the oven after turning it off. Sometimes just turning the oven light on adds enough heat that helps your dough rise.

I also love using a Raisenne® Dough Riser.
Are potato bread rolls gluten-free?
No, these potato bread rolls are not gluten-free. If you use gluten-free flour this recipe can be made gluten-free.
We LOVE baking bread! You can find all of our bread recipes here!
Other recipes you may enjoy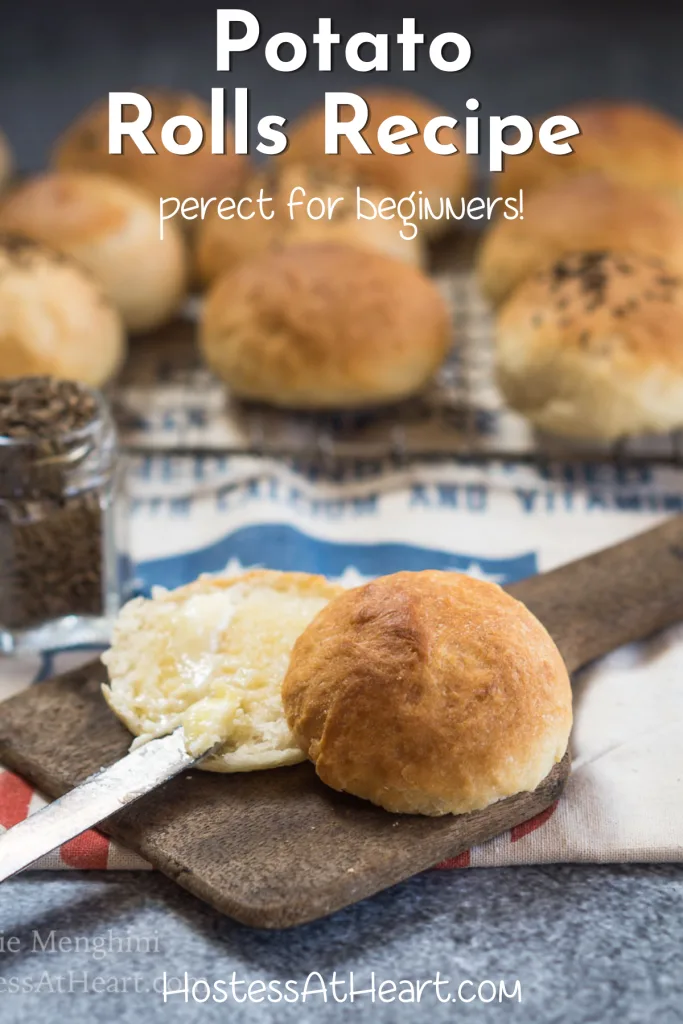 My neighbor stopped by and she ate the buttered prop for my photos and said they were like crack, which is a good thing.
I sent her home with a bag for her family and told her to make sure her family got a few!
Be sure to stop back and let me know how your potato rolls recipe turned out!
Pin it
If you liked this bread recipe you may enjoy these too
We teamed up with some of our favorite bread bakers to bring some more Irish bread recipes to you. I found several that are on my must-make list!