Make the morning special with this delicious homemade fried donut recipe for glazed Blueberry Donuts. It's easy to make these delicious, Old-Fashioned blueberry donuts as a treat for your family.
Waking up to a freshly baked blueberry treat such as these fried donuts, Blueberry Puff Pastry rolls, Banana Blueberry Muffins, or this Blueberry Buckle is guaranteed to get everyone moving in a jiffy.
Why You'll Love This Blueberry Donuts Recipe
Delicious! Nothing says love like a homemade donut and these donuts are the bomb. You are going to love the perfectly balanced flavors and texture of this donut.
Low in Calories. This recipe does not have very much added sugar and each donut is relatively low in calories.
Easy to make. Don't struggle to make complicated recipes when you can find simple, uncomplicated recipes for most things you crave. Our glazed blueberry donuts are crave-worthy without all the fuss.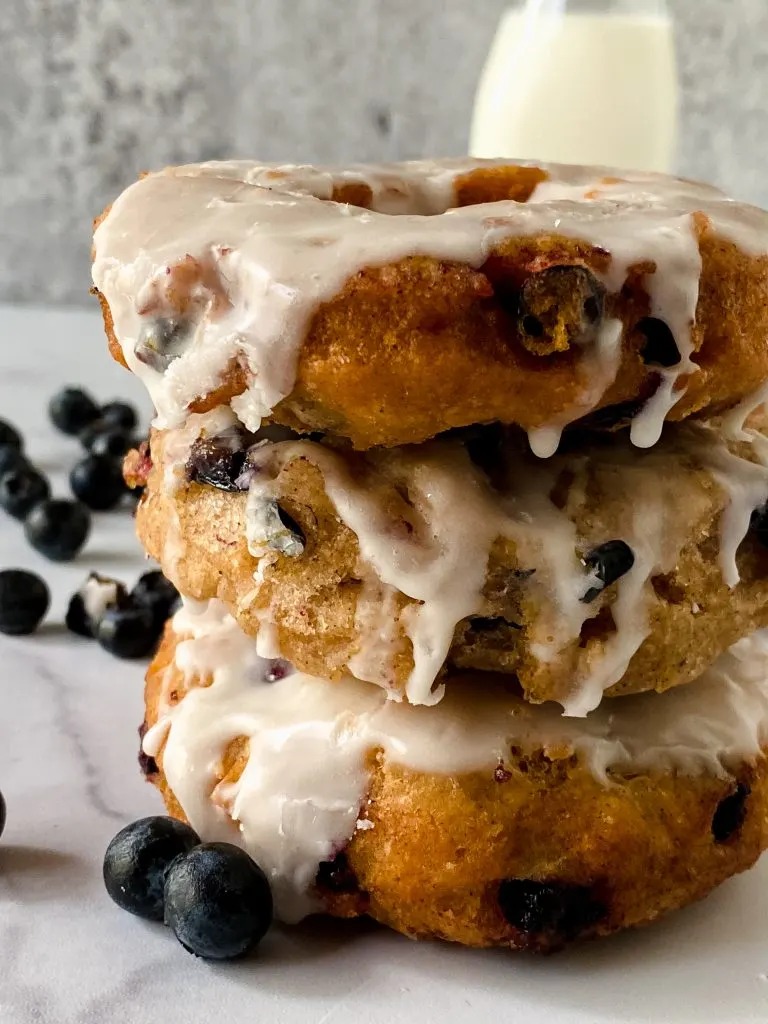 Equipment Needed To Make Glazed Blueberry Donuts
Donut Cutter or Biscuit Cutters so you can make donuts any size you want.
Dutch oven
Instant-read Thermometer
Spider – A slotted spoon will also work but a spider is very handy for frying donuts.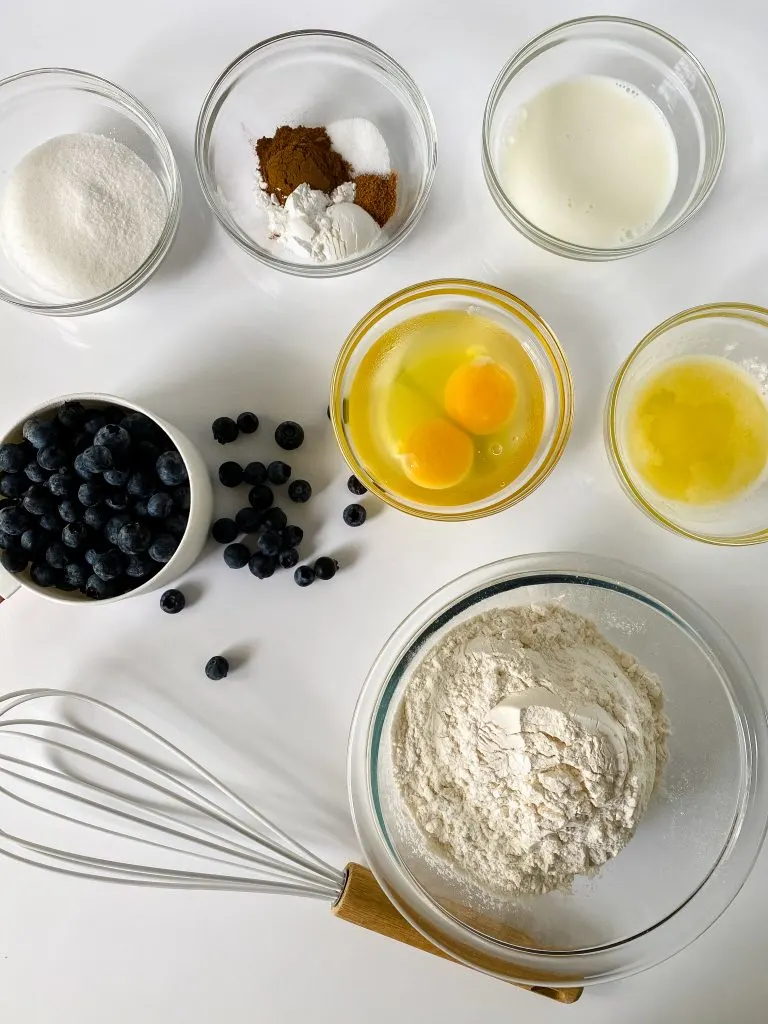 Ingredients For The Best Blueberry Donuts
All-Purpose Flour.
White Granulated Sugar.
Baking Powder.
Cinnamon.
Ground Nutmeg.
Salt.
Unsalted Butter. If you don't have unsalted butter reduce the salt in this recipe.
Milk. I recommend whole milk but any variety will work.
Grade A Large Eggs. This is the quality of eggs most often sold in the U.S. in stores. The whites are more firm with this grade of eggs and the shell should be intact without cracks.
Blueberries.
Canola or Vegetable oil.

The best cooking oil for blueberry donuts is the one with the least flavor. Canola is what I recommend but vegetable oil would work too.
Ingredients for Blueberry Donut Glaze Recipe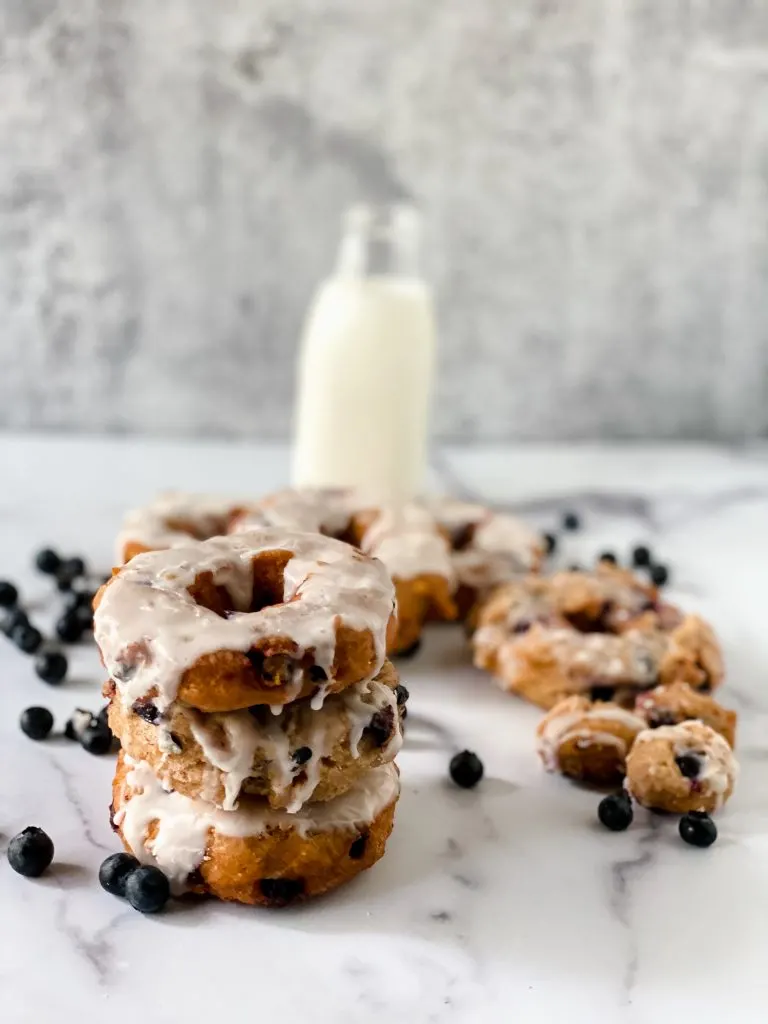 Please note, that the printable recipe card has ingredient quantities, complete instructions, and nutritional information. The following is a quick overview of the recipe.
How To Make Blueberry Donuts
Step One. Combine the flour, sugar, baking powder, cinnamon, nutmeg, and salt.
Step Two. Add the melted butter.
Step Three. Combine the milk, eggs, and vanilla extract.
Step Four. Add the wet ingredients to the dry ingredients and then gently fold the blueberries into the dough.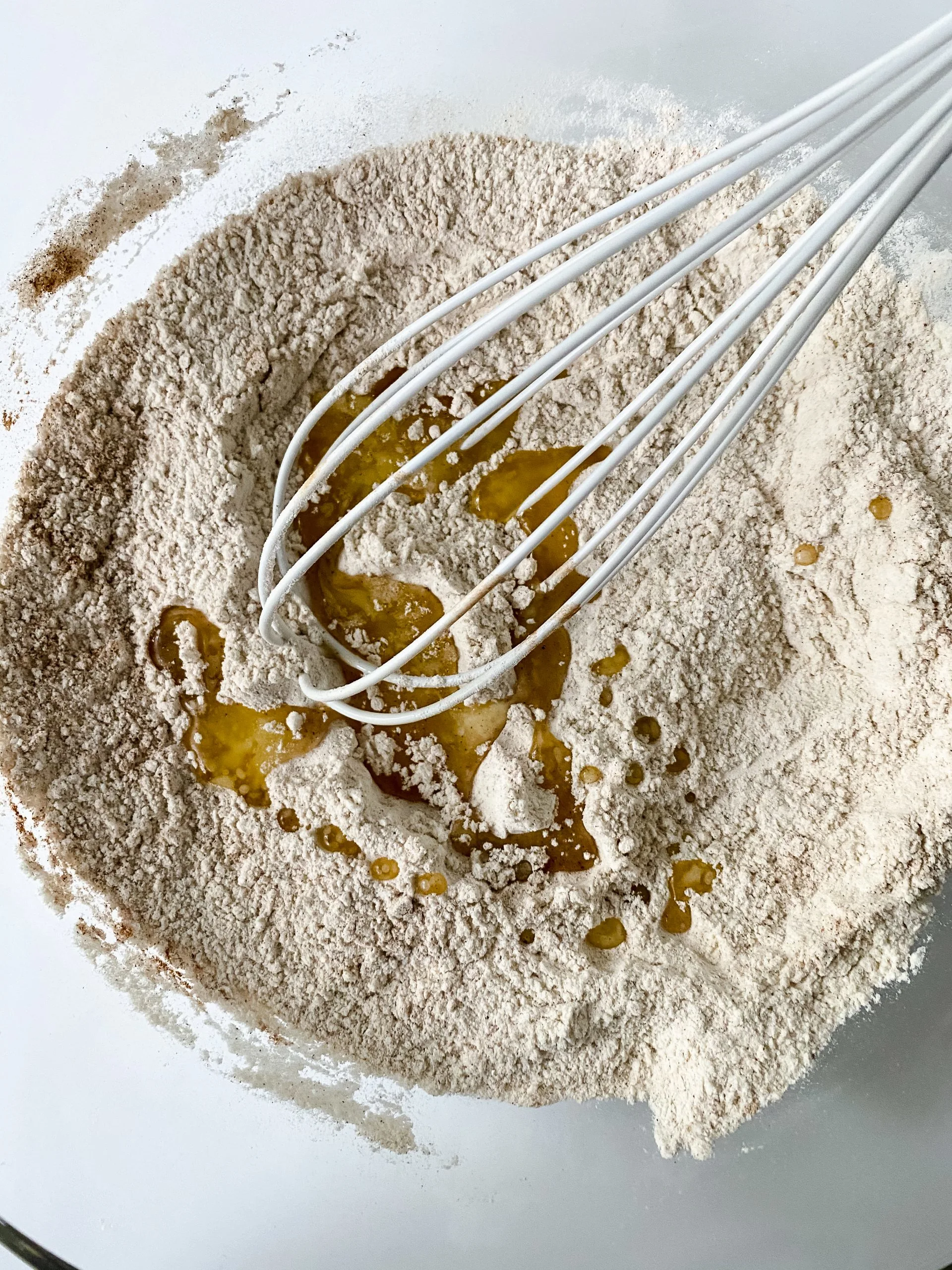 Step Five. Roll the dough out to about one-half inch thick.
Step Six. Cut out the donuts and lay them out on a greased tray.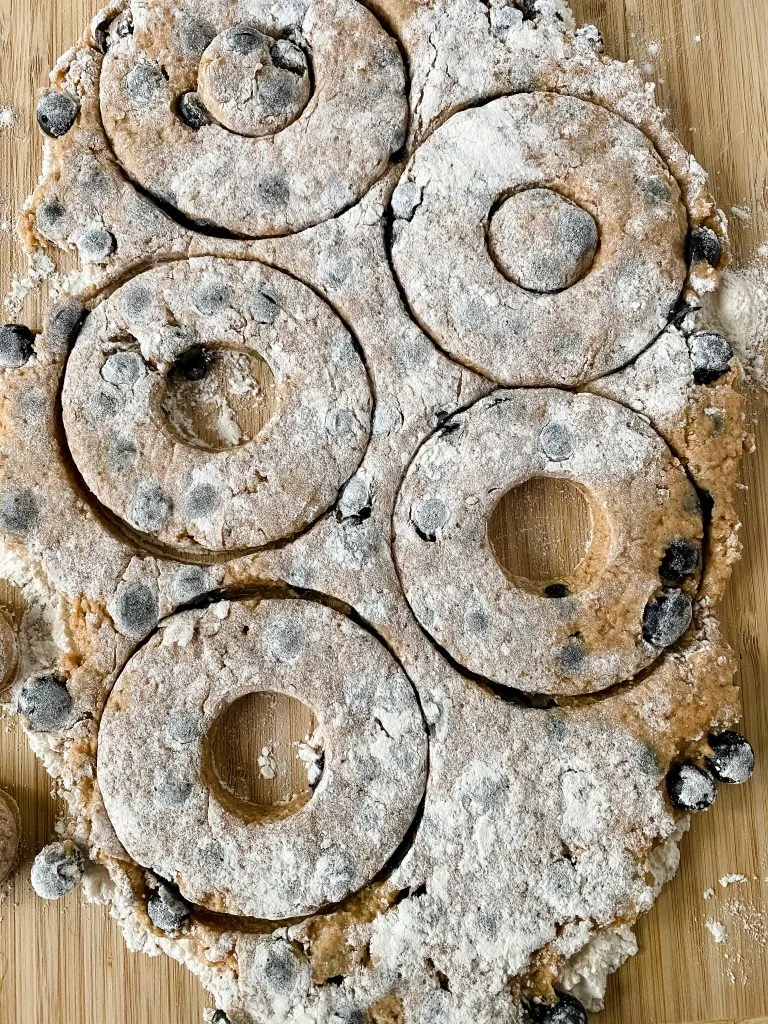 Step Seven. Cover the bottom of a dutch oven with 2-inches of cooking oil and heat the oil.
Step Eight. Fry the donuts.
Step Nine. Cool them on a wire rack placed over a baking sheet.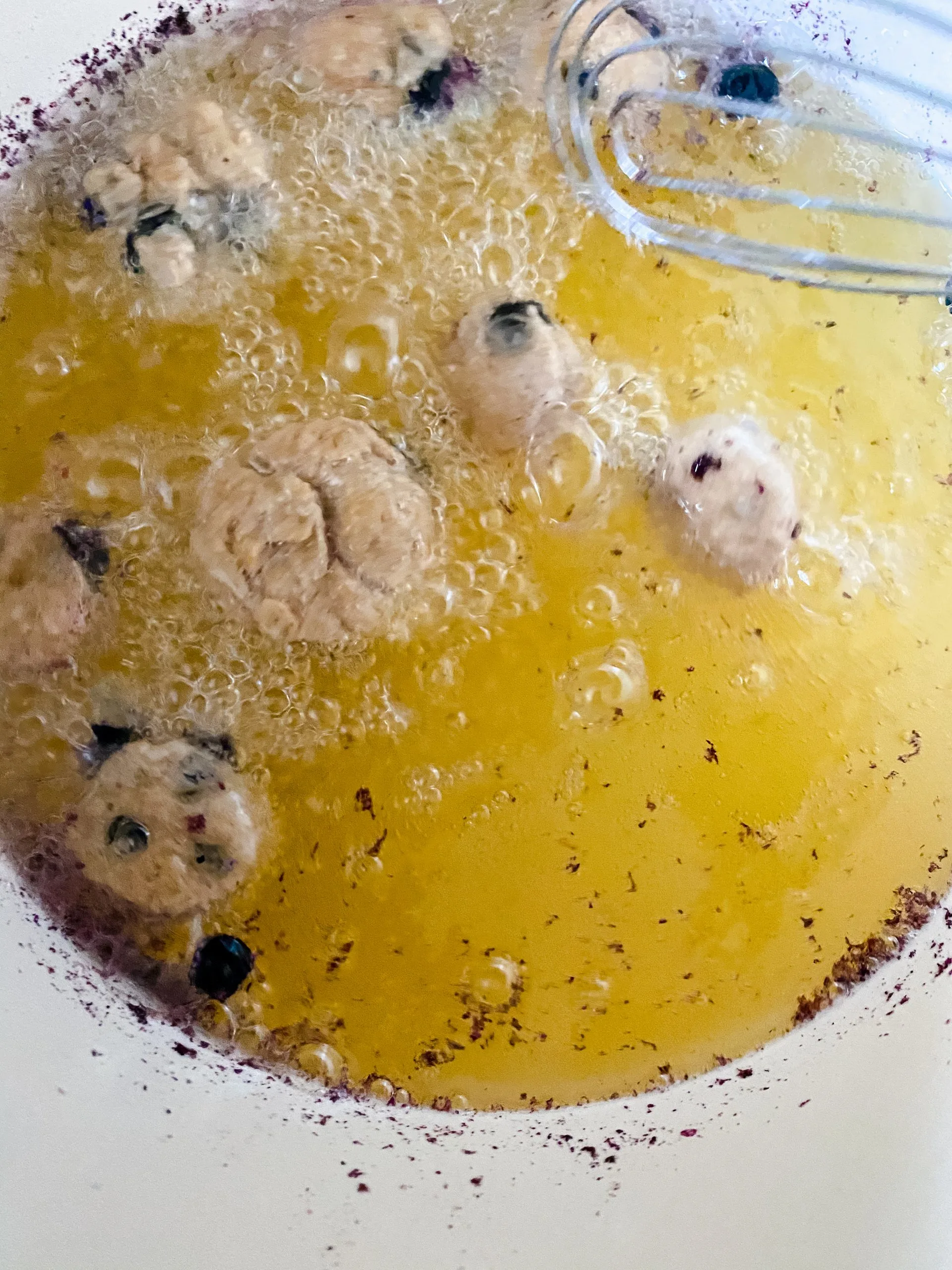 Blueberry Donut Glaze
Make the glaze. In a small bowl combine the glaze ingredients and stir.
Dip the donuts into the glaze or spoon the glaze over the donuts.
What to Serve/Pair with Your Blueberry Glazed Donuts
These tasty donuts will be the perfect addition to your breakfast or brunch. Pair them with a savory egg casserole, breakfast meats like sausage or bacon, or enjoy them with a variety of homemade donuts.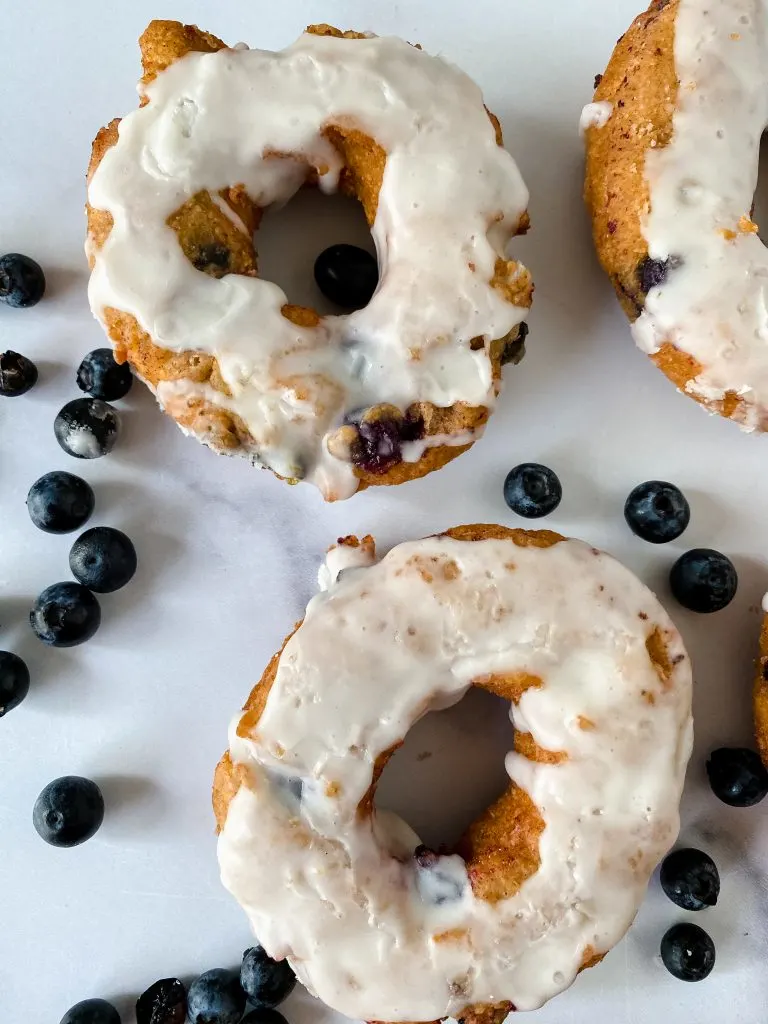 Substitutions & Additions
Make a Lemon Glaze for your Blueberry Donuts by adding fresh lemon juice to the glaze ingredients. Don't mix the milk with the lemon juice or you'll have buttermilk. Add and mix each ingredient separately.
You can add the lemon zest and 1 tsp of fresh lemon juice to the "blueberry donut mix" for a lemon blueberry donut too.
Blueberry donuts don't have to be glazed. They can be eaten plain, dusted with powdered
sugar for blueberry powdered donuts, or dipped in white sugar.
Add sprinkles for a birthday donut!
Add gel food coloring to the glaze for a colored glaze.
Make Blueberry donut holes. The kiddos love them as much or more than the fried blueberry donuts.
How To Reheat & Store Blueberry Donuts
Best Way To Store Glazed Blueberry Donuts
Keep leftover donuts in an airtight plastic container. Because of the glaze, you may not want to stack the donuts on top of each other without parchment paper in between.
How Long Will Blueberry Donuts Last In the Fridge?
If you refrigerate the leftover donuts in an airtight container they could last for up to five days.
Can I Freeze/Thaw Blueberry Glazed Donuts?
You can freeze both the dough and the fried, unglazed doughnuts.
How To Reheat Blueberry Donuts
If you want a warm donut, give each one ten to fifteen seconds in the microwave. Your time may vary depending on the size and power of your microwave.
Pin this amazing recipe!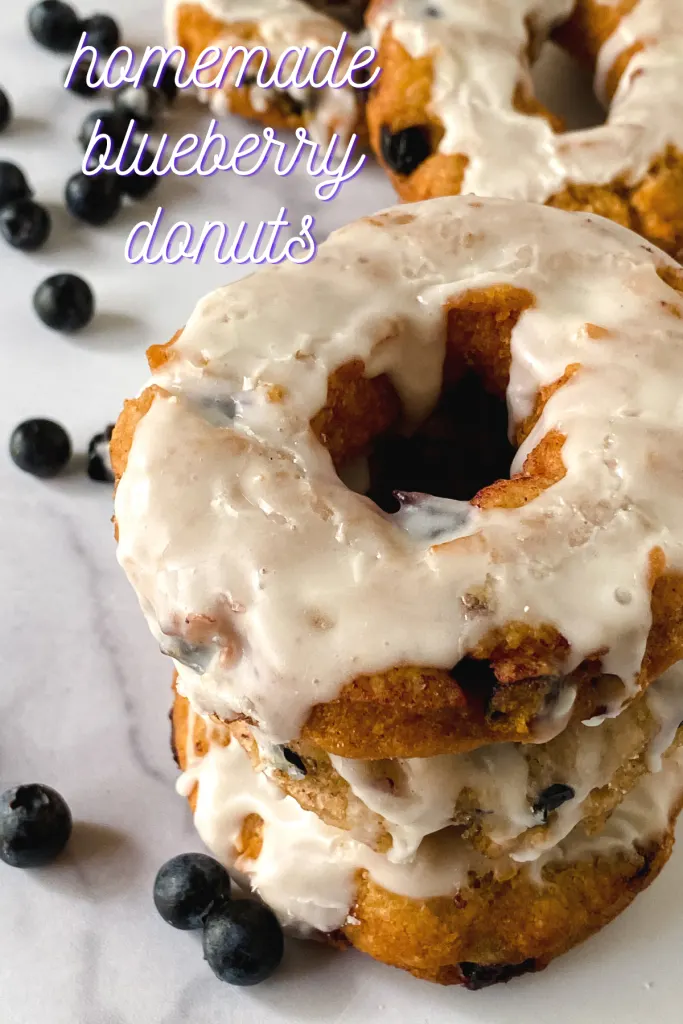 Glazed Blueberry Donuts FAQs
Can I use frozen blueberries in blueberry donuts?
Yes. Make sure they're thawed and drained before adding them.
What can I use to cut donuts out if I don't have a donut cutter?
You can use a round cookie cutter or even a drinking glass. Anything round that will
cut through the dough.
Can I reuse the fryer oil?
Yes. After the oil is cooled, strain it or spoon out any large pieces. Oil should
be stored in a dark cool area. Oil can be reused up to 5 times. If it changes color or
smells off, discard it.
Tips to Make the Perfect Old-Fashioned Blueberry Donuts
Grease a tray and shape all of the donuts at once. Cover them with plastic wrap until you're ready to fry them.
Make sure the center hole is large enough because if it's too small, it will just fill in when fried.
Use a large enough pan that you can cook 2 to 3 blueberry donuts at a time. Don't use too large of a pan because you will need more oil than what's necessary. Aim for the oil to be 2 inches deep.
Test the oil temperature with a scrap of 1⁄2-inch thick dough first. It's hot enough when It sinks and then floats within 10 seconds. If using a thermometer, the oil should be between 350°F and 360°F
Don't overwork the dough. That will make the donuts tough.
Roll the dough out evenly, approximately 1⁄2 inch thick.
You can use leftover dough to test the heat of the oil.
If your glaze is too thick, add a small amount of extra milk, a half teaspoon at a time until you get the consistency you want. A little goes a long way. If your glaze is too runny, add a little extra powdered sugar until you get the consistency you want.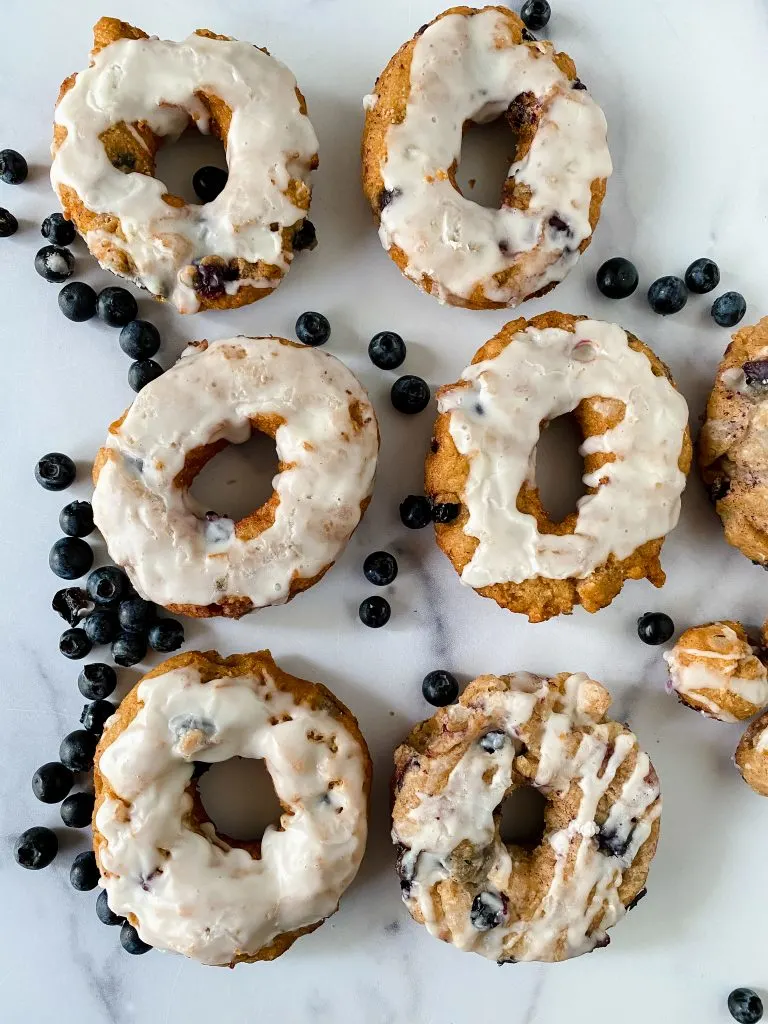 Baked Blueberry Donuts
You can bake blueberry donuts. The fried donuts have more of the texture and taste of an old-fashioned blueberry doughnut from the bakery. When you bake blueberry donuts, they turn out soft and tender.
To make baked blueberry donuts, preheat the oven to 350°F. Cut out the donuts and lay them out on a greased or parchment-paper-lined baking sheet. Bake for approximately 18 minutes. Let cool on a cooling rack.
Don't forget to stop back and let me know how your Glazed Blueberry Donuts turned out!
Other Donut Recipes you will Love