Tender Baked Pumpkin Donuts recipe combines warm fall spices with a drizzle of sweet cream cheese glaze. These homemade pumpkin donuts will disappear faster than the 10 minutes it takes them to bake.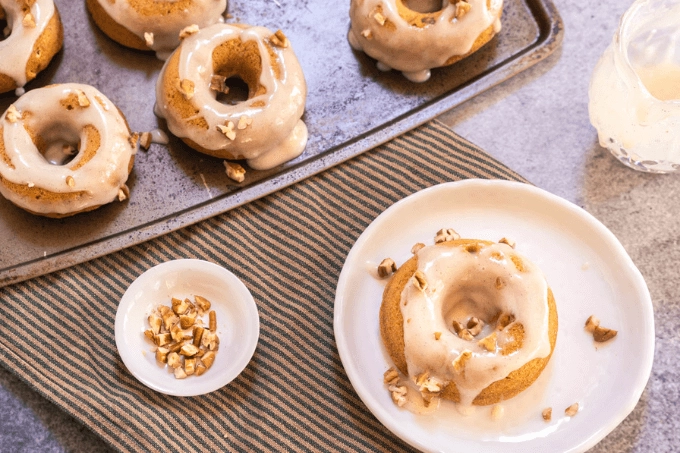 Do you think it's difficult make homemade pumpkin donuts? Not this pumpkin donut recipe. It takes 10 minutes to mix the batter and 10 minutes to bake them up.
The truth is that I love pastries and doughnuts for breakfast. So, when I mix up a batch, I'm in heaven while everyone else feels special as well. Win win!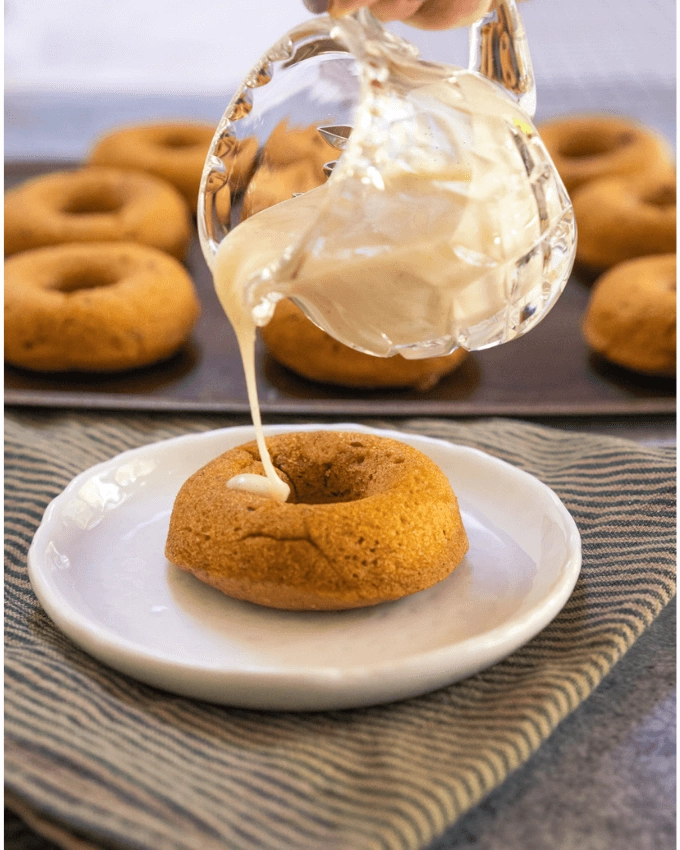 Items needed to make the best baked Pumpkin Donut recipe!
Donut pans – These non-stick donut pans are so easy to use and the baked donuts pop right out.
Cooling racks – I love these large racks. I can get an entire batch of cookies on one and they're tough enough to hold large loaves of bread. It fits into my half-sheet pan for baking bacon too!
Don't have a donut pan? You can make this Pumpkin Donut mini muffin pan too!
Ingredients in these Pumpkin Donuts with Cream Cheese Glaze:
Pumpkin Donut Recipe Ingredients
Flour – all-purpose flour
Sugar
Brown Sugar – I prefer the dark variety but you can use lite or dark.
Pumpkin Pie Spice
Baking Soda
Eggs – Grade A, large is what I use.
Salt – Fine sea salt is my favorite but table salt is perfectly fine.
Pumpkin – pumpkin puree not pumpkin pie filling.
Applesauce – any variety. I prefer no sugar added variety.
Pumpkin Donut Glaze Ingredients
Cream Cheese – You can use regular or light versions.
Powdered Sugar – also called confectioners sugar.
Milk – Any variety including milk alternatives
Vanilla Extract – Pure or imitation
Pecans – optional garnish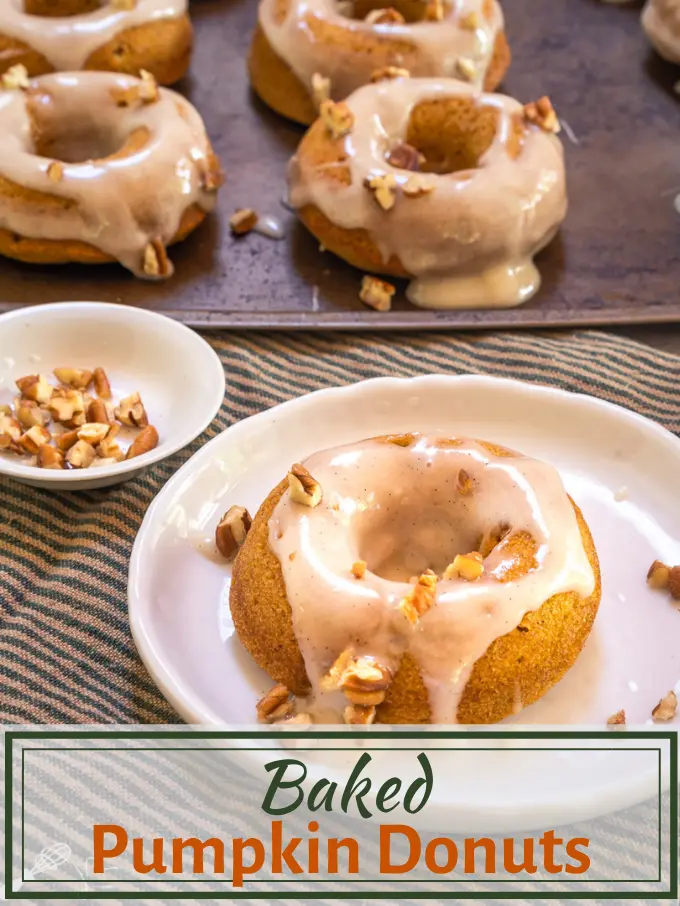 How to make Pumpkin Donuts
Preheat the oven and spray the donut pan with non-stick cooking spray.
In a large bowl, combine the flour, sugar, brown sugar, salt, baking soda, and pumpkin pie spice. Whisk together and set aside.
In a medium-sized bowl, combine eggs, pumpkin, and applesauce.
Pour the wet ingredients into the center of the dry ingredients. Stir until combined.
Fold the pecans into the batter.
Fill a pastry bag or a plastic bag with batter. Snip off a corner of the bag and fill the donut pan cavities. Using the back of a spoon, smooth the batter.
Bake and cool.
Prepar the glaze and drizzle the baked pumpkin pecan dounuts right before serving.
How to bake perfect baked donuts every time!
As you can see in the video, this batter is fairly thick. If you make any substitutions, pay attention to the consistency of the batter. It's like a pancake batter on the thicker side.
Want more delicious recipes? Follow Hostess At Heart on Pinterest!
Tips to make the perfect Baked Pumpkin donuts:
This pumpkin donut recipe makes 11 to 12 donuts. I recommend using 2 6-donut pans and bake them at the same time. If you only have one pan, allow the pan to cool between batches.
If you are using one pan, refrigerate the batter between batches.
Be sure to spray the pan thoroughly between batches.
If you use a piping bag to fill your pan, use a new one between filling. Trying to fill a used bag is a mess. Also, don't cut the hole in the bag too small. You'll have to squeeze it to death to get this thick batter out.
Don't glaze the donuts until you are ready to eat them. They will become soggy.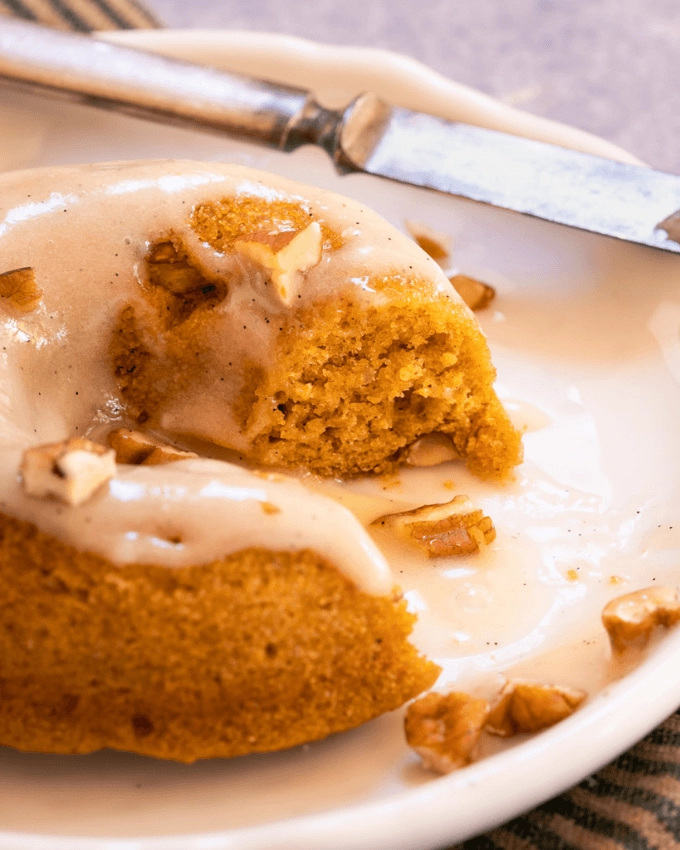 Easy Donut Recipe Substitutions and Variations
Add Chocolate Chips for a real people pleaser!
Not a pecan fan? Leave them out or substitute them with another nut such as walnuts, peanuts or macadamia.
Skip the glaze and dust with powdered sugar or cinnamon sugar.
Glaze and sprinkle with toasted coconut or SPRINKLES!
Don't have applesauce? Increase the pumpkin by the same amount.
How to Store Pumpkin Spice Donuts
Baked pumpkin donuts can be stored at room temperature in an airtight container before they're glazed for 3 to 4 days.
Glazed pumpkin donuts should be kept in a single layer in an airtight container in the refrigerator to keep them from getting soggy.
Unglazed donuts freeze amazingly well for up to 3 months in an airtight container.
Can this recipe for pumpkin donuts be made ahead of time?
Yes, this recipe for baked donuts can be made ahead of time! Bake the donuts the day before and store in an airtight container and glaze right before eating.
Make the batter the day before and store covered in the refrigerator. Bake and glaze when you're ready.
I love to make a double batch and freeze one for overnight guests. They love fresh homemade pumpkin donuts!
If you enjoyed this pumpkin donut recipe, here are a few more recipes you may like
Don't Forget To Come Back And Let Me Know How liked my Pumpkin Donuts Recipe!
Pin these Pumpkin Donuts to your favorite board!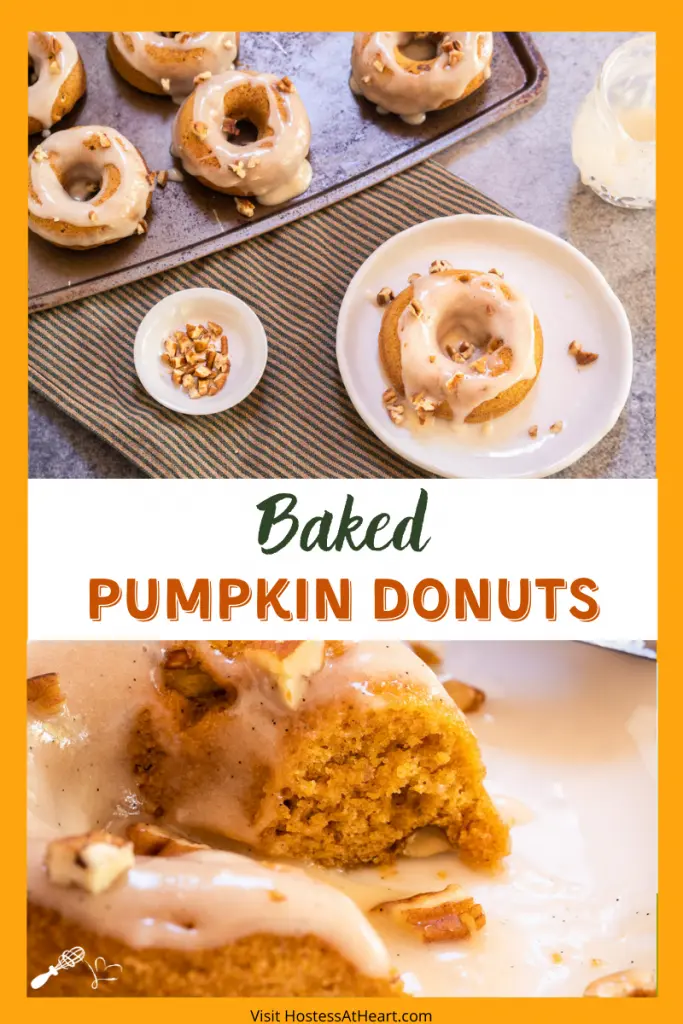 This pumpkin donut post was updated to improve my reader's experience. No changes were made to the recipe.