Enjoy this scrumptious pumpkin bread pudding straight from your Instant Pot as a wonderful way to welcome the Fall season or celebrate with your family. My Instant Pot Bread Pudding can serve as breakfast or dessert and has all the pumpkin spice flavor you crave.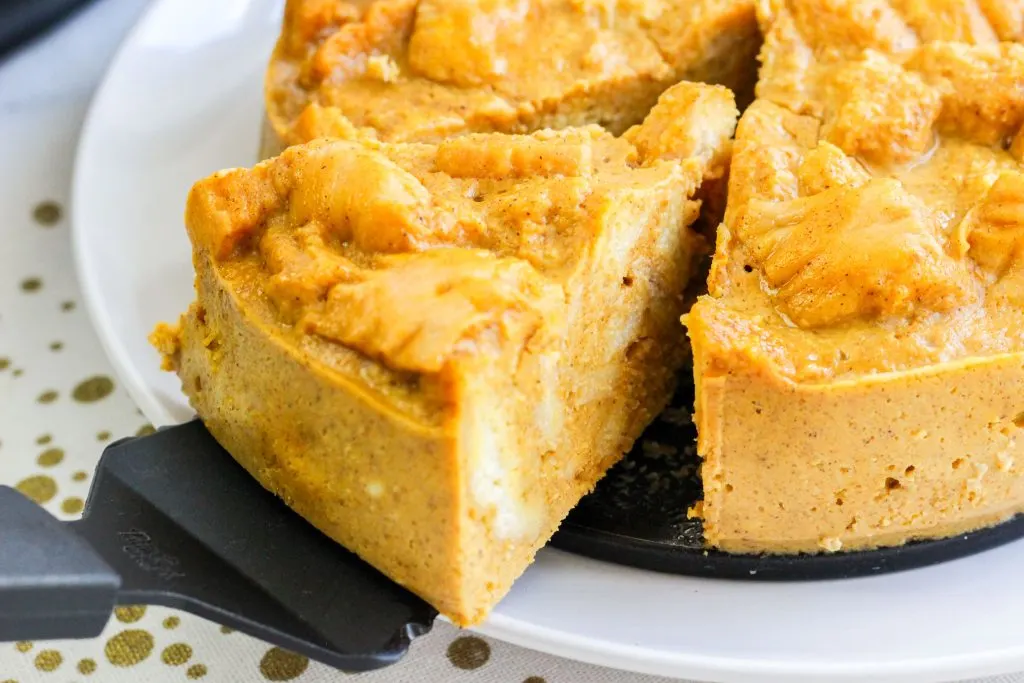 Nothing brings us the comfort of Fall like the fan-favorite pumpkin flavor in recipes from drinks to dessert. Pumpkin Pie Bread Pudding is perfect for breakfast or dessert.
Why You'll Love This Instant Pot Bread Pudding
Low-heat option. In early Fall, the last thing you want to do is heat up your kitchen. The Instant Pot does a great job of making bread pudding without adding heat to your home.
Make supper at the same time. Since you won't be using your oven or stovetop to make the bread pudding, you can still get supper going and have both ready at the same time. Perfect for holidays!
Fast and Easy. Stir the ingredients together, put it all in the pressure cooker, and walk away. No complexity.
Ultimate Fall Comfort Food. When you want a pumpkin dessert, nothing shines as much as a pumpkin bread pudding. It's pumpkin and bread pudding together. All the favorites.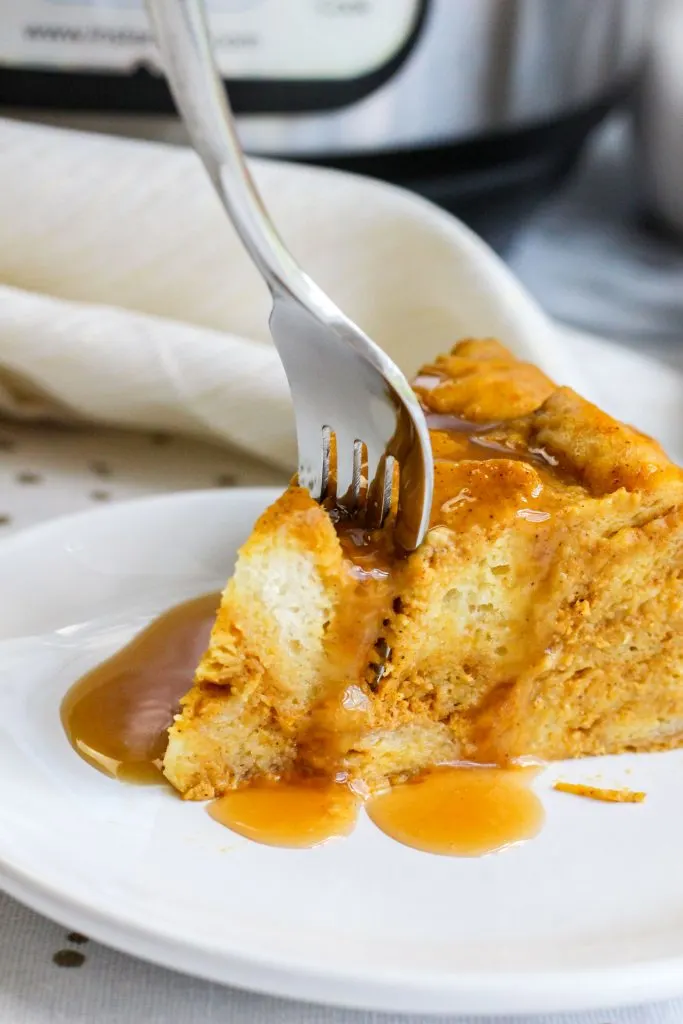 Equipment Needed To Make Pumpkin Bread Pudding Recipe
Ingredients For Your Pumpkin Bread Pudding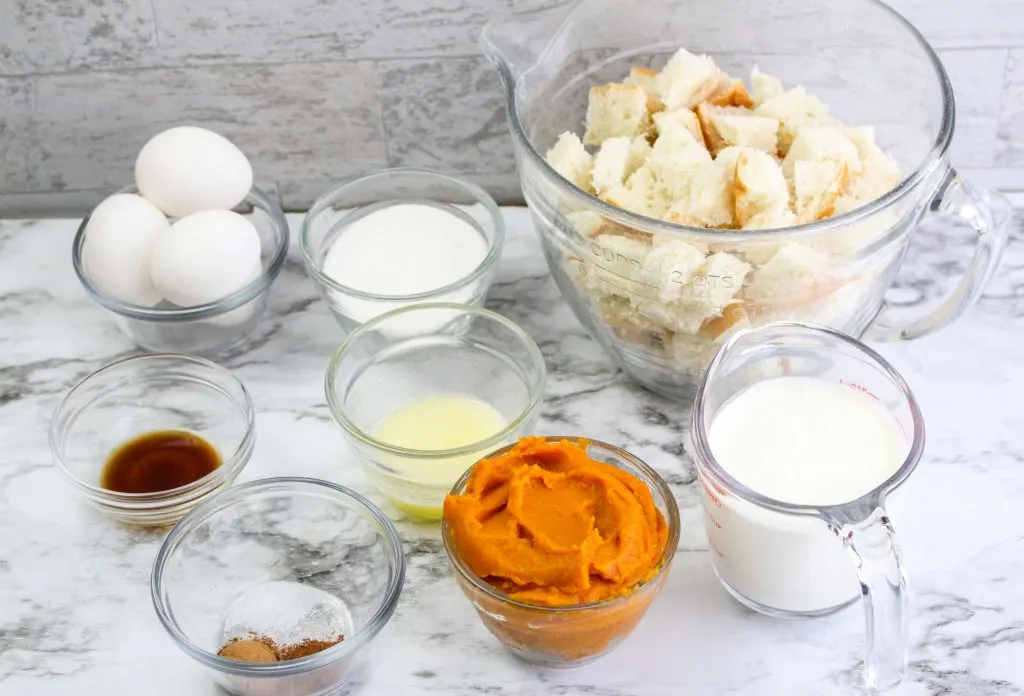 Please note, that the printable recipe card has ingredient quantities, complete instructions, and nutritional information. The following is a quick overview of the recipe.
H2: How To Make Pumpkin Bread Pudding
Step 1: Prepare the pan.
Spray your springform pan with non-stick spray. Place ~1/2 cup of water in the bottom of the Instant Pot and set it to saute so that it preheats the water. Follow your manufacturer's instructions for the minimum amount of water you can use.
Step 2: Blend the ingredients.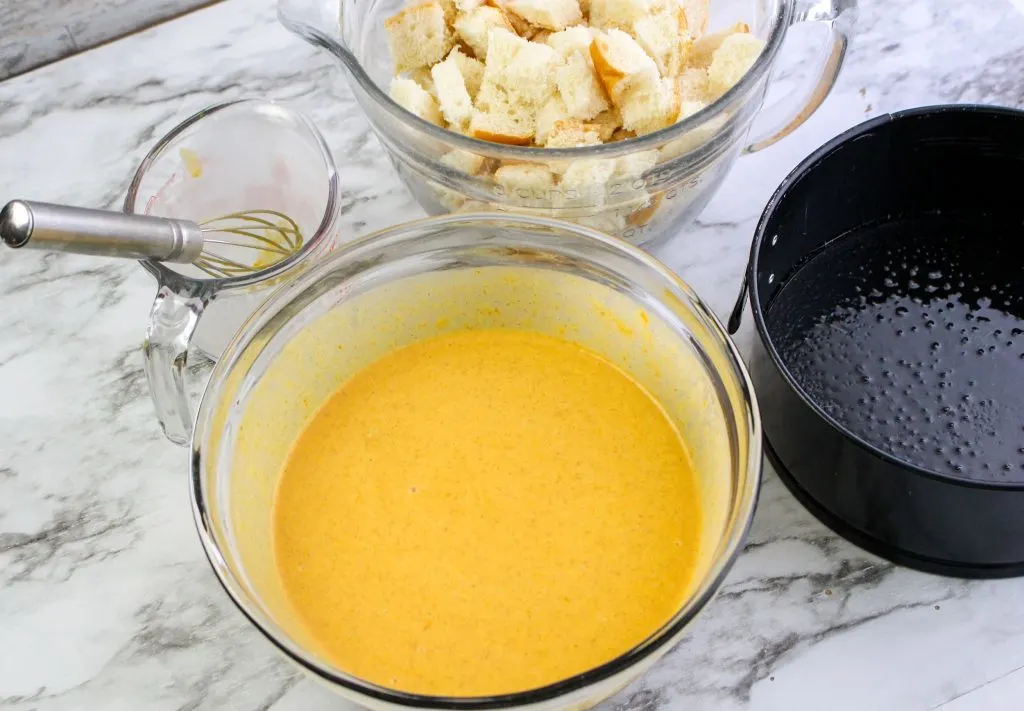 Blend together the pumpkin, cream, eggs, sugar, melted butter, vanilla extract, and seasonings. Fold in the bread and mix it all up.
Step 3: Spread it out.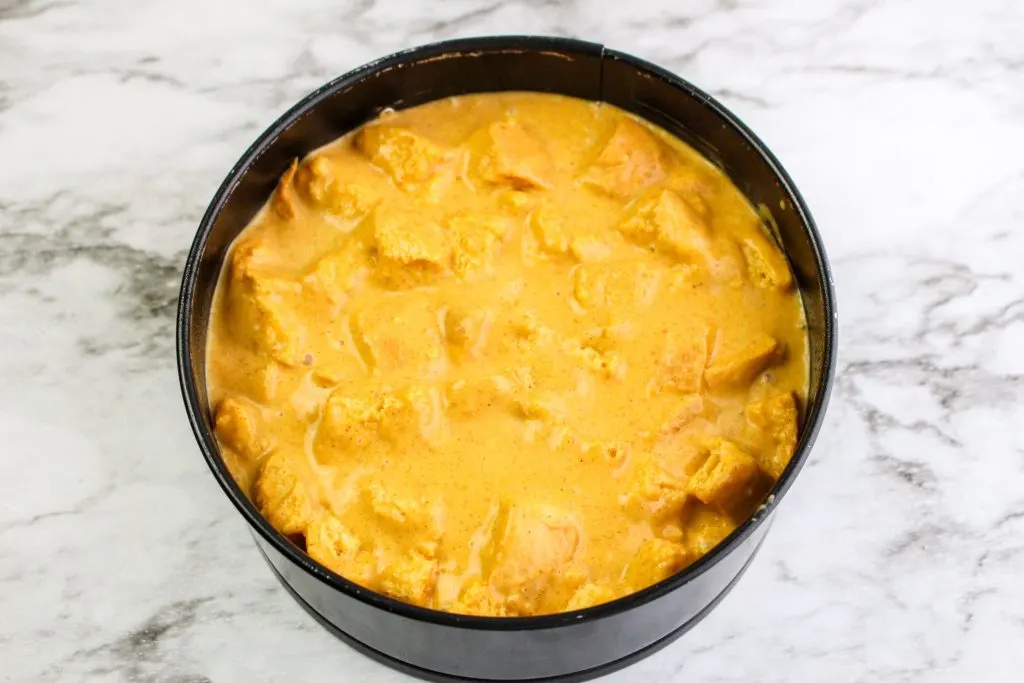 Pour everything into the springform pan and spread it evenly.
Step 4: Line the pan.
Use aluminum foil on the top and bottom of the spring form pan to keep out water.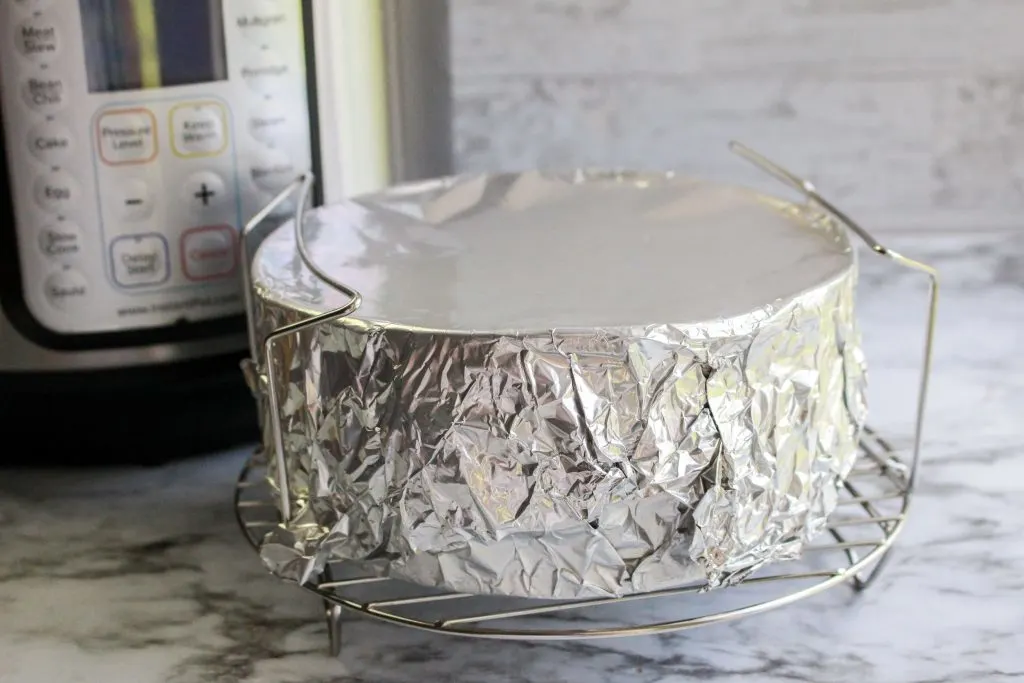 Step 5: Place the pan in the Instant Pot on a trivet.
Step 6: Cook on high pressure.
Cover the electric pressure cooker and set the valve to seal. Program for manual or "pressure cook" for 22 minutes.
Step 7: Natural Release.
Step 8: Remove carefully and serve.
What to Pair with Your Instant Pot Bread Pudding
Serve topped with maple syrup, caramel sauce, whipped cream, or ice cream.
Do you eat bread pudding warm or cold?
Cold, warm, or room temperature are all acceptable.
Popular Substitutions & Additions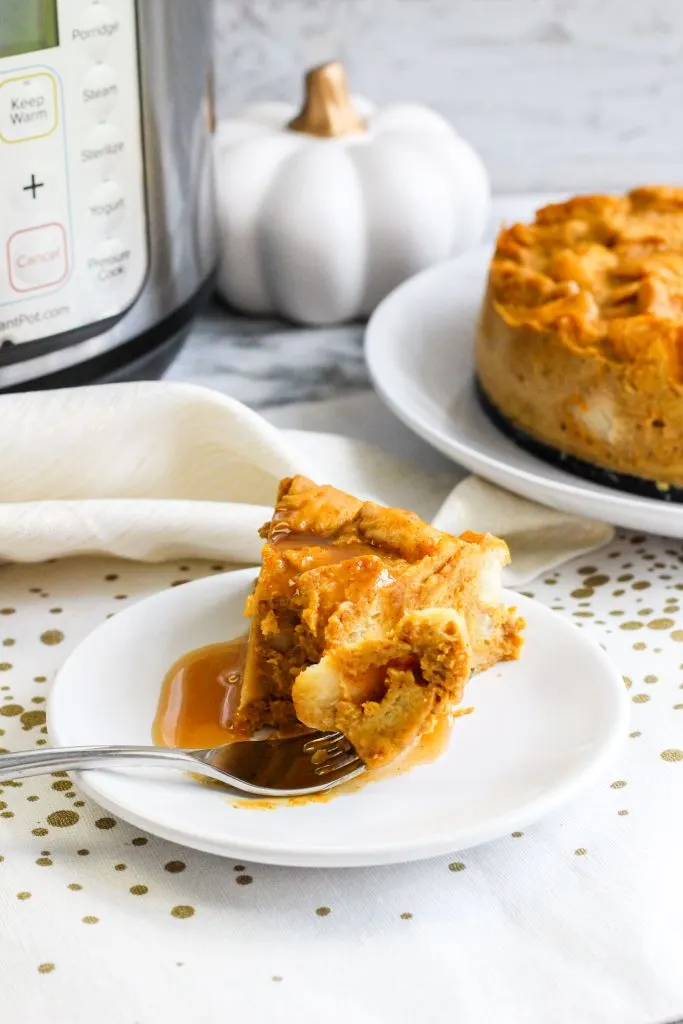 How To Reheat & Store Pumpkin Bread Pudding
Best Way To Store Instant Pot Bread Pudding Leftovers
Place your leftovers in airtight containers and keep it in the refrigerator for four to six days.
Can I Freeze Pumpkin Bread Pudding?
Freeze individual servings in airtight plastic containers or freezer-quality baggies for grab-n-go desserts or a fast way to serve surprise guests.
How To Reheat Pumpkin Bread Pudding
If you don't want to eat your bread pudding cold, you can reheat it in the microwave. Start with thirty-second increments until it reaches your desired temperature. Don't forget that microwaves can heat unevenly.
FAQs
My Instant Pot hasn't come up to pressure but is releasing steam. What should I do?
Some steam, in the beginning, is normal. If your IP is releasing steam through the vent hole, make sure the knob is turned to pressure instead of release.

If your IP is releasing steam around the rim of the lid (around the seal), it is likely you didn't get the seal firmly seeded, and you will need to remove the lid, seed the seal and try again.

A heated plastic seal can be difficult to seed properly, so if you keep an extra plastic seal for your instant pot handy, use the room temperature one. You might also put the plastic seal in the freezer for a few minutes to cool it back down before trying to seal up the pressure cooker again.

To properly seed your plastic ring, press it firmly in place all the way around the lid before putting the lid in place.
Can I use a different-sized spring form pan?
Yes, you can! If you use a larger size make sure it will fit in your instant pot before you fill the pan. Also, note that your pumpkin dessert will not be as tall. The cooking time shouldn't vary.
Do I have to use a spring form pan?
No, you can use a round cake pan. However, it will be more difficult to serve.
Want more delicious recipes? Follow Hostess At Heart on Pinterest!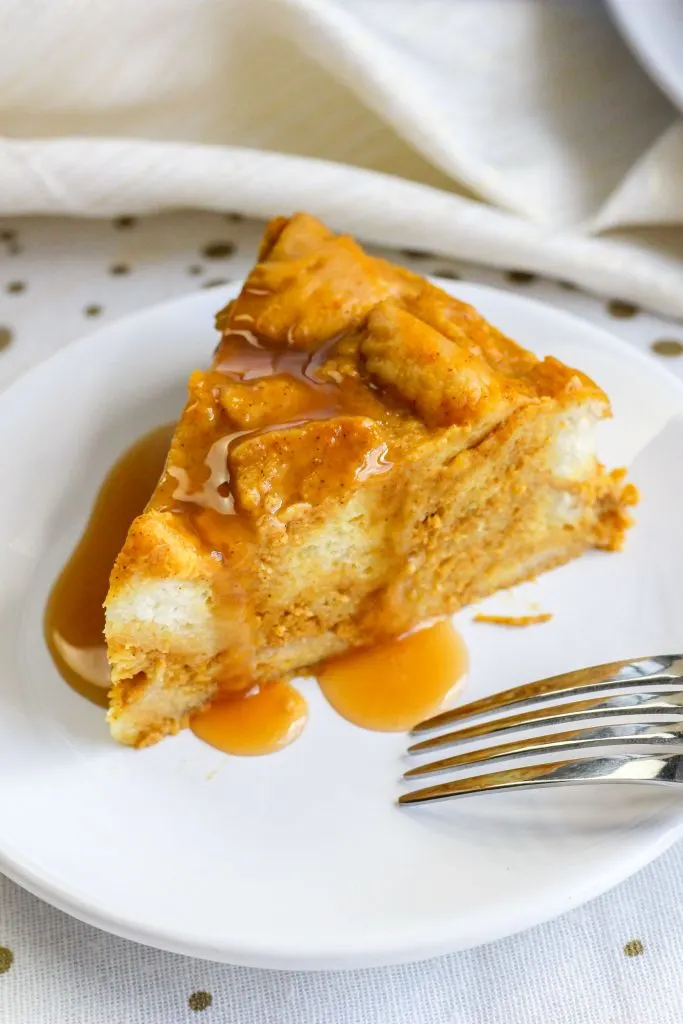 Other Recipes You'll Enjoy
Don't Forget To Come Back And Let Me Know How the Instant Pot Pumpkin Bread Pudding Recipe Turned Out!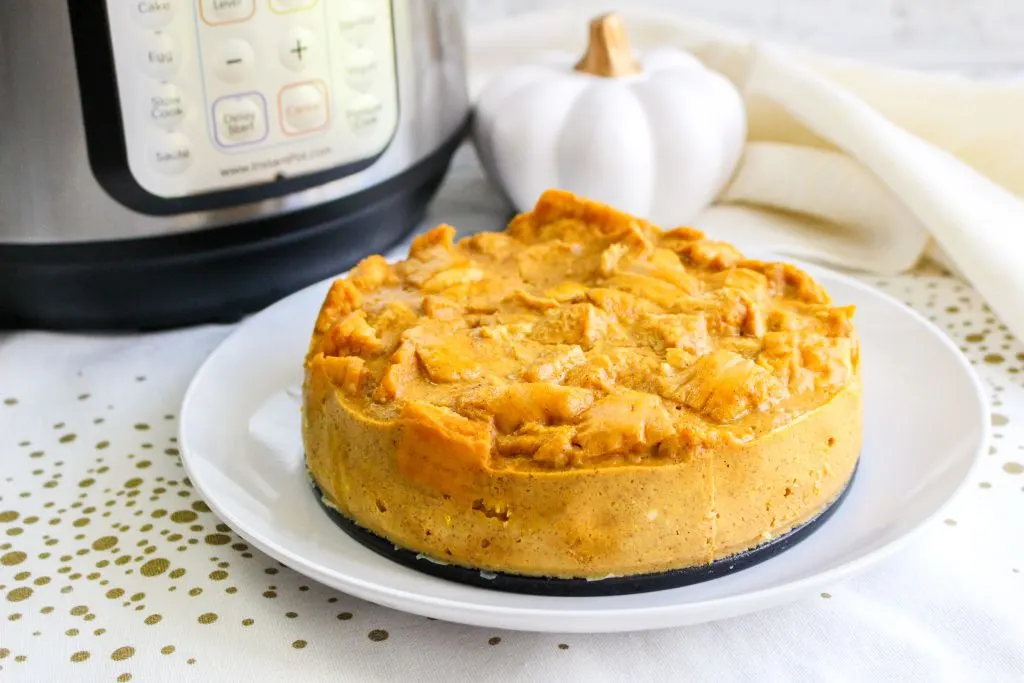 Welcome to the fourth annual #FallFlavors! We have 21 bloggers sharing over SIXTY recipes using fall ingredients like squash, apples, maple, pecans, and many more. Follow #FallFlavors to see all the delicious recipes on social media.
Wednesday #FallFlavor Recipes
Beverages
Breakfasts and Breads
Mains and Sides
Desserts
Follow the Favorite Fall Recipes Facebook group and follow the Favorite Fall Flavors Pinterest board for more fall inspiration!
Pin this amazing Pumpkin Pie Bread Pudding Recipe!