Beautifully ripe banana and pumpkin puree become gorgeous homemade pumpkin banana muffins with a soft, airy texture and rich flavor.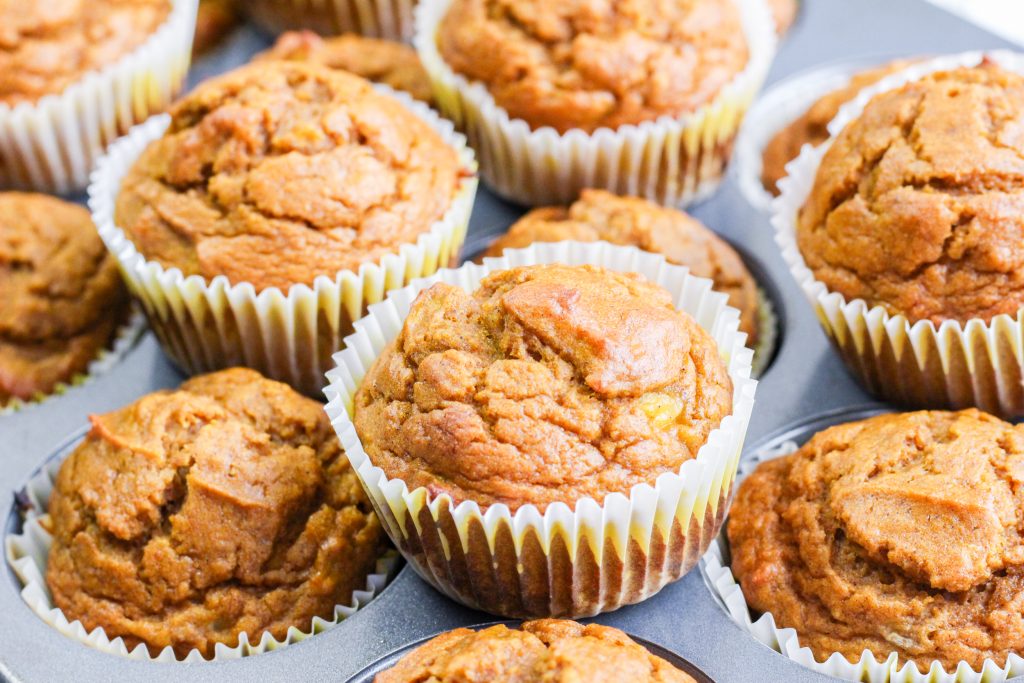 The texture of this quick bread recipe is perfection. The deep flavor of ripe bananas and the sweetness of pumpkin are a great combination. You'll love how these muffins turn out just like the bakery!
Why You'll Love These Pumpkin Banana Muffins
Quick and easy. This is why muffins are in the quick bread category. They come together so fast!
Wholesome ingredients. Could it get any better than pumpkin puree and banana?
Versatile. Change up the flavors easily with the substitutions and additions list we provide.
No fancy equipment. Mix these muffins by hand!
Tools You'll Need To Make The Banana Pumpkin Muffins Recipe
Ingredients For Your Pumpkin Banana Muffins
All-Purpose Flour. Gives the bread lightness and a good rise.
Whole Wheat Flour. Makes the perfect crumb and texture.
Brown Sugar. Measure it packed. Dark or light is fine.
Baking Soda. For leavening.
Salt. Makes all the chemistry work.
Ground Cinnamon. The Saigon cinnamon is wonderful.
Pumpkin Pie Spice. If yours has been in the cabinet since last Fall, it's time to replace it with new.
Pumpkin Puree. Fresh or canned. Not the same as pie filling.
Ripe Bananas. Brown spots with no major blemishes is the definition of a perfectly ripe banana.
Buttermilk. Adds just the right acid and fat for amazing muffins. If you don't have any make your own.

Add 1 tablespoon of white vinegar or real lemon juice to 1 cup of milk. You can also substitute with yogurt 1:1.

Vegetable Oil. For fat.
Vanilla Extract. Make sure to get pure vanilla extract not imitation vanilla.
Eggs. Eggs provide structure and a form of glue for the dough.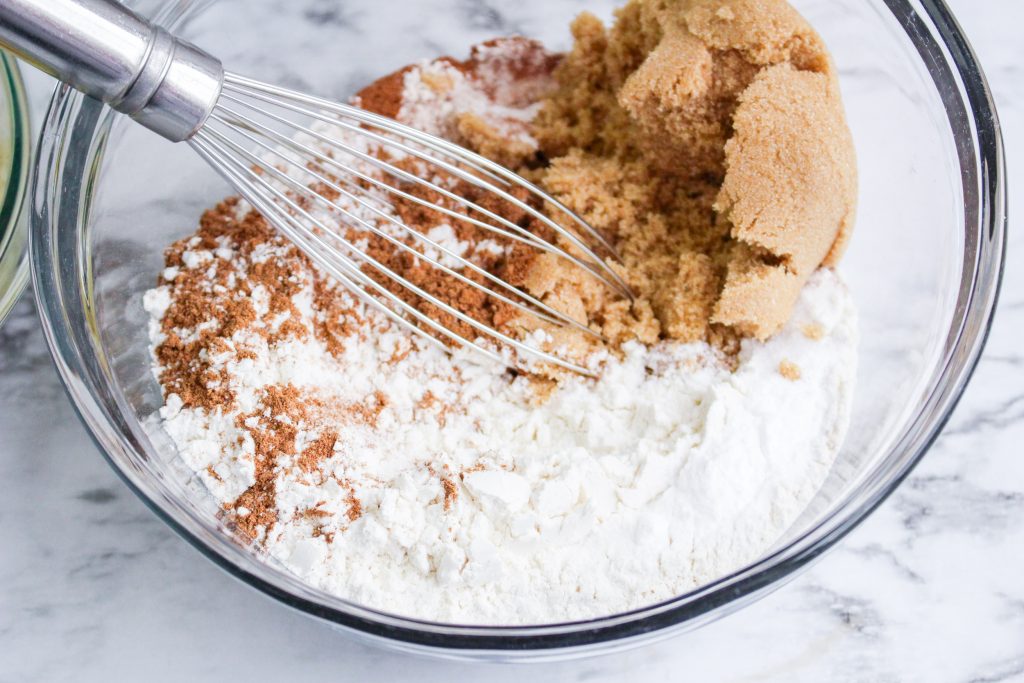 Please note, that the recipe card has more complete instructions. This is intended as an overview.
How To Make Pumpkin Banana Muffins
Step 1: Preheat the oven.
Get your oven ready and muffin tins lined.
Step 2: Mix the dry ingredients.
Use a whisk.
Step 3: Mix the wet ingredients.
Use a whisk and do not over mix.
Step 4: Combine the wet and dry ingredients.
Mix until just blended.
Step 5: Divide the batter evenly between the muffin cups.
I like to use a scoop so that I have uniformly sized muffins
Step 6: Bake the muffins.
Step 7: Let the muffins cool completely before storage.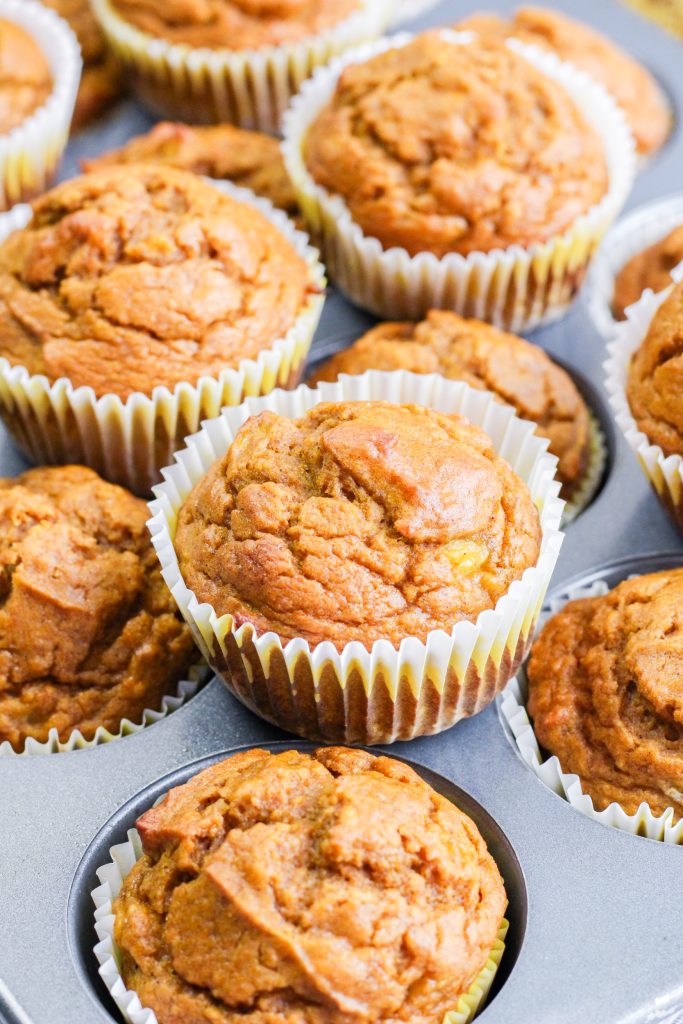 Popular Substitutions & Additions
Add nuts such as walnuts or pecans.
Chocolate chips are delicious in these pumpkin banana muffins.
Top them with oats.
Why did my muffins crack?
This is a quick bread recipe. That doesn't mean quick as in fast. Quick bread uses leavening agents other than yeast or eggs such as baking soda and baking powder.
Cracking is normal for quick bread. Once the batter starts to set the bread continues to rise causing bread and muffins to crack. Personally, I think it makes them look deliciously homemade.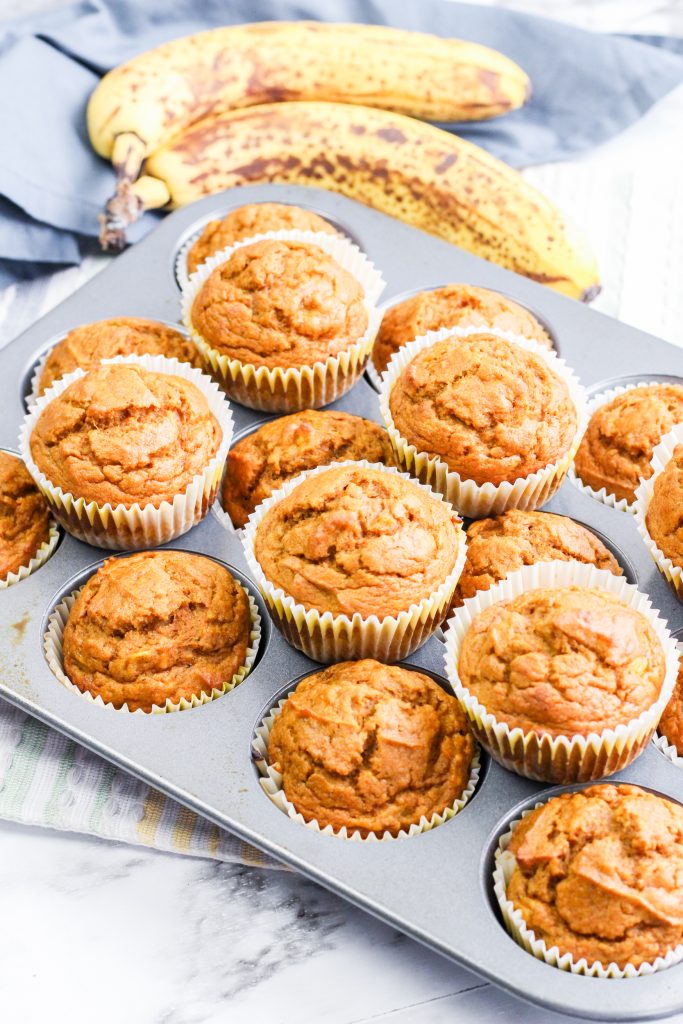 How To Reheat & Store Pumpkin Banana Muffins
Best Way To Store Banana Pumpkin Muffin Recipe Leftovers
Keep your extras in a plastic zipper baggy for up to three days. If you will have too many leftovers for that short amount of time, freeze instead.
How Long Will Pumpkin Banana Muffins Last In the Fridge?
If you put them in the refrigerator, you can keep your muffins for up to five days, but they might get a little soggy on the exterior as moisture comes to the surface and collects on the plastic.
Can I Freeze This Pumpkin Banana Muffins Recipe
Yes. Freeze baked muffins in airtight containers or freezer quality plastic zipper baggies for up to three months. Observe for frostbite. Thaw in the microwave for ten to thirty seconds.
How To Reheat Banana Pumpkin Muffins
Place your muffin on a paper towel or small plate in the microwave and heat for ten to fifteen seconds. Repeat for five to ten seconds if necessary.
Pumpkin Banana Muffins Recipe FAQs
Can I use all pumpkin instead of banana?
I don't recommend it because the banana adds a sweetness to these pumpkin banana muffin. If you do, taste the batter and add a sweetener of your choice.
How ripe should my bananas be?
Yellow with brown spots on the peel. Completely dark peels are too ripe.
Can I make mini muffins?
Yes, they make the perfect serving size for a toddler. They'll take less time to bake so watch them after 10 to 12 minutes.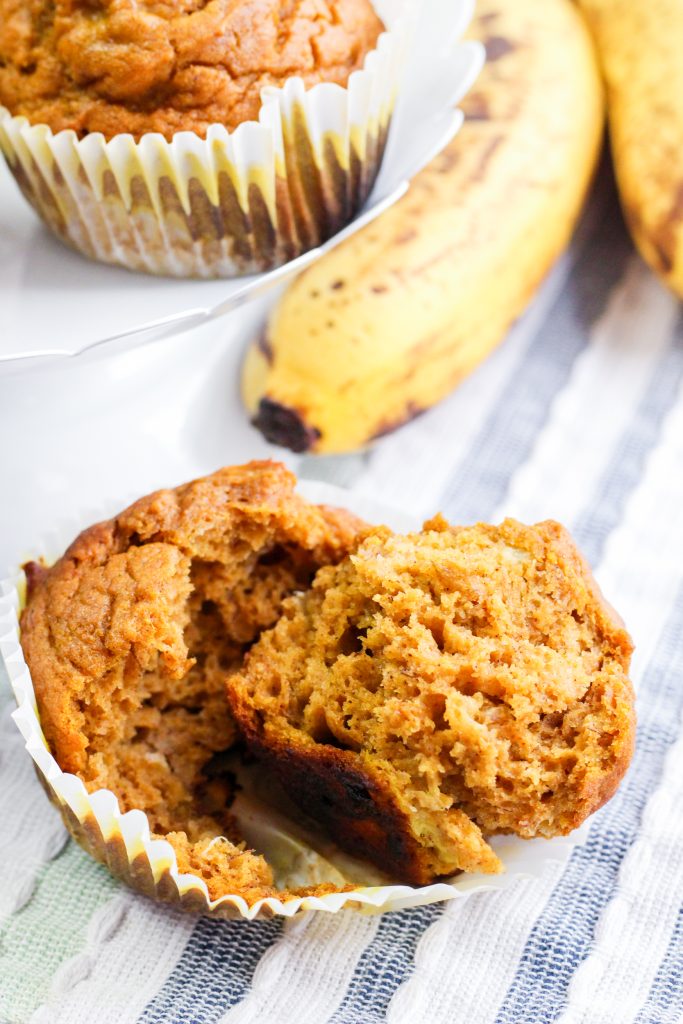 Pin It Now
Tips to Make the Perfect Pumpkin Banana Muffins
Don't overmix. Mixing muffin batter too much can cause them to rise less or have a more dense texture.
Don't overbake. The edges will dry out fast if baked too long.
Make sure your baking soda is fresh. It doesn't keep as long as you might think in the cabinet. It also will absorb odors and moisture over time.
Other Recipes You May Enjoy
Don't Forget To Come Back And Let Me Know How Your Pumpkin Banana Muffins Turn Out!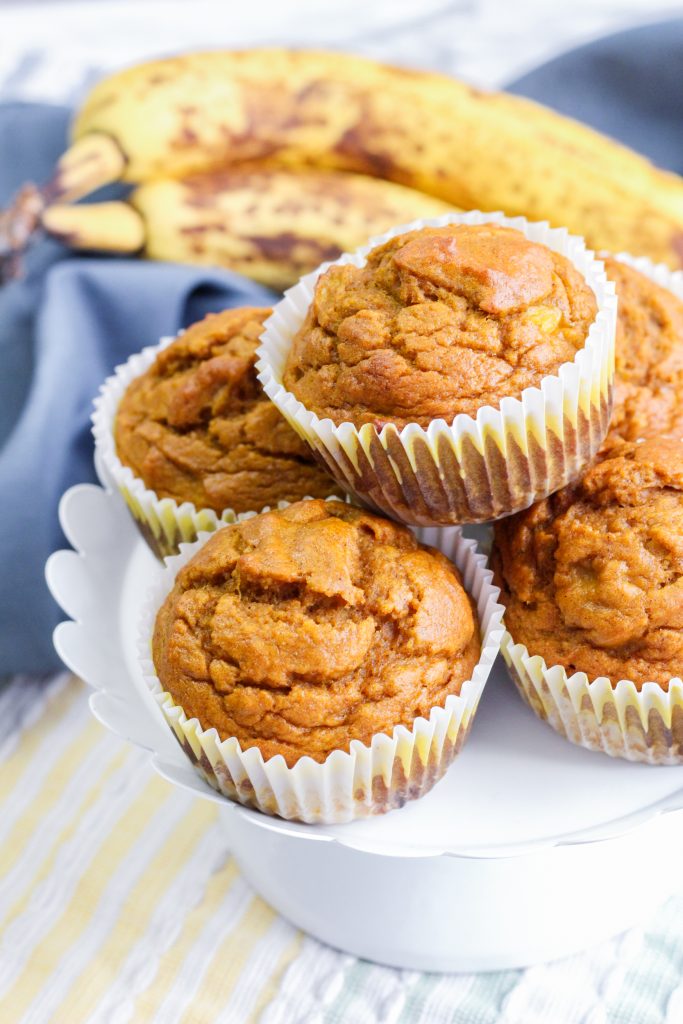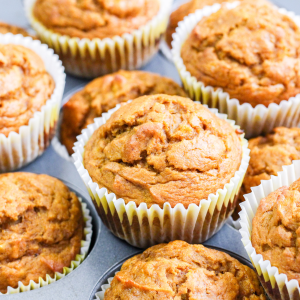 Pumpkin Banana Muffins Recipe
Beautifully ripe banana and pumpkin puree become gorgeous homemade pumpkin banana muffins with a soft, airy texture and rich flavor.
Ingredients
1

cup

all-purpose flour

1

cup

whole wheat flour

⅔

cup

brown sugar

– packed. Dark or light is fine.

1

tsp

baking soda

1

tsp

salt

1

tsp

ground cinnamon

1

tsp

pumpkin pie spice

1

cup

pumpkin puree

– fresh or canned

3

ripe bananas

– mashed (1-1/2 cup)

⅓

cup

buttermilk

¼

cup

vegetable oil

2

tsp

vanilla extract

2

eggs

-Grade A, large
Instructions
Preheat the oven to 400 degrees. Prepare 2 muffin tins with baking liners, spritzed with nonstick cooking spray.

Whisk together the dry ingredients: flour, brown sugar, baking soda, salt, ground cinnamon, and pumpkin spice blend.

In a separate bowl, whisk together the wet ingredients: pumpkin puree, bananas, buttermilk, oil, vanilla extract, and eggs.

Combine the wet ingredients with the dry ingredients until well blended.

Using a large ice cream scoop, divide the batter between the muffin cups.

Cook for 15 to 18 minutes or until a toothpick inserted in the middle of a muffin returns clean or with just a few crumbs.

Allow the muffins to cool in the muffin tins for 5 to 10 minutes before removing them to a wire rack to cool completely.
Nutrition
Calories:
113
kcal
Carbohydrates:
24
g
Protein:
3
g
Fat:
1
g
Saturated Fat:
1
g
Polyunsaturated Fat:
1
g
Monounsaturated Fat:
1
g
Trans Fat:
1
g
Cholesterol:
19
mg
Sodium:
205
mg
Potassium:
156
mg
Fiber:
2
g
Sugar:
11
g
Vitamin A:
2166
IU
Vitamin C:
2
mg
Calcium:
24
mg
Iron:
1
mg
Nutritional Disclaimer
This recipe was calculated using the exact brands and measurements I used to make this recipe. If you are following a strict diet please note changing anything will cause the nutritional info to change. My calculations are intended as a guide only.
Welcome to the fourth annual #FallFlavors! We have 21 bloggers sharing over SIXTY recipes using fall ingredients like squash, apples, maple, pecans, and many more. Follow #FallFlavors to see all the delicious recipes on social media.
Monday #FallFlavor Recipes
Beverages
Breads
Salads, Soups, and Sides
Main Dishes
Desserts
Follow the Favorite Fall Recipes Facebook group and follow the Favorite Fall Flavors Pinterest board for more fall inspiration!