Our beautiful homemade banana bread with applesauce uses smarter ingredients so you can enjoy a slice with breakfast or a snack without any of the guilt.
This quick bread recipe uses applesauce for sweetening, it doesn't contain oil, only a minimal amount of sugar, and only egg whites. Reducing the sugar and adding applesauce makes a lower calorie moist banana bread. As an added bonus for both texture and healthfulness, we used half whole wheat flour.
This post was updated from 2017 to improve our readers experience.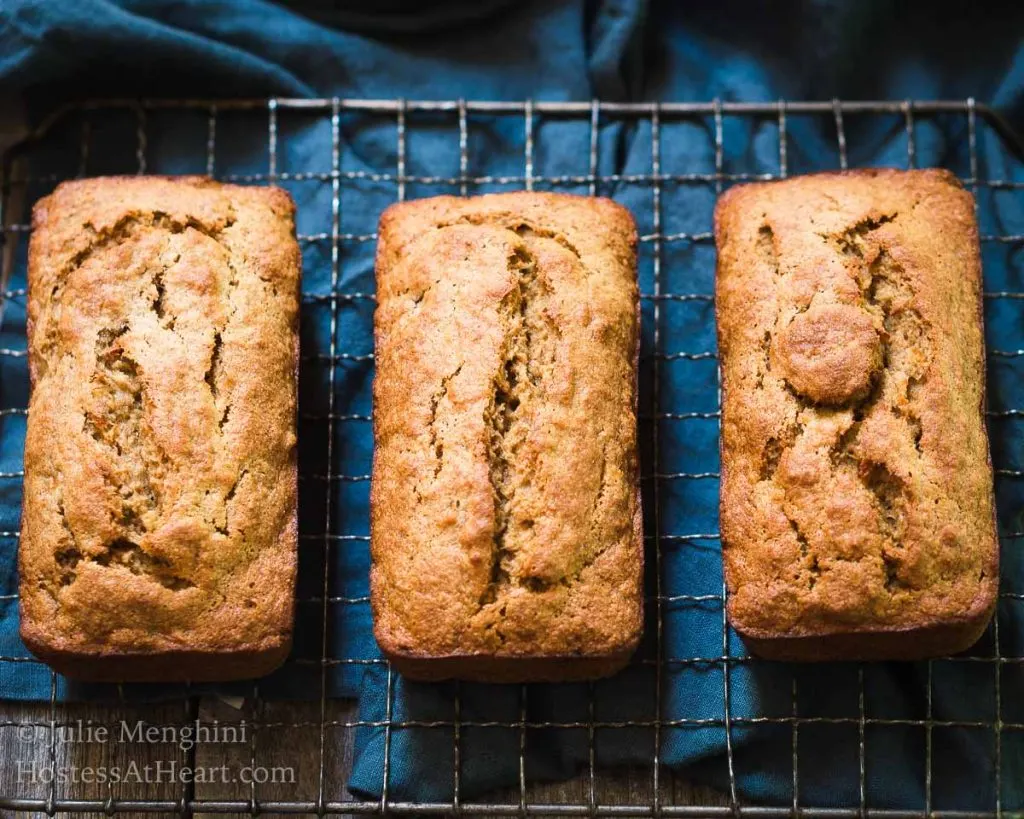 In my quest to eat better, I've learned that there are simple hacks that you can use to take an existing recipe and make it a little better for you. This banana bread with applesauce recipe is one of those recipes. It's a delicious recipe that I don't feel guilty putting on my table.
Banana Bread Ingredients
Whole wheat flour. Nothing beats the wholesome flavor whole wheat flour adds to the bread.
All-purpose flour. We used unbleached but either is fine.
Baking powder. When is the last time you replaced yours? It needs to be fresh, less than six months old.
Baking soda. Used for leavening to give the bread a good rise.
Cinnamon.
Salt. I use Kosher salt.
Bananas. Mashed, you will need about one cup. This is about three medium bananas.
Vanilla. Real vanilla extract adds a nice depth of flavor.
Egg Whites. Just the whites help keep the recipe on the healthier side.
Sugar. A small amount of granulated sugar.
Unsweetened Applesauce. To naturally sweeten the banana bread with applesauce.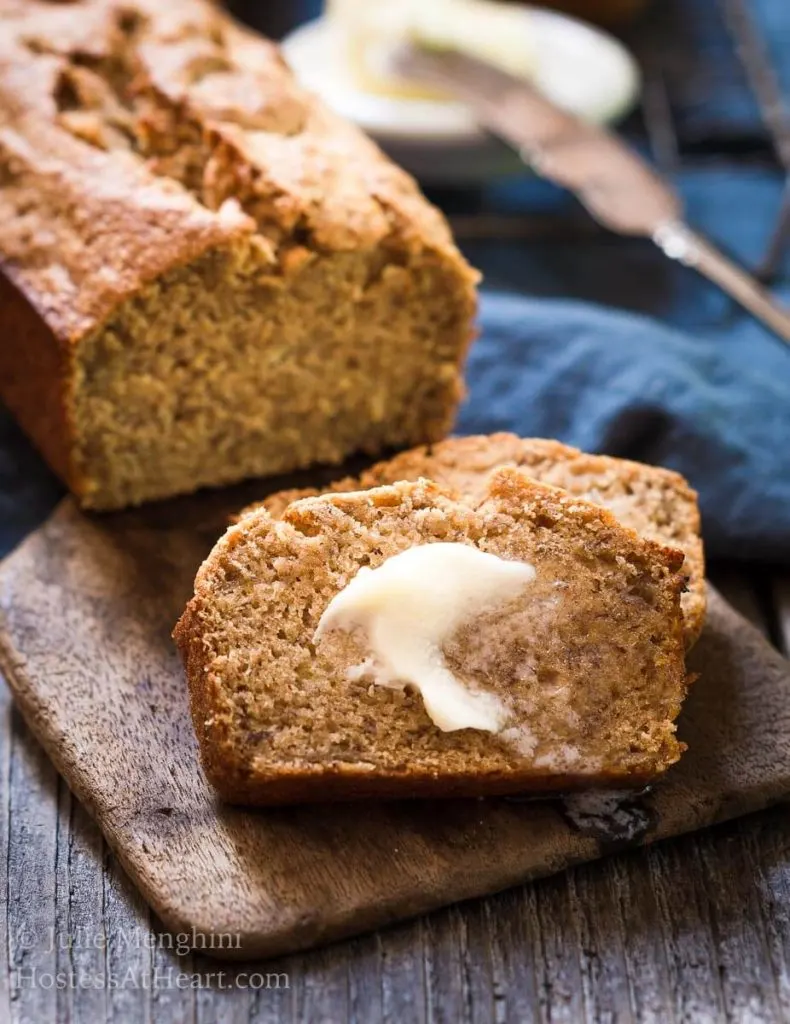 How Do You Make Banana Bread with Applesauce?
Quickbreads are incredibly simple to make. I definitely recommend using mini loaf pans, and you will also need a hand mixer or potato masher, mixing bowls, whisk, and cooking spray. Check out this complete list of awesome baking tools.
First, mix the wet ingredients including bananas, egg whites, vanilla, applesauce, sugar, and cinnamon, combining with a whisk.
Next, mix the dry ingredients separately. Once both are mixed separately, add the dry ingredients to the wet mixture and mix until just combined.
Then, spray your loaf pans and pour the batter in.
Finally, bake your homemade banana bread until a toothpick inserted comes out clean. For mini loaves, this will take 27-30 minutes. A 9×5 loaf pan will take up to 40 minutes. Always test for doneness before your bread should be baked. Insert a toothpick into the center and if it comes out with just a few crumbs on it, it's done.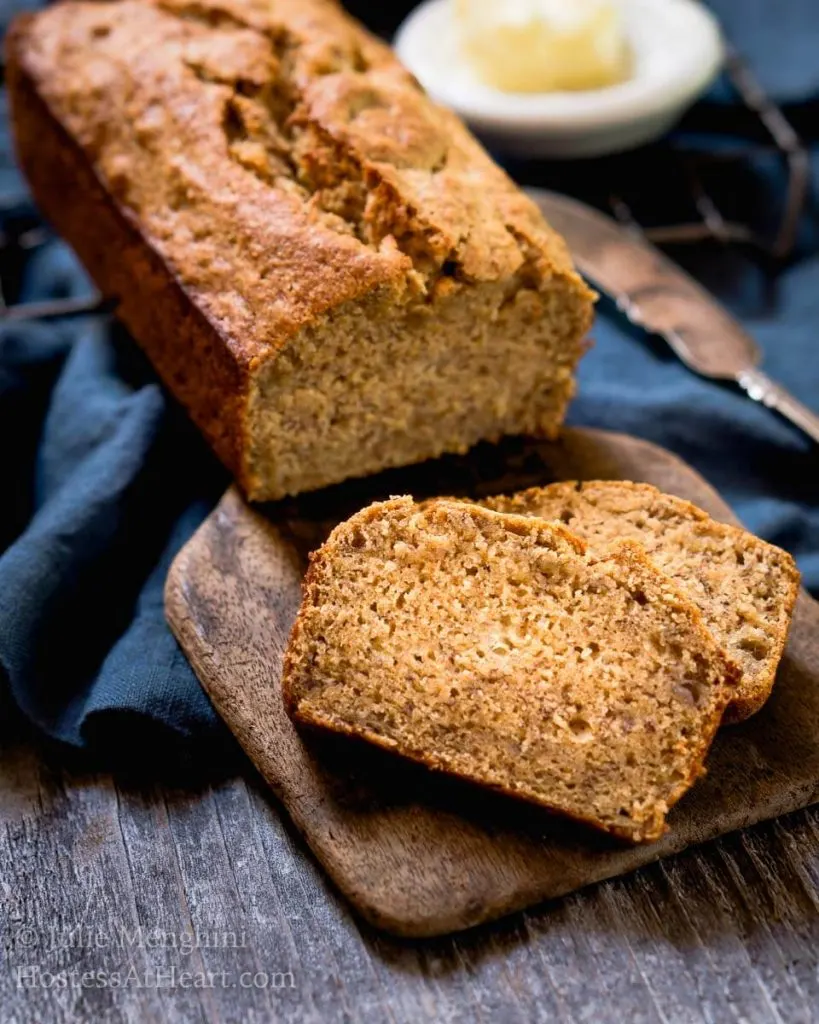 How to Mash Bananas
Use your hand mixer or potato masher to mash up the bananas. If you leave the bananas lumpy, you'll have small lumps of banana in your bread. I like to over-mash my bananas for a smooth consistent texture of bread, but I know some people love little banana chunks so it's up to you.
How Ripe Should Bananas Be for Banana Bread?
Bananas are almost never too ripe for banana bread. They are nicely sweet as soon as they have little brown spots. As the spotting increases and the fruit softens the banana gets sweeter. Even when the skin is almost solid black, the banana can still be used for this homemade banana bread recipe. I don't throw out bananas unless they have started molding.
How to Ripen Bananas Quickly
If your bananas are still green, you can use this trick to ripen them fast and reap all the benefits of flavor and sweetness of a ripe banana without the wait. Bake at 300°F for fifteen to twenty minutes, until the peels are almost black all over, with just a very thin stripe of yellow remaining in the middle. For more tips on ripening bananas fast read this post.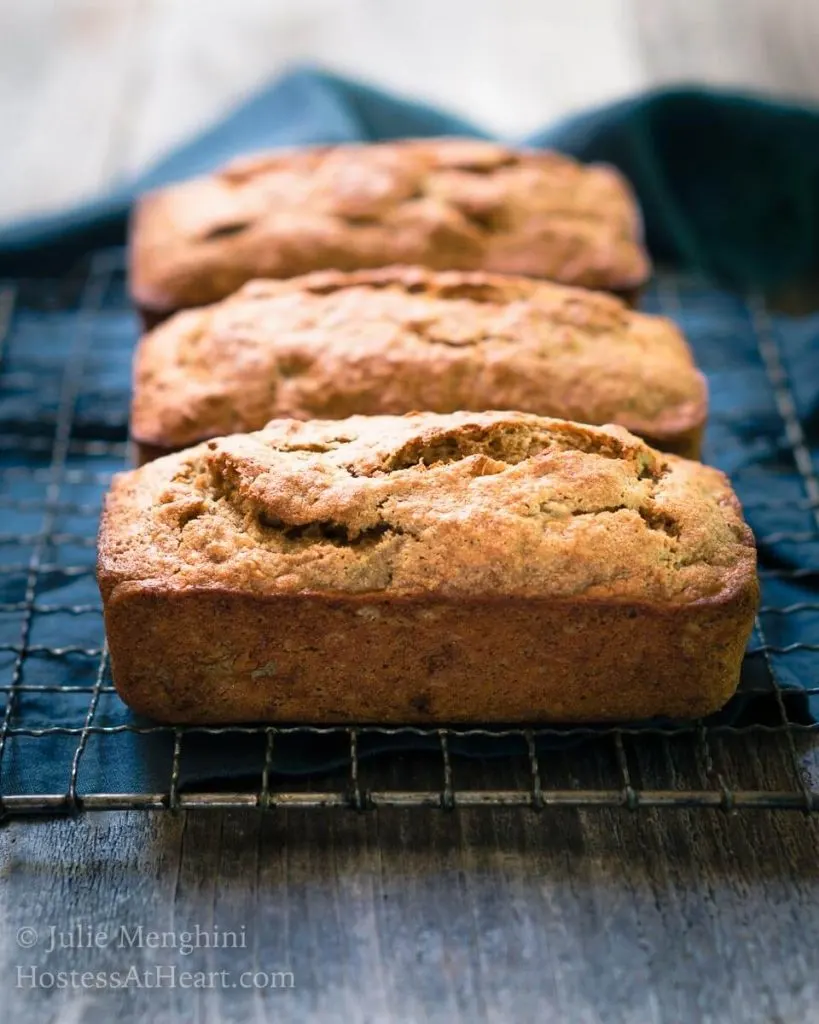 Tips and Variations for Homemade Banana Bread with Applesauce
This recipe can be made into one large loaf. However, we like the mini loaves. We can freeze what we're not going to use right away. Not only that, we can cut a mini loaf into 6 nice pieces. I wouldn't cut a large loaf into 18 slices so this is a form of portion control too. The recipe is for 18 servings which is how many we get out of 3 mini loaves.
I always have frozen bananas in my freezer. I just throw them in peel and all. When I need them I let them sit a bit to thaw and then peel them or you can take them out the night before you want to bake. The peel isn't beautiful but the banana is perfect for bread or smoothies. There is never a reason for letting bananas go bad.
I also know friends who have their kids peel, mash, and freeze bananas in freezer quality zipper bags in the exact amounts needed for banana bread. Turns out this is a fun task, and since the kids love to eat banana bread they are excited to help make it possible.
Mix the batter together gently and only until combined. Overmixing creates a tough loaf.
Don't overbake the bread. Overbaking causes dryness.
Add chocolate chips, chopped nuts, blueberries, raisins, or oat flakes to your banana bread to try something new.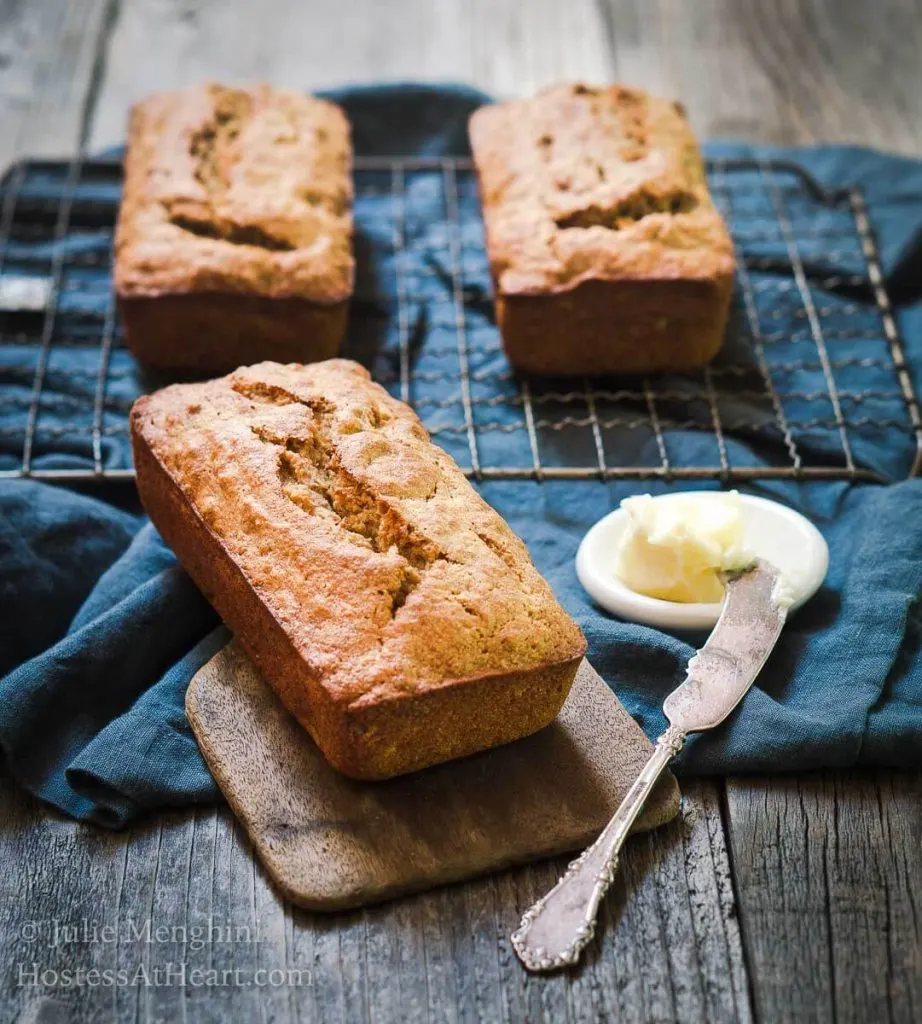 How to Store Banana Bread
Once cooled I put it in a resealable bag or airtight container and think it's even better the next day. No need to refrigerate.
Can You Freeze Banana Bread?
Batch cook this recipe to use up all of the bananas in your freezer at once. Once baked and cooled, you can slice and freeze the banana bread with applesauce in individual portions using freezer quality zipper bags. We love taking out a loaf of homemade banana bread when unexpected guests stop by too!
I recommend wrapping the bread slices in parchment paper like you would a wrap a present first, and then placing the slices in zipper bags. This helps preserve the moisture of the quick bread. You'll be able to grab these little packages on the go and thaw quickly in your thick-slice toaster for a fast and tasty breakfast.
How long does banana bread last?
In an airtight container, banana bread with applesauce will last 3 days on the counter, 6 days refrigerated, and 3 months frozen.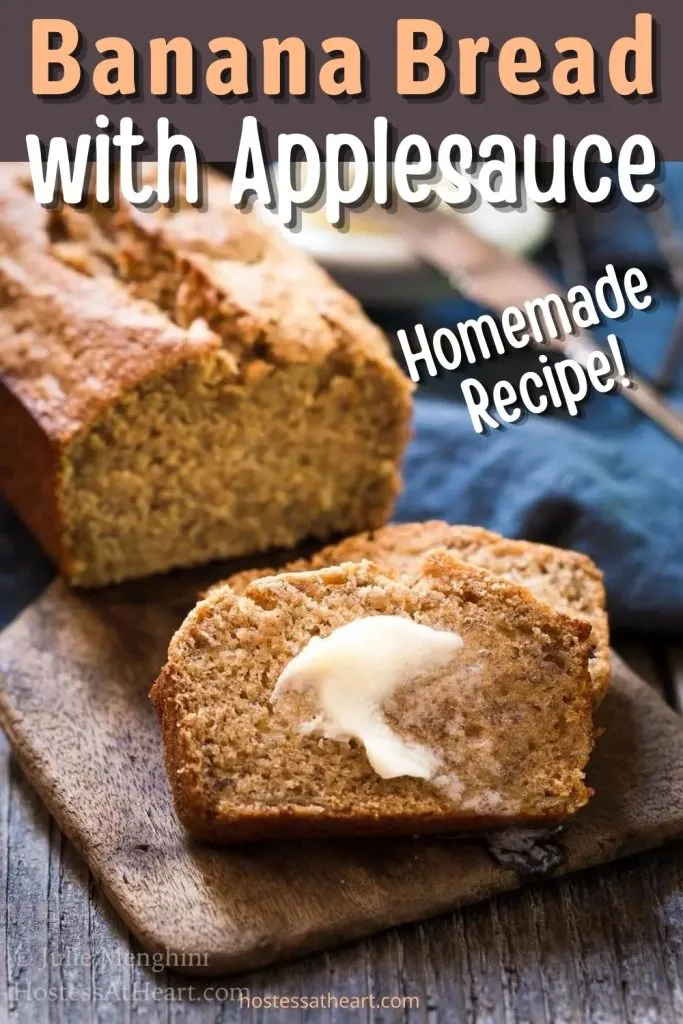 If you enjoyed this recipe here are a few more we think you'll like
If you like this recipe, we would appreciate your comment and a 5-star ⭐️⭐️⭐️⭐️⭐️ review!
Other Quick Bread Recipes You'll Love
Grandpa George's Easy Zucchini Bread Recipe
Strawberry Rhubarb Bread with Streusel Topping